TeamGroup T-FORCE DARK Z FPS DDR4-4000MHz 2x8GB Kit Review — In Search of Its Limit on an i9-9900K/Z390 Platform
T-FORCE DARK Z FPS DDR4-4000MHz is a fast 2x8GB gaming memory kit that we are reviewing to see how high its frequency can go on an i9-9900K/Z390 platform. We received a review sample from TeamGroup who told us they cannot assure it can reach the advertised 4000MHz frequency on our CPU platform. We will search for its maximum stable and safe overclock and compare its performance against both its default JEDEC specifications (non-XMP) and our Kingston HyperX Predator DDR4-3333MHz 2x16GB memory kit.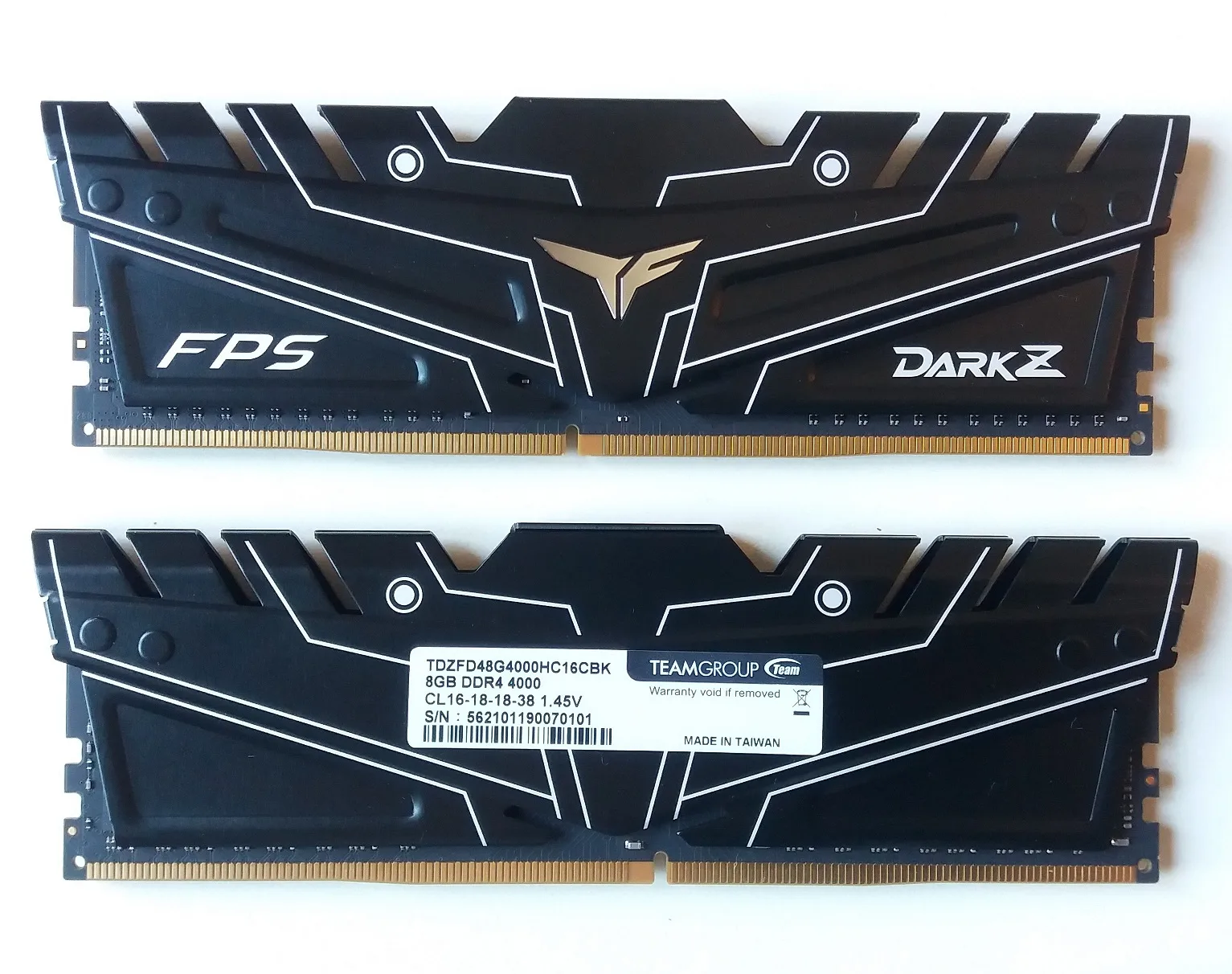 We currently use 2x16GB of HyperX Predator DDR4 CAS Latency (CL) 16 memory at 3333MHz (XMP profile 1) for our usual benchmarking PC. With this analysis, we will also check if this fast DARK Z FPS DDR4 memory kit is a good upgrade for our current testing setup.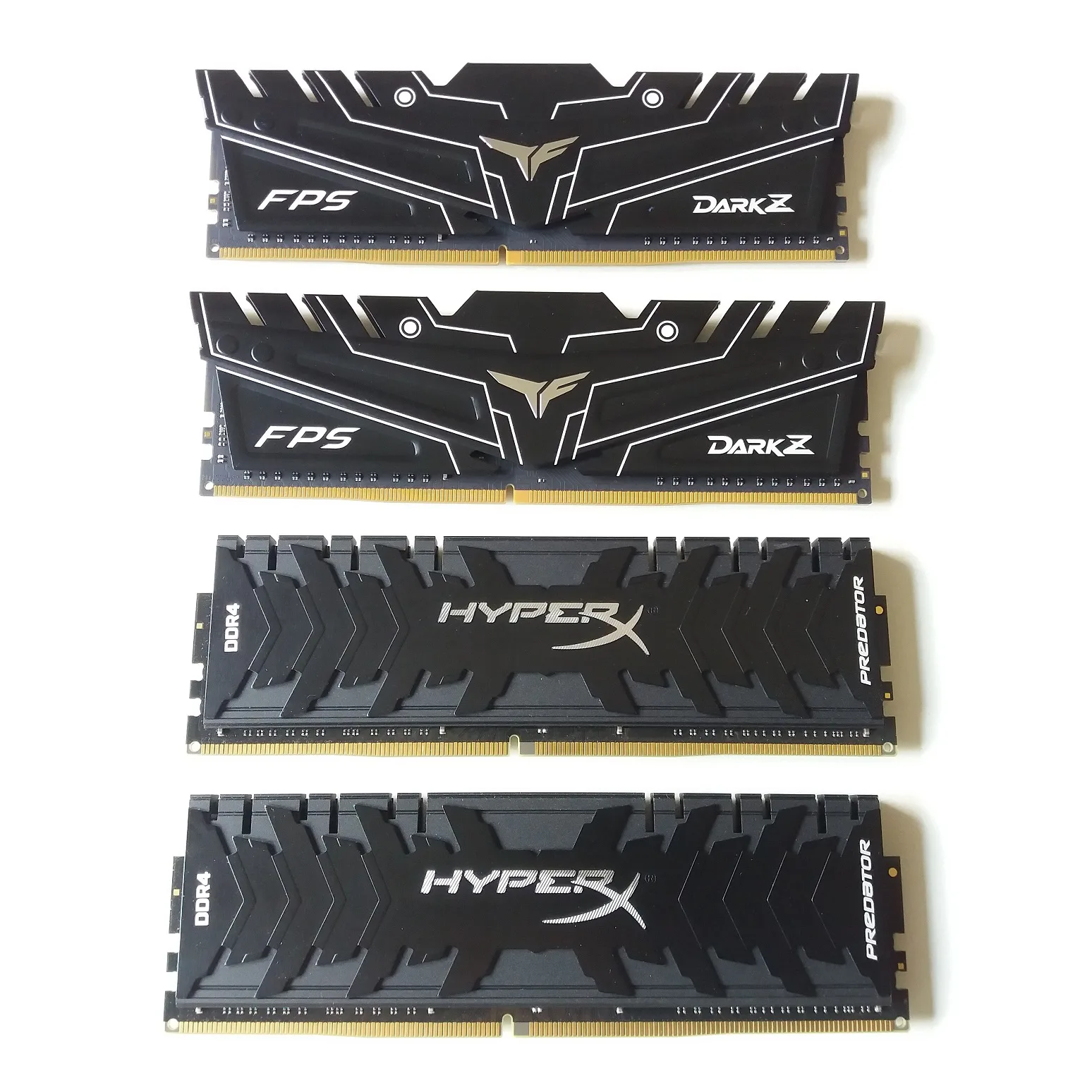 Here are the two memory kits that we are comparing:
Kingston HyperX Predator PC4-26700 DDR4-3333MHz CL16 2x16GB kit
TeamGroup T-FORCE DARK Z FPS PC4-32000 DDR4-4000MHz CL16 2x8GB kit
The T-FORCE DARK Z FPS DDR4-4000 2x8GB kit is $139.99 at Newegg.
Testing Platform
Our testing platform is a recent clean install of Windows 10 Pro 64-bit, using an Intel Core i9-9900K at stock settings, a Gigabyte Z390 AORUS PRO motherboard, a Samsung 500GB 960 EVO NVMe M.2 and WD Blue 1TB SATA SSDs, and 16GB T-FORCE DARK Z FPS DDR4-4000MHz or 32GB HyperX Predator DDR4-3333MHz. We used the Gigabyte AORUS RTX 3080 MASTER at stock clocks for our testing. The settings, benchmarks, and hardware are identical except for the two DDR4 kits and frequencies we compare.
Both memory kits use CL16 and all Command Rates are 2T by their respective default XMP profiles. The T-FORCE DARK Z FPS is rated at CL16-18-18-38 and 1.45V using its XMP profile, but the HyperX Predator is CL16-18-18-36 and 1.35V (XMP profile 1). We will compare the performance of these two DDR4 kits and overclock the DARK Z FPS memory to chart the effects of different memory speeds on the performance of 5 modern PC games, including Call of Duty Warzone and PLAYERUNKNOWN'S BATTLEGROUNDS (PBUG) at a maxed-out/ultra 1920×1080 resolution. We benchmark using multiple well-respected memory-related benchmarking tools such as AIDA64, Sandra, Cinebench, and 3DMark.
Product Specifications & Features
Here are the memory specifications of the DARK Z FPS DDR4-4000MHz from the TeamGroup website: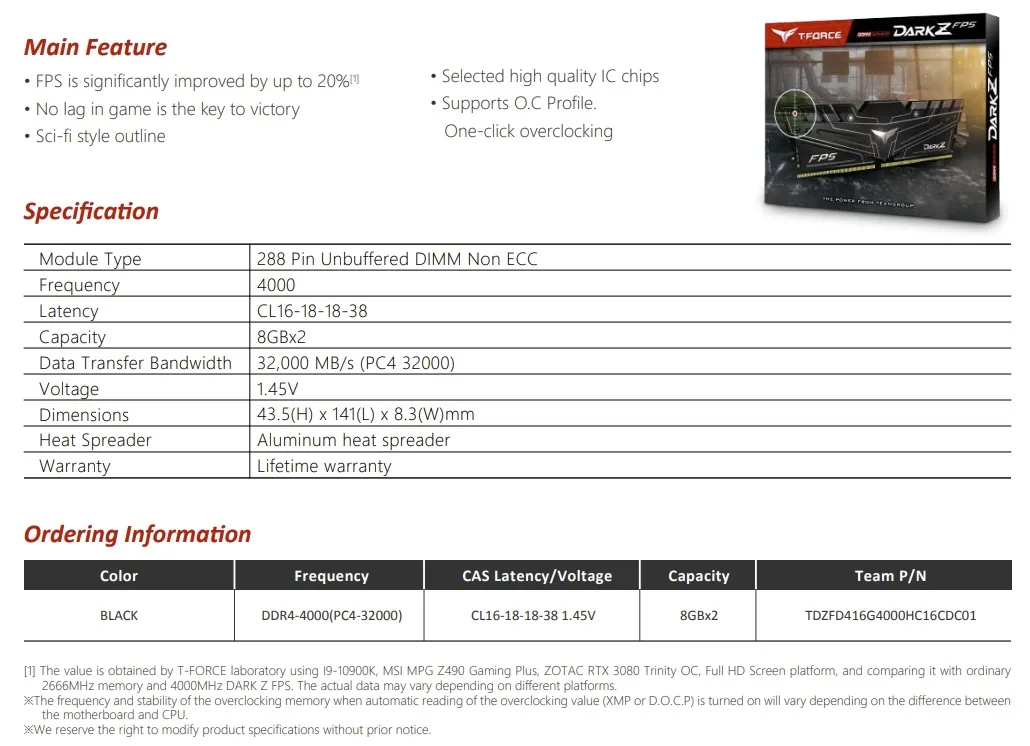 Below you can also see a summary of the memory specifications from the Thaiphoon Burner tool: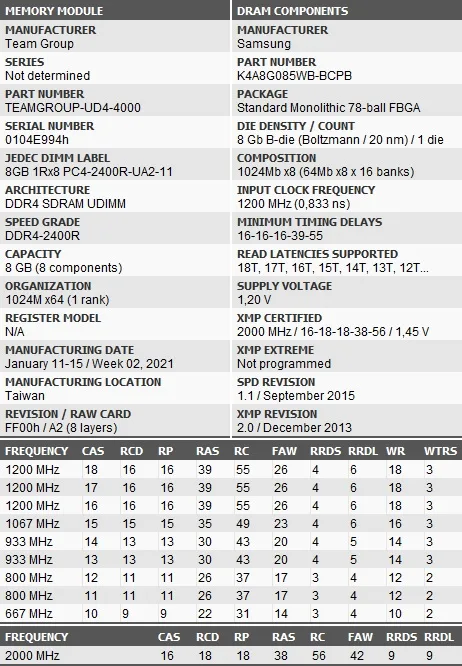 Using its default XMP profile, the voltage is automatically set at 1.45V for 4000MHz but may be manually adjusted in the BIOS from between 1.20V to 1.50V – or higher. Here are the DARK Z FPS features as taken from TeamGroup's website.
Features
FPS is significantly improved by up to 20%[1]
No lag in-game is the key to victory
Sci-fi style outline
Selected high-quality IC chips
Supports O.C. Profile. One-click overclocking
TeamGroup offers a lifetime warranty for their T-FORCE desktop memory and DARK Z FPS is available only in black.
Let's unbox the memory kit on the next page and take a closer look.
Unboxing
The T-FORCE DARK Z FPS DDR4 4000MHz 2x8GB memory kit comes in a compact and slim box with a soft touch that advertises its features and specs on its reverse.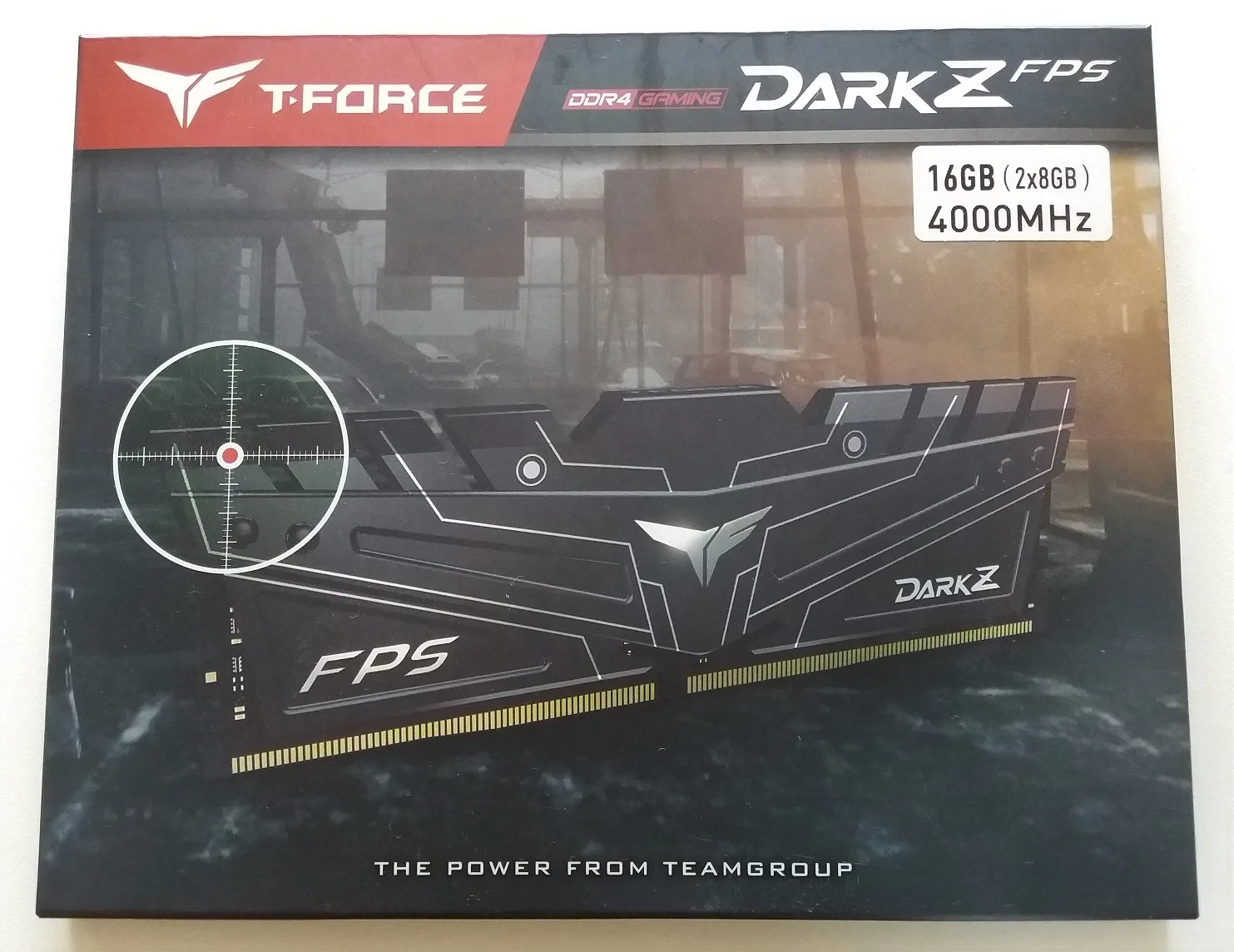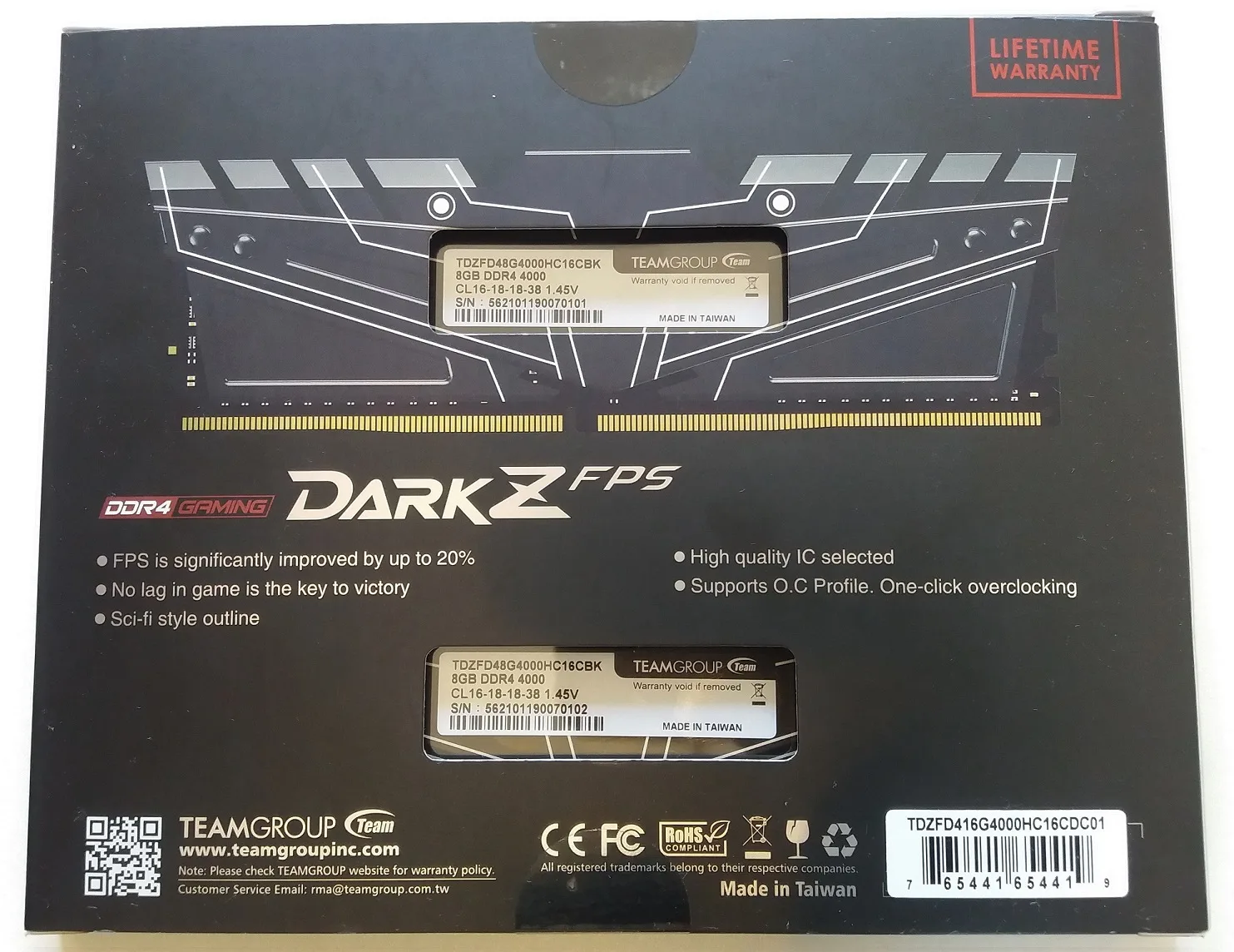 Once you open the box, you see the two memory modules inside an anti-static plastic clamshell.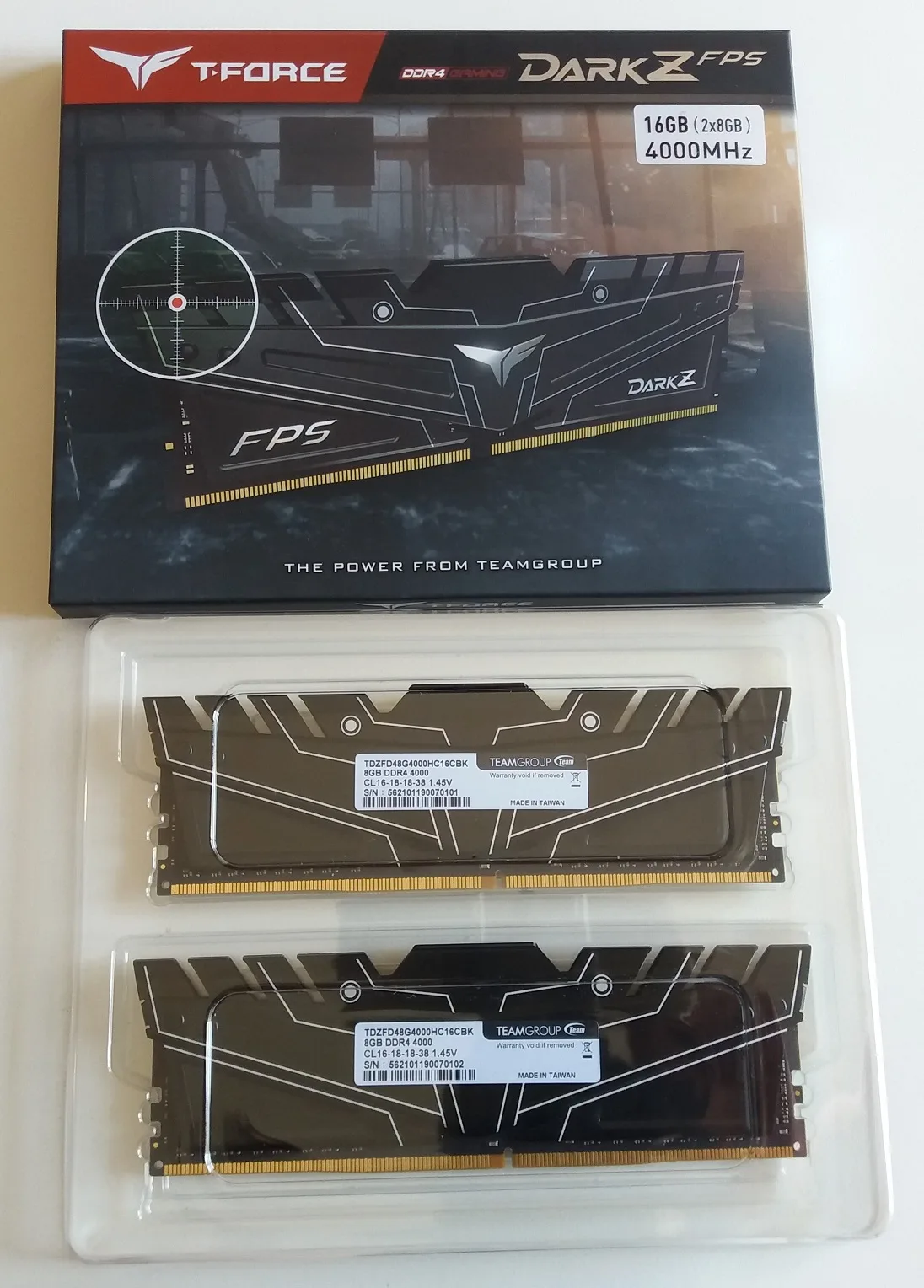 Below you can see both sides of the plastic clamshell and its content.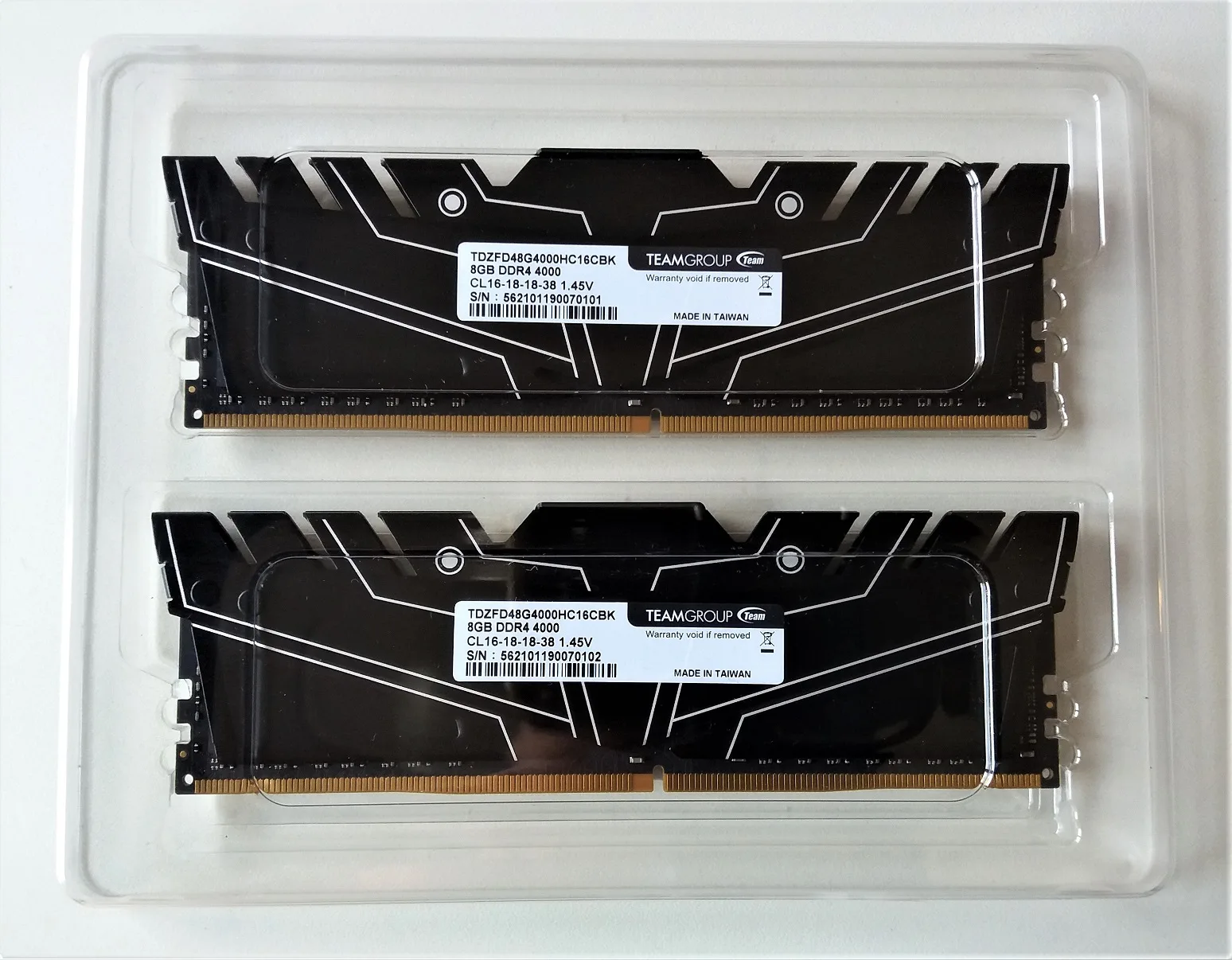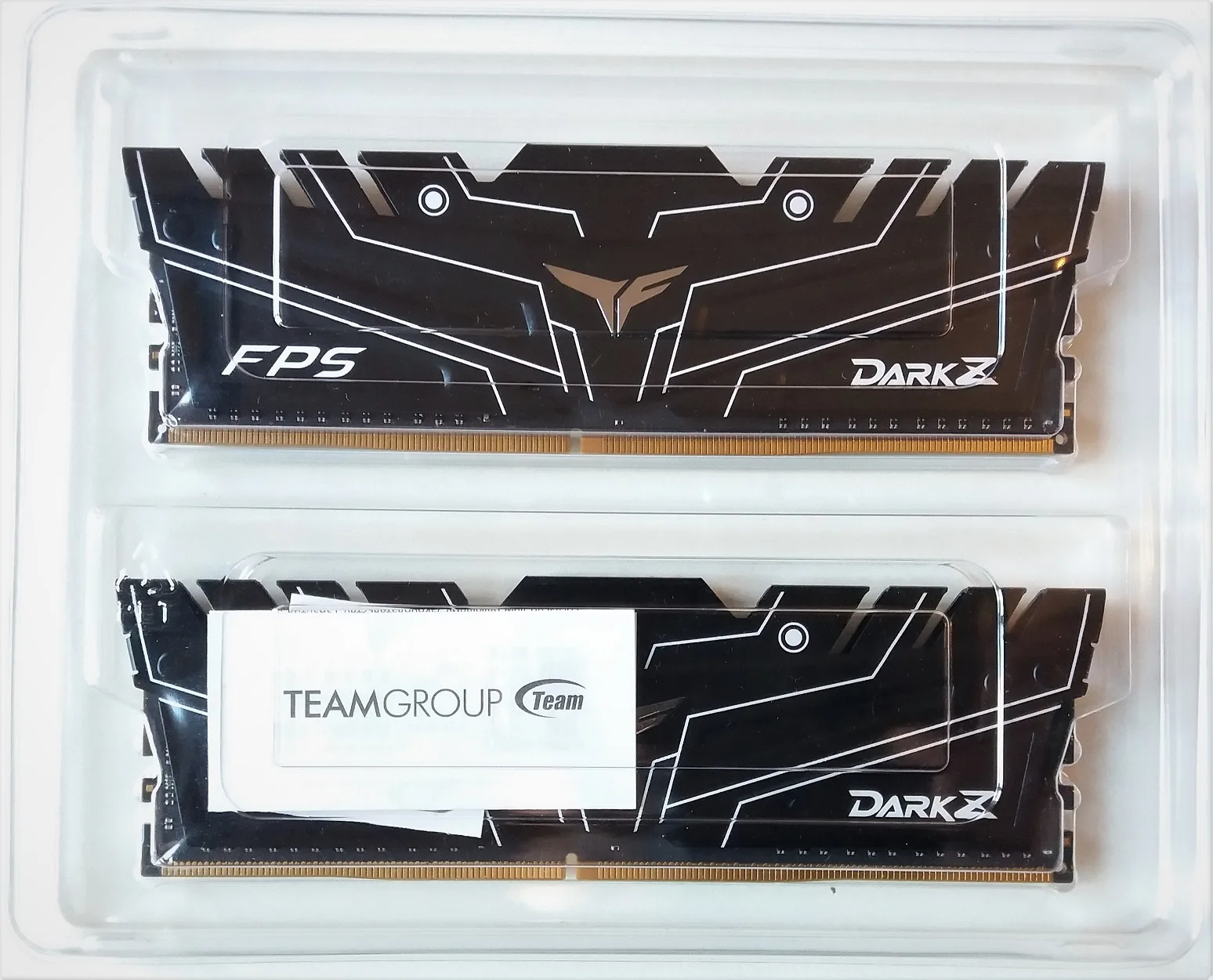 The plastic clamshell also includes the warranty and installation guide, and a sticker with the T-FORCE logo.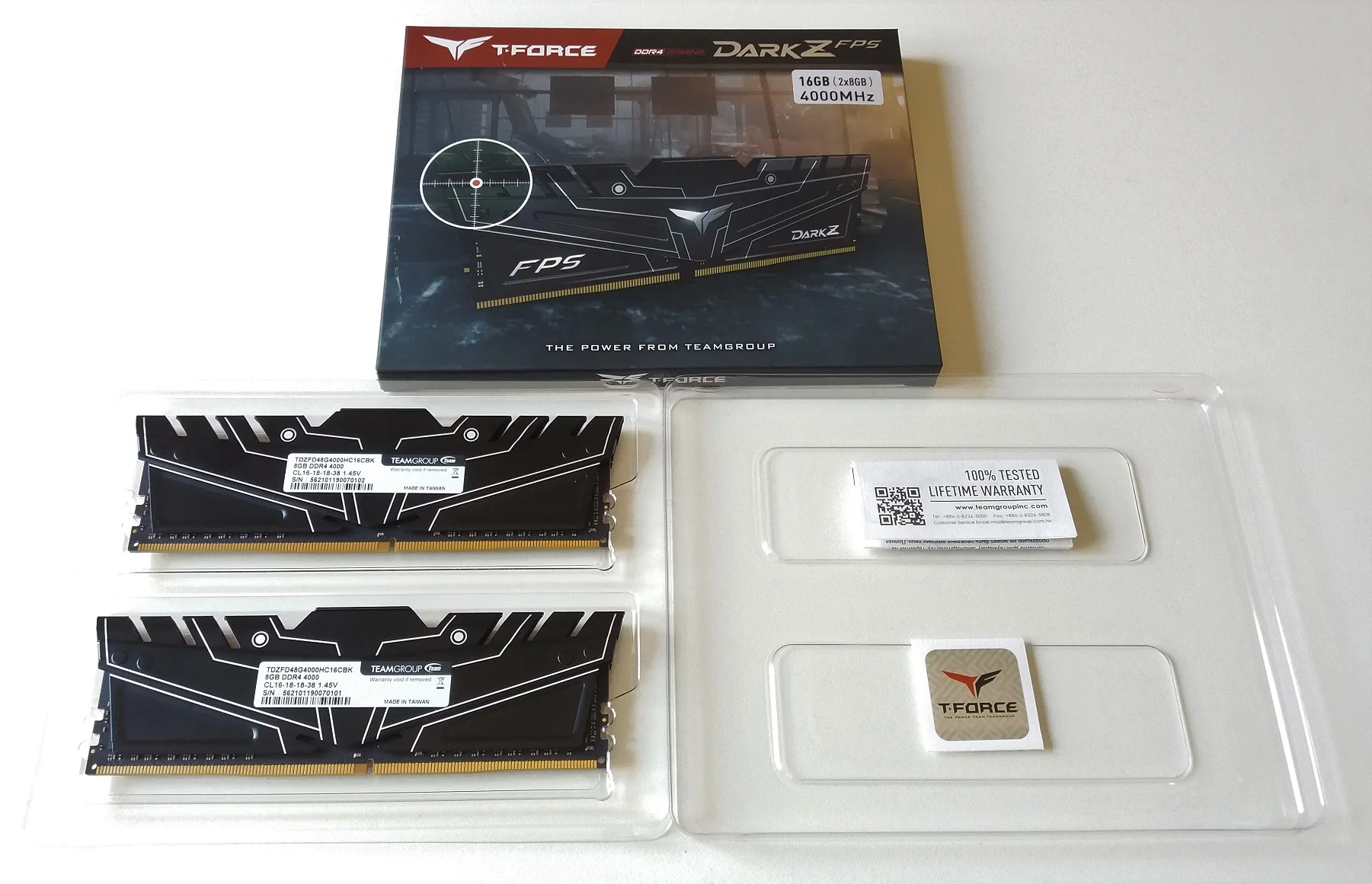 On the front of the modules, we see an embossed T-FORCE logo over a deep-black aluminum heatsink. "T-FORCE" is printed in a silvery-white font on its profiles, and "Dark Z" and "FPS" are printed on the front.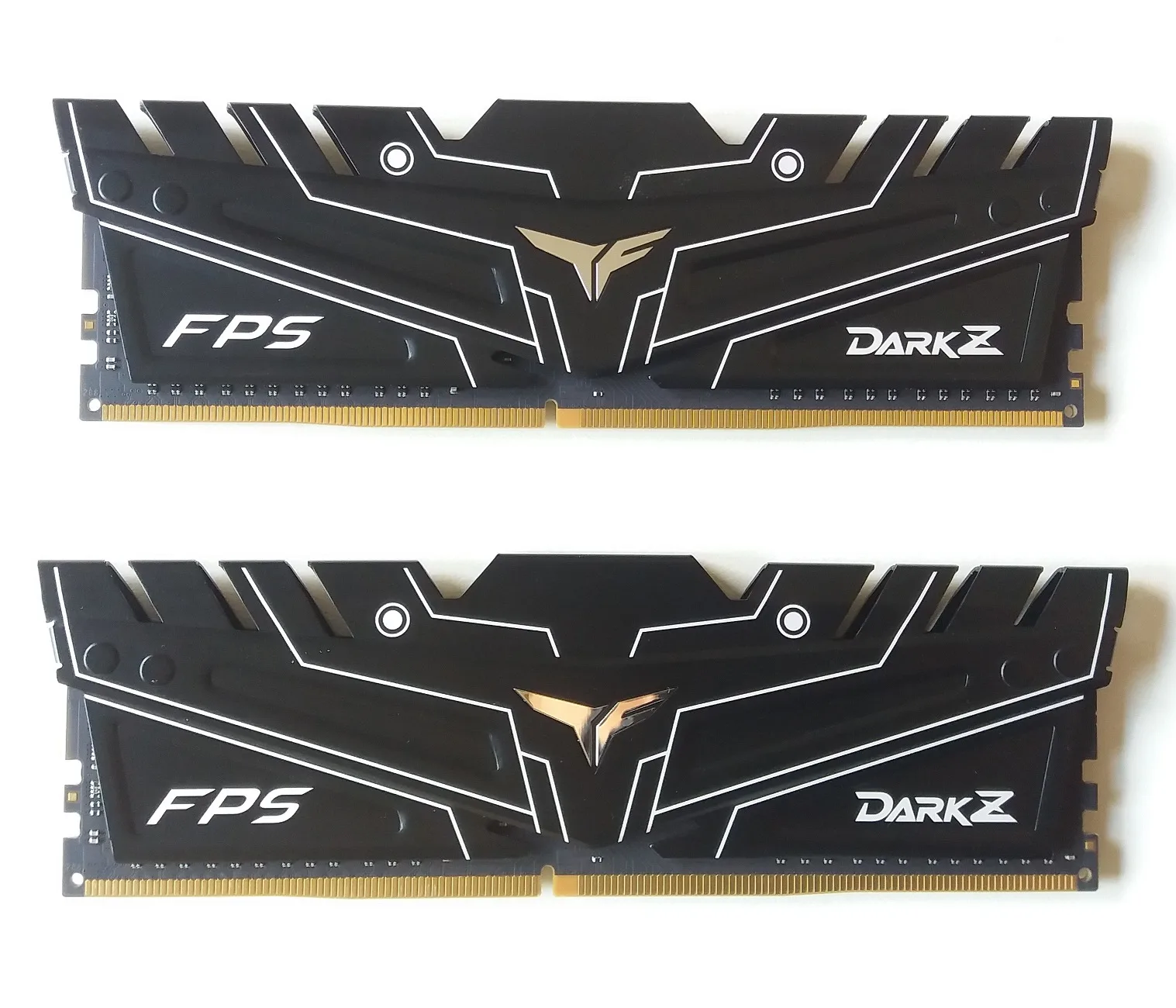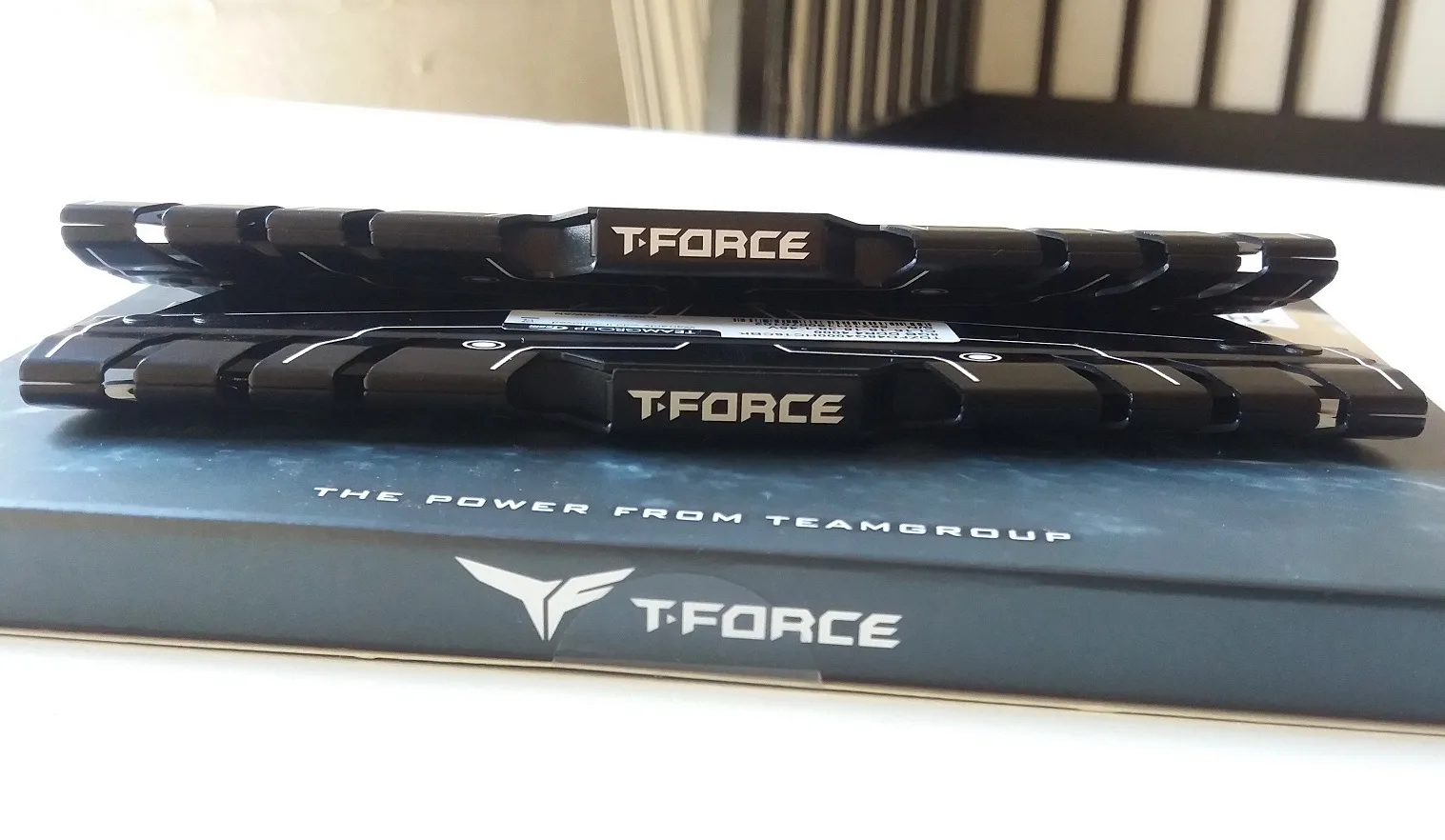 The other side of the modules shows the specification stickers in the center.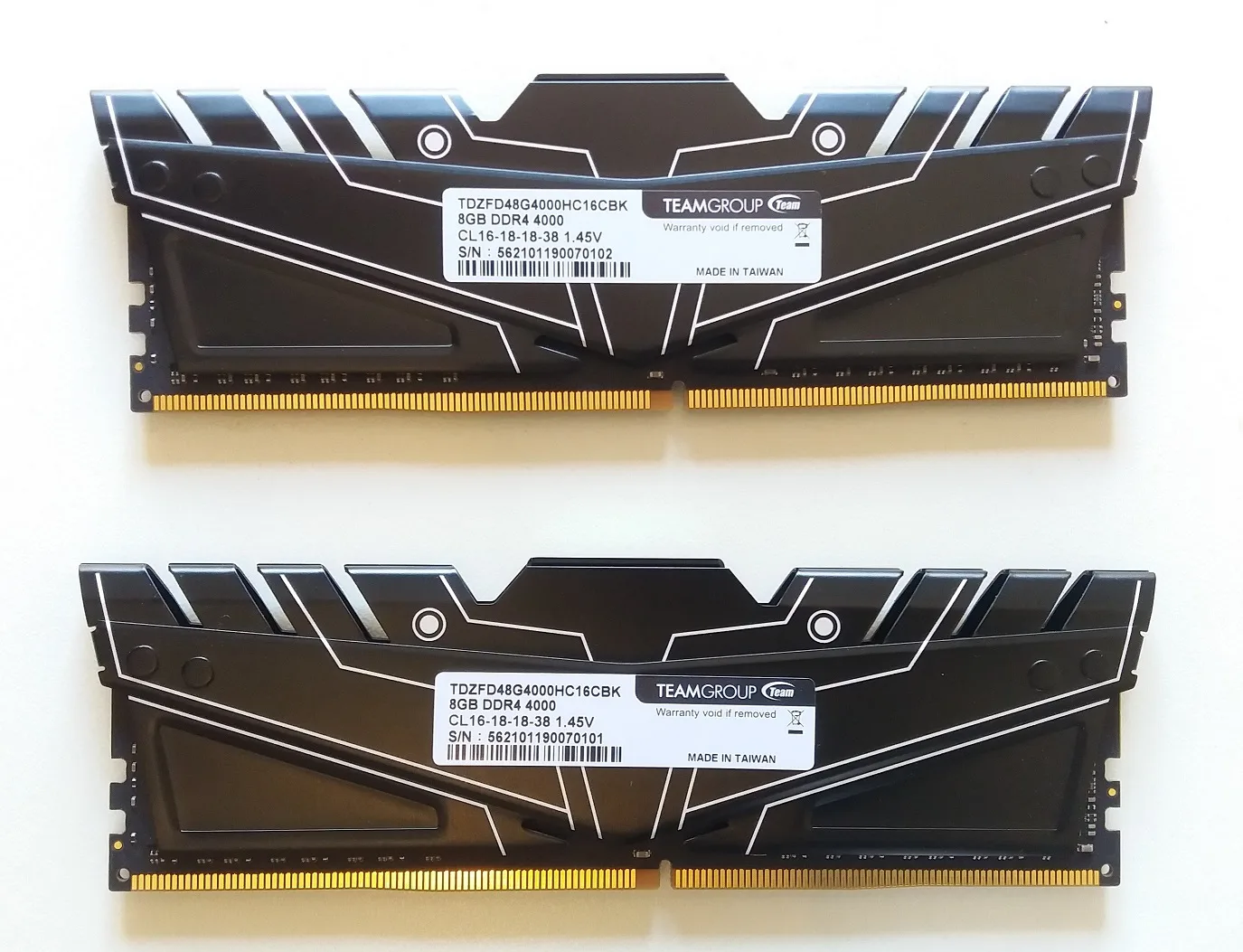 The DARK Z FPS DDR4-4000MHz modules feature a quality build, a sci-fi style design, and look great once installed in our conservative and non-RGB-focused gaming rig.
Before offering the performance data and charts of each different analysis scenario, it's important to describe both the hardware and software configuration used in our testing as well as the analysis methodology.
Benchmarking Methodology
Test Configuration – Hardware
Intel Core i9-9900K (Hyper-Threading/Turbo boost on; stock settings)
Gigabyte Z390 AORUS PRO motherboard (Intel Z390 chipset, v.F12l BIOS)
Kingston HyperX Predator PC4-26700 DDR4-3333MHz CL16 2x16GB kit
TeamGroup T-FORCE DARK Z FPS PC4-32000 DDR4-4000MHz CL16 2x8GB kit
Gigabyte AORUS GeForce RTX 3080 MASTER 10GB (rev. 1.0); v.F4 VBIOS, stock clocks
Samsung 500GB SSD 960 EVO NVMe M.2
WD Blue 1TB SATA SSD
Corsair RM750x, 750W 80PLUS Gold power supply unit
ASUS TUF Gaming VG289Q 28? IPS UHD 4K (3840×2160) 60Hz 5ms FreeSync Monitor (Fixed Refresh Rate on)
Test Configuration – Software
NVIDIA GeForce 466.27 drivers; 'High Quality' and 'prefer maximum performance' (on a per-game profile-basis); fixed refresh rate (globally).
Resizable BAR off.
V-Sync application controlled in the control panel, V-Sync off in-game.
AA and AF as noted in games; all in-game settings are specified.
Windows 10 64-bit Pro edition, latest updates v20H2, High-performance power plan, HAGS off, Game Mode, Game DVR & Game Bar features off.
Gigabyte and ASUS tools not installed.
Latest DirectX
All 5 games are patched to their latest versions at the time of publication.
AIDA64 Extreme, the latest version
CapFrameX (CX), the latest version
CPU-Z, the latest version
ISLC (Purge Standby List) before each benchmark.
OCCT, the latest version
RivaTuner Statistics Server (RTSS), the latest version
SiSoftware Sandra Tech Support (Engineer) 2021, the latest version
Thaiphoon Burner, the latest version
UL 3DMark's benchmark suite, the latest version
GeForce Driver Suite-related
Standard Game Ready drivers are used.
The display driver is installed.
The latest version of PhysX is installed.
Synthetic & Hybrid Tests-related
Game Benchmarks-related
We use the corresponding built-in or custom benchmark sequence.
Frametimes Capture & Analysis tool-related
CapFrameX is used for capturing and analyzing the relevant performance numbers obtained from each recorded built-in or custom game benchmark sequence.
Consecutive runs until detecting 3 valid runs (no outliers) that can be aggregated by CapFrameX using the following method:

'Aggregate excluding outliers':

Outlier metric: Third, P0.2 (0.2% FPS percentile).
Outlier percentage: 3% (the % the FPS of an entry can differ from the median of all entries before counting as an outlier).

We compare and value the results and aggregated records in terms of percentages of gain/loss, by setting the following thresholds to consider a certain % value as significant (not within the margin of error) for our benchmarking purposes:

Metric/Score > 3% when valuing synthetic and hybrid benchmarks;
FPS Avg > 3% when valuing raw performance in games.
Benchmark Suite: 5 PC Games, 8 Synthetic & 3 Hybrid Memory-Related Tests
Synthetic Tests
AIDA64 Memory benchmarks:
Sandra 2021 Memory benchmarks:

Overall Score
Memory Bandwidth
Memory Latency
Transaction Throughput
Hybrid Tests
Cinebench R23:
3DMark Fire Strike:

Physics Score
Combined Score
DX11 Games
Far Cry New Dawn (DX11)
PLAYERUNKNOWN'S BATTLEGROUNDS (PUBG) DX11
DX12 Games
Call Of Duty Warzone (DX12)
Metro Exodus (DX12)
Watch Dogs Legion (DX12)
NVIDIA Control Panel settings
Here are the global NVIDIA Control Panel settings: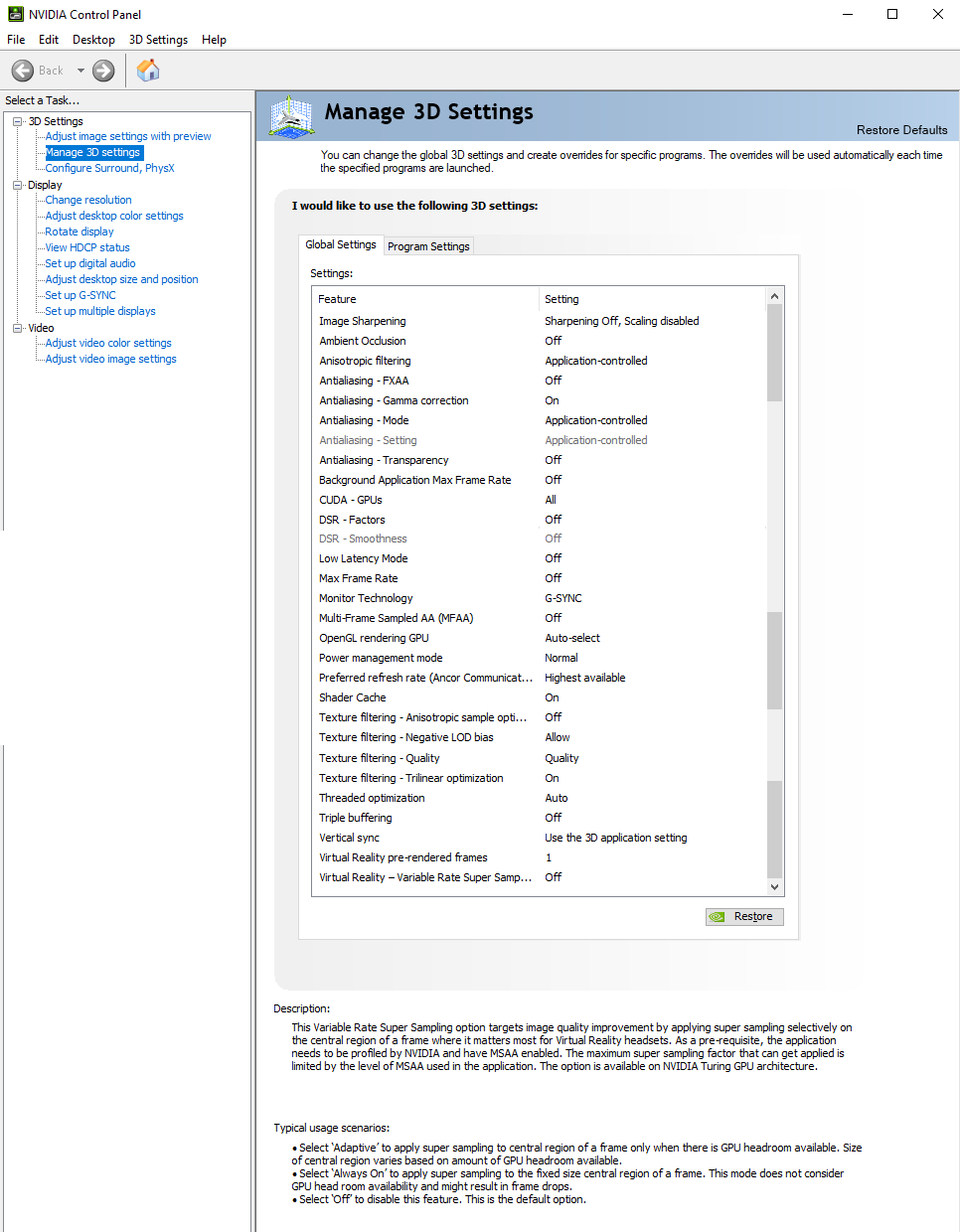 Both 'High-Quality' values for texture filtering-quality setting and 'Prefer maximum performance' for power management mode are set on a per-game or program profile-basis via Manage 3D Settings > Program settings tab.
Let's head to our overclocking and benchmarking results.
Overclocking the T-FORCE DARK Z FPS DDR4-4000MHz 2x8GB Kit
Before accepting the DARK Z FPS 2x8GB DDR4-4000MHz CL16 memory kit for review, TeamGroup warned us that they do not guarantee the rated XMP frequency of 4000MHz on our Z390 CPU platform. So, we were asked to investigate how high the frequency can go on our Z390 platform, and we gladly accepted their proposal.
DARK Z FPS 4000MHz XMP Profile
First, we tried the DARK Z FPS 4000MHz 16-18-18-38 at 1.45V using its XMP profile, but we can confirm this isn't a viable option on our CPU platform. We enabled the XMP profile through our UEFI BIOS, but our system systematically either refused to POST or automatically reverted to default JEDEC specs. So, we decided to use a manual memory overclock approach.
DARK Z FPS Manual Overclock
We used the DARK Z FPS default XMP timings and reduced its clocks from 4000MHz until we reached its maximum stable speed at 1.450V. As we aim for the highest overclock that the DARK Z FPS memory can reach on our Z390 platform, we fine-tuned the stock XMP timings and voltage for maximum memory performance by lowering the primary timings to CL16-16-16-36 and increased the DRAM voltage to 1.460V.
Here is CPU-Z showing the DARK Z FPS's default JEDEC and XMP profile timings and frequencies: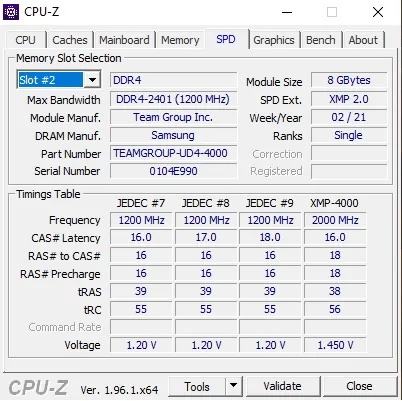 Below is the DARK Z FPS operating at its default 2400MHz JEDEC specifications: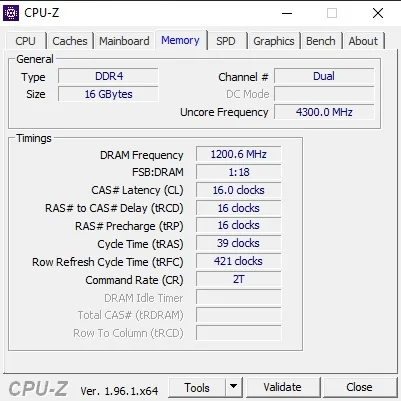 Here is the DARK Z FPS manually overclocked to 3600MHz with CL16-16-16-36 timings at 1.460V for stability: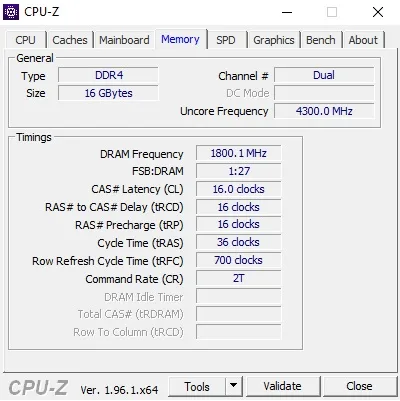 We used our own self-imposed hard limit of 1.460V to stabilize the memory overclock. After much trial and error, we finally settled on a maximum stable overclock of 3600MHz.
We tested our overclock by using AIDA64 System Test, Karhu RAM Test, and OCCT Memory Test. These tests stress the memory and also the CPU in search of memory errors. We also confirmed that our overclock to 3600MHz was stable by playing games and running other benchmarks.
We believe that overclocking +1200MHz from JEDEC-2400MHz specs to 3600MHz CL16-16-16-36 @1.460V may be a good overclock for Z390 users wanting safe daily use, stability, and high performance.
Next, the summary charts and performance notes.
Intel Z390 Performance Results
Below you can find the summary charts of our representative selection of 5 PC games and 8 synthetic and 3 hybrid benchmarks. We select games that are CPU-dependent and use a display resolution that makes them overall more CPU-bound.
You can see the list of games' graphics settings on the charts, and we run each built-in or custom game benchmark's sequence at 1920×1080 (Full HD). You may click on each chart to open a pop-up for the best viewing.
We mark significant performance changes (higher than 3%) in bold and use purple or orange font for the significant improvements or regressions respectively.
Synthetic & Hybrid Summary Charts




Performance Summary Charts with 5 Games

Notes on T-FORCE DARK Z FPS DDR4-4000MHz Performance
From the charts, we see significant score improvements between the default DARK Z FPS 2400MHz JEDEC profile and our custom DARK Z FPS 3600MHz OC profile in most synthetic and hybrid memory-related tests. However, when we compare the DARK Z FPS 2x8GB memory kit overclocked to 3600Mhz versus our HyperX Predator 2x16GB kit using its 3333Mhz XMP profile, we only see significant improvements in AIDA64 memory read and latency tests and in Sandra 2021 cache and memory latency test.
For the built-in game benchmarks, although all 5 PC games show notable performance improvements (approximately +14% avg) when we move from the default DARK Z FPS JEDEC-2400 profile to our custom DARK Z FPS 3600MHz OC profile, we found no significant differences between the DARK Z FPS 2x8GB memory kit overclocked to 3600MHz and our HyperX Predator 2x16GB kit using its 3333Mhz XMP specs. A hypothesis to explain these minor performance improvements in games may be that DDR frequencies in the 3333MHz to 3600MHz range are on the limit that my particular IMC can correctly handle.
The performance improvements in games we saw after manually overclocking the DARK Z FPS would also support TeamGroup's claim that the DARK Z FPS one-click 4000MHz XMP overclock improves FPS by up to 20% in games.
Disclaimer
Please be aware that the following results, notes, and the corresponding product recommendation are valid for similar i9-9900K/Z390 gaming platforms on Windows 10 v20H2. Its representativeness, applicability, and usefulness on different CPU platforms, testing benches, and MS Windows versions may vary.
Final Thoughts
Based on our results and findings, we do not recommend the DARK Z FPS 2x8GB DDR4-4000MHz CL16 memory kit for Z390/i9-9900K users since the one-click 4000MHz CL16 XMP profile doesn't work out of the box or through any manual custom overclock we tried on our Z390 platform using what we consider to be a safe voltage.
In addition, we do not consider this DARK Z FPS 2x8GB DDR4-4000MHz CL16 kit a good replacement or upgrade for our HyperX Predator 2x16GB DDR4-3333 CL16 kit due to the minor and insignificant performance improvements we see in games. We feel that it would be unfair to give the DARK Z FPS 2x8GB DDR4-4000MHz CL16 a final verdict based on our Z390 CPU testing alone. Based on TeamGroup's testing and data, these modules at 4000MHz XMP or higher OC frequencies are designed for newer CPU platforms, and we have no data on these testing scenarios.
Let's Play!
***
Rodrigo González (aka "RodroG") is an enthusiast gamer and tech reviewer interested especially in shooter games, open-world role-playing games, and software and hardware benchmarking. He is the author of the NVIDIA WHQL Driver Performance Benchmarks Series and founder and moderator of the r/allbenchmarks community on Reddit.