Intro
TeamGroup T-FORCE XTREEM ARGB WHITE DDR4-3600MHz CL14 2x16GB Kit Review — In Search of Its Limit on an i9-9900K/Z390 Platform
T-FORCE XTREEM ARGB WHITE DDR4-3600MHz is a premium fast 2x16GB gaming memory kit that we are reviewing to see how high its frequency can go on an i9-9900K/Z390 platform. We received a review sample from TeamGroup, who told us they could not assure it can reach the advertised 3600MHz frequency on our CPU platform. We will search for its maximum stable and safe overclock and compare its performance against both its default JEDEC specifications (non-XMP) and our Kingston HyperX Predator DDR4-3333MHz 2x16GB memory kit.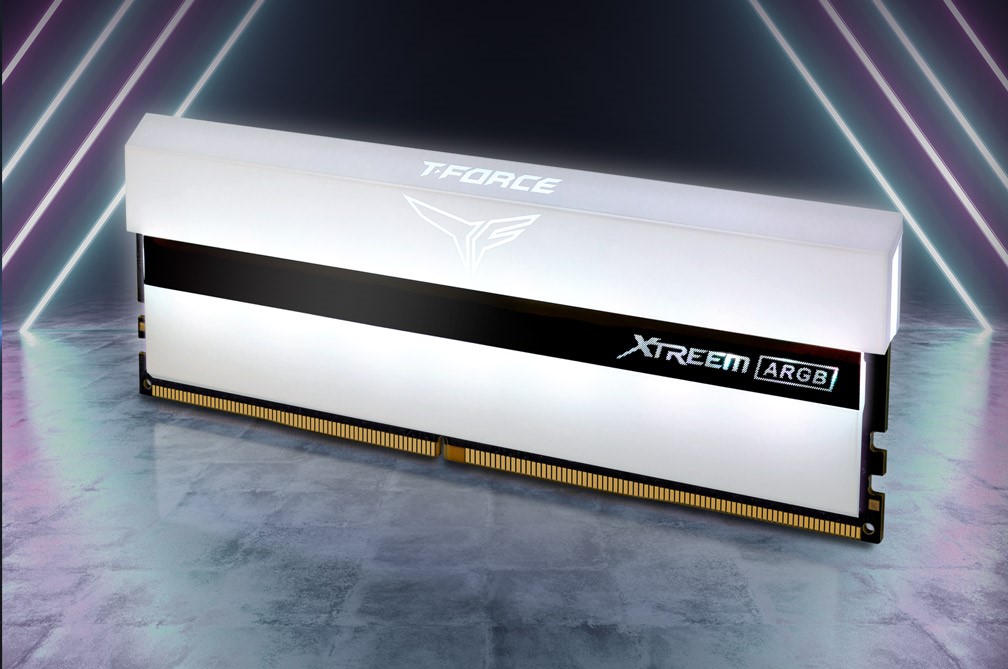 Our usual benchmarking PC features 2x16GB of HyperX Predator DDR4 CAS Latency (CL) 16 memory at 3333MHz (XMP profile 1). We will also chart performance data for our previously reviewed DARK Z FPS 2x8GB memory kit overclocked at 3600MHz only as a reference and check if the XTREEM ARGB WHITE DDR4 memory kit is a good upgrade for our current testing setup.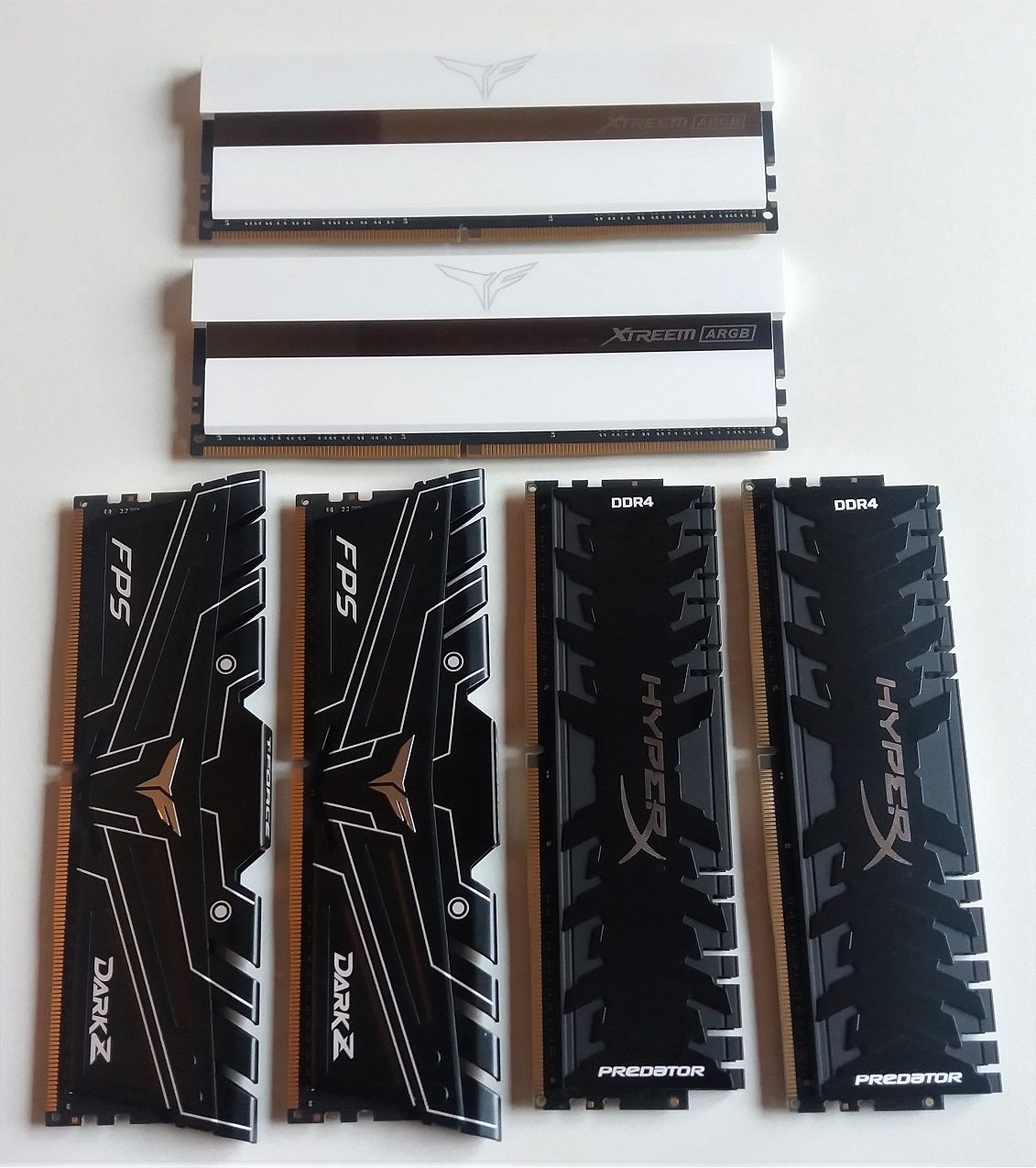 Here are the three memory kits that we are comparing:
TeamGroup T-FORCE XTREEM ARGB WHITE PC4-28800 DDR4-3600MHz CL14 2x16GB kit
Kingston HyperX Predator PC4-26700 DDR4-3333MHz CL16 2x16GB kit
TeamGroup T-FORCE DARK Z FPS PC4-32000 DDR4-4000MHz CL16 2x8GB kit
The T-FORCE XTREEM ARGB WHITE DDR4-3600 CL14 2x16GB kit MSRP is $359.99, but it is currently out of stock in the USA. However, it is currently available on Amazon.es (the price is in Euros).
Testing Platform
Our testing platform is a recent clean install of Windows 10 Pro 64-bit, using an Intel Core i9-9900K at stock settings, a Gigabyte Z390 AORUS PRO motherboard, a Samsung 500GB 960 EVO NVMe M.2 and WD Blue 1TB SATA SSDs, and 32GB T-FORCE XTREEM ARGB WHITE DDR4-3600MHz, 16GB T-FORCE DARK Z FPS DDR4-4000MHz, or 32GB HyperX Predator DDR4-3333MHz. We used the Gigabyte AORUS RTX 3080 MASTER at stock clocks for our testing. The settings, benchmarks, and hardware are identical except for the three DDR4 kits and frequencies we compare.
The Command Rates of these three memory kits are 2T by their respective default XMP profiles. The T-FORCE XTREEM ARGB WHITE is rated at CL14-15-15-35 and 1.45V using its XMP profile, the T-FORCE DARK Z FPS is CL16-18-18-38 and 1.45V using its XMP profile, and the HyperX Predator is CL16-18-18-36 and 1.35V (XMP profile 1).
This time, we will compare and calculate the performance gains or losses of the T-FORCE XTREEM ARGB WHITE versus HyperX Predator DDR4 kits and overclock the XTREEM ARGB WHITE memory to chart the effects of different memory speeds on the performance of 5 modern PC games, including Call of Duty Warzone and PLAYERUNKNOWN'S BATTLEGROUNDS (PBUG) at a maxed-out/ultra 1920×1080 resolution. We benchmark using multiple well-respected memory-related benchmarking tools such as AIDA64, Sandra, Cinebench, and 3DMark.
Product Specifications & Features
Here are the memory specifications of the XTREEM ARGB WHITE DDR4-3600MHz from the TeamGroup website: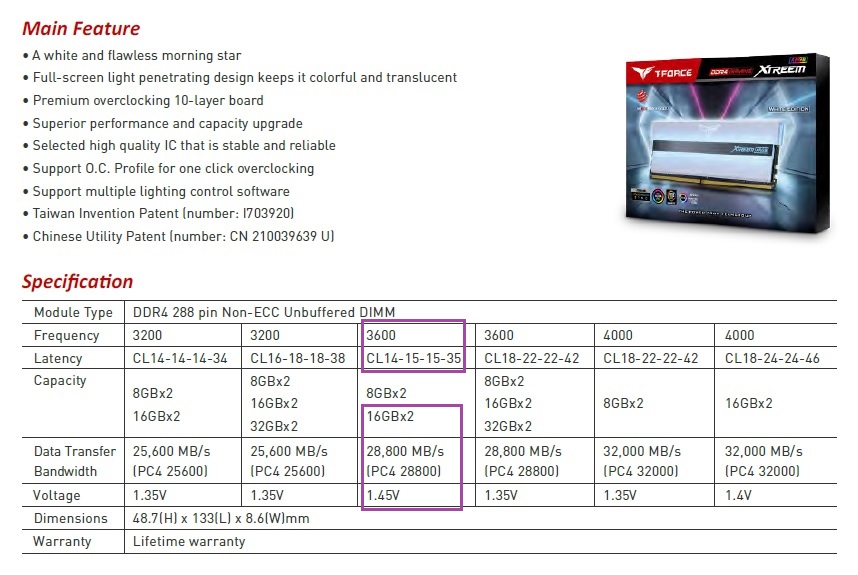 Below you can also see a summary of the memory specifications from the Thaiphoon Burner tool: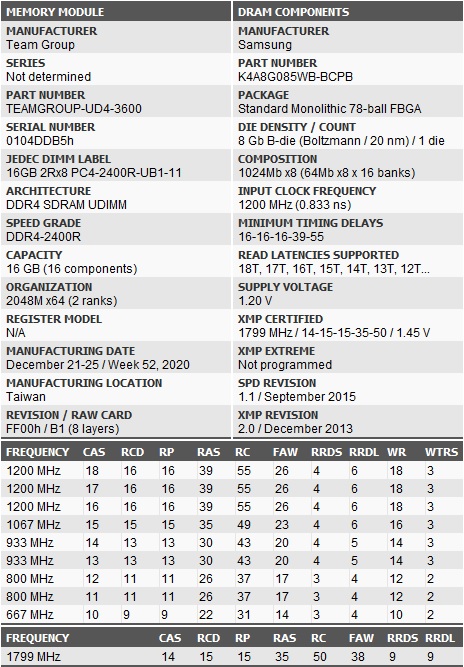 Using its default XMP profile, the voltage is automatically set at 1.45V for 3600MHz but may be manually adjusted in the BIOS from between 1.20V to 1.50V – or higher. Here are the XTREEM ARGB WHITE features as taken from TeamGroup's website.
Features
A white and flawless morning star
Full-screen light penetrating design keeps it colorful and translucent
Premium overclocking 10-layer board
Superior performance and capacity upgrade
Selected high-quality IC that is stable and reliable
Support O.C. Profile for one-click overclocking
Support multiple lighting control software
TeamGroup offers a lifetime warranty for their T-FORCE desktop memory, and XTREEM ARGB WHITE is available only in white.
Let's unbox the memory kit on the next page and take a closer look.