T-FORCE VULCAN Z 2x32GB Kit Review – What can a Gamer do with 64GB RAM?
T-FORCE Vulcan Z DDR4 3000MHz desktop memory is not flashy or RGB like the 3200MHz Night Hawk memory, nor it is it clocked as high as HyperX Predator 3333MHz memory which requires a larger RAM heatsink. We are reviewing a high-capacity 32GBx2 DDR4 "gaming" memory kit to see if 64GB brings anything extra for gamers including RAM drive creation. We also will overclock it to see if we can get additional performance.
We were surprised when Team Group offered BTR a 2x32GB T-FORCE Vulcan Z 2x32GB DDR4 3000MHz review kit. We currently use 2x8GB of T-FORCE XTREEM DDR4 3600MHz CAS18 memory at 3866MHz. 16GB RAM is considered the optimum capacity for PC gamers although 8GB is probably still sufficient for mainstream gaming. If a gamer multitasks while gaming – perhaps content streaming or creation, downloading/uploading, or with memory intensive programs working in the background – then perhaps 32GB RAM may be advisable. In our case, we want to see if 64GB system RAM can be useful to a gamer who doesn't use his PC as a workstation.
Memory pricing remains stable although there are some some good deals to be found especially for 2x8GB kits. Although the T-FORCE Night Hawk RGB PC4 25600 DDR4 3200MHz CL16 2x8GB kit is available at Newegg for $84.99, and the HyperX Predator PC4 28880 3600MHz 2x8GB memory kit sells for $94.99 at Amazon, you can expect to pay $236.99 at Newegg for a Vulcan Z 2x32GB DDR4 3000MHz memory kit. And this T-FORCE Vulcan Z 2x32GB kit is currently the least expensive 64GB DDR 3000MHz on Newegg – with free shipping, and you have a choice of colors: gray or red.
From our testing with Ivy Bridge, Haswell, Skylake, and Coffee Lake platforms, using fast DDR over slower DDR memory brought limited gains to only a few games. We found that using faster memory resulted in extra overall performance gains for many other tasks and applications, but working with and benchmarking 64GB RAM is new territory for us.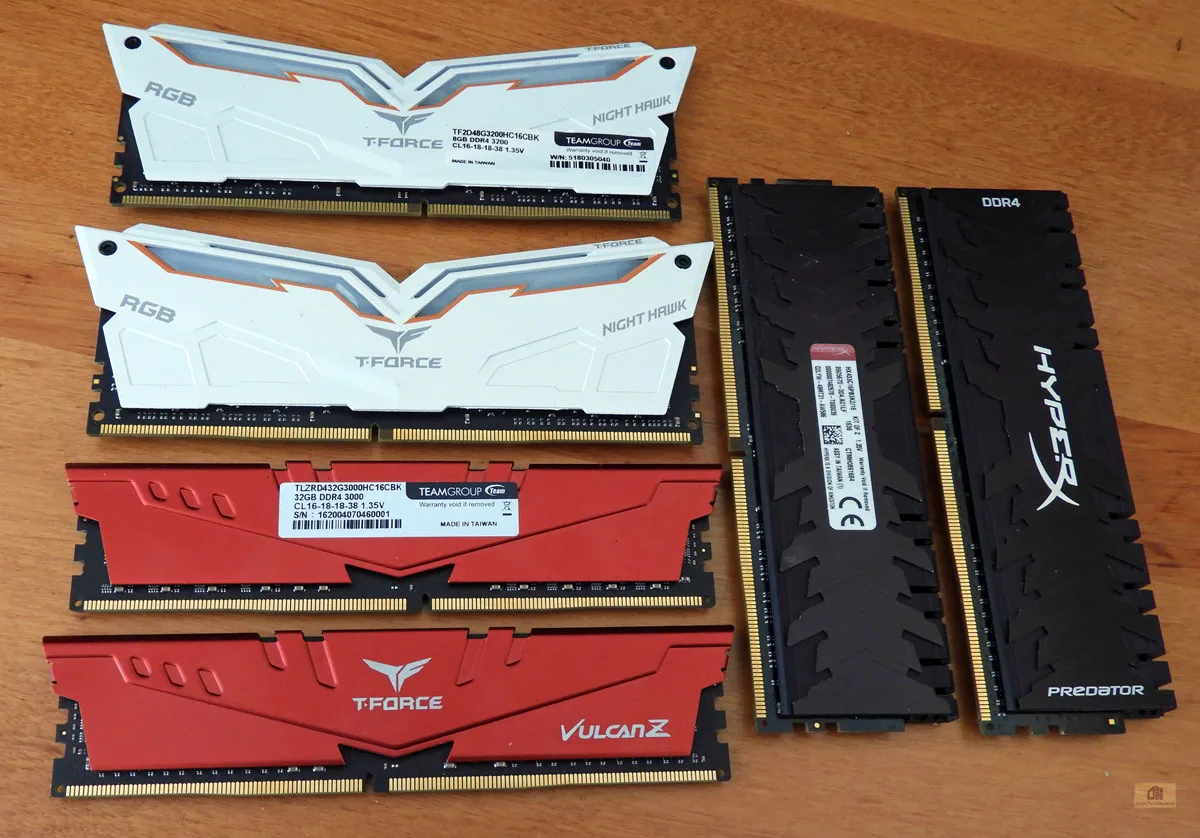 Here are the three memory kits that we are comparing:
T-FORCE T-1 Vulcan Z PC4 24000 DDR4 3000MHz CL16 (and overclocked) 2x32GB kit
T-FORCE Night Hawk PC4 25600 3200MHz DDR4 CL16 2x8GB kit
HyperX Predator PC4 26600 3333MHz DDR4 CL16 2x8GB Kit
Testing Platform
Our testing platform is a very recent clean installation of Windows 10 Home 64-bit, using an Intel Core i7-8700K at 4.80GHz in an ASRock Z390 Extreme 4 motherboard, a Team Group MP33 NVMe PCIe SSD, and with 64GB of T-FORCE Vulcan Z DDR3000 (also overclocked), 16GB of Night Hawk 3200MHz, or HyperX DDR4 at 3333MHz. We also used the RTX 2060 SUPER Founders Edition at stock clocks in our testing.
All three memory kits use CAS16, and their Command Rates are set at 2T by their respective default XMP 1.0 profiles in the BIOS. The default XMP 1.0 Profile 1 of the T-FORCE Vulcan Z DDR4 3000MHz timings and the T-FORCE Nighthawk DDR4 3200MHz timings are both 16-18-18-38, but the HyperX 3333MHz default profile is 16-18-18-36. The settings, benchmarks, testing conditions, and hardware are identical except for the three DDR4 kits being compared.
We will compare the performance of all three DDR4 kits, and we will also overclock the Vulcan Z's memory to chart the effects of multiple memory speeds on the performance of five modern games at a maxed-out/ultra 1920×1080 resolution. We benchmark using many of the recognized memory-related benchmarking tools including AIDA64, SANDRA, RealBench, PCMark 8 and 10, 3DMark, Cinebench, Novabench, Star Swarm demo, and Wprime. After that, we built a 48GB RAM drive to see if there is any benefit for gaming.
Product Specifications & Features
Here are the T-FORCE Vulcan Z DDR4 memory specifications from Team Group's website: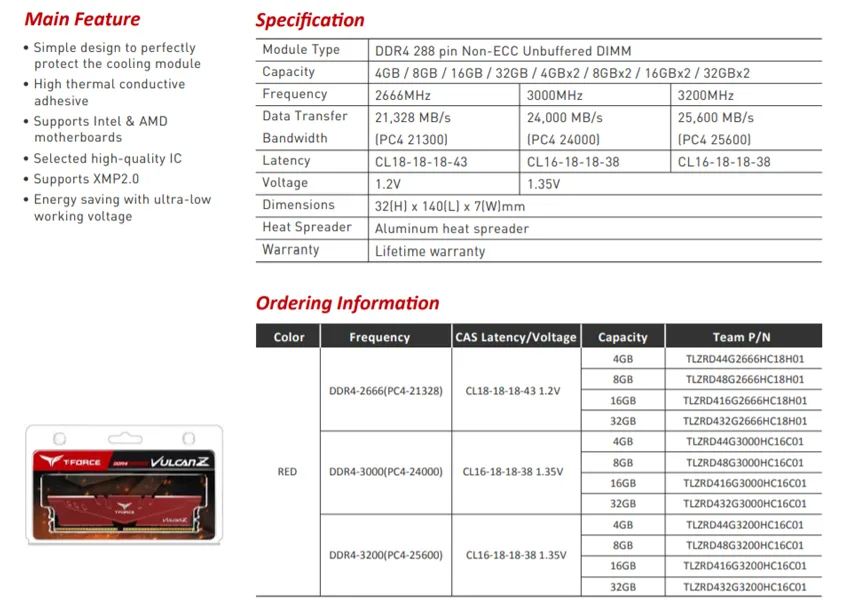 There are two XMP profiles available, but our motherboard only recognized XMP Profile 1. Voltage is set at 1.35V for 3000MHz but may be manually adjusted from between 1.2V to 1.4V – or higher. These features are quoted from Team Group's website.
Features
Simple design to perfectly protect the cooling module
High thermal conductive adhesive
Supports Intel & AMD motherboards
Selected high-quality IC
Supports XMP2.0
Energy saving with ultra-low working voltage
Team Group offers a lifetime warranty for their T-FORCE desktop memory. Let's unbox the memory kit on the next page and take a closer look.
Unboxing
The T-FORCE Vulcan Z DDR4 3000MHz 2x32GB memory kit comes in a anti-static blister pack with a card that advertises its features on its reverse.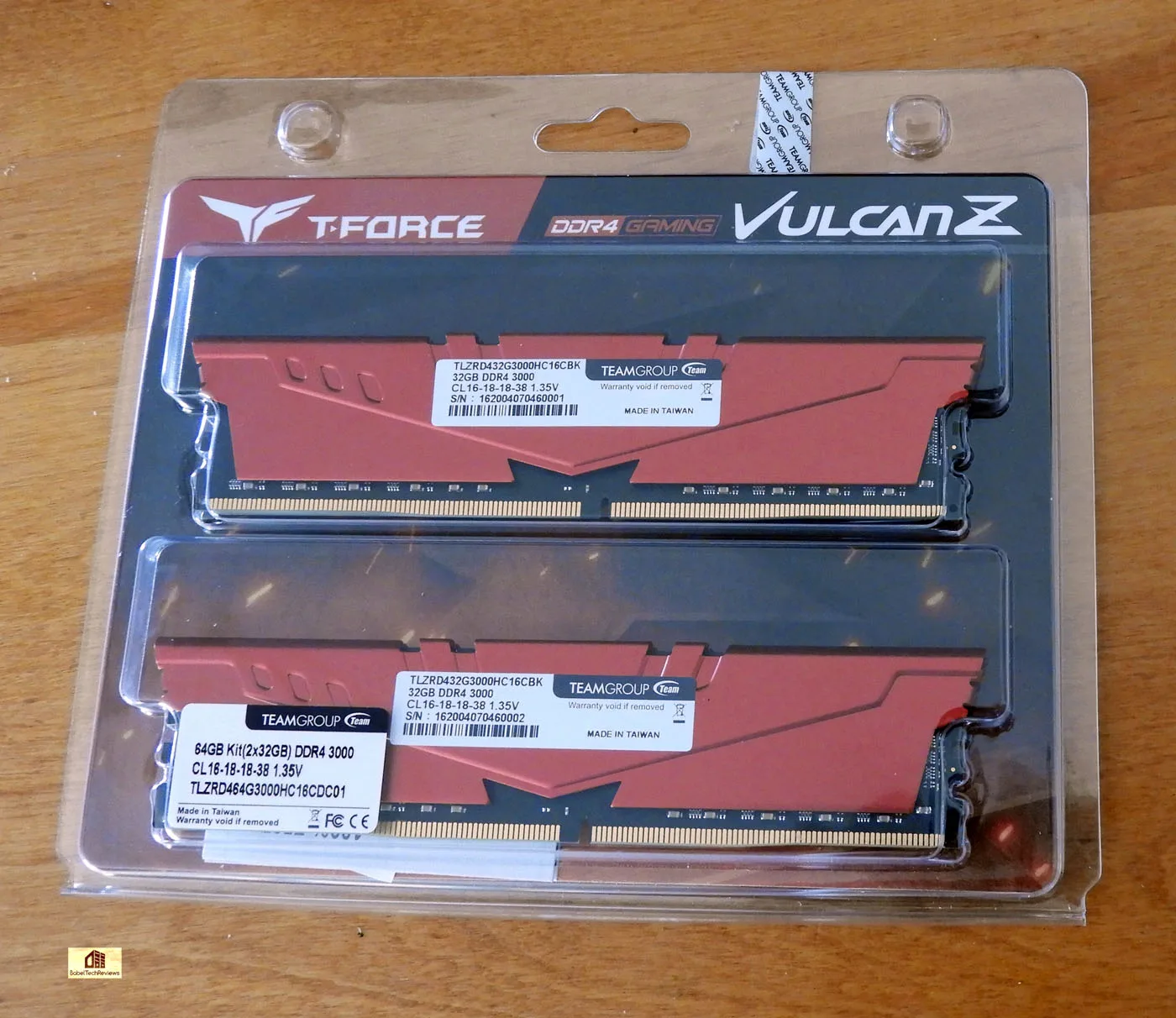 Team Group's T-FORCE logo is of a stylized hawk symbolizing a gamer's independent spirit of flying free. The product card explains the history of T-FORCE and lists its product features.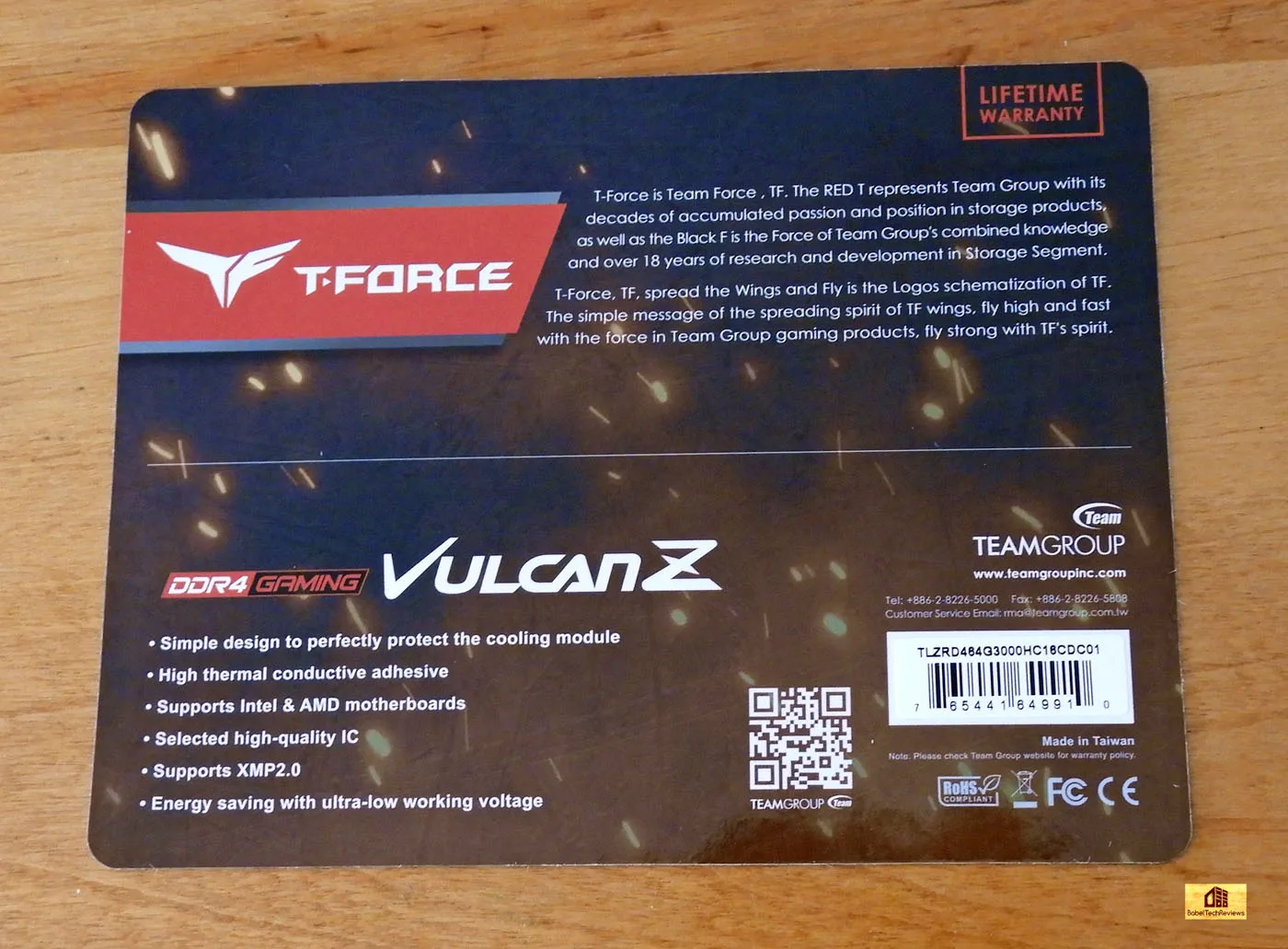 After we removed the memory out of its anti-static blister pack, we placed it next to the rest of the contents.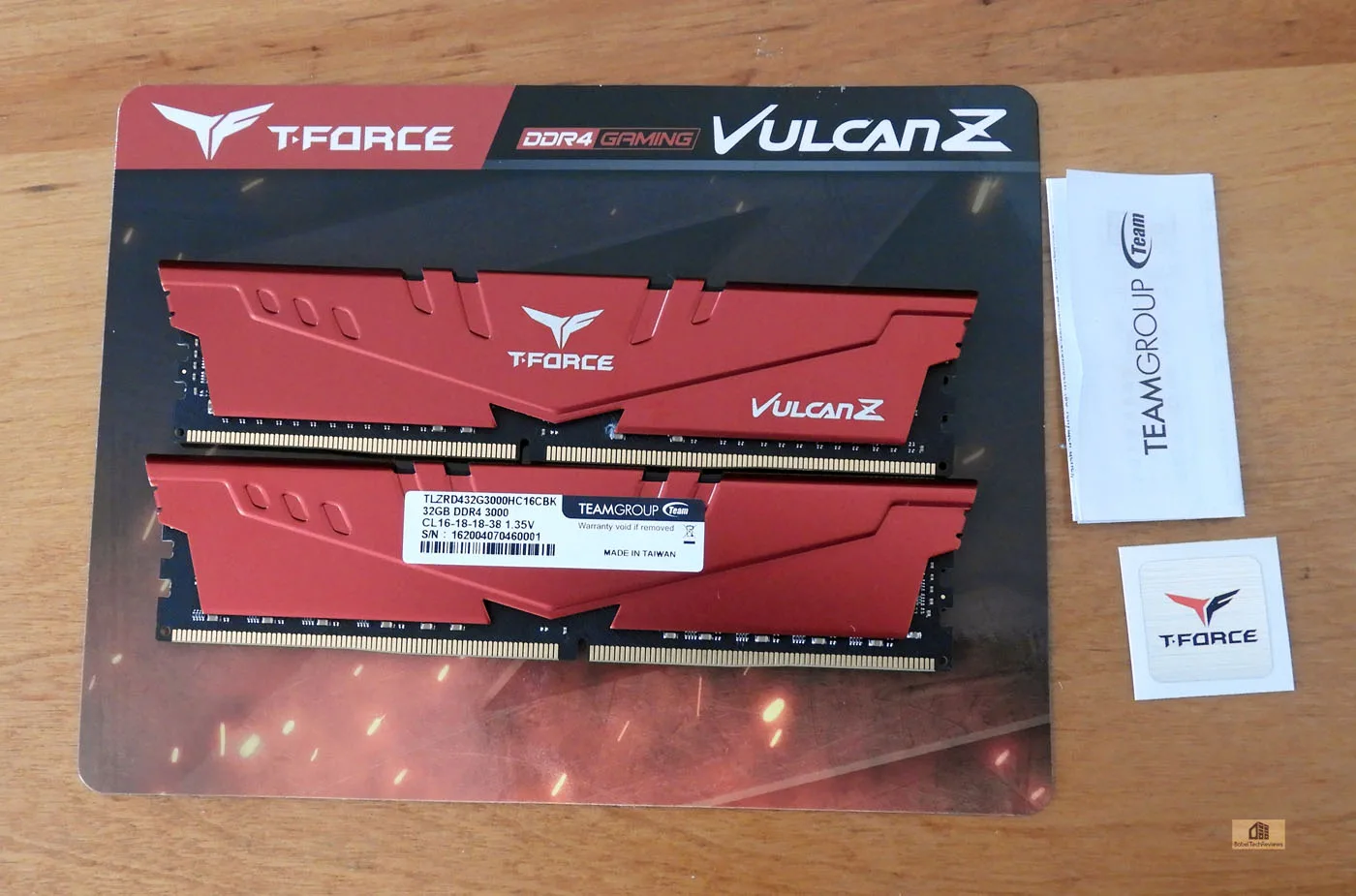 The installation guide is illustrated and it is easy to follow.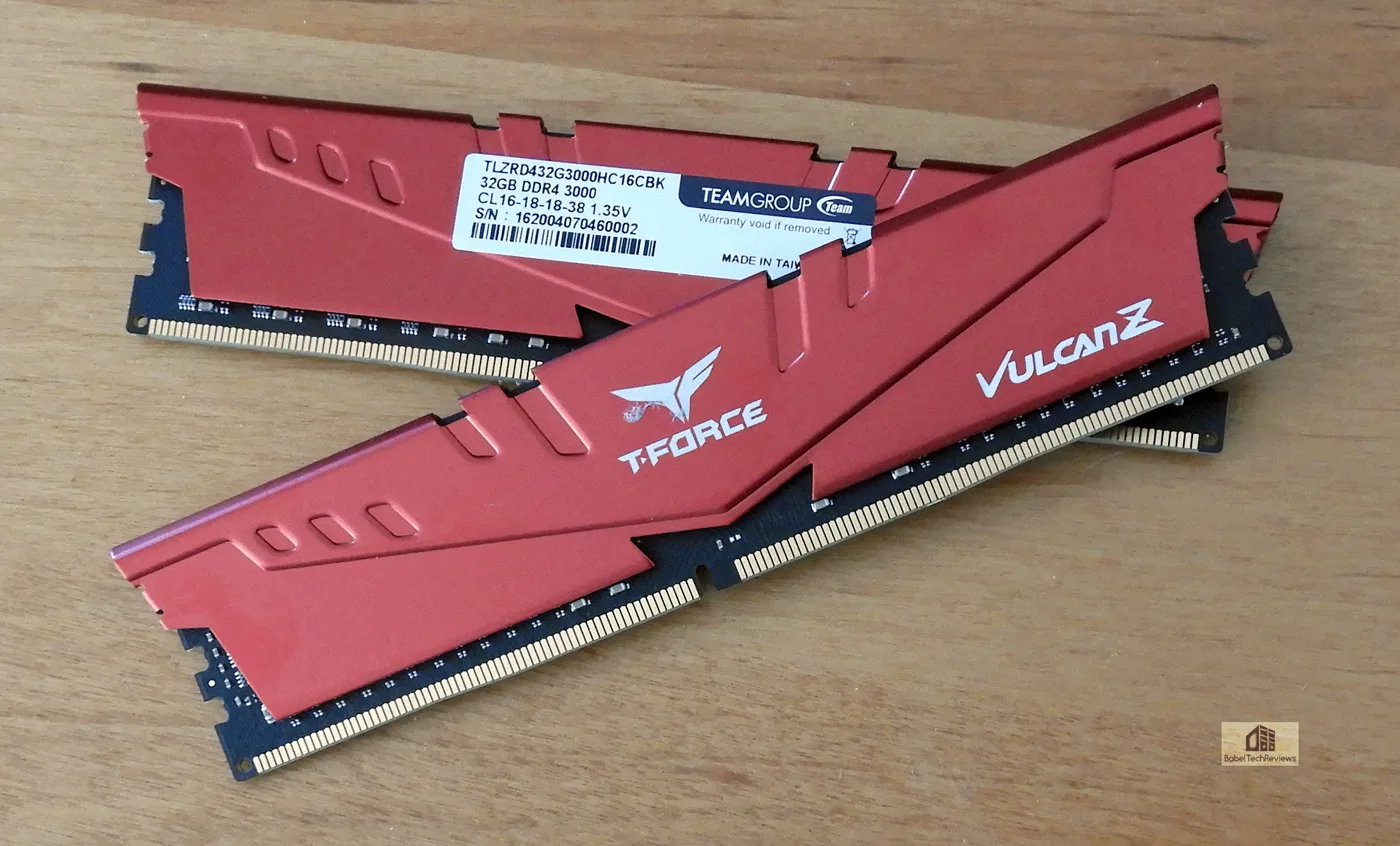 There is plenty of room in most cases and in motherboards for this memory unlike with the taller, bulkier, and heavier Night Hawk memory modules that may interfere with some large CPU air coolers.
In the BIOS
The T-FORCE Vulcan Z DDR4 3000MHz XMP profiles show up properly configured by the ASRock Z390 motherboard's BIOS. We used the XMP 1 Profile associated with the kit, and it properly configured itself automatically until we manually overclocked it. There are a wide range of BIOS options presented to fine-tune and to overclock memory in most fully featured motherboard BIOSes.
The Vulcan Z DDR4 3000MHz memory timings are a reasonably tight 16-18-18-38. From our experience, it is generally preferable to choose faster memory clock speeds over tighter timings although some benchmarks appear to favor memory with tighter timings. As mid-range performance DDR4 it nominally uses 1.35V at 3000MHz, the same voltage as the Night Hawk and HyperX memory at their own stock frequencies. The memory voltage can also be manually set from below 1.2V to 1.4V (or higher at your own risk) in the BIOS.
First, let's look at our test configuration.
Test Configuration – Hardware
Intel Core i7-8700K (HyperThreading and Turbo boost are on to 4.8GHz for all cores; Coffee Lake DX11 CPU graphics).
ASRock Z390 Extreme 4 motherboard (Intel Z390 chipset, latest BIOS, PCIe 3.0/3.1 specification, CrossFire/SLI 8x+8x)
T-FORCE Vulcan Z 24000 DDR4 3000MHz CL16 (and overclocked) 2x32GB kit, supplied by Team Group
T-FORCE Night Hawk PC4 25600 3200MHz DDR4 CL16 2x8GB kit, supplied by Team Group
HyperX Predator PC4 26660 3333MHz DDR4 CL16 2x8GB Kit, supplied by Kingston
RTX 2060 SUPER Founders Edition 8GB, at stock FE clocks, on loan from NVIDIA
1TB Team Group MP33 PCIe SSD
1.92 TB San Disk enterprise class SSD
2 TB Micron 1100 SSD
500GB T-FORCE Vulcan SSD, supplied by Team Group
500GB Delta Max RGB SSD, supplied by Team Group
EVGA 1000G 1000W gold power supply unit
Cooler Master 240mm CPU water cooler
EVGA DG-77, mid-tower case supplied by EVGA
Monoprice Crystal Pro 4K
Test Configuration – Software
Nvidia's GeForce 445.87 WHQL drivers. High Quality, prefer maximum performance, single display.
VSync is off in the control panel.
AA enabled as noted in games; all in-game settings are specified with 16xAF always applied.
Highest quality sound (stereo) used in all games.
Windows 10 64-bit Home edition.
Latest DirectX
All games are patched to their latest versions at time of publication.
MSI's Afterburner, latest version.
OCAT, latest version
CPU-Z
MemTest64
Windows Memory Diagnostics
3DMark Physics Test
SiSoft Sandra 2020
AIDA64
PCMark 8 (Creativity Suite)
PCMark 10 (Extended)
Real Bench
Cinebench R20
WPrime
Star Swarm Demo
Blender 282
Novabench
ImDisk Toolkit
PC Game suite
World of Warcraft (PCMark 8)
Battlefield 3 (PCMark 8)
Anno 1800
Grand Theft Auto V
Civilization 6
Nvidia Control Panel settings:
We used MSI's Afterburner to set the power and temp limits to their maximums.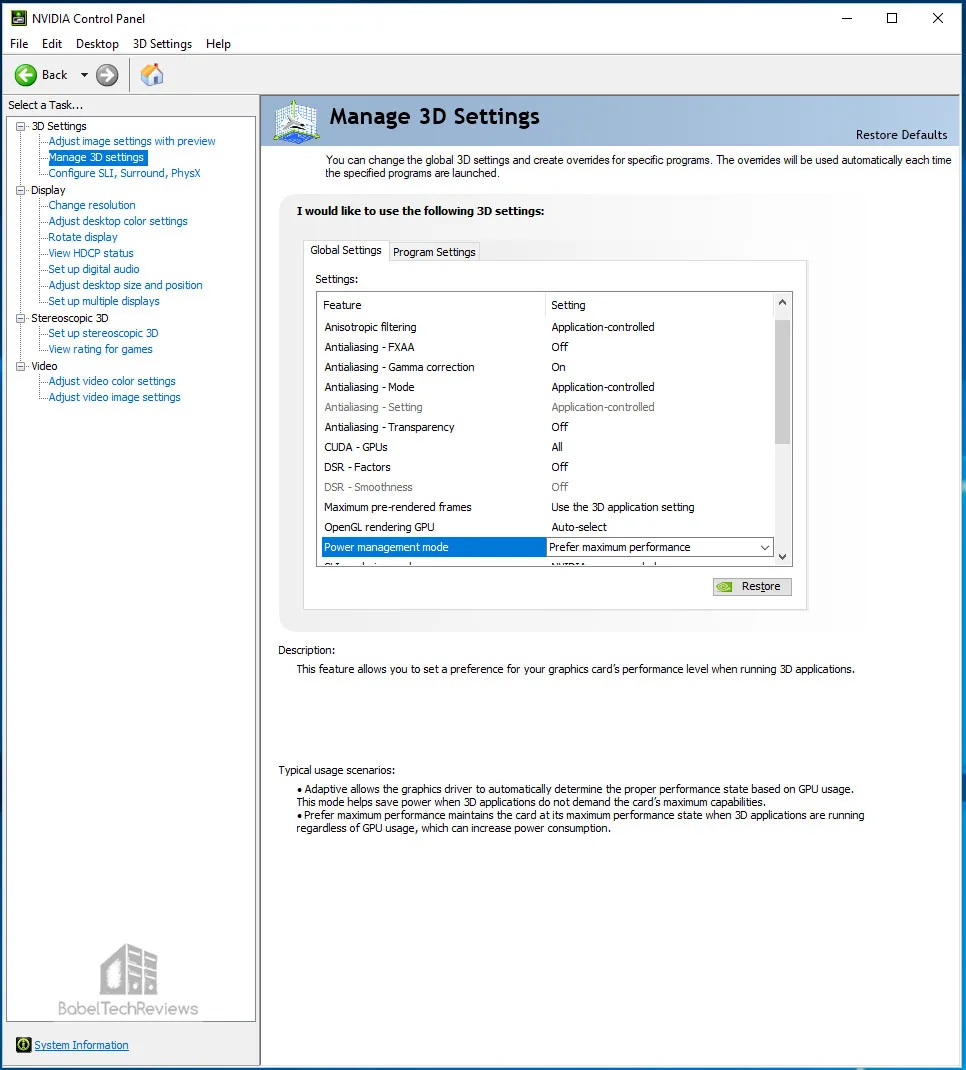 The Texture Filtering has been set to High and Vertical Sync has been disabled. Let's head to our benching results.
Overclocking
Before we look at our benches, let's explore overclocking our T-FORCE Vulcan Z DDR4 3000MHz. We used the default timings of the Vulcan Z DDR4 3000MHz memory to increase its clocks until we reached its maximum stable speed at 1.4V. Tightening DDR's timings tend to bring less performance gain than increasing clock speed and should probably be left until after the preliminary overclocking stability tests are complete.
Here is CPU-Z showing the Vulcan Z DDR4 3000MHz timings and speeds: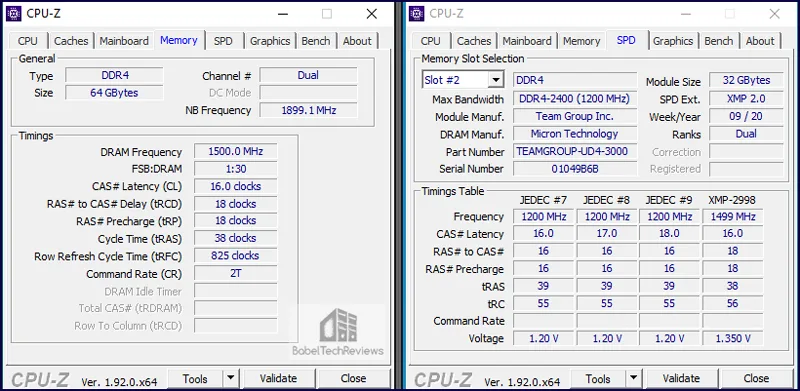 Here it is overclocked to 3333MHz with the same timings as at 3000MHz but now at 1.4V for stability: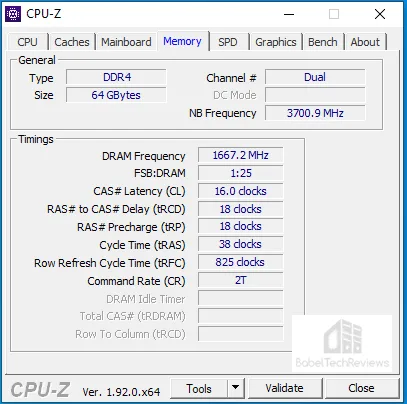 We used our own self-imposed hard cap of 1.4V which we used to stabilize the memory overclock. After much experimentation including reaching 3200MHz with 1.385V, we finally settled on an overclock of just above 11%, or +333MHz, to stably reach DDR4 3333MHz speeds which are several speed grades above 3000MHz. It refused to post above 3333MHz, and it would probably have required more the 1.4V that we are willing to use.
We tested our final overclock using AIDA64's System Test. It stresses the memory and also the CPU. We also confirmed that our final overclock to 3333MHz was stable by running MemTest/64 and Windows Memory Diagnostics overnight, as well as by playing games and running BTR's other benching suites.
We believe that our overclock of +333Hz from 3000MHz to 3333MHz may be a good middle ground for many enthusiasts wanting great value, long memory life, complete stability and increased performance. A more hardcore overclocker may want to aim for the highest overclock that their own memory will reach, and afterward they may fine-tune the timings for maximum memory performance.
It is important to look at synthetic benchmarks to highlight the differences between our three memory samples and also note what happens to application and game performance as we increase the T-FORCE Vulcan Z memory's clock speeds from 3000MHz to 3333MHz as well as to compare with higher performance DDR4.
Benchmarking
Synthetic Benches
Before we get to gaming, we want to see exactly where memory performance results differ, and there is no better tool than SiSoft's SANDRA 20/20. SiSoftware Sandra (the System ANalyser, Diagnostic and Reporting Assistant) is an complete information & diagnostic utility in one complete package. It is able to provide all the information about your hardware, software and other devices for diagnosis and for benchmarking. In addition, Sandra is derived from a Greek name that implies "defender" or "helper" – a PC Wonder Woman.
There are several versions of Sandra, including a free version of Sandra Lite that anyone can download and use. It is highly recommended! SiSoft's Sandra 20/20 R6 is the very latest version, and we are using the full engineer suite courtesy of SiSoft. The latest version features multiple improvements over earlier versions of Sandra. It will benchmark and analyze all of the important PC subsystems and even rank your PC and give recommendations for improvement.
We run the SANDRA memory intensive benchmark tests. Here is the chart summarizing the results of our memory speed testing.

T-FORCE Vulcan Z 3000MHz memory performance scales with overclocking and it compares favorably once overclocked with the higher speed grades.
We next feature AIDA64.
AIDA64 is the successor to Everest and it is an important industry tool for benchmarkers. Its memory bandwidth benchmarks (Memory Read, Memory Write, and Memory Copy) measure the maximum available memory data transfer bandwidth. AIDA64's benchmark code methods are written in Assembly language, and they are extremely optimized for every popular AMD, Intel and VIA processor core variants by utilizing the appropriate instruction set extensions. We use the Engineer's full version of AIDA64 courtesy of FinalWire. AIDA64 is free to to try and use for 30 days.
The AIDA64 Memory Latency benchmark measures the typical delay from when the CPU reads data from system memory. Memory latency time means the time is accurately measured from the issuing of the read command until the data arrives to the integer registers of the CPU. It also tests Memory Read, Write, and Copy speeds besides Cache.
The T-FORCE Vulcan Z 3000MHz DDR4 is first.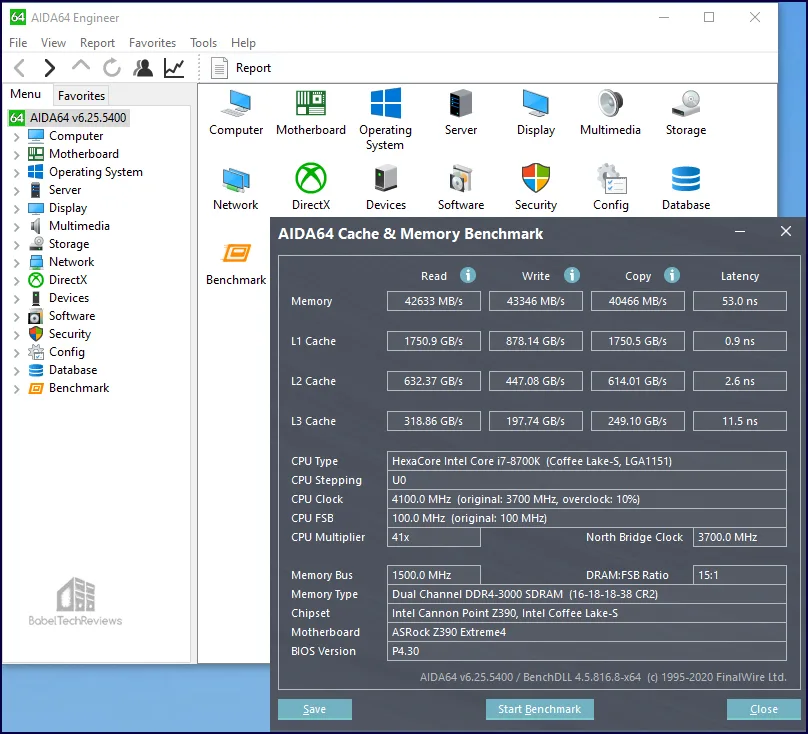 Next we overclock the Vulcan Z 3000MHz memory to 3333MHz and note an overall performance increase.
Here is the T-FORCE Night Hawk 3200MHz DDR4.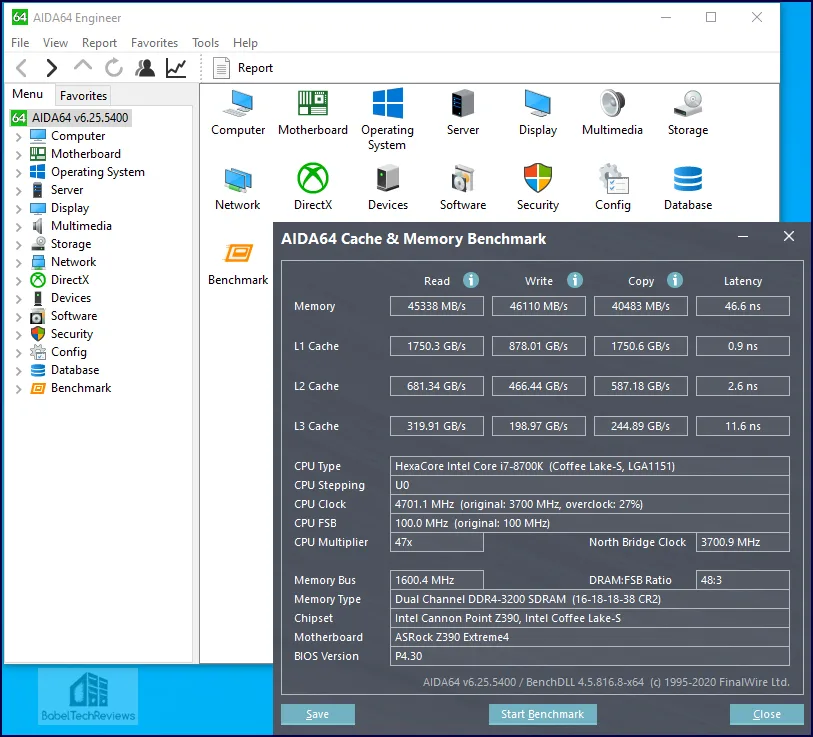 Here are the HyperX Predator 3333MHz DDR4 results.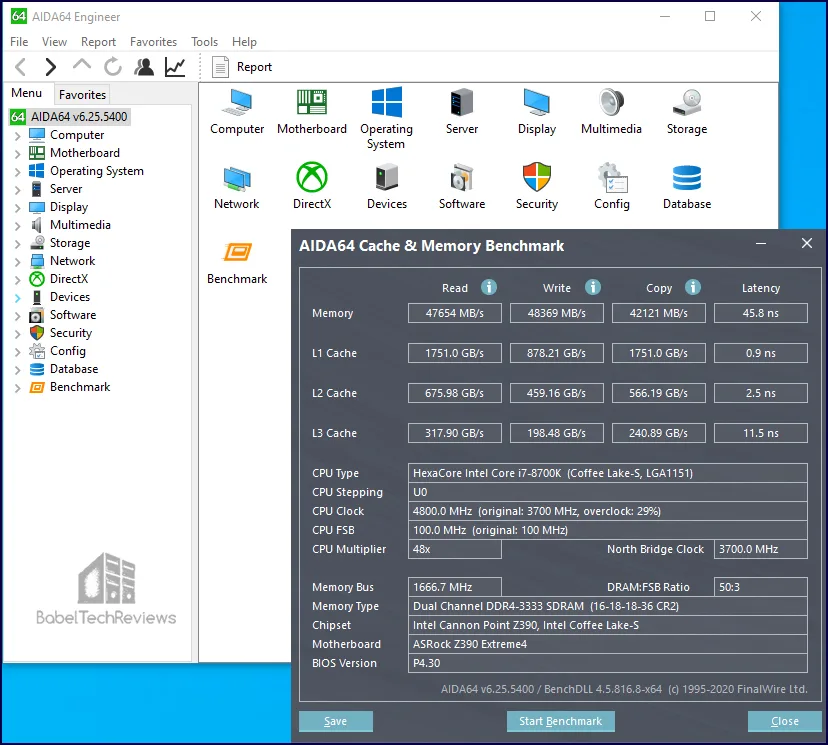 Here is the summary of the multiple AIDA64 memory benchmarks using a single chart that were harvested from the more detailed individual memory tests:

Faster memory scores higher and T-FORCE Vulcan Z memory continues to scale with overclocking. Let's look at PCMark 8 next to see if its benchmarks can reflect memory speed increases.
PCMark 8
PCMark 8 has an Creative test which uses real world timed benchmarks including web browsing, video group chat, photo, batch, and video editing, music and video tests, and even mainstream gaming. The PCMark 8 Storage Test does not test the CPU nor the memory, and there is almost no difference from increasing memory clock speeds.
The T-FORCE Vulcan Z 3000MHz DDR4 is first using the Creative test. It scores 8048.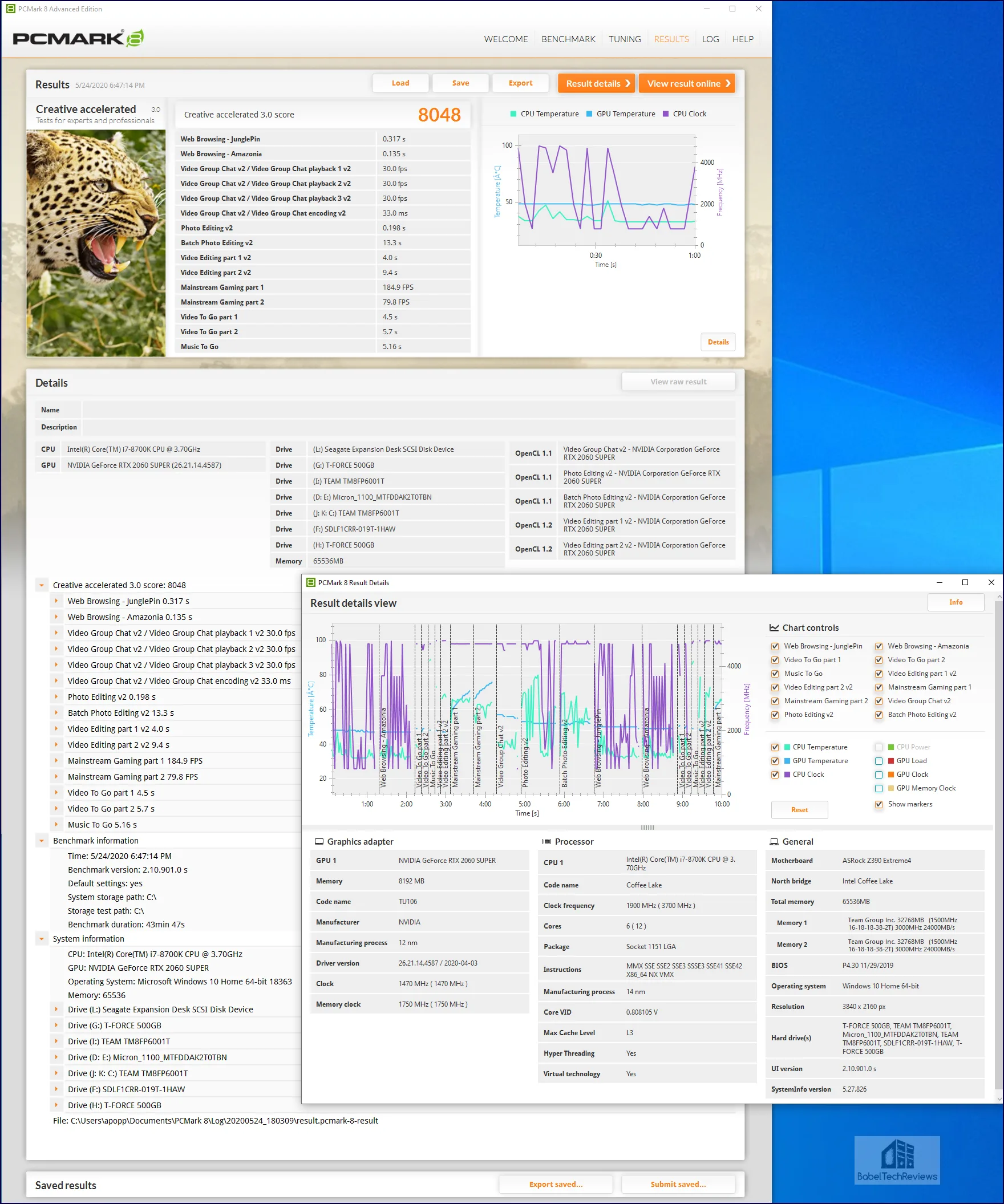 Next we overclock the Vulcan Z 3000MHz memory to 3333MHz. It scores 8127 which is a 79 point increase possibly from overclocking 333MHz.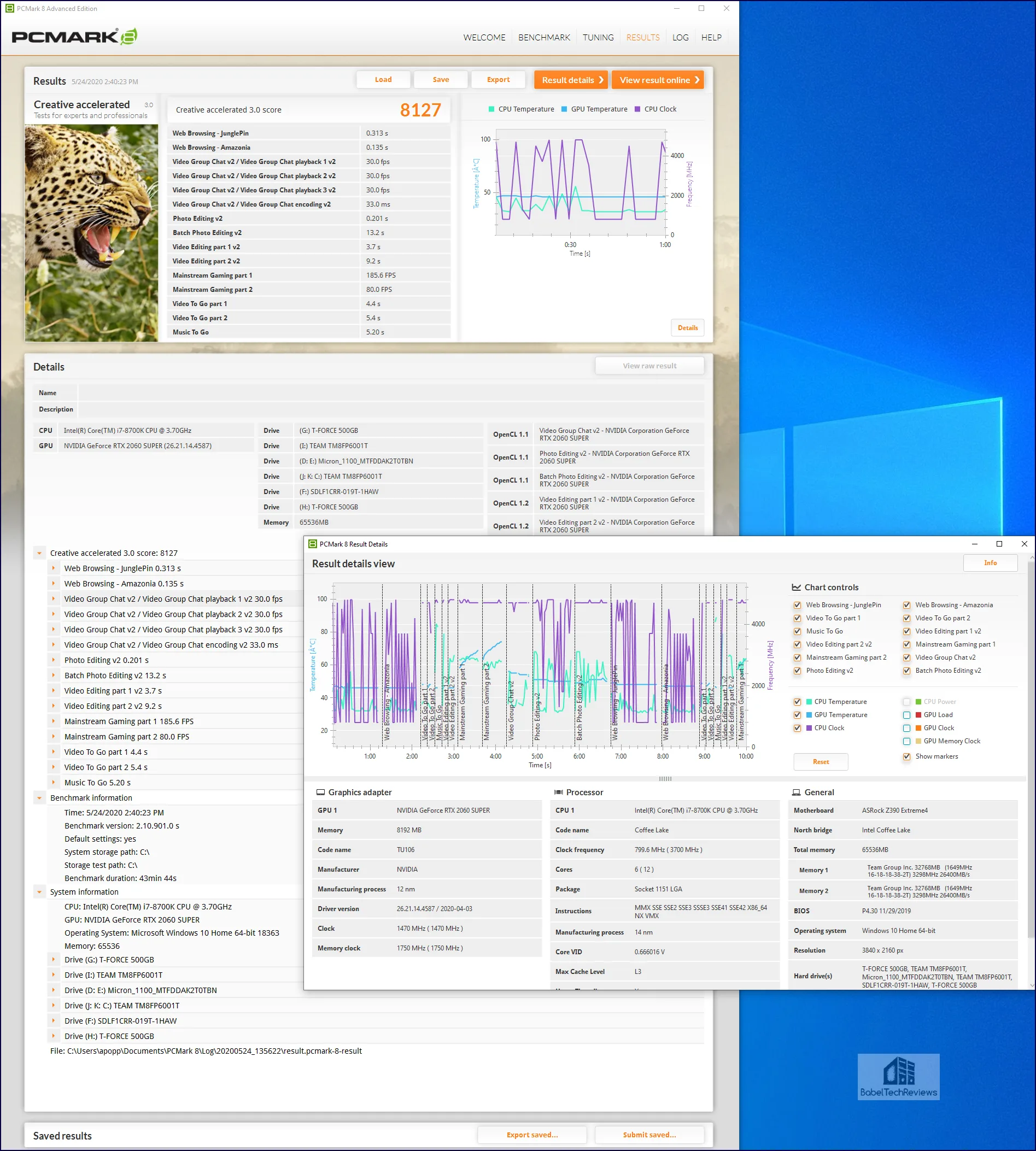 Here is the T-FORCE Night Hawk 3200MHz DDR4. It scores 8083.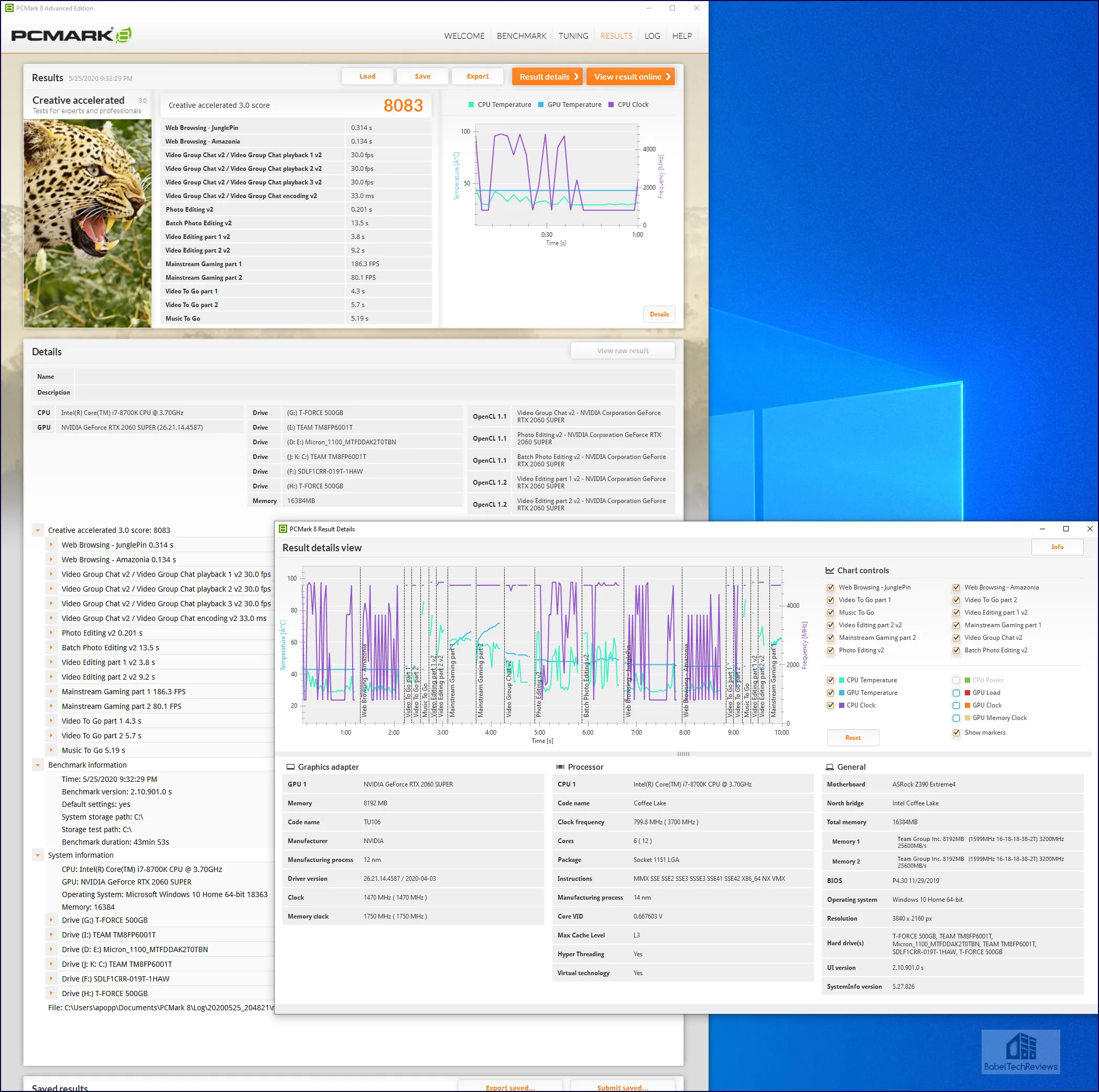 Here are the HyperX Predator 3333MHz DDR4 results. It scores 8139.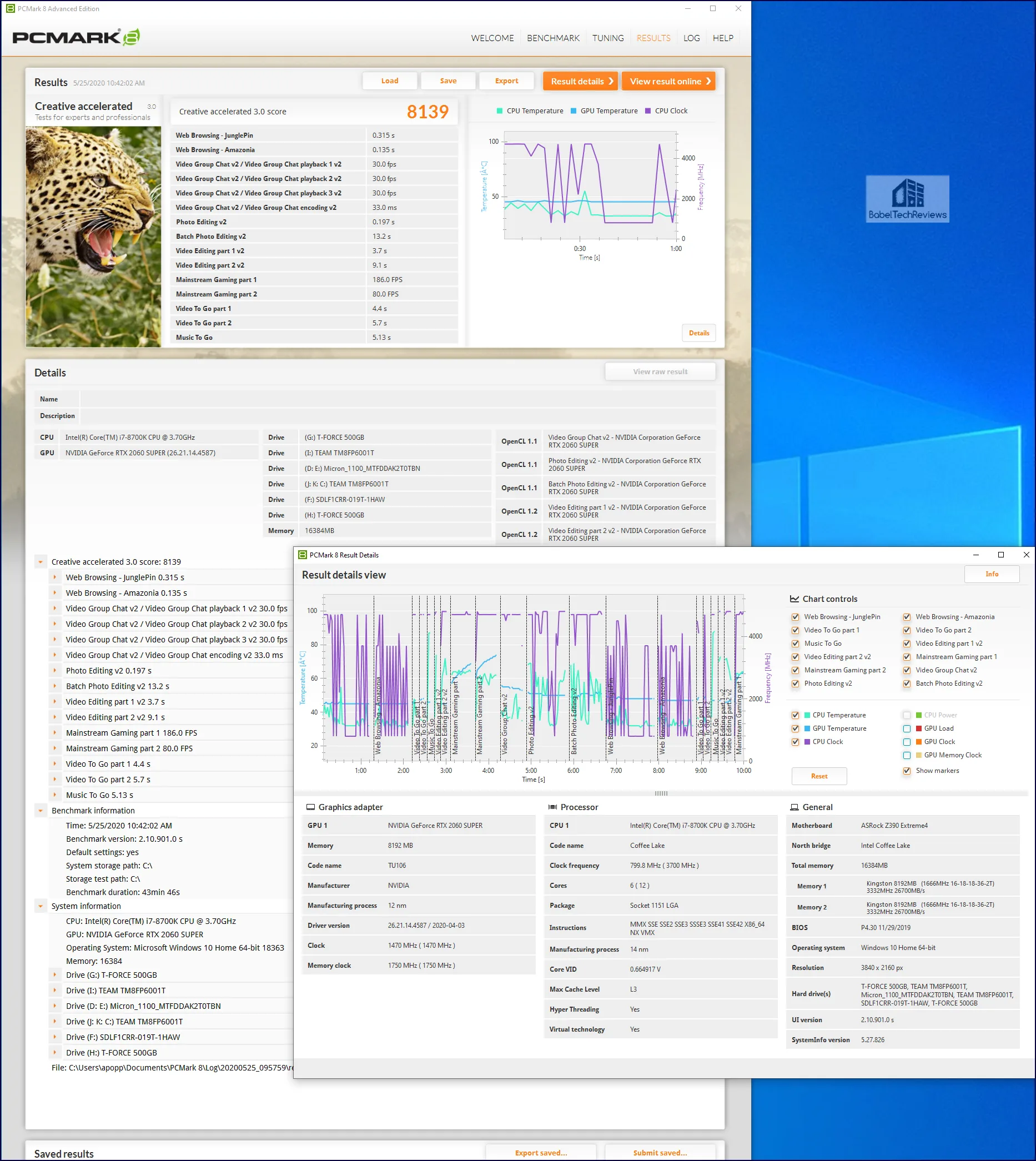 We may perhaps infer that overclocking the RAM speed may also increase performance from the overall summary chart.
PCMark 10
PCMark 10 benching suite is the follow-up to PCMark 8 and it also uses real world timed benchmarks which include web browsing, video group chat, photo, batch, and video editing, music and video tests, and even mainstream gaming. The PCMark 10 test offers two overall tests and we chose the extended version. In all cases, we show the test results from the desktop.
The T-FORCE Vulcan Z 3000MHz DDR4 is first using the Extended test. It scores 7718.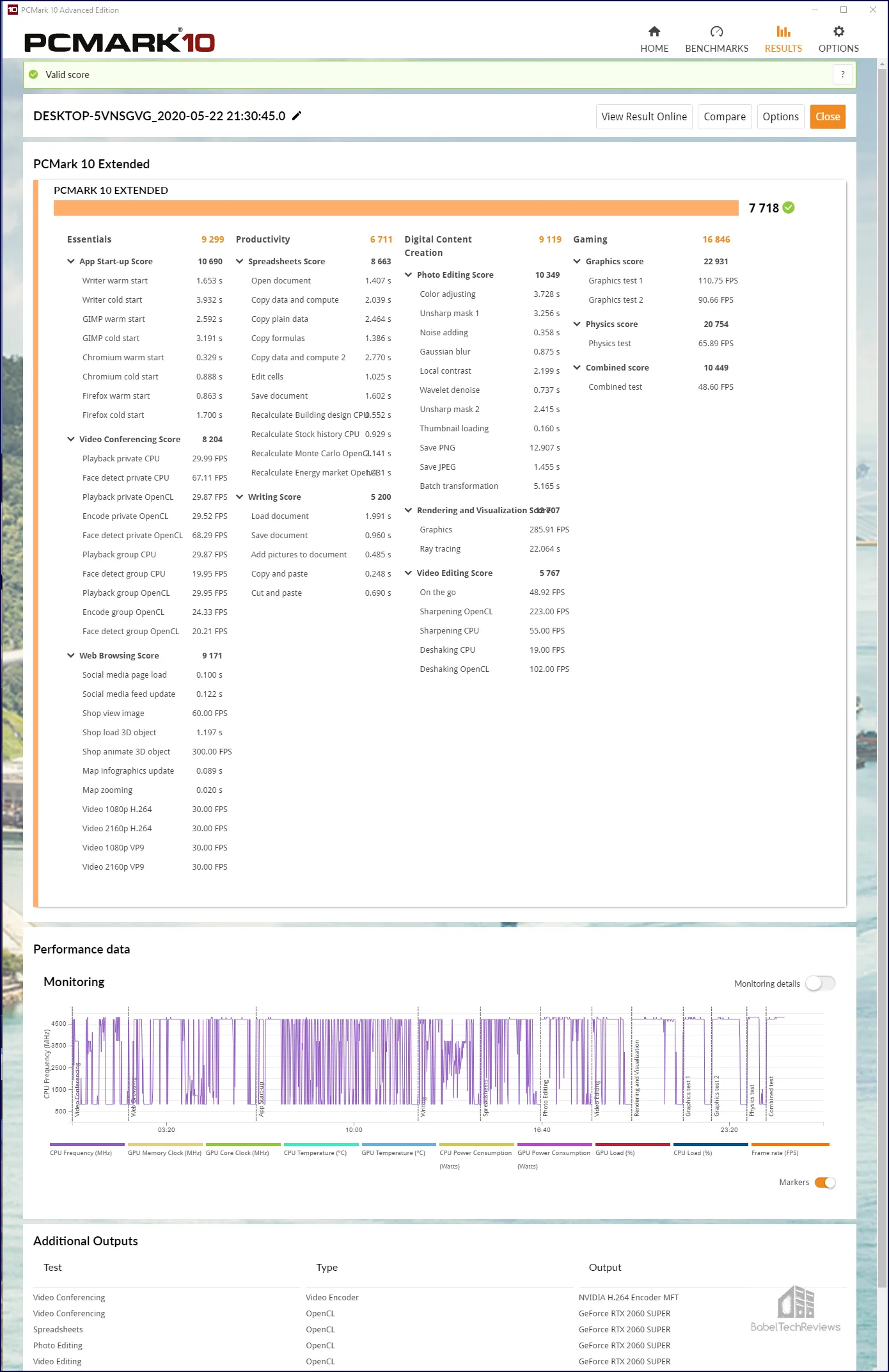 Next we overclock the Vulcan Z 3000MHz memory to 3333MHz. It scores an additional 173 points to 7891 after overclocking.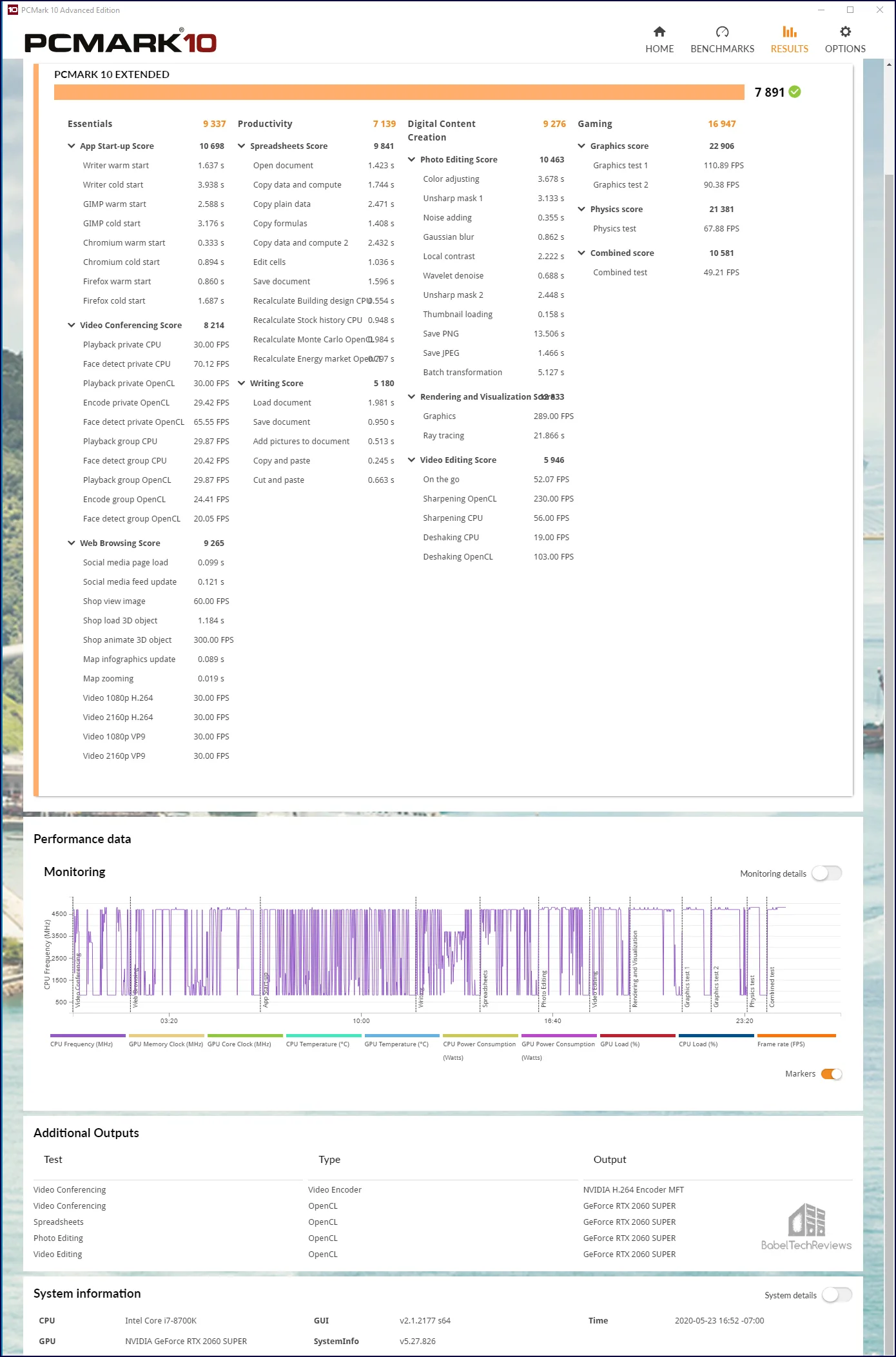 Here is the T-FORCE Night Hawk 3200MHz DDR4. It scores 7853.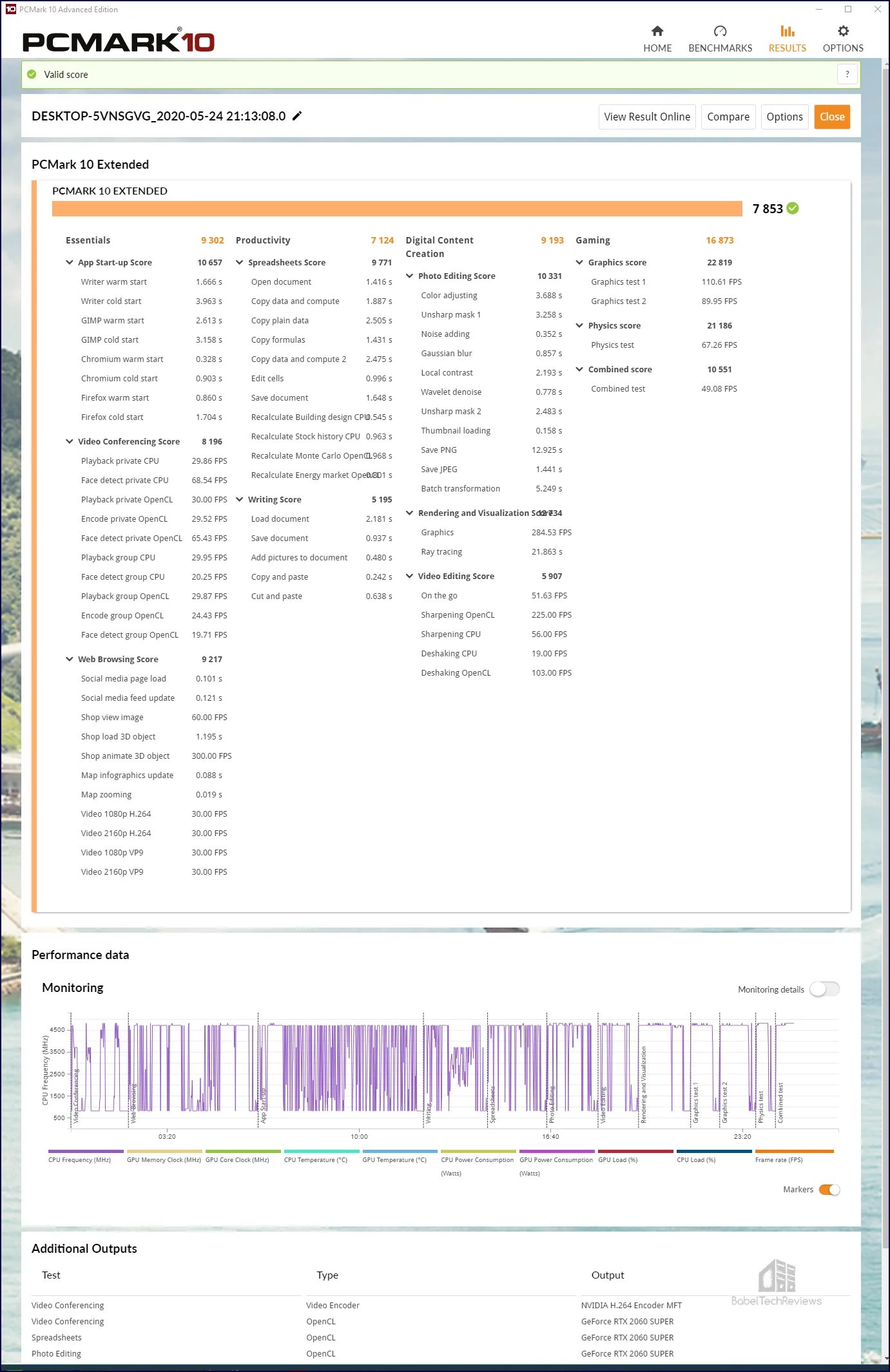 Here are the HyperX Predator 3333MHz DDR4 results. It scores 7850.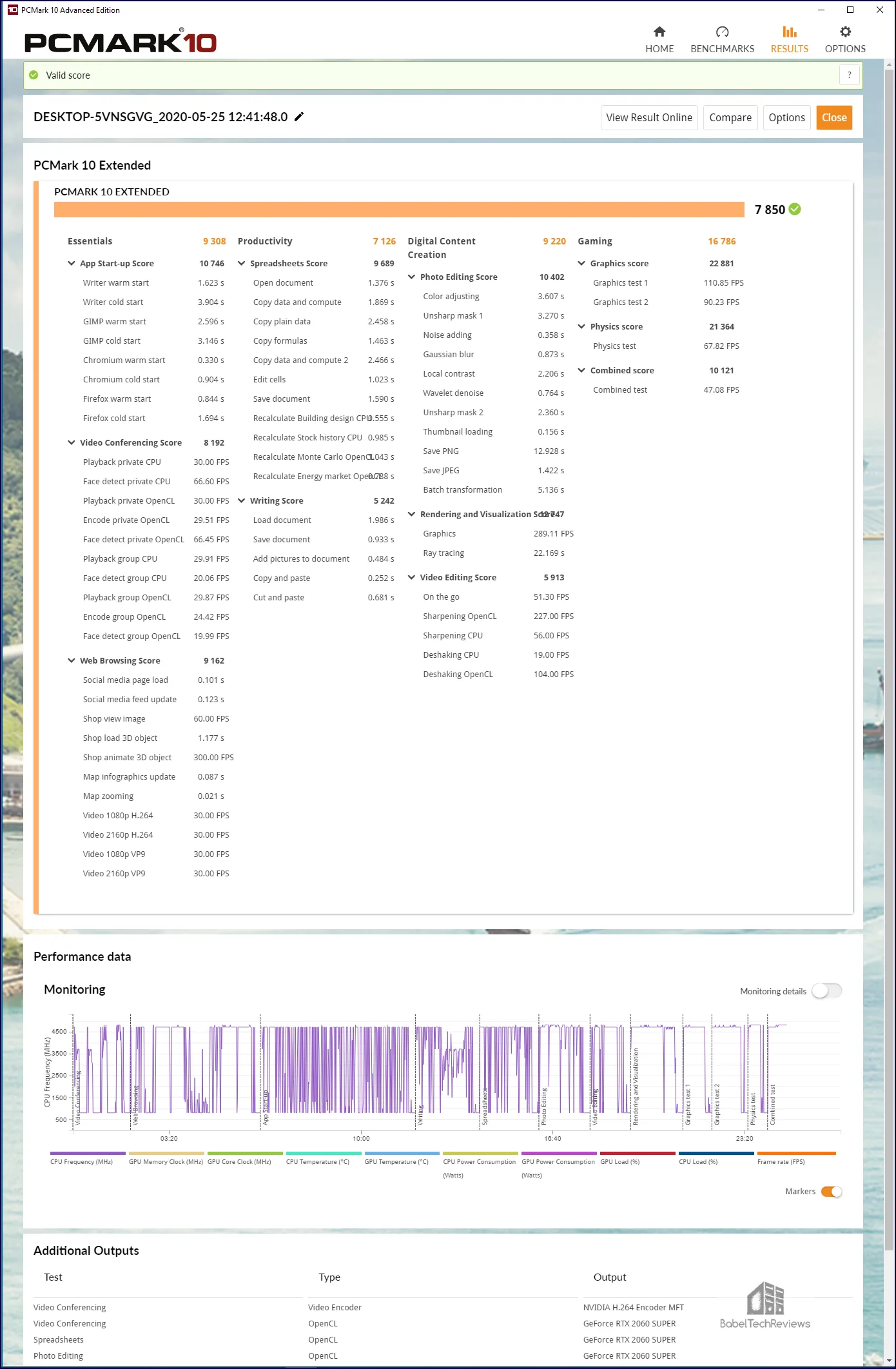 Here are the overall results:

The PCMark 10 overall results show an increase in scores as the memory speeds get faster although the HyperX memory at 3333MHz barely matches the Nighthawk 3200MHz score. Overclocking Vulcan Z DDR4 from 3000MHz to 3333MHz brings a performance increase.
Let's look at our next synthetic test, RealBench.
RealBench v2.56
RealBench is a benchmarking utility by ASUS Republic of Gamers which benchmarks image editing, encoding, OpenCL, Heavy Multitasking, and gives out an overall score for easy comparison off or online. Some of these tests are affected by CPU and memory speeds.
The T-FORCE Vulcan Z 3000MHz DDR4 is first. It scores 144,165.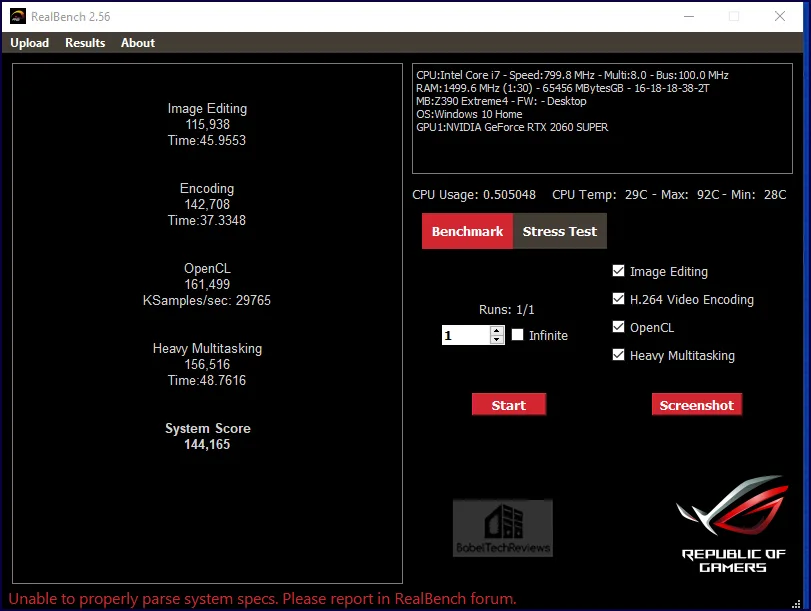 Next we overclock the Vulcan Z 3000MHz memory to 3333MHz. It scores 146,030 – an overall increase – but strangely, image editing takes longer after the memory is overclocked.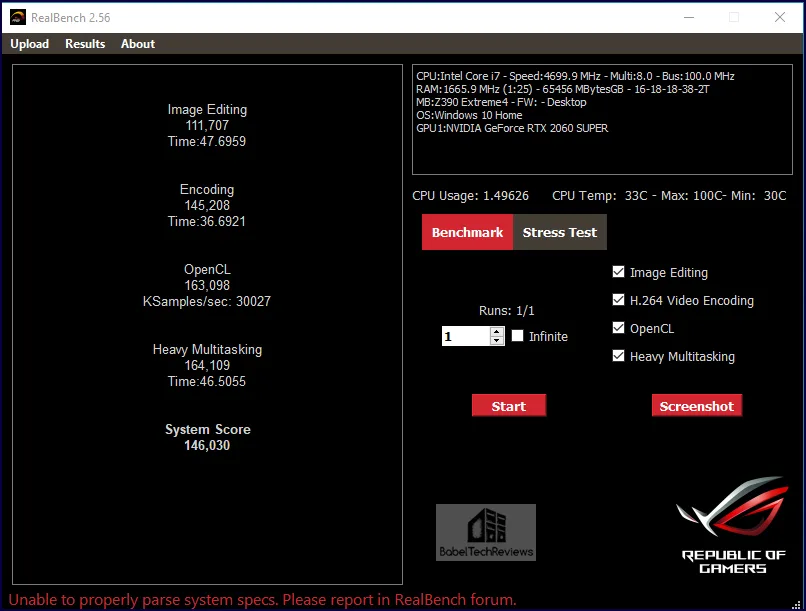 Here is the T-FORCE Night Hawk 3200MHz DDR4. It scores 146,314.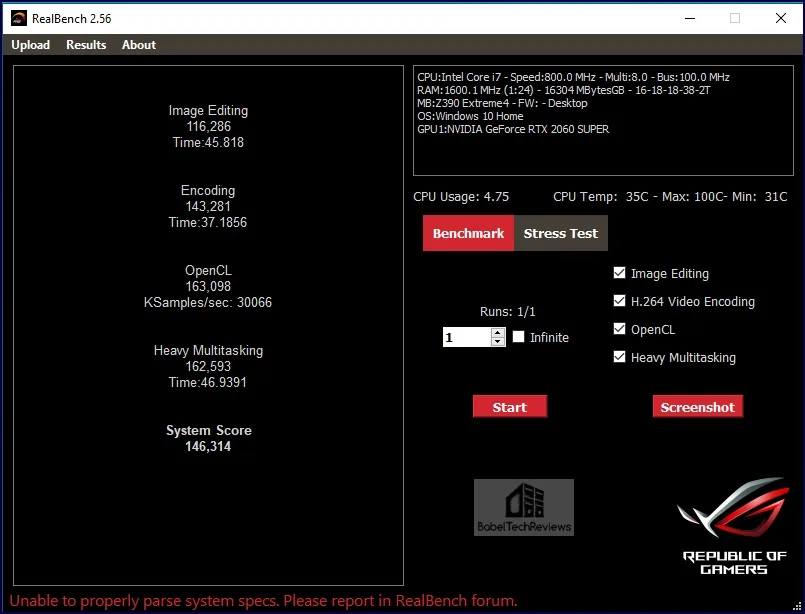 Here are the HyperX Predator 3333MHz DDR4 results. It scores 146,870.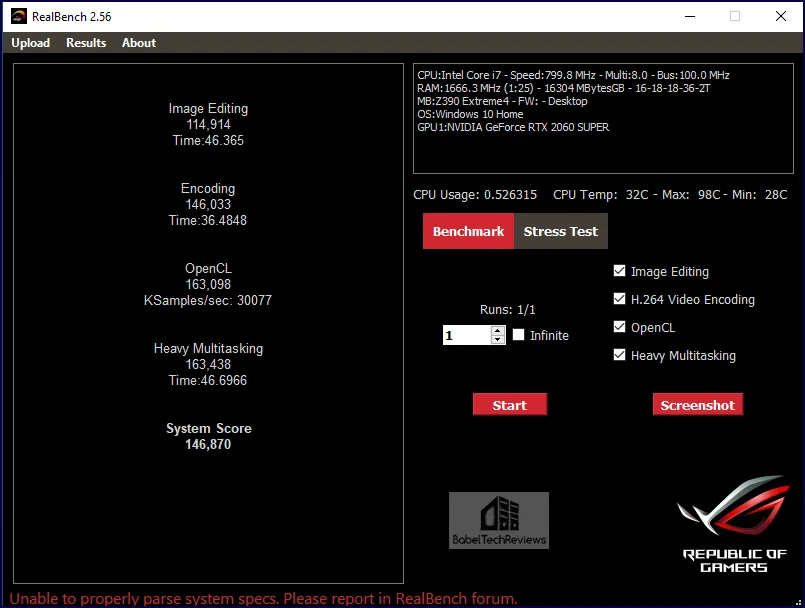 Here are the individual tests summarized.

Just like with PCMark, the individual results are inconclusive but the scores generally increase with higher memory clocks although the overclocked Vulcan Z 3333MHz memory scores lower than the stock-clocked Nighthawk 3200MHz memory.
Next we benchmark using Cinebench.
Cinebench
CINEBENCH is based on MAXON's professional 3D content creation suite, CINEMA 4D. This latest R20.0 version of CINEBENCH can test up to 64 processor threads accurately and automatically. It is an excellent tool to compare both CPU/memory and graphics OGL performance. We are going to focus only on the CPU which is given is cb, and higher is always better.
The T-FORCE Vulcan Z 3000MHz DDR4 is first. It scores 3644.
Overclocking the Vulcan Z 3000MHz memory to 3333MHz adds only 10 additional points to 3654.
Here is the T-FORCE Night Hawk 3200MHz DDR4 score. It achieves 3646.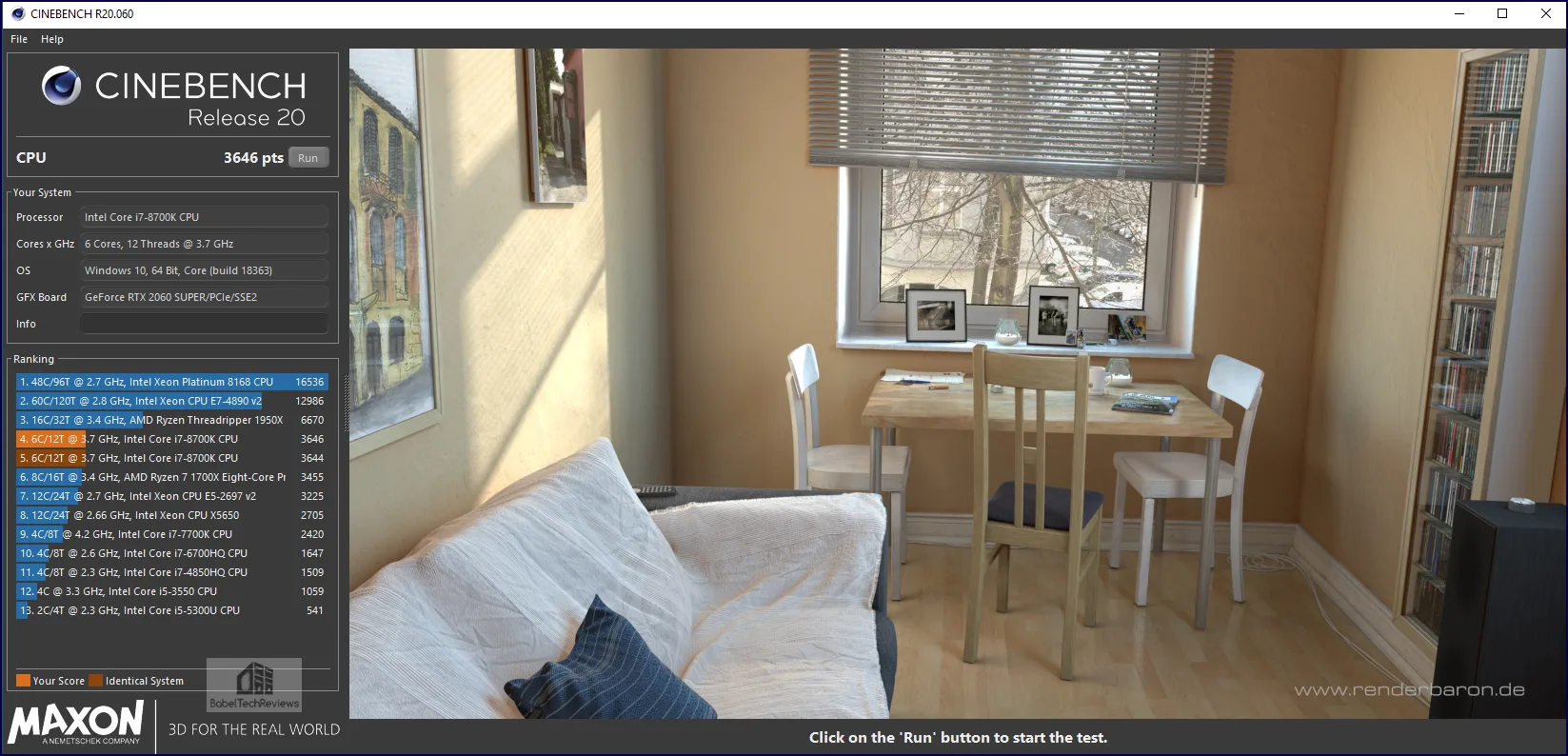 Here are the HyperX Predator 3333MHz DDR4 results. It scores 3653.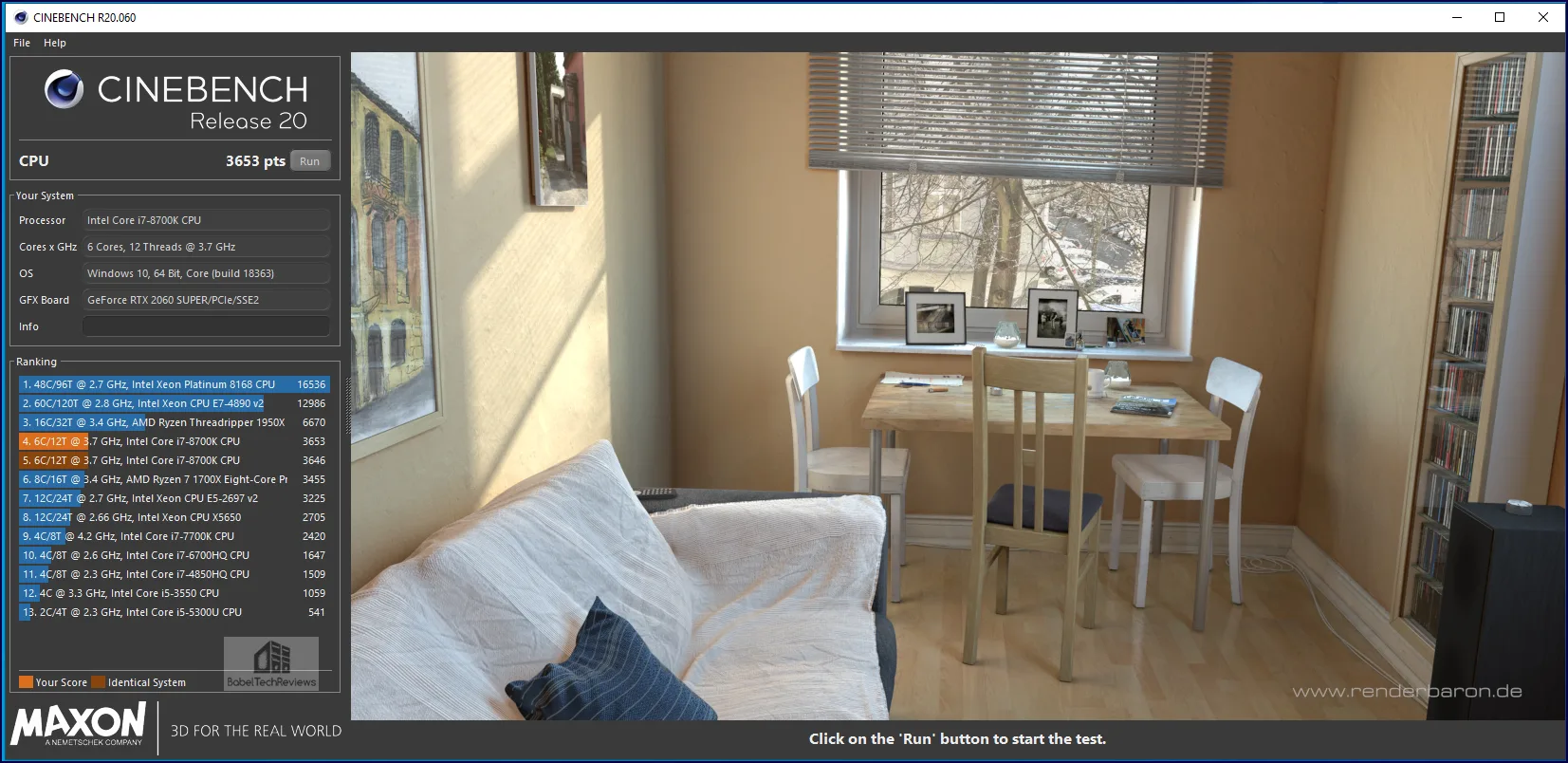 There is very little difference between the scores as shown by the chart summarizing the Cinebench runs.

Another small performance increase with memory speed scaling is implied by the overall scores. Next, Novabench.
Novabench
Novabench is a very fast benching utility that spits out a memory score showing the overall bandwidth.
The T-FORCE Vulcan Z 3000MHz DDR4 is first. It scores 369 and 31161 MB/sec.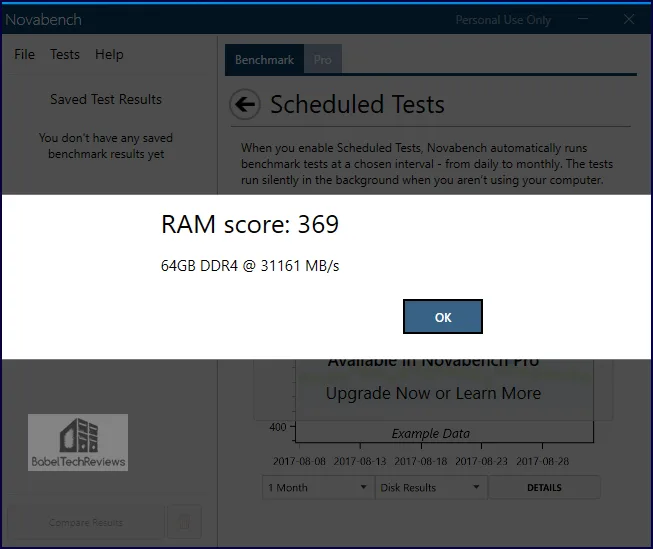 Next we overclock the Vulcan Z 3000MHz memory to 3333MHz. The score increases to 378 with 33554 MB/second.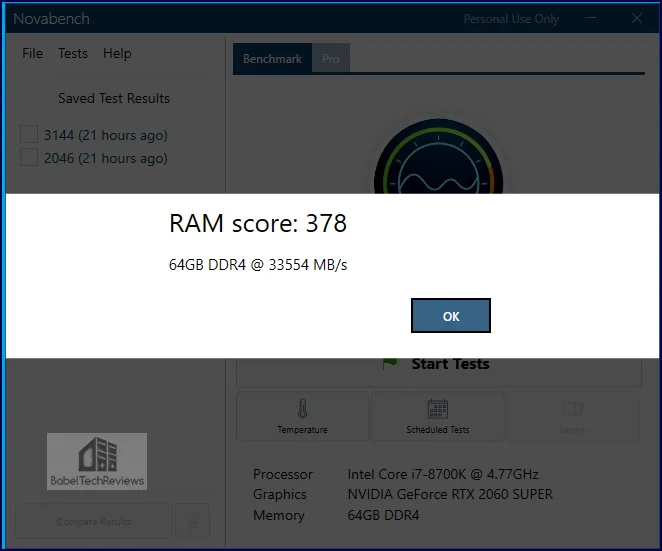 Here is the T-FORCE Night Hawk 3200MHz DDR4. It scores 287 and 31236MB/second.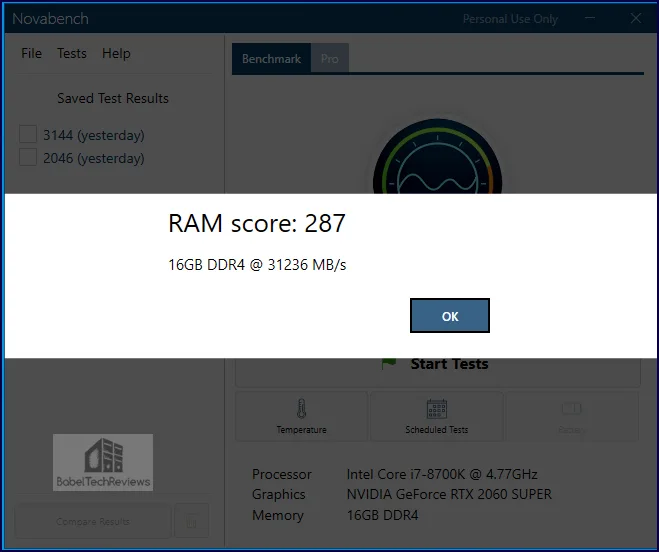 Here are the HyperX Predator 3333MHz DDR4 results. It scores 289 with 32012MB/second.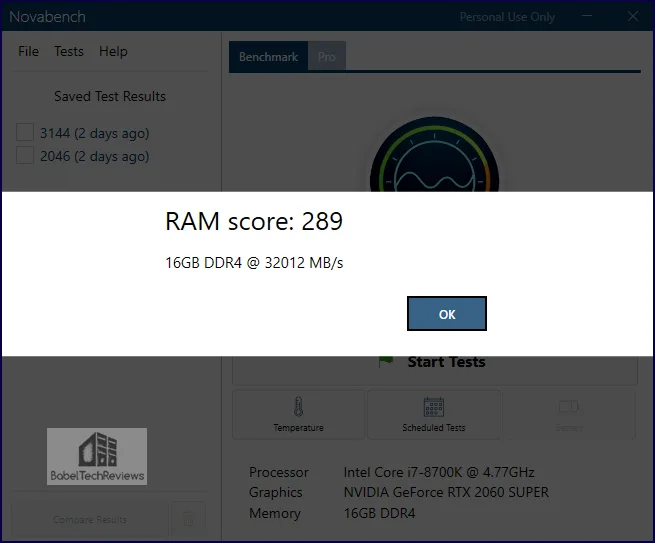 Here are the Novabench memory scores summarized in a chart.

The Novabench results seem to in-line with the other synthetic benchmarking suites, showing a performance increase with faster RAM speeds and/or overclocking . On to Wprime for number crunching.
WPrime v2.10
WPrime is a multi-threaded benchmark which can show the differences in IPC between CPUs, and faster memory may also make a difference. Here are the tests using 6 threads, and we choose to calculate 1024 million digits and 32 million digits showing multiple runs.
The T-FORCE Vulcan Z 3000MHz DDR4 is first. It completes 32M in 5.114 seconds and 1024M in 155.634 seconds.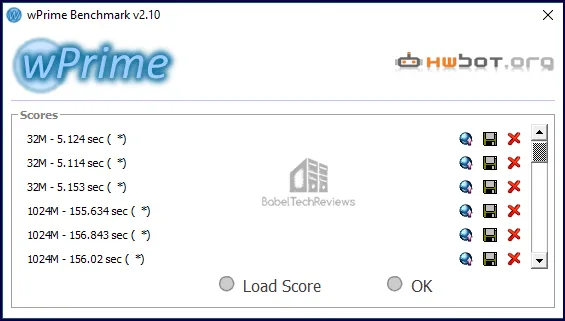 Next we overclock the Vulcan Z 3000MHz memory to 3333MHz. Overclocked, it completes 32M in 5.071 seconds and 1024M in 153.449 seconds.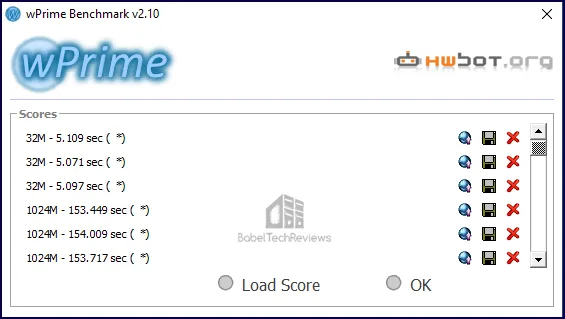 Here is the T-FORCE Night Hawk 3200MHz DDR4. It completes 32M in 5.105 seconds and 1024M in 154.012 seconds.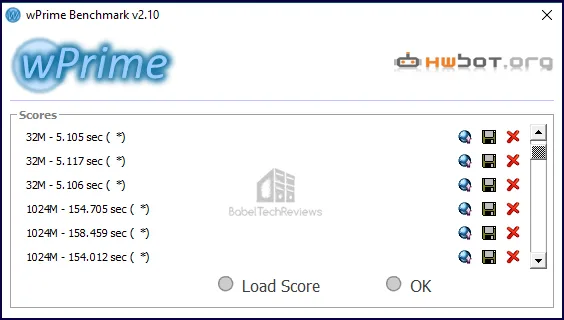 Here are the HyperX Predator 3333MHz DDR4 results. It completes 32M in 5.102 seconds and 1024M in 155.45 seconds.
Here is a Wprime comparison chart with the fastest numbers from each set of runs compared.

If you increase the memory speed, the CPU may crunch numbers a little faster. Let's look at quasi game-related benchmarks starting with Star Swarm Demo next.
Star Swarm Demo
Star Swarm demo is the original genesis for Ashes of the Singularity – and unlike the finished game – it is very demanding on the CPU and will usually demonstrate increased framerates by using faster CPU and/or memory clocks.
The T-FORCE Vulcan Z 3000MHz DDR4 is first. It averages 127.15 FPS.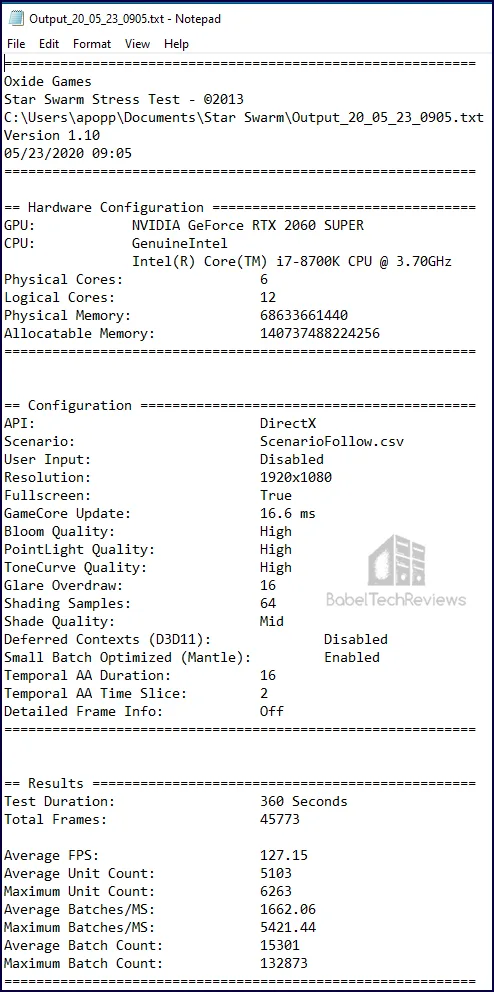 Next we overclock the Vulcan Z 3000MHz memory to 3333MHz. It gains 1 frame to 128.19 FPS.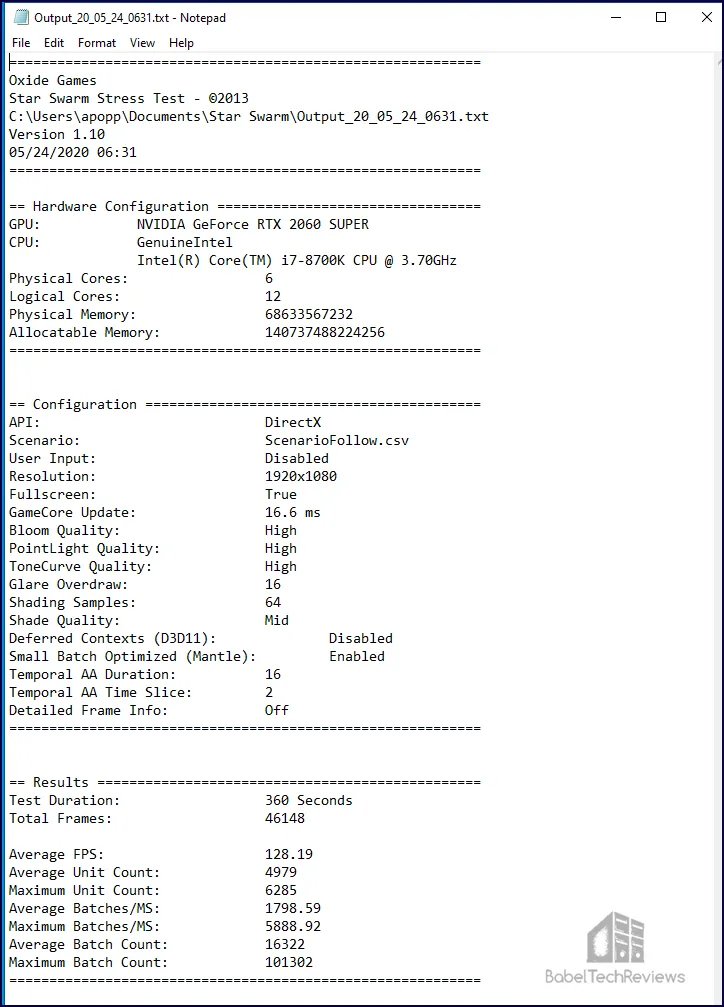 Here is the T-FORCE Night Hawk 3200MHz DDR4. It averages only 114.15 FPS. Although there is some variability between individual benchmark runs, the Night Hawk RGG DDR4-equipped PC consistently delivered lower framerates than the other RAM kits for this demo benchmark.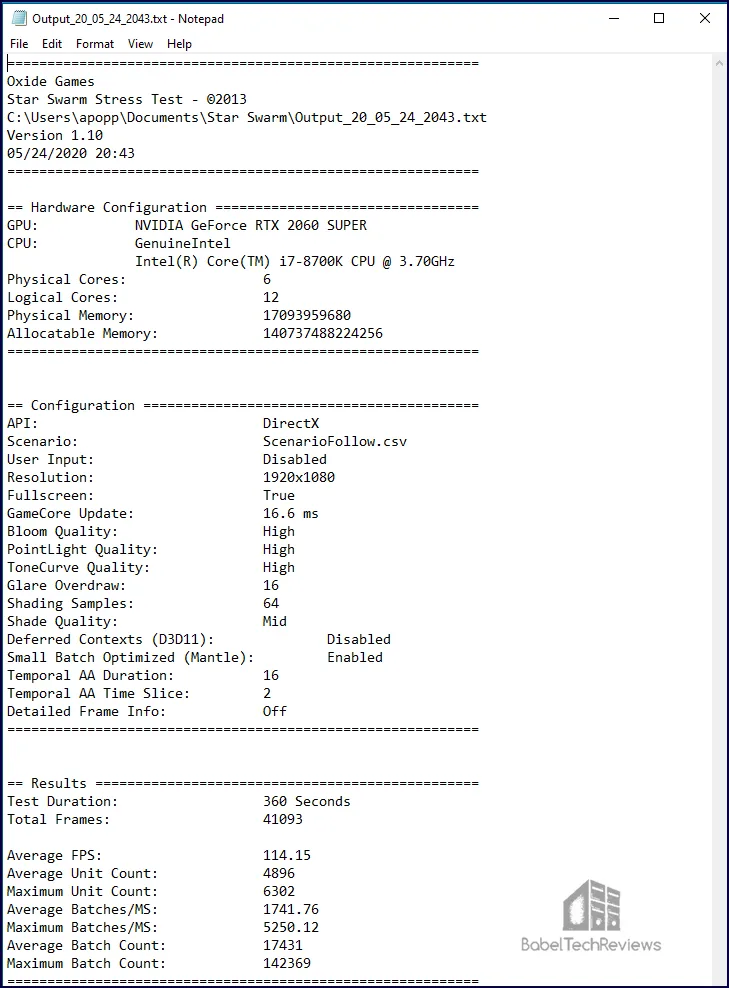 Here are the HyperX Predator 3333MHz DDR4 results. It averages 120.59 FPS.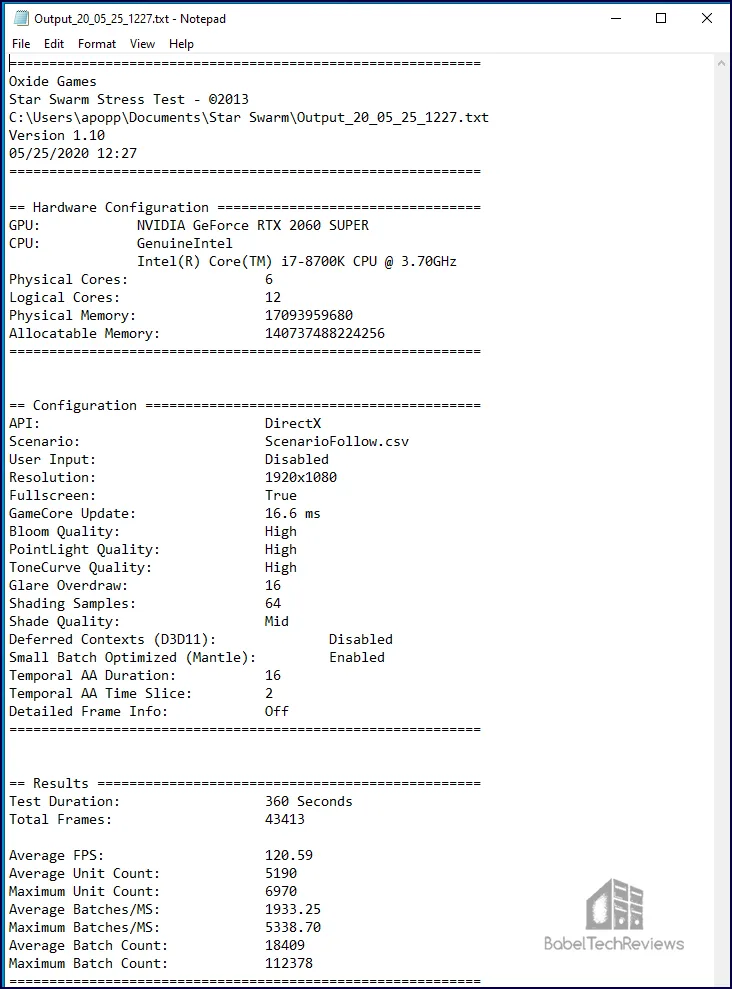 Here is the summary chart:

The Star Swarm demo does not produce identical benchmark runs so there is some extra variability built in and the Nighthawk memory scores very low compared to the other memory configurations. Next we check out the Fire Strike Physics test.
Fire Strike Physics
Fire Strike Physics depends less on the GPU and more on the CPU which can benefit from increased memory speeds.
The T-FORCE Vulcan Z 3000MHz DDR4 is first. It scores averages 63.68 FPS.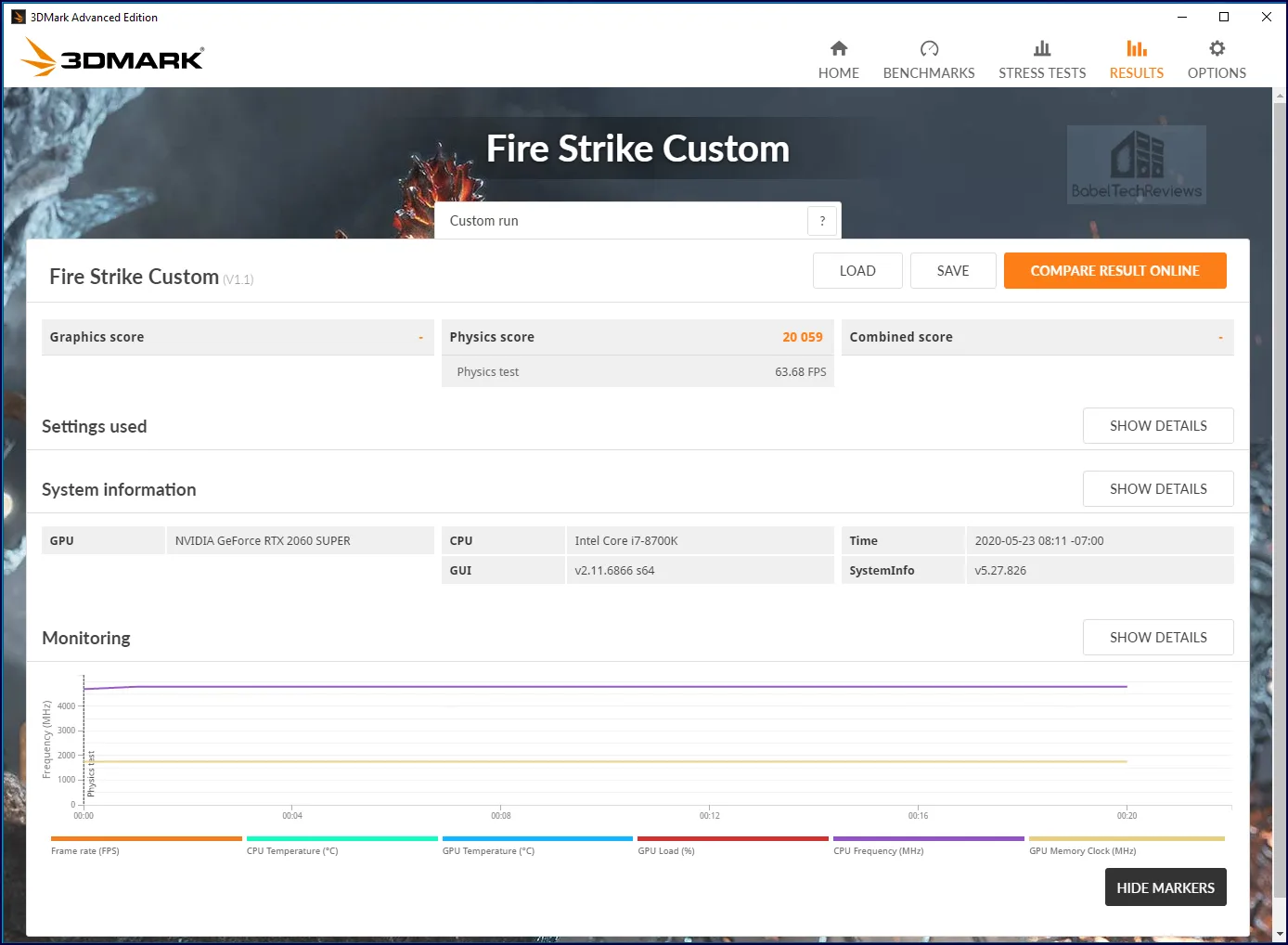 Next we overclock the Vulcan Z 3000MHz memory to 3333MHz. It scores 20,177, a small increase to reach 64.06 FPS.
Here is the T-FORCE Night Hawk 3200MHz DDR4. It scores 20,078 and averages 63.74 FPS.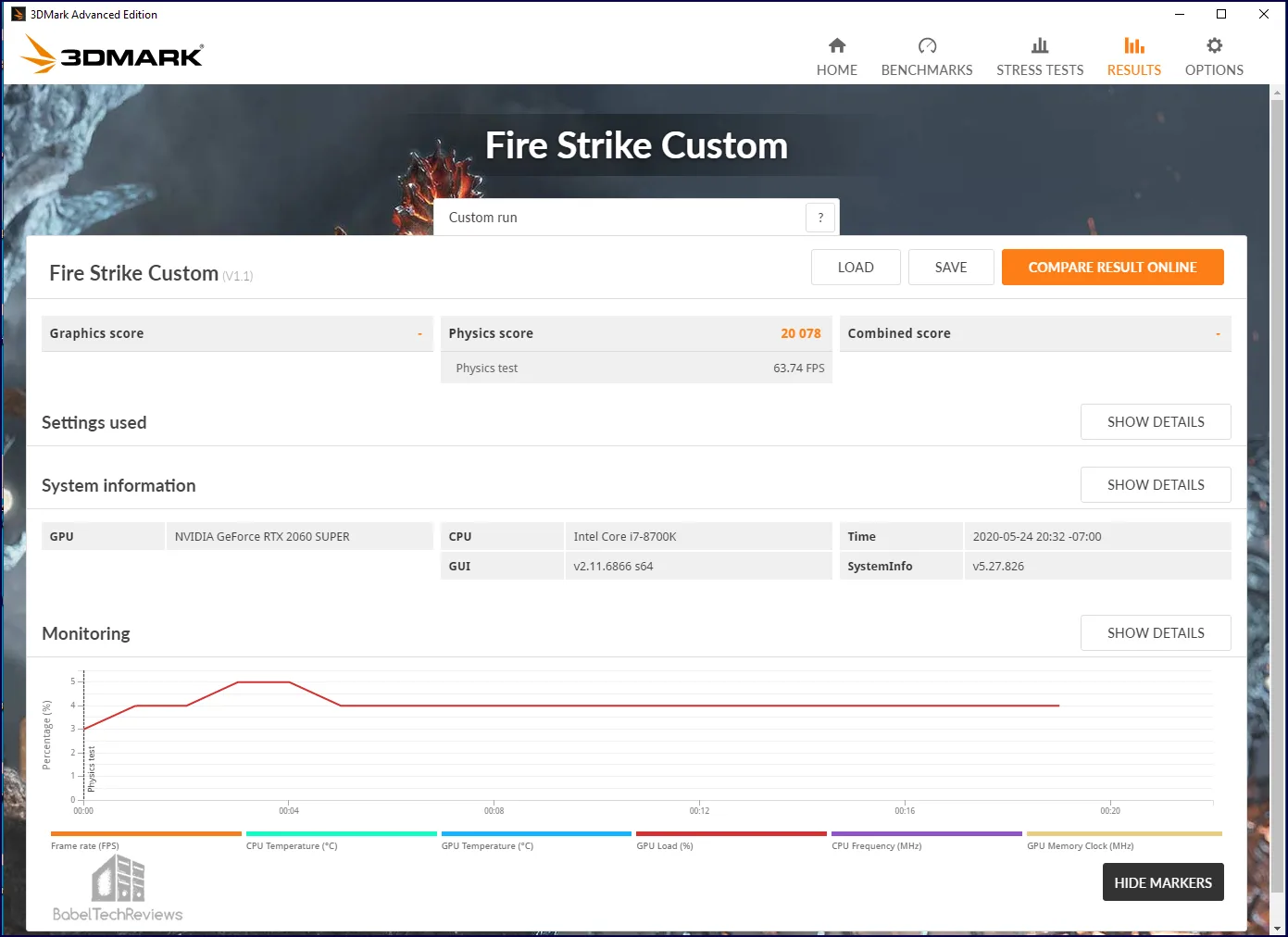 Here are the HyperX Predator 3333MHz DDR4 results. It scores 20,225 and 64.21 FPS.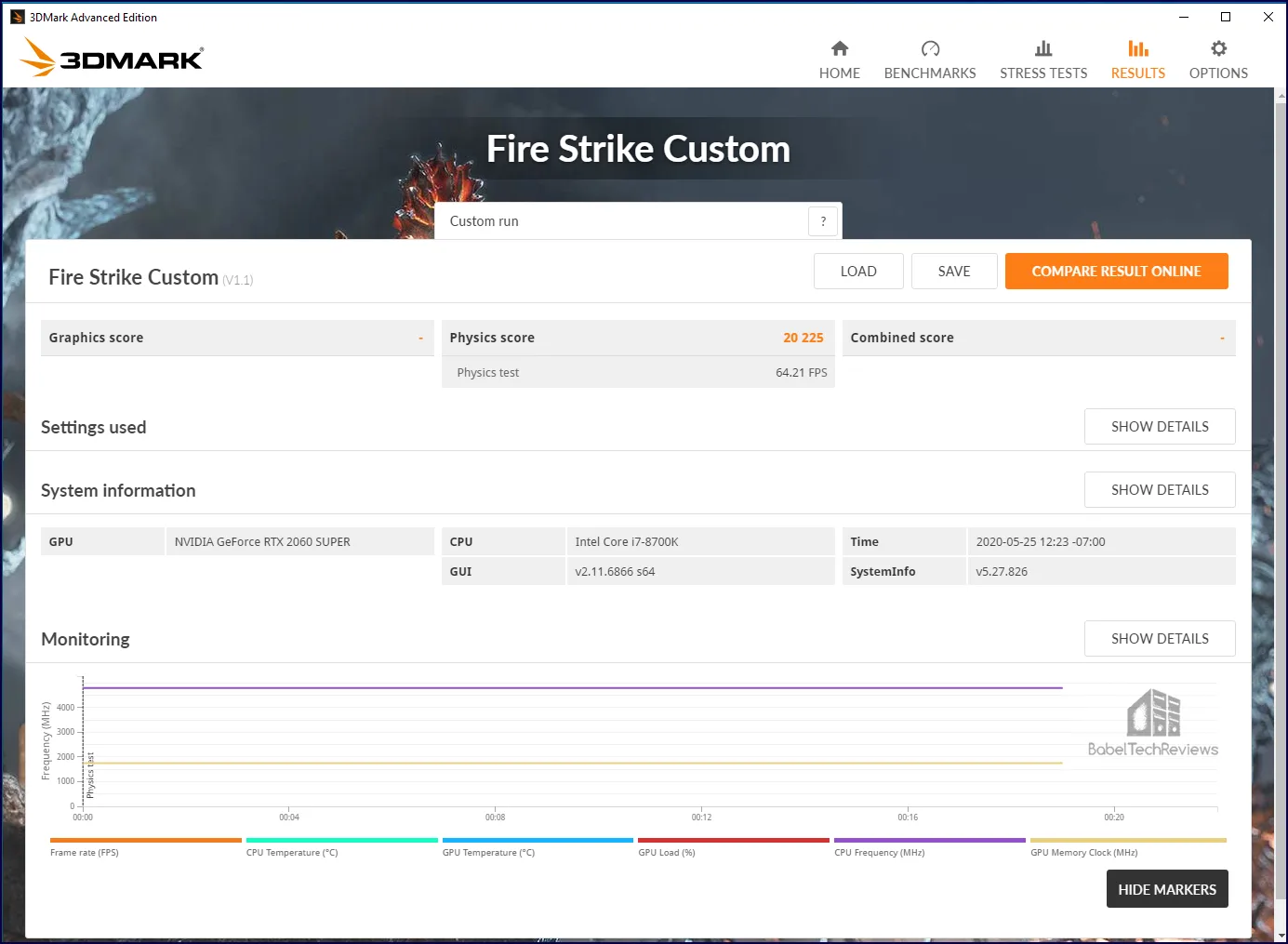 Here is the summary chart. There isn't a lot of difference between framerates. Using CPU graphics instead of a RTX 2060 Super may show larger differences, but there will be more variability to the runs.

Our conclusion from synthetic benchmarking is that there is no performance disadvantage to having 64GB RAM at the same clockspeed as 16GB. The Vulcan Z 2x32GB memory kit at 3000MHz and overclocked to 3333MHz perform very similarly to our two similar speed 2x8GB DDR4 kits.
High-capacity RAM benefits
We note performance scaling from overclocking the RAM but it is small for game-related synthetic benching. The purpose of higher capacity RAM is for workstations and professional applications. Content creators, professional video and image editors, programmers, CAD, and other design software power users all benefit from having more RAM, especially in a work situation. Running out of system RAM slows up projects as the PC has to swap memory to disk, and RAM is always faster than the fastest SSD. Let's take image processing as one example.
Image processing such as with Photoshop uses a lot of RAM since working with just one image may take hundreds of MB. And there may be dozens of versions of the same image in different stages that need to be processed in parallel. Working with multiple images – each with multiple versions in stages requiring parallel processing – takes many gigabytes of RAM to keep all of the image processing in the RAM memory, and using 64GB RAM (or more) may be considered usual.
Since RAM is significantly faster than disk – maybe 10X faster than a SSD and 50X faster than a hard drive – active projects should always be able to completely fit into system memory. Multiple images that may take minutes to process with 64GB RAM may take hours to write to disk in a 16GB memory system because of the high volume of data. But for gamers, the only advantage to having 64GB may be to create a RAM disk to keep the entire game in system memory. Unfortunately, game developers still optimize their games to load from mechanical hard drives – not even from SSDs. Hopefully, this will change with the next generation of console ports to PC.
Next up, we create a RAM drive, and then on to the gaming benchmarks and the summary charts.
Game Performance Results, RAM Drives & Summary Charts
If you need a super-fast virtual drive, a RAM disk or drive is the way to go.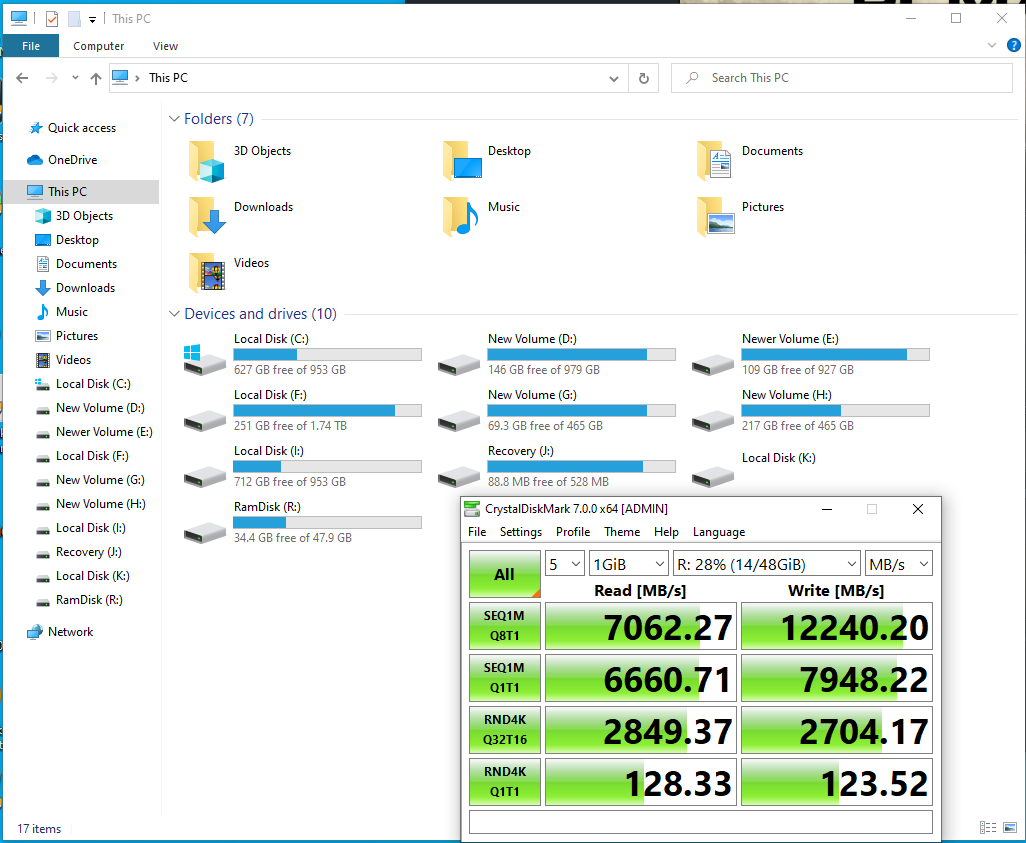 Compared to any SSD, we now see really fast Read and Write times. But this doesn't mean that games will load instantly from a RAM drive since the actual file contents processing is the primary bottleneck. From earlier reviews we have shown that SATA III SSDs are only up to 2X faster than a mechanical HDD, depending on the game, and PCI2 M.2 SSDs aren't practically any faster than SATA SSDs. So we are going to create a 48GB RAM drive and move our installation of Civilization VI to it. We picked this game because it's installation size is small, and it has a very accurate repeatable benchmark.
To create our RAM disk we used ImDisk Toolkit. It is freeware that is very easy to use and it offers many custom options. We picked 48GB and in a couple of minutes the new RAM disk Drive R was created. We next created a Steam Library on the new RAM drive and moved our Civilization VI installation to it using Steam's tool.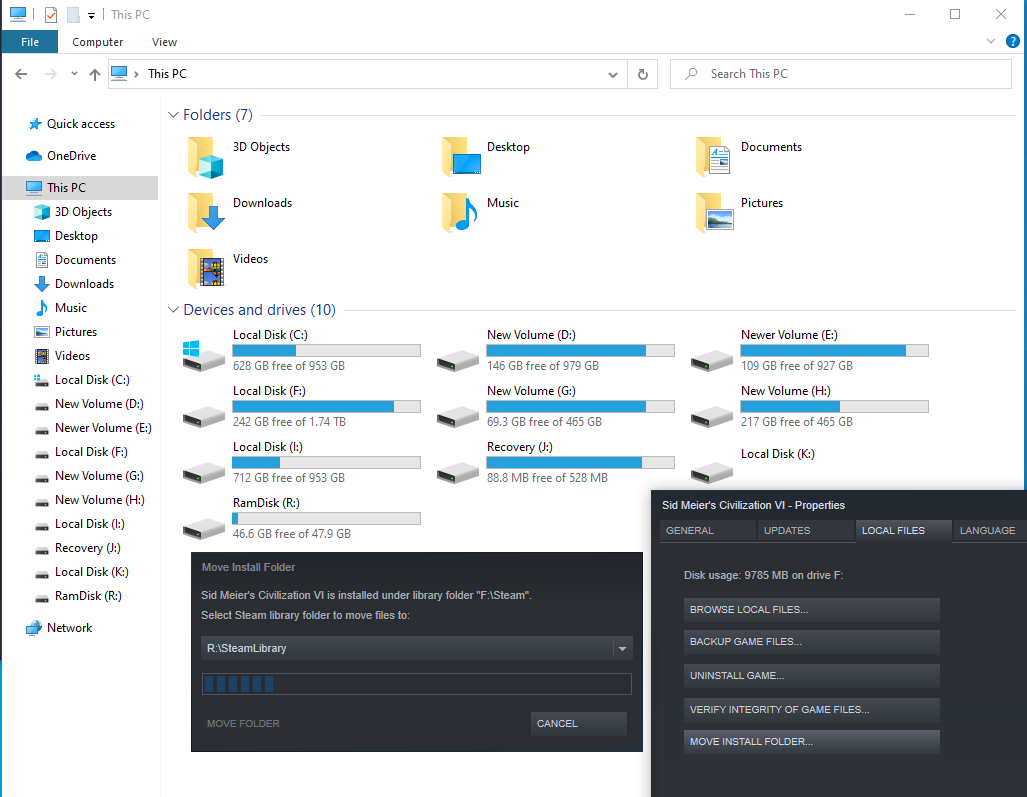 Next we benchmarked the game to see if loading the benchmark was any quicker from the RAM drive over using a 1TB Team Group M.2 PCIe SSD.
Loading the Civilization VI benchmark from RAM is .3 of a second faster than from a PCIe SSD. A couple of games we also benchmarked followed this same trend but their benchmarks are not as accurate even if loading felt snappier from the RAM drive. However, overall it is probably not worth it when you consider the time taken to (1) create the RAM drive, (2) install the game to a RAM drive, and then (3) move the game back to a SSD before the PC is shut down.
RAM is volatile memory. Although you can work with and save files to your RAM drive, if your computer crashes or suffers a power loss, those saved files are forever lost beyond any chance of recovery. You must leave your PC on until you copy the data you want from your RAM disk to your SSD or HDD to save it. In addition, many games are larger than 64GB. Finally, Windows already does a good job of caching games and frequently accessed applications into RAM which is why reloading a game level usually gets faster on subsequent loads.
So we have to give an overall thumbs down to RAM drive creation as an advantage for a gamer with 64GB RAM, except perhaps for certain applications or games. So next we'll look at game performance.
Gaming Performance Benchmarks
Below is the summary chart of three games which appear to be sensitive to scaling by increasing CPU speeds and possibly by increasing memory clocks using a stock RTX 2060 SUPER Founders Edition.
The highest settings are used, and the benches were run at 1920×1080. Civilization 6's built-in graphics benchmark uses frametimes but its AI benchmark measures the turn time in seconds – in both cases, lower is better. Anno 1800 is benched using OCAT and the averages are in FPS and higher is better but the minimums are expressed by .1ms frametimes where lower is better. Grand Theft Auto V average/minimum results are given in FPS where higher is better.

These three games show varying degrees of minimal performance differences but with regular improvement with faster RAM. Although the benchmarking margin of error may cloud the results, there is a trend showing that faster memory may increase framerates for certain games. However, all the game and loading times were similar and mostly unaffected by RAM speed or capacity.
Synthetic Summary Chart
Here are all of the Summary charts in one location. Unless noted on the charts, higher is better.



We generally see the performance increasing with faster memory speeds but we would never pick 64GB capacity as a gamer. We played around with Blender and with Photoshop, and more RAM is better for pro apps; but this is not our area of expertise.
Let's head to our conclusion.
Conclusion and Verdict
We have seen that that running DDR4 at a faster clock speed produces performance gains and saves time with some tasks. In addition, some modern games can also benefit from faster system memory together with a fast CPU and a fast video card. We also note the importance of 64GB of system RAM for workstation and professional applications. However, there is no way that we can recommend 64GB of system RAM to a gamer.
If a gamer feels a need for more than 16GB as a multitasker while gaming, than 32GB may be a reasonable option and the T-FORCE Vulcan Z 3000MHz is a good choice at $116.99. To spent $236.99 for an "extra" 32GB memory on a 64GB kit as "futureproofing" is not reasonable in our opinion as we expect to see DDR5 relatively soon.
Is DDR at 3000MHz good enough for a gamer? Yes, although it might be helpful for gamers to overclock it depending on which games they play. If a gamer is buying a new CPU and motherboard now, faster RAM can make a performance improvement in gaming. The gaming performance improvement from faster DDR4 isn't dramatic, from zero performance improvement to perhaps adding a few framerates in some memory-sensitive games.
Faster RAM benefits are mostly shown by memory intensive benchmarks and they will mostly translate to better productivity outside of gaming. If you are a gamer, buy faster memory and pick 2x8GB for gaming or 2x16GB if you multitask while gaming instead of wasting money on futureproofing with 64GB.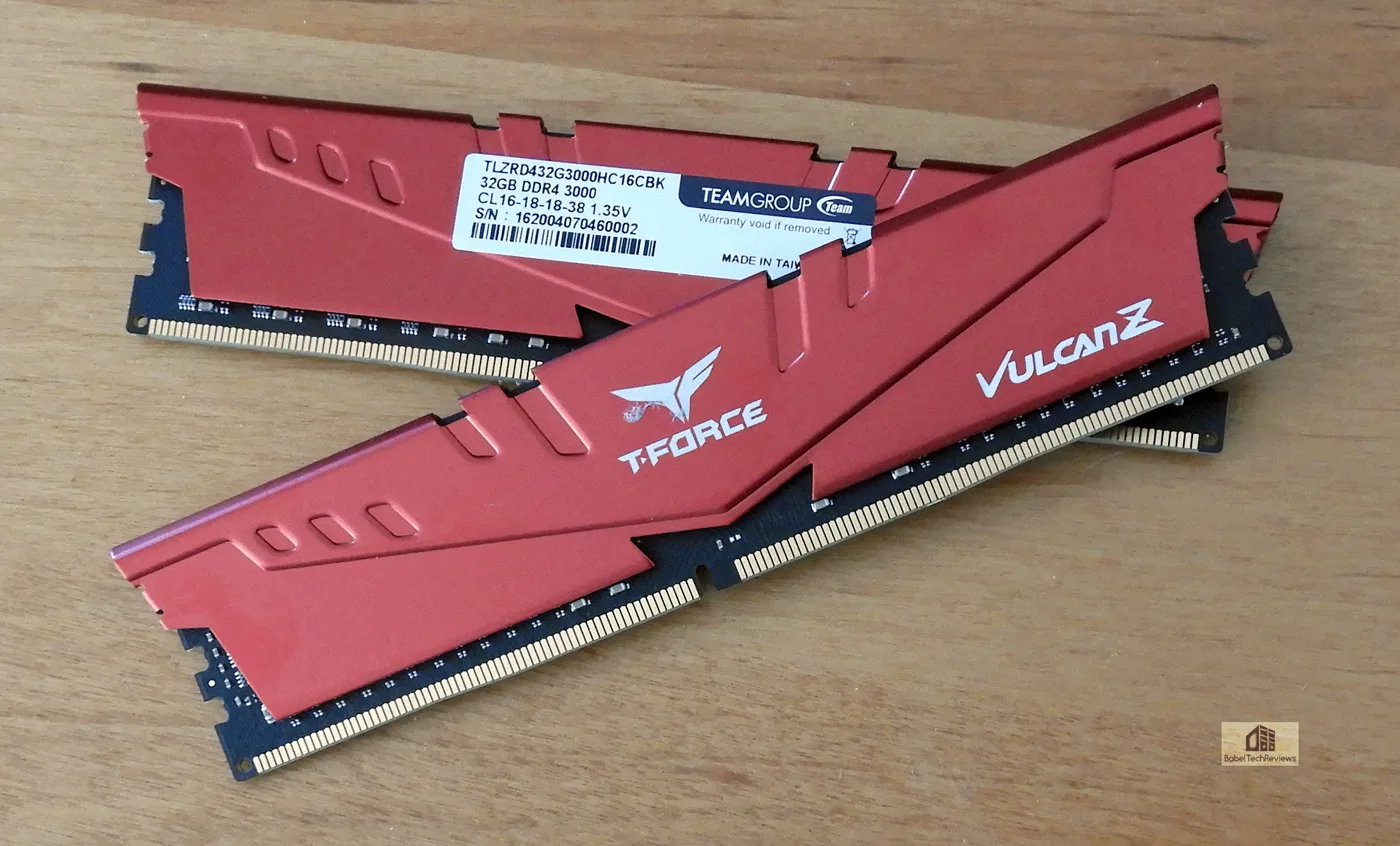 T-FORCE VULCAN Z 2x32GB DDR4 3000MHz Kit
Pros
The T-FORCE VULCAN Z 2x32GB DDR4 kit is a capacity used for professional application that is built for reliability and even for good overclocking, and it may also be used without penalty in a gaming PC.
Our sample is fast, stable, and it overclocks multiple speed grades beyond its rated 3000MHz grade to 3333MHz at 1.4V.
Once overclocked, it is as fast as the HyperX DDR4 3333MHz and faster than the Night Hawk DDR4 3200MHz memory
It is conservative-looking with no frills, no external heatsinks, and no RGB which allows it to easily fit in most motherboards.
Voltage tolerances from 1.2V to 1.4V and even higher allow for overclocking.
It is competitively priced and it comes with a lifetime Team Group warranty.
Cons
64GB of system RAM is expensive overkill for a gaming PC. Pick the 32GB or 16GB Vulcan Z kit instead.
The Verdict
If you are a gamer with good quality components who wants high performance from your PC *and* you need to work with RAM-intensive applications, then the Team Group T-FORCE Vulcan Z DDR4 3000MHz 2x32GB kit is an excellent choice as it is reasonably fast at stock speeds coupled with an overclocked CPU, plus it overclocks very well and is very reasonably priced at $236.99 at Newegg for 64GB.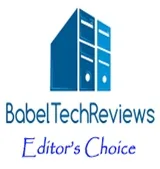 The Vulcan Z 2x32GB DDR4 3000MHz kit is priced lower compared with other DDR4 in its speed and capacity class, and it is backed by Team Group who gives a lifetime warranty. It is a decent performer at its default XMP profile and it overclocks extremely well.
We feel that the T-FORCE Vulcan Z 2x32GB DDR4 3000MHz Kit deserves BTR's Editor's Choice Award as a relatively inexpensive 64GB high-capacity kit that is also suitable for gaming. It's ideal for a relatively small subset of gamers who also run memory intensive professional and workstation type applications.
To answer our question, what can a gamer do with 64GB of system RAM? Not much other than playing with RAM drives. 64GB is simply overkill for gaming-only PCs – Pick the 32GB or 16GB Vulcan Z kit instead. Updated 29th May 2020 12:30 PM PDT: There is perhaps one notable exception: Gamers who play modded games using ultra high textures and aiming for photorealism may need more than 32GB of RAM.
Stay tuned. We are working on an AMID EVIL review as a continuation of BTR's Indie RTX series.
Happy Gaming!