In June, HyperX refreshed their Predator DDR4 DRAM lineup to give it a "fierce look" with an aggressive design that offers greater heat dissipation to optimize reliability while the black aluminum heat spreader and black PCB complement the look of the latest PC hardware. HyperX Predator DDR4 DRAM delivers fast frequencies with speeds up to 3333MHz matched with low CL15-CL16 latencies for enthusiasts and for gamers. In fact, in January of 2015, one 4GB module of this same memory was overclocked to 4351MHz, a world record for DDR4 memory at the time.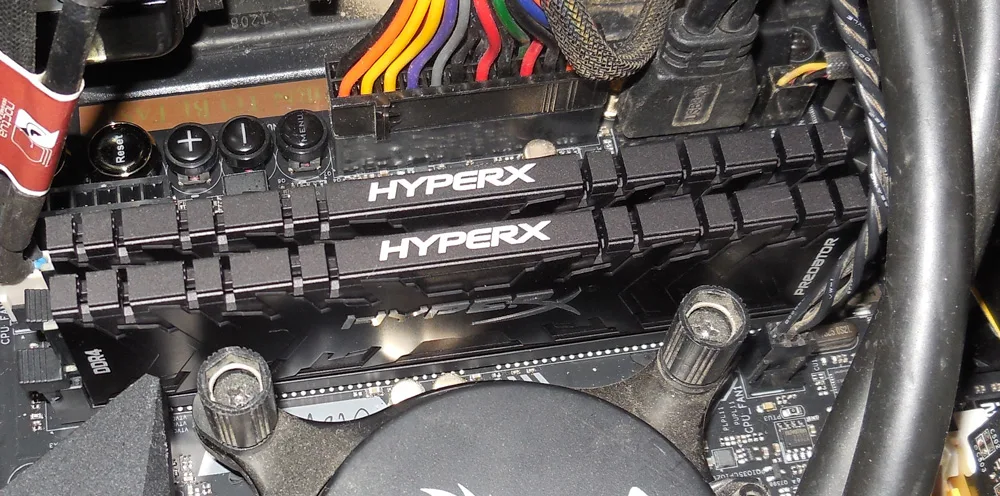 Last week, HyperX sent us 16GB of PC 26600 as a Predator 2x8GB kit of DDR4 3333MHz for evaluation with our Skylake platform. Up until now, we have been using 2x8GB GSKILL Ripjaws DDR4 3000MHz and we are interested to see if 11% faster RAM will make a noticeable or practical difference in gaming performance using the world's fastest single-GPU video card, the TITAN X, and also using AMD's new RX 480 8GB, an upper midrange card.

From our previous testing with Ivy Bridge and Haswell platforms using fast DDR3 versus slower DDR3 only brought limited gains in gaming, and only to a very few games. In this DDR4 evaluation, we shall focus on 2x8GB of Kingston's fastest HyperX Predator RAM at speeds of 3333MHz while using our Core i7-6700 at 4.4GHz. We want to see if it is worth it for an enthusiast gamer to spend $137.99 at Newegg for 16GB of premium HyperX Predator RAM PC4-26600 (3333MHz) which is $60 more expensive than spending $78 for G.SKILL Ripjaws V Series 16GB (2 x 8GB) DDR4 3000 (PC4 24000) as we originally did.
Our Competing Memory
Here is our testbed of 2 competing 16GB (2x8GB) memory kits.
HyperX PC 26600 DDR4 2x8GB Kit at 3333MHz
G.SKILL Ripjaws V Series 2 PC4 24000 2x8GB DDR4 Kit at 3000MHz
Testing Platform
Our testing platform is Windows 10 Home 64-bit, using an Intel Core i7-6700K at 4.00GHz which turbos to 4.4GHz for all cores as set in the ASRock Z7170 motherboard's BIOS, and 16GB of G.SKILL DDR4 at 3000MHz or 16GB of HyperX DDR4 at 3333MHz. The settings and hardware are identical except for the two DDR4 kits being tested.
We will compare the performance of 26 modern games at 1920×1080, 2560×1440, and at 3840×2160 resolutions with maximum settings featuring our newest 2016 games including Mirror's Edge Catalyst and DOOM, and we also include Ashes of the Singularity, Hitman, Rise of the Tomb Raider, and Total War Warhammer, and Deux Ex Mankind Divided using DX12. We have also added Futuremark's DX12 benchmark, Time Spy.
First, let's take a closer look at HyperX Predator DDR4 3333MHz kit.
Unboxing and Installation
HyperX uses black and silver for their Predator RAM which we think is a big improvement over the blue color used in their DDR3 Predator line-up. The 16GB kit comes in a small box.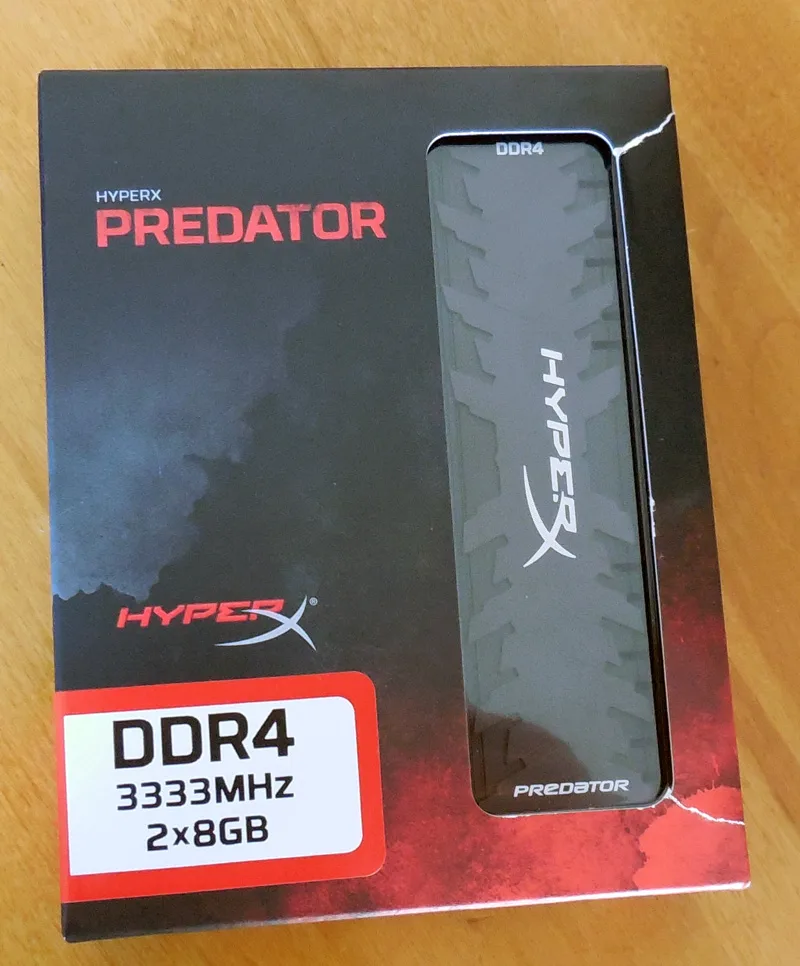 The other side of the box advertises that this Predator DDR4 is "for higher performance, ultra-responsive multitasking and an overall faster system." However, for this evaluation we are only going to focus on gaming performance. The warranty mentioned on the box is lifetime.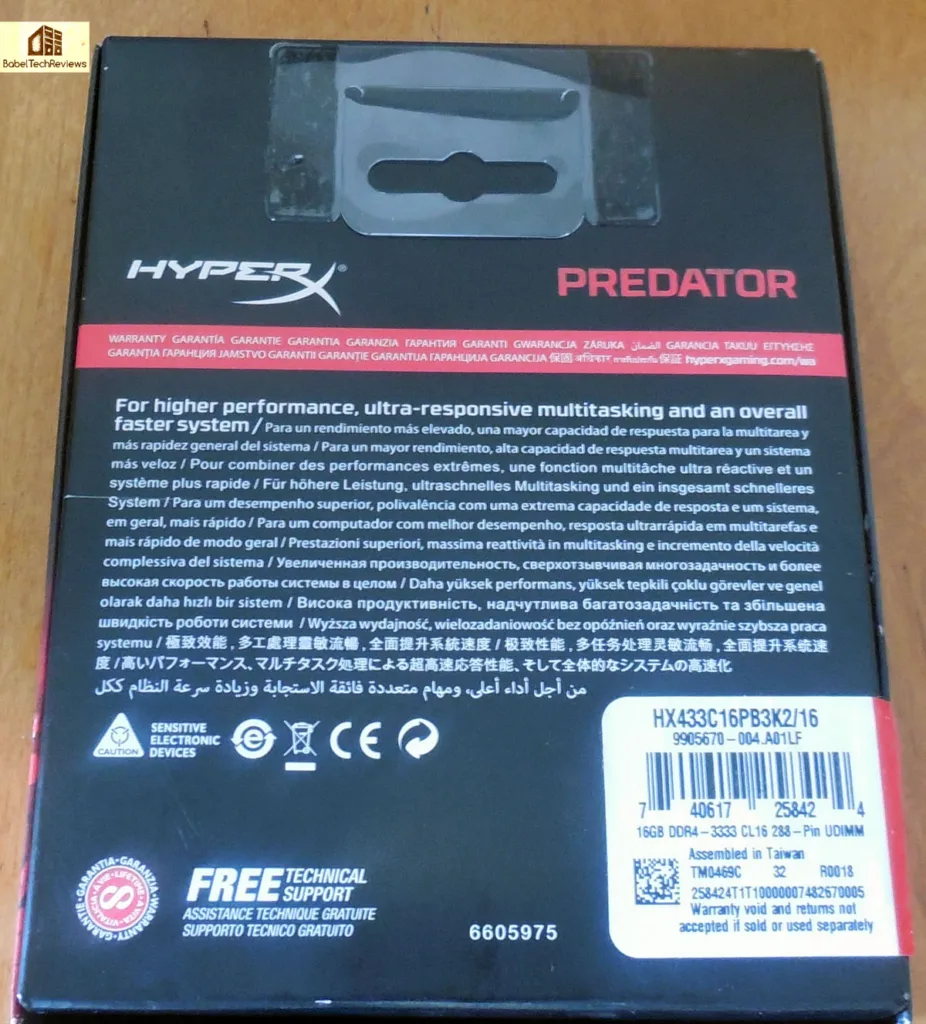 It's easy to open the package and we get a look at the HyperX insert which contains warranty information as well as the installation guide. A HyperX sticker is included for your case.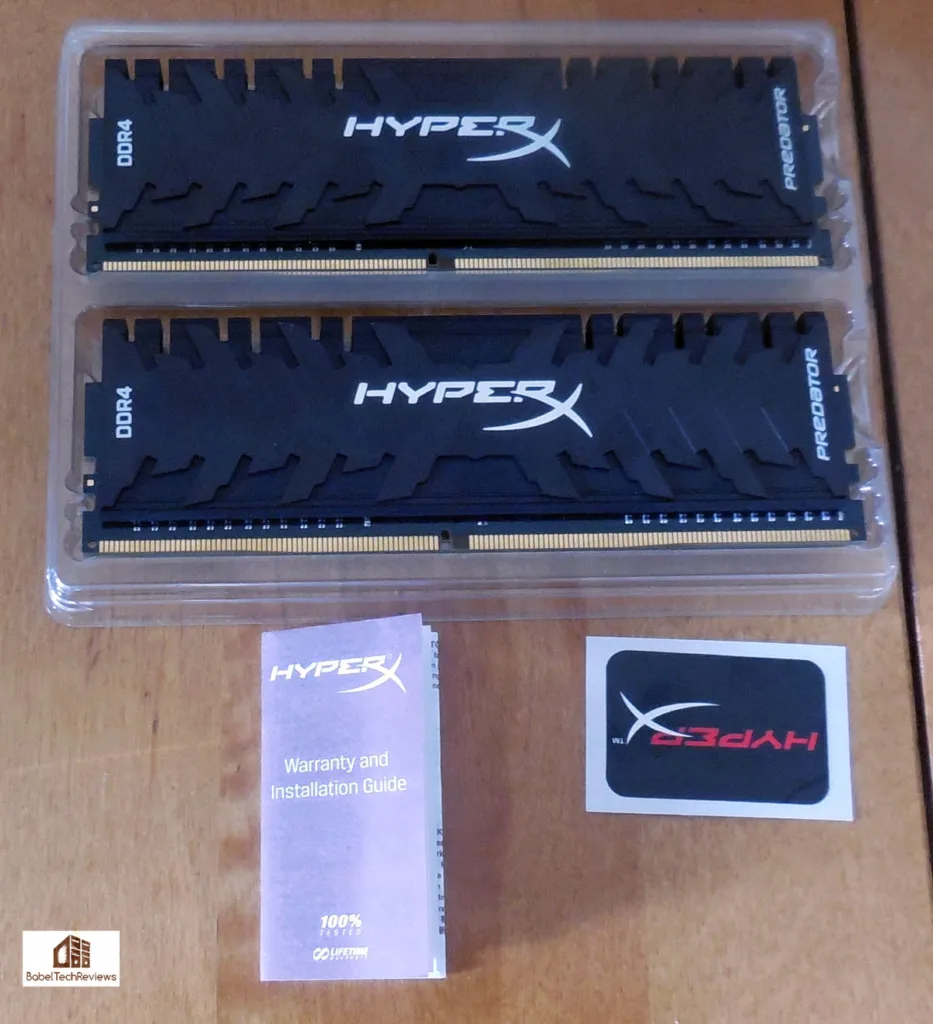 The Predator heatsinks are rather tall and may interfere with some large CPU air cooler's installation and operation. Here is the height difference between our G.SKILL DDR4 and the HyperX DDR4. Since we are using watercooling for our CPU, we have plenty of room.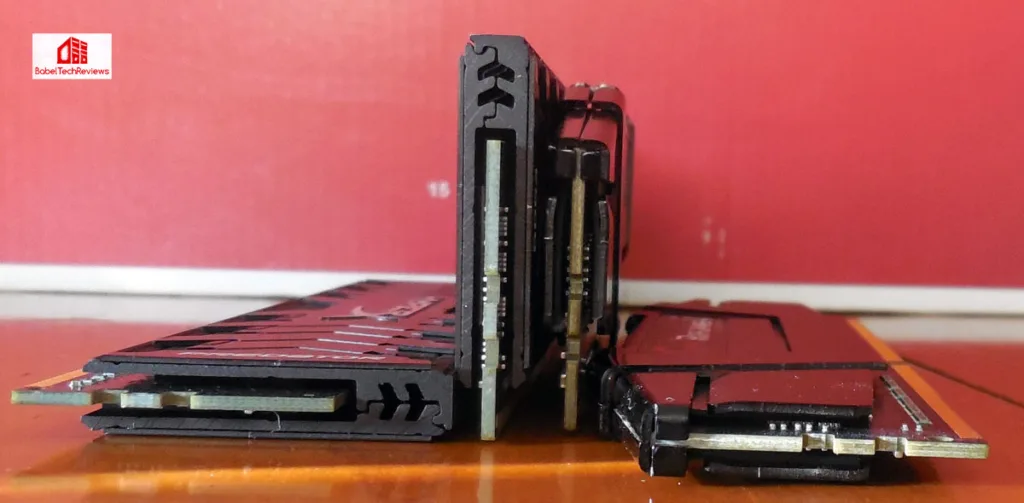 Take a look (above) at the 2x8GB HyperX Predator at 3333MHz (left) and the G.SKILL Ripjaws V 2x8GB kit at 3000MHz (right). The HyperX Predator RAM is heavier and has a higher profile. Another view (below) shows the HyperX DDR4 (left) and the G.SKILL kit (left)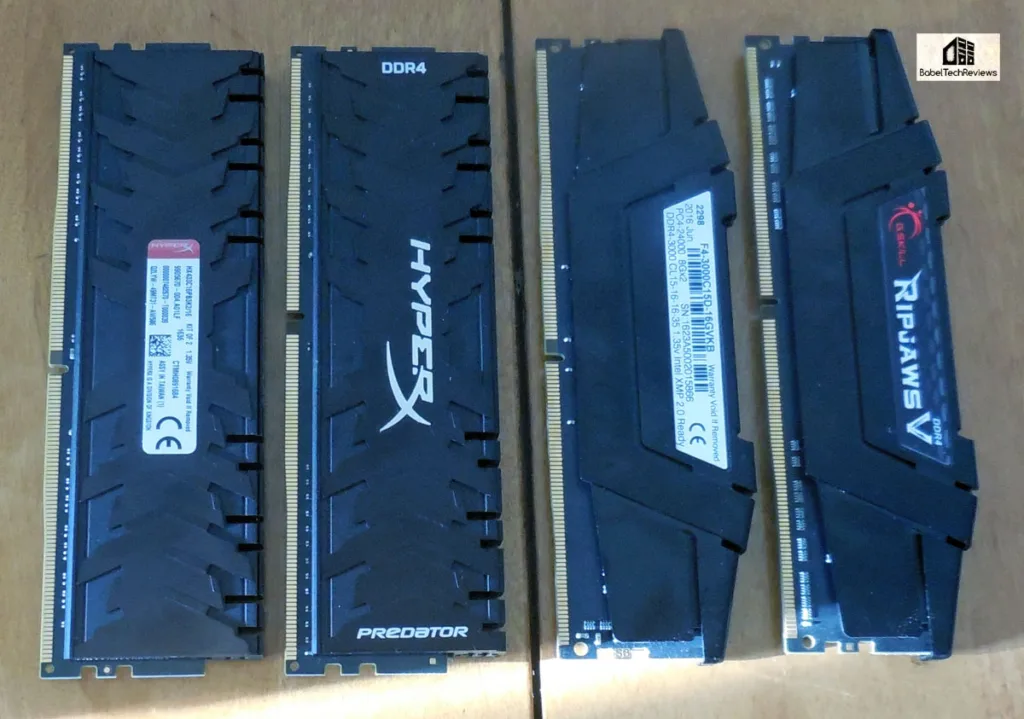 Both the HyperX DDR4 and the G.SKILL DDR4 show up properly configured in the ASRock motherboard's BIOS although there is certainly room for performance tweaking and overclocking. We used the XMP 2.0 Profile 1 associated with the HyperX memory at 3333MHz although there is a second profile with tighter timings, but at 3000MHz. In our experience, it is usually preferable to pick the faster speed over tighter timings. Here are the HyperX XMP 2.0 Profile 1 factory timings: 16-18-18-36.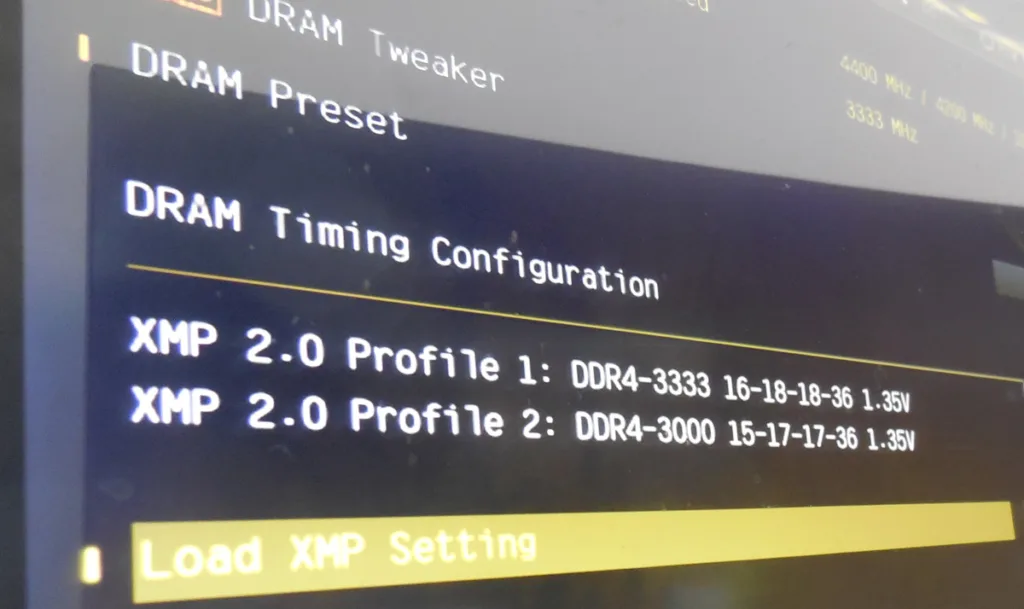 The GSKILL Ripjaws V 3000MHz DDR4 at 3000MHz timing is15-16-16-35. There really isn't a lot of difference as the HyperX DDR4 has a CAS latency of 16 while the G.SKILL has a CAS latency of 15. Both kits use 1.35V
Let's head over to the test configuration.
Test Configuration – Hardware
Intel Core i7-6700K (reference 4.0GHz, HyperThreading and Turbo boost is on to 4.4GHz; DX11 CPU graphics).
ASRock Z7170M OC Formula motherboard (Intel Z7170 chipset, latest BIOS, PCIe 3.0/3.1 specification, CrossFire/SLI 8x+8x)
HyperX 16GB DDR2 (2x8GB, dual channel at 3333MHz)
G.Skill Ripjaws V 16GB DDR4 (2x8GB, dual channel at 3000MHz)
Gigabyte RX 480 8GB G1 Gaming, at Gigabyte factory clocks.
TITAN XP 12GB, at reference clocks
Two 2TB Toshiba 7200 rpm HDDs for each platform
EVGA 1000G 1000W power supply unit (for both platforms)
Thermaltake Water2.0, supplied by Thermaltake
Onboard Realtek Audio
Genius SP-D150 speakers, supplied by Genius
Thermaltake Overseer RX-I full tower case, supplied by Thermaltake
ASUS 12X Blu-ray writer
Monoprice Crystal Pro 4K
Test Configuration – Software
GeForce WHQL 372.70 was used for the TITAN X. Check the Big Picture chart for other Nvidia driver versions. High Quality, prefer maximum performance, single display. See control panel images below.
AMD Crimson Software 16.9.1 hotfix drivers were used for the benching the Gigabyte RX 480. See control panel image below.
VSync is off in the control panel.
AA enabled as noted in games; all in-game settings are specified with 16xAF always applied
All results show average frame rates including minimum frame rates shown in italics on the chart next to the averages in smaller font.
Highest quality sound (stereo) used in all games.
Windows 10 64-bit Home edition, all DX11 titles were run under DX11 render paths. Our four DX12 titles are run under the DX12 render path. Latest DirectX
All games are patched to their latest versions at time of publication.
Sapphire TriXX overclocking utility used to set the RX 480's Power Draw to +50%
MSI's Afterburner used to set the TITAN X' Power Limit and temperatures to maximum.

The 26 PC Game benchmark suite & 2 synthetic tests
Synthetic
Firestrike – Basic & Extreme
Time Spy DX12
DX11* Games
Crysis 3
Metro: Last Light Redux (2014)
Middle Earth: Shadows of Mordor
Alien Isolation
Dragon's Age: Inquisition
Dying Light
Grand Theft Auto V
ProjectCARS
the Witcher 3
Batman: Arkham Origins
Mad Max
Fallout 4
Star Wars Battlefront
Assassin's Creed Syndicate
Just Cause 3
Rainbow Six Siege
DiRT Rally
Far Cry Primal
Tom Clancy's The Division
Mirror's Edge Catalyst
DOOM (*OpenGL)
Deus Ex Mankind Divided
DX12 Games
Ashes of the Singularity
Hitman
Rise of the Tomb Raider
Total War: Warhammer
AMD Crimson Control Center Settings: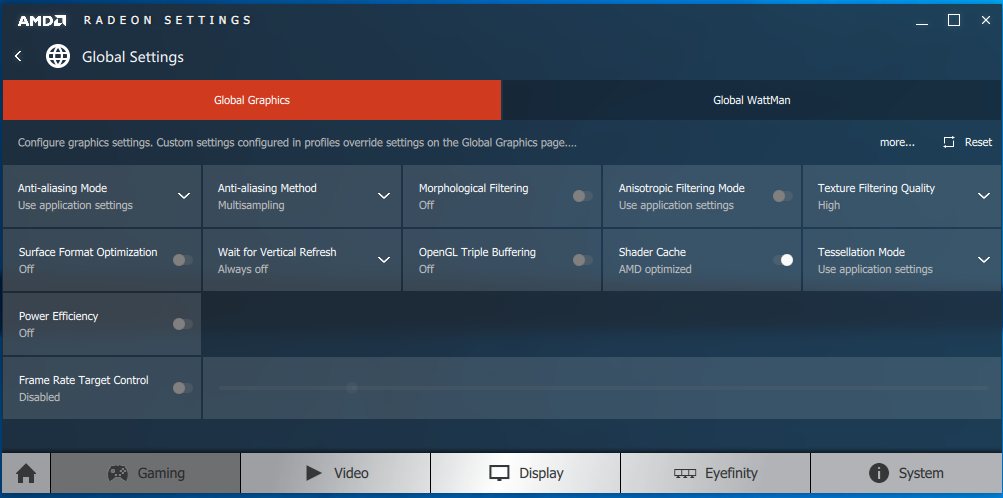 Nvidia Control Panel settings:

Let's head to the performance chart to see how the HyperX memory kit at 3333MHz compares with the G.SKILL Ripjaws V memory kit at 3000MHz.
Performance summary charts
Below is the summary chart of 26 games and 2 synthetic tests. The highest settings are always chosen and DX12 is picked above DX11 where available. Specific settings are listed on the performance charts. The benches were run at 1920×1080, 2560×1440 and 3840×2160. "X" means the benchmark was not run.
All results, except for FireStrike and Time Spy, show average frame rates and higher is always better. Minimum frame rates are shown when they are available and they make sense, next to the averages but they are in italics and in a slightly smaller font. The first two columns represent the TITAN X; column one is HyperX DDR4 at 3333MHz and column two is G.SKILL DDR4 at 3000MHz. The third and fourth columns represent the Gigabyte RX 480 G1 8GB; column three is HyperX DDR4 at 3333MHz and column four is G.SKILL at 3000MHz.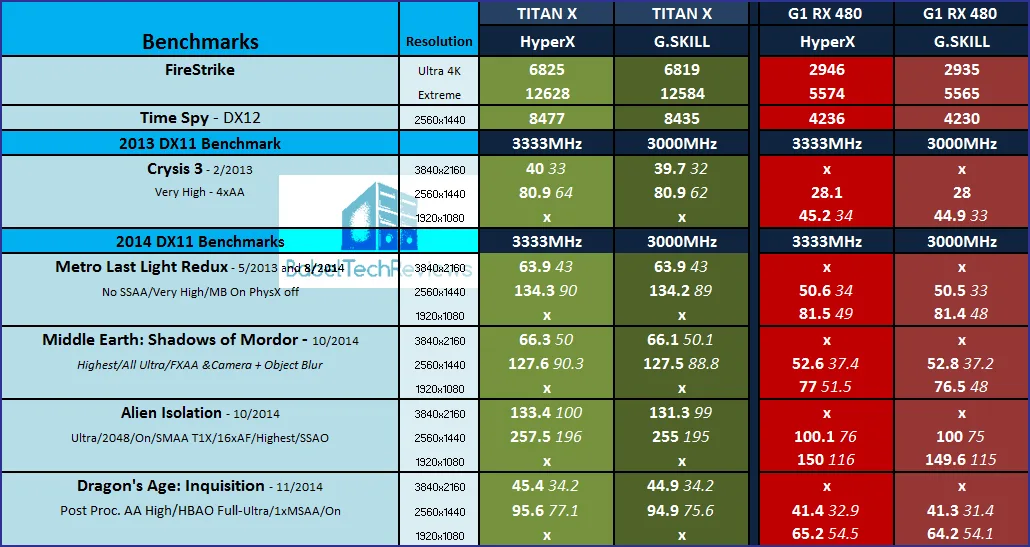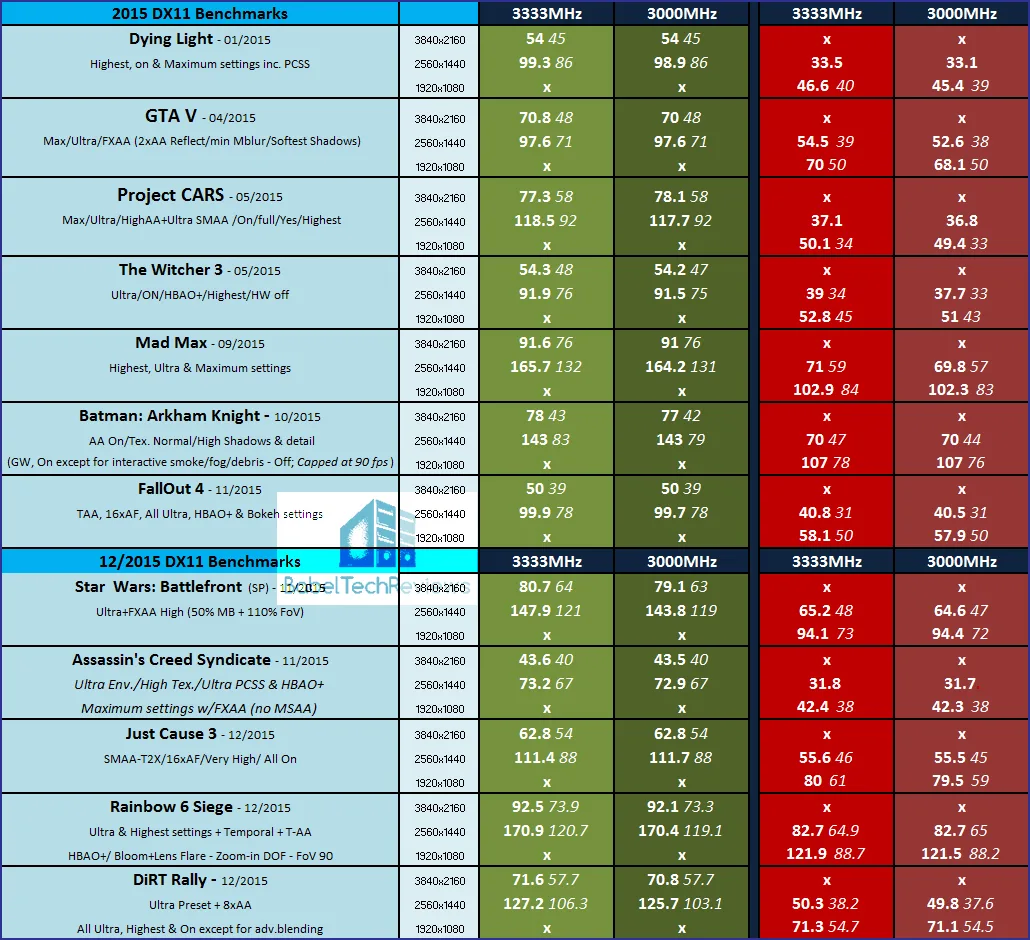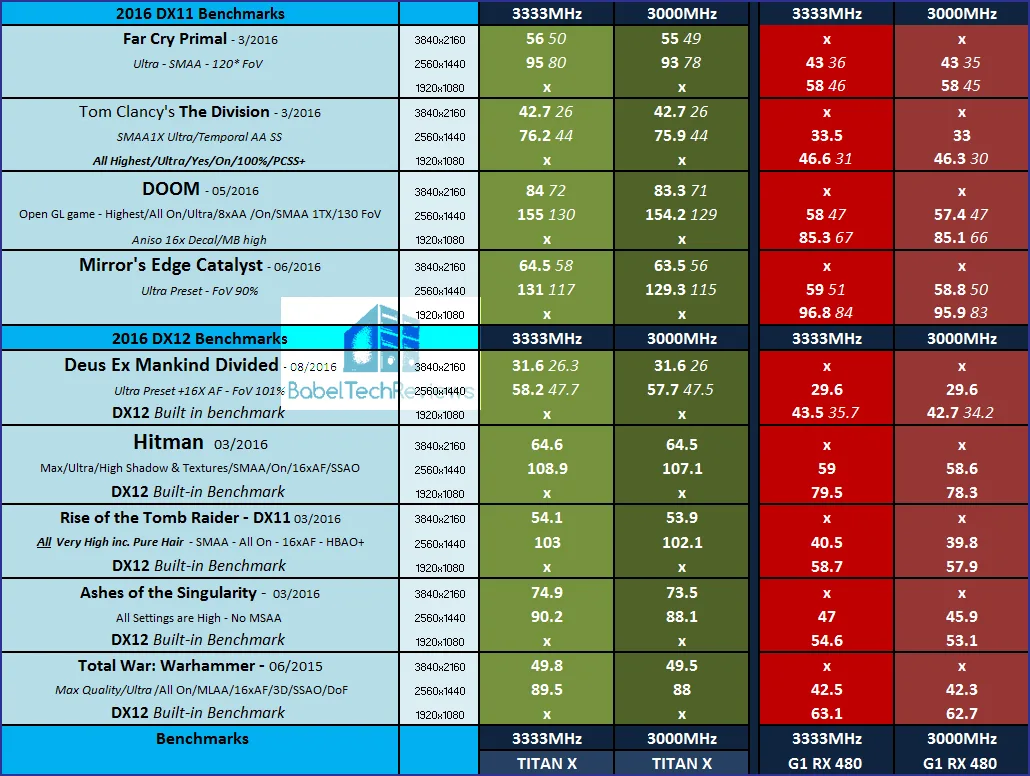 Interestingly, the HyperX DDR4 at 3333MHz generally sees slightly higher framerates for both the TITAN X and for the RX 480 over the G.SKILL DDR4 at 3000MHz. The faster RAM also seems to make some small improvement to some of the minimum framerates. Some games are not affected at all by RAM speed while others show variable amounts of framerate improvement with the faster DDR4.
Let's head to our conclusion.
Conclusion
We have seen previously that that running RAM at a faster clock speed produces performance gains and saves time in most common tasks, especially with multi-tasking but also including video encoding and decoding. What is surprising in this evaluation is that many games can benefit slightly from faster RAM with either a super-fast video card or with a upper-midrange one.
Should a gamer upgrade to premium DDR4 3333MHz? Probably not from running at 3000MHz especially if overclocking is possible, but if a gamer is buying a new Skylake CPU and DDR4 motherboard now, faster RAM can evidently make a performance difference in gaming. The performance improvement with faster DDR4 isn't dramatic, from zero performance improvement to maybe adding a couple of frame rates, but there is a noticeable trend. Is it worth spending $60 more for 11% faster RAM? Well, each gamer will have to make that decision for himself.
HyperX Predator PC26600 (DDR4 3333MHz)
Pros
The HyperX Predator RAM is very fast 3333MHz DDR4 that is built for high speeds at low latency. It is an enthusiast's dream. Fast, stable, and dependable – it just works.
It comes with a lifetime warranty along with great customer service and tech support.
Cons
Costs. Premium DDR4 commands a premium price
Higher profile Predator RAM may not fit well with all CPU heatsinks.
The Verdict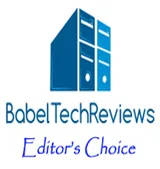 If you are an enthusiast with premium components who wishes to gain every last bit of performance out of your PC, then the HyperX Predator DDR4 at 3333MHz is an excellent choice as it brings small but tangible performance gains over using RAM at 3000MHz.
The HyperX Predator 2x8GB 3333MHz RAM Kit is priced similarly to other DDR4 in its speed class and it is backed by Kingston who gives a lifetime warranty and excellent support. We feel it deserves BTR's Editor's Choice Award.
However, if you are on a tight budget, you are more likely to settle for slower RAM and perhaps try for an overclock. For gaming, 8GB is probably still sufficient although for other tasks, 16GB might be preferable.
For BTR's flagship Core i7-6700K PC, running everyday tasks and for our benchmarking, we have settled on using 16GB of HyperX Predator DDR4 which runs at 3333MHz. It is slightly faster than the G.SKILL DDR4 3000MHz that we have been using.
Stay tuned. We are previewing a new game for you that you will not want to miss later on this week. We are also working on bringing you a preview of PowerColor's external graphics adapter, the Devil Box.
Happy Gaming!