It's been about six months since BTR compared the RX 480 versus the GTX 1060 and versus the 290X. It will be interesting to see if there have been any major performance changes since then. Has AMD neglected Hawaii in favor of Polaris, and what about Pascal performance?
This evaluation will revisit 25 games from the launch evaluation of the RX 480 on June 29, 2016, the follow-up on July 17 where we noted significant Polaris performance increases with Crimson 16.7.2, and we will also include the original GTX 1060 drivers from its launch on July 19, 2016.
We will use the same 25 games that we benched then, and we will again compare them using the latest drivers, plus we will add 11 newer games including Watch Dogs 2 and Tom Clancy's The Division which now has a DX12 pathway for a total of 35 games.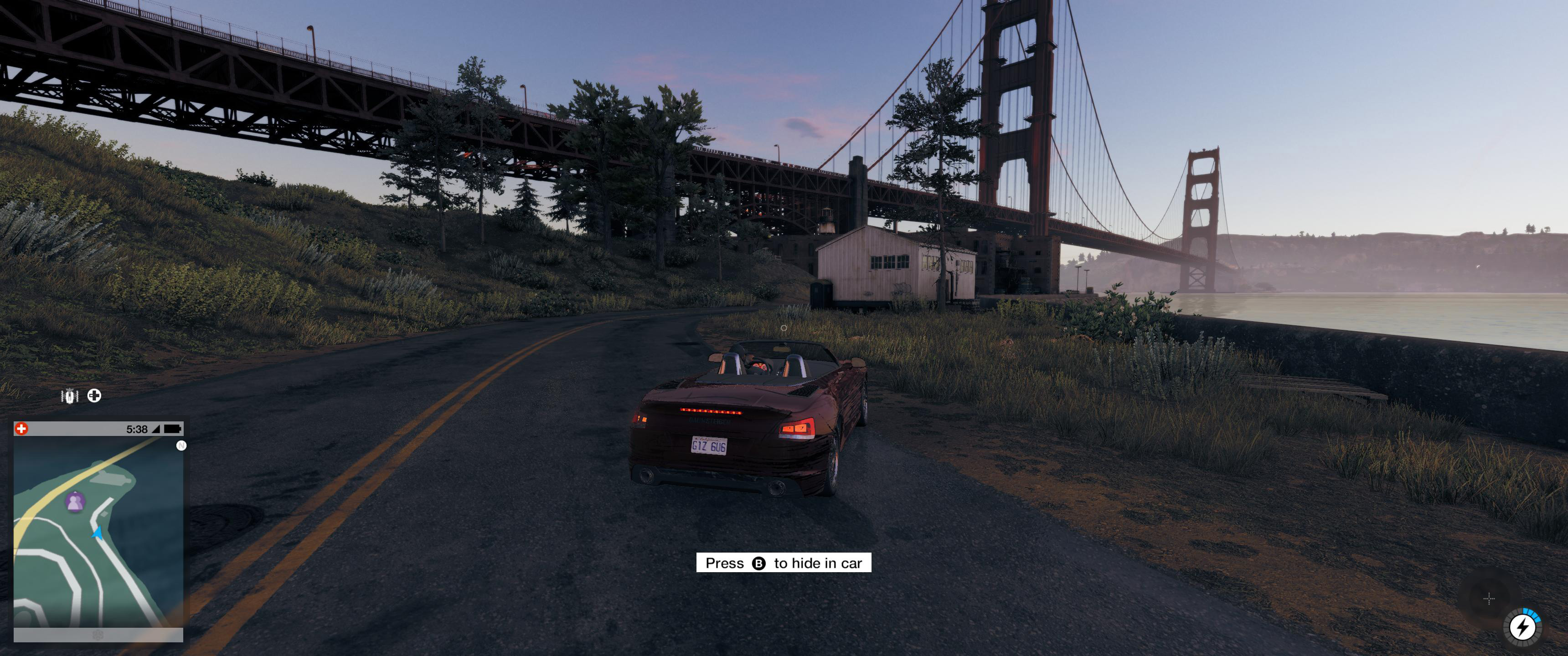 The GTX 1060 and the RX 480 are in a similar price range and they have been natural competitors for almost 6 months. Our game benchmark suite has changed over the past six months as we always strive to update our tested games to include the latest and most popular titles at the time of posting.
We mainly want to see how these upper-midrange GPUs stand now in relation to each other by playing the latest games with updated drivers at demanding settings that we usually bench at 3840×2160, 2560×1440, and at 1920×1080.
Let's check out the RX 480 versus the GTX 1060 and versus the 290X after we look over our test configuration on the next page.
Test Configuration – Hardware
Intel Core i7-6700K (reference 4.0GHz, HyperThreading and Turbo boost is on to 4.4GHz; DX11 CPU graphics).
ASRock Z7170M OC Formula motherboard (Intel Z7170 chipset, latest BIOS, PCIe 3.0/3.1 specification, CrossFire/SLI 8x+8x)
HyperX 16GB DDR4 (2x8GB, dual channel at 3333MHz), supplied by Kingston
MSI G1 Gaming RX 480, 8GB, at reference clocks.
VisionTek 290X, 4GB, reference clocks. Fan is set to 100% to prevent throttling.
EVGA GeForce GTX 1060 SC 6GB, at Founders Edition reference clocks, supplied by EVGA
Two 2TB Toshiba 7200 rpm HDDs for each platform
EVGA 1000G 1000W power supply unit
Corsair H60 Watercooler
Onboard Realtek Audio
Genius SP-D150 speakers, supplied by Genius
Thermaltake Overseer RX-I full tower case, supplied by Thermaltake
ASUS 12X Blu-ray writer
Monoprice Crystal Pro 4K
Test Configuration – Software
Nvidia's latest GeForce WHQL 376.33 and the original 368.64 launch drivers used for the GTX 1060. High Quality, prefer maximum performance, single display.
AMD Crimson Software ReLive 16.12.1 hotfix and the launch 16.6.2 drivers plus 16.7.2 were used for the AMD cards.
VSync is off in the control panel.
AA enabled as noted in games; all in-game settings are specified with 16xAF always applied
All results show average frame rates including minimum frame rates shown in italics on the chart next to the averages.
Highest quality sound (stereo) used in all games.
Windows 10 64-bit Home edition, all DX11 titles were run under DX11 render paths. Our DX12 titles are run under the DX12 render path. Latest DirectX
All games are patched to their latest versions at time of publication.
Sapphire TriXX was used for AMD cards.
MSI's Afterburner, latest beta, was used for NVIDIA cards.
Synthetic
Firestrike – Ultra & Extreme
Time Spy DX12
DX11 Games
Crysis 3
Metro: Last Light Redux (2014)
Middle Earth: Shadows of Mordor
Alien Isolation
Dragon's Age: Inquisition
Dying Light
Total War Attila
Grand Theft Auto V
ProjectCARS
the Witcher 3
The Vanishing of Ethan Carter
Batman: Arkham Origins
Mad Max
Fallout 4
Star Wars Battlefront
Assassin's Creed Syndicate
Just Cause 3
Rainbow Six Siege
DiRT Rally
Far Cry Primal
Tom Clancy's The Division (also DX12)
DOOM – Open GL and Vulkan APIs
Mirror's Edge Catalyst
Deus Ex Mankind Divided
Shadow Warrior 2
Battlefield 1
Call of Duty Infinite Warfare
Titanfall 2
Watch Dogs 2
DX12 Games
Ashes of the Singularity
Hitman
Rise of the Tomb Raider
Total War: Warhammer
Deus Ex Mankind Divided
Gears of War 4
Civilization VI
Nvidia Control Panel settings:

Power/Temperature targets are set to maximum by Afterburner.
AMD Crimson Control Center Settings: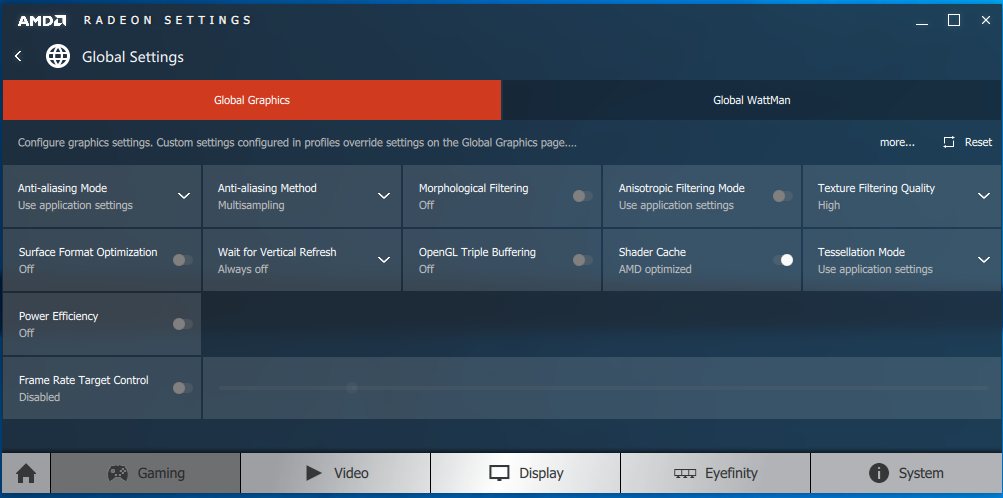 Power Limit/Temperature targets are set to maximum by TriXX. The 290X fans are set to 100% to prevent throttling
Let's head to the performance charts to see how the RX 480 compares with 290X, and with the GTX 1060 now, compared with performance from about 6 months ago.
Performance summary charts
Here are the summary charts of 35 games and 2 synthetic tests. The highest settings are always chosen and it is DX11 or DX12 with the settings at ultra or maxed except for DOOM which show both Vulkan and OpenGL results (different areas were benchmarked with each API). Specific settings are listed on the main performance chart.
The benches were run at 1920×1080, 2560×1440, and at 3840×2160. All results, except for Firestrike and Time Spy, show average framerates, and higher is always better. In-game settings are fully maxed out and they are identically high or ultra across all platforms. "X" means the benchmark was not run as many new games have been added in the past 6 months to BTR's benchmarking suite.
The first three columns are devoted to the RX 480 results with the latest drivers 16.12.1 being used in Column 1, and the July 16.7.2 drivers compared in Column 2, with Column 3 devoted to the launch drivers, 16.6.2. The 290X results are given in the next two columns with Column 4 using the latest drivers and Column 5 using 16.6.2 drivers. The last two columns show the GTX 1060 results with Column 6 showing the latest 376.33 drivers and the last Column 7 giving the performance results with the 368.64 launch drivers.
Please open the charts in separate windows or tabs for better viewing.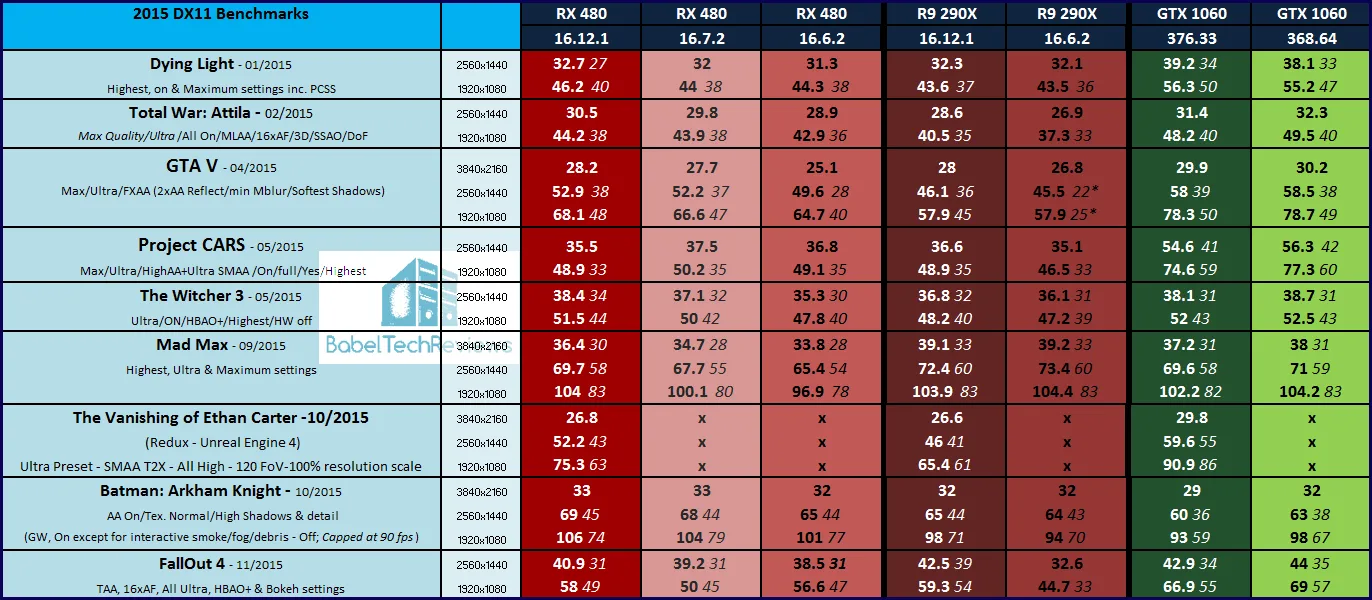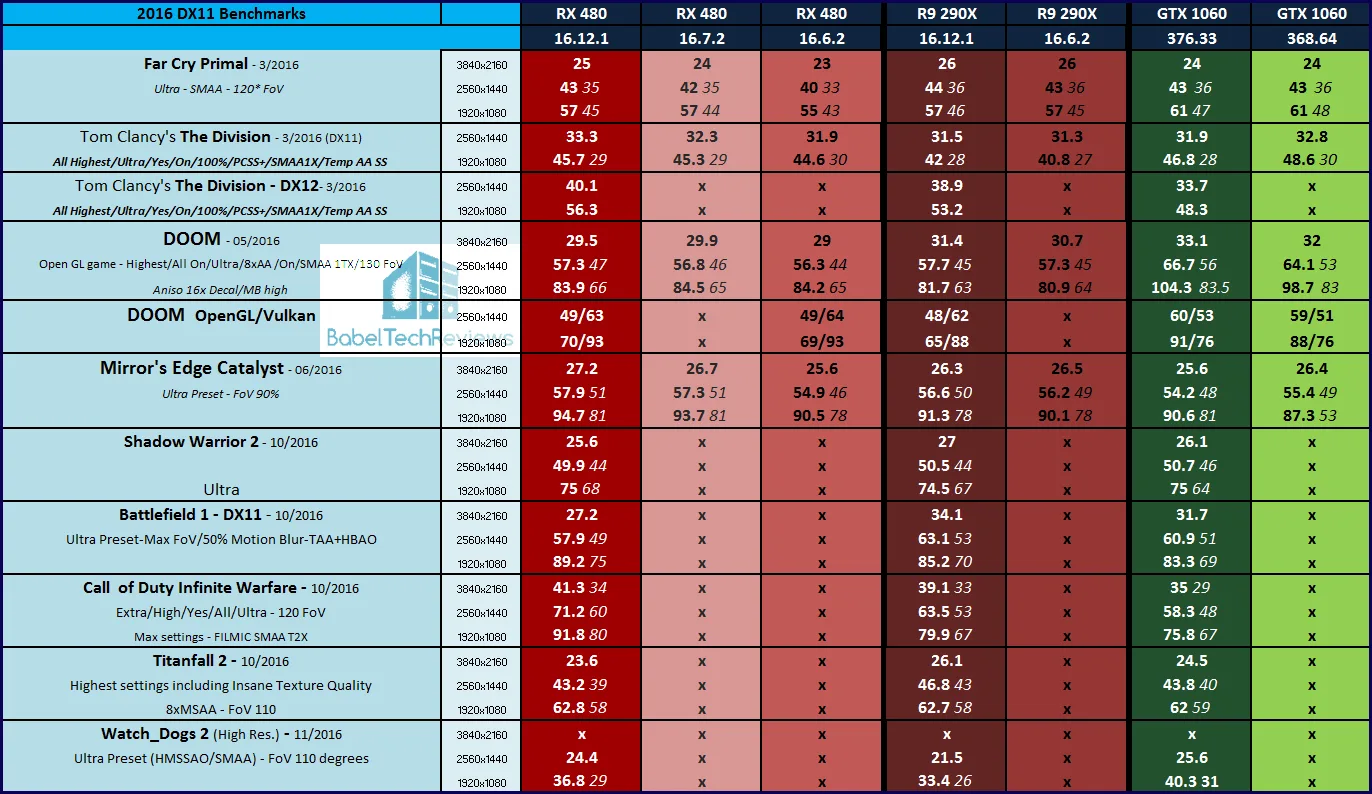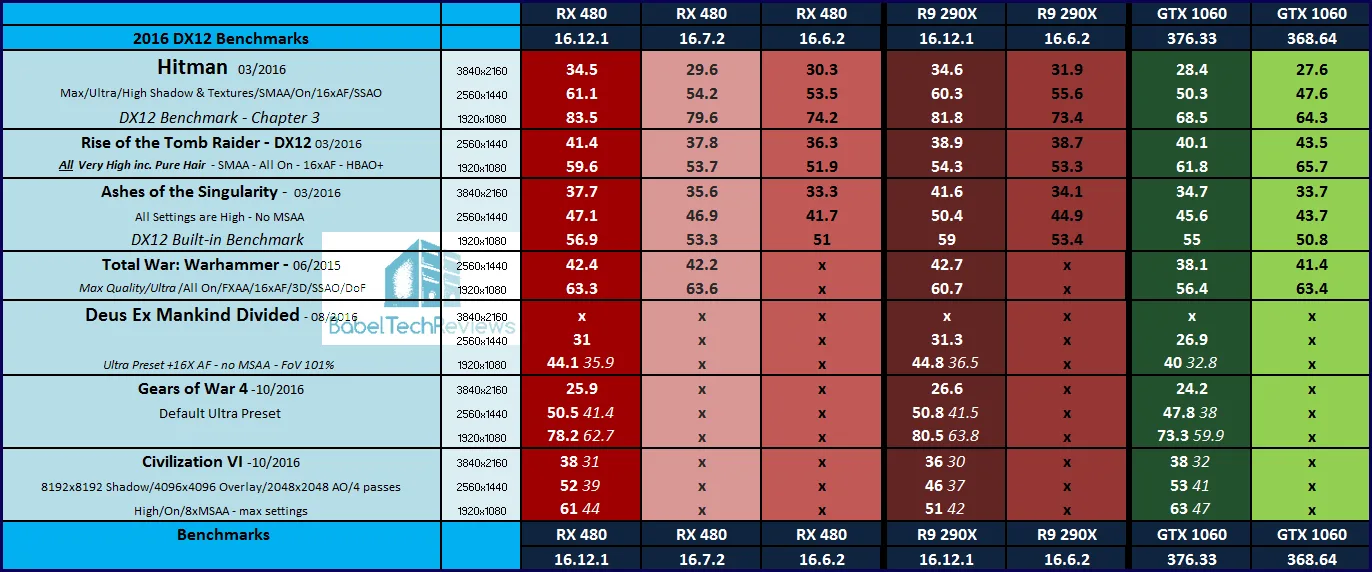 Our charts provide a lot of information across 35 games and 2 synthetics. What we can take away from the results generally is that the 290X and the RX 480 have gained some significant ground on the GTX 1060 over the past six months.
We were very surprised that the latest NVIDIA driver WHQL 376.33 has seen some serious performance drops with at least 6 games compared with the GTX 1060 launch driver. There are significant performance drops in Rainbow 6 Siege, Shadows of Mordor, Batman AK, Rise of the Tomb Raider, Warhammer, and Fallout 4 using the GTX 1060 6GB compared with the newest driver. There are certainly some performance improvements in the rest of the benchmark suite, but the decreases are surprising.
Of course, it's always possible that game patches have changed performance since the launch. So we tried these six games back to back with the launch driver versus the new driver just to make sure that something else wasn't at play. And the launch drivers in each of these six cases outperformed the latest drivers by similar margins to what is reported on the charts.
We also note that AMD has made good performance progress with the RX 480 since its launch, but much of the performance increases already came a month after its launch with 16.7.2. And what is perhaps even more surprising is that the 290X has continued to improve at nearly the same rate at the RX480!
Let's head for our conclusion.
The Conclusion
The GTX 1060 is still the fastest of the three cards that we have tested using our maxed-out 35 game benchmark suite when you consider its overclocking ability. However, the RX 480 and the 290X have managed to gain some real ground on the GTX 1060. We can also conclude that AMD has not neglected Hawaii at all, but each driver revision tends to bring more performance than the last. On the other hand, we were very surprised to see that the GTX 1060 actually lost some performance in a few games with the latest driver compared with its launch driver.
BTR has purchased a Oculus Rift this week, and we have been playing VR games with great success on our GTX 1060. We plan to compare the experience of playing VR games on AMD versus playing on NVIDIA cards in the coming weeks. Stay tuned.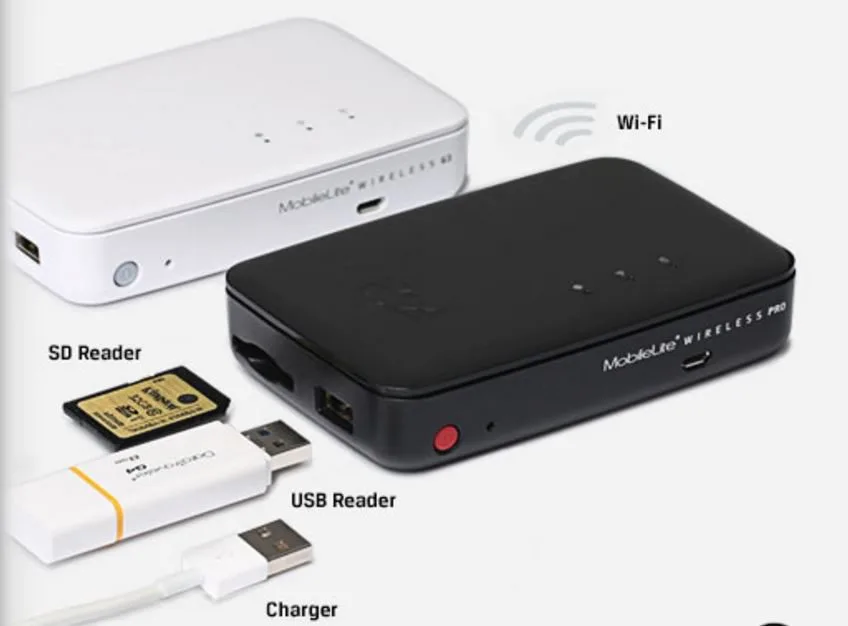 In the meantime, we are currently running a contest that ends on Christmas day. It features a really nice prize bundle for the grand prize winner that is supplied by Kingston with the choice of any PC game under $60 going to the runner up!
Happy Gaming!
Mark Poppin
BTR Editor-in-Chief