Intro
This Red Devil RX 480 versus the EVGA GTX 1060 SC overclocked-to-the-max showdown is the finale to BTR's Polaris versus Pascal series that began with the launch of the GTX 1060 versus the RX 480.  We already tested a premium $279 Red Devil RX 480 with its "unleashed BIOS" but only at PowerClocks versus the $259 EVGA GTX 1060 SC.  Today, we have updated each card to its latest drivers and have optimized our overclocks with maximum voltage and with all performance options set to their upper limits to get the most performance.
At stock, the reference clocked EVGA GTX 1060 6GB  SC won overall in DX11 performance over the Red Devil-clocked RX 480.  This time, we will overclock the EVGA GTX 1060 SC and the Red Devil RX 480 as far as they each will go with a maxed-out fan profile and with the maximum added voltage to see where they stand in relation to each other.
The Red Devil RX 480 OC vs. the EVGA GTX 1060 SC
We used Sapphire's TriXX to set our overclock since the newest version allows voltage boosts higher than by using AMD's WattMan.  The $279 PowerColor Red Devil version of the RX 480 8GB is factory clocked up to it's maximum boost speeds of 1330MHz , up from 1270MHz at stock.  The details may be found here.  We found that as long as the temperatures remain cool (72 F) and the Power and Temperature limits are maximized, it will not throttle even when overclocked to its maximum.  Even at 100% fan, the noise level is acceptable and the temperatures remain in the mid to upper 60s C.
We settled on a 1400MHz core boost (1266MHz stock/1330 Red Devil clocks) with the memory clocks at 2150MHz (1750MHz stock).  For the first time, higher memory clocks gained significant performance for the Red Devil RX 480 whereas with our other RX 4x0s, higher memory clocks would often negatively impact it.
Overclocking the EVGA  GTX 1060 SC
We devoted a separate overclocking evaluation to the EVGA GTX 1060 SC using PrecisionX OC which you can read here.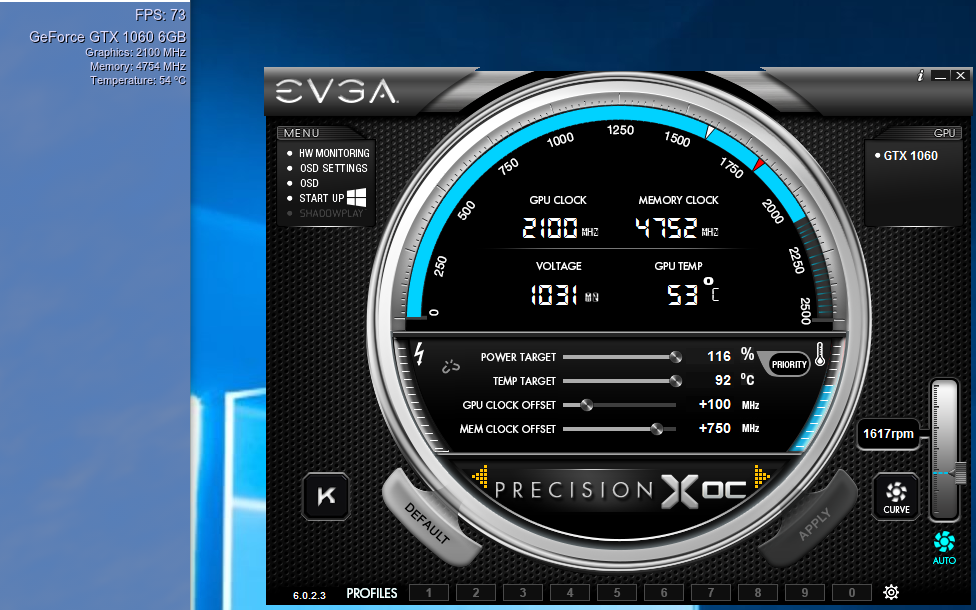 We achieved a final stable overclock of +100 MHz to the core which settled in around 2088MHz with GPU Boost 3.0 for the majority of our benching as we kept our room cool (72 F) for all of our game benchmarks. Watching the PrecisionX OC in-game overlay during our benchmark runs we also often observed 2101MHz.  Our memory overclock remained at +700MHz for its clock of 4705MHz which greatly contributed to the increased performance.  The fan never became intrusive when pushed from 90% to 100% – it produces a louder "whoosh" of air without an annoying whine, but the GPU remained cool in the low to mid-60s C.
Testing Platform
Our testing platform is Windows 10 Home 64-bit, using an Intel Core i7-6700K at 4.00GHz which turbos to 4.4GHz for all cores as set in the ASRock Z7170 motherboard's BIOS, and 16GB of G.SKILL DDR4 at 3000MHz. The settings and hardware are identical except for the two cards being tested.
We also feature our newest 2016 games, Mirror's Edge Catalyst and Deux Ex Mankind Divided, and we also include Ashes of the Singularity, Hitman, Rise of the Tomb Raider, and Total War Warhammer using DX12.  We have also added Futuremark's DX12 benchmark, Time Spy.  We will compare the performance of 25 modern games at 1920×1080 and at 2560×1440 resolutions with maximum settings.
Before we run the benchmarks, check out the test configuration.