RTX 4090 Pictured
The RTX 4090 Founders Edition Unboxing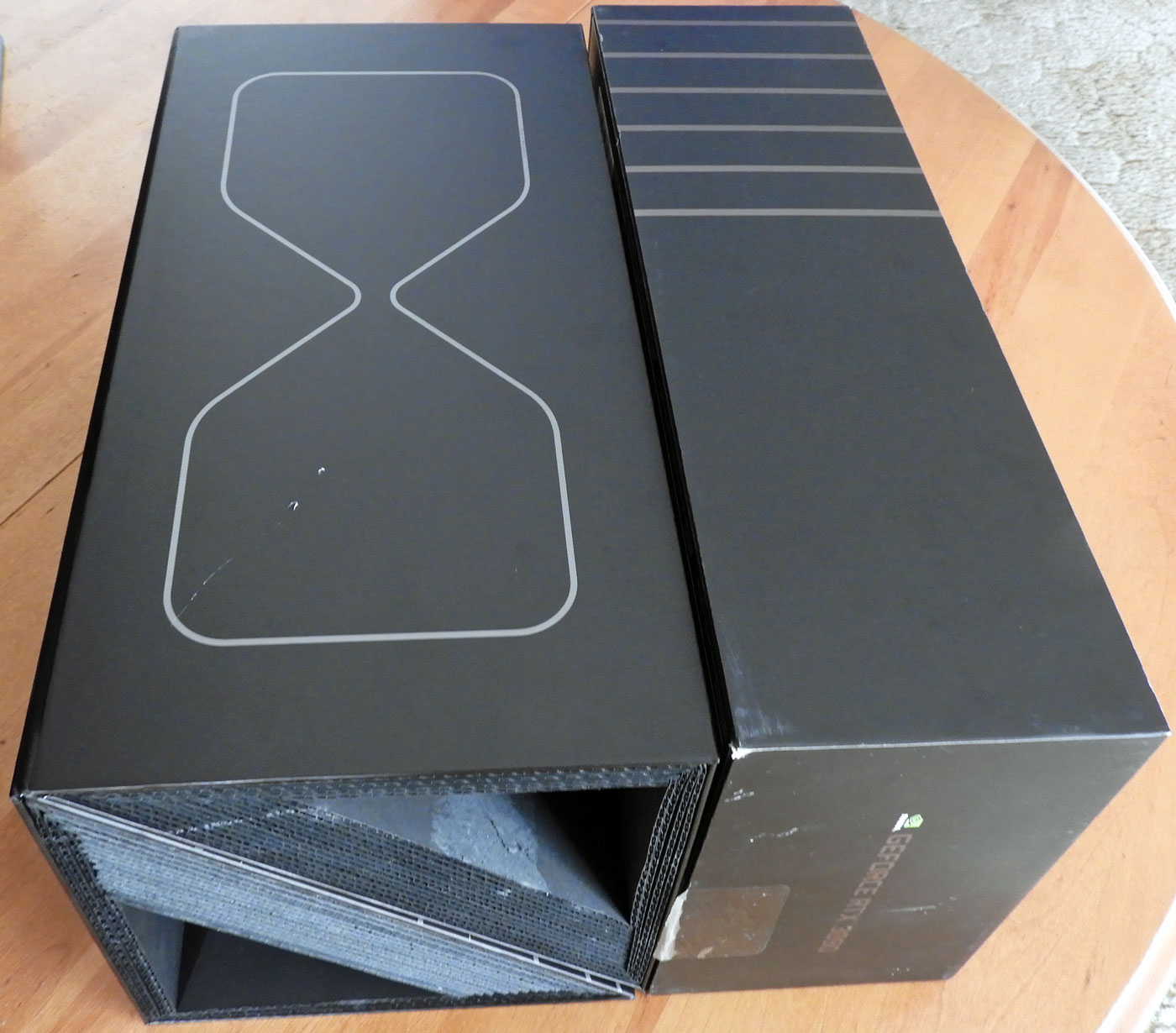 Just like as with all RTX 3000 Founders Edition cards, the RTX 4090 comes in a similar "shoebox" style where the card inside lays flat at an slight incline for display.  However, the RTX 4090 box is much thicker and probably close to 50% larger.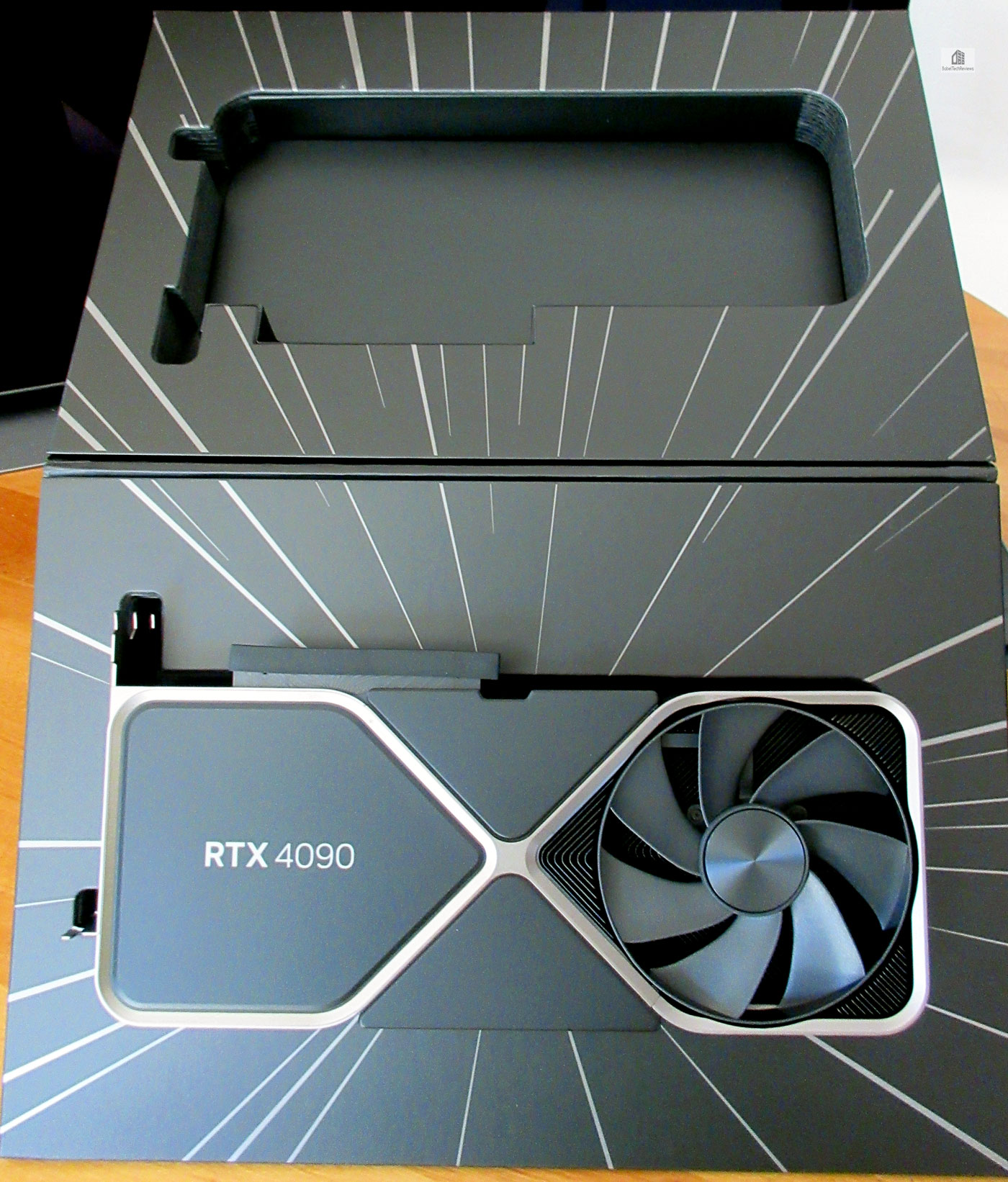 The system requirements, contents, and warranty information are printed on the bottom of each box.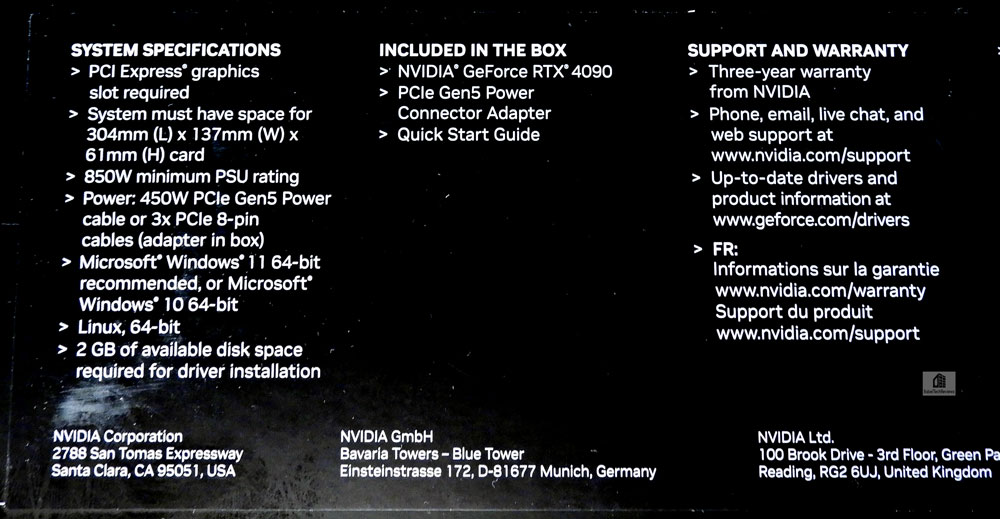 The RTX 4090 requires an 850W power supply unit – 100W more than the RTX 3090 – and the case must have space for a 304mm (L) x 137mm (W) x 61mm (H) three-slot card. However, it easily fits in our Corsair 5000D ATX mid-tower. The extra thick packing of the box protects the card.  Inside the box and beneath the card are warnings, a quick start guide, and warranty information, plus the PCIe Gen5 power cable adapter to quad PCIe 8-pin cables that will be required to connect the RTX 4090 to most PSUs.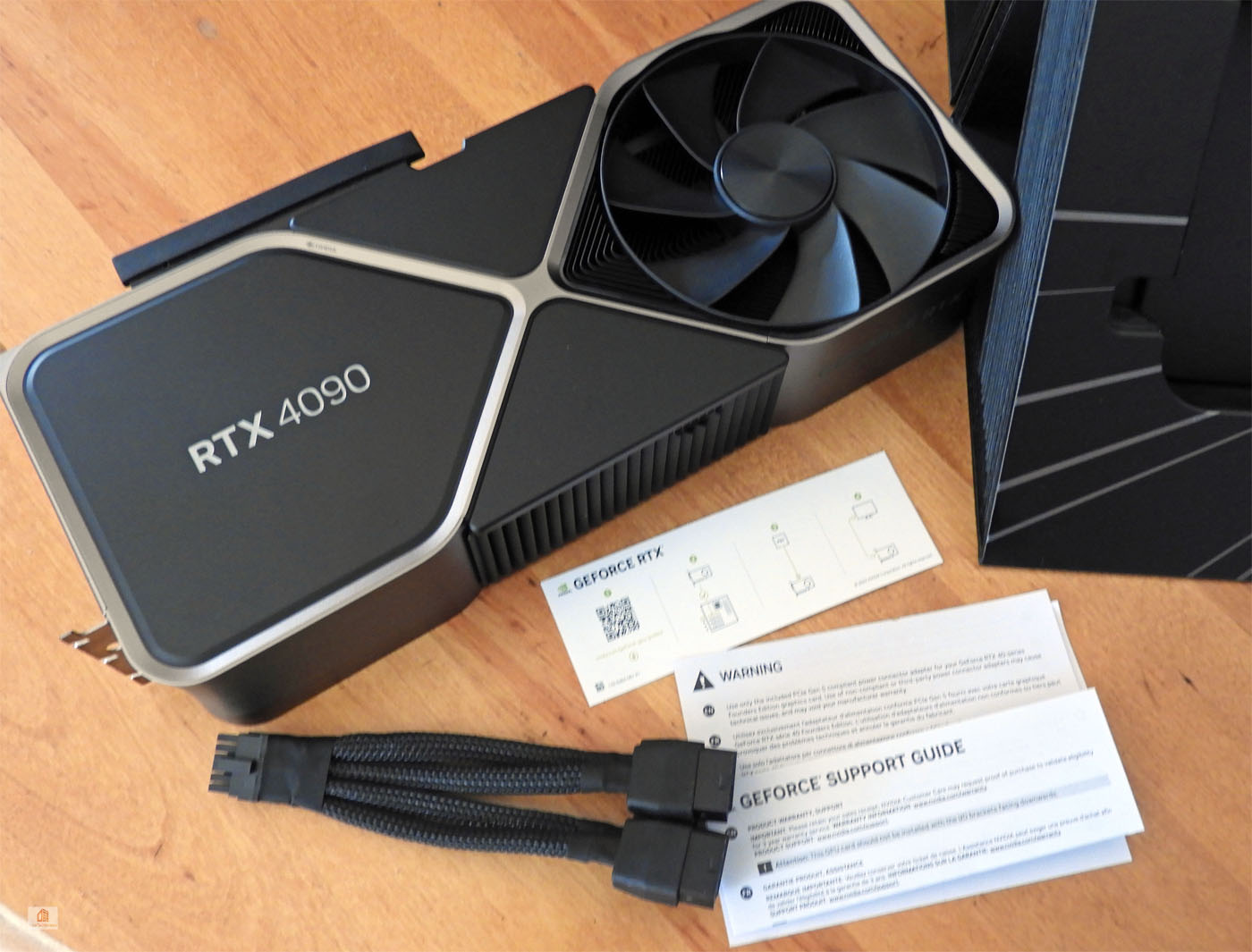 The RTX 4090 Founders Edition exudes a premium and solid feel from its industrial design.  It is a very heavy 3-slot card and we use two thumbscrews to lock it down, taking care not to damage our PCIe slot.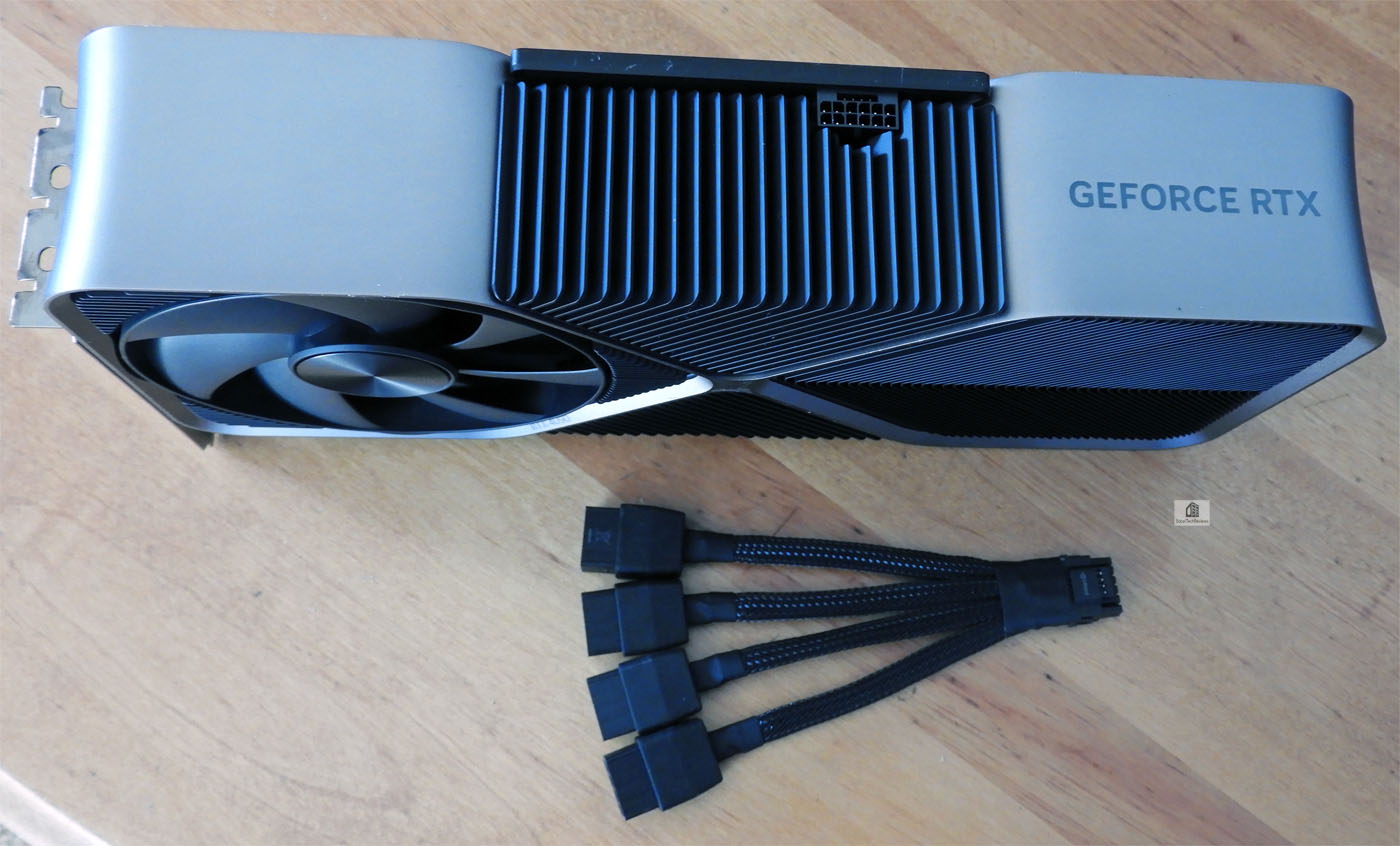 The power connector adapter requires three or four molex cables from the PSU to operate; the fourth cable is for overclocking.  Newer PSUs may offer the new PCIe Gen5 single cable connector instead of a bulky quad cable.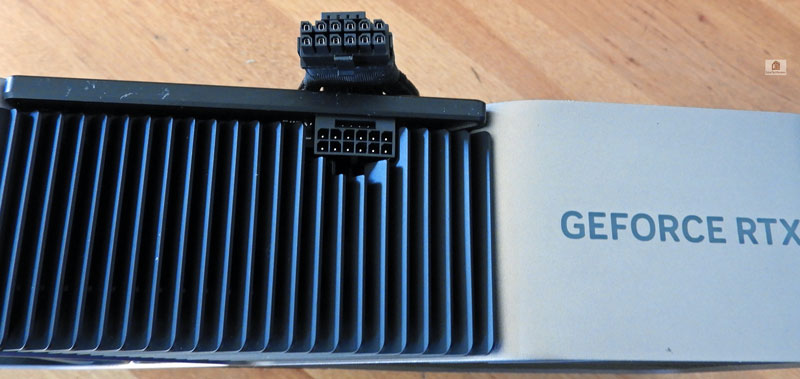 Turning the card over, we see a similar design of the Ada Lovelace FEs to the Ampere cards with a fan also on the other side.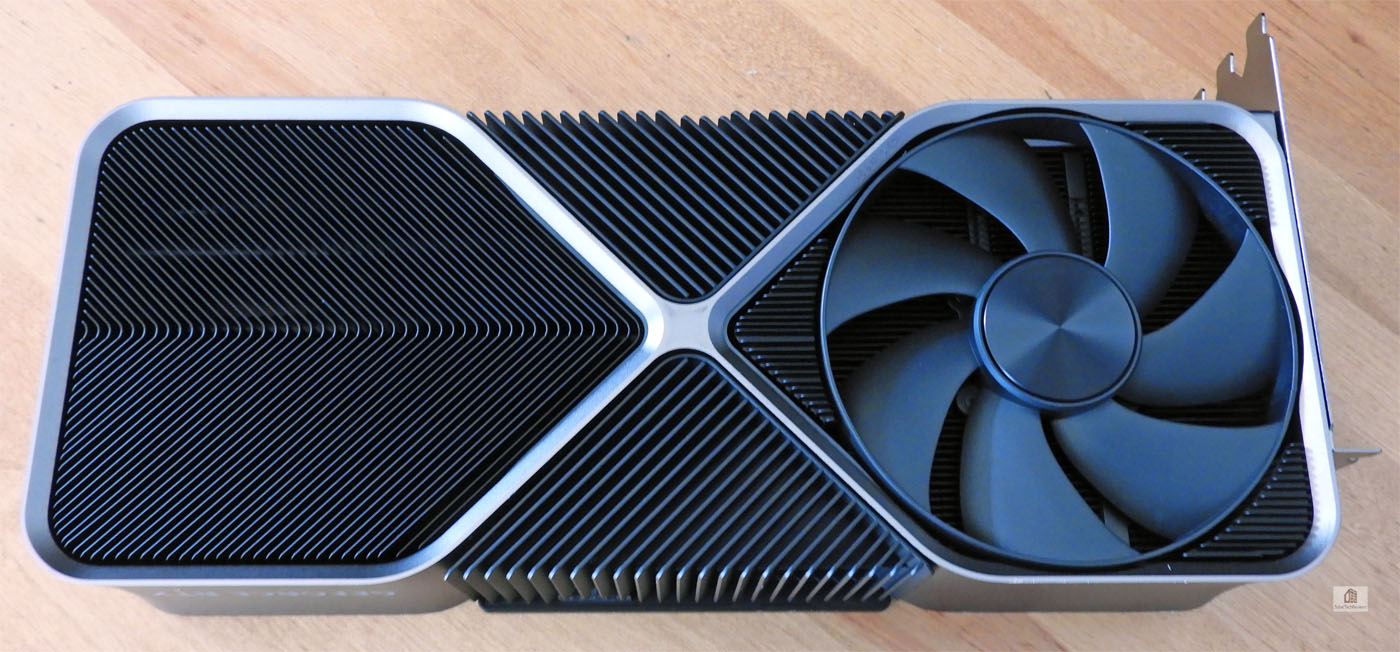 The IO panel has a very large air vent and four connectors.  The connectors are similar to the Founders Edition of the RTX 3090.  Three DisplayPort 1.4 connectors are included, and the HDMI 2.1 connector allows for 4K/120Hz or 8K/60Hz over a single HDMI cable.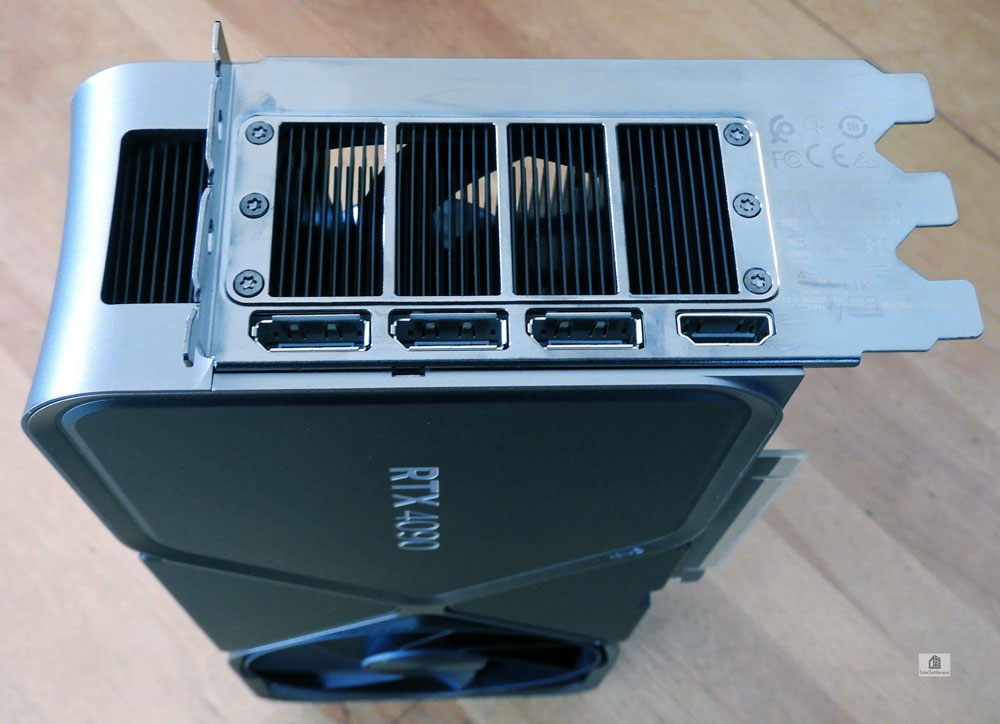 The other end offers a removable plate for enthusiasts to use a support bracket.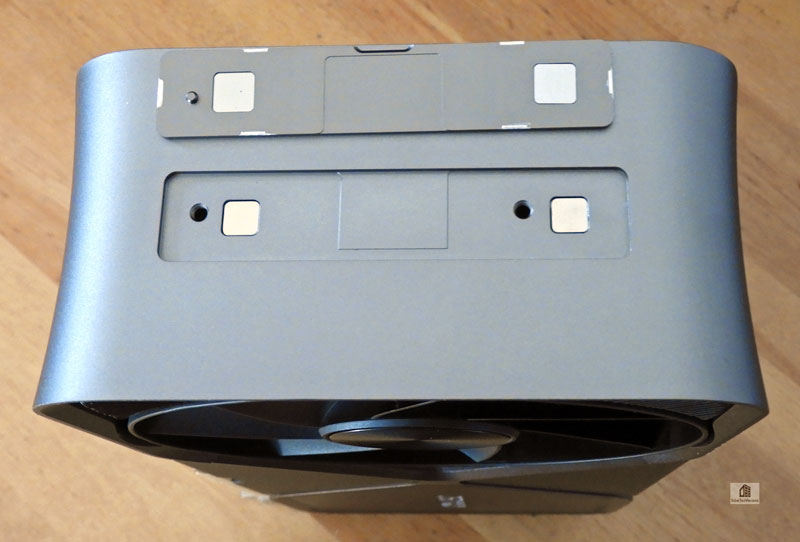 The RTX 4090 Founders Edition is a beautiful card with a very unique industrial style, and it's larger than the RTX 3090 which is itself an imposing card.  However, the larger Ada Lovelace card tends not to heat up like the RTX 3090 and it is also much quieter under full load.  It looks great installed inside a case.
Disassembly appears to be very difficult and should give pause to any enthusiast who may have custom watercooling in mind.  In fact, we think that watercooling is a waste for the Founders Edition as it doesn't have any thermal issues.
Let's check out our test configuration.