We have been playing and benchmarking Project CARS 2 since it released last week. This Project CARS 2 PC and VR performance evaluation pits AMD's Red Team versus NVIDIA's Green Team using eleven video cards, and we also measure VR performance using FCAT VR.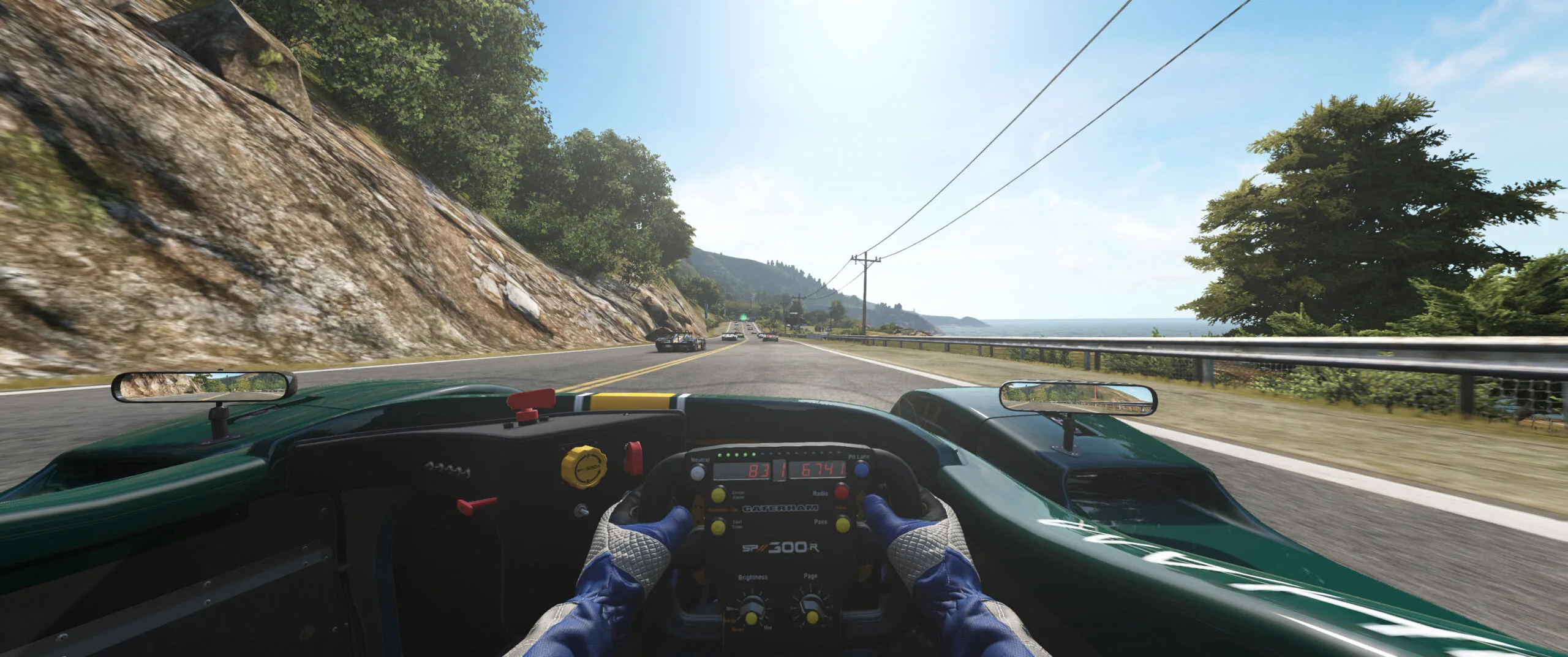 This Project CARS 2 PC and VR performance evaluation is performed using a Core i7-6700K at 4.0GHz where all 4 cores turbo to 4.6GHz, an ASRock Z170 motherboard and 16GB of Kingston HyperX DDR4 at 3333MHz on Windows 10 64-bit Home Edition. We benchmark at four resolutions using NVIDIA's 385.69 WHQL driver and AMD's 17.9.2 driver although 17.9.3 was just released for Total War: Warhammer II this morning as this evaluation was being written. Here are the 11 video cards that we are comparing – 6 from Team Green and 5 from Team Red:
GTX 1080 Ti FE 11GB (VR)
GTX 1080 FE 8GB (VR)
GTX 1070 FE 8GB (VR)
EVGA GTX 1060 SC 6GB (VR)
EVGA GTX 1060 3GB
PNY GTX 1050 Ti XLR8 4GB
Gigabyte RX Vega 64 Liquid Cooled Edition 8GB (VR)
PowerColor Fury X 4GB (VR)
Gigabyte RX 480 G1 8GB at RX 580 clocks (VR)
PowerColor RX 570 4GB – Red Devil overclocked version (VR)
XFX RX 460 4GB OC
One has to experience Project CARS 2 as a player to appreciate it, and absolutely not from viewing clips on a tablet, nor from watching Youtube gameplay videos. And there is absolutely no way to convey the sense of immersion that comes from playing it in VR using a wheel and pedals.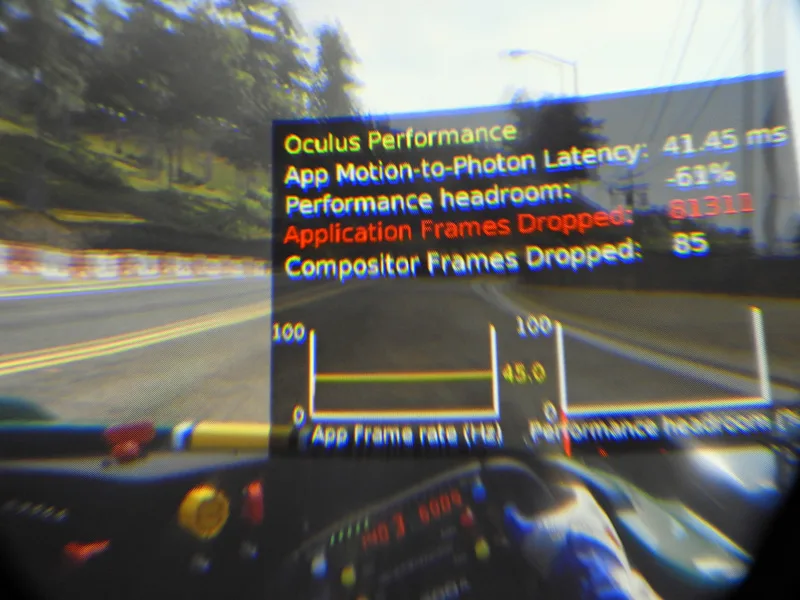 We received a reviewer's code courtesy of Bandai Namco the day before the game released on Friday, September 22. Although we have spent an entire week playing Project CARS 2, we feel that we are just now getting really familiar with the game. It is a huge game that a player may spend hundreds of hours with, and there is a bit of a learning curve as one cannot just jump into a supercar and expect to immediately race successfully even against the AI. Project CARS 2 is a sim, and although it can be dumbed-down into an arcade-style racer, it is best played with a racing wheel and pedals.
Although the original game was ground-breaking in many regards, the sequel appears to be a solid improvement over Project CARS, especially with regard to having more of everything – improved weather and changing track conditions, as well as better handling and greatly improved tire physics. We use the same track, California's Highway 1 as in the original, but we now use Stage 3 as our 2 minute benchmark run in Project CARS 2 for both our desktop and VR runs.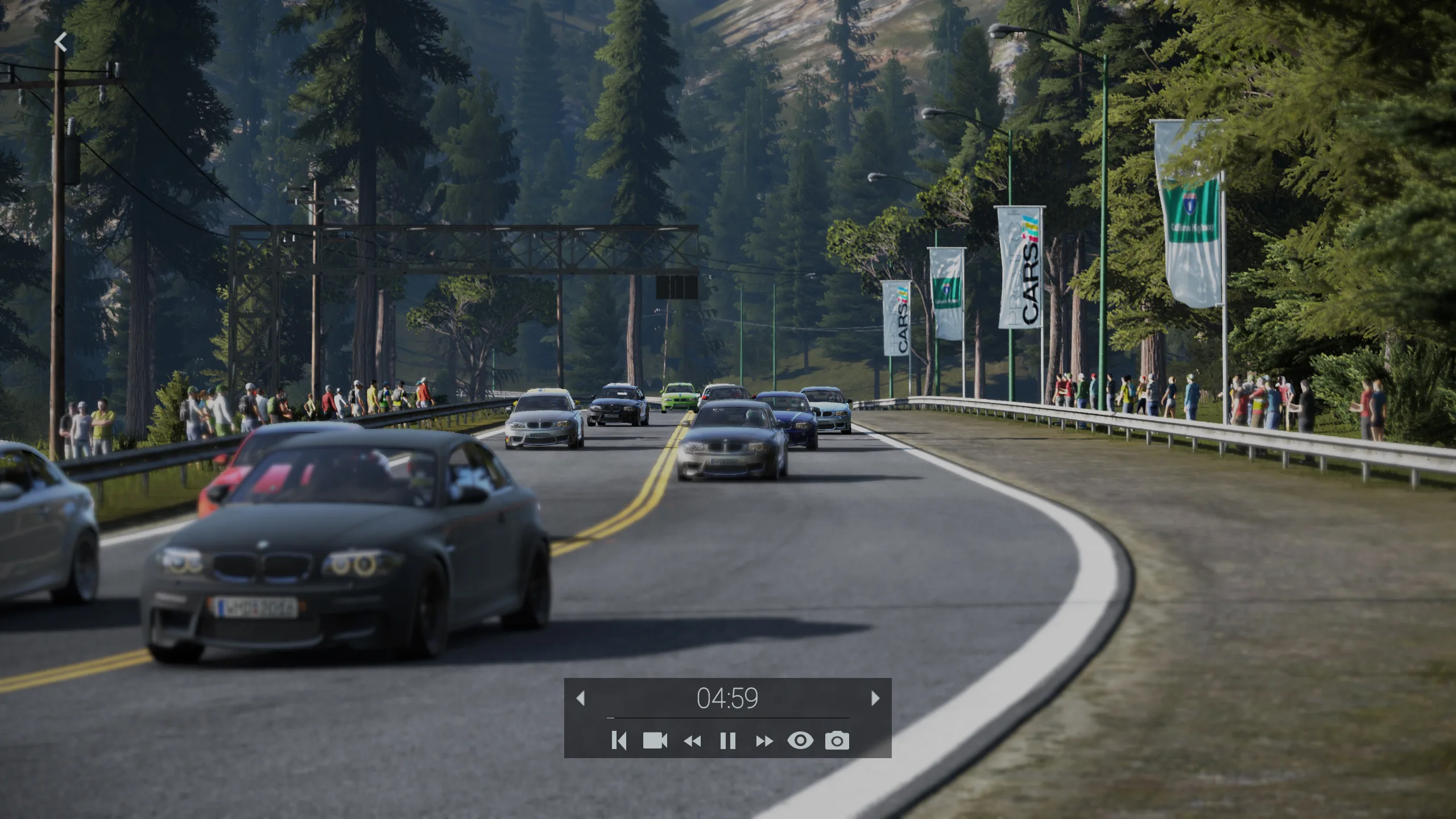 The menus have become a lot easier to navigate and the options are much better explained than in the original. Like the original, almost every major setting change requires the game to be restarted for the change to take effect, and a lot of time is wasted with experimentation. However, the amount of options that a player has to fine-tune his controls are amazing and very welcome. This editor plays with an entry-level Thrustmaster Ferrari X58 Italia wheel that usually has a noticeable deadzone that can be minimized by editing the assignments.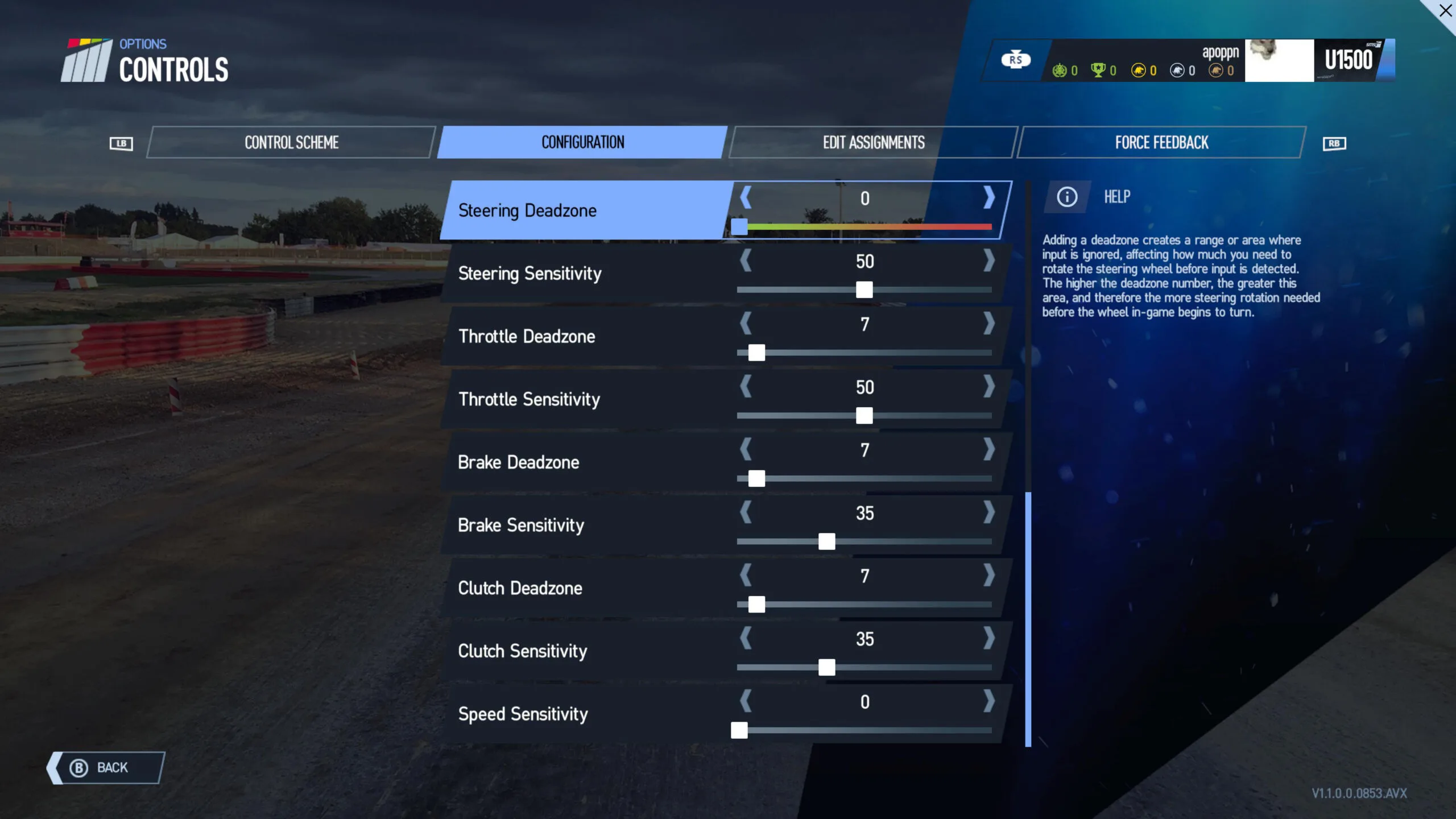 There are even options to synchronize the car with the dips in the track. In another big improvement, unlike with the original, the game is actually playable with a controller, but a wheel gives the best results especially for VR. There is also a big improvement with the number of tracks increasing to 60 with over 130 layouts, along with a doubling to around 180 the number of vehicles accessible to the player in the new game over the original.
There are almost 30 unique series and the player is now allowed to race against cars in a similar class. A player can pick a career and spend many hundreds of hours tinkering with and driving in every sort of race including rallycross. Or a player can just choose to practice, engage in single race mode, or race online against other human players. The player-adjustable AI is competent but inconsistent.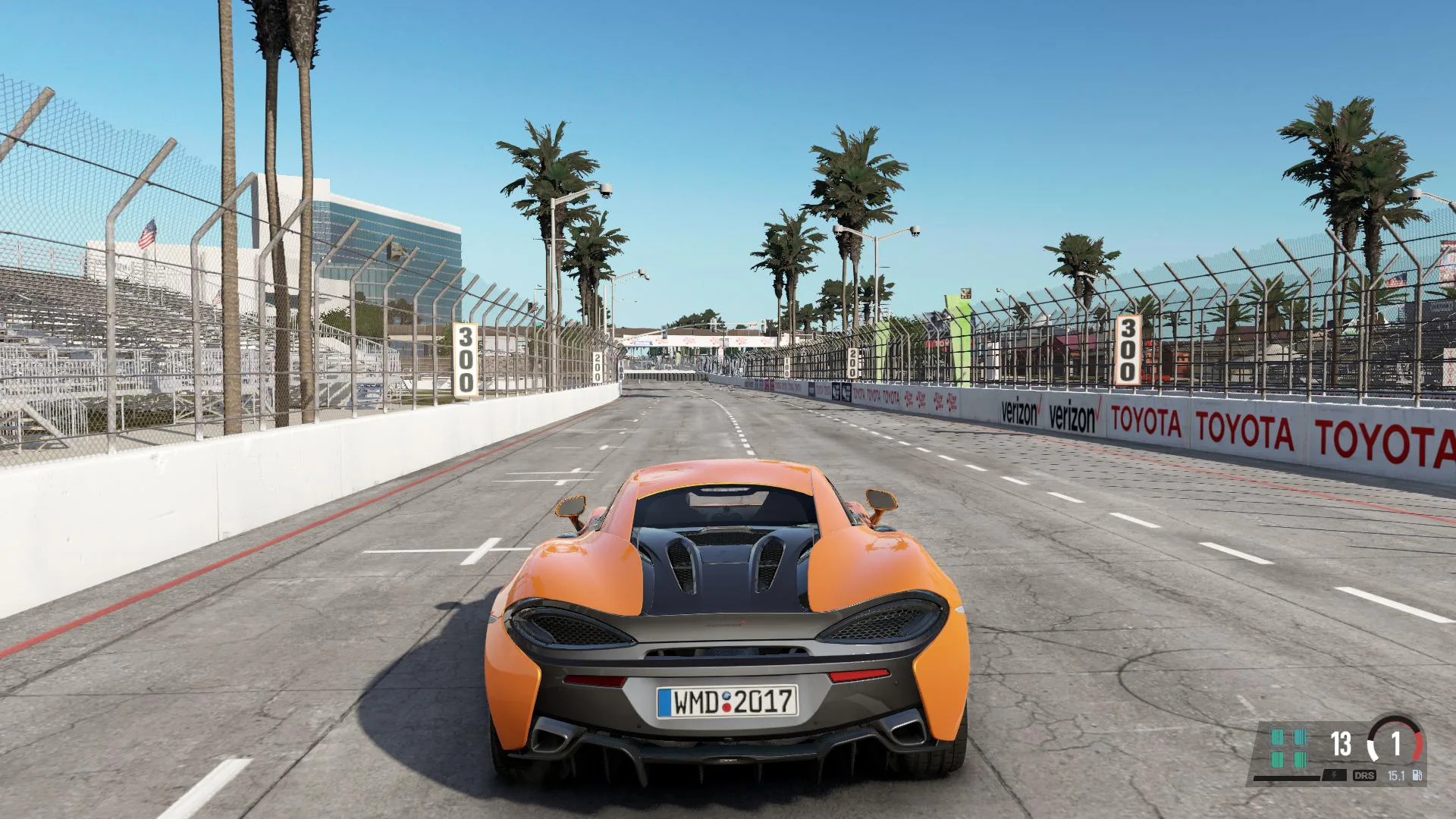 Project CARS 2 has its own Ansel-style camera which allows you to compose your perfect screenshot. You can also use a Drone Camera to take shots from creative angles. Every race that you complete is recorded and you can save these races for playback or for use as a desktop or VR benchmark. You can also choose to view the race from a number of many different camera angles. We picked the cockpit view as our default for benching.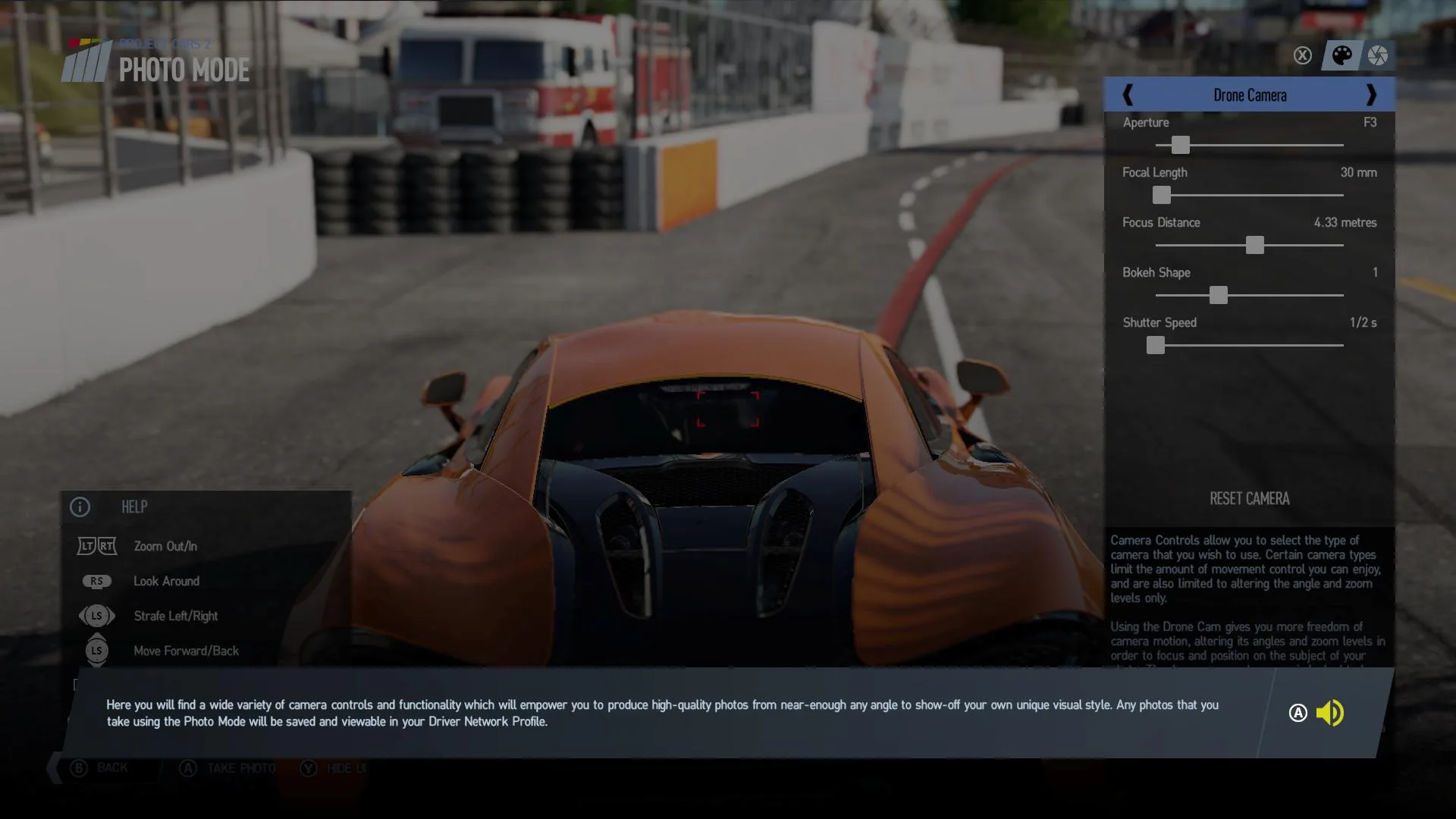 Of course, Project CARS 2 offers a wealth of performance options and settings and we prefer playing with MSAA High for what we think are the best and sharpest visuals, followed by SMAA Ultra, and then by FXAA High. SMAA Ultra appears to give a bit of temporal anti-aliasing, and for a performance hit of 5% or less over using FXAA High, there is much less shimmering and crawling with the camera in motion. We would prefer to lower other settings before we drop from SMAA Ultra to FXAA High.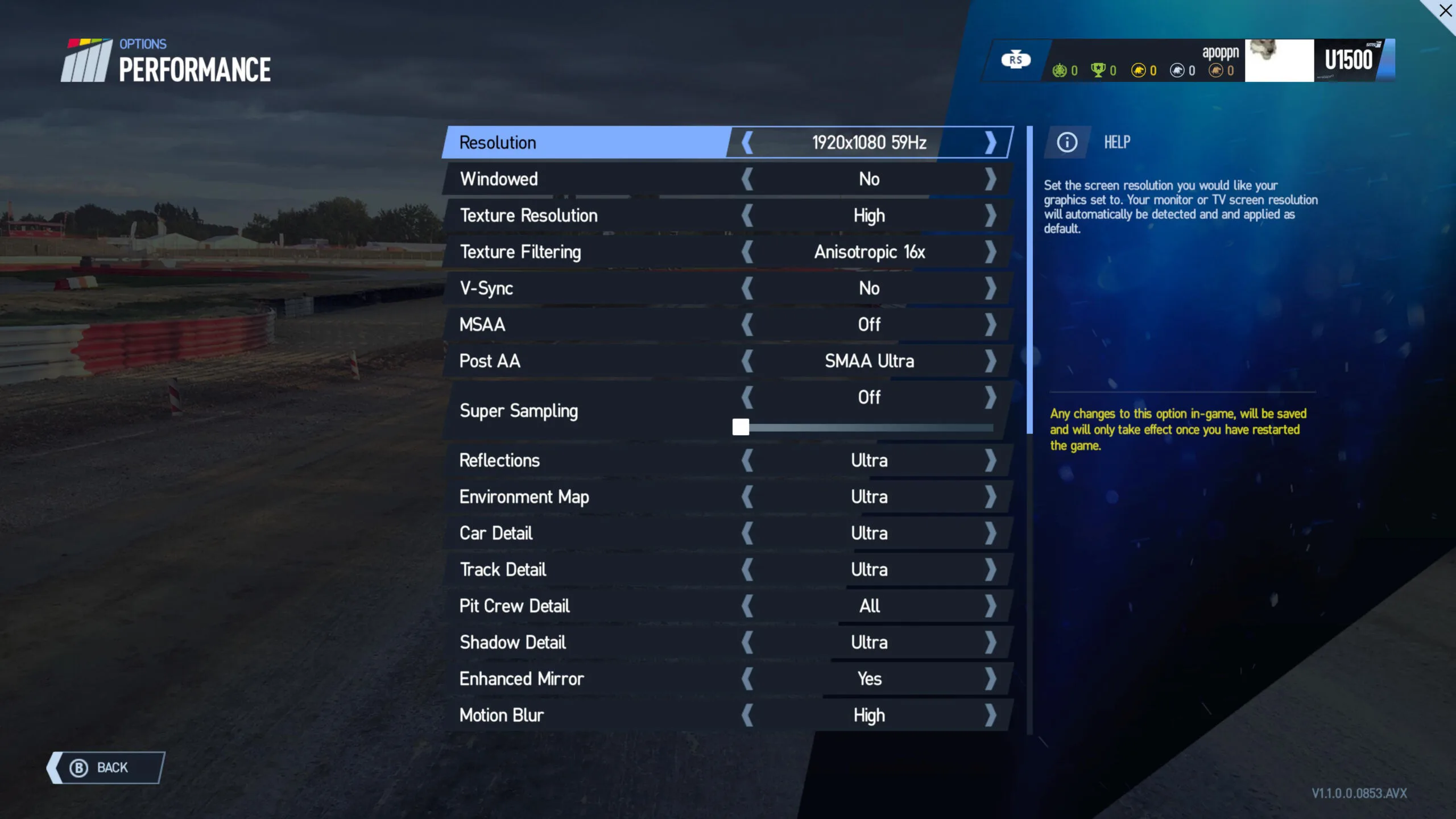 Unfortunately, there is no overall default "ultra", "high", "medium", or "low" setting, so we picked either the SMAA Ultra or the High MSAA pre-set and we used maximum settings for Ultra – except for Motion Blur which looked best to us on Low for all settings. Each other individual setting was moved to "high" for our High tests; likewise to "medium" for Medium and to "low" for Low testing. However, we left Pit Crew Detail to "All" and said "Yes" to Enhanced Mirrors. These same settings are available for VR and the only difference was that we set our mirrored desktop resolution down to 1024×720.
A good desktop performance goal is to try to maintain at least 45 FPS (frames per second) as a minimum for responsive handling, and 60 FPS or higher would be far better. VR looks and plays best when 90 FPS are delivered at all times, but Project CARS 2 makes good use of Oculus' Asynchronous Space Warp (ASW) so that a card delivering less than 90 FPS will intelligently reproject every other frame and will still be playable without causing VR sickness. However, for best handling and responsiveness, we found that it is better to turn down settings than to suffer with more than occasional reprojection.
Although we picked Ultra/Maxed settings, we would not hesitate to drop them in the interest of more raw frame rates. Ultra grass doesn't look particularly more impressive than Low grass at 150 mph, and reflections are another easy setting target to lower. Although Ultra looks spectacular in VR, it is more practical to play with medium settings and some amount of SuperSampling for the greatest amount of realism and handling balance. We benchmark as we do to highlight the differences in the video cards' performance, and to leave room for each player to choose which settings to turn down, as well as to allow for benching future more powerful cards.
Handling, Physics, and Changing Road Conditions
Handling and physics are greatly improved with Project CARS 2 over the original. In the first game, even with a powerful rear engine car, it was impossible to recover from a slide once the tires broke traction. However, with a new physics engine, the tire physics allows a player to power on during a slide with a chance of recovery. There is a real feeling of immersion, and pulling off an intense power-slide while drifting through a corner in the Indy 500 neck-and-neck with leaders of the pack was memorable after spending just a few minutes with the game. And after many hours of play, we have come to the conclusion that Project CARS 2 is absolutely awesome on the desktop but far more spectacular in VR.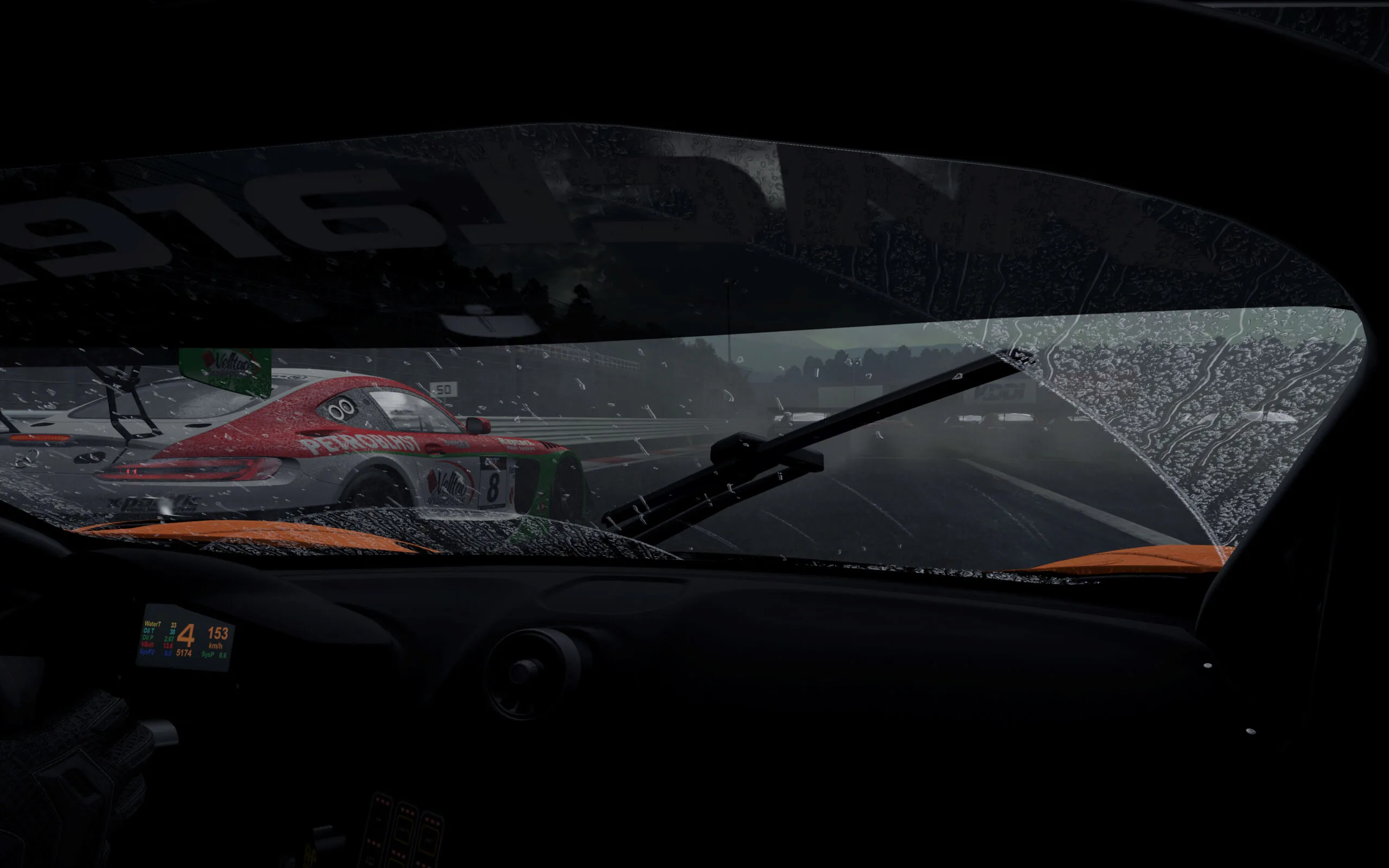 Weather effects are both impressive and believable. Just as in real-life racing, as a track get wet, the stock dry tires will begin to slip and it's time to change them. And driving in snow gives its own challenges. Fortunately, the performance hit from driving in bad weather is much lower in Project CARS 2 than in the original, perhaps up to 10-15%. But BTR's benchmark is run on a sunny day.
Graphics and Bugs
The graphics are very good and they are a step up over the original game. However, there are inconsistencies and some tracks look a lot better than others. There are a multitude of individual settings but no overall "ultra", "high", "medium" or "low" settings, and every setting change requires a restart of the game. Cars generally look very detailed and realistic, and the interiors are particularly very well detailed. This attention to detail works particularly well with the virtual reality cockpit and it adds greatly to a player's immersion.
There is support for all types of displays including using 3 displays, but we preferred playing on the desktop with our 34″ 3440×1440 ACER Predator GSYNC display with a GTX 1080 Ti. Both VR and multiple displays require using a powerful GPU, although using a single display the game can be played fluidly at maximum settings across a wide range of video cards as we shall see.
Project CARS 2 was stable for us with only a few crashes to desktop that seemed to be related to using Fraps to record frame rates. We noted that there were a few instances where the realism failed, as in one example we went airborne in the benchmark yet survived without flipping over, and the NPC driver AI sometimes behaves strangely. One can nitpick the debris balance and the AI, but overall, the graphics and the gameplay are top notch and the bugs are minimal. We also expect that future patches will address current game issues and will probably provide a better balance just as happened with the original game.
Realism and Fun factor
There is absolutely no comparison with racing in real life and driving in even the most sophisticated sim. However, for a game, Project CARS 2 is believable and it immerses the player into the world of racing very well. Virtual reality is particularly well-suited for racing games as you place your hands on the wheel and your feet on the pedals just as your eyes confirm it is happening in the VR world, and a player's sense of immersion becomes exceptionally deep. The HMD limits a player's field of view just as a racing helmet does, and a VR racer can look in any direction just as in real life. However, there is a screendoor effect that SuperSampling can minimize, but a GTX 1080 Ti is barely sufficient for maxed out VR settings without SuperSampling without dropping into frame reprojection.
Project CARS 2 is a lot of fun. It is difficult and there is a steep learning curve, but the AI can be adjusted downward so that a new player can just start racing with an entry-level car or even pick a go-kart from the Career Mode.
Audio
Project CARS 2 audio is positional which means that it's easier to tell where other nearby cars are based on their engine sounds, making the audio more immersive than in the original game. The audio from the Oculus Rift headset is particularly well-delivered adding to the immersion of the VR experience. Some of the sounds don't quite fit as well as others and the shifter sometimes makes a really unpleasant and unnatural sound.
Overall, Project CARS 2 is an excellent sim and a solid improvement over the original game. Let's take a look at our test system before we look at performance.
Test Configuration – Hardware
Intel Core i7-6700K (reference 4.0GHz, HyperThreading and Turbo boost is on to 4.6GHz; DX11 CPU graphics).
ASRock Z170M OC Formula motherboard (Intel Z170 chipset, latest BIOS, PCIe 3.0/3.1 specification, CrossFire/SLI 8x+8x)
HyperX 16GB DDR4 (2x8GB, dual channel at 3333MHz). All of the following video cards are at reference clocks except as noted.
GTX 1080 Ti FE 11GB (VR), supplied by NVIDIA
GTX 1080 FE 8GB (VR) supplied by NVIDIA
GTX 1070 FE 8GB (VR) supplied by NVIDIA
EVGA GTX 1060 SC 6GB supplied by EVGA (VR)
EVGA GTX 1060 3GB supplied by EVGA
PNY GTX 1050 Ti XLR8 4GB supplied by PNY
Gigabyte RX Vega 64 Liquid Cooled Edition 8GB (VR)
PowerColor Fury X 4GB (VR)
Gigabyte RX 480 G1 8GB at RX 580 clocks (VR)
PowerColor RX 570 4GB – Red Devil overclocked version supplied by PowerColor
XFX RX 460 4GB OC
Two 2TB Toshiba 7200 rpm HDDs for each platform
EVGA 1000G 1000W power supply unit
EVGA CLC 280 CPU liquid cooler, supplied by EVGA
Onboard Realtek Audio
Genius SP-D150 speakers, supplied by Genius
Thermaltake Overseer RX-I full tower case, supplied by Thermaltake
ASUS 12X Blu-ray writer
Monoprice Crystal Pro 4K
ACER Predator X34 GSYNC display, supplied by ACER/NVIDIA
Test Configuration – Software
GeForce WHQL 385.69 was used for all NVIDIA cards. High Quality, prefer maximum performance, single display. See control panel images below.
AMD Crimson Software 17.9.2 hotfix drivers were used for all AMD cards. See control panel image below.
VSync is off in the control panel. G-SYNC is off.
Specific settings enabled as noted on the chart.
All results show average frame rates including minimum frame rates shown in italics on the chart next to the averages in smaller font.
Highest quality sound (stereo) used in all games.
Windows 10 64-bit Home edition, Project CARS 2 was run under the DX11 render paths. Latest DirectX
Project CARS 2 has been patched to its latest version at time of publication
MSI's Afterburner used to set all NVIDIA Power Limit/Draw and temperatures to maximum and clocks to reference speeds.
AMD's WattMan used to set all AMD Power Limit/Draw and temperatures to maximum and clocks to reference speeds.
Fraps
FCAT VR
The Game
Project CARS 2 digital code, supplied by Bandai Namco as a reviewer's copy
AMD Crimson Control Center Settings
Here are the global game settings in AMD's ReLive control panel that we use. We used WattMan to set the Power and temp limits to their maximums.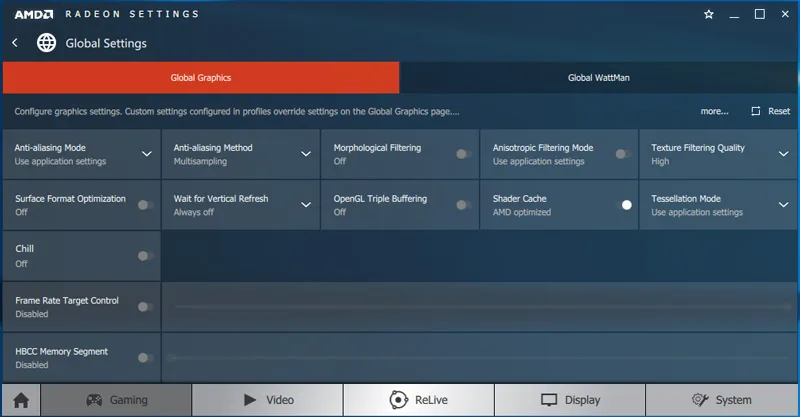 Using WattMan for our regular non-overclocked settings, the Power Limit is set to +50%, the temperature is allowed to reach the maximum, and the fan is also allowed to spin up to its maximum, but the core and memory clocks are unchanged.
NVIDIA Control Panel settings
We use NVIDIA's latest drivers plus used MSI's Afterburner to set all the clocks locked to the reference speeds and also set the Power and Temp limits to their maximums.

Let's check the performance of our eleven tested video cards on the next page and then head for our conclusion.
Performance Summary Charts and Conclusion
Desktop Performance
Below are the summary charts and the benches were run at 1920×1080, 2560×1440, 3440×1440, and at 3840×2160 with all settings maxed-out and On except for Low Motion Blur. The top set of results use MSAA High while the bottom set of results use SMAA Ultra. All results show average frame rates and higher is always better. Minimum frame rates are shown next to the averages but they are in italics and in a slightly smaller font. "x" means the benchmark was not run.

What is surprising is that Vega 64 takes a much smaller performance hit from using MSAA than do the competing GeForce or other Radeon cards. In our earlier testing, enabling MSAA took an inordinately large performance hit. The GTX 1080 Ti is in a class by itself, the Vega 64 Liquid Edition trades blows with the GTX 1080 Founders Edition, and the other cards line up according to performance. It appears that even the lower end cards that we tested could play Project CARS 2 well if some settings were adjusted downward and its engine appears well-optimized for desktop performance.
Let's look at VR performance next.
Project CARS 2 VR Performance
We have favorably compared FCAT VR with our own video benchmarks which use a camera to capture images directly from a Rift HMD lens. For BTR's VR testing methodology, please refer to this evaluation.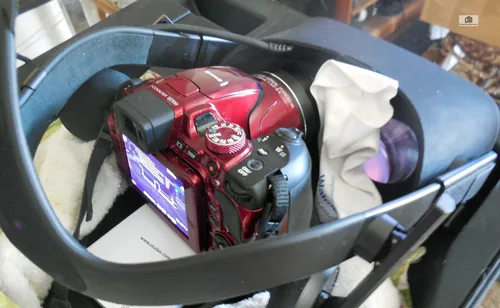 Until FCAT VR was released in March, there was no universally acknowledged way to accurately benchmark the Oculus Rift as there are no SDK logging tools available. To compound the difficulties of benchmarking the Rift, there are additional complexities because of the way it uses a type of frame reprojection called asynchronous space warp (ASW) to keep framerates steady at either 90 FPS or at 45 FPS. It is important to be aware of VR performance since poorly delivered frames will actually make a VR experience quite unpleasant and the user can even become VR sick.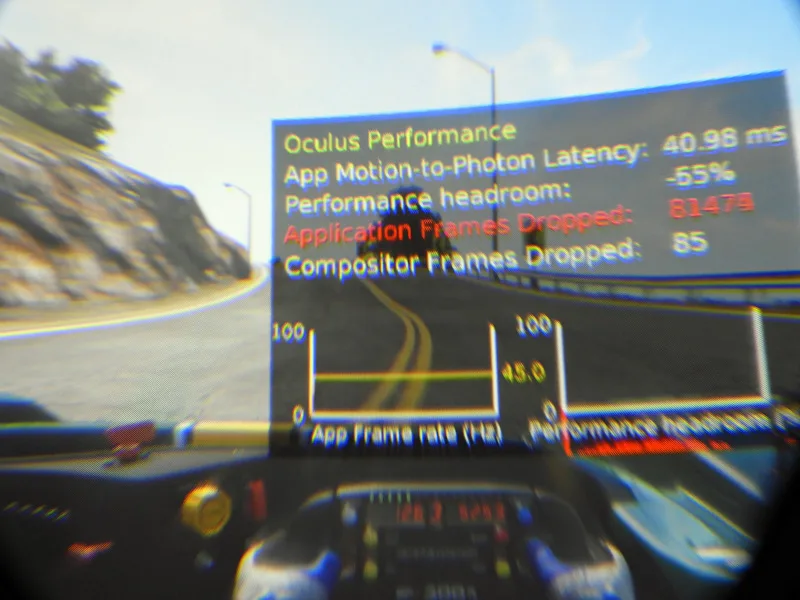 By using the Oculus Rift performance HUD, it is easy to see how much headroom there is while the game benchmark is running. Let's take a look at BTR's Project CARS 2 benchmark as captured from a lens of the Oculus Rift, first using a GTX 1080 Ti at maximum settings (including Ultra SMAA):
As you can see, the GTX 1080 Ti is mostly able to deliver a constant 90 FPS but there is no room for any SuperSampling. Next, here is the RX Vega 64 running the same benchmark but at High settings (including Ultra SMAA):
The RX Vega 64 LC can only manage High settings at a pretty consistent 45 FPS which means that the HMD was reprojecting every other frame using ASW. It is not ideal and we would recommend turning down the settings to "Medium" to get mostly out of reprojection.
Now that we have seen the GTX 1080 Ti running the benchmark on Ultra, let's compare the FCAT frametime graph on Ultra and also on High with the video.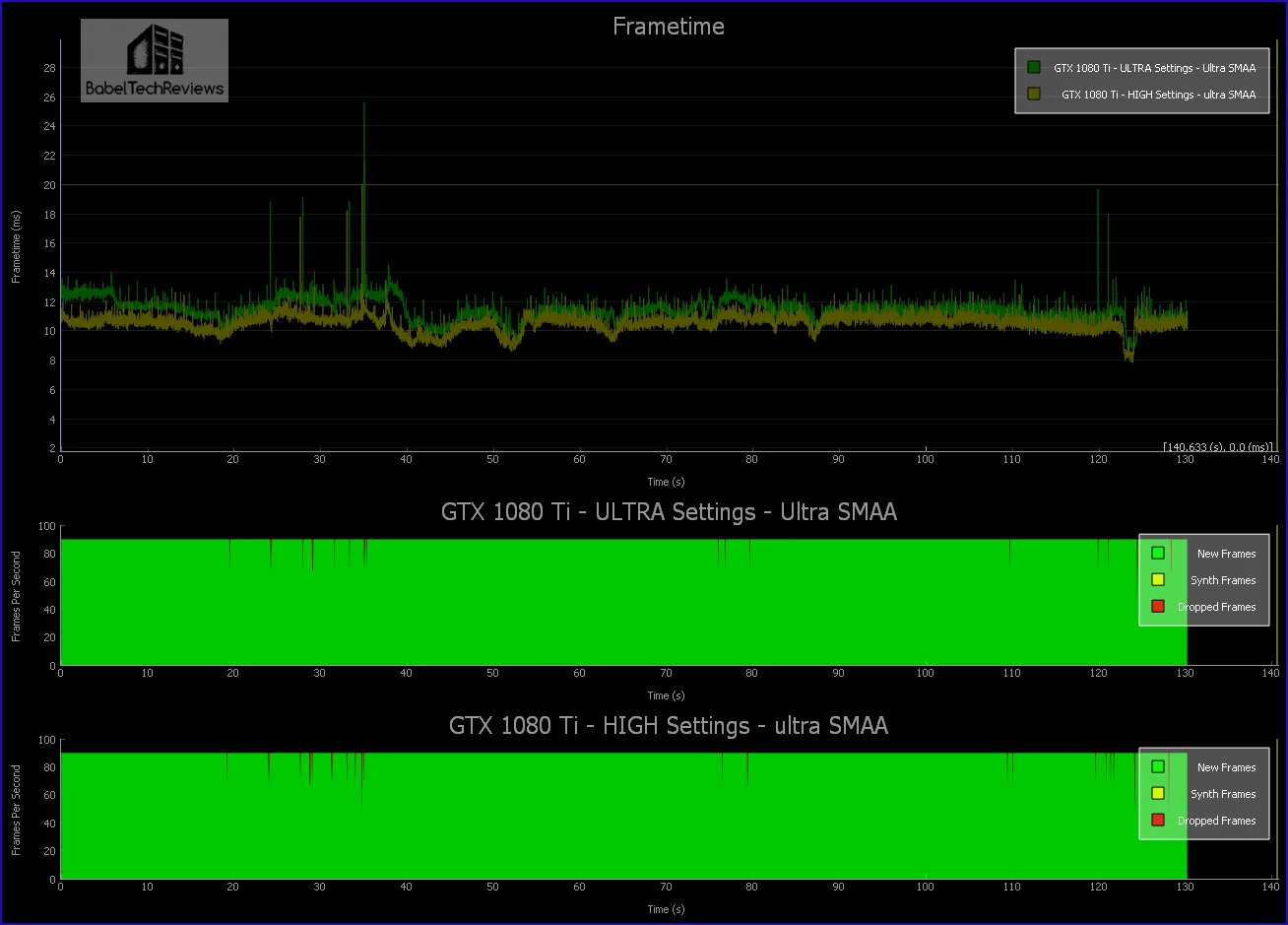 Just as in the video, there is almost no performance headroom, but on either Ultra or High settings, there is little reprojection and only a few dropped frames. At Ultra settings, the unconstrained FPS is 88.1 which increases to 95.1 FPS on High. Unfortunately as we have seen from our RX Vega 64 video, only the GTX 1080 Ti can manage Ultra or High settings, but both the RX Vega LC and the GTX 1080 can manage Medium settings as below, while the GTX 1070 struggles.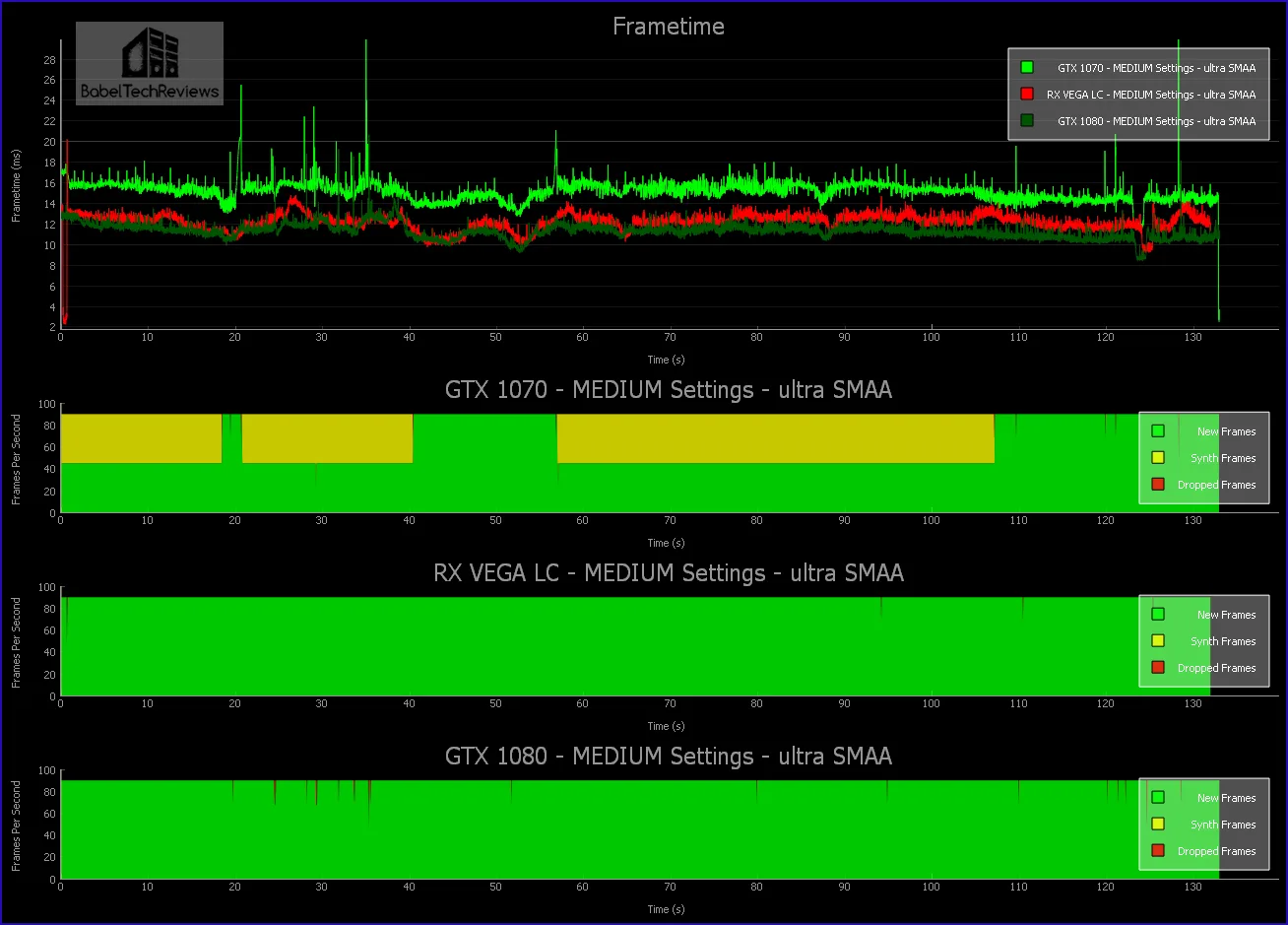 The RX Vega is a little weaker at 82.1 unconstrained FPS than the GTX 1080 at 88.5 FPS although the experience is similar. Now let's look at which cards need to use Low settings.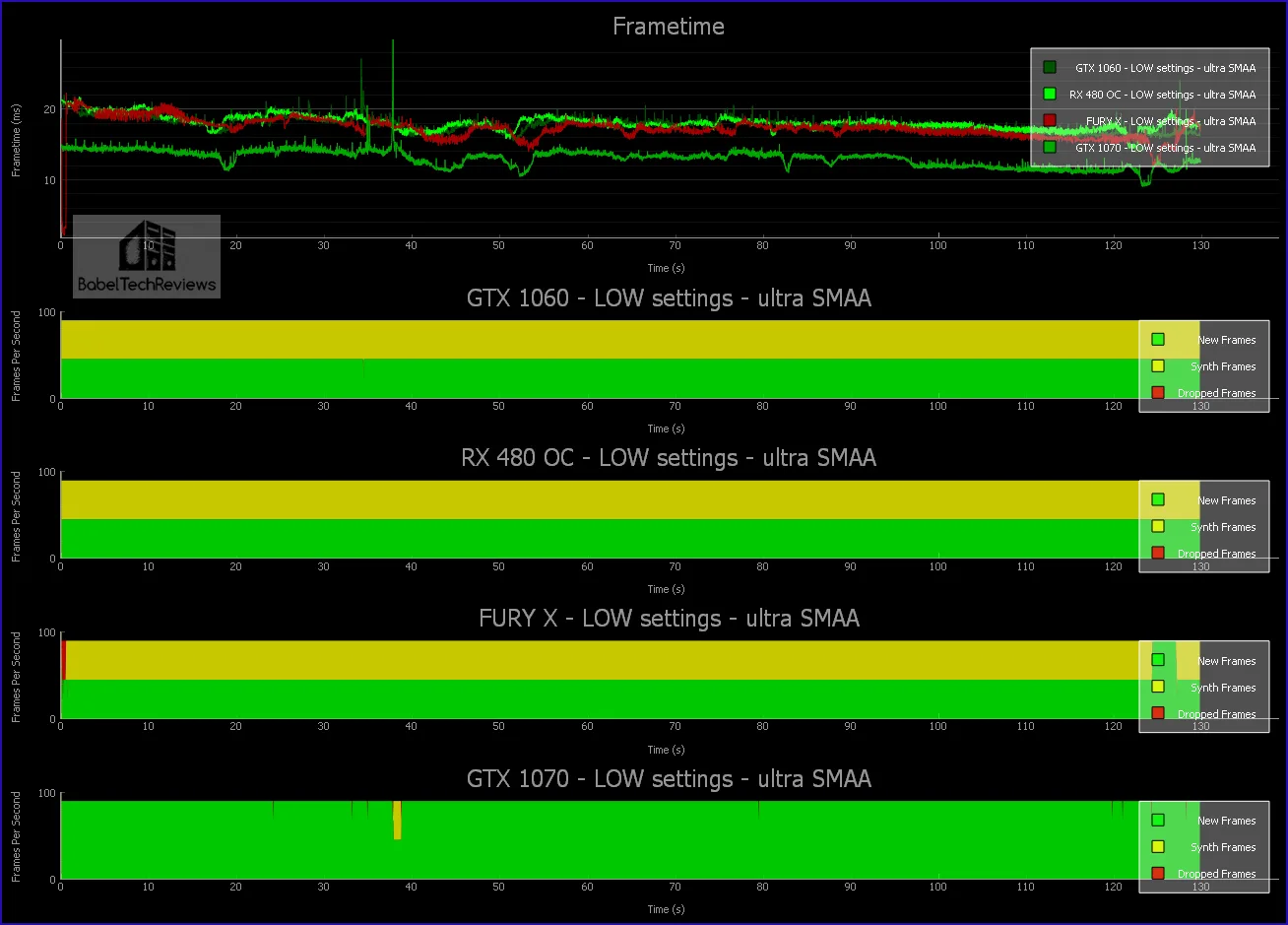 Of the four cards tested here, only the GTX 1070 can really manage Low settings with mostly 90 FPS delivered, while the GTX 1060, the Fury X and the RX 480 OC all go into reprojection for most of their runs. The unconstrained frame rates are shown on the chart below.
Unconstrained Frame Rates
Unconstrained frame rates are a measure of how fast a video card can deliver frame rates if they were not held back by the HMD's 90 FPS limit. It is one good measure of the performance of a video card when taken together with the frametime charts and interval plots presented above.

Project CARS 2 is quite demanding in VR and only the GTX 1080 Ti can manage either High or Ultra settings with SMAA Ultra. The GTX 1080 and the RX Vega 64 LC can both manage medium settings without a lot of reprojected frames, while the GTX 1070 is suitable for Low. The Fury X, GTX 1060, and the RX 580 class of cards will have a hard time maintaining framerates above 45 FPS and will rely on reprojection. Reprojection isn't bad, but it isn't ideal.
As our recommendation, we would suggest dropping settings to maintain 90 FPS and even work to add some amount of SuperSampling which minimizes the screendoor effect at the expense of lowering detail settings. For example, we would prefer to play with a GTX 1080 Ti on Medium with 1.2 SuperSampling on, than on Ultra with no SuperSampling. But each player needs to experiment with which settings work best for increasing their own immersion.
Let's head to our conclusion.
Conclusion
NVIDIA has their own optimization suggestions which may be quite helpful, or a player can just use the GeForce Experience included with the latest recommended WHQL 385.69 GeForce drivers. The GeForce Experience will, at the touch of a button, set near-ideal custom settings for any GeForce-powered PC and for more than 100 other games. And for the best AMD experience, use the latest drivers – Crimson Software ReLive 17.9.3 is optimized for Project CARS 2.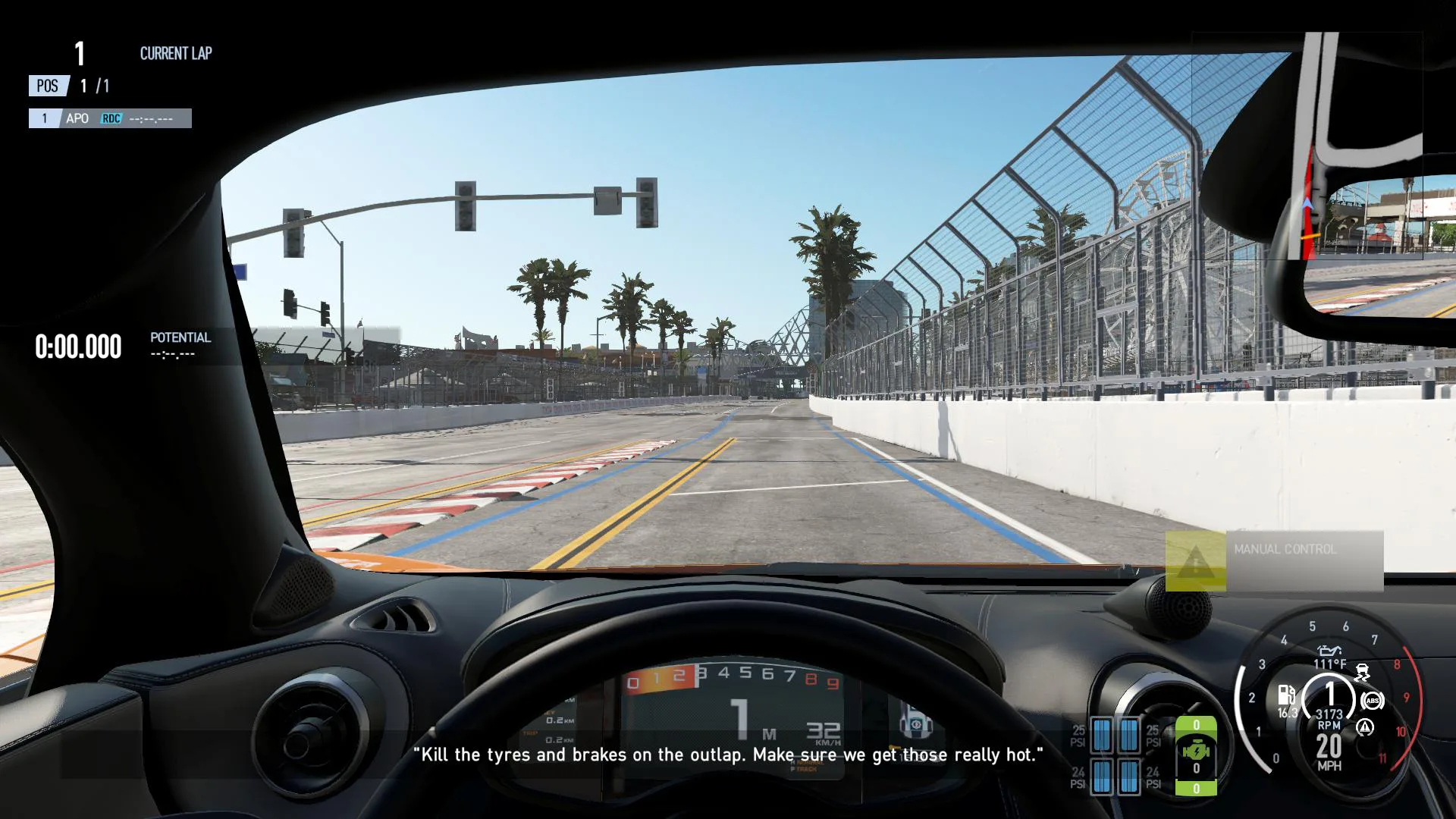 Project CARS 2 is a really fun game once a player gets past the initial learning curve and learns to adjust the settings to suit their playing style. It is a huge game with hundreds of hours of replayability to interest the casual racer and to delight the hardcore sim racer. It is a solid improvement over the original game, and bigger and more are definitely welcomed along with the improved dynamic weather, and greatly improved handling from better tire physics.
The immersion level that VR provides really adds to this game and it is perhaps the strongest argument for VR in gaming. Although VR performance is a bit low, we are looking forward to patches which may help as they did with the original game. There are still issues with uneven AI and with balance that may be addressed with future patches to make a very good game even better.
If we have to give it a score, Project CARS 2 deserves an "8.5" in our opinion as an excellent racing sim that stands up with the best available today. However, it has a fairly steep learning curve that may discourage the casual racer.
Project CARS 2 comes highly recommended especially for fans of other racing games and sims. It is also a must have for Oculus Rift owners who like driving games such as Project CARS and DiRT: Rally. The graphics are very good, racing has a great feel, and the options and choices are awesome. We feel it is worth the current asking price of $60 for a high-quality sim with tons of customization, replayability, and online multiplayer.
Project CARS 2 has become BTR's latest benchmark. Stay tuned as we have many more reviews and evaluations coming up. Our next scheduled review is of the VertDesk v3.
Happy Gaming!