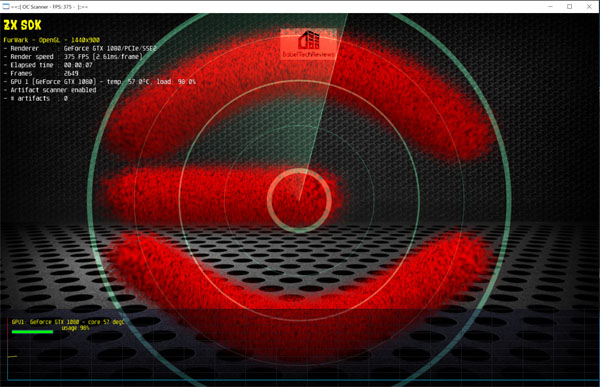 The Summary Chart & Conclusion
Below is the summary chart for 26 games and 1 synthetic test. The highest settings are always chosen, and it is DX11 when there is a choice (except for Ashes of the Singularity, Hitman, & Rise of the Tomb Raider which are always run in DX12), and the settings are ultra. Specific in-game settings are listed on the charts.
The benches are run at 2560×1440 and 3840×2160 since testing at 1920×1080 makes no sense as most of those results are CPU-limited. All results, except for Firestrike, show average framerates and higher is always better.  Minimum framerates are displayed next to the averages in smaller font which is italicized. In-game settings are fully maxed out and they are identically high or ultra across all platforms. Only GTA V and Ashes of the Singularity had some instability with our overclock, although the display driver never stopped responding, and the GTX 1080's core clock was lowered by -20MHz to +170MHz offset to properly complete the benchmarks instead of raising the voltage which was kept at stock.
We generally see good scaling with most of our games with this moderate overclock of the GTX 1080 over stock settings.  In some cases, the framerate increase makes a difference to the playability of some of the games, especially at 4K. For example, Dragon's Age: Inquisition, The Division, and Assassin's Creed Syndicate minimums rise above 30 fps at 4K after overclocking, and several games have minimums rise from the 50s to above 60 fps at 2560×1440 after the GTX 1080 is overclocked.
Let's head to our conclusion
Conclusion:
We would highly recommend overclocking the GTX 1080 with the new Precision XOC after it is released to the public in less than 5 days.  Overclockers will enjoy its new features which fully unlock Pascal's GPU Boost 3.0, and as the scanner becomes more stable, overclocks should be a lot easier to set.
For many games in our benching suite, overclocking moderately, even without increasing the voltage or the fan profile, brought noticeable and practical gains in several games, sometimes making a difference to performance especially in borderline situations at 4K and at 2560×1440.
We have a lot of interesting upcoming evaluations planned for our readers.  We will also have a contest this month, open to all of BTR's Community members.  In the meantime, join BTR's Community for great tech discussions and also feel free to comment on this Overclocking Analysis in the comments section below.
Happy gaming!