Performance Charts
The Hellhound RX 7900 XTX vs. the RTX 4080 FE and 5 other cards benchmarked with 42 games
Here are the performance results of 42 games and 3 synthetic tests.  The highest settings are used and are listed on the charts. The benches were run at 2560×1440 and 3840×2160. Click on each chart to open in a pop-up for best viewing.  Gaming results show average framerates in bold text, and higher is better. Minimum framerates are next to the averages in italics and in a slightly smaller font which represent a game's average 1% lows (99th percentiles).
The first set of charts show the seven main competing cards.  Column two represents the $999 Hellhound RX 7900 XTX performance in between the $1599 RTX 4090 FE in column one and the RTX 4080 FE, its $1199 primary competitor, in the third column.  The RTX 3080 Ti results are in the fourth column next to Gigabyte RX 6900 XT OC version performance results in the fifth column, followed up by the RTX 3080 in the sixth and the RX 6800 XT in the seventh column.
"Wins" between the RX 7900 XTX and the RTX 4080 are denoted by yellow text.  If there is a tie, both values are in yellow.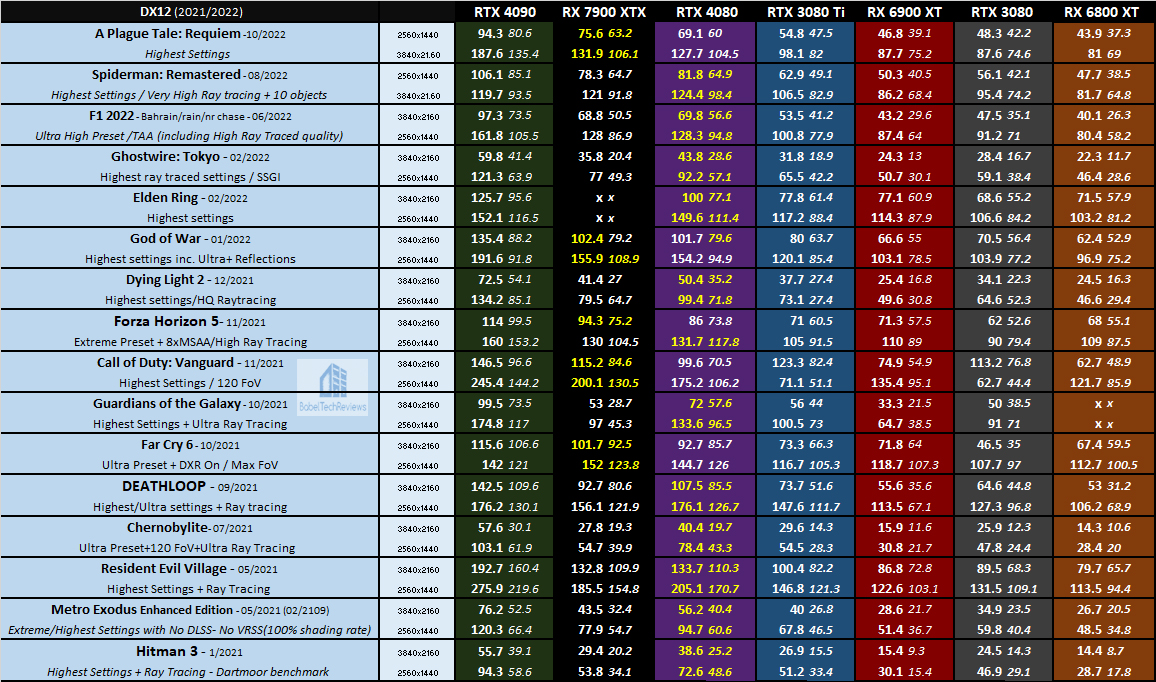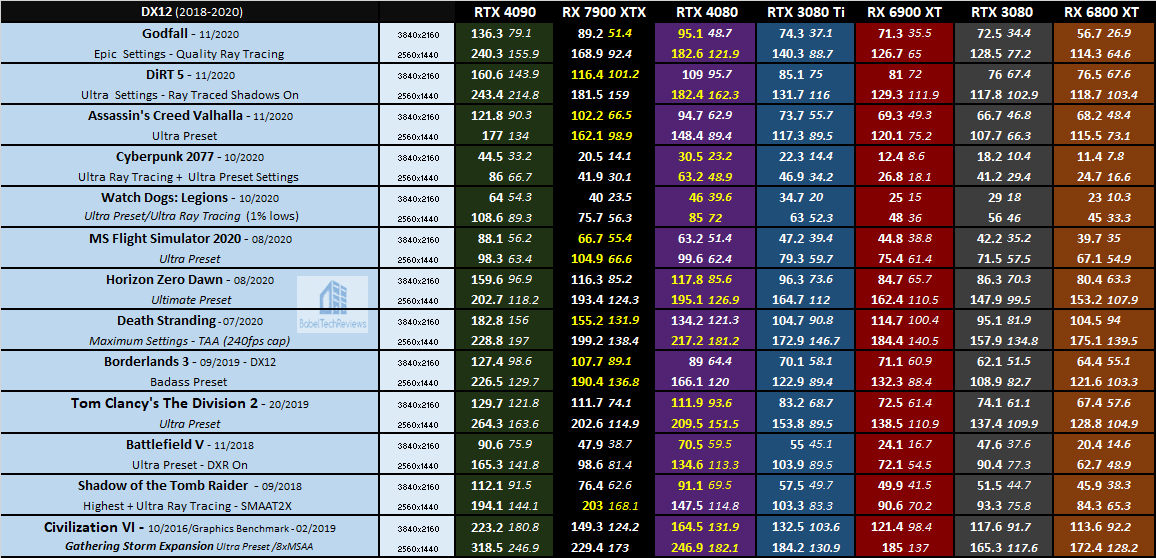 Playing with the RX 7900 XTX, Elden Ring locked up the PC even after verifying files and reinstalling Adrenaline drivers and it appears a driver issue prevented ray traced Guardians of the Galaxy running on the RX 6800 XT.
The Hellhound RX 7900 XTX and the RTX 4080 and RTX 4090 are cards that are primarily suited for 4K and high-FPS 1440P gaming and they stand out from the other four cards.  The RX 7900 XTX trades blows with the RTX 4080 in rasterized games – they are equivalent cards if ray tracing is not considered.
Although RX 7900 XTX ray tracing has greatly improved over the RX 6900 XT and RX 6800 XT, it now appears to perform similarly to the RTX 3080 and RTX 3080 Ti but far behind the RTX 4080.  FSR 2.0, although still not on the same image quality level as Nvidia's DLSS 2, will almost double framerates for a very minor IQ hit and will make most of the games quite playable at Ultra/4K in this 52 game benching suite.  Gamers who are not so impressed with ray tracing or who are not picky about image quality perfection may well prefer to save $200 on a $1000 Hellhound RX 7900 XTX over buying a $1200 RTX 4080.
Let's look at synthetic benches.
Synthetic benches
We hold synthetic benches to be meaningless for predicting real world gaming performance versus competing cards with different architectures although they have other practical uses like overclocking and ranking.  The RX 7900 XTX performs better in the synthetic tests than in gaming.

Let's see how the Hellhound performs in ten popular VR (Virtual Reality) games next.