Intro
The $1199 RTX 4080 Founders Edition Performance of 50+ Games, VR, Pro Apps, & More
Although the $1199 RTX 4080 Founders Edition has been out for nearly a month, a lingering bad case of COVID-19 caused BTR's Part 1 VR review to be a week late and we were then unable to conclude if the card is a good value.  This Part 2 RTX 4080 review concludes BTR's 53 game performance analysis versus the RTX 3080 and 3080 Ti, the RTX 4090, and the RX 6900 XT.  Although the RTX 4080 is not a workstation card, we have also summarized VR, workstation SPEC benches and selected popular creative and synthetic apps.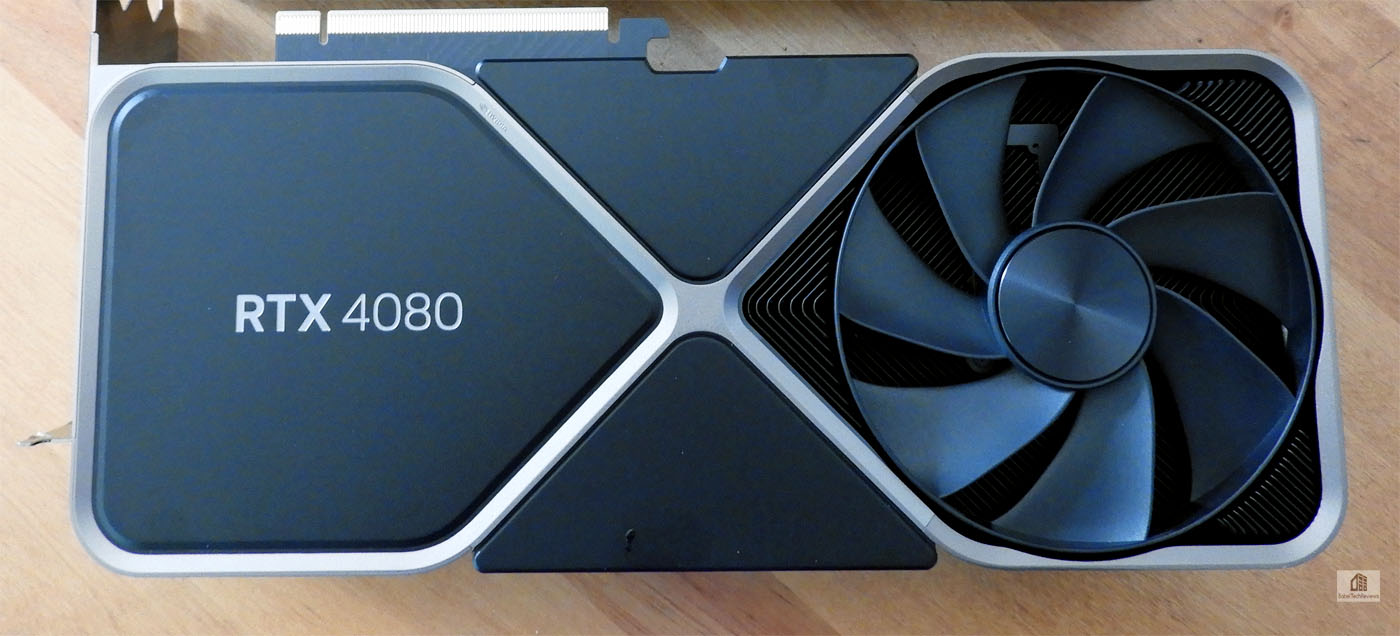 It may be that the RTX 4080 Founders Edition at $1199 delivers a good value as an upgrade from the last generation Ampere RTX 3080 Ti which also launched at $1199 but a $400 launch price increase over the $799 RTX 3080 may be very difficult to accept.  We benchmark using FCAT VR and Windows 11 Pro Edition 2H22 with Intel's Core i9-13900KF, and 32GB of T-FORCE DELTA RGB 6400MHz CL40 DDR5 2x16GB memory on an ASUS Prime-A Wi-Fi Z790 motherboard.  All games and benchmarks are patched to their latest versions, and we use recent drivers.
Let's check out our test configuration.
Test Configuration
Test Configuration – Hardware
Intel Core i9-13900KF (HyperThreading and Turbo boost at stock settings)
ASUS Prime-A Z790 LGA1700 motherboard (Intel Z790 chipset, latest BIOS, PCIe 5.0, DDR5)
T-Force Delta RGB PC5-51200 6400MHz DDR5 CL40 2x16GB kit, supplied by TeamGroup
Valve Index, 90Hz / 100% SteamVR Render Resolution
RTX 4080 16GB Founders Edition, stock clocks, supplied by Nvidia
Gigabyte RX 6900 XT GAMING OC, GV-R69XTGAMING OC-16GD 16GB, factory clocks
AMD reference RX 6800 XT 16GB, stock clocks, supplied by AMD
RTX 3090 24GB Founders Edition, factory clocks, supplied by Nvidia
RTX 4090 24GB Founders Edition, stock clocks, supplied by Nvidia
2 x T-Force Cardea Ceramic C440; 2TB PCIe Gen 4 x4 NVMe SSDs (5,000/4,400MB/s – one for AMD/one for Nvidia)
T-Force M200 4TB USB 3.2 Gen2x2 Type-C external SSD (2,000/2000MB/s – supplied by TeamGroup
Super Flower LedEx, 1200W Platinum 80+ power supply unit
MSI MAG Series CORELIQUID 360R (AIO) 360mm liquid CPU cooler
Corsair 5000D ATX mid-tower (plus 1 x 140mm fan & 2 x 120mm Noctua fans)
BenQ EW3270U 32″ 4K HDR 60Hz
LG C1 48″ 4K OLED HDR 120Hz display
Test Configuration – Software
GeForce 526.98 drivers for RTX 4080/4090 and 527.37 for RTX 3080/3080 Ti, and Adrenalin 22.11.1 for the RX 6900 XT.
High Quality, prefer maximum performance, single display, set in the Nvidia control panel.
High Quality textures, all optimizations off in the Adrenalin control panel
VSync is off in the control panel and disabled for each game
AA enabled as noted in games; all in-game settings are Ultra Preset or highest with 16xAF always applied – no upscaling is used except for the nine DLSS games tested using the Quality preset.
Highest quality sound (stereo) used in all games
All games have been patched to their latest versions
VR charts use frametimes in ms where lower is better, but we also compare "unconstrained framerates" which shows what a video card could deliver (headroom; higher is better)
Windows 11 Pro edition; 22H2 clean install for GeForce and Radeon cards using separate identical NVMe SSDs.
Latest DirectX
SteamVR latest beta
Games
Vulkan
Sniper Elite
DOOM Eternal
Red Dead Redemption 2
Wolfenstein Youngblood
World War Z
Strange Brigade

Rainbow Six: Siege
DX12
A Plague Tale: Requiem
Spiderman: Remastered
F1 2022
Ghostwire: Tokyo
Elden Ring
God of War
Dying Light 2
Forza Horizon 5
Call of Duty: Vanguard
Marvel's Guardians of the Galaxy
Far Cry 6
DEATHLOOP
Chernobylite
Resident Evil Village
Metro Exodus Enhanced Edition
Hitman 3
Godfall
DiRT 5
Assassin's Creed Valhalla
Cyberpunk 2077
Watch Dogs: Legions
Horizon Zero Dawn
Death Stranding
Borderlands 3
Tom Clancy's The Division 2
Civilization VI – Gathering Storm Expansion
Battlefield V
Shadow of the Tomb Raider
DX11
Overwatch 2
Total War: Warhammer III
Days Gone
Crysis Remastered
Destiny 2 Shadowkeep
Total War: Three Kingdoms
Grand Theft Auto V
VR Games
Assetto Corsa: Competizione
Elite Dangerous
F1 2022
Kayak Mirage
Moss: Book II
No Man's Sky
Project CARS 2
Skyrim
Sniper Elite
The Walking Dead: Saints & Sinners
Synthetic 
Time Spy & Time Spy Extreme (DX12)
3DMark FireStrike – Ultra & Extreme
Superposition
VRMark Blue Room
AIDA64 GPGPU benchmarks
Blender 3.3.0 benchmark
Geekbench
Sandra 2020 GPGPU Benchmarks
SPECworkstation3
SPECviewperfect 2020
Octanebench
FCAT VR benching tool
OpenVR Benchmark tool
NVIDIA Control Panel settings
Here are the NVIDIA Control Panel settings.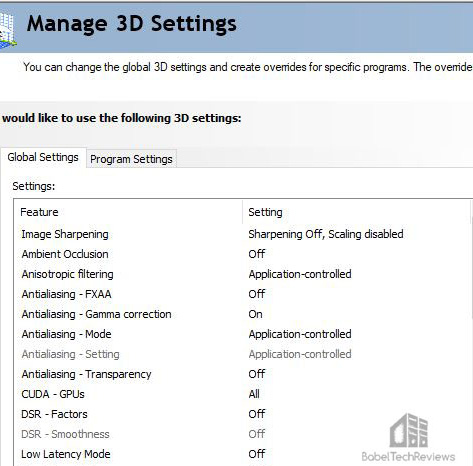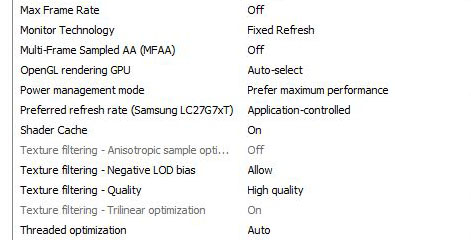 Let's check out performance using 41 pancake and 5 VR games plus Workstation and creative benches on the next page.