Adrenalin Software Edition 19.2.2 Performance Analysis featuring the Red Devil RX 590 with 39 Games
As a BabelTechReviews regular feature, this driver performance analysis will chart the performance of 39 PC games using the latest Radeon Software Adrenalin Edition 19.2.2 which was released last week. We will compare these new drivers with the 19.1.1 drivers from last month using the the Red Devil RX 590 that we are benching in preparation for another hardware review tomorrow.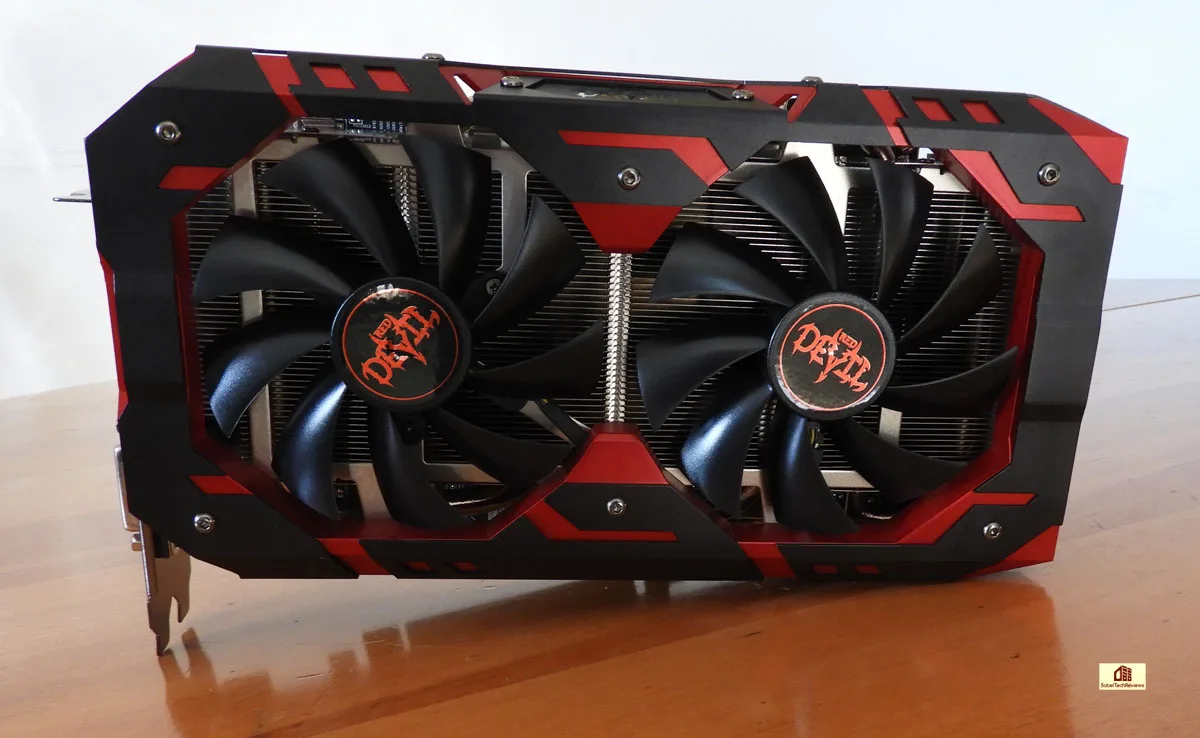 We document the performance changes of the current Adrenalin Software 19.2.2 Edition on Windows 10 at 1920×1080 and at 2560×1440 resolutions. Our testing platform is a recent install of Windows 10 64-bit Home Edition, and we are using an i7-8700K which turbos all 6 cores to 4.7 GHz, an EVGA Z370 FTW motherboard, and 16GB of HyperX DDR4 3333MHz. The games tested, settings, and hardware are identical except for the drivers being compared
For the performance changes of the Adrenalin 19.2.2 drivers from 19.1.1 using 39 games, let's get to the test configuration, to the driver release notes, and then to our results.
Test Configuration – Hardware
Intel Core i7-8700K (HyperThreading and Turbo boost are on to 4.7 GHz for all cores; Coffee Lake DX11 CPU graphics).
EVGA Z370 FTW motherboard (Intel Z370 chipset, latest BIOS, PCIe 3.0/3.1 specification, CrossFire/SLI 8x+8x), supplied by EVGA
HyperX 16GB DDR4 (2×8 GB, dual channel at 3333 MHz), supplied by HyperX
Red Devil RX 590 8 GB edition, at stock Red Devil speeds, on loan from PowerColor
EVGA Nu Audio PCIe soundcard, supplied by EVGA
480 GB Team Group SSD
1.92 TB San Disk enterprise class SSD
2 TB Micron 1100 SSD
Seasonic 850W Gold Focus power supply unit
EVGA CLC 280mm CPU water cooler, supplied by EVGA
Onboard Realtek Audio
Edifier R1280T active speakers
EVGA DG-77, mid-tower case supplied by EVGA
Monoprice Crystal Pro 4K
Test Configuration – Software
AMD's Radeon Software Adrenalin Edition 19.2.2 is compared with 19.1.1.
VSync is forced off.
AA enabled as noted in games; all in-game settings are specified
Gaming results show average frame rates in bold including minimum frame rates shown on the chart next to the averages in a smaller italics font.
Highest quality sound (stereo) used in all games.
Windows 10 64-bit Home edition. All DX11 titles were run under DX11 render paths. DX12 titles are generally run under the DX12 render path unless performance is lower than with DX11. Three games use the Vulkan API.
Latest DirectX
All games are patched to their latest versions at time of publication
Wattman
OCAT
Fraps, latest version
39 PC Game benchmark suite & 3 synthetic tests
Synthetic
Firestrike – Basic & Extreme
Time Spy DX12
Superposition
DX11 Games
Grand Theft Auto V
The Witcher 3
Fallout 4
Rainbow Six Siege
Battlefield 1
Resident Evil 7
For Honor
Ghost Recon Wildlands
Mass Effect: Andromeda
Prey
Hellblade: Senua's Sacrifice
Project CARS 2
Middle Earth: Shadow of War
Total War: Warhammer II
Destiny 2
Star Wars: Battlefront II
Kingdom Come: Deliverance
Final Fantasy XV
Far Cry 5
The Crew 2
Assassin's Creed: Odyssey
Call of Duty: Black Ops 4
Hitman 2
Resident Evil 2
DX12 Games
Tom Clancy's The Division
Ashes of the Singularity: Escalation
Hitman
Rise of the Tomb Raider
Deus Ex Mankind Divided
Gears of War 4
Civilization VI
Sniper Elite 4
Forza 7
Total War: Warhammer II
Shadow of the Tomb Raider
Battlefield V
Just Cause 4
Strange Brigade
Vulkan Game
Wolfenstein: The New Colossus
AMD Control Center Radeon Settings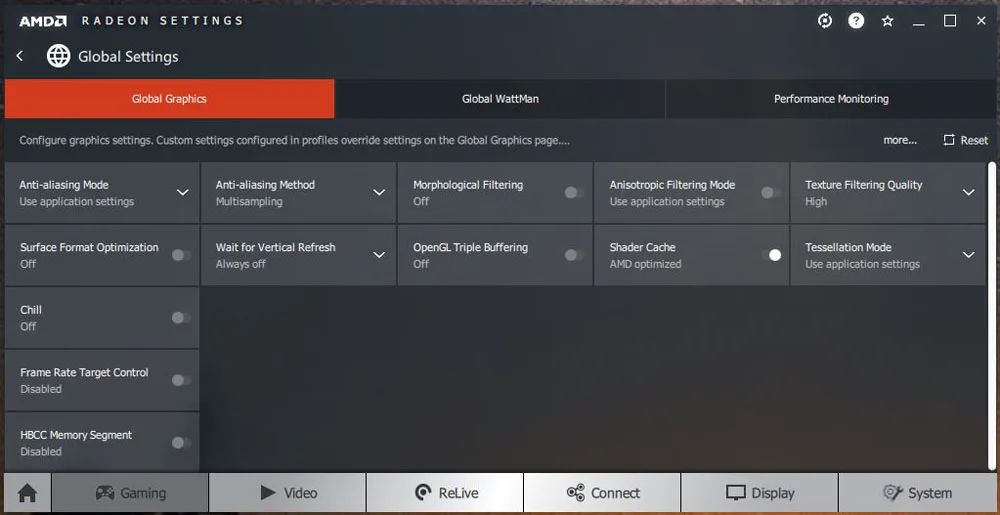 All AMD settings are set with all optimizations are off, Vsync is forced off, Texture filtering is set to High, and Tessellation uses application settings. These same settings are used across all drivers so that driver performance of each edition can be compared identically.
We used Wattman to set power, temperature, and fan limits to their maximums to prevent throttling. Software Adrenalin 19.2.2 Edition can be found starting here. The release notes can be found here. The included highlights below are taken directly from AMD's website.
Radeon Software Adrenalin 2019 Edition 19.2.2 Highlights
Support For
AMD Radeon VII
Far Cry® New Dawn
Metro Exodus™
Sid Meier's Civilization® VI: Gathering Storm
Crackdown 3™

Up to 5% performance gains with AMD Radeon™ Software Adrenalin 2019 Edition 19.2.2 on a Radeon™ RX 590 RS-287
Fixed Issues
Using the Alt+Tab shortcut out of a fullscreen application or game may be slow or take longer than expected when using a display connected by DisplayPort.
Apply and Discard buttons may not appear in some areas of Radeon Overlay under the Radeon WattMan overclocking tab.
Radeon WattMan may fail to apply memory clock changes on AMD Radeon VII.
AMD Radeon VII may intermittently experience a system hang when attempting to perform a timeout detection and recovery on Windows®7 system configurations.
Radeon WattMan may display the incorrect max fan/temperature values for AMD Radeon VII.
Radeon WattMan may experience issues with changed values failing to save or load when multiple changes are applied at once.
AMD Radeon VII may experience intermittent system stability issues on some X399 motherboards.
Player Unknown's Battlegrounds may intermittently experience an application crash when changing post-processing settings.
Radeon Settings may experience an application hang when loading the performance histogram in a game profile through game manager.
Update Notifications may sometimes incorrectly list the currently installed driver as an available upgrade.
Apex Legends™ may intermittently experience line corruption on AMD Radeon VII.
Known Issues
Battlefield™ V players may experience character outlines stuck on screen after being revived when the game is set to using DirectX®12 API.
Mouse lag or system slowdown is observed for extended periods of time with two or more displays connected and one display switched off.
FRTC may disappear from the Radeon Settings Global Graphics options on some system configurations when upgrading Radeon Software.
Radeon WattMan clock gauges may sometimes not change or appear incorrect when custom settings have been set on AMD Radeon VII.
Changes made in Radeon WattMan settings via Radeon Overlay may sometimes not save or take effect once Radeon Overlay is closed.
Fan speeds may remain elevated for longer periods than expected when using Tuning Control Auto Overclock in Radeon WattMan on AMD Radeon VII. A workaround is switching fan control to manual mode.
Footnotes
RS-287 Testing conducted by AMD Performance Labs as of Feb 8th, 2019 on the 8GB Radeon™ RX 590, on a test system comprising of Intel i7 7700K CPU (4.2 GHz), 16GB DDR4 memory, and Windows 10×64.PC manufacturers may vary configurations, yielding different results. Crackdown 3 (DX12) with the ultra-preset at (1920×1080), when running Radeon™ Software Adrenalin 2019 Edition 19.2.1, the Radeon™ RX Vega 64 scored an average 87.6 FPS while Radeon™ Software Adrenalin 2019 Edition 19.2.2 scored an average 92 FPS. Therefore, in the above comparison, Radeon™ Software Adrenalin 2019 Edition 19.2.2 shows 5% greater performance. All scores are an average of 3 runs with the same settings. Performance may vary based on use of latest drivers.
Package Contents
The Radeon Software Adrenalin 2019 Edition 19.2.2 installation package contains the following:
Radeon Software Adrenalin 2019 Edition 19.2.2 Driver Version 18.50.21.01 (Windows Driver Store Version 25.20.15021.1007)
The Radeon Software Adrenalin 2019 Edition 19.2.2 installation package can be downloaded from the following links:
By clicking the Download button, you are confirming that you have read and agreed to be bound by the terms and conditions of the End User License Agreement ("EULA"). If you do not agree to the terms and conditions of these licenses, you do not have a license to any of the AMD software provided by this download.
Let's head to the charts to compare the driver changes from last month's 19.2.1 Adrenalin Software Edition to the brand new Adrenalin Software 19.2.2 Edition which released last week.
The Summary Charts
Below are the summary charts of 39 games and 3 synthetic tests. The games' performance are charted to compare the driver progression of the RX Vega 64 from 19.1.1 to the latest Radeon Software Adrenalin Edition 19.2.2. The highest settings are chosen and the settings are listed on the charts. The benches were run at 1920×1080 and at 2560×1440. Open each chart in a separate window or tab for best viewing.
Most results show average framerates and higher is better. Minimum framerates are next to the averages in italics and in a slightly smaller font. A few games benched with OCAT show average framerates but the minimums are expressed by frametimes in ms where lower numbers are better.
Column one shows the latest 19.2.2 driver performance and column two represents 19.1.1. Yellow text indicates a "win" for the higher performing driver and if the performance is equal, both sets of numbers are given in yellow text.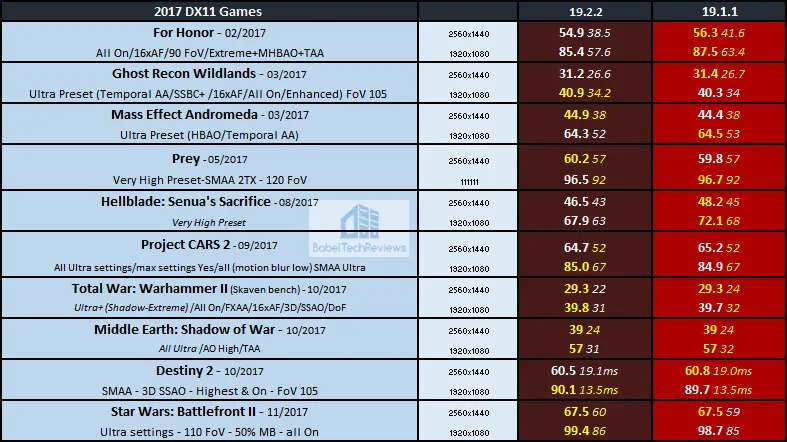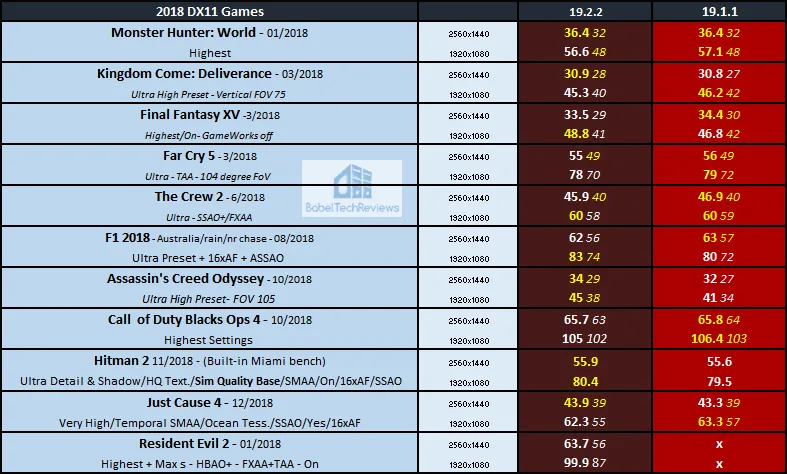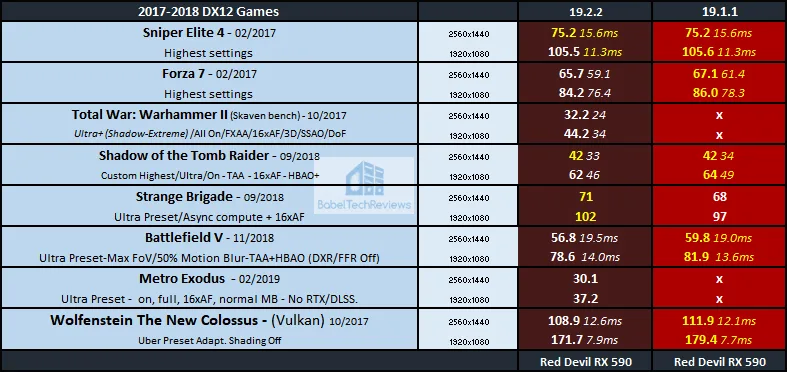 There were mostly incremental performance improvements with the RX 590 using the latest Adrenalin 19.2.2 drivers over January's 19.1.1 drivers showing up especially in Civilization VI and Assassin's Creed Odyssey. There were also some incremental performance regressions like with Battlefield V and Wolfenstein, but they are not significant. There is still a Vulkan bug present with DOOM and with Strange Brigade that is not present with our RX Vega 56 that may be very difficult to resolve, so it may be easier to play them using the OpenGL and DX12 APIs respectively.
Let's head to our conclusion.
Conclusion:
We would definitely recommend upgrading to the latest Radeon Software Adrenalin Edition 19.2.2 from any previous driver set because there are advantages that are sometimes quite significant, depending on which game you are playing. We found this driver to be very stable and we encountered no significant issues with any of our games except with the Vulkan bug which is very specific to certain hardware configurations.
Over time, the RX 590 shows mostly continued positive performance improvements, and a few of them are more notable in some of the newer games. Adrenalin 19.2.2 would also be the driver of choice for Metro Exodus gamers. We really liked the game. There were a few incremental regressions with the last driver set, but overall the performance continues to improve with Polaris using the latest Adrenalin drivers.
The new features of the Radeon Adrenalin 2019 annual software update are continually being improved continuing with the 19.2.2 edition, and they are welcome and worth exploring. The advantages of the latest drivers outweigh any disadvantages.
POLL: Do you want to see competing cards compared in future driver reviews?
We would like to ask BTR's readers if you want to see the performance of competing cards compared in future driver performance analyses? For example, would you like to see the performance of NVIDIA cards, the RTX 2070, the RTX 2060 and the GTX 1060, also compared with the RX Vega 64, the RX Vega 56, and the RX 590? Please use Disqus to comment below, and/or use our poll that we are continuing from our last driver performance analysis.
[poll id="1″]
Tomorrow we will post a new hardware review that we have been working non-stop on. As usual, we will focus on performance with 40 games including Metro Exodus.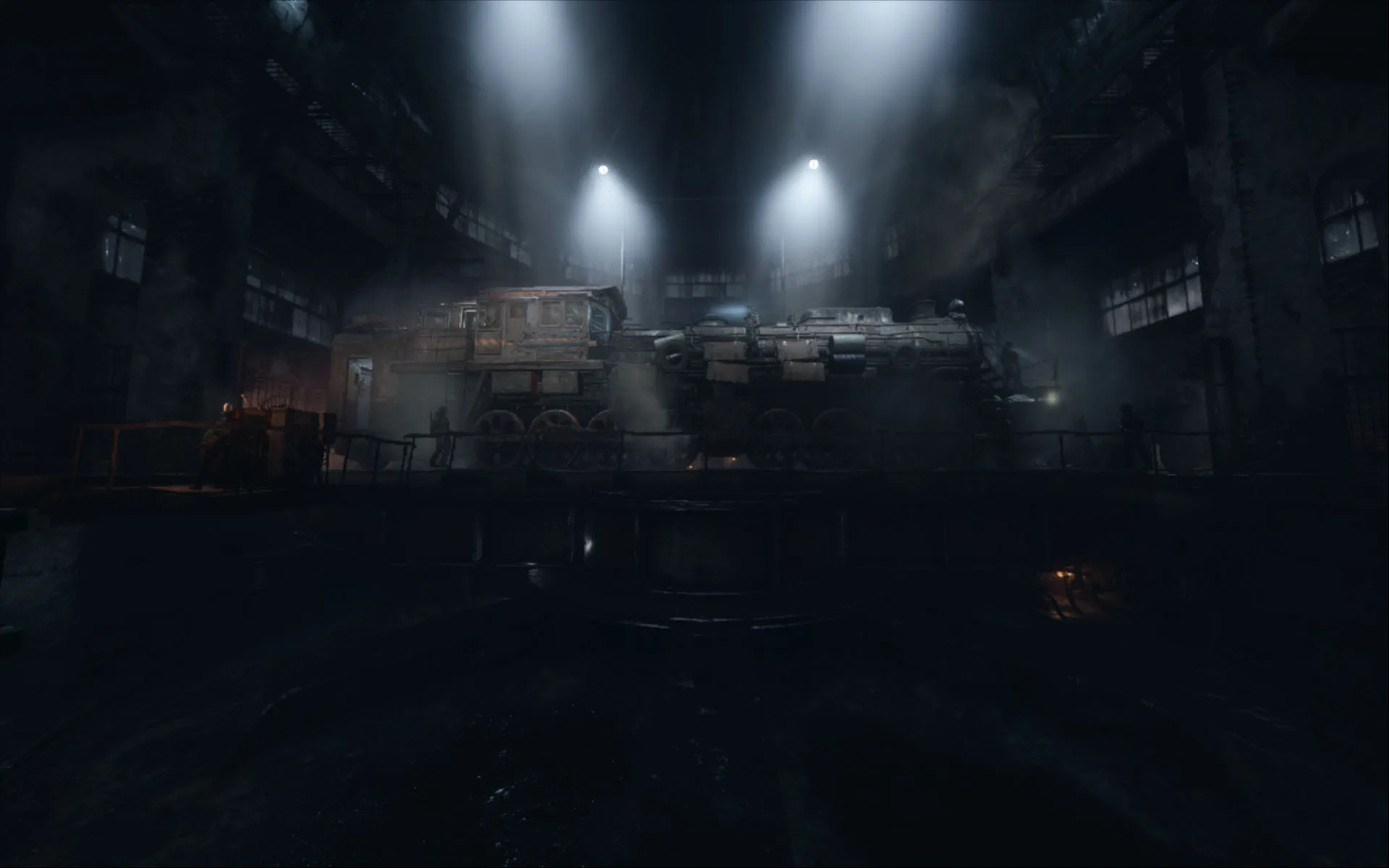 Please don't forget to vote in our poll to let us know if you want to see competing NVIDIA cards in future AMD driver performance analyses and competing AMD cards in GeForce driver comparisons.
Happy gaming!