The EVGA Nu Audio Sound Card Brings Entry-Level Audiophile Sound to the PC
EVGA released the high-end $249 Nu Audio PCIe sound card aimed at PC gamers who are also stereo music aficionados with better than average speakers and headphones. Critiquing audio hardware is a difficult yet important task and a challenge for any reviewer. Properly describing how music "sounds" on audio equipment is not about giving bitrate, synthetic tests, specifications, latency pings, or other measurements. High-quality audio components are created to reproduce music as accurately as possible in a way that EVGA calls "lifelike audio".

The sound quality of high-fidelity audio components can only be properly judged in an A/B comparison with other similar hardware by using high-quality recorded media that a discerning reviewer is familiar with. Being able to pick out the often subtle nuances in the sounds of the music being reproduced takes years of training by auditioning hundreds of audio components. You won't find a single synthetic test in this review because this EVGA Nu Audio card aspires to be called audiophile and it even uses analog circuitry where it makes sense.
The Nu Audio card was commissioned by EVGA working together with Audio Note, an audiophile company based in Sussex, UK since 1991. The Nu Audio sound card is aimed squarely at 2-speaker high-fidelity stereo enthusiasts who want a quality sound card for music listening and for gaming. So in addition to using Grado headphones, I purchased a pair of Edifier R1320T active desktop speakers to see if I could take EVGA's challenge to "hear the difference" between my Z370 FTW motherboard's integrated audio, a Diamond USB sound card, and the Nu Audio card.
The next page covers this reviewer's high-end stereo and audiophile background, or the reader may choose to skip over it to see the unboxing, system specifications, music and game tests, and conclusion on the following pages.
Audio Background & Testing Methods
This reviewer started out as an audio consultant in the mid-1970s and soon specialized in the highest-end audio. I realized that good audio hardware choices can only be made by serious music lovers who invest their time listening and critically comparing components in the same environment. This means A/B testing – to instantly switch between components being compared at the same volume.
An audiophile generally uses two speakers, sometimes with a subwoofer. And audiophiles are probably not reading this review as they rarely audition music on a PC. Dedicated high-end stereo equipment using 2 speakers provide the best imaging. The highest-end systems can even fool a listener into believing that they are listening to a live performance which is the holy grail of music reproduction – "lifelike audio".
An audiophile doesn't use an equalizer – their goal is a straight wire with gain as the purest path for an audio signal. Audiophiles will often tweak their listening area by getting the right floor and window coverings for optimum sound reproduction, and they are known to spend many hours adjusting the precise position of each speaker in pursuit of audio perfection.
My Mark Levinson modified tube pre-amp had no tone controls, and even the balance control was removed. Audiophiles of the 1970s laughed at the early CDs, and could clearly hear the superiority of an analog recording on vinyl as they bemoaned the loss of transients and the dullness of the upper audio spectrum of digitally reproduced music.
Many of the audiophiles in the 1970s knew each other, and so we held listening parties and critiqued each others systems. We concluded that there is no single perfect system suitable for all listeners. For example, Magnaplanar speakers can produce the most incredibly detailed and transparent midrange and high end, but its crossover to a slower piston-driven bass speaker is always an issue, and it takes a huge amount of power to stack multiple and increasingly difficult to place large panels. There are always trade-offs, and discerning audiophiles tend to match the strengths of their audio equipment to the kind of music they like best.
A group of us even rented a plane and flew from Southern California to Las Vegas to check out the audiophile offerings at the first Winter CES in 1979. Very little has changed over the past 40 years, and some audiophiles today still prefer listening to music on analog vinyl over digital.
The one overriding realization we hold as absolutely true throughout many decades is that any component's audio specifications have absolutely nothing to do with how they actually sound when reproducing music. High-fidelity, "lifelike", and audiophile audio components are the product of skilled design by engineers who hear well and who love music. The audio companies that employ them often gain a dedicated following over decades because of their uncompromising dedication to using only the finest components available.
I always borrowed stereo components for critical listening at home so that I could be a better audio consultant. Very early, I bought a pair of Klipsch La Scala speakers which produced an impressive larger-than-life sound stage. This meant I could reproduce the volume of a rock concert in my room much to the dismay of my neighbors. In time, I came to appreciate jazz and especially fusion bands like Steely Dan, besides loving rock and most other music genres. I also attended live concerts regularly.
I upgraded my home audio components after auditioning and comparing the very best audio equipment that I could afford. A Mark Levinson modified tube pre-amp became my centerpiece powering Dahlquist DQ-10 stacked and imaged speakers driven by 1000W per channel Great American Sound (GAS) bridged amps. The source was always well-recorded pristine vinyl played on a Thorens Turntable with multiple phono cartridges including Grado Signature. And although I vastly preferred loudspeakers to headphones for music listening, Grados were always my choice for late at night.
Unfortunately, it costs significantly more today to pursue audio perfection than it did 40 years ago. After I quit my job as an audio consultant, I sold my audiophile setup and resigned myself to listening casually to music using computer audio and CDs. I stayed close to the music scene as I became an on-air DJ in Honolulu, and I well remember the Radio Free Hawaii sponsored parties in the mid 1990s as well as the live concerts I attended every weekend courtesy of Golden Voice.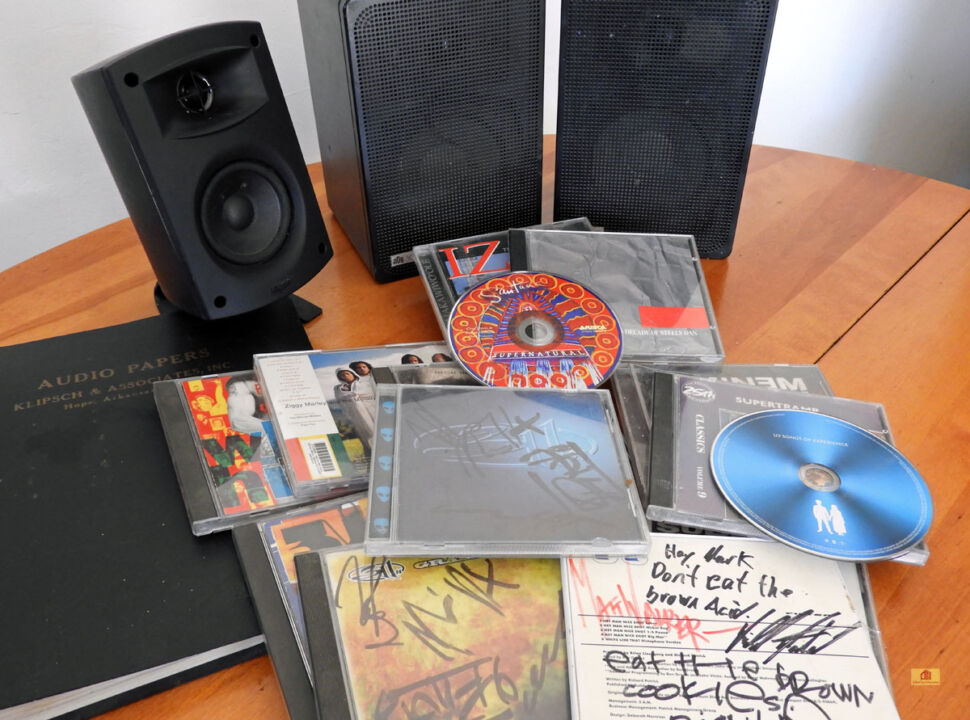 I owned my share of Creative sound cards with problematic drivers, and I finally got a Diamond USB card so I did not have to listen to what is usually awful generic motherboard integrated audio. Motherboard designers usually devote an inexpensive, small, and very generic chip to audio, and they usually make many compromises with the sound that can be addressed by a dedicated sound card.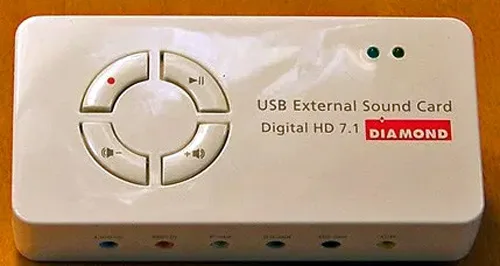 I stopped listening to music since PC audio did not sound close to what I once had even although I owned a Klipsch v.2-400 4.1 400W system. It was decent for home theater and for gaming, but not so great for music reproduction.
I had been looking forward to evaluating the EVGA Nu Audio sound card entry into high-end audio using my Grado SR60e headphones and my legacy ADS 300C speakers, but my Yamaha receiver failed. So I purchased a $99 pair of active (self-powered) Edifier R1320T speakers primarily for A/B comparison in this evaluation.
The Edifier R1320T speakers are surprisingly neutral with a clean midrange and a decently implemented crossover with a complementary tweeter. They do not produce deep bass although it is a ported design, but what they do reproduce is relatively accurate, clean, and solid from 4″ woofers. With a matched built-in amplifier producing 24W per channel RMS, they can get quite loud since they sit quite close on either side of my desktop gaming display.
Surprisingly, the R1320T's stereo imaging illusion is excellent. To me they sound better than any other pair of active desktop speakers that I have heard in their price range, and even to twice their price! Having a built-in amp means that there may be less overall distortion as this active speaker system is simply made to plug directly into a sound card.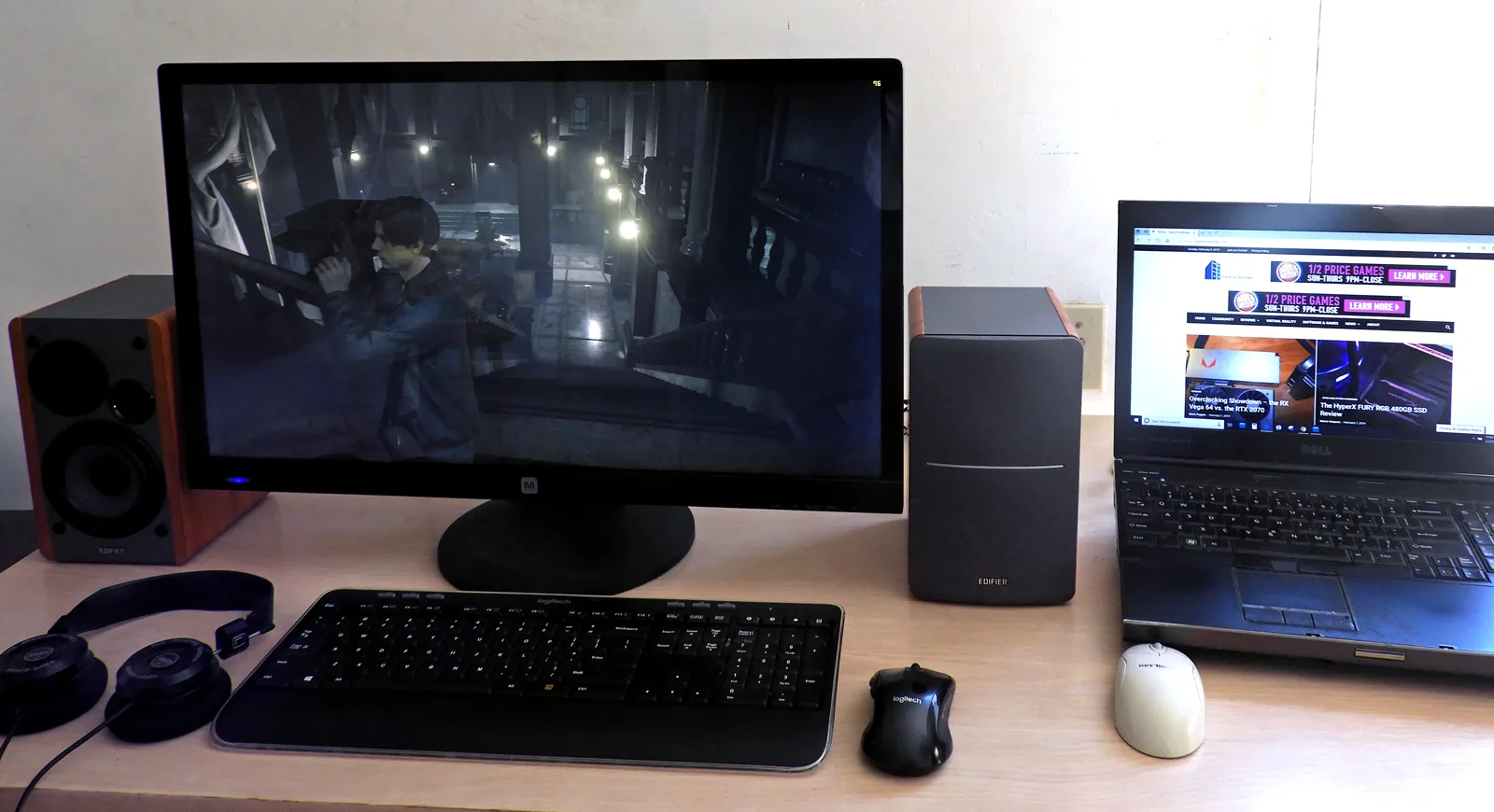 Since we use Windows software to instantly switch between the output from any two sound cards, it is easy to A-B their sound on our speakers since two inputs can be used simultaneously; either from the mini-plug or RCA cables. Our challenge is to determine if we can hear the difference using our Edifier PC speakers by switching between our 3 PC audio card solutions: the motherboard's Realtek integrated audio, the Diamond USB 7.1 soundcard, and the PCIe Nu Audio card.
In addition, we used a pair of Grado SR60e headphones which make it easier than using inexpensive speakers to hear the differences between sound cards. We also played Metro Exodus from start to finish, switching back and forth for more than 30 hours to discern the audio characteristic differences between our three PC sound solutions.
Let's take a look at our test configuration.
Test Configuration – Hardware
Intel Core i7-8700K (HyperThreading and Turbo boost are on to 4.7 GHz for all cores; Coffee Lake DX11 CPU graphics).
EVGA Z370 FTW motherboard (Intel Z370 chipset, latest BIOS, PCIe 3.0/3.1 specification, CrossFire/SLI 8x+8x, Realtek ACL-1220 audio), supplied by EVGA
HyperX 16GB DDR4 (2×8 GB, dual channel at 3333 MHz), supplied by HyperX
RTX 2080 Ti 8GB FE, stock Founders Edition clocks, on loan from NVIDIA
480 GB Team Group SSD
1.92 TB San Disk enterprise class SSD
2 TB Micron 1100 SSD
Seasonic 850W Gold Focus power supply unit
EVGA CLC 280mm CPU water cooler, supplied by EVGA
EVGA Nu Audio stereo PCIe sound card, on loan from EVGA
Diamond 7.1 USB sound card.
Edifier R1280T active desktop speakers
Grado SR60e headphones
EVGA DG-77, mid-tower case supplied by EVGA
Monoprice Crystal Pro 4K
Test Configuration – Software
Nvidia GeForce 417.01 WHQL drivers
Highest quality sound (stereo).
Windows 10 64-bit Home edition. Latest DirectX
Metro Exodus patched to its latest build.
Primary PC Game
Primary Music (CDs)
A Decade of Steely Dan
Supernatural, Carlos Santana
IZ the Man and His Music in Concert, Israel Kamakawiwo'ole
Songs of Experience, U2
Audio tracks courtesy of EVGA (wav. audio)
Primary Comparison Method
Windows 10 instant software switching between sound cards, A/B. Two sound cards are both connected simultaneously to the Edifier R1280T speaker inputs and auditioned at the same volume by switching back and forth while listening to well-known and well-recorded audio CDs.
Unboxing, Specs, & Software
The EVGA Nu Audio card arrives in a fairly large box with one corner notched as is popular now with some EVGA video cards. What stands out is "lifelike gaming" in shiny red and silver to contrast with the more subdued colors of the box.