Adrenalin Software Edition 2019 (18.12.2) Driver Performance Analysis featuring the Red Devils RX 590 and the RX Vega 56 with 38 Games
As a regular feature of BabelTechReviews, this driver performance analysis will chart the performance of 38 PC games using the latest Radeon Software Adrenalin 2019 Edition 18.12.2 which was released last week. We will compare these new drivers with the 18.8.40 launch drivers for the RX 590 and also with September's drivers used for the RX Vega 56, and we will also compare them with 18.12.1 that released last month.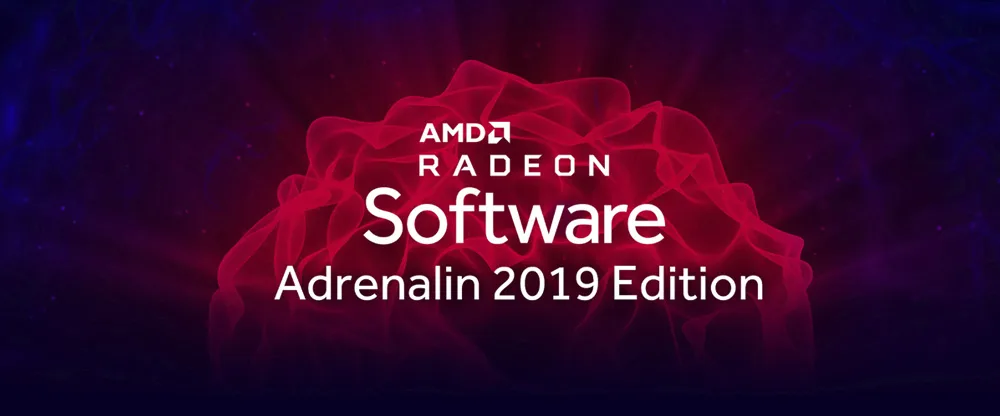 The Adrenalin 2019 Edition is AMD's special annual update which introduces important new features that we will briefly cover although our emphasis is on driver performance changes. BTR driver performance analyses track the progress of every major driver release from NVIDIA and from AMD with every game in our 38-game benchmark suite including Just Cause 4 and Battlefield V. We also compare the Red Devils RX Vega 56's and RX 590's rivals, the RTX 2070 FE's and the EVGA GTX 1060 SC's performance.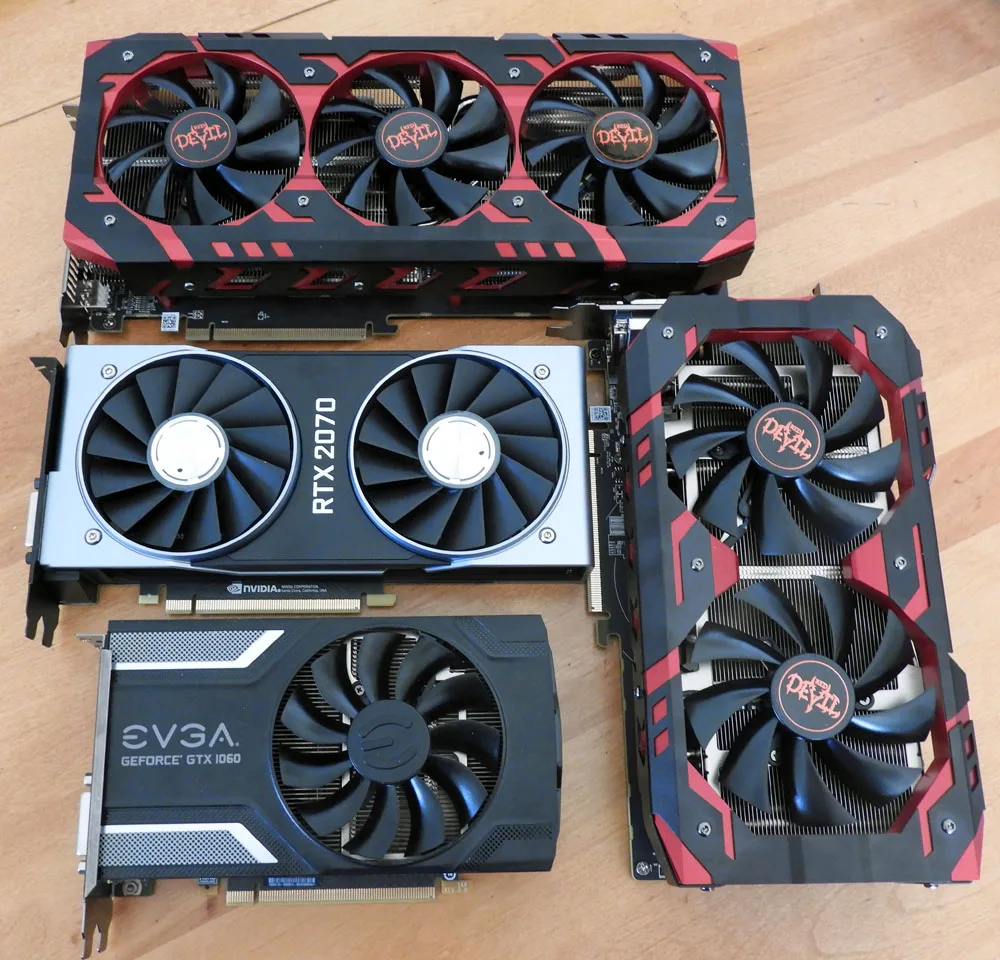 We document the performance changes of the current Adrenalin Software 18.12.2 Edition on Windows 10 at 1920×1080 and at 2560×1440 resolutions. Our testing platform is a recent install of Windows 10 64-bit Home Edition, and we are using an i7-8700K which turbos all 6 cores to 4.7 GHz, an EVGA Z370 FTW motherboard, and 16GB of HyperX DDR4 3333MHz. The games tested, settings, and hardware are identical except for the drivers being compared. First let's look at what Adrenalin 2019 brings new for Radeon owners.
Adrenalin 2019's New Features
Adrenalin 2019 introduces 3 new Advisors to inform gamers if their system meets their games' gaming requirements and suggests upgrades, as well as helping them optimally configure their individual games with one click. In addition, an advisor offers a wizard to walk gamers through a simple process to optimize and fine-tune settings.
AMD Link uses ReLive to to stream games and video from a PC to a mobile phone, tablet, or even a stand-alone VR headset while also allowing for playback. AMD Link has been redesigned to allow for voice commands and it is free for Android and iOS.
Radeon Overlay gives gamers the ability to monitor, record, and fine-tune their gameplay without ever leaving the game while allowing access to the rest of the Radeon software suite.
Wattman has been redesigned and improved with a new scanner that sets automatic overclocks of the core and memory. It can also set automatic GPU undervolting with the additional ability to control per state power management for the RX Vega series. There is also improved fan control available including over zero rpm. And Radeon Chill has been redesigned for better tuning of the DPM state for improved power savings.
The Adrenalin 2019 Software has been redesigned for 'one-click' installation and all of these new features may be summarized by AMD's image below. For more details, please see AMD's Adrenalin 2019 blog.
For the performance changes of the Adrenalin 2019 18.12.2 drivers in 38 games, let's get to the test configuration, to the driver release notes, and then to our results.
Test Configuration – Hardware
Intel Core i7-8700K (HyperThreading and Turbo boost are on to 4.7 GHz for all cores; Coffee Lake DX11 CPU graphics).
EVGA Z370 FTW motherboard (Intel Z370 chipset, latest BIOS, PCIe 3.0/3.1 specification, CrossFire/SLI 8x+8x), supplied by EVGA
HyperX 16GB DDR4 (2×8 GB, dual channel at 3333 MHz), supplied by HyperX
Red Devil RX 590 8 GB, at Red Devil RX 590 factory speeds, supplied by PowerColor.
Red Devil RX Vega 56 8 GB, at Red Devil RX Vega 56 factory speeds, supplied by PowerColor.
RTX 2070 Founders Edition 8GB, at FE speeds, supplied by NVIDIA
EVGA GTX 1060 SC 6 GB, at factory SC clocks, supplied by EVGA.
2 x 480 GB Team Group SSDs – one for AMD and one for NVIDIA
1.92 TB San Disk enterprise class SSD
2 TB Micron 1100 SSD
Seasonic 850W Gold Focus power supply unit
EVGA CLC 280mm CPU water cooler, supplied by EVGA
Onboard Realtek Audio
Genius SP-D150 speakers, supplied by Genius
EVGA DG-77, mid-tower case supplied by EVGA
Monoprice Crystal Pro 4K
Test Configuration – Software
AMD's Radeon Software Adrenalin 2019 Edition 18.12.2 is compared with 18.8.40 (press launch drivers) used for the RX 590, and 18.9.1 for the RX Vega 56 as well as with 18.12.1 for both cards.
Nvidia GeForce 417.01 WHQL drivers are used for both GeForce cards.
VSync is forced off.
AA enabled as noted in games; all in-game settings are specified
Gaming results show average frame rates in bold including minimum frame rates shown on the chart next to the averages in a smaller italics font.
Highest quality sound (stereo) used in all games.
Windows 10 64-bit Home edition. All DX11 titles were run under DX11 render paths. DX12 titles are generally run under the DX12 render path unless performance is lower than with DX11. Three games use the Vulkan API.
Latest DirectX
All 38 games are patched to their latest versions at time of publication
Wattman for Radeons
MSI Afterburner, latest beta for GeForce cards
OCAT
Fraps, latest version
38 PC Game benchmark suite & 2 synthetic tests
Synthetic
Firestrike – Basic & Extreme
Time Spy DX12
DX11 Games
Grand Theft Auto V
The Witcher 3
Fallout 4
Rainbow Six Siege
Battlefield 1
Resident Evil 7
For Honor
Ghost Recon Wildlands
Mass Effect: Andromeda
Prey
Hellblade: Senua's Sacrifice
Project CARS 2
Middle Earth: Shadow of War
Destiny 2
Star Wars: Battlefront II
Kingdom Come: Deliverance
Final Fantasy XV
Far Cry 5
The Crew 2
Assassin's Creed: Odyssey
Call of Duty: Black Ops 4
Hitman 2
DX12 Games
Tom Clancy's The Division
Ashes of the Singularity: Escalation
Hitman
Rise of the Tomb Raider
Deus Ex Mankind Divided
Gears of War 4
Civilization VI
Sniper Elite 4
Total War: Warhammer II
Forza 7
Shadow of the Tomb Raider
Battlefield V
Just Cause 4
Vulkan Games
DOOM
Wolfenstein: The New Colossus
Strange Brigade
AMD Control Center Radeon Settings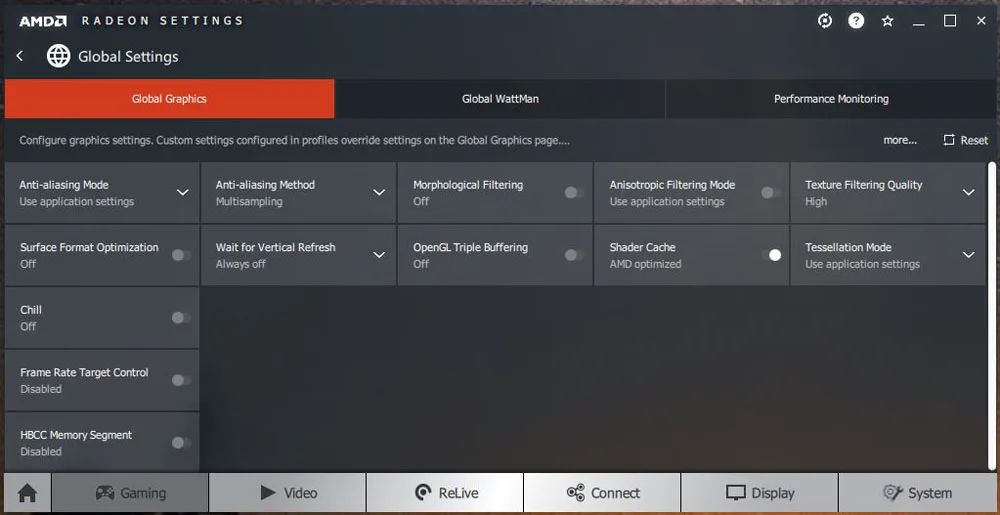 All AMD settings are set so as to be apples-to-apples when compared to NVIDIA's control panel settings – all optimizations are off, Vsync is forced off, Texture filtering is set to High, and Tessellation uses application settings.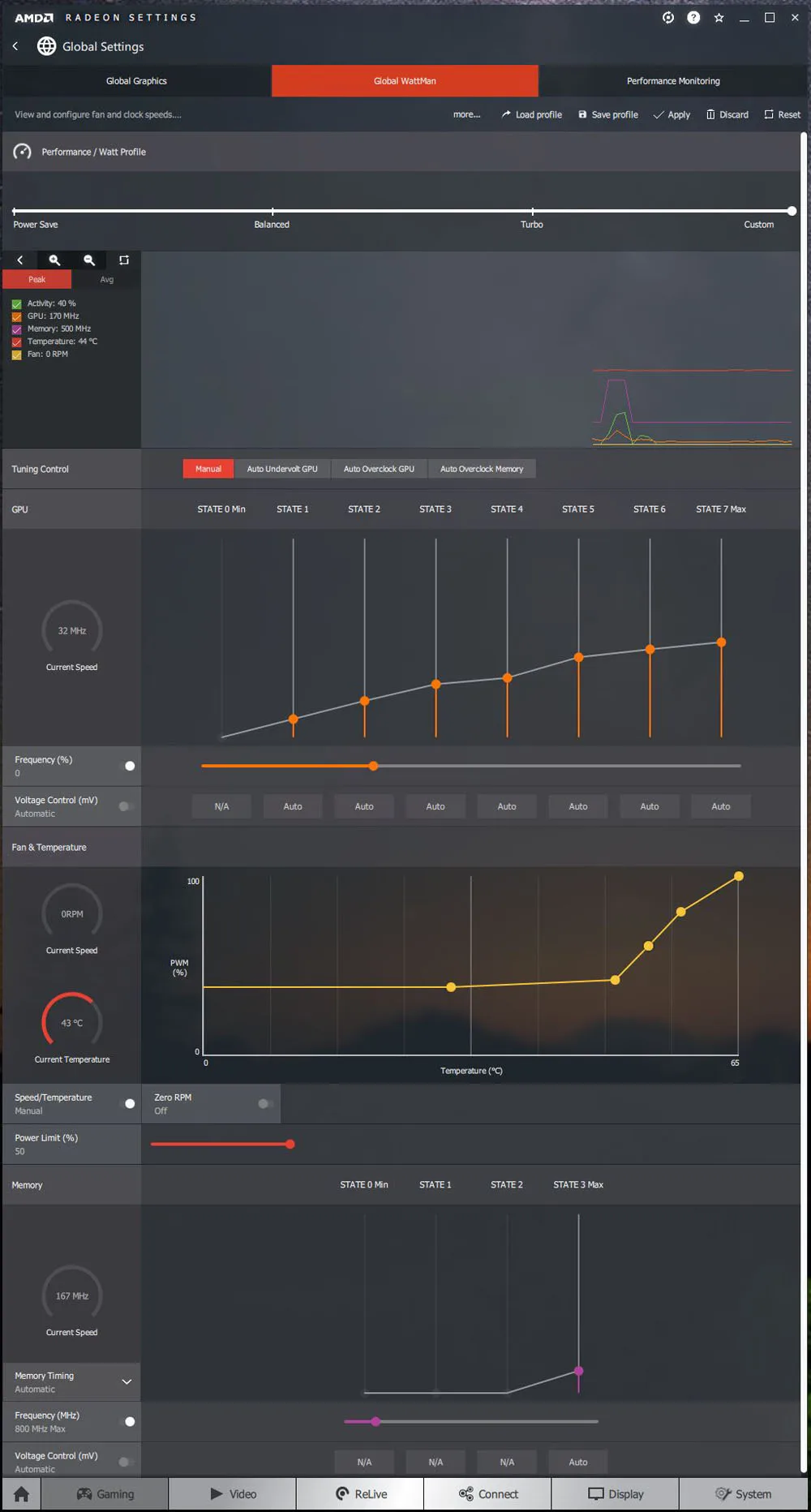 We used Wattman to set power, temperature, and fan limits to their maximums to prevent throttling.
NVIDIA Control Panel settings
Here are the NVIDIA Control Panel settings.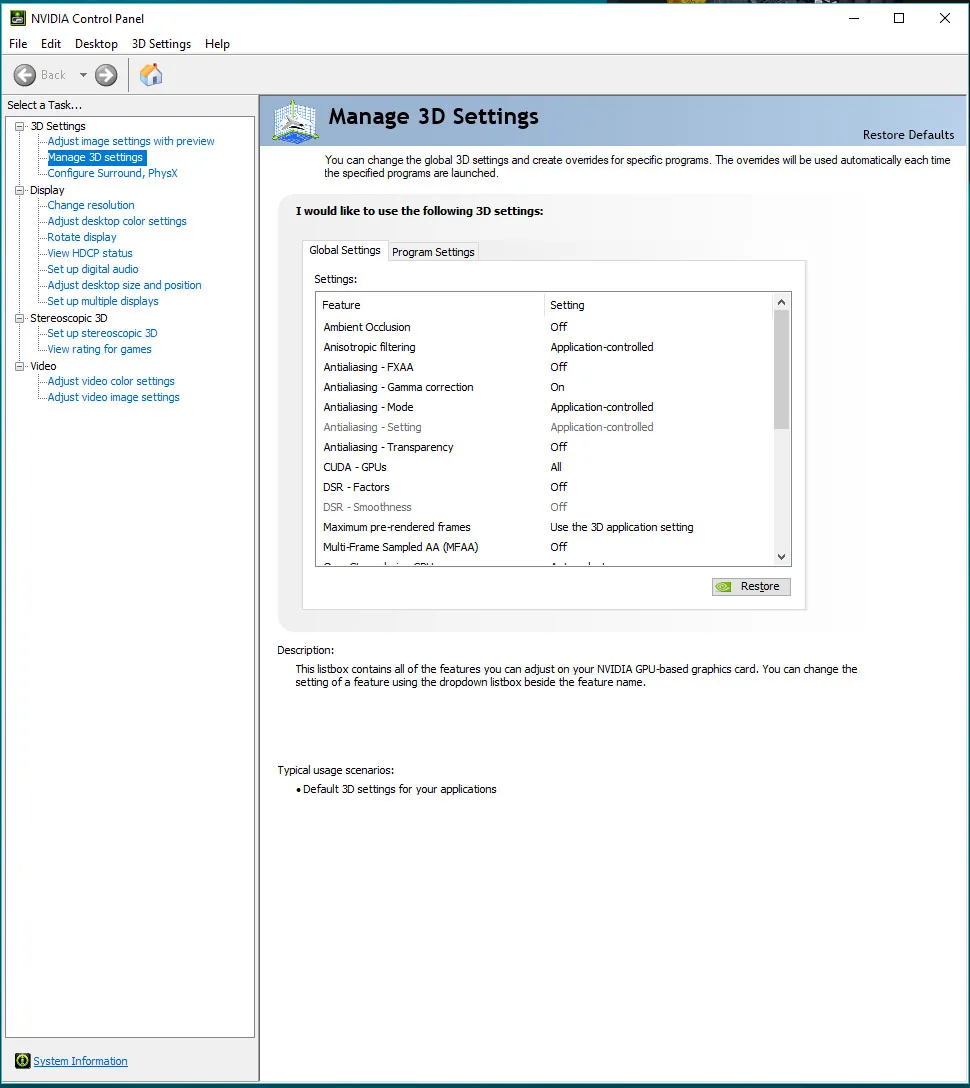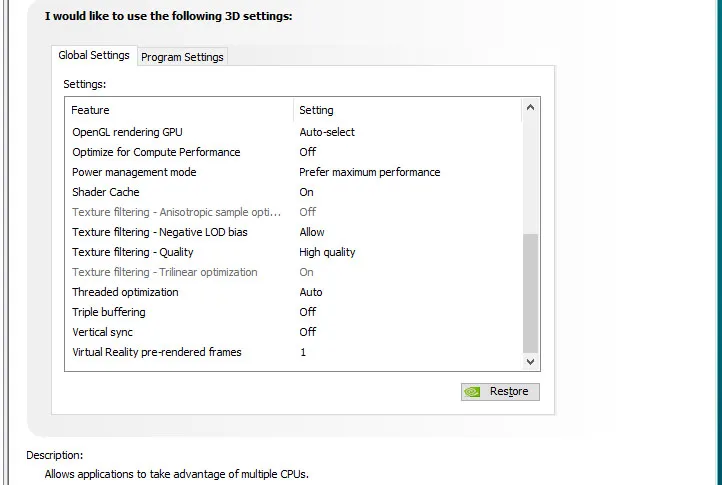 We used MSI's Afterburner to set our GeForces' highest Power and Temperature targets. By setting the Power Limits and Temperature limits to maximum for each card, they do not throttle, but they can each reach and maintain their individual maximum clocks stock or overclocked.
The download links for the Radeon Software 2019 Adrenalin 18.12.2 Edition can be found starting here. The release notes can be found here. The included highlights below are taken directly from AMD's website.
Radeon Software Adrenalin 2019 Edition 18.12.2 Highlights
Support For
Assassin's Creed®: Odyssey

Up to 4% faster performance in Assassin's Creed: Odyssey using Radeon™ Software Adrenalin 2019 Edition 18.12.2 on the Radeon™ RX Vega 64 graphics card than with Radeon™ Software Adrenalin Edition 18.12.1 at 1920×1080 (1080p). RS-277

Shadow of the Tomb Raider™

Up to 3% faster performance in Shadow of the Tomb Raider using Radeon™ Software Adrenalin 2019 Edition 18.12.2 on the Radeon™ RX Vega 64 graphics card than with Radeon™ Software Adrenalin Edition 18.12.1 at 2560×1440 (1440p). RS-278

DOOM™

Up to 5% faster performance in DOOM using Radeon™ Software Adrenalin 2019 Edition 18.12.2 on the Radeon™ RX Vega 64 graphics card than with Radeon™ Software Adrenalin Edition 18.12.1 at 3840×2160 (4K). RS-279

Wolfenstein™ II: The New Colossus

Up to 5% faster performance in Wolfenstein II: The New Colossus using Radeon™ Software Adrenalin 2019 Edition 18.12.2 on the Radeon™ RX Vega 64 graphics card than with Radeon™ Software Adrenalin Edition 18.12.1 at 3840×2160 (4K). RS-280

Strange Brigade™

Up to 7% faster performance in Strange Brigade using Radeon™ Software Adrenalin 2019 Edition 18.12.2 on the Radeon™ RX Vega 64 graphics card than with Radeon™ Software Adrenalin Edition 18.12.1 at 3840×2160 (4K). RS-281
New Features
Radeon ReLive (1)

In-Game Replay feature that allows you to replay your gaming moments instantly on screen.
Scene Editor allows creation and editing of scenes for recording or streaming with transitioning options via hotkeys or Radeon Overlay.
GIF Support allows creation of GIFs via hotkey or Radeon Overlay.
Added platform connection support for Restream.io, Streamable and Gfycat.
Multi-channel audio support and 16:9 streaming support.

Radeon ReLive Game Streaming (2)

Bringing Radeon gaming quality to your mobile devices allowing up to 4K 60fps low latency gaming with hardware acceleration. Seamlessly transition from your PC to your phone or tablet. Free on both Android and iOS via the AMD Link app.

Radeon ReLive for VR (3)

Bringing ultra-high PC quality VR experiences to standalone VR devices with low-level hardware acceleration optimized for streaming and recording.
Streaming enabled via Steam®, the Steam®VR ecosystem* and available through the Radeon ReLive VR app.

AMD Link (4)

Better reliability for a stable connection.
Get started easily with a redesigned connection process.
Upgrade Radeon Software through your phone.
Voice Controls for Radeon ReLive and Performance Metrics.
Radeon WattMan support.
Enhanced Performance metrics for capturing average, max and min FPS.
Radeon ReLive support allows viewing screenshots, playing back video, cropping video and saving video to your mobile device.

Radeon Overlay (5)

Enhanced Sync controls available in display tab with per game real-time adjustment.
Radeon FreeSync controls now found in display tab.
Per-game color controls now available in display tab.
Radeon WattMan is now supported in Radeon Overlay allowing for in-game power and performance optimizations.
Performance Metrics Overlay now supports visual customization with adjustable colors, columns, position, transparency and size.
Performance Metrics Overlay now supports a lower sample interval and frame-time measurement logging.

Radeon Game Advisor (6)

Measures game performance and generates a detailed report with suggestions to improve performance or increase image quality. Available through Radeon Overlay.

Radeon Settings Advisor (6)

Scans your system's capabilities and provides optimization suggestions in just a few simple clicks. Available through Radeon Settings.

Radeon Upgrade Advisor (7)

Analyzes your PC for minimum and recommended game compatibility specifications with clear compatibility indicators in Game Explorer. Available through Radeon Settings.

Radeon WattMan (8)

One click tuning with Auto Overclock GPU, Auto Overclock Memory and Auto Undervolt GPU.
Change fan speed with temperature dependent fan curves and Zero RPM fan control.
Unlocked Radeon RX Vega series DPM states for finer power adjustments.
Targeted optimization of memory bound applications with new memory tuning feature.

Radeon Chill (9)

Improved Radeon Chill efficiency allows increased power savings.

Radeon FreeSync 2 (10)

Improved Radeon FreeSync 2 with auto-tone mapping for a more detailed experience in HDR 10 supported games.

Virtual Super Resolution (11)

Now supports ultra-wide 21:9 displays.

Radeon Installer (12)

A new one-click express install option is now available with installation progress and percentage indicators.
Added Vulkan™ Support
VK_EXT_inline_uniform_block

This extension introduces the ability to back uniform blocks directly with descriptor sets by storing inline uniform data within descriptor pool storage.

VK_KHR_swapchain_mutable_format

This extension enables processing of swapchain images as different formats to that used by the window system, which is particularly useful for switching between sRGB and linear RGB formats.

VK_EXT_scalar_block_layout

This extension enables C-like structure layout for uniform and storage buffers, allowing non-scalar types to be aligned solely based on the size of their components.

Sparse Support is Enabled

Sparse support relaxes the requirement to have memory allocated and bound to resources prior to being used. It also relaxes the requirement for the bound memory to be contiguous and for the memory bindings to be immutable.
Fixed Issues
Radeon Settings EULA screen may appear every time a reboot occurs.
Google Earth VR fails to load or may not launch.
Assassin's Creed®: Odyssey may experience a black screen when going into action phases of the game.
Assassin's Creed®: Odyssey may experience a game crash or TDR in some locations of the game like performing a leap of faith or deep-diving into water.
Forza Horizon 3™ may experience a game crash on launch.
Call of Duty™: Black Ops 4 may experience a crash on launch on AMD Ryzen desktop processors with Radeon Vega Graphics.
A limited number of users may experience a black screen or signal loss when watching YouTube™ videos in full screen mode on Chrome browser.
Battlefield™ 1 may experience flickering when looking at water textures.
Strange Brigade™ may experience stuttering when the game is set to run in windowed mode using the Vulkan™ API.
Radeon Overlay may fail to invoke when playing Kingdom Come Deliverance™.
Eyefinity advanced setup options may sometimes not appear in Radeon Settings after a driver upgrade.
Known Issues
This release is not compatible with Microsoft® PIX. For Microsoft® PIX support with Radeon Software Adrenalin 2019 Edition please click here.
Some systems running multiple displays may experience mouse lag when at least one display is enabled but powered off.
Uninstalling Radeon Software may fail to remove Radeon Settings.
Upgrade Advisor may intermittently fail to detect games and provide compatibility recommendations.
Performance Metrics Overlay may change size when resolutions are changed in game.
A port 58888 already in use error message may be observed when AMD Link Server was disabled while an IOS device client was connected.
Radeon Overlay's new in overlay video player may experience smoothness issues while adjusting the playback slider.
Scene Editor may have issues with scrolling when many elements are added to a scene.
Custom settings in Radeon WattMan may sometimes fail to apply on Radeon RX Vega series graphics products.
Auto tuning control options fail to present the starting notification before applying in Radeon Overlay.
Auto tuning may experience inconsistent behavior after applying Auto Overclock GPU and restarting/rebooting the system.
Let's head to the charts to compare the driver changes from the older Adrenalin Software Editions to the brand new Adrenalin 2019 Software 18.12.2 Edition released last week.
The Summary Chart
Below are the summary charts of 38 games and 2 synthetic tests. The games' performance are charted to compare the driver progression of the RX 590 from its press launch Adrenalin 18.8.40 to 18.12.1 and then 18.12.2; and RX Vega 56 from 18.9.1 to 18.12.1 to the Radeon Software Adrenalin 2019 Edition 18.12.2. The highest settings are chosen and the settings are listed on the charts. The benches were run at 1920×1080 and at 2560×1440. Open each chart in a separate window or tab for best viewing.
Most results show average framerates and higher is better. Minimum framerates are next to the averages in italics and in a slightly smaller font. A few games benched with OCAT show average framerates but the minimums are expressed by frametimes in ms where lower numbers are better.
The first three columns represents the RX 590's performance. Column one shows the latest 18.12.2 driver performance, column two represents 18.12.1, and column three represents the launch drivers 18.8.40. The fourth column, fifth column, and final sixth column represent the RX Vega 56's performance – column four uses the latest 18.12.2 driver, column five represents 18.12.1, and column six represents 18.9.1. An "X" means the benchmark was not run or compared.
The Red Devil RX Vega 56 shows mostly positive performance improvements and some of them are rather substantial in some of the newer games. There are a few regressions with some games, however, but they appear to be relatively minor except for Far Cry 5 and especially with Forza 7. NVIDIA cards also show a performance regression with Far Cry 5, so there may be more at play than the Adrenalin 2019 drivers here. And Wolfenstein cannot be compared directly as we lowered the preset from "Mein Leiber" to "Uber".
On the other hand, there was very little performance improvement with the RX 590 using the latest drivers, and they tend to be mostly incremental. There are also some minor regressions except with Far Cry 5 and especially with Forza 7.
Unfortunately, we were hit with the same Vulkan bug in DOOM (only) when installing the latest driver with the RX 590 that previously crashed all Vulkan games to desktop as we reported with earlier drivers. It was never a problem with the RX Vega 56, however.
This Vulkan issue that we experience appears to be dependent on specific system configurations and it does not affect all cards nor all Vulkan games now. It has been acknowledged by the Vulkan developers, and it was not possible for us to fix it short of editing the Windows Registry. Reinstalling the latest Radeon Software Adrenalin Edition 18.12.2 after running DDU in safe mode did not help with launching DOOM nor did installing the Vulkan SDK, and we unsuccessfully tried several other recommended fixes.

There is one other issue to be aware of. A Reddit r/AMD post reported that there is an issue with the date of Adrenalin 2019 SW driver written as 12/6/2018. The Windows Update published driver uses an older version 25.20.14021.6002 with its driver date of 12/13/2018. So the Windows Update may overwrite the latest driver with its own driver as detailed here. This will probably be addressed by the Radeon driver team as they are aware of it.
The Bigger Picture
We compare the Red Devil RX 590's performance in column one using the latest Adrenalin 2019 Edition drivers with the EVGA GTX 1060 SC, its main rival, in column two. We also compare the Red Devil RX Vega 56 in Column three versus the RTX 2070 Founders Edition in Column four. Both NVIDIA cards are using GeForce Game Ready drivers 417.01.
Let's head to our conclusion.
Conclusion:
We would definitely recommend upgrading to the latest Radeon Software 2019 Adrenalin Edition 18.12.2 from any previous driver set because there are advantages that are sometimes quite significant, depending on which game you are playing as we found especially with the RX Vega 56. The RX 590 saw less of a performance increase but the regressions are generally incremental.
The new features of the Radeon Adrenalin 2019 annual software update are welcome and are really worth exploring, and its advantages outweigh any disadvantages.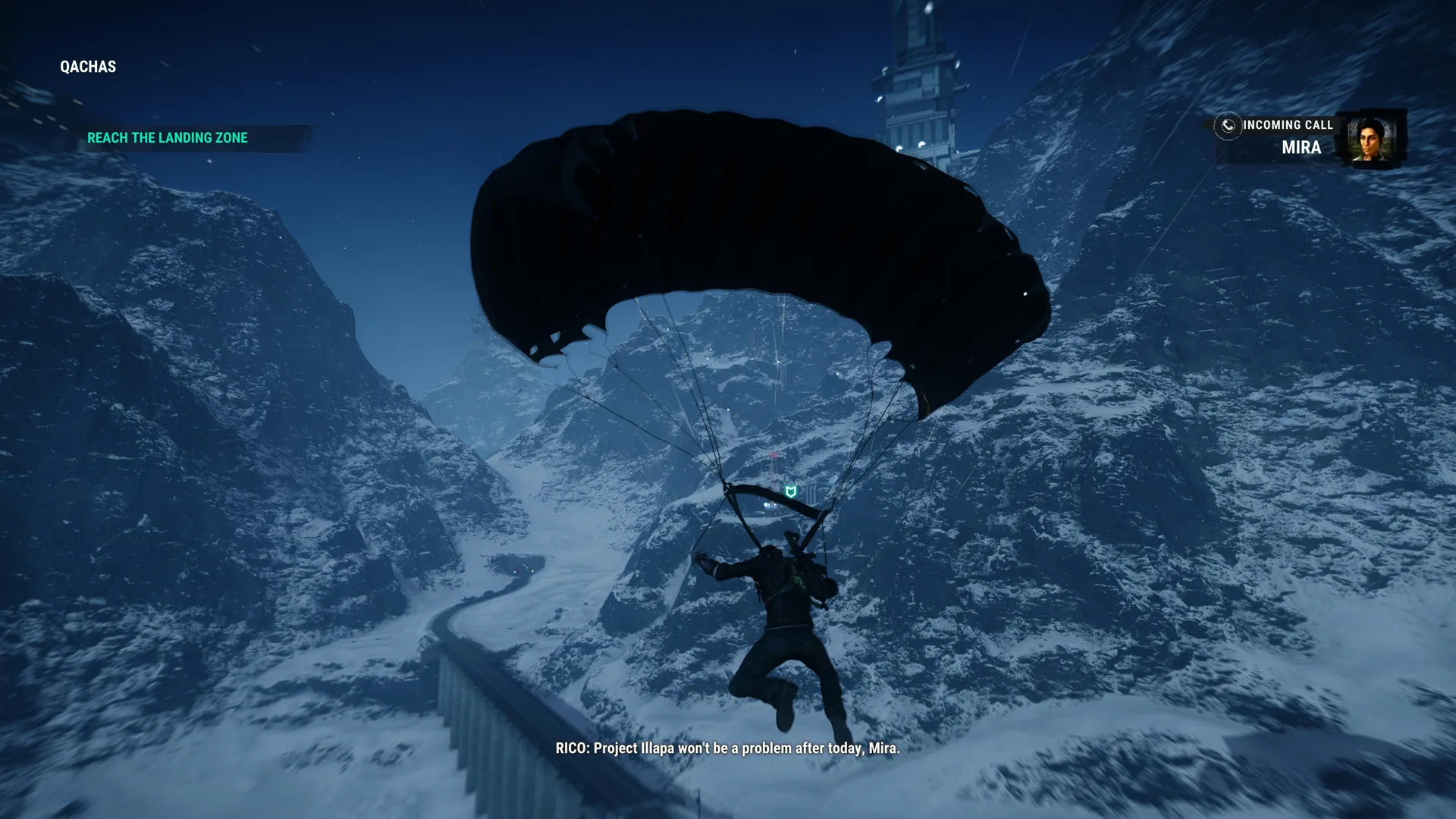 This week we will explore DLSS and DXR further with the Turing cards, and you can expect a new entry to BTR's "Retro Series" by next week.
Happy gaming!