Intro
Adrenalin Software Edition 2019 (18.12.2) Driver Performance Analysis featuring the Red Devils RX 590 and the RX Vega 56 with 38 Games
As a regular feature of BabelTechReviews, this driver performance analysis will chart the performance of 38 PC games using the latest Radeon Software Adrenalin 2019 Edition 18.12.2 which was released last week. We will compare these new drivers with the 18.8.40 launch drivers for the RX 590 and also with September's drivers used for the RX Vega 56, and we will also compare them with 18.12.1 that released last month.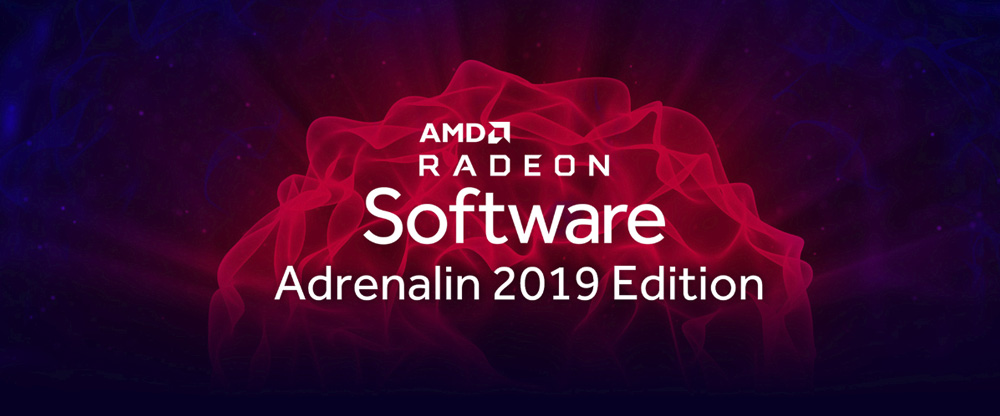 The Adrenalin 2019 Edition is AMD's special annual update which introduces important new features that we will briefly cover although our emphasis is on driver performance changes.  BTR driver performance analyses track the progress of every major driver release from NVIDIA and from AMD with every game in our 38-game benchmark suite including Just Cause 4 and Battlefield V.  We also compare the Red Devils RX Vega 56's and RX 590's rivals, the RTX 2070 FE's and the EVGA GTX 1060 SC's performance.
We document the performance changes of the current Adrenalin Software 18.12.2 Edition on Windows 10 at 1920×1080 and at 2560×1440 resolutions.  Our testing platform is a recent install of Windows 10 64-bit Home Edition, and we are using an i7-8700K which turbos all 6 cores to 4.7 GHz, an EVGA Z370 FTW motherboard, and 16GB of HyperX DDR4 3333MHz. The games tested, settings, and hardware are identical except for the drivers being compared.  First let's look at what Adrenalin 2019 brings new for Radeon owners.
Adrenalin 2019's New Features
Adrenalin 2019 introduces 3 new Advisors to inform gamers if their system meets their games' gaming requirements and suggests upgrades, as well as helping them optimally configure their individual games with one click.  In addition, an advisor offers a wizard to walk gamers through a simple process to optimize and fine-tune settings.
AMD Link uses ReLive to to stream games and video from a PC to a mobile phone, tablet, or even a stand-alone VR headset while also allowing for playback.  AMD Link has been redesigned to allow for voice commands and it is free for Android and iOS.
Radeon Overlay gives gamers the ability to monitor, record, and fine-tune their gameplay without ever leaving the game while allowing access to the rest of the Radeon software suite.
Wattman has been redesigned and improved with a new scanner that sets automatic overclocks of the core and memory.  It can also set automatic GPU undervolting with the additional ability to control per state power management for the RX Vega series.  There is also improved fan control available including over zero rpm.  And Radeon Chill has been redesigned for better tuning of the DPM state for improved power savings.
The Adrenalin 2019 Software has been redesigned for 'one-click' installation and all of these new features may be summarized by AMD's image below.  For more details, please see AMD's Adrenalin 2019 blog.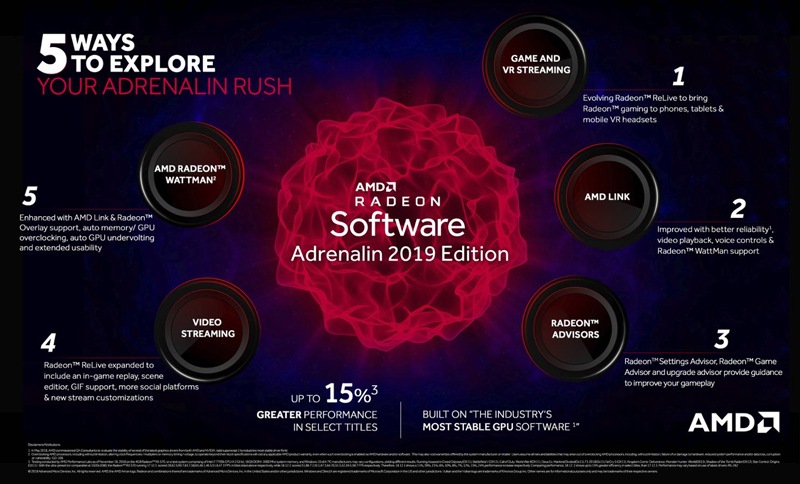 For the performance changes of the Adrenalin 2019 18.12.2 drivers in 38 games, let's get to the test configuration, to the driver release notes, and then to our results.