Reboots, Remakes are Comfort Food for the Soul But…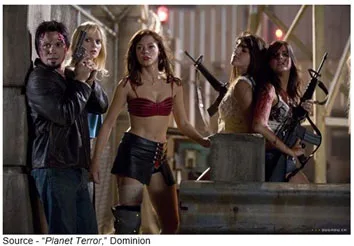 Occasionally, we do a little binge viewing … especially when the wife wants to catch up on a series.
Not serious bingeing, like our kids, because after two hours; our behinds and our brains are are numb.
Our kids? They were going to sit through the entire second season of Strange Things.
But we reminded them that the show was like their Halloween candy, they would enjoy it more if they spread it out over a longer period.
So, they only absorbed two segments a night … gone in less than a week.
Wait, we did seriously binge once. SYFY was running a weekend Twilight Zone "special" and no sane person could pass that up.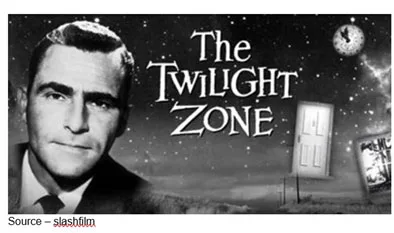 Rod Sterling put together great storylines, major star appearances and really cheezie sets and make-up.
What could be better? … Awesome!
While Hollywood and the networks have been grousing over the investment in new films and series that Netflix, Amazon and other tech-based OTT services have been making, they had no problem doing deals with Hastings' team for old shows they had gathering dust in their vaults.
That even included Disney until Igor decided he could make more money with the Mouse's rich library by rolling out their own OTT channel, Disney + next year.
Not that Hastings looks at them or the other "networks" as direct competition, because last year he was widely quoted as saying "Sleep is our competition."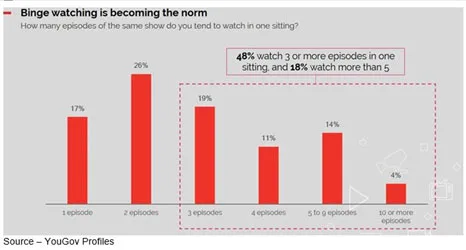 It turns out that's sorta', kinda' true, because Netflix is synonymous with binge viewing.
While our kids spread their viewing of the nine episodes of Strange Things over a week, more than 350,000 watched them all on the day the series was released.
Netflix and OTT have changed people's viewing habits (regardless of the screen). A recent Deloitte survey pointed out that 70 percent of Americans (90 percent millennials) gorged themselves on an average of five episodes per sitting.
Hastings said recently that binge-watching of old and new series is a good thing since it puts consumers in control because they have complete flexibility.
He also noted that the company is seeing the same bingeing habits overseas, which now accounts for 50 percent of their subscribers. They undoubtedly have a lot of catching up to do because the US TV series of the '80s and '90s are new to them.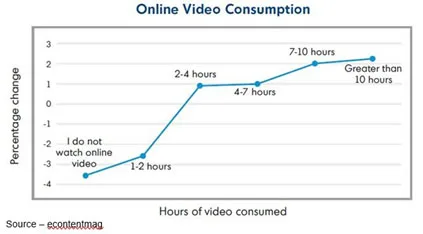 According to a US Bureau of Labor statistics survey, the average American spends around 2.7 hours watching TV per day, which adds up to almost 20 hours per week.
And with more new and old content to be instantly available, a lot of industry analysts say that the viewing volume will increase.
Dr. John Mayer, a clinical psychologist, explained that binge-watching gives an individual a temporary escape from the day-to-day grind and chaos around us, an effective stress management tool.
"It is hard to shut our minds down and tune out the stress and pressure," he said. "A binge can work like a steel door that blocks our brains from thinking about those constant stressors that force themselves into our thoughts. Binge watching can set up a great boundary where troubles are kept at bay."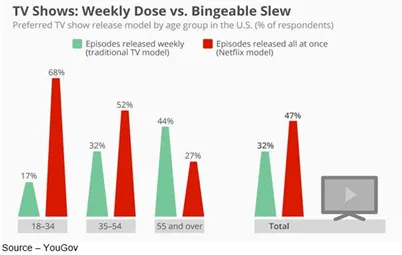 With the way content distribution is changing, there are undoubtedly a lot of TV and movie executives who are contributing to the increase in bingeing because they need to keep the troubles, uncertainty away.
The industry has a well-worn track record of serving up stuff people want to see again and again and again.
When TV viewers showed they liked doctor/hospital shows, they got one after another after another.
There are probably as many different flavors of cop shows
The Big Bang Theory, which premiered in 2007, is in the closing segments of its 12-season run.
Dr Who has been on the air since 1963 for a mind-boggling 845 episodes … and counting.
Don't even think about trying to binge it!
As for movies, the same holds true. Find a good formula and stick with it:
007 first appeared in 1962 and has gone through seven James Bonds. They're looking for number eight
Night of the Living Dead has gone through every part of the day and week and spawned more dead movies/TV series than you can count
So far, there have only been three Godfathers but a lot of knockoffs/spinoffs
Godzilla has lived through 33 different movies, starting back in 1954 (the old ones were so bad they were good)
Tremors' (a personal cult classic) graboids and ass-blasters kept coming back eight times and number nine is being discussed
Go ahead, add your favorites
Netflix is best known for shaking up the M&E industry, gathering the best talent and scripts to produce stuff for their rapidly expanding audience.
eMarketer projects that they will have 147M US viewers by the end of the year and probably an equal number of folks subscribing to their stuff in 190 other countries around the globe.
According to StreamingObserver, they have twice as many TV shows as movies in their library from the US and other countries, so you could easily get hooked on an Aussie, French, Indian, Argentinian or other show.
Or, you could stick with the homegrown stuff and watch Twin Peaks, The Blue Planet, The Civil War or who knows what will get you hooked.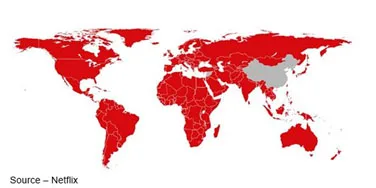 You might not have caught them before or never had the opportunity to enjoy shows from around the globe.
Which reminded us of a discussion we had with Greg Barrett, Netflix Manager of Digital Production Assets & Delivery, at the Spring HPA (Hollywood Professional Alliance) Tech Retreat regarding the storage of their shows/movies.
He noted that they archived content on hard drives and when we commented that the data life was only about 10 years on HDs, he said that was sufficient because they would bring the project out of the vault, repurpose it for the current viewing screens and show them to a whole new generation of viewers.
Darn, he's right!
That's what AT&T bought when they acquired Times Warner and what Disney wanted when they acquired 20th Century Fox.
There are billions of dollars' worth of great "old" content just sitting in huge (really huge) temperature-controlled vaults waiting to be rejuvenated, revitalized and shown to folks who want to revisit the good old days as well as new generations of viewers.
Come on, how many times have you seen It's a Wonderful Life, Miracle on 34th Street, Bambi, Snow White or other TV shows/movies with your significant other and kids?
Right?
It's the same but different for the TV reboots we're seeing hit the schedules.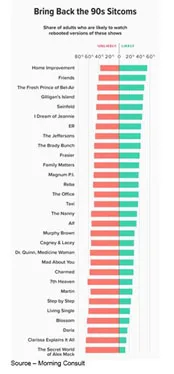 It's not that we don't have enough new ideas and new content to fill the rapid proliferation of platforms and channels but rather a sign that people want a little stability in their otherwise chaotic lives.
Reboots of TV shows give them familiar characters and plots to turn to as well as some traditional cultural roles, even though the industry is producing more content than ever. In the US, the industry reached a high of 487 last year and projections are that there will be significantly more this year.
It doesn't hurt either than reboots are safer bets for traditional TV networks for scheduled and streaming airings.
Some of the reboots (Roseanne, now called The Conners) see one of the lead actors die, ride off into the sunset or otherwise disappear from the lineup and TV screen.
Shows like The Connors and Murphy Brown bring the old crew together again (at least, those still alive) which gives the reboot a head start on drawing back previous viewers and a chance to build on that committed audience through word of mouth.
Is it just me or do they look … older?
Others like MacGyver, Magnum P.I., Hawaii Five-0, Cagney & Lacy, Charmed, Dynasty and others come back with a familiar storyline but characters more in tune with the times – race, gender, LGBTQ and combinations.
As Netflix and shows like Dr. Who have shown, TV shows and movies travel well beyond a country's borders.
Recycling show ideas is nothing new for the M&E industry; and in a business with such a high failure rate, going with an audience-tested idea is a smart bet.
Remaking, reviving, re-booting, resurrecting shows is almost as good as dusting off copies of proven shows and redoing the post work to make them look like brand new on your 4K/HDR or 8K TV set you got this holiday.
So, what could go wrong?
Memories somehow seem to get better with age and you think, "Darn that was good!"
It's like watching old, old, old Godzilla movies. They were fun, hilarious but bingeing for a weekend?
They weren't that good!
We'll have to see how many of the reboots get picked up for next season.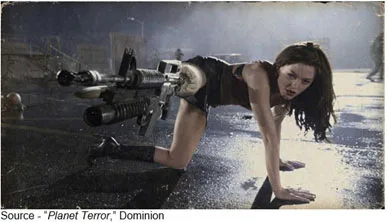 As El Wray said, "I Believe you could do better. Right now, I need you to become who you were meant to be. Stand!"
# # #