Test Configuration – Hardware
Intel Core i7-4790K (reference 4.0GHz, HyperThreading and Turbo boost is on to 4.4GHz; DX11 CPU graphics), supplied by Intel.
ASUS Z97-E motherboard (Intel Z97 chipset, latest BIOS, PCOe 3.0 specification, CrossFire/SLI 8x+8x)
Kingston 16 GB HyperX Beast DDR3 RAM (2×8 GB, dual-channel at 2133MHz, supplied by Kingston)
XFX Fury X, 4GB HBM, reference and overclocked further
MSI R9 390X OC 8GB, at MSI's factory overclock.
VisionTek R9 290X, 4GB, stock reference (non-throttling) Uber clocks (also tested in 290X CF)
PowerColor R9 290X PCS+ (BF4 edition),  4GB, reference Uber (non-throttling) clocks (also tested in 290X CF)
GALAX GTX 970 EXOC, 4GB, at GALAX' factory overclock, supplied by GALAX
GeForce GTX 980, 4GB, reference version, supplied by Nvidia
GeForce GTX 980 Ti, 6GB reference clocks and further overclocked, supplied by Nvidia
EVGA GTX 980 Ti 6GB, used in SLI at reference clocks, supplied by EVGA
Two 2TB Toshiba 7200 rpm HDDs
EVGA 1000G 1000W power supply unit
Cooler Master 2.0 Seidon, supplied by Cooler Master
Onboard Realtek Audio
Genius SP-D150 speakers, supplied by Genius
Thermaltake Overseer RX-I full tower case, supplied by Thermaltake
ASUS 12X Blu-ray writer
Monoprice Crystal Pro 4K
Test Configuration – Software
Nvidia GeForce 355.98 WHQL drivers for the GTX 980 Ti and for GTX 980 Ti SLI.   GeForce 355.82 used for the GTX 970 and for both of the GTX 980s. High Quality, prefer maximum performance, single display, use application settings except for Vsync.   The latest EVGA Precision X is used for overclocking.
AMD Catalyst 15.9.1 used for Fury X and 15.8 Beta for all other Radeons.  The latest MSI Afterburner is used for overclocking.  High Quality, all optimizations off, use application settings except for Vsync.
VSync is off in the control panel.
AA enabled as noted in games; all in-game settings are specified with 16xAF always applied.
All results show average frame rates except as noted.
Highest quality sound (stereo) used in all games.
Windows 10 64-bit Home Edition, all DX11 titles were run under DX11 render paths.  Latest DirectX
All games are patched to their latest versions at time of publication.
Here is the settings we always use in AMD's Catalyst Control Center for our default benching.
Here is Nvidia's Control Panel and the settings that we run: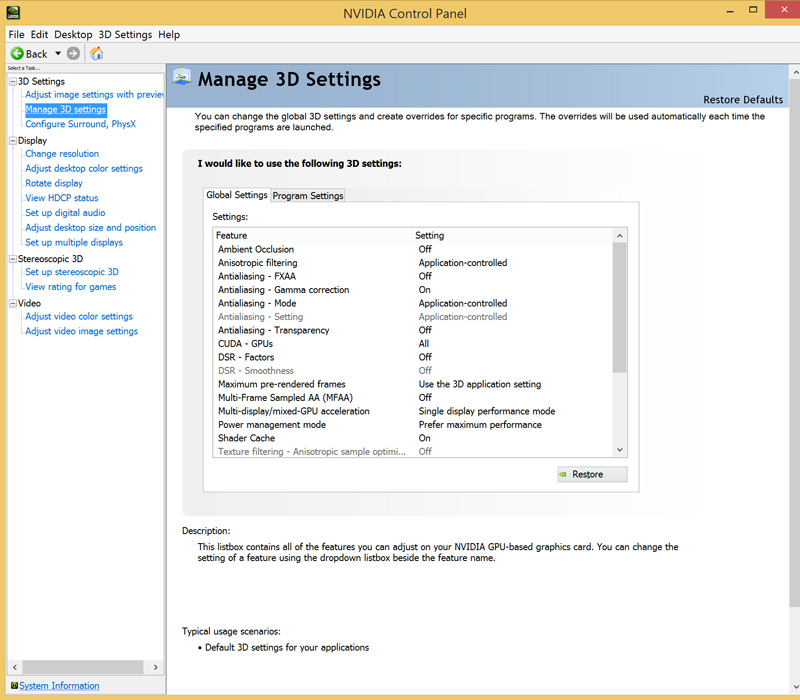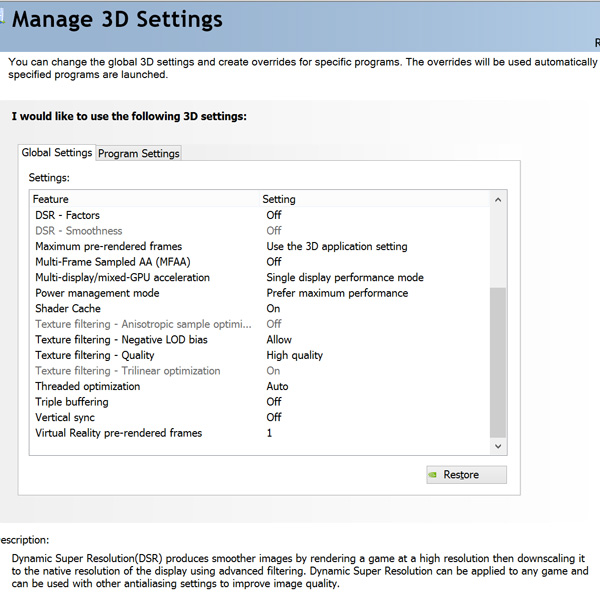 The 28 Game benchmarks & 3 synthetic tests
Synthetic
Firestrike – Basic & Extreme
Heaven 4.0
Kite Demo, Unreal Engine 4

DX11

STALKER, Call of Pripyat
the Secret World
Sleeping Dogs
Hitman: Absolution
Tomb Raider: 2013
Crysis 3
BioShock: Infinite
Metro: Last Light Redux (2014) 
Battlefield 4
Thief
Sniper Elite 3
GRID: Autosport

Middle Earth: Shadows of Mordor
Alien Isolation
Assassin's Creed Unity
Civilization Beyond Earth
Far Cry 4
Dragon's Age: Inquisition
The Crew
Evolve
Total War: Attila
Wolfenstein: The Old Blood
Grand Theft Auto V
ProjectCARS
the Witcher 3
Mad Max
MSGV
Batman: Arkham Origins
The above is our test bench. Let's check out overclocking next.