T-FORCE CK-5 Liquid Coolant Kit Review – Personalization for the CARDEA Liquid SSD
We received a T-FORCE CK5 liquid coolant kit from Team Group to complement our M.2 PCIe 512GB CARDEA Liquid SSD that we reviewed in January. It is not yet available in the United States, but it will list for $17. Team Group works very hard to differentiate their products, and customization with a goal of personalization is high on their list. We also use two Team Group 1TB M.2 MP33 SSDs in BTR's flagship benchmarking PC – one for AMD and one for NVIDIA.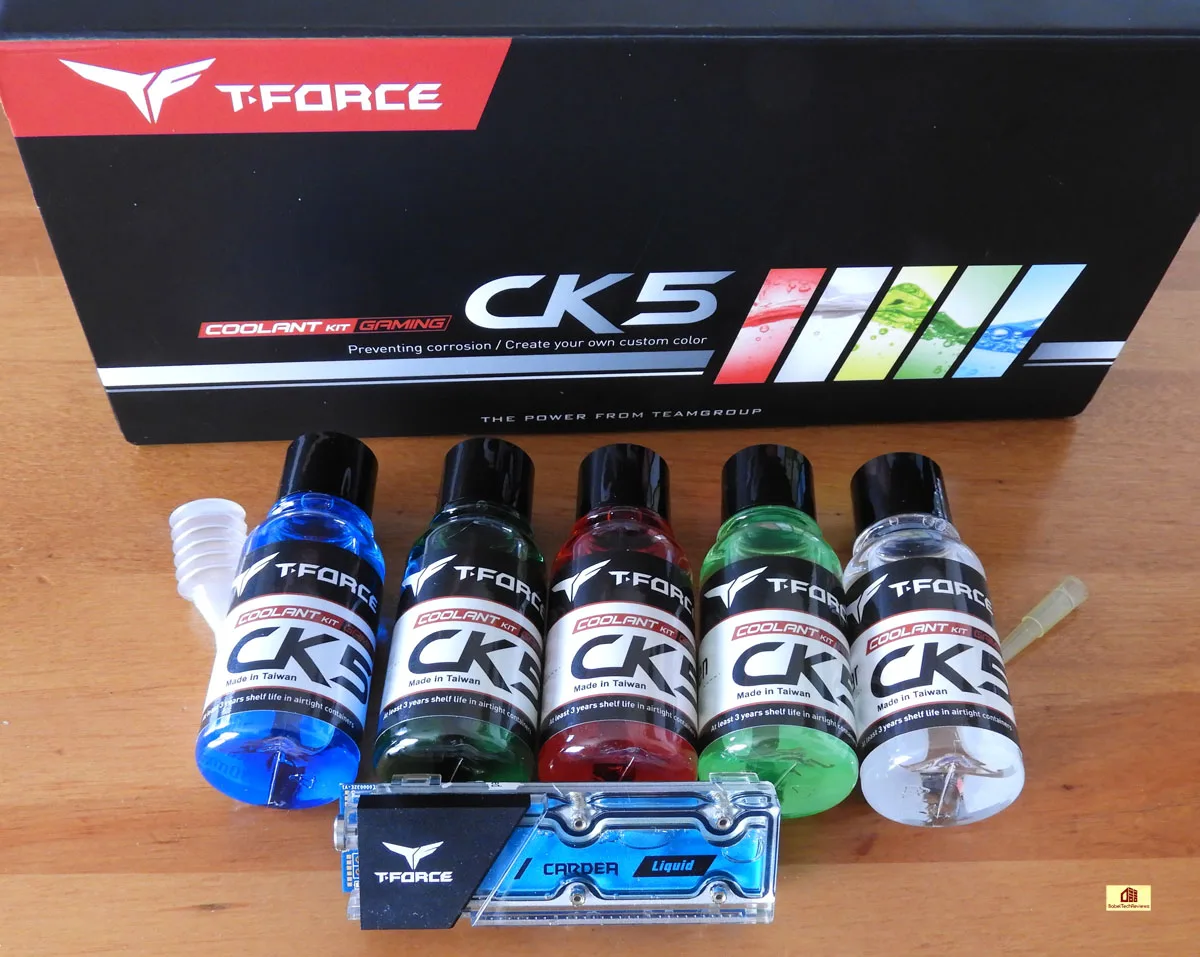 Each CARDEA Liquid SSD ships filled with a bright blue liquid inside as shown above and below. It looks great, but what if it doesn't match your color scheme? What if the blue clashes with a green video card, for example.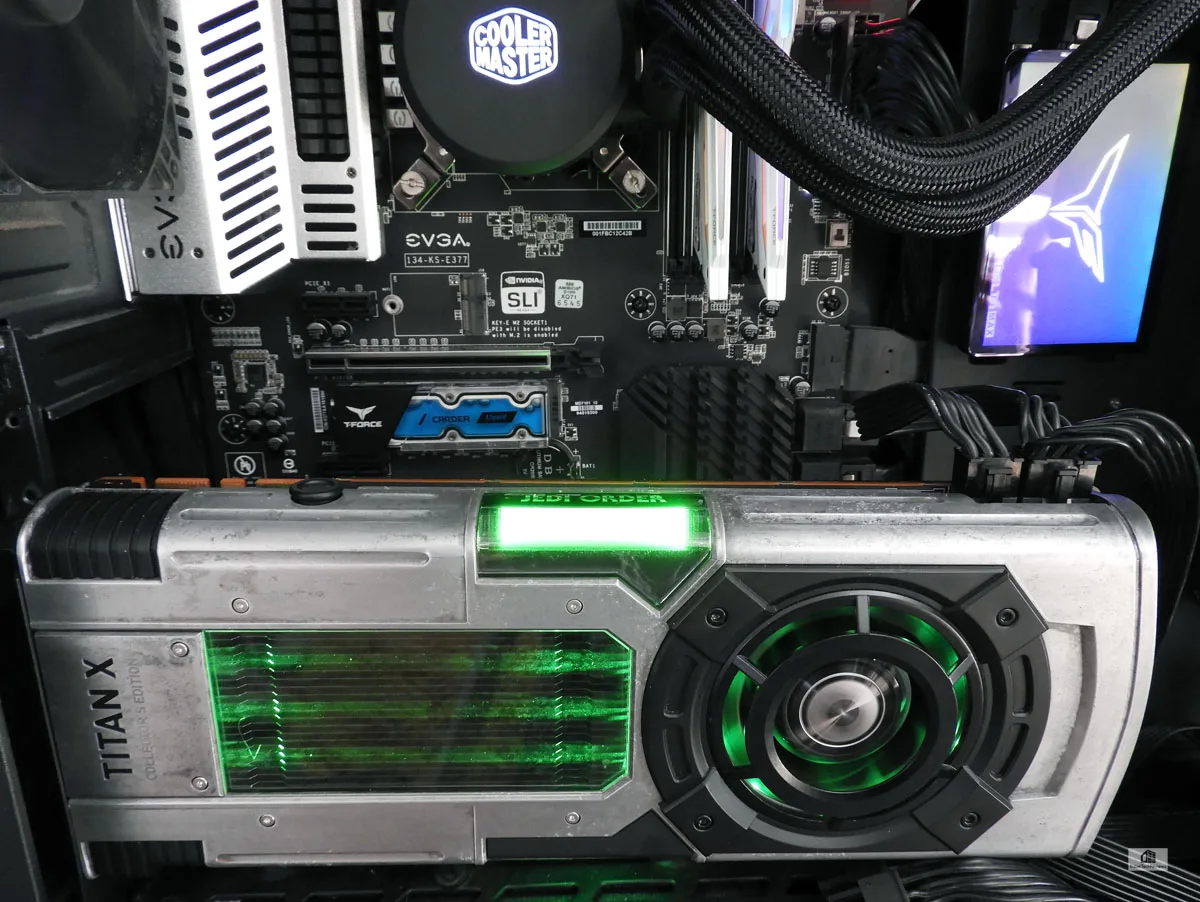 We first changed the CARDEA Liquid SSD color to a custom green to attempt to match the color of our Star Wars Jedi Order Titan XP.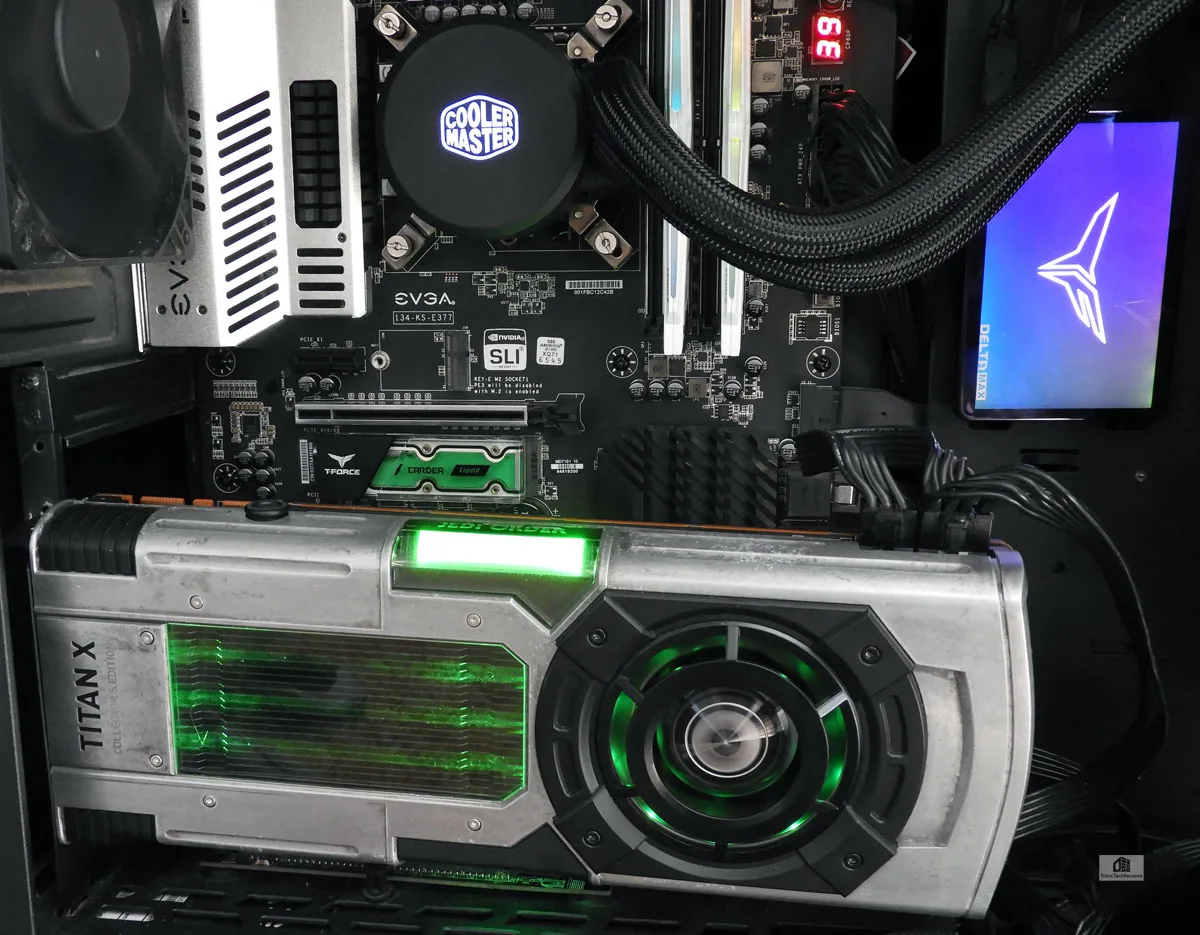 Success! Let's take a closer look at the Team Group CK5 cooling kit, and we'll also post a step-by-step of how we changed the CARDEA Liquid color from blue to green and then to red to match a Red Devil RX 590.
The Team Group CK5 cooling kit is designed specifically for the CARDEA Liquid SSD. CK stands for Cooling Kit and 5 stands for the number of 30ml coolant liquid bottles included. The colors are (from left to right, below) Red, Pure Clear, UV Green, Green, and Blue.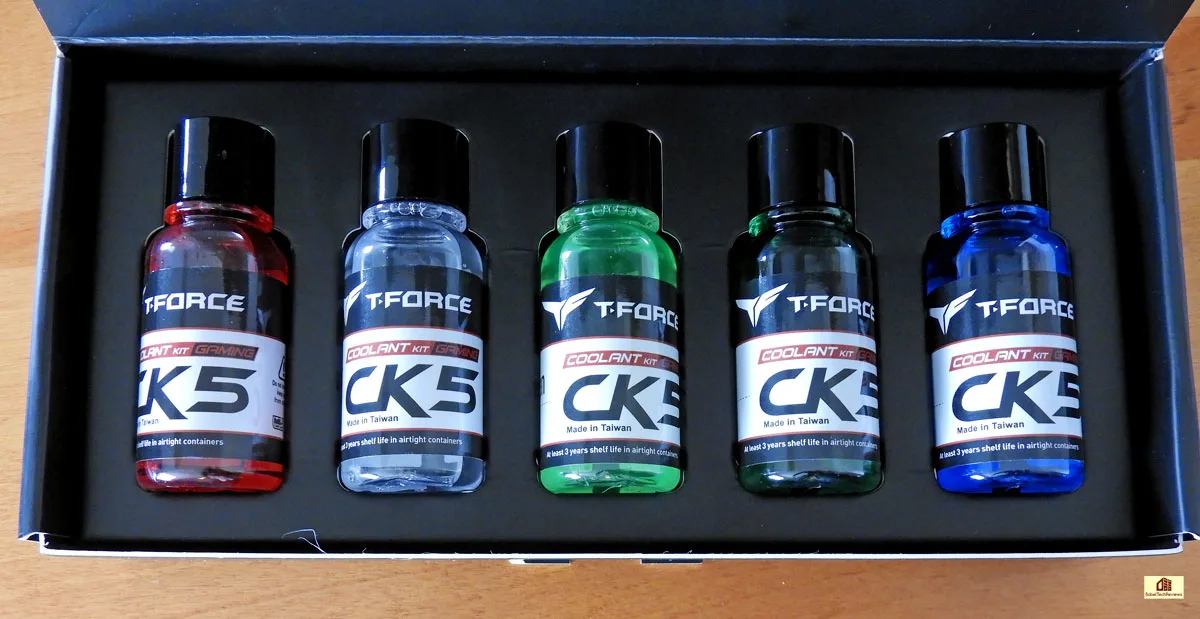 In addition to the bottles of colored liquid coolant, included are two plastic accessories used for removing the liquid from the bottles and also for transferring to the SSD.
On the back of the CK5 box are examples of ways to mix and match the colors to create new custom colors. The liquid is supposed to last and hold their color for at least 3 years as long as the containers are kept airtight. To create our custom green used to match the lighting of the Titan XP, we mixed Green with UV Green.
The T-FORCE Coolant Kit CK5 uses a liquid made in Taiwan to help prevent corrosion from happening inside the CARDEA Liquid SSD. Team Group assures that the materials are easily biodegradable. Although the CK5 cooling liquid conducts electricity and it should never be used to fill the CARDEA Liquid while installed on a motherboard, its relatively low conductivity may help prevent damage if a tiny bit accidentally leaks.
These features are taken directly from Team Group's website.
FEATURES
Environmentally friendly anti-corrosion material
Natural biological decomposition
Low conductivity
Vivid visual experience
T-FORCE Coolant Kit CK5 is specially designed for CARDEA Liquid M.2 PCIe SSD. With non-combustible and completely odorless features, it provides the most complete protective ingredients to protect the water-cooling equipment. Users can mix colors from the base color of blue, red, fluorescent green, pure clear, etc. according own preferences to easily build the water-cooling system with personal colors.
A Closer Look at the T-FORCE CK5 and How to Change the Color
To change the color of the CARDEA Liquid from its stock blue color to green to match our Titan X, the blue liquid has to first be removed from the SSD.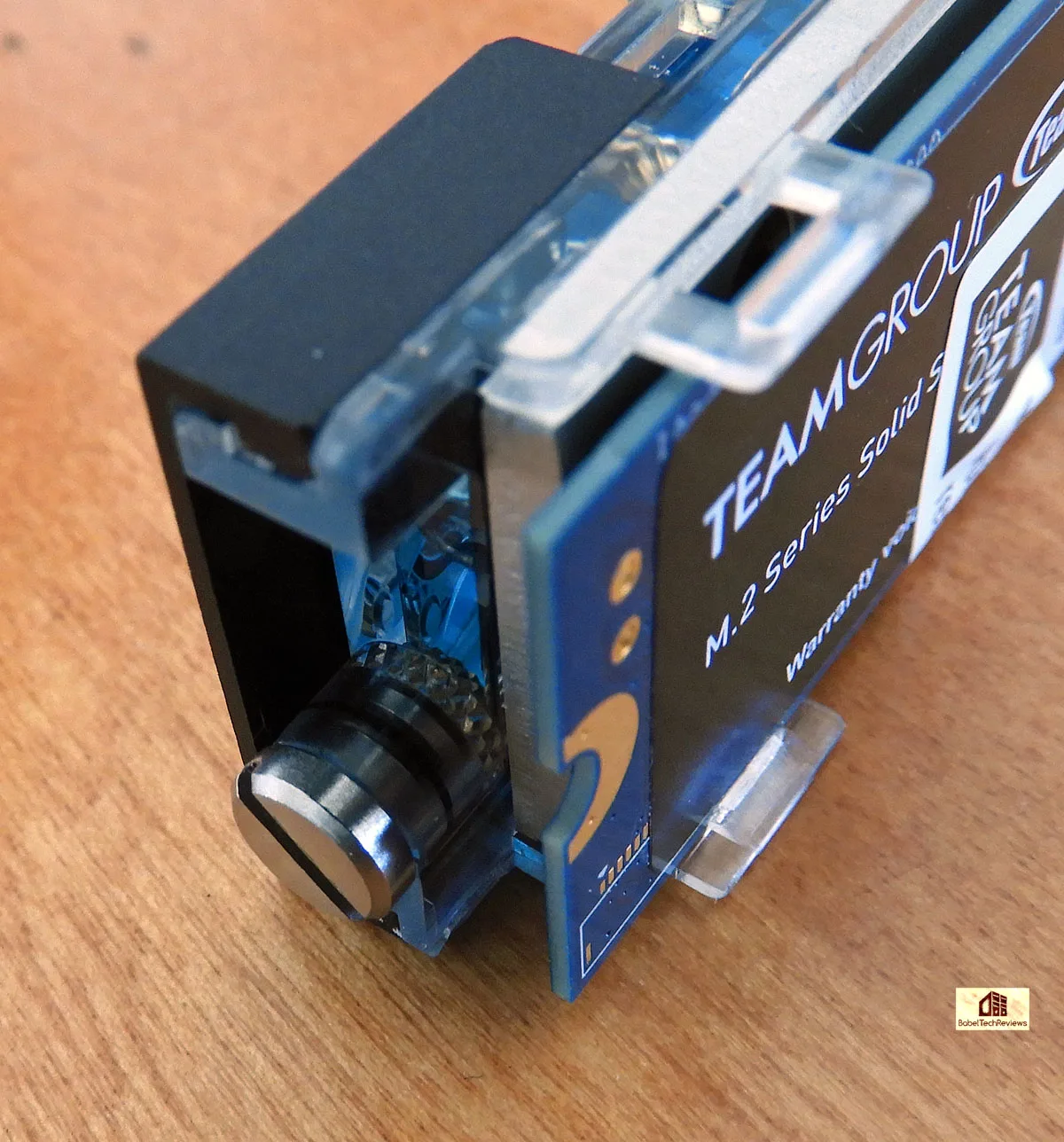 The easiest way we found to remove the existing liquid is to remove the CARDEA Liquid's filling screw and shake the SSD while it faces downward over a sink or other large container.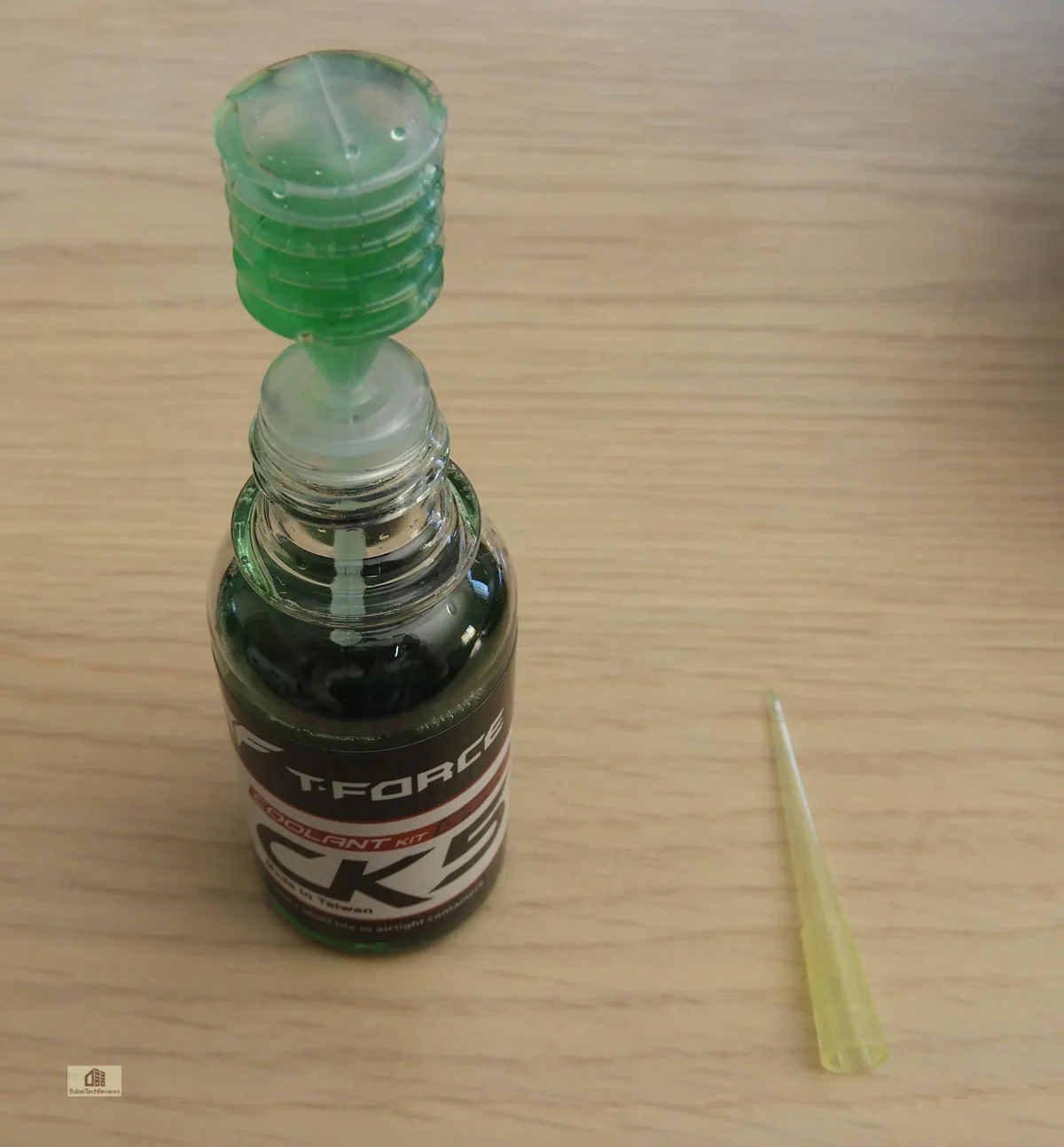 The next step is to insert the plastic pump into the coolant bottle, turn it upside down, and then fill the bulb completely. We later found, it is best to attach the sharp-pointed tip and insert it to the bottle before we fill the bulb as it is hard to attach afterward without spilling the liquid.

The next step requires inserting the tip into the CARDEA Liquid SSD's filling hole and emptying the bulb's contents slowly into the SSD cooling chamber while it is pointing downward.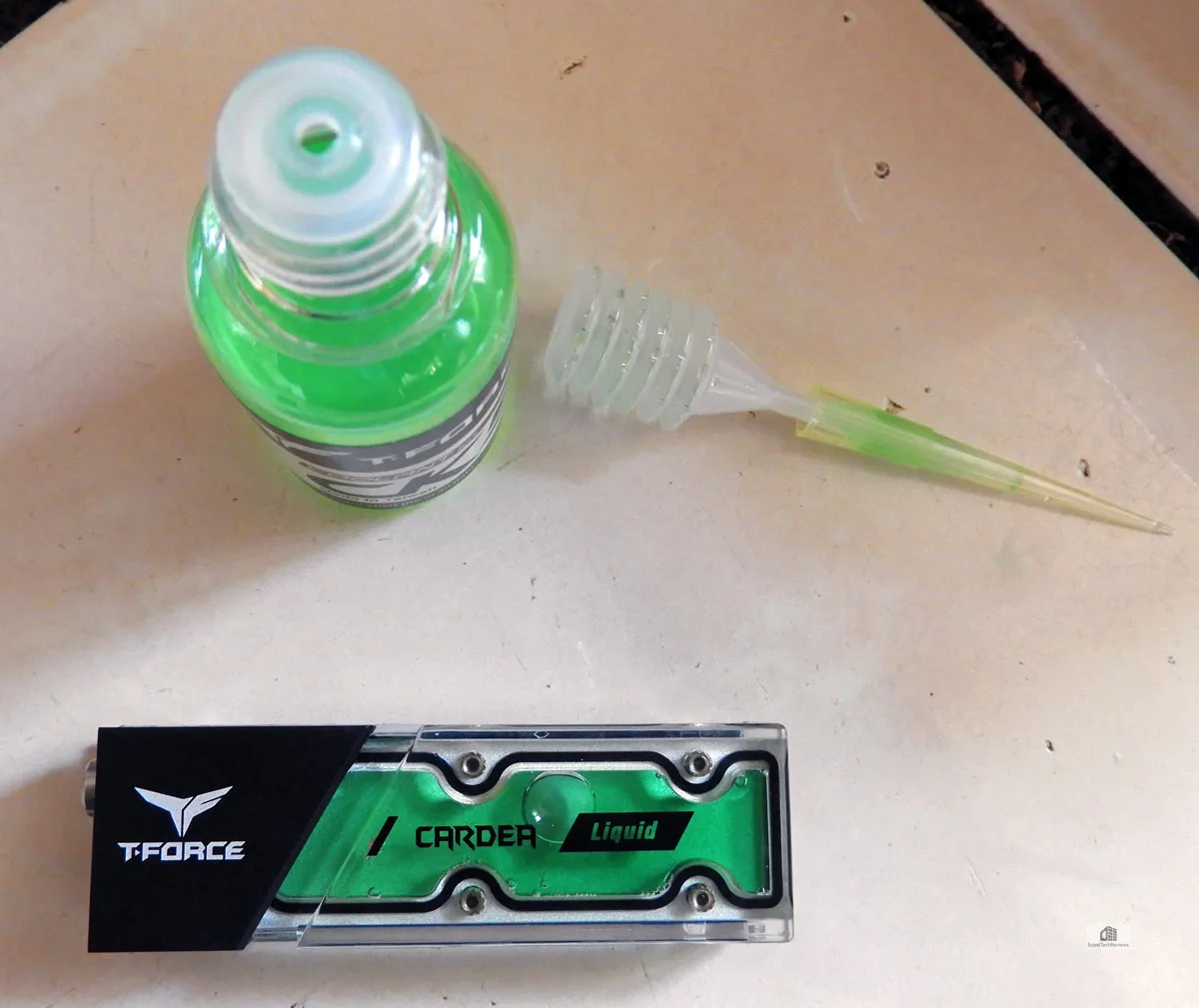 We found it takes about 2 full bulbs to fill the SSD completely. It's almost impossible to have no bubbles of air, but we got close. Tighten the screw and install the SSD into the motherboard.
We repeated the above steps to change the CARDEA Liquid's color next from green to red, and we got less air in the SSD's cooling chamber this time.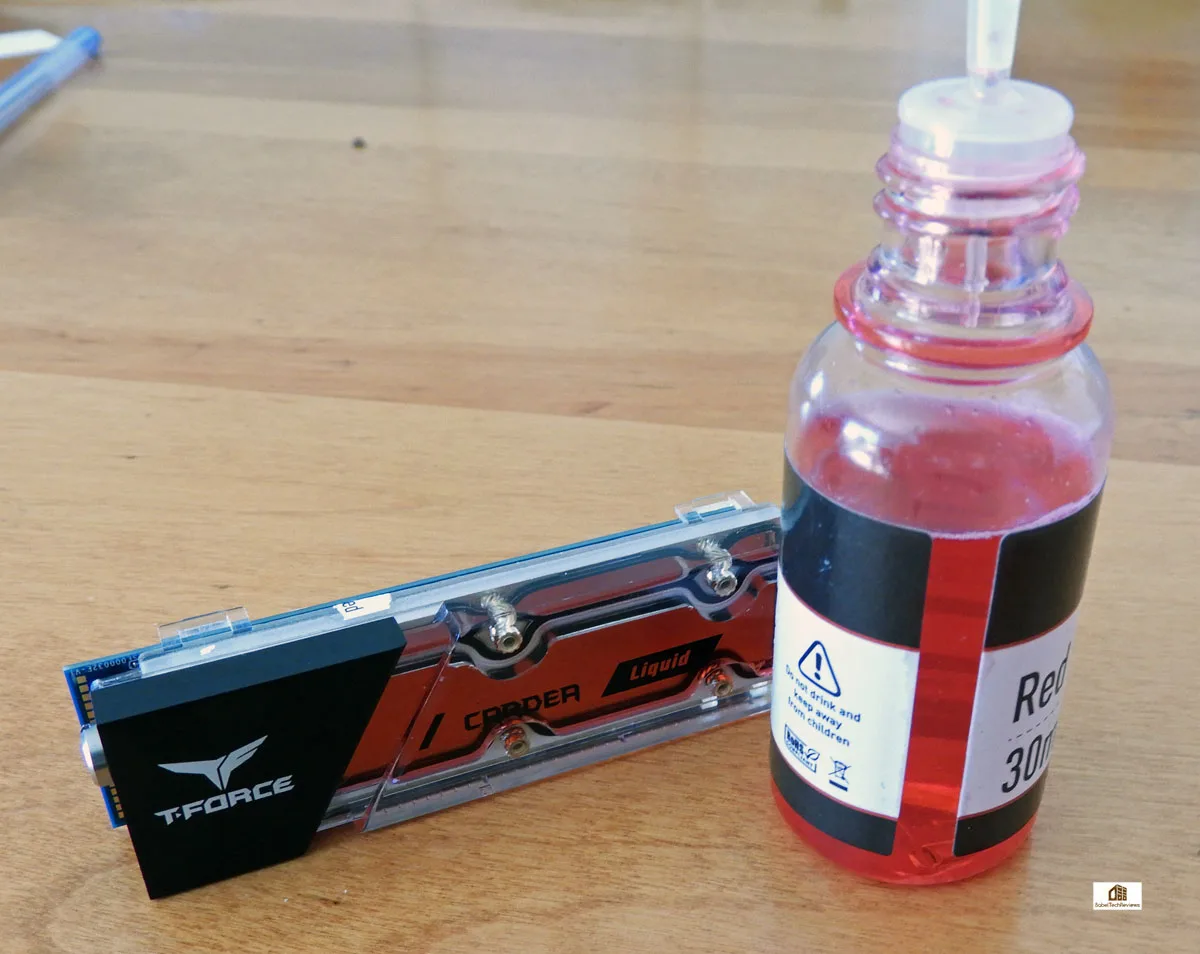 It looks like each 30ml bottle can fill the CARDEA Liquid SSD's chamber at least four times.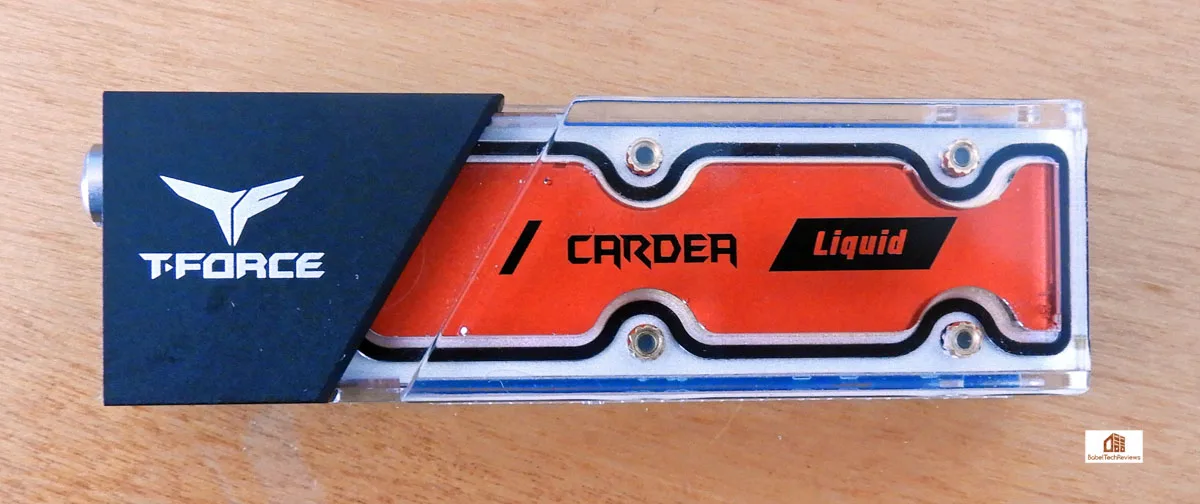 Let's install it and see how it now looks color coordinated with a Red Devil RX 590 video card.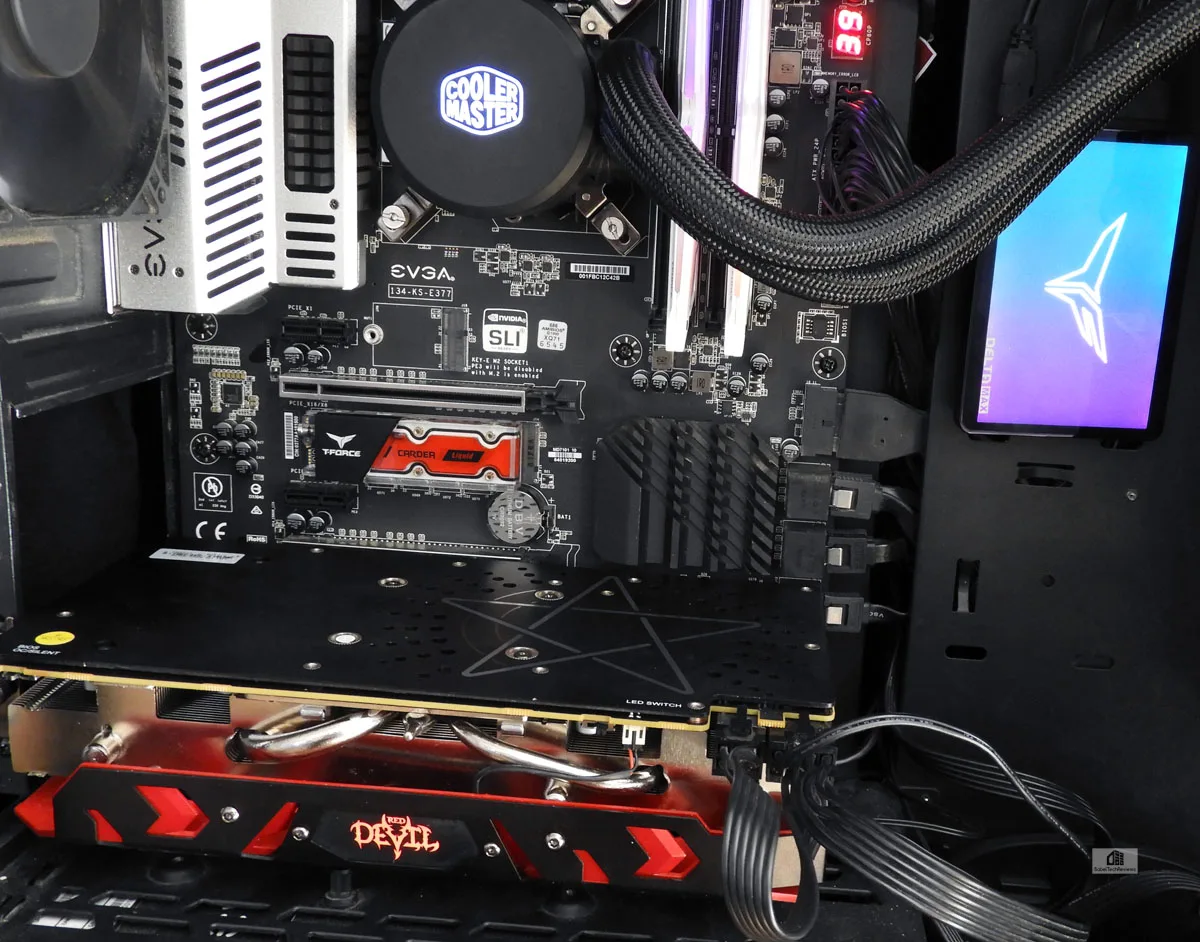 We think the CARDEA Liquid looks great in red to match the Red Devil RX 590.
Conclusion
As we posted in our review of the CARDEA Liquid SSD, the liquid is probably unnecessary and even potentially dangerous as a cooling solution. The liquid is mostly for cosmetic and visual impact. The CARDEA Liquid SSD will probably appeal to a gamer that wants a totally unique look for a M.2 PCIe SSD without compromising on performance.
We hope that Team Group will bring out a CARDEA Liquid II design using colored LEDs instead of colored liquid; a liquid that boils when the SSD gets warm; and with better cooling and lower conductivity safety features. However, we are reviewing the CK5 kit for someone who has already purchased a CARDEA Liquid SSD or is thinking of buying one.
Although filling and emptying the CARDEA Liquid SSD is a bit messy and time consuming, it is an acceptable way to change the SSD's color. We like that the colors can be mixed and customized to personalize any PC. But at $17 it's also a bit pricey since we doubt that anyone will change the colors very often.
We have taken a break play Half Life: Alyx, Valve's next installment in the Half Life universe developed as a flagship game exclusively for VR that released yesterday morning. We are using the Index Knuckles controllers for the best playing experience for use with the Vive Pro. After we complete Half Life: Alyx, we will bring BTR's readers a full performance review using FCAT-VR over a range of video cards, and it will also become our latest VR benchmark.
Afterward, we will continue our Indie RTX series with Bright Memory followed by a review of Kingston's entire new Canvas Plus SD/microSD lineup. Stay tuned.
Happy Gaming and Stay Safe!