The T-FORCE 128GB SPARK RGB USB 3.2 Flash(y) Drive Review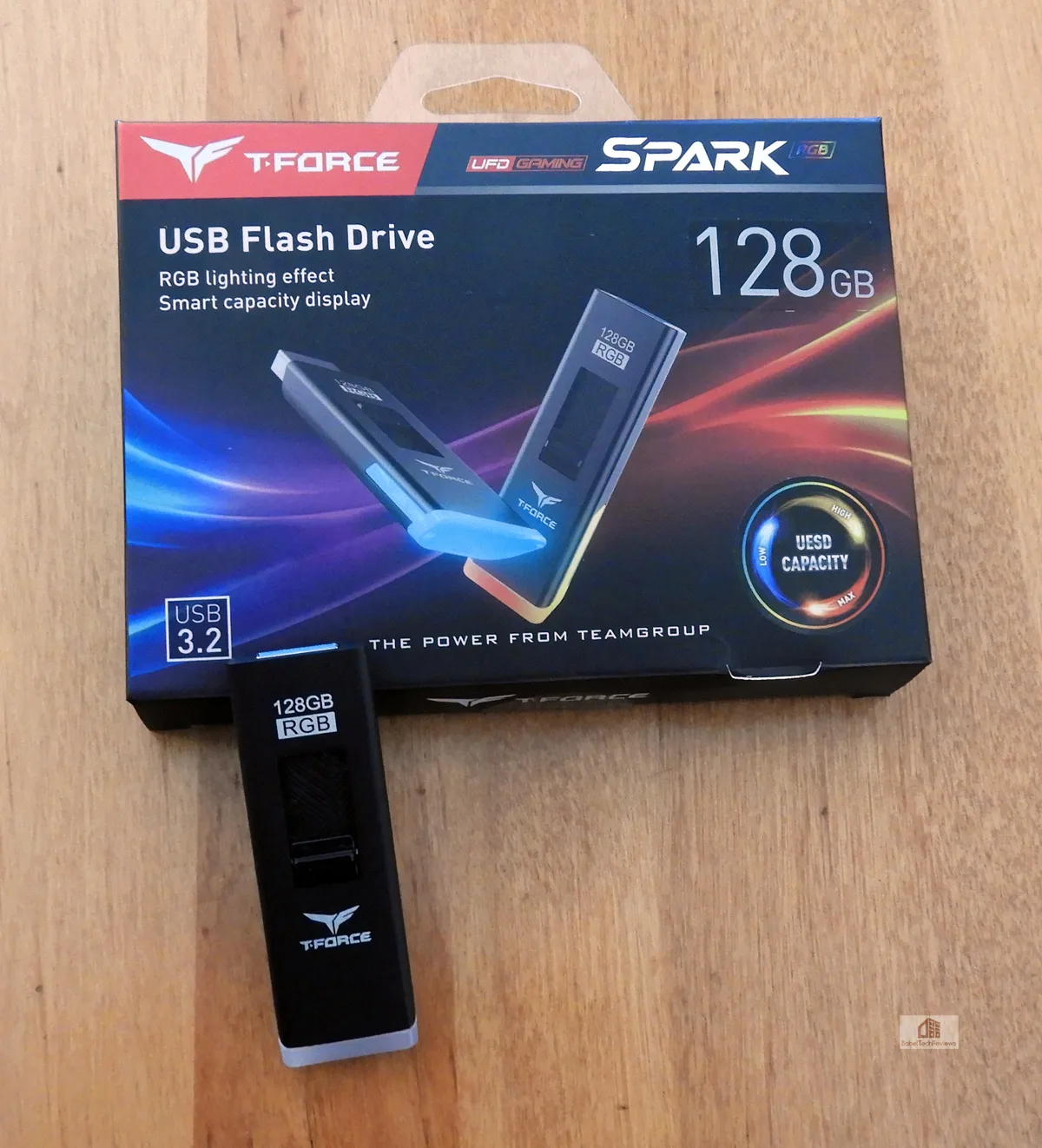 Transferring data files quickly between PCs is an important regular task, and we gladly accepted a 128GB SPARK RGB from Team Group for review. We have been using it daily for over a month. Flash drives are generally generic and rather boring, and it is good to see a flash drive that literally stands out from the rest. The 128GB SPARK RGB is a $27.99 flash drive that cycles colors from the LED element at its end to create ever-changing colors.

RGB is useless insofar as it doesn't add any performance. However, visually RGB makes a statement, and many computer enthusiasts like the style that the lighting adds, especially at night. The SPARK RGB flash drive's tip not only lights up and cycles colors, but it casts a glow which may enhance the overall ambiance.
The T-FORCE SPARK RGB is offered as a 128GB capacity flash drive only and it uses USB 3.2/3.1/3.0 Gen 1 speed as an upgrade over USB 3.0 with speeds to 10Gbps. Technically it may be correct, but it's Read speed is advertised by Team Group as 180MB/second and its Write as 90MB/second.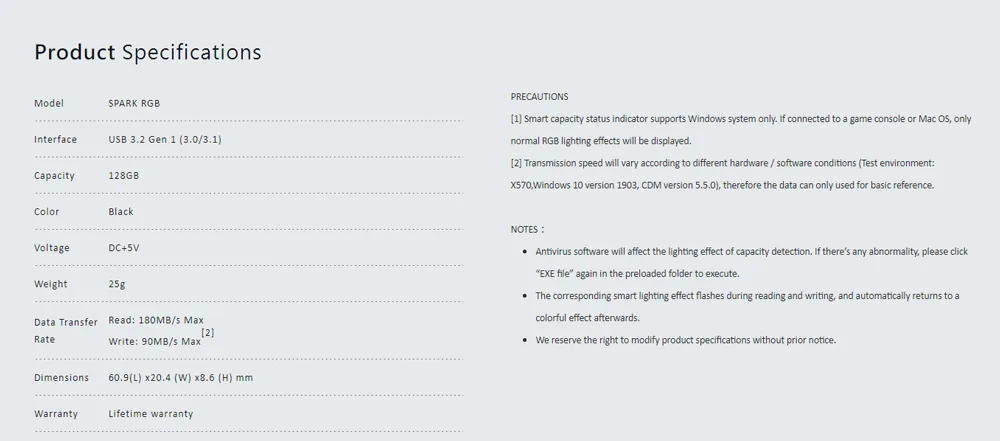 Here are the SPARK RGB flash drive features from Team Group's web site.
FEATURES
RGB soft ambient lighting effect
Smart capacity status indicator
Support multi-platform
Easy-Slide! Capless design
Taiwan Utility PATENT(number: M583608)
Chinese Utility PATENT(number: CN 209674876 U)
In addition, Team Group promises a lifetime warranty.
The SPARK RGB capacity indicator works for Windows so that at up to 80% capacity, the drive is supposed to flash blue. At about the 81% to 92% range the indicator flashes yellow, and above that, it changes to a flashing red. It changes colors without indicating capacity for Apple hardware and for game consoles. The RGB LEDs work together perfectly to show activity as soon as it is being used, and we enjoyed the mini-light show even with our boring old workstation notebook.
We are going to compare the performance of four drives to the 128GB SPARK RGB flash drive – two flash drives: a limited edition 64GB NVIDIA GeForce USB 3.0 flash drive, and a 64GB SanDisk Extreme Go USB 3.1 flash drive; an ultra fast Kingston React Plus memory card, and a 240GB Team Group PD400 portable USB 3.2 SSD.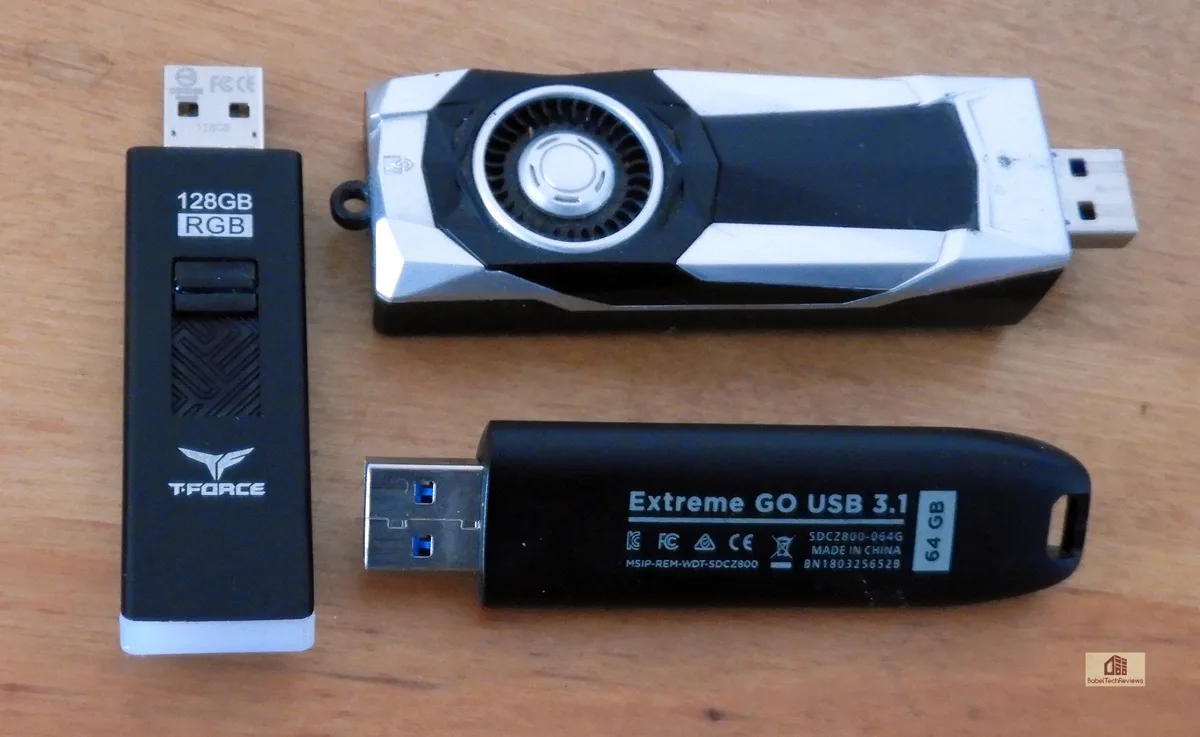 Let's take a closer look at the T-FORCE SPARK RGB 128GB flash drive.
Unboxing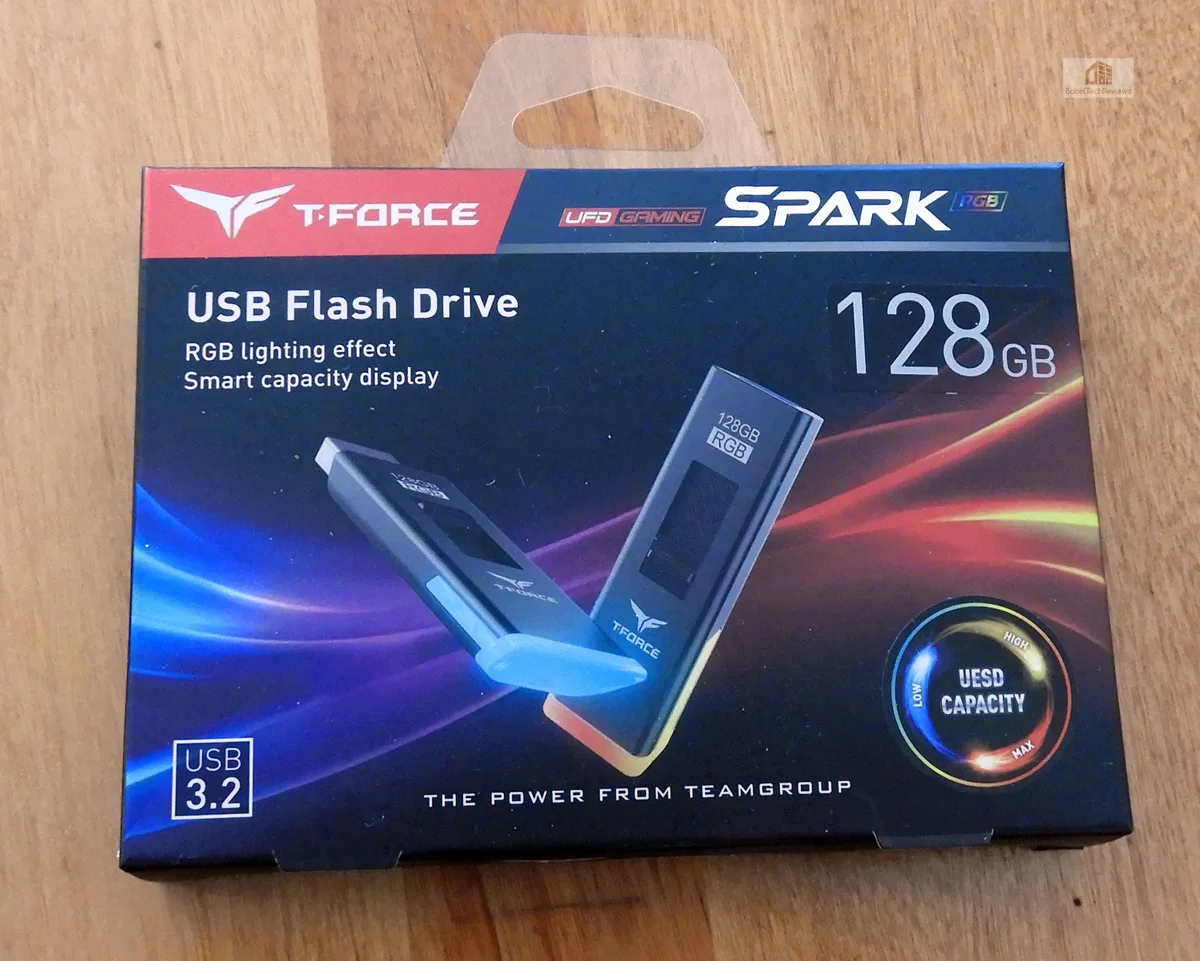 The T-FORCE SPARK RGB 128GB USB 3.2 flash drive comes in a box which advertises RGB lighting and its smart capacity display.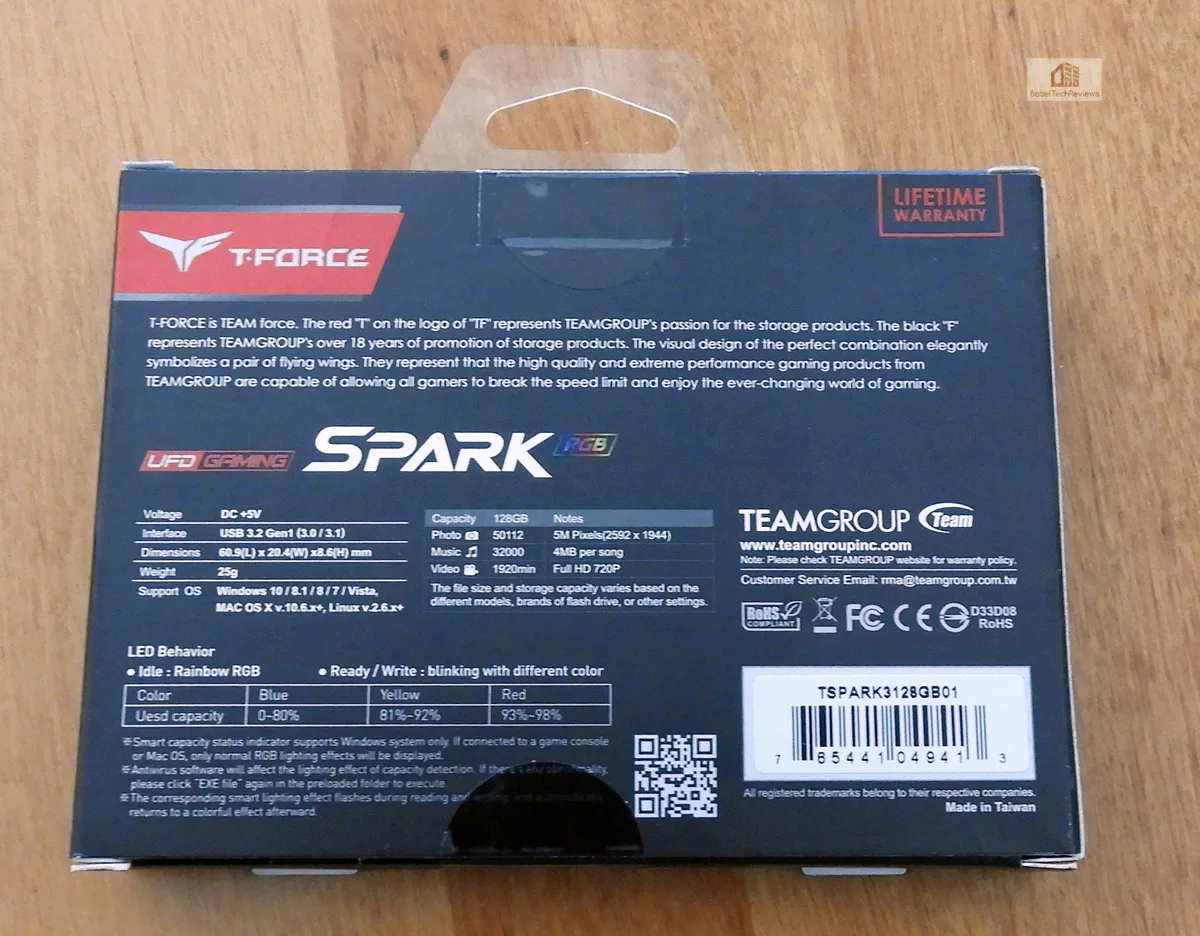 The other side of the box gives no specifications to indicate whether it is fast or not, but from Team Group's online specifications we expect around 180MBs/90MBs Read/Write speed. It has a life-time warranty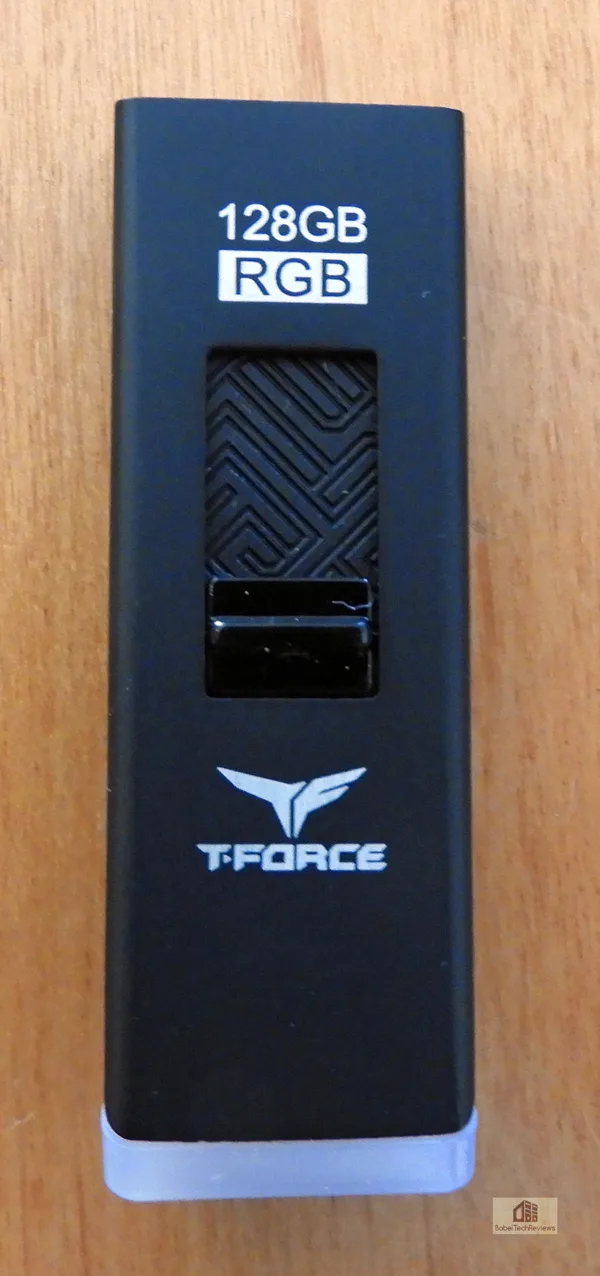 The USB connector slides out easily with a thumb push. Turning it over we see the end is the cap for an RGB lighting element.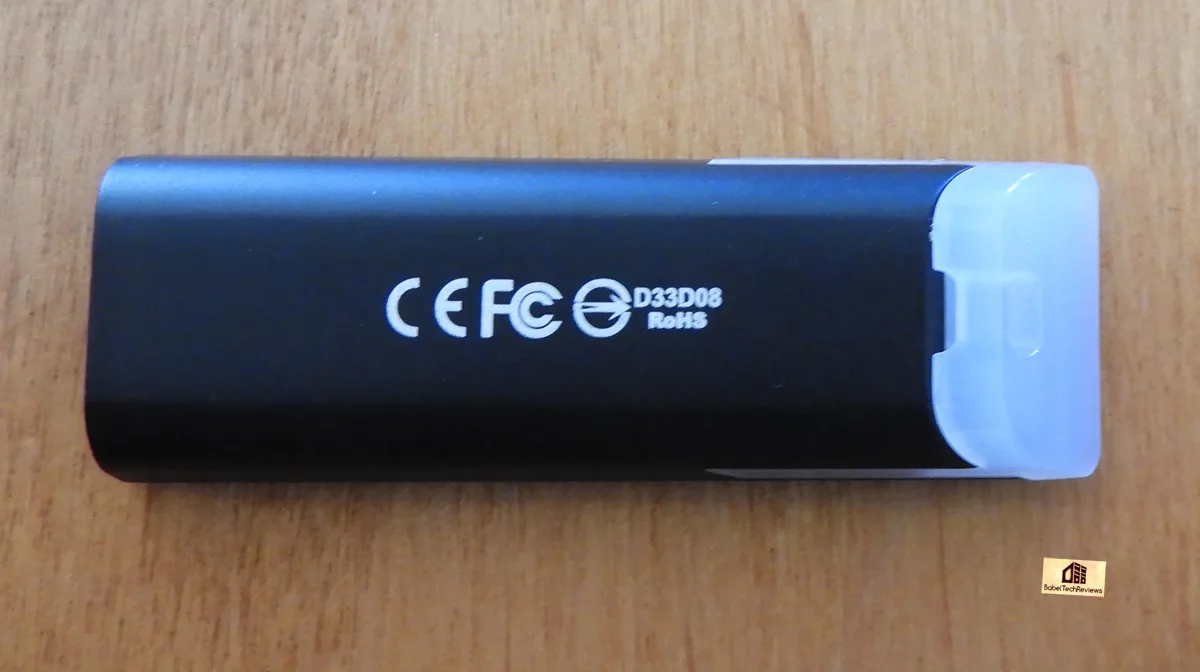 The T-FORCE SPARK 128GB flash drive looks good, its specifications look decent, and it looks great in operation.
Check out the test configuration next.
Test configuration
Intel Core i9-10900K (HyperThreading/Turbo boost On; stock clocks. Comet Lake DX11 CPU graphics)
EVGA Z490 FTW motherboard (Intel Z490 chipset, v1.3 BIOS, PCIe 3.0/3.1/3.2 specification, CrossFire/SLI 8x+8x), supplied by EVGA
DEEPCOOL Castle 360EX AIO 360mm liquid CPU cooler
T-FORCE DARK Z 32GB DDR4 (2x16GB, dual channel at 3600MHz), supplied by Team Group
RTX 2060 Super Founders Edition 8GB, stock clocks, on loan from NVIDIA
Team Group MP331TB NVMe2 PCIe SSD as C: drive
T-FORCE 128GB SPARK RGB Flash Drive, supplied by Team Group
1.92TB San Disk enterprise class SATA III SSD (storage)
2TB Micron 1100 SATA III (storage)
1TB Team Group GX2 SATA III SSD (storage)
500GB T-FORCE Vulcan SSD, supplied by Team Group (storage)
1TB T-FORCE GX2 SSD( storage)
ANTEC HCG1000 Extreme, 1000W gold power supply unit
BenQ EW3270U 32 Inch 4K HDR FreeSync Monitor
SAMSUNG LC27G75TQSNXZA 27? 2560 x 1440 240Hz 1ms G-Sync Monitor
Phanteks Eclipse P400 ATX mid-tower case w/140mm Noctua exhaust fan
Test Configuration – Software
Nvidia's GeForce 451.67 WHQL drivers. High Quality, prefer maximum performance, single display
Windows 10 64-bit Pro edition, version 2004, latest updates
All benchmarking programs are updated to their latest versions
AIDA64
Sandra 2020
CrystalDiskMark
Benchmarking the SPARK RGB 128GB Flash Drive
To test the SPARK RGB flash drive's speeds we used three disk benchmarking tools: CrystalDiskMark, Sandra 2020, and AIDA64.
CrystalDiskMark 7.0.0
CrystalDiskMark is a HDD benchmark drive utility that enables one to measure sequential and random read/write speeds. Here are some key features.
Measure sequential reads/writes speed
Measure random 512KB, 4KB, 4KB (Queue Depth=32) reads/writes speed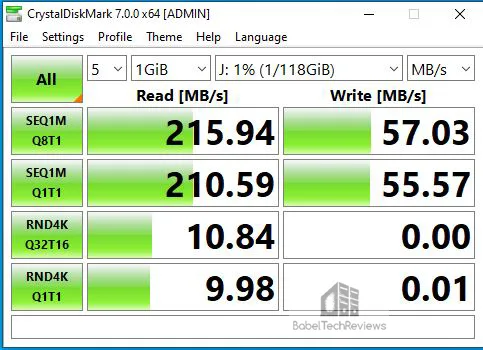 Here are all our drives compared.

The Read speeds exceed Team Group's specifications, but Write speeds are only 57MB/s compared to the 90MB/s it should be. Next up is AIDA64.
AIDA64 is the successor to Everest and it is an important industry tool for benchmarkers. AIDA64's benchmark code methods are written in Assembly language, and they are well-optimized. We use the Engineer's version of AIDA64 courtesy of FinalWire. AIDA64 is free to try and use for 30 days.
We run the AIDA64 Disk Benchmark and the four individual Read tests for each drive. These tests are very detailed, and there are a lot of customization options available so we run the default tests.
The Linear Read test measure the sequential performance by reading or writing all sectors without skipping any. It's a linear view of the drives overall performance from its beginning to end.
The Random Read test measures the random performance by reading variable-sized data blocks at random locations on the surface of the drive and they are combination of both speed and access times as its position changes before each new operation.
The Buffered Read test will measure the drive caching.
The Access time tests are designed to measure the data access performance by reading 0.5 KB data blocks at random drive locations.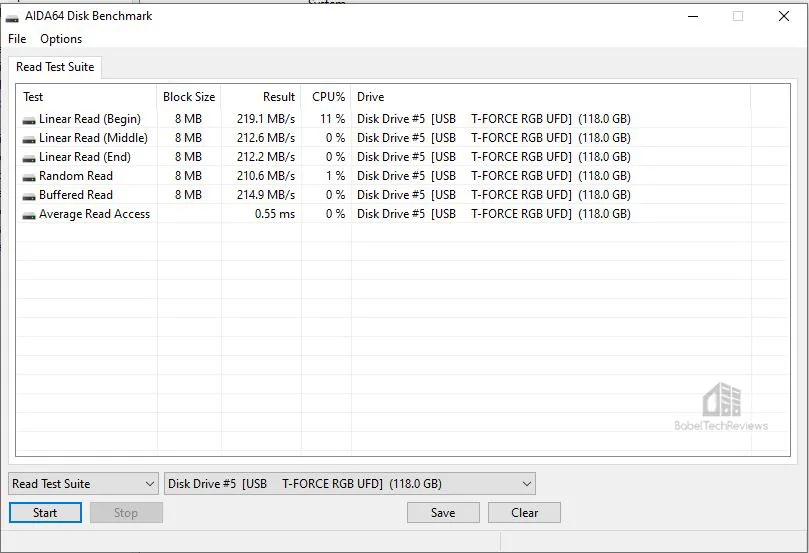 We also ran the Linear and the Random Write tests on the SPARK RGB flash drive – but not on the other drives – because they destroy the data on the disk being tested. The overall Read Test Suite and the Linear and Random Write tests results are summarized below.

Again, AIDA64 confirms that the SPARK RGB drive exceeds Team Group's published Read specification, but Write is slow.
Let's look at our last synthetic test, Sandra 2020.
To see exactly where drive performance results differ, there is no better tool than SiSoft's Sandra 2020. SiSoftware Sandra (the System ANalyser, Diagnostic and Reporting Assistant) is an information & diagnostic utility in one complete package.
There are several versions of Sandra 2020, including a free version of Sandra Lite that anyone can download and use. It is highly recommended! SiSoft's Sandra 2020 R8t is the very latest version, and we use the full engineer suite courtesy of SiSoft. Here are the Sandra disk benchmarking tests in a single chart summarizing the performance results of of our five external drives

Although the SPARK RGB drive exceeds Team Group's Read specification, it again fails to meet its Write specs. If you need to move multiple very large files often, consider getting a portable USB 3.2 SSD as a real time saver. If not, a flash drive is generally fine for transferring smaller files, and surprisingly a fast SD card with a USB 3.2 adapter is also suitable.
Let's head to our conclusion.
Conclusion
We enjoyed benchmarking the SPARK RGB flash drive performance against several other drives since we need to quickly move files between our four PC daily. For really large files, we use a portable SSD, but for smaller files, it is very convenient to use a flash drive. And even our ancient Dell workstation notebook benefits from a little RGB accent as we transfer files.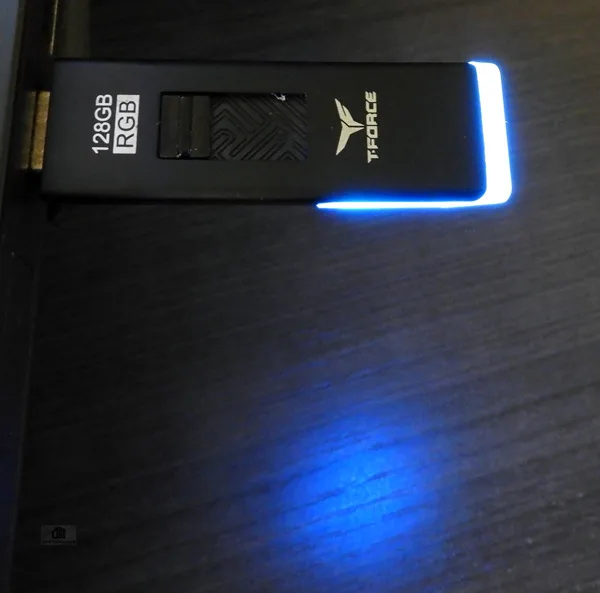 T-FORCE SPARK RGB 128GB Flash Drive
Pros
The T-FORCE SPARK RGB flash drive is unique. It features a RGB unit that not only shows activity, but it also gives a capacity warning when it is nearly full.
It has reasonably fast Read speeds, is competitively priced, and it comes with a lifetime Team Group warranty.
Cons
It does not meet Team Group's Write specification
The Verdict
The SPARK RGB flash drive is an average USB 3.x drive with good read speeds, but with slow Write speeds that do not meet Team Group's specifications. However the RGB lighting is unique as far as we know, and if you like the addition of RGB lighting to a flash drive, we recommend it. The SPARK RGB 128GB flash drive is priced at $27.99 at Newegg which puts it right in the middle of competing 128GB flash drives.
Next up, we are working on a 50 game platform comparison – the i9-10900K at stock and at 5.1GHz versus the i7-8700K at 4.8GHz. Later this month, we will also compare our 27? Samsung LC27G75TQSNXZA 2560 x 1440 240Hz 1ms monitor to our other displays to see if a "gaming display" is necessary for fluid game play.
Happy Gaming!