GeForce Driver 452.06 Released to Support World of Warcraft: Shadowlands Ray Traced Shadows and MS: Flight Simulator
Today's new GeForce 452.06 driver delivers day-one optimizations and enhancements for Microsoft Flight Simulator and World of Warcraft: Shadowlands which will soon feature the addition of DXR ray-traced shadows to the beta server. This driver also offers the best experience for GeForce gamers for Total War Saga: TROY, Tony Hawk's Pro Skater 1+2, and many other new games.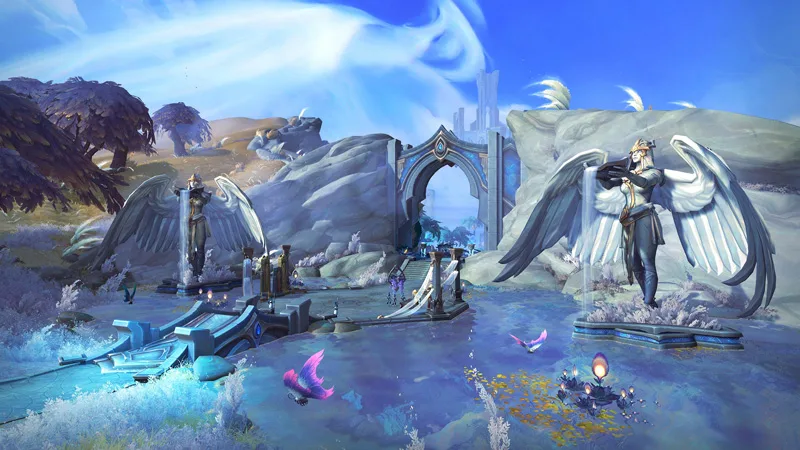 World of Warcraft is one of the longest running MMORPGs of all time, and with the addition of ray-traced shadows, World of Warcraft beta players are getting a free image quality upgrade. The growing momentum and support for ray tracing is undeniable, and now ray tracing is being tested in World of Warcraft – one of the longest running MMORPG of all time.
The G-SYNC Compatible program expands the G-SYNC ecosystem and aims to bring consistency and educate consumers on which displays will provide a good entry-level variable refresh rate (VRR) experience.
In addition, this driver brings G-SYNC compatibility to eith newly-validated monitors: the Acer XB273U GX, VG272 LV, XV272 LV, CP5271U V, X34 GS models along with the Asus PG329, IO Data GC252UXm, and Lenovo Y25-25 displays, giving gamers even more choice when searching for a great gaming display.
Under the G-SYNC Compatible program, NVIDIA works with monitor OEMs to validate the experience on monitors that support the AdaptiveSync protocol. Those that pass are designated as "G-SYNC Compatible". With today's additions, the list now totals 110. For a full listing of G-SYNC Compatible displays, please click here.
Stay Tuned for an Exclusive 452.06 Driver Performance Analysis!
BTR's newest reviewer, Rodrigo Gonzales and benchmarker extraordinaire will post a very detailed comparison of the new 452.06 driver compared with 442.59 and 451.85. There will also be a new NVIDIA Studio Driver tomorrow released tomorrow for Creators.
For more information on the new GeForce driver, see NVIDIA's blog. To download this driver, use GeForce Experience, or start here.
Happy Gaming!