This reviewer is a hardcore desktop gamer who moved from playing arcade games in the early 1980s to becoming a dedicated PC gamer with the Atari 800XL in 1983. We transitioned to early Windows desktop gaming with a keyboard+mouse and have never considered console gaming – until now.
When NVIDIA sent us a $149 base model SHIELD TV for review nearly two weeks ago, we jumped at the chance. Although we will look at steaming movies and video, we will focus primarily on game streaming from our PC using GeForce Experience and from the GeForce NOW cloud to our 43″ 4K LG smart TV even though we have never been a couch gamer and are still somewhat uncomfortable using a controller for anything but VR gaming.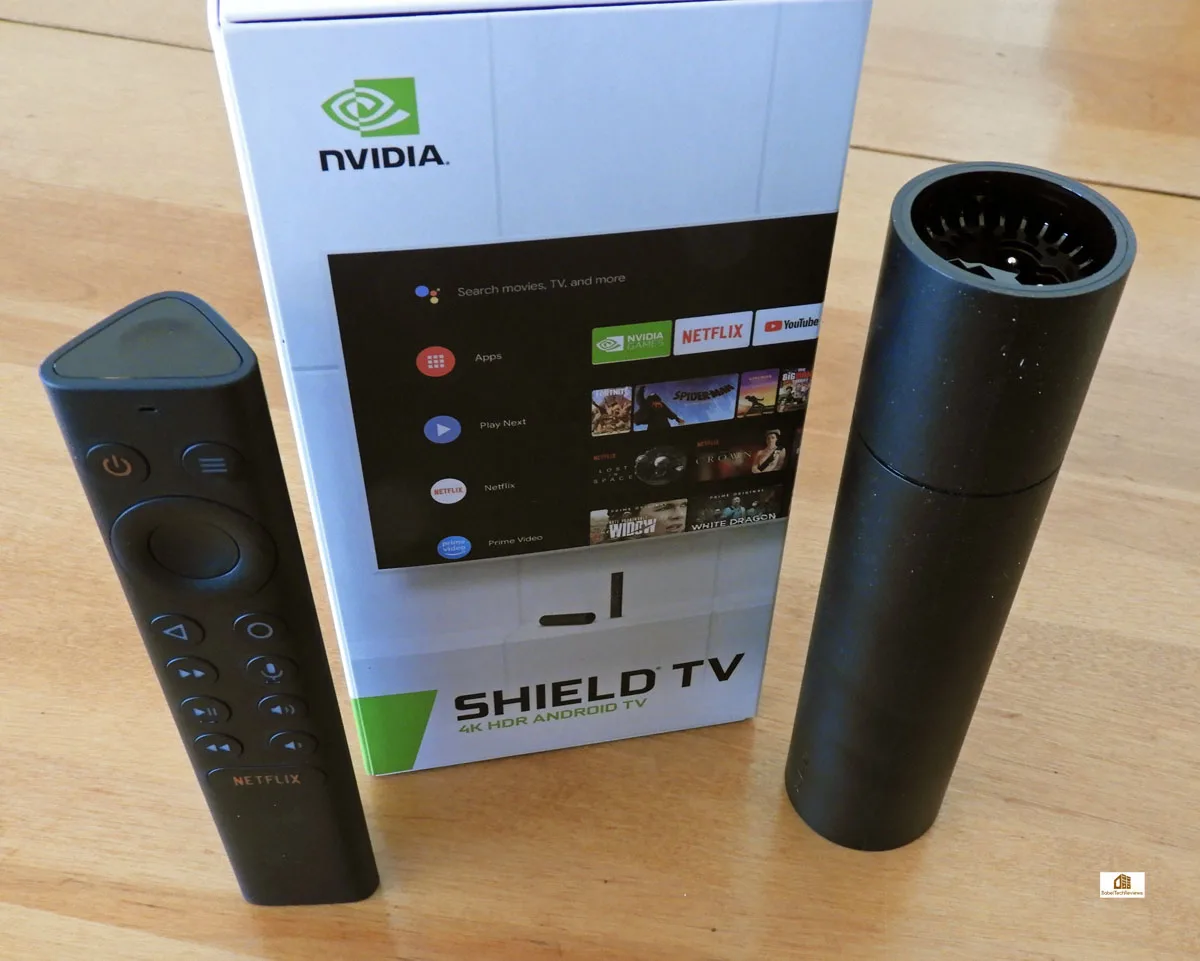 I could not believe the amount of free (ad supported) content including thousands of movies and the flexibility there exists to customize everything. Plus there are so many options for on-demand movies, sports, and other programs. No wonder that so many cable users have cut their cord and moved to streaming.
Our own semi-resident regular guest blogger, Andy Marken, discusses this regularly in his weekly Content Insider posted every Saturday on BTR. In 2017 alone, an average U.S. consumer spent 238 minutes (3h 58min) daily watching TV according to the Wikipedia:
"According to a Nielsen report, United States adults are watching five hours and four minutes of television per day on average (35.5 h/week, slightly more than 77 days per year). Older people watch more (less than 50 h/week), younger people less (more than 20 h/week), both with a seasonal pattern that peaks in the winter months."
According to Andy:
"First, we think "watching TV" is a phrase that has lost it's meaning. People who watch do it on a big screen, computer, tablet and phone. Remember it's all digital.
Gen X and Alpha were born with screens and they watch tons of it. Big thing will be the short shorts like TikTok and Quibi. Long form the availability is almost endless. Personally we don't know when people find time to work and sleep who are into the OTT content because they're watching up to 5 hours a day when they aren't binging.
IMO there will end up being 3-5 major services and 10-15 secondary services (SVOD) and 5-10 ad supported services (two will be YouTube TV and Facebook).
Bottom line: Subscription and ad-supported OTT services are steadily replacing traditional content delivery and there's no end to the opportunity to create connections with a global audience.
OTT is not traditional TV. It thrives upon consumer choice, often random interaction, the convenience of viewing when, where, and on what device a consumer wants to use. It thrives upon its own ability to iterate to respond to the changing conditions of the new TV environment.
More than 46% of America's 128 million broadband households take at least one major streaming service ­Netflix, Amazon, or Hulu ­according The Diffusion Group. Another 8% take a virtual pay-TV service like YouTube TV or DirecTV Now. A Deloitte study found the average streaming household subscribes to three services, and that doesn't include ad-supported services."
Some Americans watch their screens up to ten hours a day. No wonder we are so unhealthy, but that is for another discussion. It's clear that streaming media is important to millions and SHIELD TV is a premium set top box that can completely replace cable as well as stream games.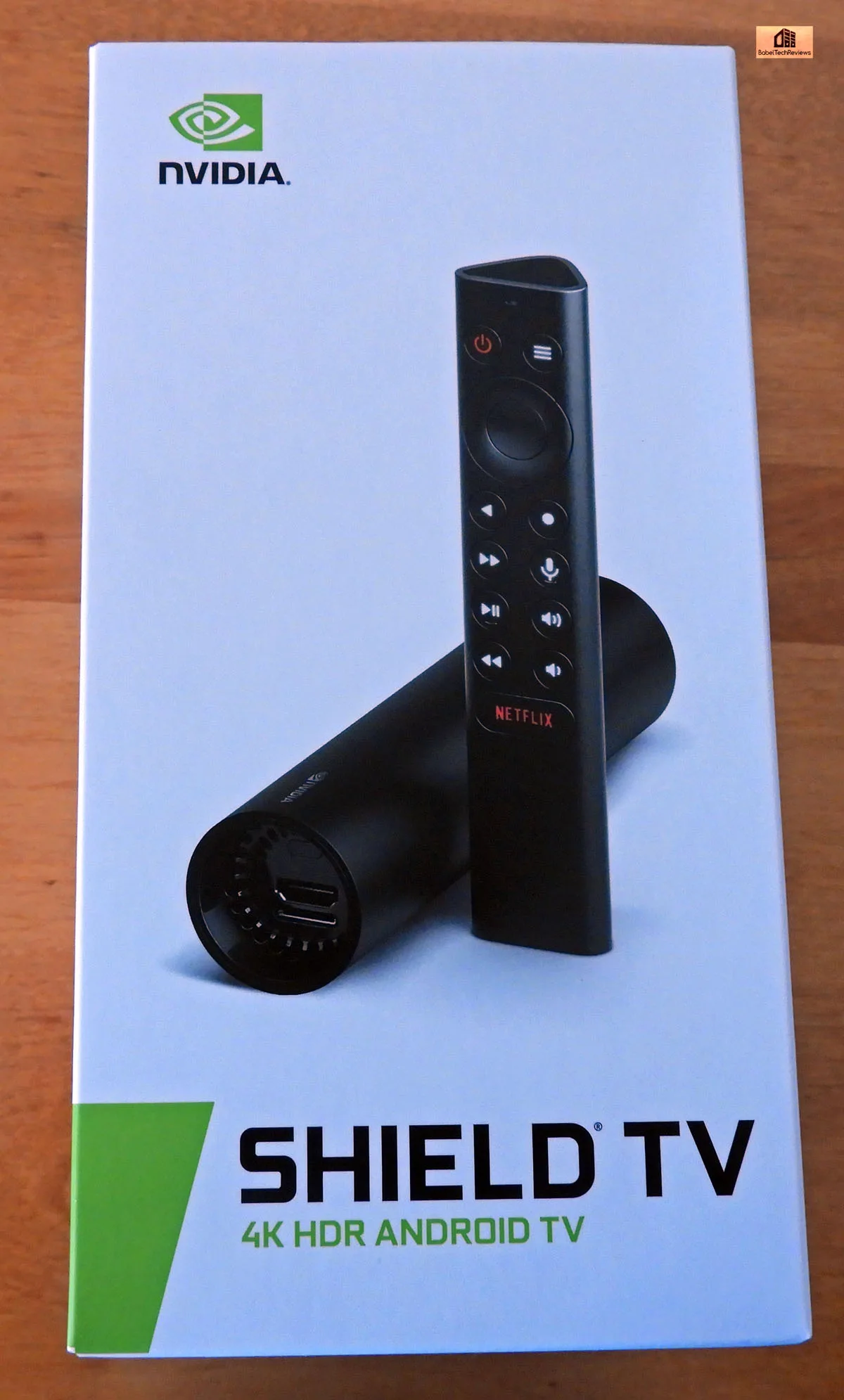 In a nutshell, NVIDIA describes the new redesigned SHIELD TV as: "Faster. Smarter. An all-new design. Now with Dolby Vision and Dolby Atmos. Improved image quality with AI. The most 4K HDR entertainment in a streaming media player. And the Google Assistant built in."
Unboxing
The SHIELD TV comes with an easy set-up guide that takes only a few seconds.
Plug in the Ethernet cable into one one end (or pick Wi-Fi if you have a really fast and capable router), and plug in your TV into the other using a HDMI 2.0 cable. Very strangely, HDMI 2.1 is unsupported.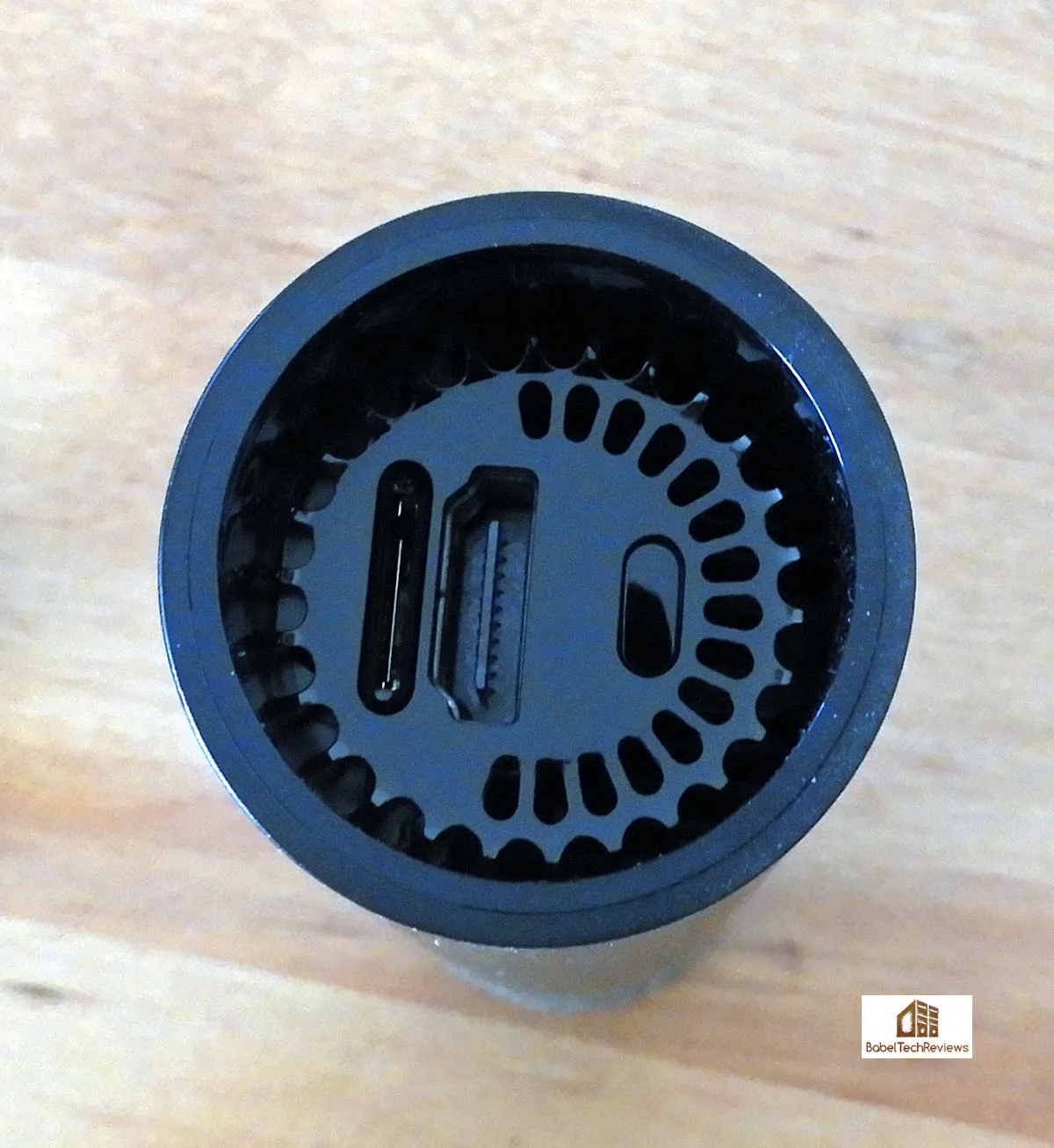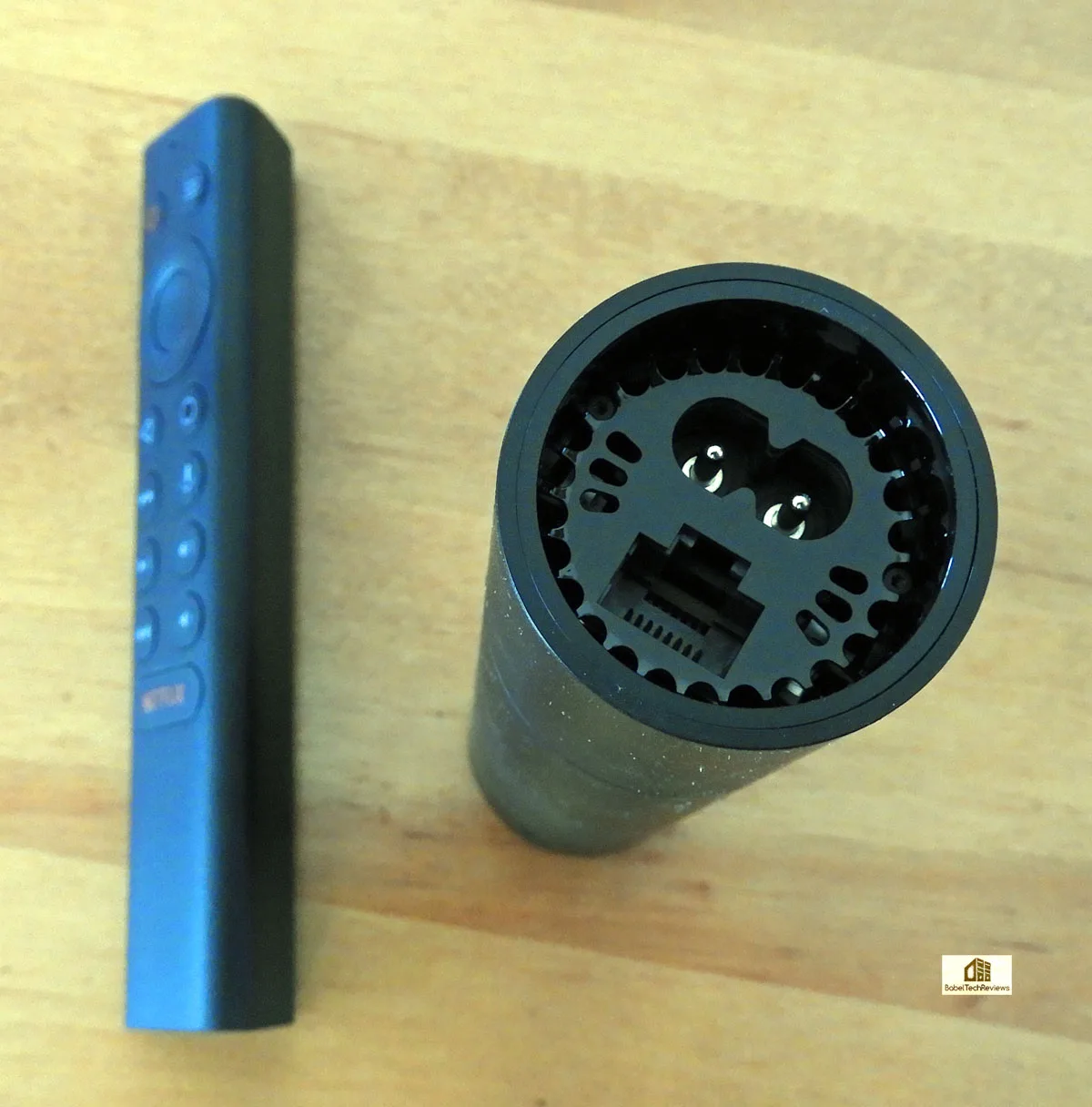 The new SHIELD TV is a small black approximately 6-1/2″ x 1.5″ tubular device that is meant to hide behind your TV set, and the newly redesigned remote is triangular in shape which means it won't roll away from you when you set it down. We really like the remote as it is backlit at the press of any button and easy to read in a dark home theater.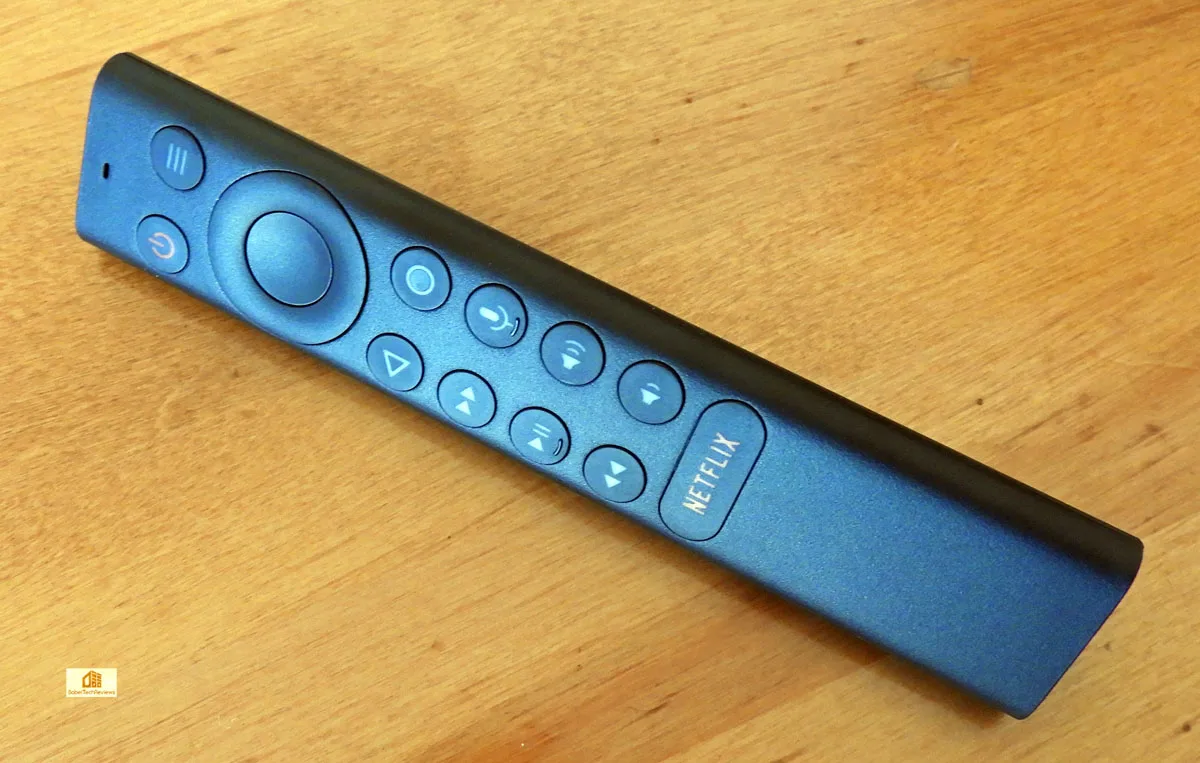 Besides the button which turns on AI upscaling and a power switch at the top which also will turn on your TV, there is a main button like a trackpad that is used for navigating apps and entering passwords. It's Bluetooth based and has an IR blaster to control your TV.
A go-back button conveniently returns to the main menu, there is a microphone button to talk to Google Assistant or to Alexa, fast forward and fast rewind as well as pause, and volume controls. The only thing that we don't care for is that the big Netflix button is a bit too easy to press.
If you misplace your remote, as long as the TV is on, you can press a button on the SHIELD to activate a series of beeps. You can also use your SHIELD controller to ask Google Assistant to ask SHIELD to locate your remote. As long as your Google Home is signed into the same Google account and located in the same network as your SHIELD, just say: "OK Google, start the remote locator on SHIELD". If not, your remote will always be in the last place you look and in a remote place (pun intended).
The newly redesigned SHIELD TV remote will be available separately for purchase at $29.99 early next year for owners of existing SHIELD TV units that wish to upgrade only their remote.
The SHIELD TV comes in a small box that advertises its features which include the Tegra X1+ processor which is 25% faster than its 2017 predecessor.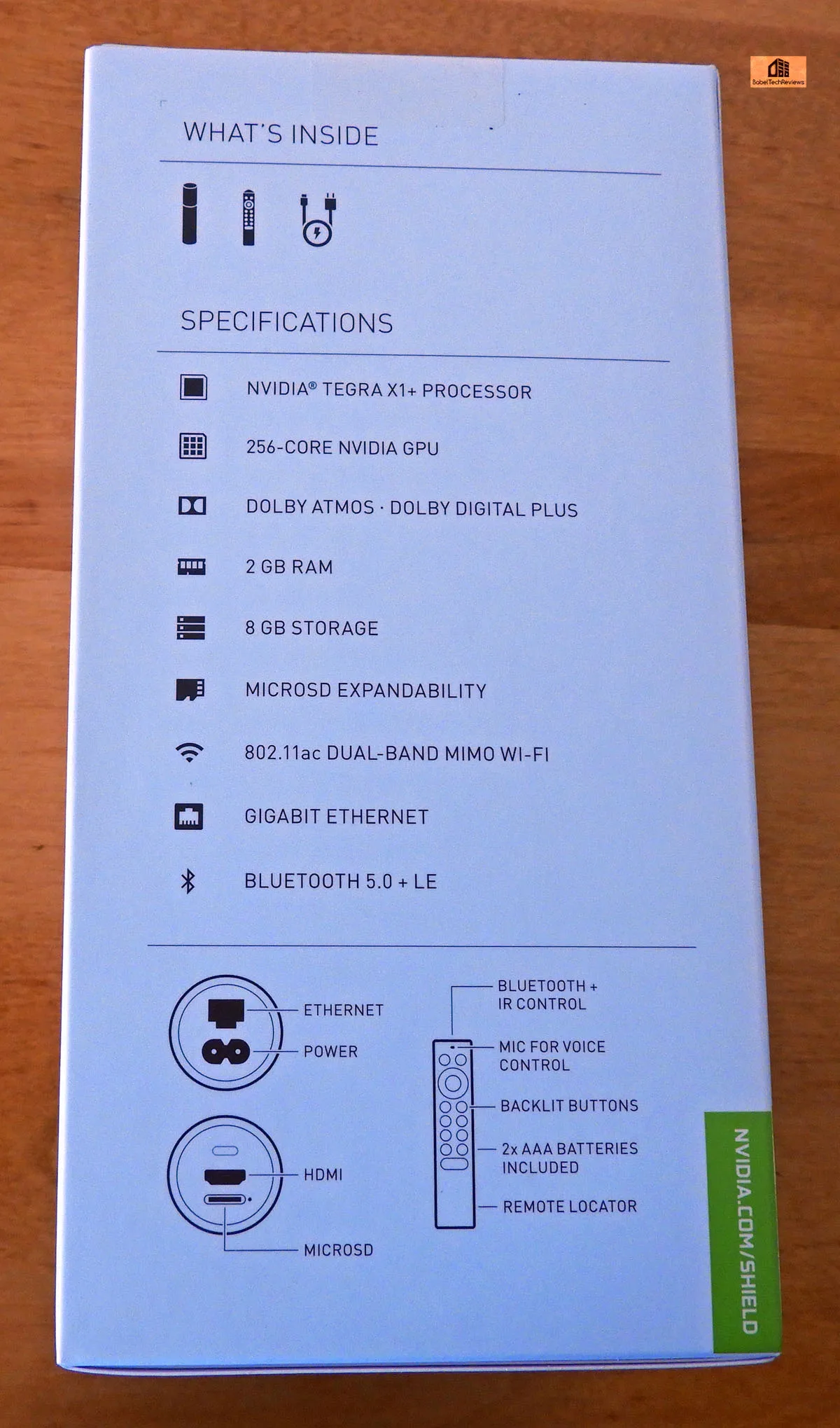 Here is what comes with it.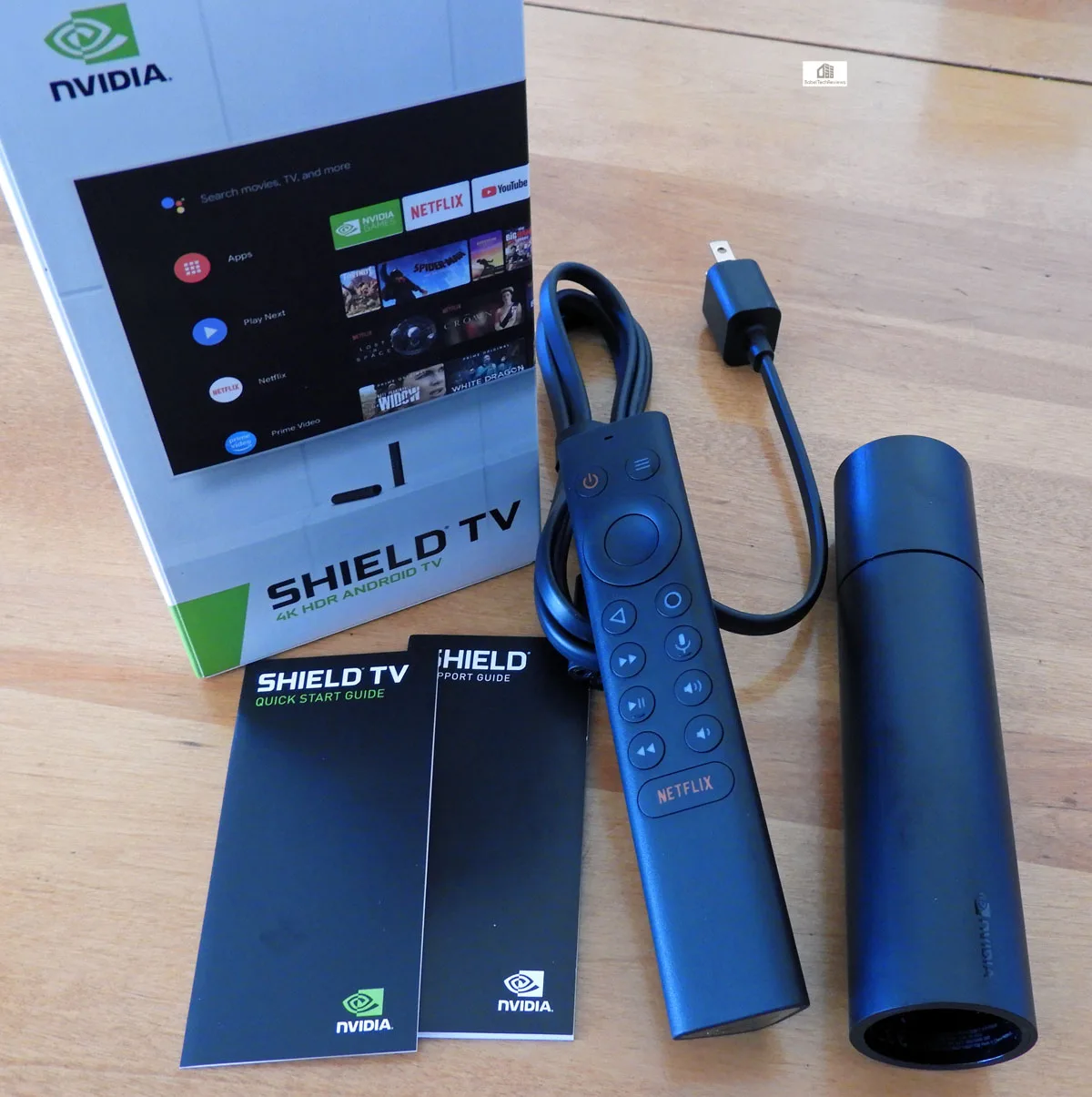 Please note there is no HDMI cable included for connecting to your TV. SHIELD TV integrates with Google and you must have or create a Google account to use all of its features. If you prefer, you can use Amazon's Alexa instead of Google's Assistant for voice commands.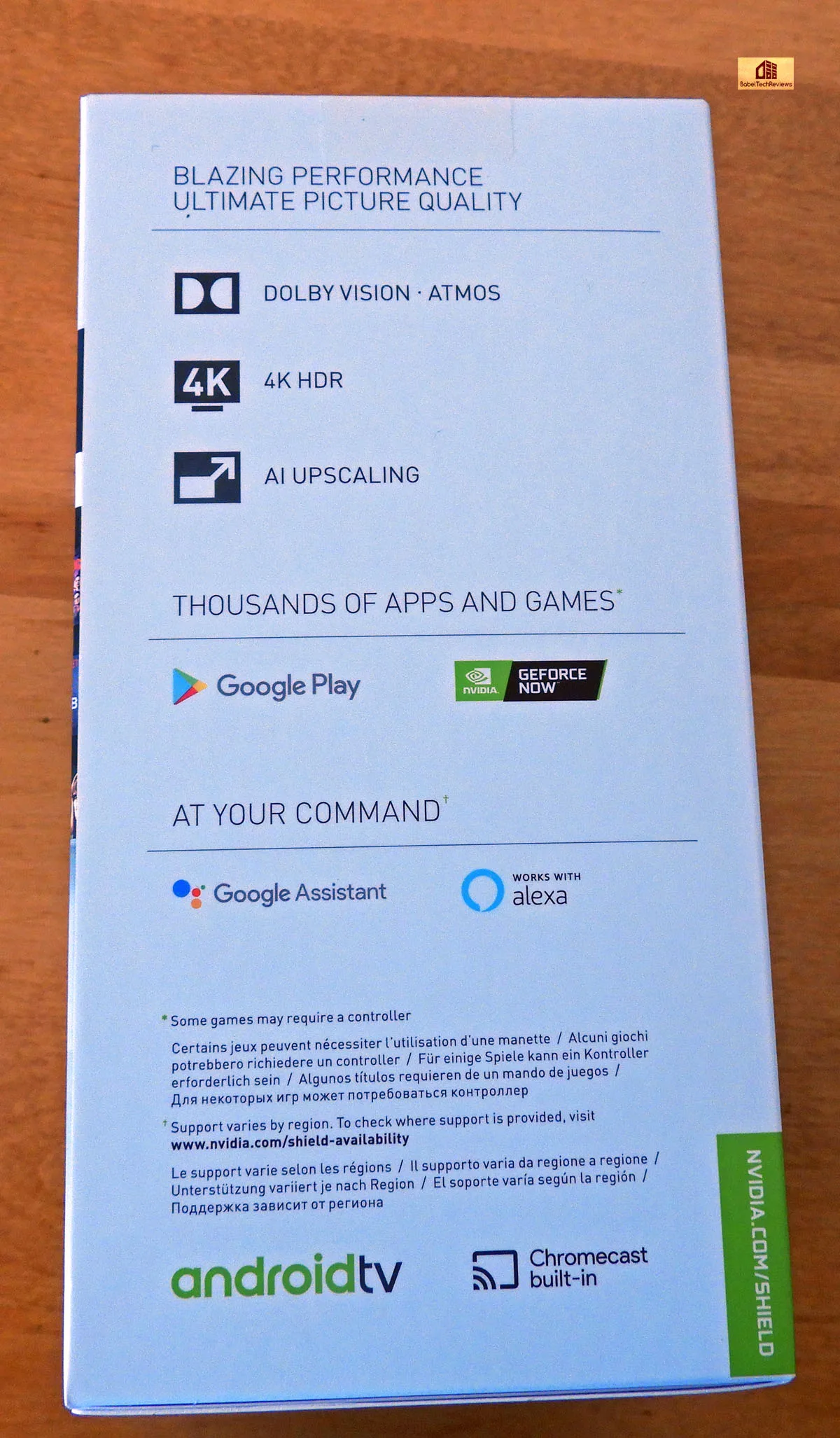 Game controllers are not included. Gamers can buy a console grade SHIELD controller from the NVIDIA store for an additional $60 or from many other retailers, and you can also use it to navigate the menus. It offers an easily rechargeable 60-hour battery life, dual vibration feedback, and a built-in headphone jack for private listening.
Pressing the SHIELD emblem brings up the Google Assistant so you can use voice for search and control. But if you prefer, you can use an Xbox controller or a PS4 controller which also connect via Bluetooth for gaming.
There are no USB ports on the basic ($149) SHIELD TV for wired connections like for a keyboard and mouse or for a hard drive; the Pro version ($199) has two and it also supports a Plex server and with more memory. The Pro features 3GB of RAM and 16GB of internal storage compared to the regular SHIELD TV's 2GB of RAM and 8GB of internal storage. However, it is easy to add a microSD card to the base SHIELD TV to expand its storage capacity.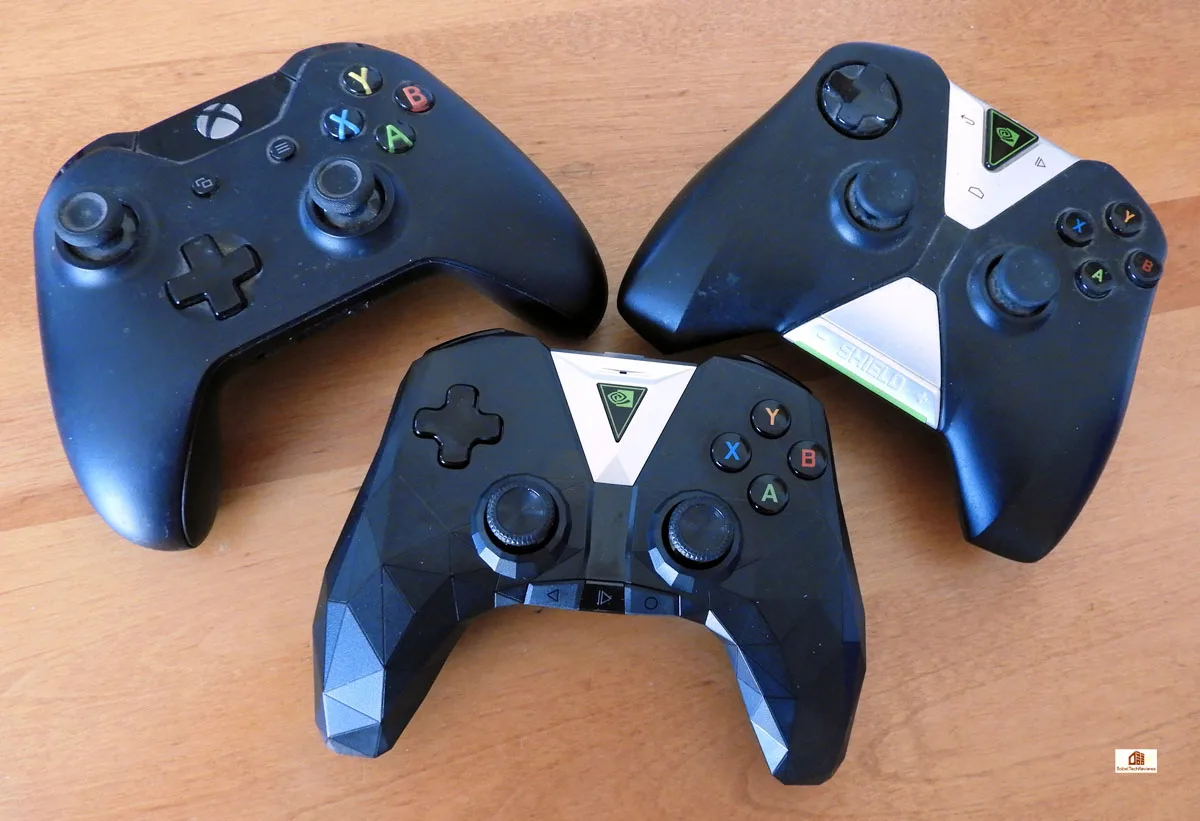 We had no issue pairing our SHIELD 2015 controller, but a known bug prevented us from updating its firmware. So NVIDIA sent us a pair of the latest model which is a bit lighter, and slimmer so it fits our hand better. And a pair of controllers means we can play co-op games together with a friend on the big screen. You can connect up to four SHIELD controllers to a single SHIELD device. However, the headset jack is only supported on a single controller at one time.
Set-up
After connecting the SHIELD TV to the Internet via Ethernet cable, and then to the TV via a HDMI cable, we first had to agree to NVIDIA's terms of service and then update the firmware and the software. This is an easy task and it only took a few minutes to complete on our 25Mbps DSL Internet connection.
Setting up SHIELD TV should be familiar to anyone that uses Android it but might prove a bit daunting to those who are not. Fortunately, there are many Youtube videos that explain the set up in detail. We still have an old SHIELD tablet from 2014 that we use when we are gaming on the go, and it saves us frustration while waiting for a doctor's appointment, for example. Although it is stuck on Android 7.0, it is set up almost identically to SHIELD TV which is currently Android 10.1 and it also pairs perfectly with the SHIELD controllers.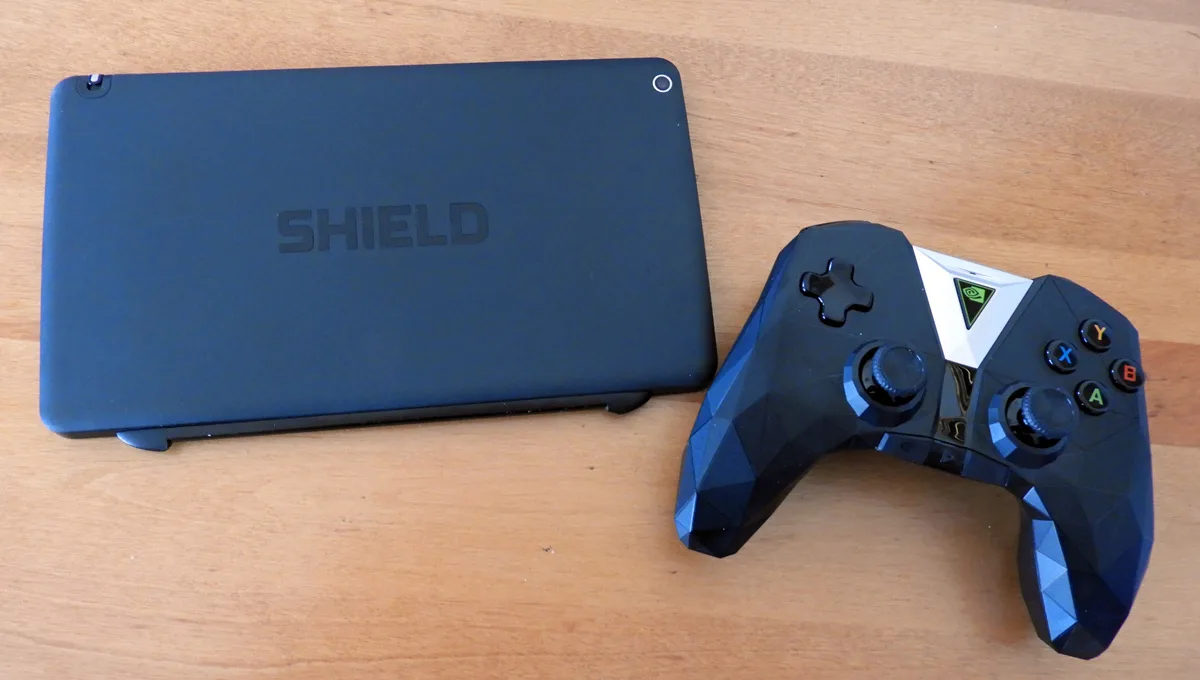 After you update the firmware and software, it's time to explore what is available.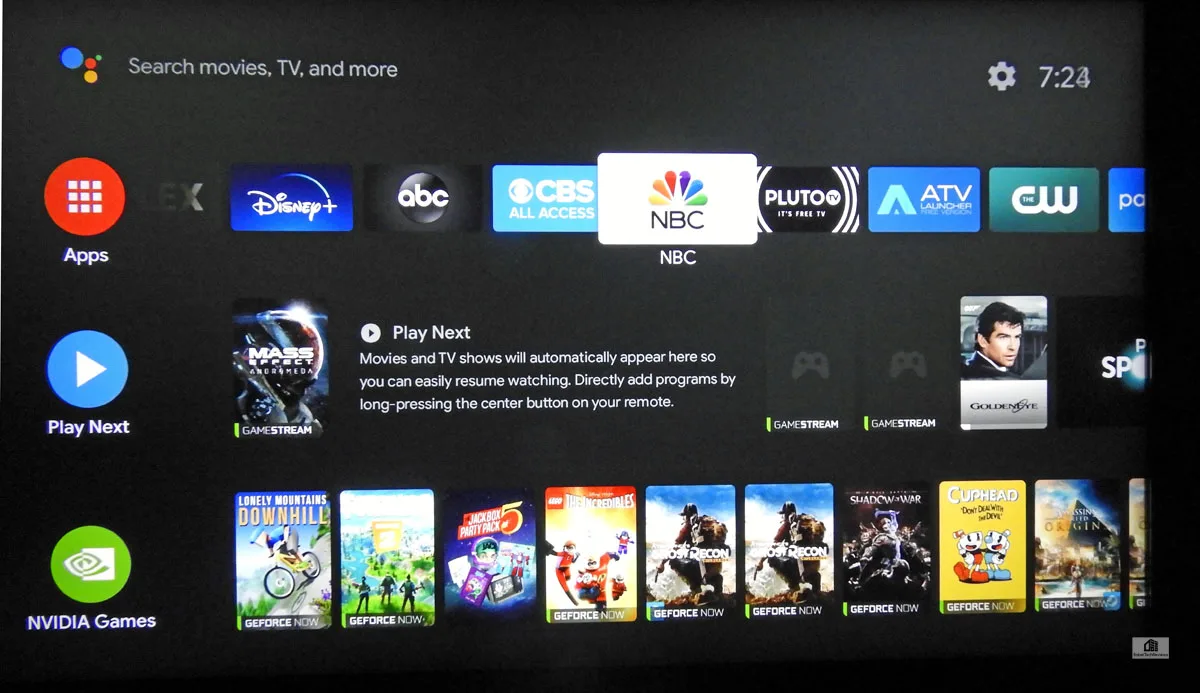 Any apps that aren't preinstalled on SHIELD TV are mostly available on the Google Play Store. We added the major networks, CW, and the free ad-supported movie app Pluto TV. Pandora and Spotify were also added plus a few other apps like Sony's Crackle that we have used to watch movies on our notebook. You can also use Google Cast to stream media from your smartphone, tablet, or PC using compatible apps.

To add Crackle, all we had to do was press the mic button and say, "Crackle App" and the Google Assistant took us to the Google Play Store where we downloaded it and then pressed 'install'. In a few seconds, we were able to open the app and when we tried to stream a movie, it asked us for a login code or to create a new account.
Crackle then gave us a 6-digit code on SHIELD TV. All we had to do was head back to our notebook on SonyCrackle.com where we were logged in and click on "Activate a Device". We next entered that 6-digit code on our notebook and we were instantly able to play Crackle movies on SHIELD TV. It couldn't be any quicker or easier.
If an app isn't readily available on SHIELD TV's Google Play Store – and there were several that we wanted – then it is possible to sideload apps using the file manager X-plore which is compatible with SHIELD and also available on Google Play.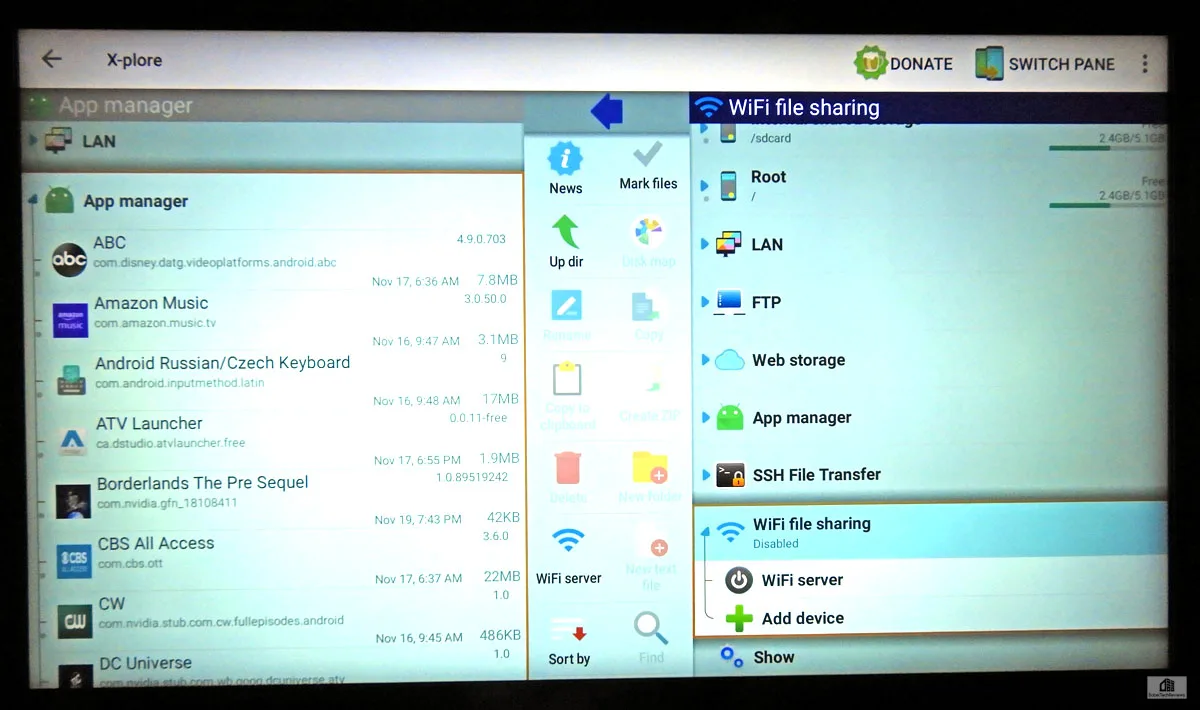 In X-plore you can add your Google Drive by going to "Web storage" and then "add server". It is not really intuitive, but for accessing Google Drive it is a good solution. We used X-plore to sideload apps that we otherwise could not get directly from Google Play on SHIELD TV. If you like, you can even access your PC desktop – in fact, when we streamed Origin games using the GeForce Experience, we had to launch it from our PC's desktop which became accessible on our LG UHD TV.
Customization is a breeze using SHIELD TV and you can hide what you don't use and bring your most used apps to the fore. We signed up for the 7-day free trial of Disney+ and caught up with all the available Marvel and Star Wars movies that we hadn't seen. Clicking on Disney+ brings up their menu.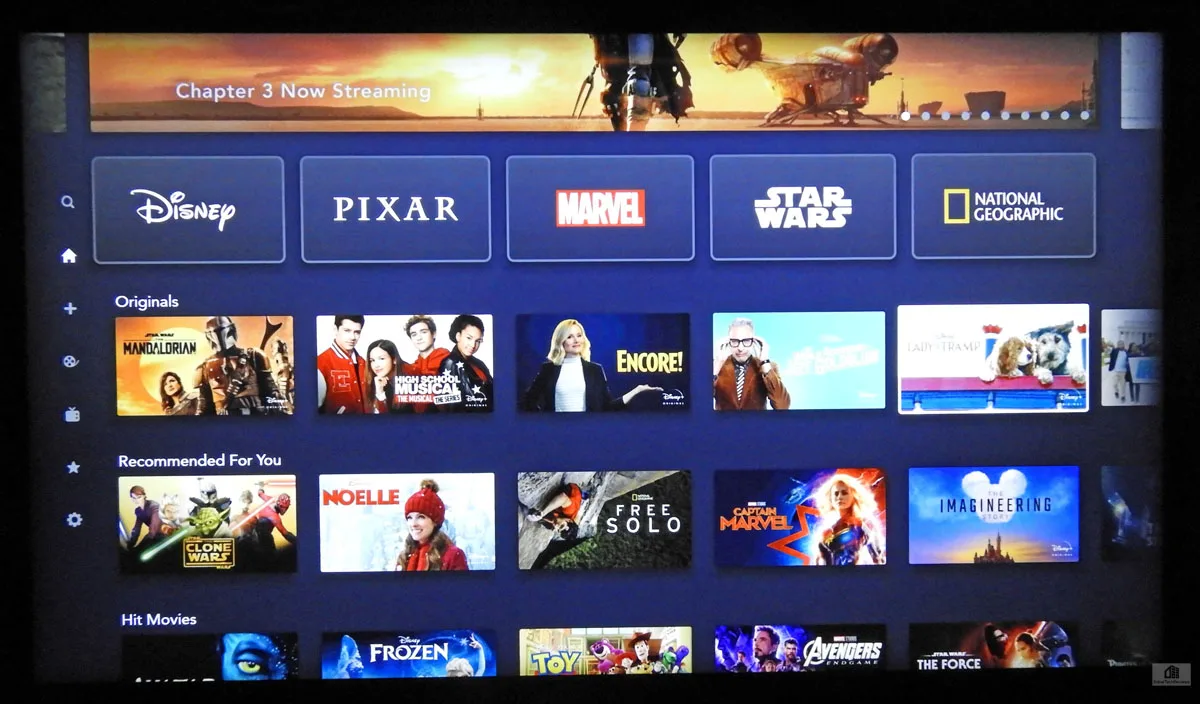 What we especially love about SHIELD TV is how rapidly it switches from one channel, movie, or app to another. Using our LG Smart TV, it always takes at least 3 or 4 times longer just to go from one app or even one Internet channel to another – SHIELD TV is nearly instantaneous! In addition, the LG TV's apps are mostly locked down and they have no real room for customization like SHIELD TV does. My friends that use Amazon's Fire TV Stick streaming device say the same thing about its lack of customization (without hacking the device), and they tend to hate Amazon banner ads. In contrast, SHIELD TV has no ads.
AI Upscaling
We were interested to check out NVIDIA's claim of improved visuals with AI upscaling. Using the latest NVIDIA Tegra X1+ processor, SHIELD TV upscales HD video to 4K using the power of artificial intelligence by training neural networks on NVIDIA's supercomputer. This is supposed to deliver crisper and clearer video enhanced to 4K resolution in real-time.
We weren't terribly impressed with the AI upscaling overall. It only works at 30 FPS or below and at 720P/1080P – for movies, not gaming – and at its best, it doesn't match true native 4K content although there is some noticeable improvement in sharpness.
Some movies work better with AI upscaling than others, and a few are either too grainy with aggressive high detail upscaling, or there is some visual artifacting. Fortunately, you can hold the settings button down and the screen will split in the middle so you can compare, and if High detail doesn't work, you can also try Medium detail. AI upscaling works with the movie in motion or paused.
AI upscaling appears to work really well with subtitles, text, and with animated features, and we could see some clear improvement as with Disney's "Lady and the Tramp" where the line drawings are sharper. In the capture below, you can see the left half of the screen is not upscaled but the right side uses AI processing. It's a camera capture so it is not ideal as it looks better in motion, but you can open it in a separate window and see what you think for yourself.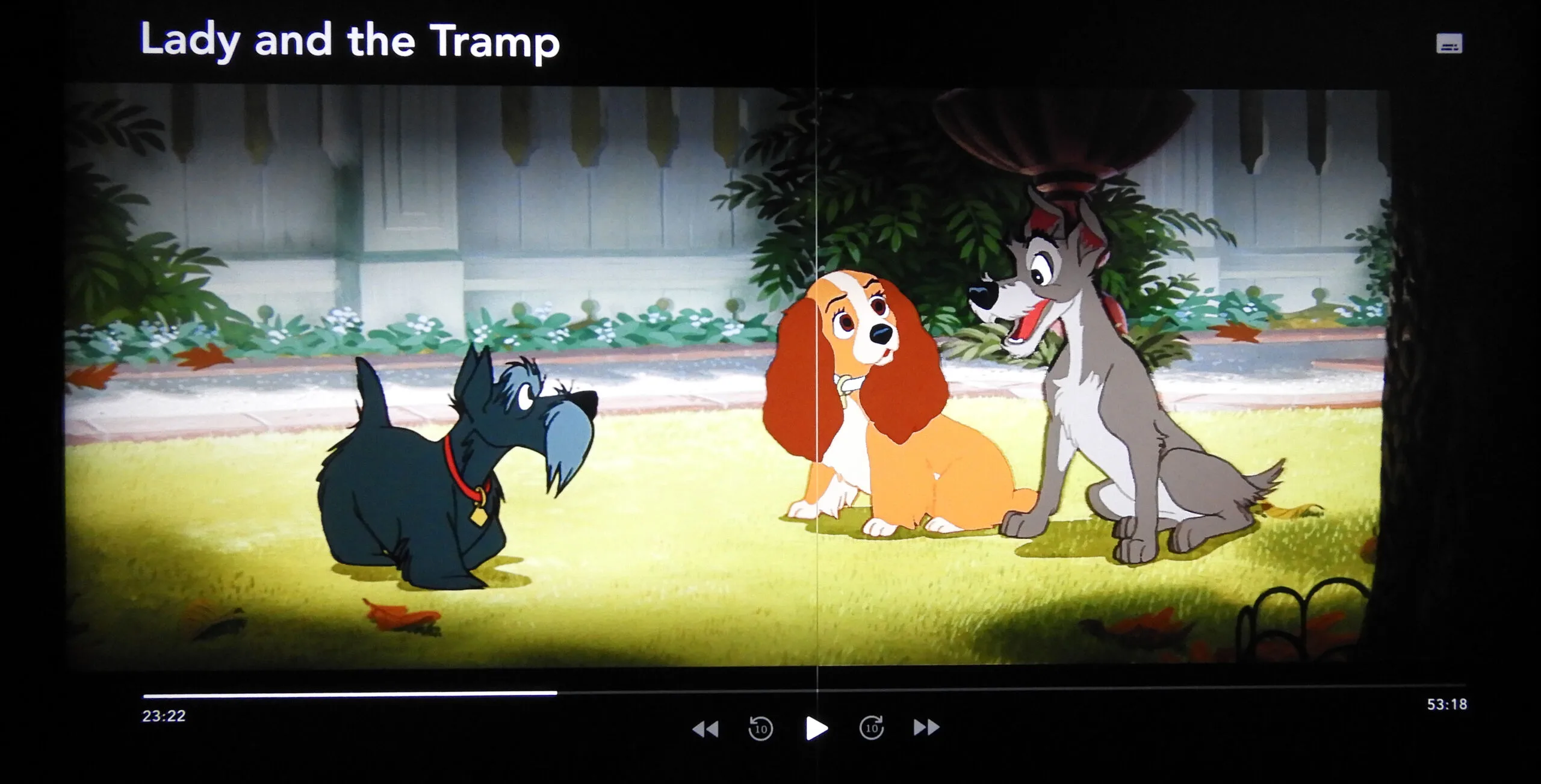 Dolby Vision and Dolby Atmos
The SHIELD TV comes with both Dolby Vision and Dolby Atmos decode support. Dolby Vision offers ultra-vivid imaging with improved brightness, contrast, color, and detail. Our LG TV is an older 2017 model with HDR effects, but it does not meet the 1000 nits peak brightness requirements. And Dolby Atmos is a step up over surround sound, but since we don't have a separate sound system connected via Bluetooth to our TV, we cannot comment on it as the LG built-in stereo speakers are nothing special.
Unfortunately, for those with a HDR capable TV, HDR 10 is not supported for Youtube video. This does not affect us, but it is something to be aware of for Youtube Premium subscribers.
It is important to note that there are many other streamers available such as Roku and FireStick that cost much less than SHIELD TV, but none of them can double as a console killer with the ability to stream games. If you only watch movies, SHIELD TV might be overkill. There is also Apple TV in a similar price range to SHIELD TV, but it doesn't have complex PC streaming gaming capability or even the ability to expand its memory.
Overall, we really enjoyed our nearly two weeks of movie watching, including setting up and customizing the SHIELD TV, and using it for video is a total pleasure. However, we have never been much of a movie watcher since we prefer to spend our time gaming, and we were eager to set up the GeForce NOW game streaming service from NVIDIA's cloud in 1080P on our LG TV. We also looked forward to game streaming from our PC for the first time using GeForce Experience in 4K by using our home network.
GAME STREAMING
We have a large library of games – we benchmark more than 46 games for BTR – and gaming is important to us. SHIELD TV is a set-top box replacement and it is basically what the One in "Xbox One" claims to be. SHIELD TV is an all-in-one platform to access live streaming, media, and game streaming from a single place to your big screen TV.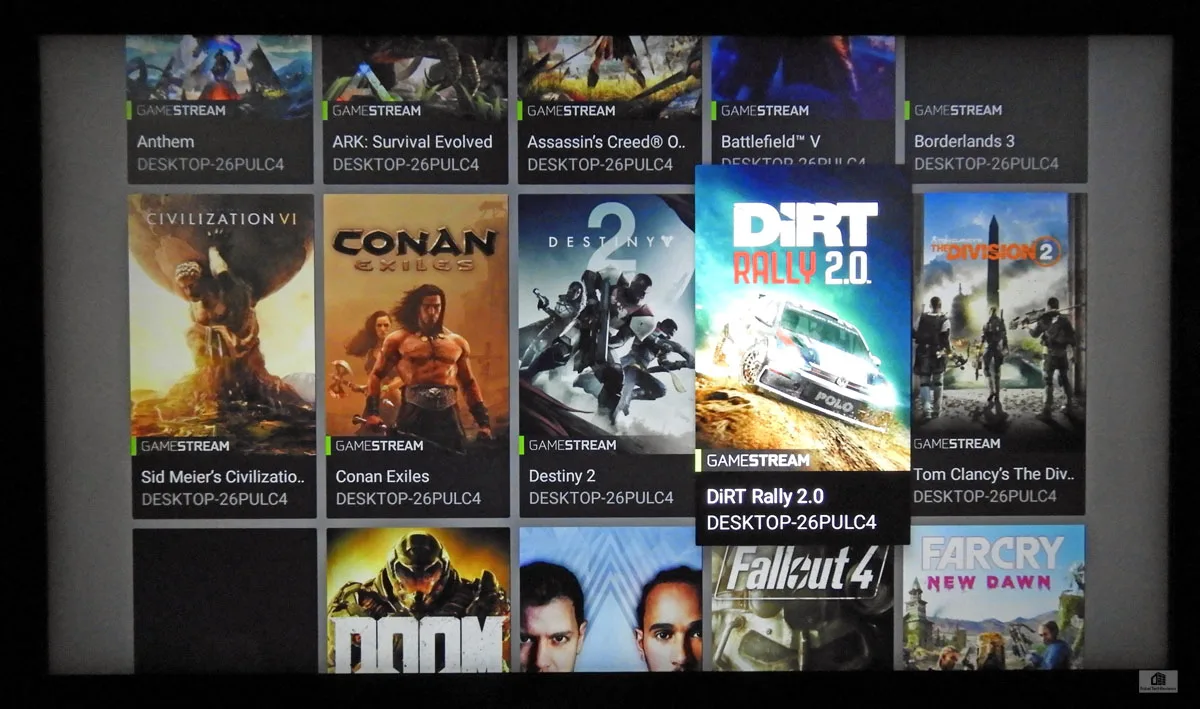 When it comes to gaming, the SHIELD TV media streamer is unique. It offers more gaming capabilities than any other media streamer. In addition to streaming the latest PC games from the cloud using the currently free GeForce NOW beta, it is easy to download Android games to play or to stream from a gamer's primary GeForce PC in 4K HDR using NVIDIA's GameStream. Some of the Android games are also offered free on SHIELD TV.
We prefer to play our games using our RTX 2080 Ti and our desktop 34″ ACER Predator 3440×1440 GSYNC display or by using our 28″ Monoprice 4K display, but neither is HDR capable. Being able to stream Mass Effect Andromeda in Ultra 4K HDR to our HDR-enabled LG TV was a new experience and it all happens with very little perceived latency. All you have to do is set-up GeForce Experience on your desktop PC, enable GameStreaming, and then open NVIDIA games and GameStream on SHIELD TV.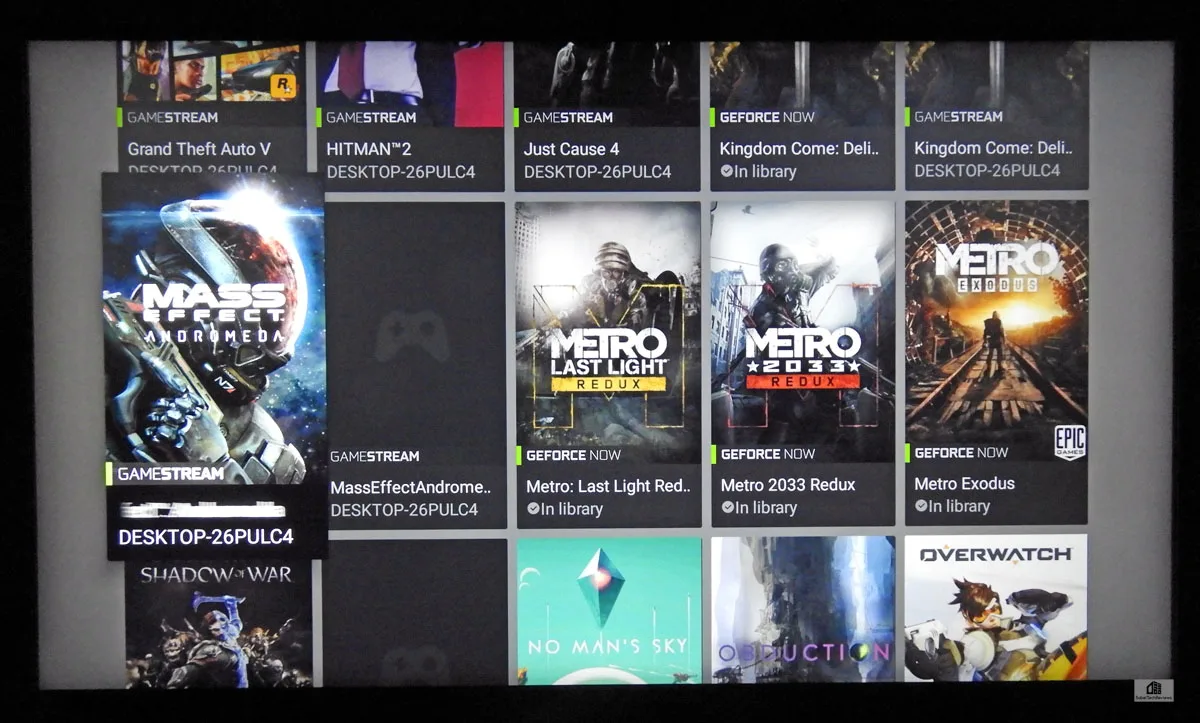 In my case, SHIELD TV is connected by Ethernet cable to the Internet, and to my 4K LG TV by HDMI. GeForce Experience is the medium using my home network Wi-Fi between my desktop PC and SHIELD TV. SHIELD TV allows the transfer to happen almost instantaneously by compressing what is needed to fit into the available bandwidth and uses its software to emulate the PC's desktop.
One may think of it as a key where a service is built into the PC program and SHIELD TV/GeForce Experience runs as a server. So the controller inputs, display, etc. all happen faster because they are on the same network in the same vicinity. There is a tiny bit of lag, but it is very tolerable; and some of it may also be attributed to the LG TV's slower response time than a desktop monitor.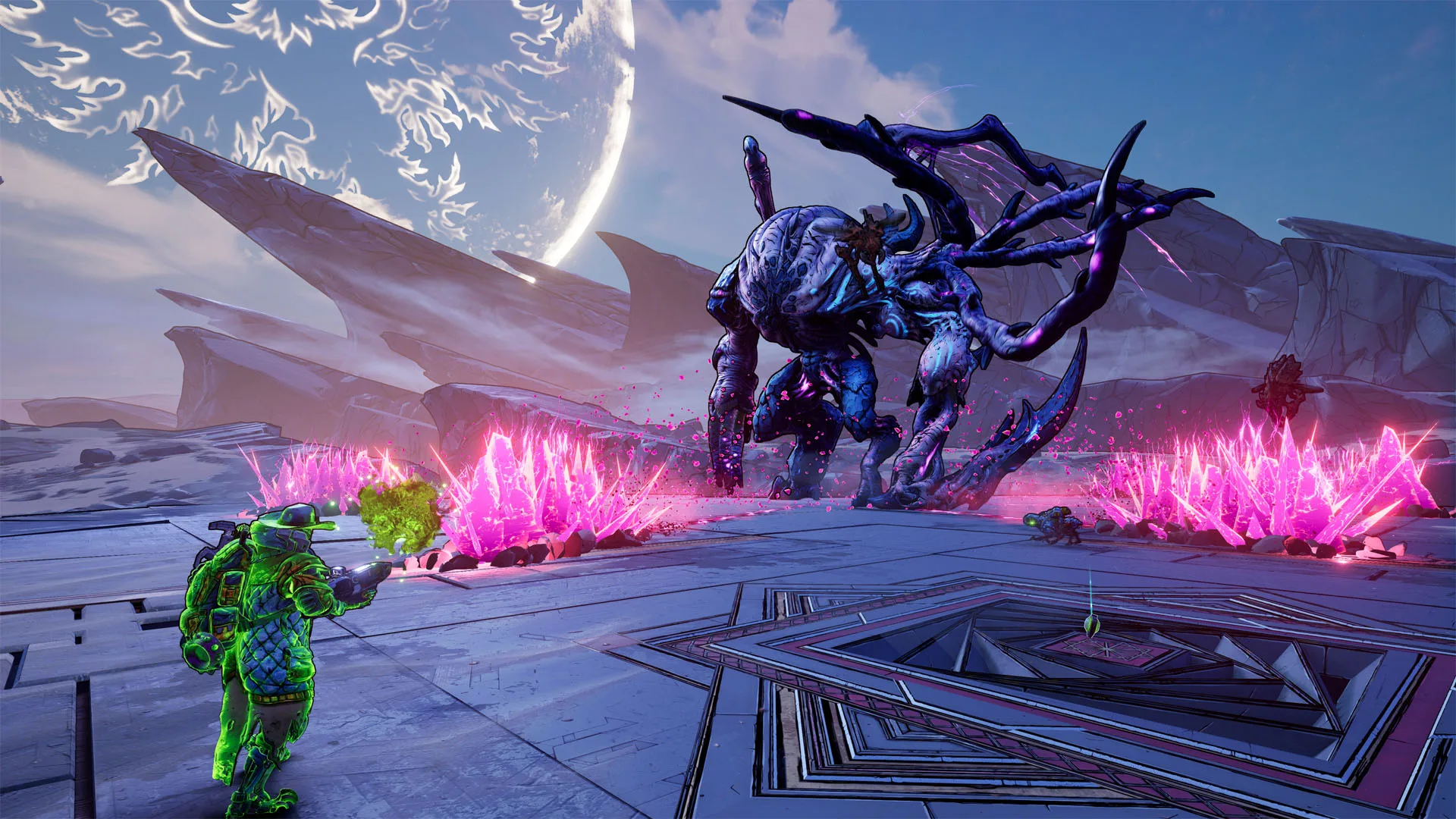 We even played a super fast-paced shooter DOOM very satisfactorily with only an occasional bit of noticeable lag. Besides DOOM and HDR-enabled Mass Effect Andromeda, we played Borderlands 3, Borderlands: The PreSequel, Final Fantasy XV, and DiRT Rally 2.0, all in Ultra/4K and with excellent results. Our only frustration is that we are not nearly as capable with a controller as we are with a keyboard and mouse. The only game we failed to play that we tried using GeForce Experience game streaming to SHIELD TV was Quake II RTX as it wouldn't get past the main menu.
We will never be a couch gamer, but we could be tempted when we just want to sit on the couch in front of the big screen. We next explored streaming from NVIDIA's GeForce NOW cloud in Ultra 1080P which does not require any connection to a PC and can work with almost any device. Since Mario originally reviewed GeForce NOW, it has been updated continually, improved, and we had a great experience with it on the road at NVIDIA's 2018 GTC using the San Jose Marriott's fast Wi-Fi on our notebook that is not suitable for 3D gaming.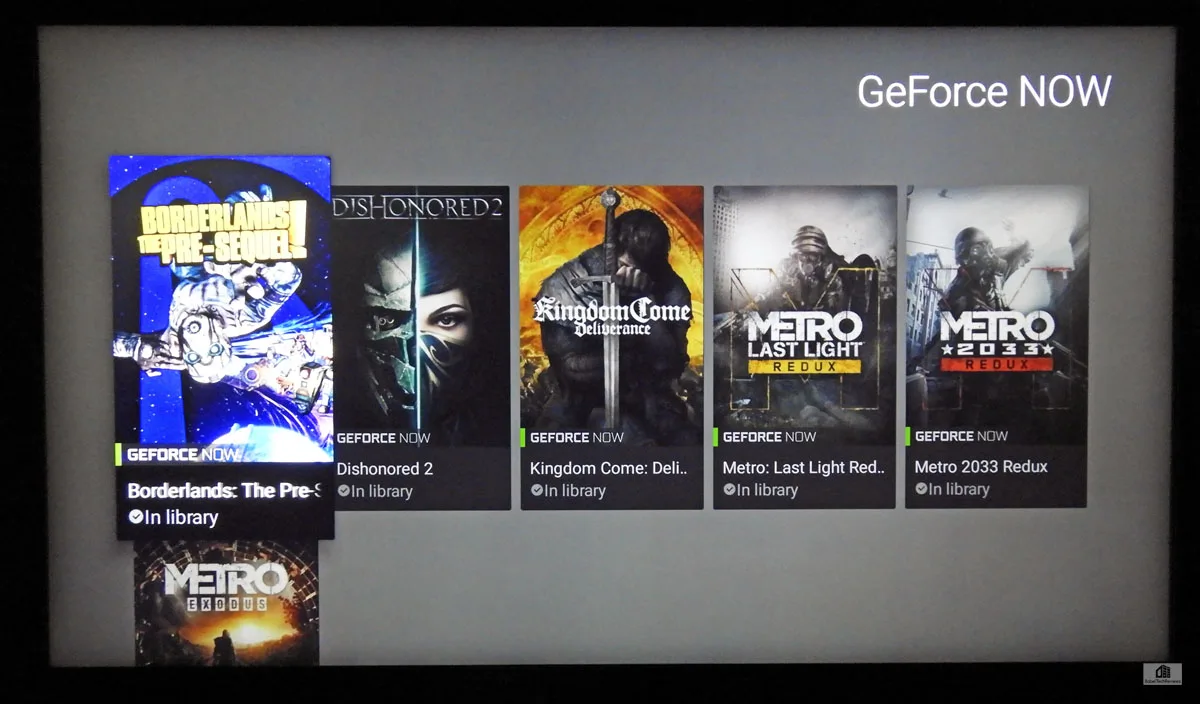 GeForce NOW is still a free beta that transforms your SHIELD TV or almost any Mac and PC, meaning you can pick up and play your favorite PC games on an incredibly wide selection of devices including low-end notebooks and tablets. Since it streams from the cloud, it transforms the device including SHIELD TV into a high-performance gaming rig, cloud streaming the latest PC games with smooth frame rates – even with the settings turned way up.
With GeForce NOW on SHIELD, a gamer gets GeForce RTX Ultra 1080P performance PC gaming from the comfort of your living room delivered right to your TV. You can play many games that you own that are in your library. GeForce NOW powers instant gaming without the hassle of downloads, patches or updates. The minimum recommended specs for using NVIDIA's cloud streaming service at Ultra 1080P is a 25Mbps connection, or 15Mbps for 720P network connection, and higher is better.
"GeForce NOW requires at least 15 Mbps for 720p at 60fps and 25 Mbps for 1080p at 60fps.
You'll need to use a hardwired Ethernet connection or 5GHz wireless router."
Our Frontier hybrid-copper DSL connection offers much lower latency than the over 800ms of ping that we used to have with ViaSat satellite, but it is capped to just over 25Mbps in my rural location and it almost never varies from it. Ping is decent now from my home in the California high desert to NVIDIA's San Jose server, 400 miles away.

What is surprising is that besides playing the slower-paced Kingdom Come: Deliverance, we were able to play another fast-paced FPS, Borderlands: The PreSequel, in Ultra 1080P for nearly two hours with only one moment of noticeable lag and a single reported packet loss! This may be partly attributed to the fact that our SHIELD TV was connected via Ethernet connection with no other online devices in use. But we did not press our luck by trying Wi-Fi.
Conclusion and Final Verdict
We thoroughly enjoyed a nearly two week change of pace from our usual PC game and hardware reviews to watching movies on demand and game streaming to our LG UHD TV via SHIELD TV. We are thoroughly impressed with SHIELD TV and really believe it is the perfect set top box for couch gamers and movie watchers. It is a perfect compliment to the latest smart TV or to an older TV that may lack the latest features. SHIELD TV might even be better for TV viewers because it was designed for much tougher game streaming and it uses a very fast Tegra X1+ processor.
If you are just a movie watcher and don't game at all, you are probably not reading this review. However, in that case, a less expensive streaming device is probably sufficient although SHIELD TV distinguishes itself from other premium devices by being ad-free, fully-featured, uses AI upscaling, Dolby Atmos and Dolby Vision, and has a superb remote. If you are a gamer, than SHIELD TV is the best media streaming solution as a console killer with the ability to stream from the GeForce NOW cloud, from your PC, and to play Android games on your TV.
For ourselves as a gamer first, we would choose the SHIELD TV Pro for its extra ability to use USB ports for a keyboard and mouse. As it is, we can use the controller when we just want to sit in the recliner and play some games and it is also possible to add a Bluetooth keyboard and mouse if we wish. The only negatives that we can find are the lack of a HDMI 2.1 connection and lack of support for Youtube HDR 10.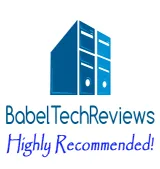 We will never become primarily a couch gamer, but we will be tempted by SHIELD TV and it will be our media streaming device for years to come. It is highly recommended!
Happy SHIELD TV gaming and streaming!