Not many gamers can afford a 1080 Ti or just about any video card right now as prices have skyrocketed to ridiculous heights due to crypto-currency mining. Enter NVIDIA's GeForce NOW game streaming service.

NVIDIA has recently released a beta for its GeForce NOW game streaming service on Windows PCs for free. GeForce NOW aims to transform hardware that would otherwise be incapable of playing the latest games on your device, into high-end systems instantly. GeForce NOW utilizes several NVIDIA data centers to beam GTX 1080 graphics and gameplay to capable devices with minimal latency.
We wanted to test this for ourselves after seeing a demo on a cheap laptop at CES streaming a game with minimal latency. Latency is a huge concern and we were immediately skeptical of the service.
The following gameplay was captured on our nearly 7-year-old laptop that is not able to run a majority of current games past 2-5 FPS, now running PUBG on GeForce NOW at 1080p 60 FPS:
NVIDIA sent us a beta key so we got to thoroughly test the streaming service. BTR's EiC signed up the same day about a week ago but has not received his beta key yet, so there is a wait. Let's take a deeper look at the service.
How does GeForce NOW work?
GeForce NOW is currently an established part of the Shield ecosystem which transforms your handheld into a PC gaming streamer. The mobile service allows you to stream currently owned games to your device and you can also pay an optional subscription fee to access a catalog of games. The service on PC has the same branding but is very different.
GeForce NOW on Mac and Windows gives you the keys to a high-end PC cloud gaming system in which you log into Steam, Uplay, or Blizzard's Battle.net just as if you owned the system itself. PC Gaming is simply incredible in 2018, but top of the line gameplay isn't easily affordable by a large portion of gamers. With GeForce NOW's cloud technology, you can easily stream games on the highest graphics settings available to GTX 1080 owners. You will not have to install drivers, waste storage space, or wait for lengthy downloads. The service works instantly as long as the game is included in the list of supported titles and you already own the game.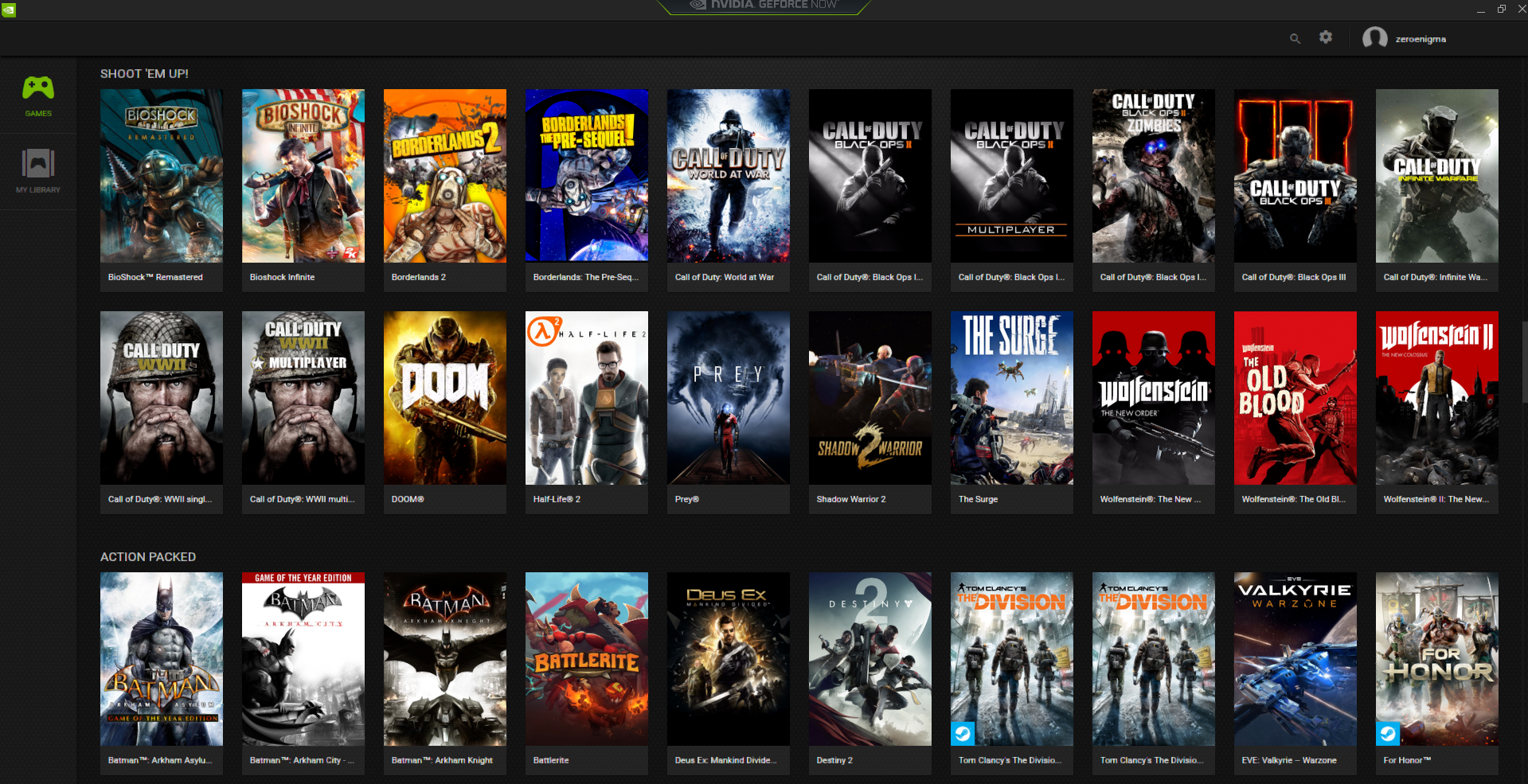 Signing up for access to the GeForce NOW beta is simple but you must wait for a code. Since GeForce NOW is currently in beta, the service is free for all users. NVIDIA has said that GeForce NOW will cost $25 for 20 hours on a virtual PC with GeForce GTX 1060-class graphics, or 10 hours for GTX 1080-level performance.
I feel that NVIDIA's pricing for GeForce NOW is not suitable for gamers who use this service long-term and, we hope they will come out with a monthly subscription fee for students and hardcore gamers. Spending $25 to rent a GeForce NOW GTX 1080 for 10 hours might be great for vacations where you only bring your Chromebook, but it will not work for gamers who spend 50 hours or more gaming using this service monthly. It is far cheaper in the long-run to buy a complete desktop system or a MacBook with an eGPU complete with a Titan Xp.
For example, The Witcher 3 runs incredibly well on this service, but it normally takes the average user close to 48 Hours to beat the main story (48 hours x $2.50 = $120 plus the cost of the game). Considering games like Fallout or Skyrim, users spend enormous amounts of time in-game, and this pricing model would simply not be ideal. If someone is on vacation and plays for 10 hours and they already have the game, $25 may be a reasonable price, but it limits the service to meet the needs of a small population.
Latency and Real-world Gameplay
We tested the GeForce NOW service and compared it to an affordable GTX 1050 Ti that is capable of running PUBG at a steady 45-50 FPS on High graphics settings. I do not enjoy playing many games that dip below 50 FPS but the gameplay is bearable as we can lower several settings and still be competitive in-game. Below is a screenshot taken while using our desktop featuring the GTX 1050 Ti: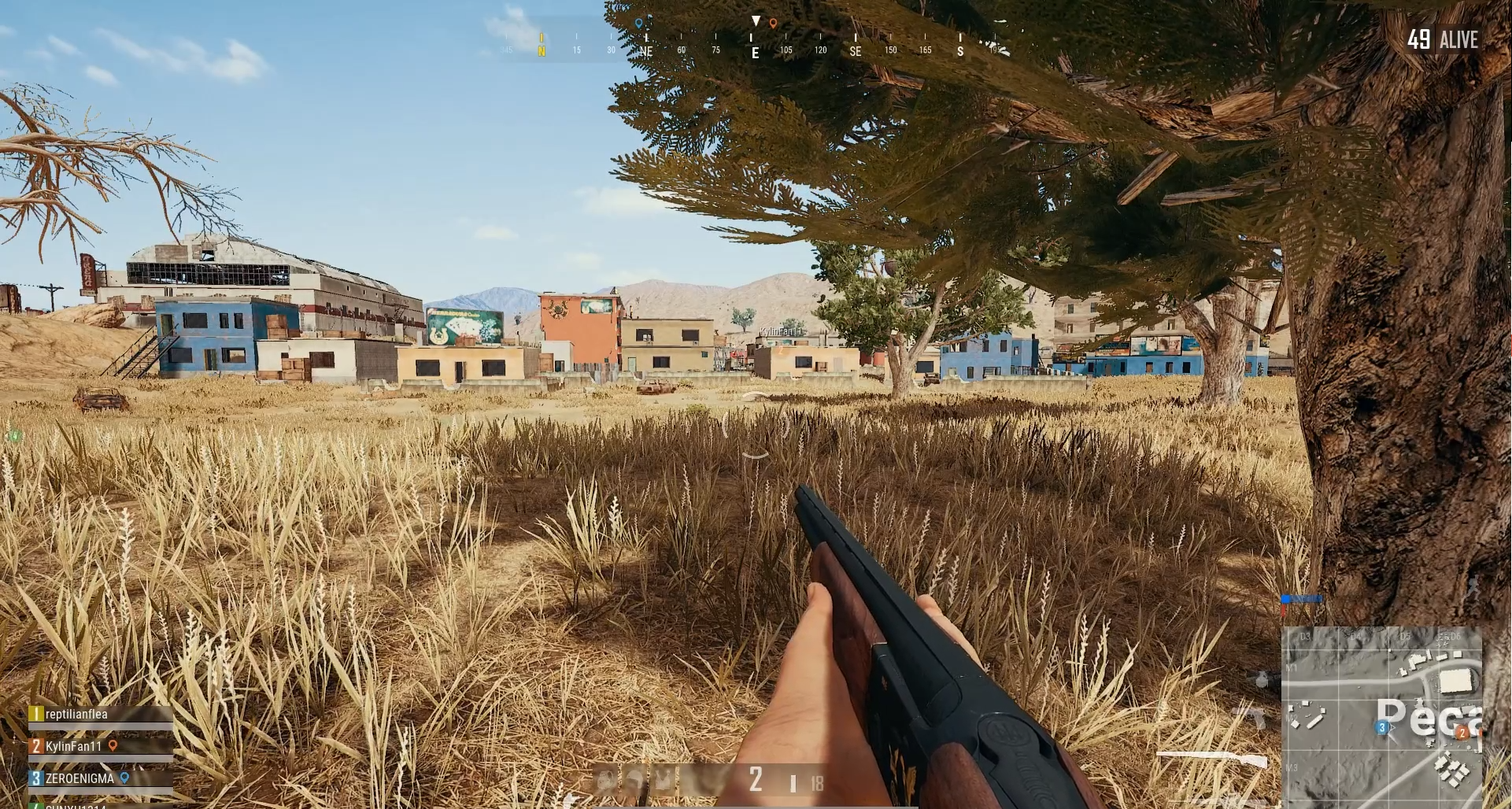 Our biggest fear with GeForce NOW was input latency and how such huge multiplayer games would fair on a cloud streaming service. Twitch-shooters like Overwatch and Fortnite require extreme precision, and lag or latency can ruin the experience. GeForce NOW was instantly impressive, and it set our in-game settings on all available games that we owned to Ultra. Amazingly, we now had steady 60+ FPS at 1920×1080.
However, even with our setup when initially launching the app we would suffer through YouTube-like buffering with terrible graphics, to the point that we could not even read the map at times in PUBG. After a while, the service would fully load the games we played and it steadily averaged 60 FPS flawlessly and held it for a majority of our games. The service seems to struggle when initially launched and right after establishing a connection, as seen below.
Twitch shooting was almost identical to our own local play with our system but at higher frame rates and at Ultra. That is astounding especially if we can experience this on a cheap laptop like we did at CES. A slow connection will definitely experience hiccups, but a majority of the time we experienced perfect game play.
As with most services in beta, there were some bugs. We experienced severe input lag that was only remedied with force closing the streaming service, something we had to do a couple of times. The streamer would also freeze and then start over only after being closed, and we experienced many other small bugs like this. These bugs did not occur frequently enough to ruin the experience and the service is still in beta so we expected some of the minor issues.
So, is it the future?
GeForce NOW is extremely different from the app of the same name of Shield portable systems. NVIDIA's android app allows Shield owners to pay a monthly subscription fee in order to access a library of games included with price of admission, ala Netflix for gaming. Disappointingly, this system is non-existent in the Beta and we hope it will be included in the future. This model allows people on a budget to forgo building their own system and instead use NVIDIA as the gateway to PC gaming. PC gaming is the best way to game, and having more people join the ecosystem in this way would only be a positive for the community.
While GeForce NOW may not appeal to everyone, especially those who love to build their own systems, it's a great service and we highly recommend trying it for yourself. The service is perfect for people who want to use it on the go while traveling or for those who simply can't afford a high-end system. Playing my current game library as if I had a GTX 1080 in my system was satisfying and fun. There is nothing like gaming with the best possible hardware, and the difference was instantly noticeable and leagues ahead of using our GTX 1050 Ti. That experience alone makes it worth trying.
In regards to the pricing model, we can not recommend the service for $25 for 10 or 20 hour packages to most gamers. We hope that NVIDIA also uses the Android Shield model of the stream to add more value to their service. GeForce NOW is truly remarkable technology and quite a service for users who want to experience top of the line gameplay with a GTX 1080 in the cloud. With the current pricing model, it serves as an awesome niche platform for gamers on the go when they want to game on a notebook, or for a limited amount of time.
The beta is currently free, so sign up and experience the GeForce NOW streaming service while you can.