The Retro Series – the R9 290X 4GB vs. the GTX 780 Ti 3GB – 38 Games Benchmarked
It's been two years since BTR compared the R9 290X versus the GTX 780 Ti, and over 5 years since these former flagship cards were launched in 2013. The GTX 780 Ti was released at $699 in November of 2013, not long after AMD's launch of the R9 290X at $550 which beat the original $1,000 Titan. At its launch, the 780 Ti soundly beat the Titan and also beat the 290X in performance.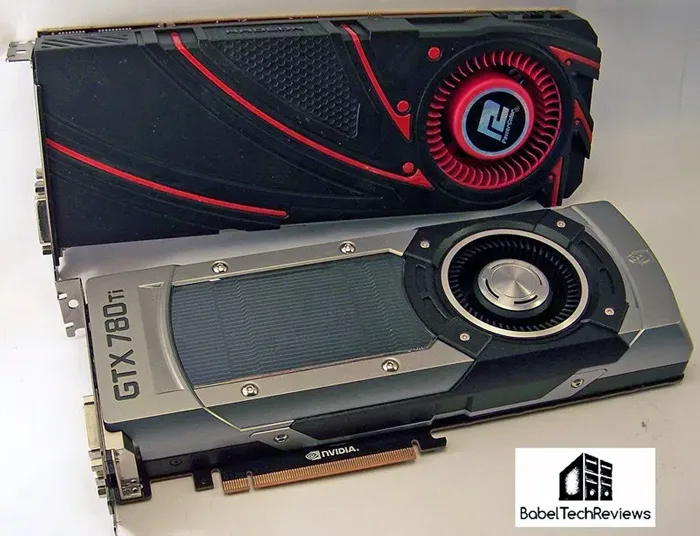 Within a couple of years, NVIDIA replaced the 3GB vRAM-equipped Kepler GTX 780 Ti with the faster and cheaper Maxwell GTX 980 4GB, followed by faster cards. And although AMD introduced new Fiji architecture with the Fury line, the Hawaii 290X was not refreshed, but it was rebranded into the Grenada 390X by increasing the reference vRAM capacity from 4GB to faster 8GB GDDR5. During that time, the Kepler GTX 780 Ti got slower compared with the 290X as new games were released.
Two years ago, BTR compared the RX 480 versus the EVGA GTX 1060 SC and versus the 290X, but we did not test the GTX 780 Ti in that review. This time, we will use the same EVGA GTX 1060 at SC clocks instead of reference clocks, and instead of the RX 480 at stock speeds, we will test the Red Devil RX 590.
We no longer have our reference VisionTek 290X, but will instead use our 3% factory-overclocked PowerColor 290X PCS+ and test it with 100% fan to make sure it does not throttle. We will use our reference GTX 780 Ti at stock clocks versus the 290X to see how these venerable former flagship cards compare in performance with each other, and also versus the RX 590 and versus the GTX 1060 SC.
This evaluation will include every game in our recently updated 38-game benchmark suite including Just Cause 4 and Battlefield V. We want to see how these former flagship cards stand today in relation to each other and to the current top midrange cards by benchmarking the latest games with the latest drivers at Ultra settings at 2560×1440 and at 1920×1080 resolutions.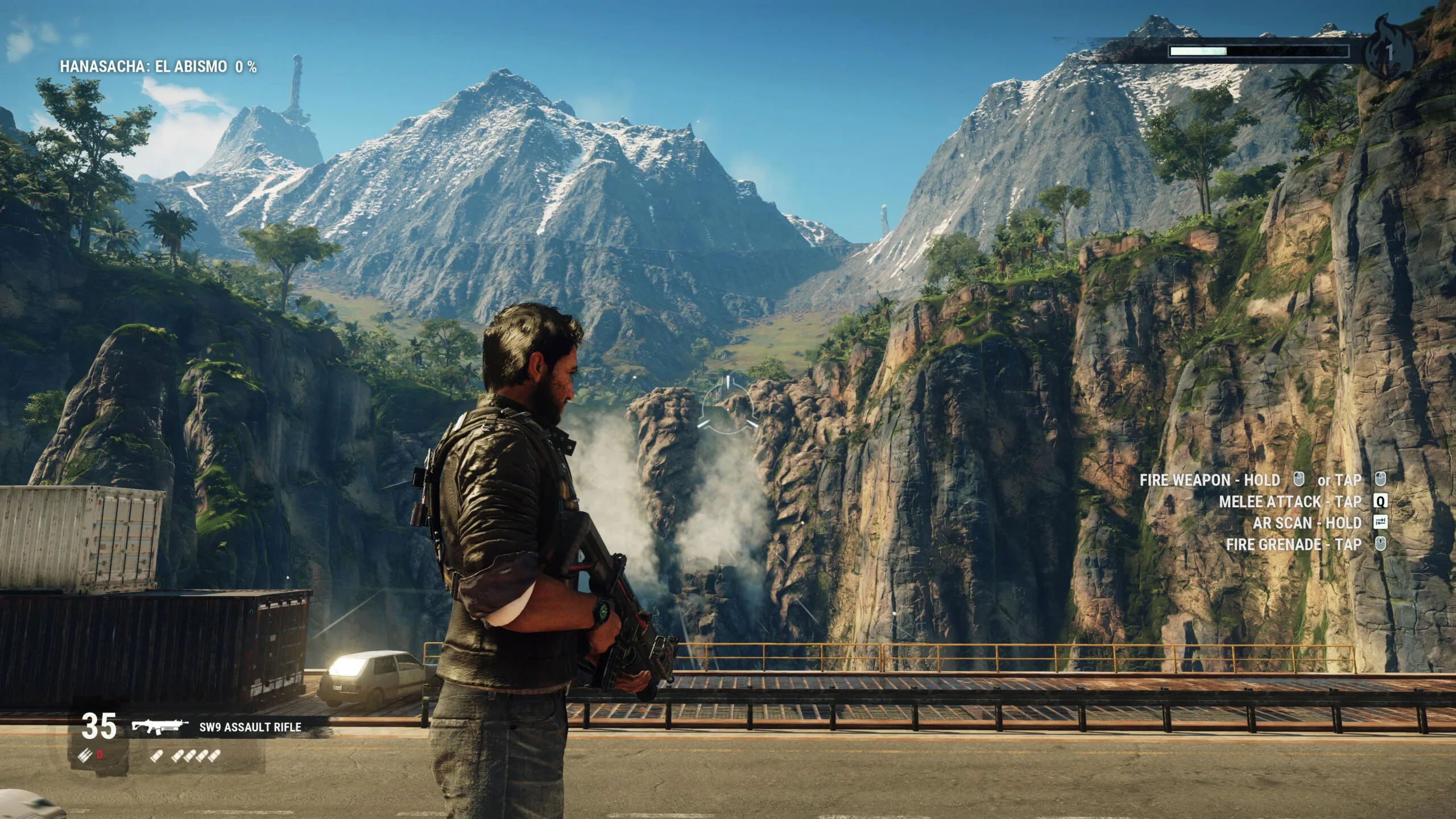 Our testing platform is a recent install of Windows 10 64-bit Home Edition, and we are using an i7-8700K which turbos all 6 cores to 4.7 GHz, an EVGA Z370 FTW motherboard, and 16GB of HyperX DDR4 3333MHz. The games tested, settings, and hardware are identical except for the cards being compared.
Let's check out the PowerColor R9 290X-4GB PCS+ versus the GTX 780 Ti-3GB, and also the Red Devil RX 590-8GB versus the EVGA GTX 1060-6GB SC, after we look over our test configuration on the next page.
Test Configuration – Hardware
Intel Core i7-8700K (HyperThreading and Turbo boost are on to 4.7 GHz for all cores; Coffee Lake DX11 CPU graphics).
EVGA Z370 FTW motherboard (Intel Z370 chipset, latest BIOS, PCIe 3.0/3.1 specification, CrossFire/SLI 8x+8x), supplied by EVGA
HyperX 16GB DDR4 (2×8 GB, dual channel at 3333 MHz), supplied by HyperX
GTX 780 Ti 3GB Reference Edition, stock clocks, supplied by NVIDIA
EVGA GTX 1060 SC 6 GB, factory SC clocks, supplied by EVGA.
PowerColor R9 290X PCS+ 4GB, 3% factory overclocks.
Red Devil RX 590 8GB, factory clocks, supplied by PowerColor.
2×480 GB Team Group SSD; one for AMD and one for NVIDIA
1.92 TB San Disk enterprise class SSD
2 TB Micron 1100 SSD
Seasonic 850W Gold Focus power supply unit
EVGA CLC 280mm CPU water cooler, supplied by EVGA
Onboard Realtek Audio
Genius SP-D150 speakers, supplied by Genius
EVGA DG-77, mid-tower case supplied by EVGA
Monoprice Crystal Pro 4K
Test Configuration – Software
Nvidia GeForce 417.22 drivers are used for the GTX 780 Ti and 417.01 WHQL drivers are used for the GTX 1060.
AMD's Adrenalin Software 18.12.1.1 drivers are used for the 290X and 18.12.1 are used for the RX 590.
VSync is forced off.
AA enabled as noted in games; all in-game settings are specified
Gaming results show average frame rates in bold including minimum frame rates shown on the chart next to the averages in a smaller italics font.
Highest quality sound (stereo) used in all games.
Windows 10 64-bit Home edition. All DX11 titles were run under DX11 render paths. DX12 titles are generally run under the DX12 render path unless performance is lower than with DX11. Three games use the Vulkan API except as noted on the charts.
Latest DirectX
All 38 games are patched to their latest versions at time of publication.
MSI Afterburner, latest beta.
OCAT, latest version
Fraps, latest version
38 PC Game benchmark suite & 2 synthetic tests
Synthetic
Firestrike – Basic & Extreme
Time Spy DX12
DX11 Games
Grand Theft Auto V
The Witcher 3
Fallout 4
Watch Dogs 2
Just Cause 3
Rainbow Six Siege
Battlefield 1
Resident Evil 7
For Honor
Ghost Recon Wildlands
Mass Effect: Andromeda
Prey
DiRT 4
Project CARS 2
Middle Earth: Shadow of War
Destiny 2
Star Wars: Battlefront II
Final Fantasy XV
Far Cry 5
The Crew 2
Assassin's Creed: Odyssey
Call of Duty: Black Ops 4
Hitman 2
Just Cause 4
DX12 Games
Tom Clancy's The Division
Ashes of the Singularity: Escalation
Hitman
Rise of the Tomb Raider
Deus Ex Mankind Divided
Gears of War 4
Civilization VI
Sniper Elite 4
Total War: Warhammer II
Forza 7
Shadow of the Tomb Raider
Battlefield V
Vulkan Games
DOOM
Wolfenstein: The New Colossus
Strange Brigade
NVIDIA Control Panel settings
Here are the NVIDIA Control Panel settings.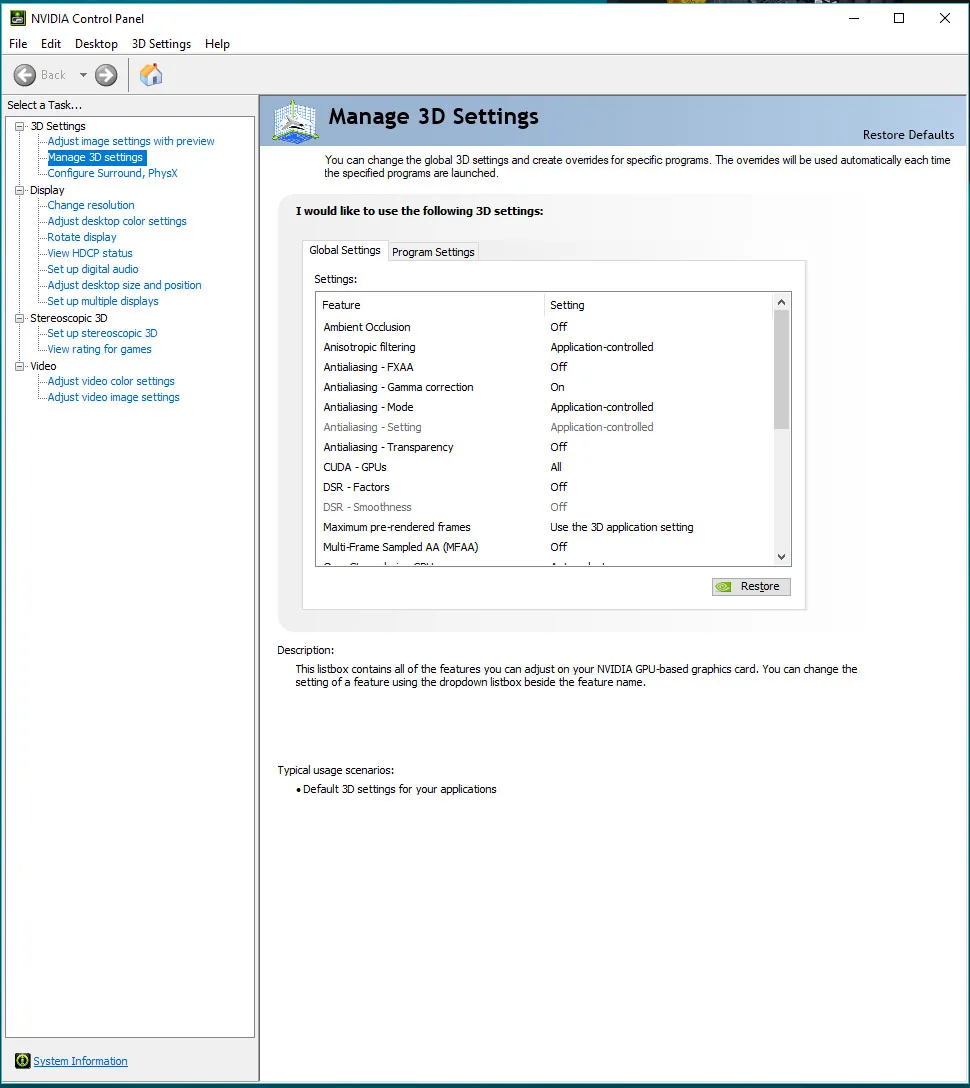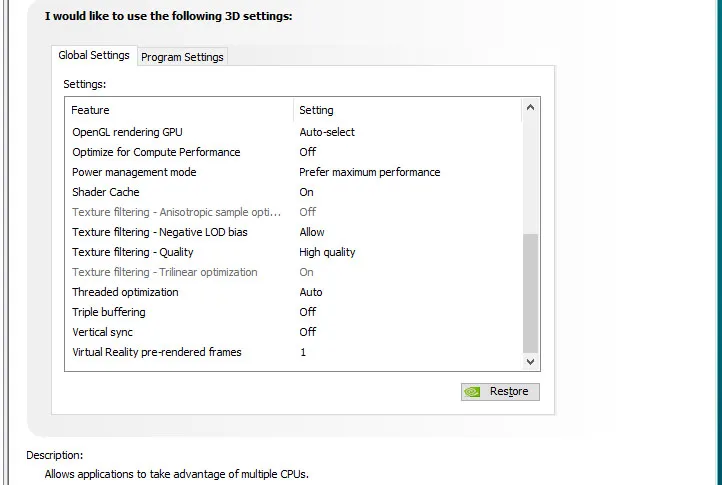 We used MSI's Afterburner to set both of our GeForce's highest Power and Temperature targets. By setting the Power Limits and Temperature limits to maximum for each card, they do not throttle, but they can each reach and maintain their individual maximum clocks stock or overclocked.
AMD Control Center Radeon Settings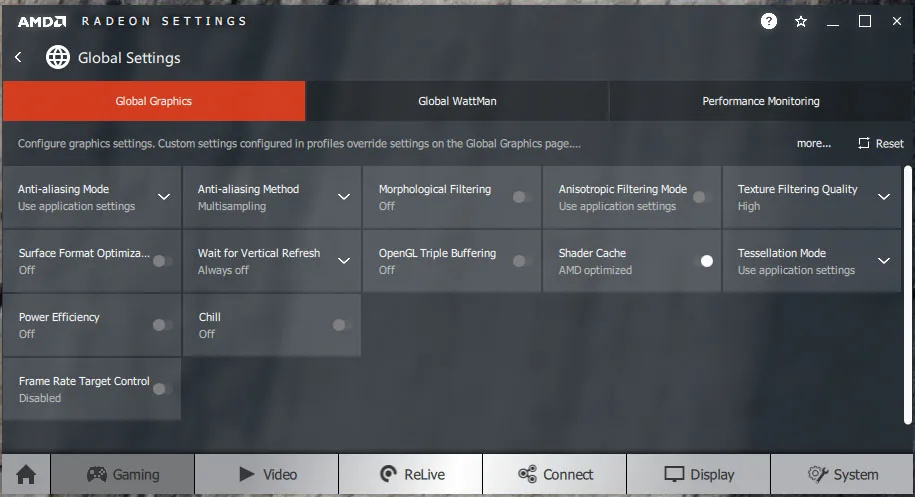 All AMD settings are set so as to be apples-to-apples when compared to NVIDIA's control panel settings – all optimizations are off, Vsync is forced off, Texture filtering is set to High, and Tessellation uses application settings. We used Wattman to set both Radeons' power, temperature and fan limits to their maximums to prevent throttling, and we set the 290X to 100% fan to maintain the PowerColor PCS+ factory overclock.
Let's head to the performance charts to see how the reference GTX 780 Ti compares with the PowerColor 290X PCS+, and with the EVGA GTX 1060 SC, and versus the Red Devil RX 590 today.
Performance summary charts
Below are the summary charts of 38 games and 2 synthetic tests. The highest settings are always chosen and the settings are listed on the charts. The benches were run at 1920×1080 and at 2560×1440. Open each chart in a separate window or tab for best viewing.
Most results show average framerates and higher is better. Minimum framerates are next to the averages in italics and in a slightly smaller font. A few games benched with OCAT show average framerates but the minimums are expressed by frametimes in ms where lower numbers are better.
The first column show the RX 590's performance. Columns two represents the 290X performance, and Column three represents the GTX 780 Ti. The fourth column compares the performance of the GTX 1060 SC. An "X" means the benchmark was not run, could not be run, or could not be compared.
What we can take away from the results generally is that although both former flagship cards are in a similar class and can realistically only play many of the newer games at 1920×1080 at high settings, the 290X has gained significant ground on the GTX 780 Ti, winning most of the benchmarks.
Unfortunately, the Radeons were hit with the same Vulkan bug when installing the Adrenalin Software 12.18.1 driver with the RX 590 and to a lesser extent with the very latest 12.18.1.1 driver that crashed some Vulkan games to desktop that have been reported with earlier drivers. This time, Strange Brigade had to be run in DX12, and DOOM just crashed to desktop although Wolfenstein ran fine on the 290X, but not on the RX 590.
The GTX 780 Ti was not free from its own issues either. Gears of War 4 refused to start, Total War: Warhammer II refused to run in DX12 so we ran it on the DX11 pathway, and because of its limited 3GB of vRAM, we lowered Wolfenstein's settings from Uber to Ultra to compare it with the 290X although we ran the GTX 1060 at Uber settings.
Let's head for our conclusion.
The Conclusion
The RX 590 is the fastest of the four tested cards followed by the GTX 1060 SC and then by the 290X and the GTX 780 Ti. Both of these 5 year old former flagship cards fall far behind the midrange newer cards, and most new games cannot be well-played even at 1920×1080 without dropping down below Ultra settings.
We can conclude that 3GB of vRAM is insufficient to play many newer games at 1920×1080 at Ultra settings, and that the 4GB vRAM of the 290X has allowed it to win 57 individual benchmarks with one tie compared to the 18 wins of the GTX 780 Ti out of 76 total benchmarks in 38 games.
To compensate, GTX 780 Ti owners may want to drop settings below Ultra, or overclock. We did not explore overclocking this time – the GTX 780 Ti is an excellent overclocker while the 290X is already at its headroom limit with a 3% factory overclock, even with 100% fan.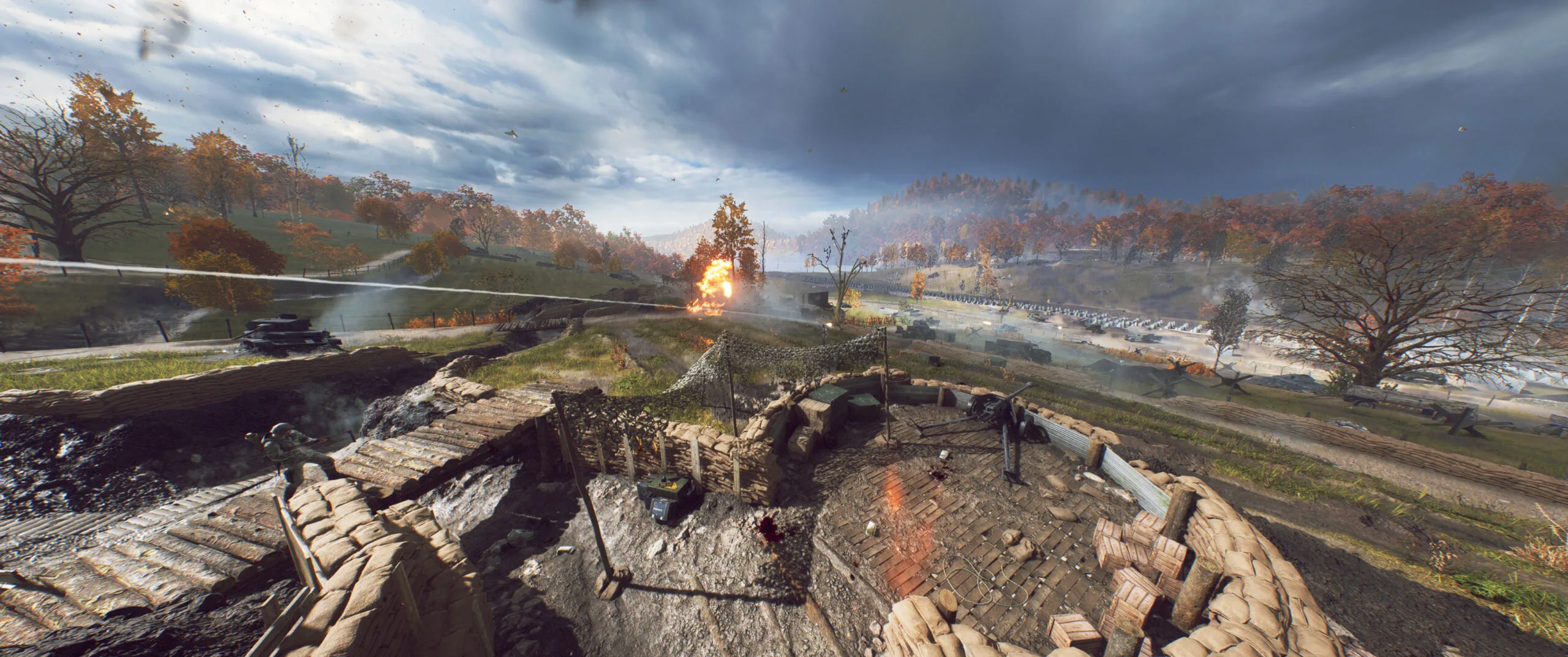 The RX 590 could be a reasonable upgrade from a 290X just as a GTX 1060 6GB might be a good upgrade from a GTX 780 Ti. Either upgrade would give gamers the option to play the latest games at mostly Ultra settings at 1920×1080, or even at 2560×1440 with lesser settings.
Stay tuned, next up we will further explore Turing video cards' performance with DXR in Battlefield V.
Happy Gaming!