M&E Industry Can Make Change, Inclusion the New Norm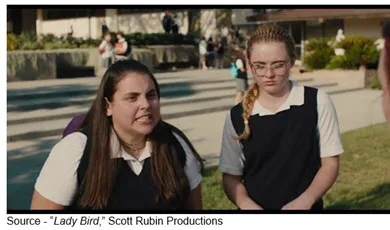 The only real way to make progress in the M&E (or any) industry is to put yourself in a position where you learn something, even if it's uncomfortable.
At SMPTE (Society of Motion Pictures and Television Engineers), one of the easiest ways for a guy to do that is to listen, really listen at the WIP (Women in Post) luncheon.
The food was okay, but the discussion was more than worth it.
This year, Rachel Payne was their invited speaker; and, as in previous years, it was all about how females can make themselves be heard and move forward in the industry.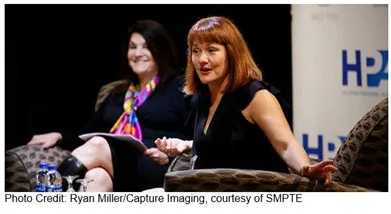 With her experience in launching/selling tech companies, running for congress and building global strategies for a bunch of companies, she has a pedigree that encourages you listen and learn something.
During her keynote, she encouraged the largely female audience to stretch themselves, ignore their self-perceived obstacles, stop undervaluing their expertise/value, stop thinking others will recognize their good work and stop being concerned everything they do has to be done perfectly.
Throughout her discussion, her vision of full participation of women at every level was apparent as she gave examples from her own career and explained what she learned from the obstacles, failures and successes.
Needless to say, the question and answer session was lively and extended.
While Barbara Lange, SMPTE-HPA executive director, tried several times to end the luncheon/discussion, she did permit one final question from the floor.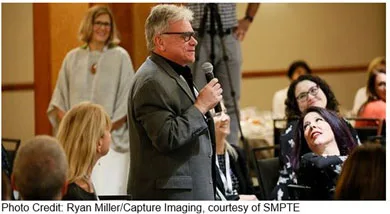 Pat Griffis, incoming SMPTE president and senior executive at Dolby, asked Ms. Payne and the audience, "What can we do? We're here, we want to make a difference and we want our industry to move forward and become the global leader and showplace by example."
He even invited the attendees to give him their business cards and asked for follow-on discussions.
Not surprisingly, he had many takers.
We're not saying the industry has turned the corner completely with inclusion, but it has made some progress, if for no other reason that it recognizes the issue and has done a close analysis of the problems/shortcomings.
According to the Women in Television & Film, of the top 100 grossing films of 2017, women represented:
8 percent of directors
10 percent of writers
2 percent of cinematographers
24 percent of producers
14 percent of editors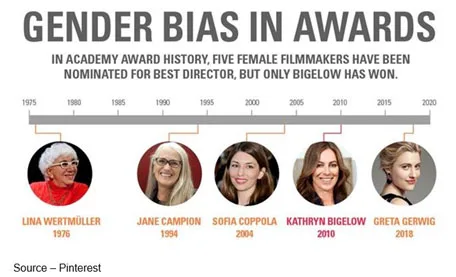 The industry is now realizing – and paying attention to the fact – that Kathryn Bigelow is the only woman to ever win the Academy Award for Best Director.
Only five women have ever been nominated (Lina Wertmüller, Jane Campion, Sofia Coppola, Kathryn Bigelow and Greta Gerwig).
This year, "Mudbound's" Rachel Morrison became the first woman ever nominated for the Academy Award for Cinematography.
To broaden the complete diversity picture, it was noted that 68 percent of all female characters were white in the top 100 films last year. While 16 percent were Black, 7 percent were Asian, 7 percent were Latina and 2 percent were of another race or ethnicity.
Of course, the rapidly changing face of TV isn't much better:
Women accounted for only 27 percent of all creators, directors, writers, producers, executive producers, editors, and directors of photography working on the broadcast network, cable, and streaming programs.
97 percent of the programs considered had no women directors of photography, 86 percent had no women directors, 76 percent had no women editors, 75 percent had no women creators, 74 percent had no women writers, 25 percent had no women producers, and 22 percent had no women executive producers.
On programs with at least one woman creator, females accounted for 42 percent of major characters.
On programs with exclusively male creators, females comprised 33 percent of the major characters.
19 percent of female speaking characters were Black, 7 percent were Latina, and 6 percent were Asian.

We never really gave the subject much thought because we know several very creative, very dedicated women in the industry who have done some excellent work:
Sue Lawson an editor who did great work on a documentary, Breaking Free, regarding the sex trade industry
Nikki Sobchack, Wraptastic Productions, who did a great episodic series, Please Tell Me I'm Adopted, with a second season in production and on the funding for a feature, Lore Harbour
Leslie Chilcott who did memorable work on the award-winning documentary, An Inconvenient Truth and Code Girls, and is working on a feature project under wraps
Cirina Catania, the Catania Group, who has produced docs around the country and the world as well as a great documentary, The Kionte Story which she promises to finish early next year
Julina Tatlock, one of the co-founders of 30 Ninjas, we finally got to meet at SMPTE after knowing Lewis Smithingham, the team's creative technology head. The team did Doug Limon's VR film first, Invisible
Okay, it's not an exhaustive list; but we were more interested in the filmmakers and the quality work they were doing.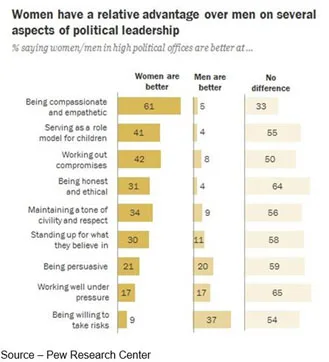 In many organizations around the globe women have already taken their place as leaders and we're naive enough to think they will help the M&E industry and country.
Pew Research recently reported that women even have some advantages over men in key management areas.
The two sexes tend to have different leadership styles, but women seem to have some key advantages, especially when it comes to considering the impact of business decisions, providing guidance/mentorship and providing fair pay and benefits.
And if they can get that message across on the screen – regardless of size – it just might help all of us.
Fortunately, we don't seem to be alone in focusing on what the person does rather than his/her sex or race.
With "everyone" in the M&E industry getting into the streaming media game, they obviously watch what the big dog – Netflix – is doing … very closely.
While they have a few problems with their analytic and recommendation software, they aren't waiting until they have better code.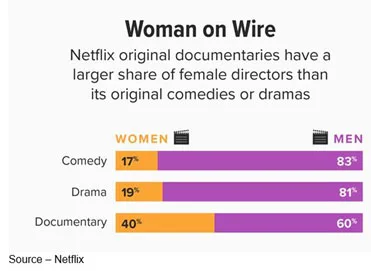 Morning Consult recently reported that the company is quickly making room for women in the director's chair:
27 percent of the directors of Netflix original films are women, compared to 12 percent of all 2017 films
40 percent of Netflix original documentaries feature female directors, while 17 percent of original comedies and 19 percent of original dramas have women directing
The study found that 27 percent of the directors of Netflix Inc.'s original films are women, out of 200 original films released or in the pipeline since 2013.
It's true, the numbers are lower than the overall share of women in the US (women are 50 percent according to the Census Bureau), but it sure beats the M&E industry average.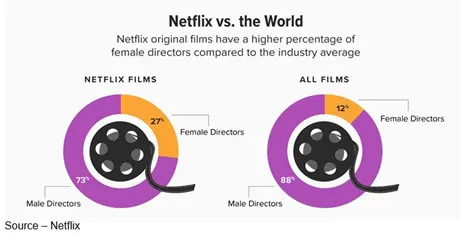 Okay, so Netflix isn't really altruistic about beefing up its roster of projects that have female directors because as Ian Bricke, co-head of their Indie film division pointed out recently, the company is really focusing on appealing to diverse audiences.
The cold, hard facts; according to a recent study out of UCLA; found that films with diverse casts enjoy the highest median global box office and the highest median return on investment. In addition, broadcast scripted shows featuring diverse casts net the highest median 18-49 ratings.
Diverse video stories – sex, race, sexual orientation – may not be the blockbuster, tentpole projects studios like to brag about; but with organizations increasingly streaming the content globally, good/great content will find its audience or rather it's audience will find the content.
After all, nearly 50 percent of the 7B plus people on the planet are connected to the Internet with one screen or another, so if the film/series can't attract enough attention, it was probably a bad idea at the outset.
Don't forget that 50 percent of the population is female – so just because a video story is women-led/directed, it shouldn't be considered a niche effort.
As the Morning Consult report noted, "Ask enough women in Hollywood about being a woman in Hollywood, and eventually a theme emerges: conversation is great, and the acknowledgement of the skewed numbers and lack of equality is essential. It's a discussion that needs to happen, but won't it be great when we can stop just talking and put words into action?"
SMPTE's Griffis set the stage for more than talk when he asked the WIP attendees, "What can we do?"
It's an open door for women and an opportunity for the M&E industry to do what it does best … show what people, countries and the world can be by imagining the impossible and then making it happen.
As Joan Williams, law professor at UC, Hastings, said, "We've never seen something like this before. Women have always been seen as risky, because they might do something like have a baby. But men are now being seen as more risky hires."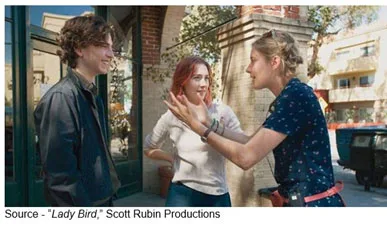 Like it or not, change is inevitable and it's always messy and uncomfortable; but isn't that what makes it all the more fun?
Or, as Christine 'Lady Bird' McPherson said, "Don't be so Republican."
# # #