Performance Summary Charts & Conclusion
Performance Summary Charts & Conclusion
Here are the performance results of 46 games and 3 synthetic tests comparing the PowerColor Red Dragon RX 5500 XT 8GB with the Sapphire RX 5500 XT Pulse 4GB.  In addition, we compare their performance with the more expensive EVGA GTX 1660 XC 6GB, and also with the Red Devils RX 590 8GB and the RX 570 4GB, and the EVGA GTX 1060 SC 6GB. The highest settings are always chosen and the settings are listed on the charts. Although the Red Dragon RX 5500 XT is designed for High/Ultra 1080P, the benches were run at Ultra 1920×1080 and at 2560×1440 to really push the card well beyond its limits.
Most gaming results show average framerates in bold text, and higher is better. Minimum framerates are next to the averages in italics and in a slightly smaller font. The games benched with OCAT show average framerates but the .1 minimums are expressed by frametimes in ms where lower numbers are better.  An "X" means the benches were not run and the RX 570 was only benchmarked at 1920×1080.
The first column is devoted to the PowerColor Red Dragon RX 5500 XT 8GB, and the Sapphire 5500 XT Pulse 4GB results are in the second. The third column represents the EVGA GTX 1660 XC 6GB, the fourth column shows the Red Devil RX 590, the fifth is the EVGA GTX 1060 SC 6GB, while the last column represents the Red Devil RX 570 4GB.  Open each chart in a separate tab for the best viewing.
There may be issues with the Rockstar platform that prevented Red Dead Redemption 2 from running on GeForce cards.  Another bug affects RX 5500 XT cards that prevents Control from launching in DX12 although it does not affect Polaris or GeForce cards.
We can see that the Sapphire RX 5500 XT 4GB falls extremely short in performance with games like Wolfenstein: Youngblood that are tested at Uber settings even at 1920×1080.   Most of these issues can be attributed to the 4GB vRAM limitation of the Sapphire RX 5500 XT that is probably not optimized for Ultra settings.  Ultra settings tend to use a lot of vRAM and we would suggest lowering the settings for the 4GB cards.
Our main emphasis in this review is comparing the two RX 5500 XTs and coming to a determination was to whether the 8GB card is worth the extra $30 over the 4GB card.  In our opinion, yes.
The RX 5500 XTs do well against the competition, considering that the EVGA GTX 1660 XC costs $33 more than the Red Dragon RX 5500 XT 8GB and $63 more expensive than the Sapphire RX 5500 XT 4GB.  But both RX 5500 XTs are much faster than either the Red Devil RX 570 (around $130) or the GTX 1060 6GB, and they put in a good showing against the power-hungry Red Devil RX 590 which is in the $180 to $200 plus price range.
Conclusion
The Red Dragon RX 5500 XT 8GB at $199* brings a higher level of performance than the $169 Sapphire RX 5500XT 4GB in modern demanding games even at Ultra 1080P.  It would be an excellent upgrade from a RX 560/570 level of card.  For older games, it would be OK for 1440P gaming although it would require lowering settings for some modern titles.
AMD brings some great new features with Adrenalin 2020 software that turns it into an all-in-one platform for launching games, streaming, and sharing.  From what we can see without having a GTX 1650 Super to compare with, AMD brings a good $199 value with the Red Dragon RX 5500 XT 8GB.  We would definitely pick a 8GB card over a 4GB card in the RX 5500 XT lineup for more longevity in playing at higher settings even at 1080P.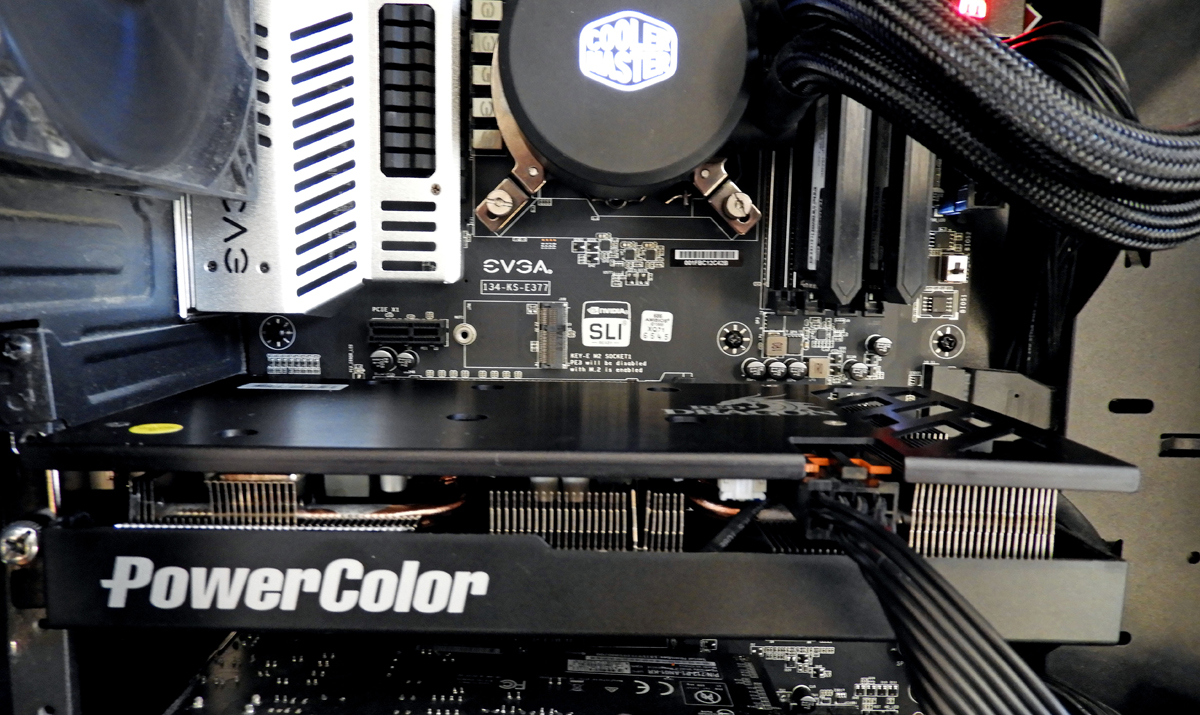 The PowerColor Red Dragon RX 5500 XT 8GB is a very handsome and solid modern card with improving performance potential for AMD gamers that will no longer happen with the older Polaris cards.
Red Dragon RX 5500 XT 8GB Pros
The Red Dragon RX 5500 XT 8GB brings great new features at $199* and it's faster than the RX 570 4GB or the GTX 1060 6GB and it is a wiser choice for Ultra 1080P gaming than any 4GB XT
New RDNA architecture brings higher performance per clock and per watt
Twenty new or updated features include anti-lag technology and Radeon Boost for competitive gamers and image sharpening for everyone
The Red Dragon RX 5500 XT 8GB is a fast card entry level card for high/ultra 1080P gaming and a performance and power improvement over the Polaris series
       The Red Dragon RX 5500 XT runs about 10C cooler than the Sapphire RX 5500 Pulse
RX 5700 XT 8GB Cons
At $199* it approaches the pricing of the faster GTX 1660
*UPDATED 12/12/2019 3:30 PM Pacific Time
PowerColor just updated BTR that the price of the Red Dragon RX 5700 XT is now $219.99.  It doesn't change our conclusion except the "Con" has strengthened a bit now that it is the same price as the faster GTX 1660. 
The Verdict: Editor's Choice
7nm hardware and new architecture brings entry-level RX 5500 XT AMD graphic cards to a higher 1080P playing field.  RDNA will power several more years of Radeon PC graphics
The RX 5500 XT brings a solid improvement over AMD's last Polaris generation, and Adrenalin 2020 Edition software brings welcome new and improved features for AMD gamers
NVIDIA takes Navi seriously and has responded in advance by lowering the price of the GTX 1650 Super to as low as $159 for selected models, and to $199 for some entry level vanilla GTX 1660s although a mail-in-rebate is required to get these prices.  Extra new choices arriving with the RX 5500 XT benefit all 1080P gamers looking for an upgrade.
This has been an difficult week benchmarking two RX 5500 XTs under extreme time pressure, and we are going to take a break to play, review, and benchmark MechWarrior 5: Mercenaries.  Next week, we'll return with a 5500 XT overclocking showdown and also with an entry-level VR performance analysis featuring the new RX 5500 XTs.
Happy Gaming!