Intro
The Sapphire Pulse RX 5500 XT OC 4GB Benchmarked with 46 games vs. the Red Devils RX 570 4GB & RX 590 8GB and vs. the EVGA GTX 1660 XC 6GB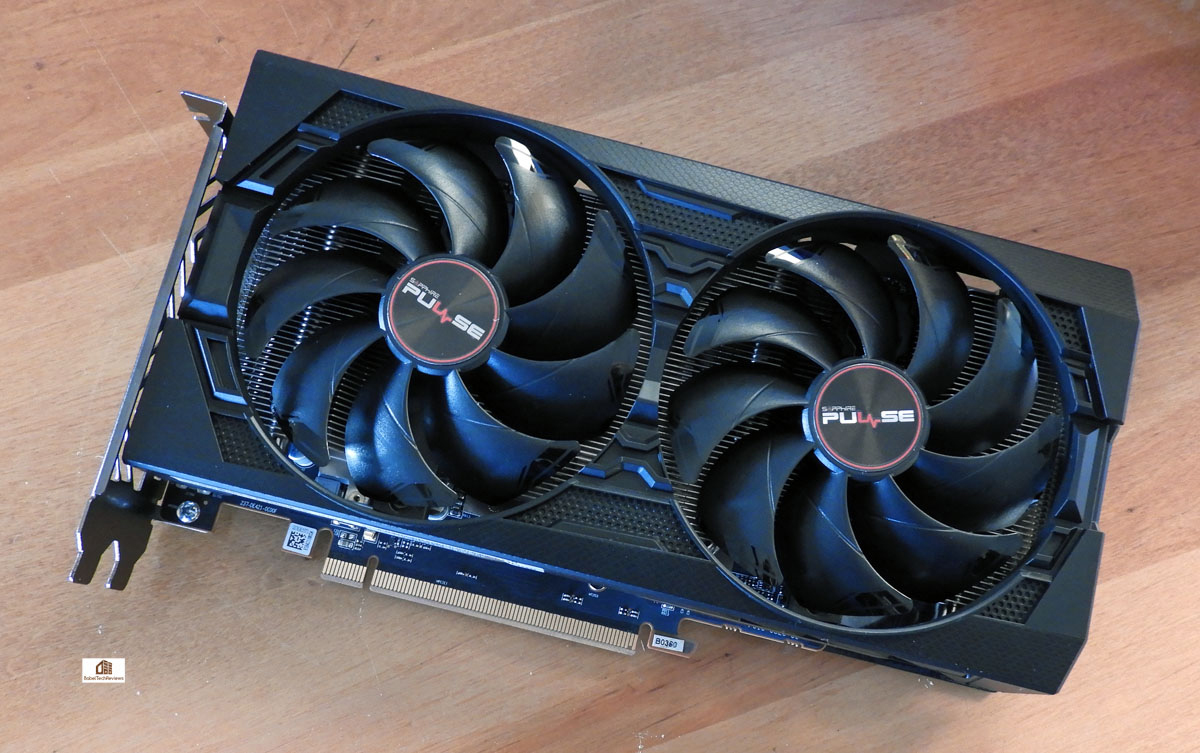 BTR received a Sapphire Pulse RX 5500 XT OC 4GB ($169) review sample from AMD on Monday, and we benchmarked it using 46 games versus the RX 570 4GB, the RX 590 8GB and versus the GTX 1660 6GB (non-Super).  Although the Sapphire RX 5500 XT Pulse 4GB is designed for High 1080P, BTR's 46 game benchmarks were run at Ultra 1920×1080 and at 2560×1440 to really push it beyond its limits.
Since we never received a GTX 1650 Super 4GB for review, a much more expensive EVGA GTX 1660 XC 6GB at $239 will have to stand in for a GeForce comparison, although some GTX 1660's start around $209 with a $10 mail-in-rebate.  The RX 570 4GB generally runs in the $130 price range and above.  The Sapphire Pulse OC Edition of the RX 5500 XT is a little faster than the reference cards, comes with a dual BIOS and a really nice backplate, and at $169 is priced about ten dollars lower than the RX 590 8GB although our Red Devil is a premium overclocked card that is much more expensive if you can find one.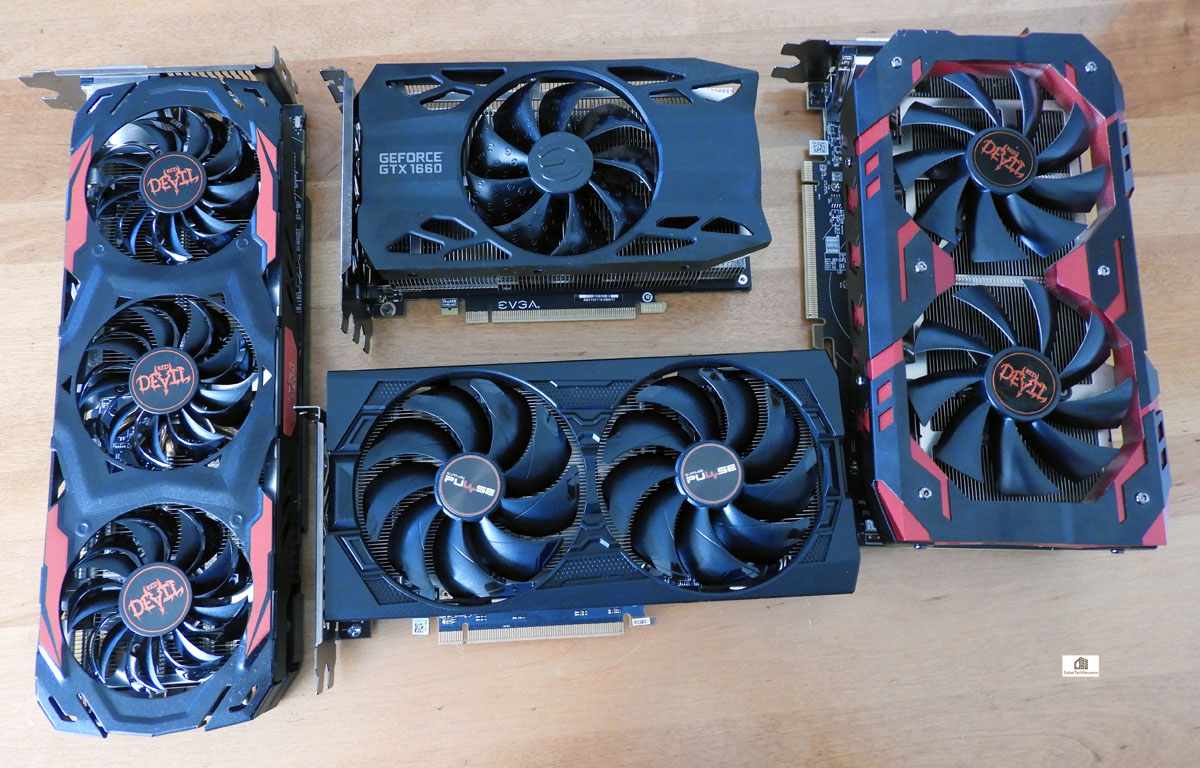 Arriving on 7nm, the RX 5700 series signaled AMD's return to competitiveness in July, and its new RDNA architecture is also the largest change since GCN.  Now AMD is replacing their aging Polaris RX 500 series and aiming at the entry-level market with the RX 5500 series to go up against NVIDIA's GTX 1650 cards.  Basically, the RX 5500 which is OEM only is replacing the RX 550/560 and the RX 5500 XT will replace the RX 560/570 class of cards.
The RX 5500 XT launches today as AMD partner cards only with varying levels of overclock and in two versions – the 8GB version, and the 4GB version as represented by our Sapphire Pulse RX 5500 XT.  We also received a PowerColor Red Dragon RX 5500 XT 8GB ($199) sample, but we are still working to finalize that review which will be posted separately in a couple of hours; and in that review we will compare it against the Sapphire RX 5500XT Pulse OC 4GB.
Two days ago in advance of the RX 5500 XT's launch, AMD released the new Adrenalin 2020 Edition which brings at least 20 new and updated features.  It provides gamers with new and improved features using one-click presets for an easy way to optimize software and system settings for custom gaming.  What we especially like about it is that there is no need to sign into it nor give an email address and password just to access the program.
The new AMD Game Center gives gamers the option to launch games from one location regardless of the platform and to adjust their settings for each individual game while tracking gaming and performance stats without ever leaving their game.  In addition, a new integrated web browser enables users to browse online for game information including for walkthroughs.  Here are some of the highlights of the Radeon Software Adrenalin 2020 Edition:
Radeon Boost – Delivers an average performance boost up to 23% during fast-paced gaming by dynamically reducing image resolution in areas where it matters least to image quality while increasing framerates, fluidity, and bolstering responsiveness.  AMD promises that Radeon Boost is supported in eight top games now with additional titles to be added.
AMD Link – Features an updated interface, and the AMD Link mobile application now allows gamers to stream to mobile devices with high-quality PC gameplay on phones or tablets from anywhere with a high speed Internet connection.
Integer Display Scaling – Scales on-screen images from one pixel to four or more to give classic games a retro pixel-art look with scaling options for high resolution displays without performance penalty.
DirectML Media Filters – Visual noise reduction and upscaling filters utilize machine learning to clean up photo and video files to deliver better quality than traditional de-noise and upscale filters.
Radeon Image Sharpening and Radeon Anti-Lag – Radeon Image Sharpening3 adds support for DirectX11 in addition to DX9, DX12, and Vulkan games.  This feature now allows users to select the degree of sharpness.  Radeon Anti-Lag4 adds support for DX9 titles on older 5000 series graphics cards.
The Sapphire RX 5500 XT Pulse 4GB
Although there is no AMD reference design for the RX 5500 XT, the specifications are detailed in their chart and in addition, the GDDR6 memory speed is 14Gbps: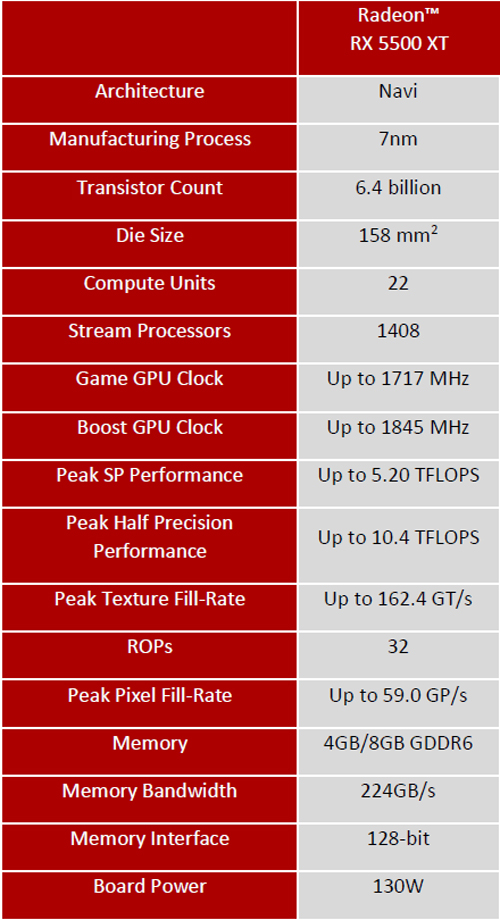 TheSapphire RX 5500 XT Pulse OC  has these same specifications including the 1845MHz maximum Boost clock, but it's game clock is set 20MHz higher at 1437MHz which gives it the OC designation.  In addition, this 4.0 PCIe card has a very useful feature for gamers, a dual BIOS.

The specifications look good, and the card looks awesome with a solid backplate as befits a premium card, so let's unbox it and look at it more closely before we benchmark it.