The Sapphire Pulse RX 5500 XT OC 4GB Benchmarked with 46 games vs. the Red Devils RX 570 4GB & RX 590 8GB and vs. the EVGA GTX 1660 XC 6GB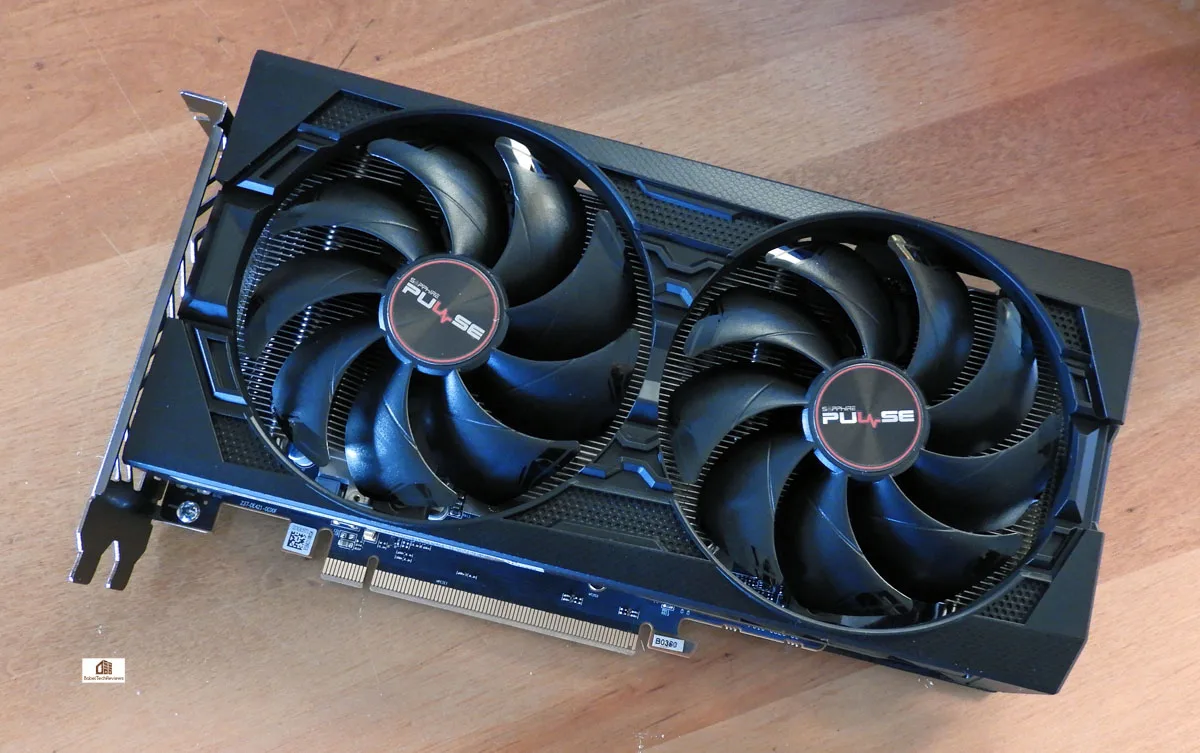 BTR received a Sapphire Pulse RX 5500 XT OC 4GB ($169) review sample from AMD on Monday, and we benchmarked it using 46 games versus the RX 570 4GB, the RX 590 8GB and versus the GTX 1660 6GB (non-Super). Although the Sapphire RX 5500 XT Pulse 4GB is designed for High 1080P, BTR's 46 game benchmarks were run at Ultra 1920×1080 and at 2560×1440 to really push it beyond its limits.
Since we never received a GTX 1650 Super 4GB for review, a much more expensive EVGA GTX 1660 XC 6GB at $239 will have to stand in for a GeForce comparison, although some GTX 1660's start around $209 with a $10 mail-in-rebate. The RX 570 4GB generally runs in the $130 price range and above. The Sapphire Pulse OC Edition of the RX 5500 XT is a little faster than the reference cards, comes with a dual BIOS and a really nice backplate, and at $169 is priced about ten dollars lower than the RX 590 8GB although our Red Devil is a premium overclocked card that is much more expensive if you can find one.
Arriving on 7nm, the RX 5700 series signaled AMD's return to competitiveness in July, and its new RDNA architecture is also the largest change since GCN. Now AMD is replacing their aging Polaris RX 500 series and aiming at the entry-level market with the RX 5500 series to go up against NVIDIA's GTX 1650 cards. Basically, the RX 5500 which is OEM only is replacing the RX 550/560 and the RX 5500 XT will replace the RX 560/570 class of cards.
The RX 5500 XT launches today as AMD partner cards only with varying levels of overclock and in two versions – the 8GB version, and the 4GB version as represented by our Sapphire Pulse RX 5500 XT. We also received a PowerColor Red Dragon RX 5500 XT 8GB ($199) sample, but we are still working to finalize that review which will be posted separately in a couple of hours; and in that review we will compare it against the Sapphire RX 5500XT Pulse OC 4GB.
Two days ago in advance of the RX 5500 XT's launch, AMD released the new Adrenalin 2020 Edition which brings at least 20 new and updated features. It provides gamers with new and improved features using one-click presets for an easy way to optimize software and system settings for custom gaming. What we especially like about it is that there is no need to sign into it nor give an email address and password just to access the program.
The new AMD Game Center gives gamers the option to launch games from one location regardless of the platform and to adjust their settings for each individual game while tracking gaming and performance stats without ever leaving their game. In addition, a new integrated web browser enables users to browse online for game information including for walkthroughs. Here are some of the highlights of the Radeon Software Adrenalin 2020 Edition:
Radeon Boost – Delivers an average performance boost up to 23% during fast-paced gaming by dynamically reducing image resolution in areas where it matters least to image quality while increasing framerates, fluidity, and bolstering responsiveness. AMD promises that Radeon Boost is supported in eight top games now with additional titles to be added.
AMD Link – Features an updated interface, and the AMD Link mobile application now allows gamers to stream to mobile devices with high-quality PC gameplay on phones or tablets from anywhere with a high speed Internet connection.
Integer Display Scaling – Scales on-screen images from one pixel to four or more to give classic games a retro pixel-art look with scaling options for high resolution displays without performance penalty.
DirectML Media Filters – Visual noise reduction and upscaling filters utilize machine learning to clean up photo and video files to deliver better quality than traditional de-noise and upscale filters.
Radeon Image Sharpening and Radeon Anti-Lag – Radeon Image Sharpening3 adds support for DirectX11 in addition to DX9, DX12, and Vulkan games. This feature now allows users to select the degree of sharpness. Radeon Anti-Lag4 adds support for DX9 titles on older 5000 series graphics cards.
The Sapphire RX 5500 XT Pulse 4GB
Although there is no AMD reference design for the RX 5500 XT, the specifications are detailed in their chart and in addition, the GDDR6 memory speed is 14Gbps: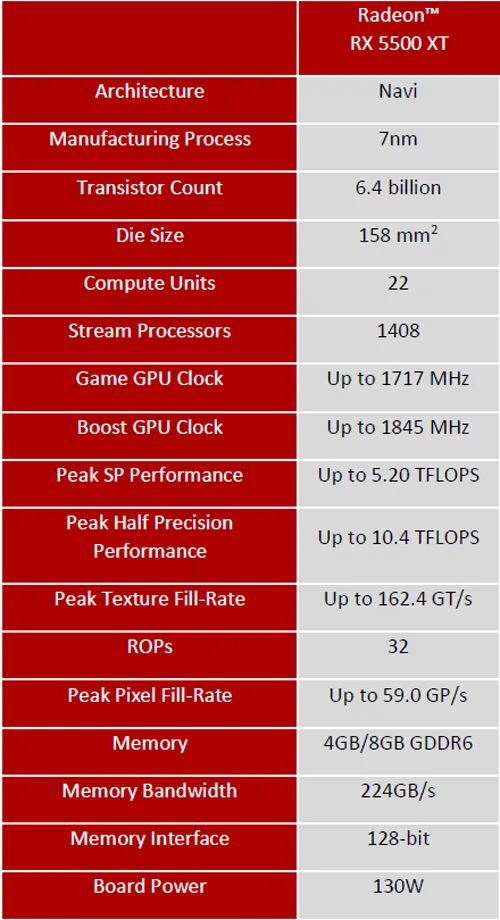 TheSapphire RX 5500 XT Pulse OC has these same specifications including the 1845MHz maximum Boost clock, but it's game clock is set 20MHz higher at 1437MHz which gives it the OC designation. In addition, this 4.0 PCIe card has a very useful feature for gamers, a dual BIOS.

The specifications look good, and the card looks awesome with a solid backplate as befits a premium card, so let's unbox it and look at it more closely before we benchmark it.
Unboxing the Sapphire RX 5500 XT Pulse 4GB
The Sapphire RX 5500 XT Pulse comes in an small box that advertise its features including OC (overclock). Pulse is an overclocked 4GB RX 5500 XT built on 7nm using AMD's latest RDNA architecture and it features 4.0 PCIe support, the latest AMD Radeon Adrenalin Software, Fidelity FX and FreeSync 2 HDR across HDMI.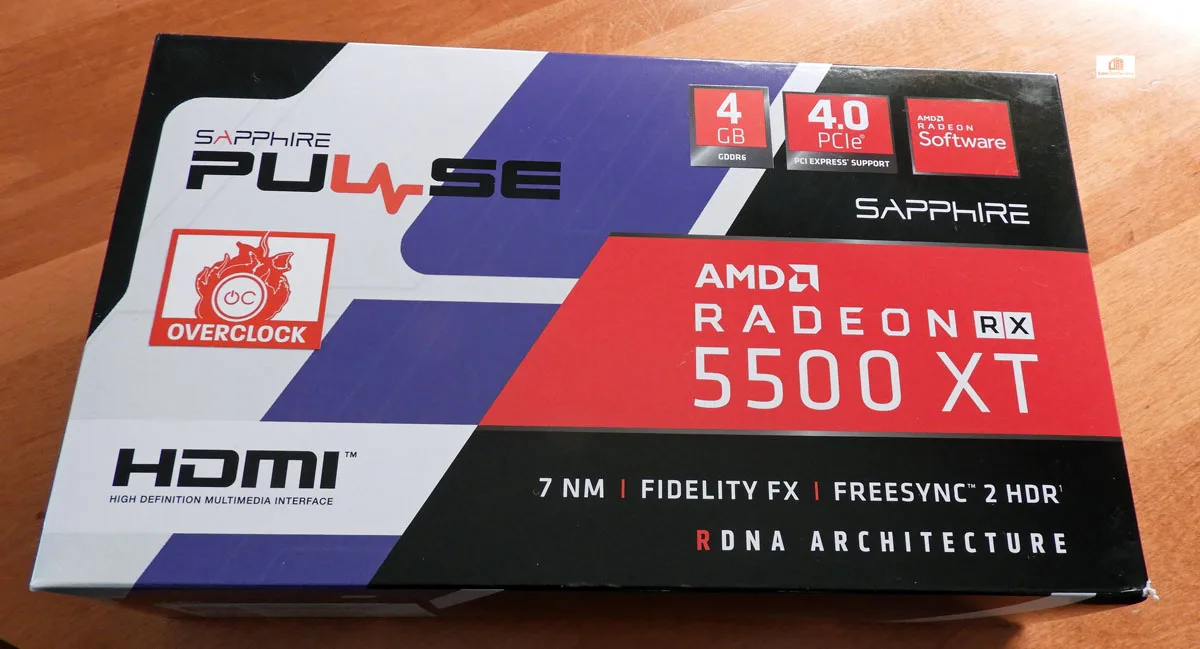 The features and the minimum system requirements including the need for a 450W power supply are detailed on the back of the box. And in a follow-up review we will test the claim of "Radeon VR Ready Premium".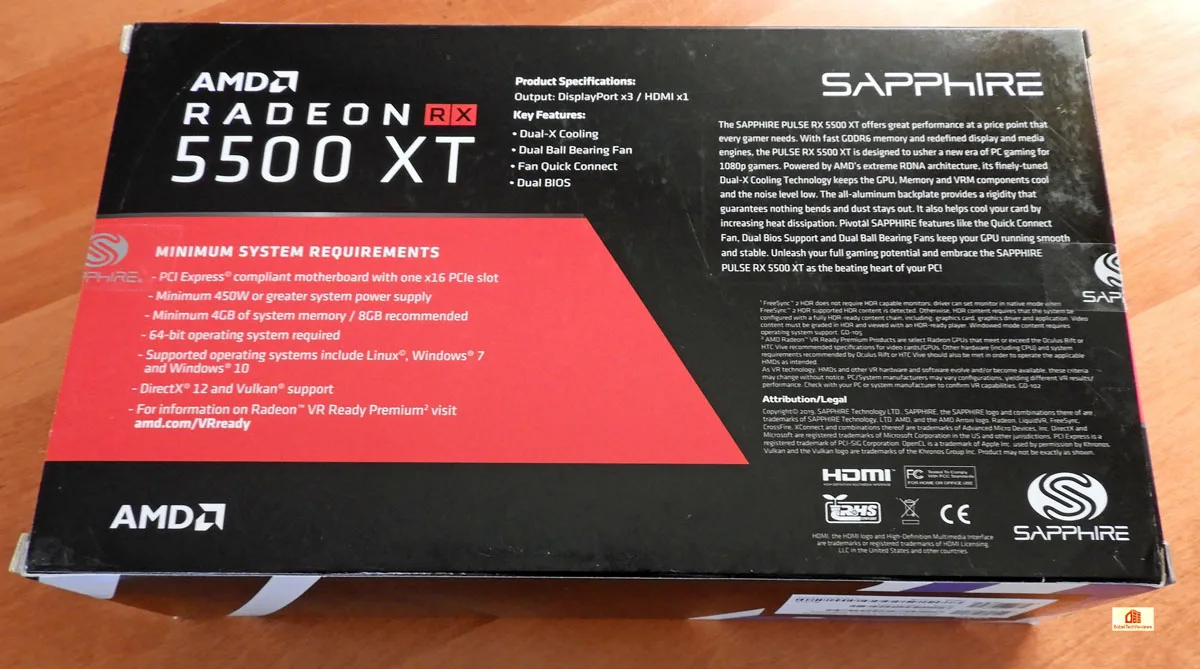 Dual-X cooling means dual axial fans that each use two-ball bearings for long life, stability, and quietness. A great feature for gamers that overclock is the Dual BIOS. The primary default BIOS's game clock is set 20MHz higher at 1437MHz than the secondary BIOS. Temperatures should be the same, but the secondary BIOS will give lower fan speeds and a quieter gaming experience.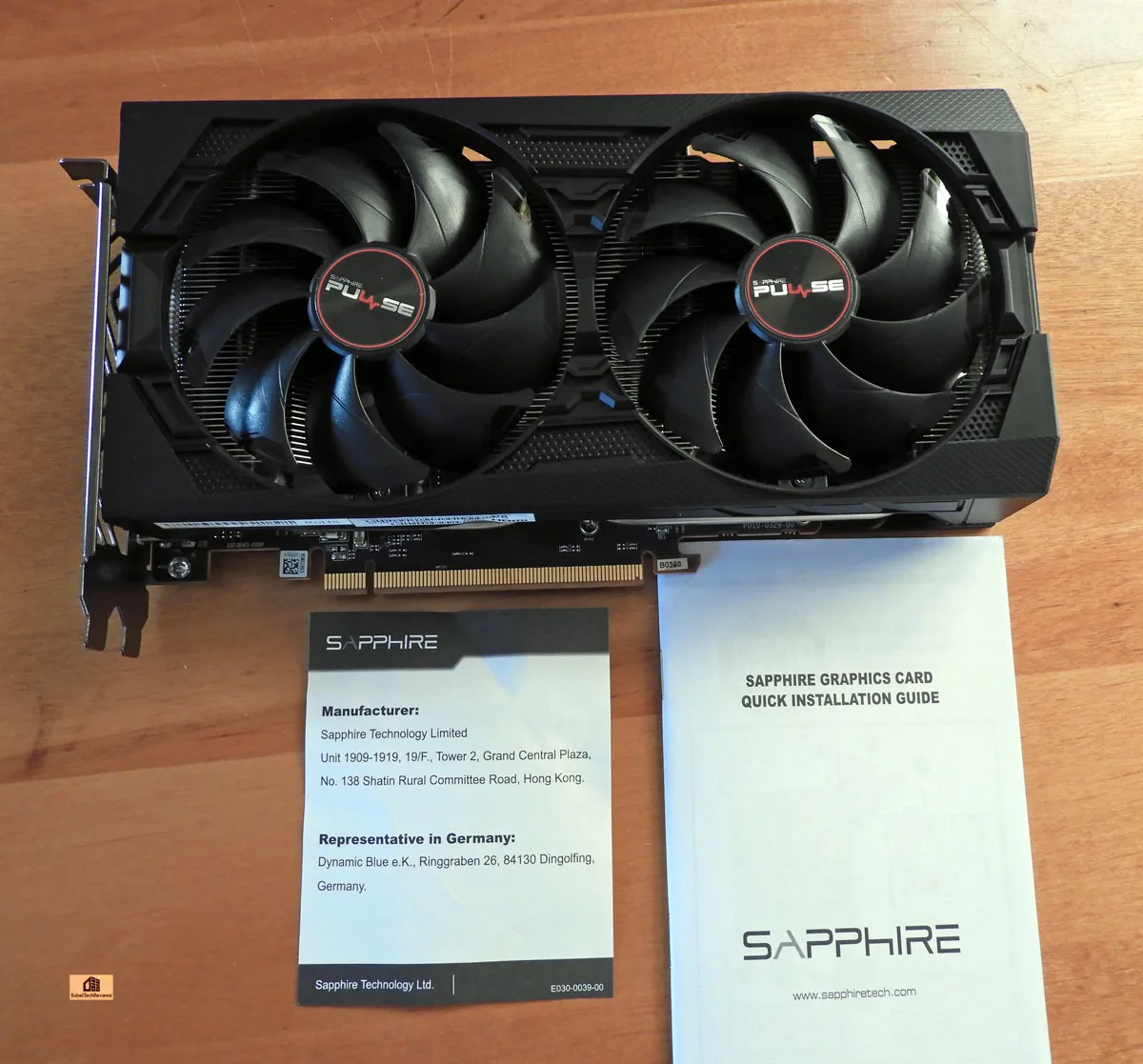 Opening the box we see a quick start guide and Sapphire's manufacturer information.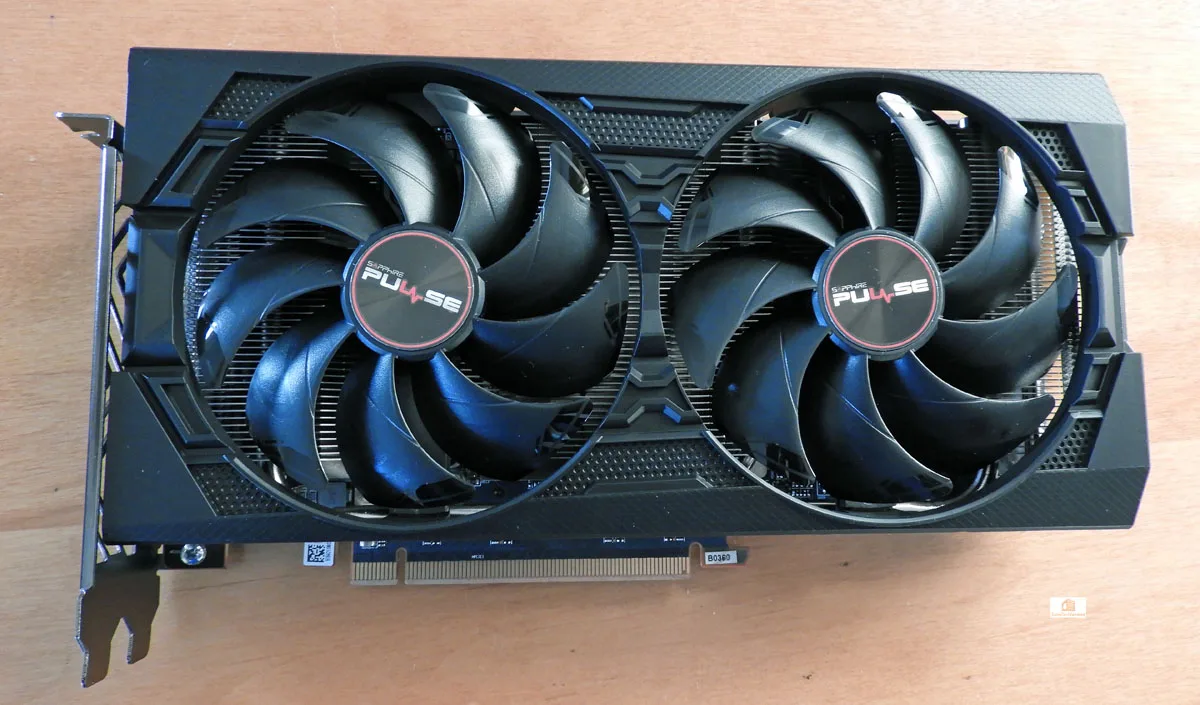 The Sapphire RX 5500 XT Pulse is very good looking card.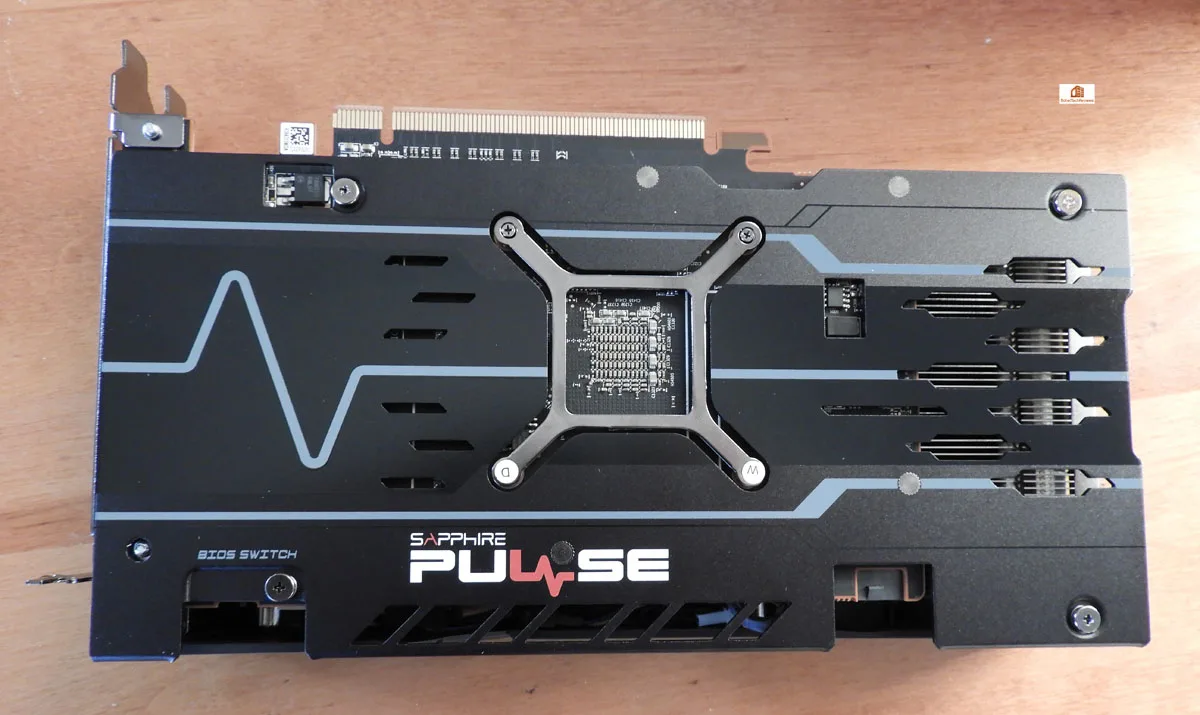 Turning it over, we see a solid metal backplate that protects the PCB against flexing and prevents damaging the traces. The BIOS switch is clearly labeled.

Looking at the Sapphire RX 5500 XT Pulse from an edge we see the heatpipes that connect with a large heatsink that extends for much of the length of the PCB.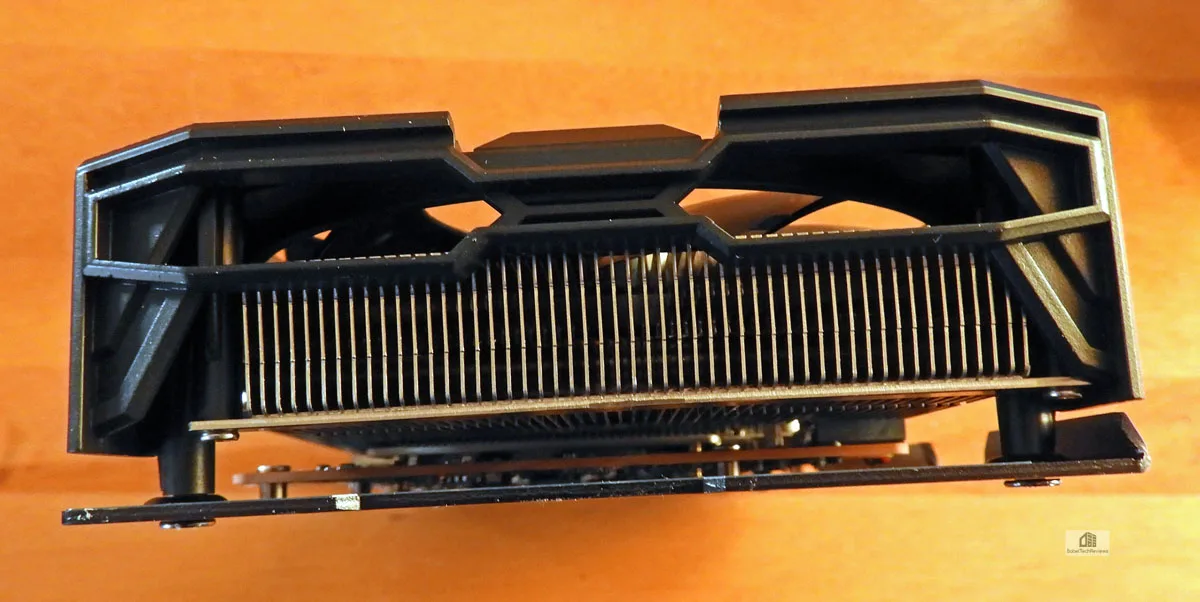 Above is one end.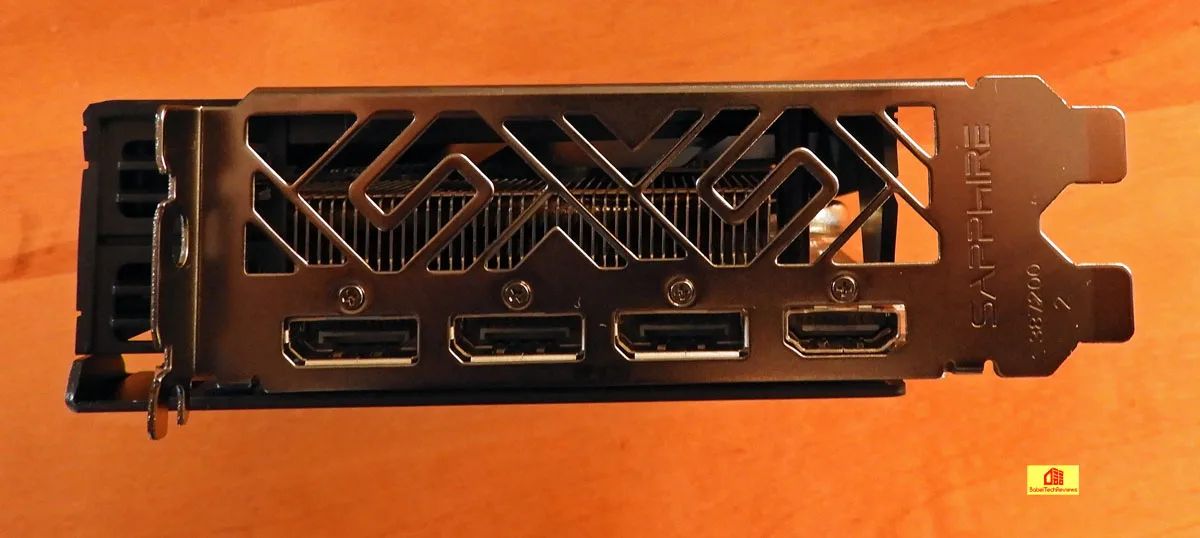 On the other end, the connectors consist of three DisplayPorts and a HDMI connector. We like this setup better than the cards that use the archaic DVI connectors especially for VR.
The Sapphire RX 5500 XT Pulse looks great from any angle. But before we explore overclocking and then performance testing, let's take a closer look at our test configuration.
Test Configuration – Hardware
Intel Core i7-8700K (HyperThreading and Turbo boost is on to 4.8GHz for all cores; Coffee Lake DX11 CPU graphics).
EVGA Z370 FTW motherboard (Intel Z370 chipset, latest BIOS, PCIe 3.0/3.1 specification, CrossFire/SLI 8x+8x), supplied by EVGA
T-FORCE 16GB DDR4 (2x8GB, dual channel at 3866 MHz), supplied by Team Group
Sapphire RX 5500 XT Pulse OC 4GB on loan from Sapphire
EVGA GTX 1660 XC 6GB at EVGA factory settings, on loan from EVGA
Red Devil RX 570 4GB, at Red Devil factory overclocked settings, on loan from PowerColor
EVGA GTX 1060 SC 6GB, factory SC clocks, on loan from EVGA
2 x 480GB Team Group SSDs – one for AMD, and one for NVIDIA
1.92TB San Disk enterprise class SSD
2TB Micron 1100 enterprise class SSD
500GB Vulkan SSD, supplied by Team Group
Seasonic 850W Gold Focus power supply unit
Cooler Master 240mm CPU water cooler
EVGA Nu Audio PCIe soundcard, supplied by EVGA
Edifier R1320T Active speakers
EVGA DG-77, mid-tower case supplied by EVGA
LG 43″ HDR 4K TV
Monoprice Crystal Pro 4K
Test Configuration – Software
GeForce 436.48 drivers used for the GTX 1060 SC. Game Ready 441.41 drivers are used for the GTX 1660. See NVIDIA Control Panel image below.
AMD Adrenalin Software 19.12.2 (press drivers) is used for the RX 5500 XT Pulse, the Red Devil RX 590 and RX 570. See the AMD Control Panel image below.
VSync is forced off.
AA enabled as noted in games; all in-game settings are specified with 16xAF always applied
Gaming results show average frame rates in bold including minimum frame rates shown on the chart next to the averages in a smaller italics font where higher is better. Games benched with OCAT show average framerates but the minimums are expressed by the 99th percentile frametime in ms where lower numbers are better.
Highest quality sound (stereo) used in all games.
Windows 10 64-bit Home edition. DX11 titles are run under DX11 render paths. DX12 titles are generally run under the DX12 render path unless performance is lower than with DX11; and Borderlands 3, Total War Warhammer II, and Hitman 2 are tested on DX11 and on DX12. Five games use the Vulkan API.
Latest DirectX
All 46 games are patched to their latest versions at time of posting.
The Adrenalin 2020 control panel is used to set Radeon options
The NVIDIA control panel is used for GeForce settings
OCAT, latest version
Fraps, latest version
Afterburner, latest non-beta version
Unigine Heaven 4.0 benchmark
46 PC Game benchmark suite & 3 synthetic tests
Synthetic
Firestrike – Basic & Extreme
Time Spy DX12
Superposition
DX11 Games
Grand Theft Auto V
The Witcher 3
Fallout 4
Rainbow Six Siege
Overwatch
For Honor
Mass Effect: Andromeda
ARK: Survival Evolved
Project CARS 2
Total Wars: Warhammer II
Middle Earth: Shadow of War
Star Wars: Battlefront II
Monster Hunter: World
Kingdom Come: Deliverance
Final Fantasy XV
Far Cry 5
Conan Exiles
Assassin's Creed: Odyssey
Call of Duty: Black Ops 4
Hitman 2
Just Cause 4
Resident Evil 2
Anthem
FarCry New Dawn
Devil May Cry 5
Borderlands 3
Destiny 2 Shadowkeep
Ghost Recon Breakpoint
The Outer Worlds
DX12 Games
Civilization VI
Sniper Elite 4
Forza 7
Total War: Warhammer II
Warhammer: Vermintide 2
Shadow of the Tomb Raider
Hitman 2
Battlefield V
Metro Exodus
Tom Clancy's The Division 2
Anno 1800
F1 2019
Control
Gears 5
Borderlands 3
Call of Duty Modern Warfare
Vulkan Games
DOOM
Strange Brigade
World War Z
Wolfenstein: Youngblood
Red Dead Redemption 2
AMD Adrenalin Control Center Settings
All AMD settings are set so as to be apples-to-apples when compared to NVIDIA's control panel settings – all optimizations are off, Vsync is forced off, Texture filtering is set to High, and Tessellation uses application settings.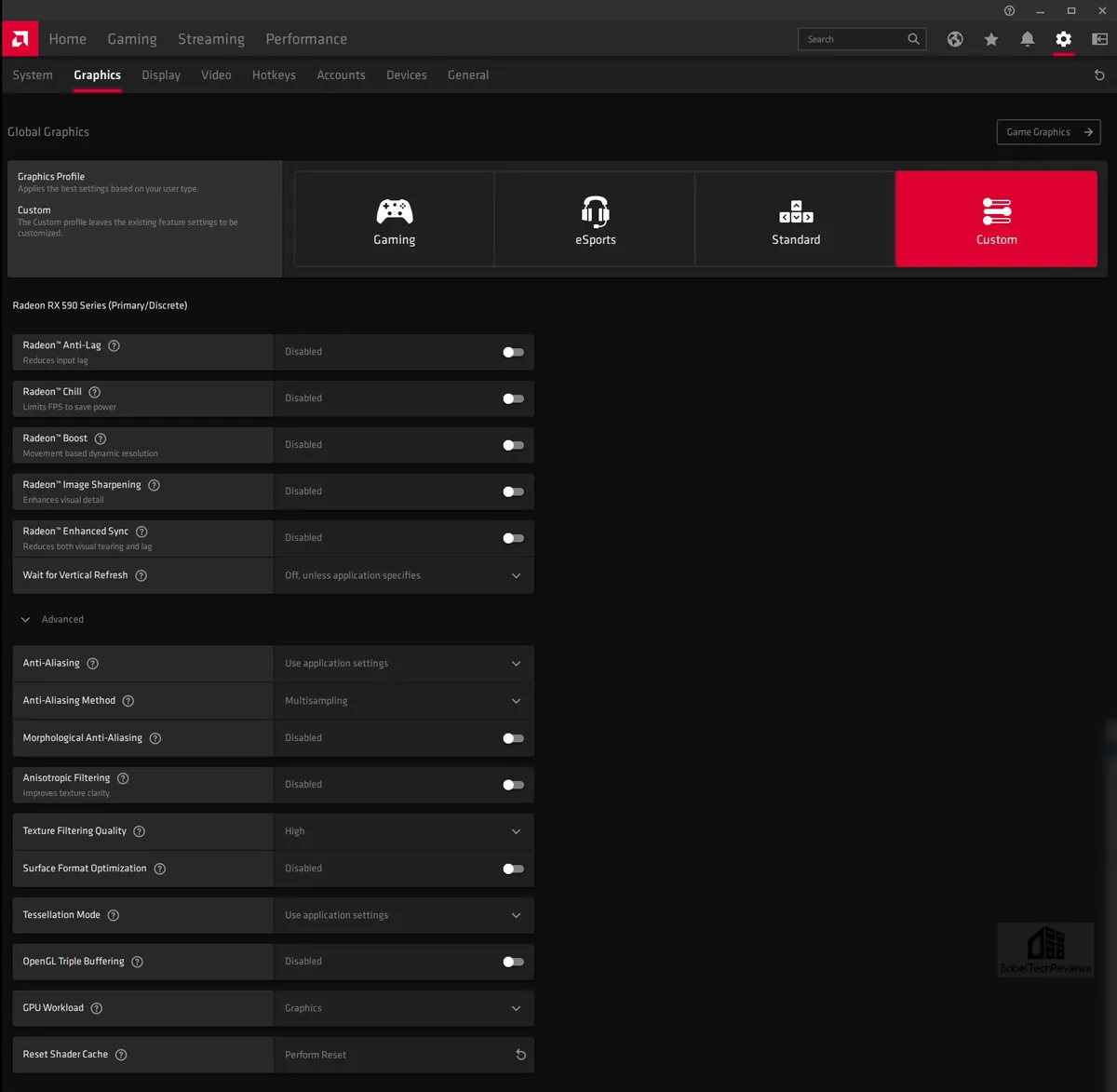 We pick the above Custom Global Performance settings for our benchmarking which has to be precise and repeatable especially because we benchmark driver performance changes, so Surface Format and other optimizations are disabled. As shown above, Anisotropic Filtering is disabled by default but we always use 16X for all game benchmarks.
NVIDIA Control Panel settings
Here are the NVIDIA Control Panel settings that match AMD's settings.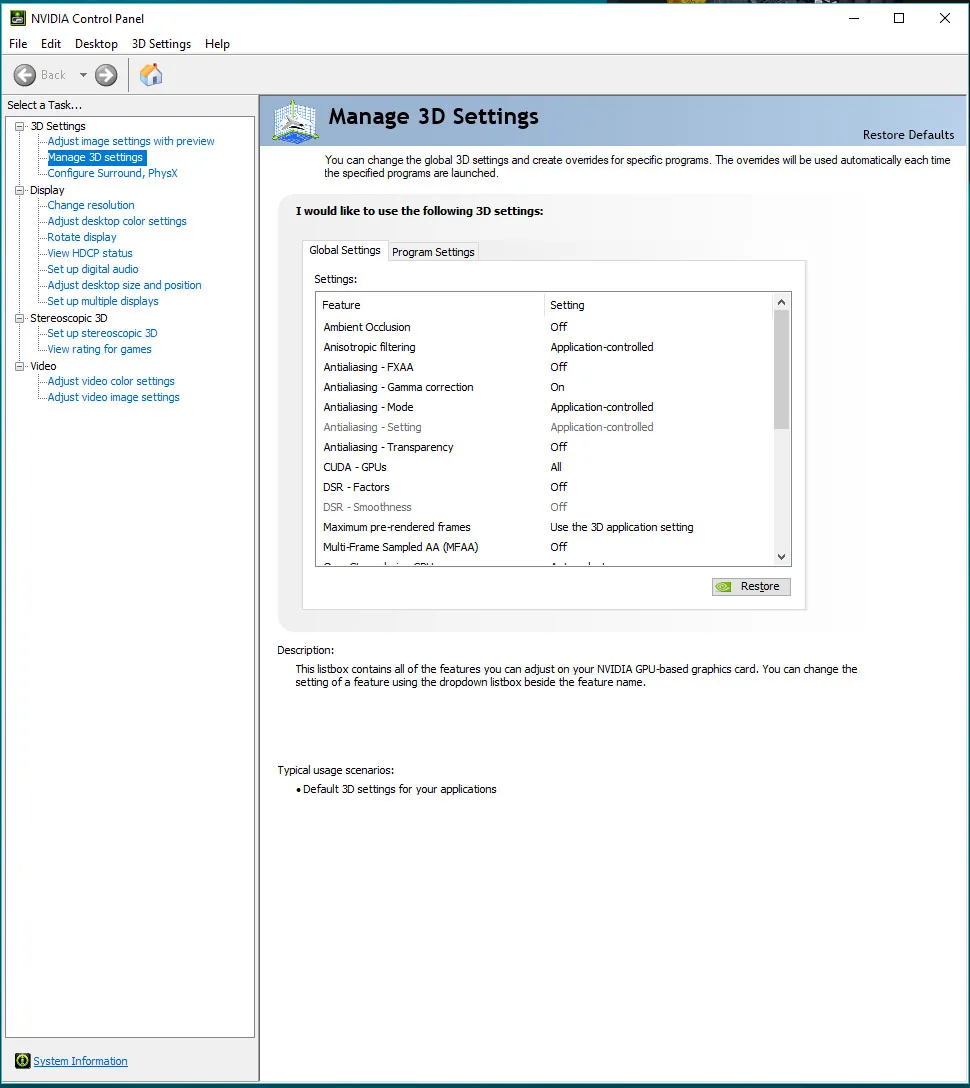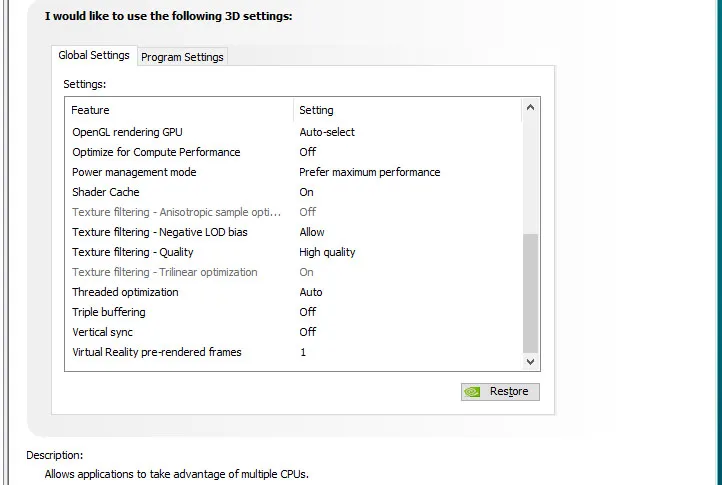 We did not adjust any card's Power and Temperature limits since it does not benefit low-power cards.
Let's check out overclocking, temperatures, and noise next.
Overclocking, temperatures & noise
The Sapphire RX 5500 XT Pulse is a low-power and quiet card even when overclocked. We could not hear it over the fans of our PC even when it ramps up, unlike with the Red Devil RX 590 or even the RX 570. Because of extreme time pressure, we will spend much more time manually overclocking and testing performance in a follow-up overclocking showdown.
Here is Heaven 4.0 running at stock clocks which allowed the Boost to stay locked between 1822MHz and 1832MHz which is well above AMD's typical game clock of 1717MHz or Sapphire's 1737MHz. During a heavy gaming load, we never saw it hit its maximum boost clock of 1845MHz after it warmed up.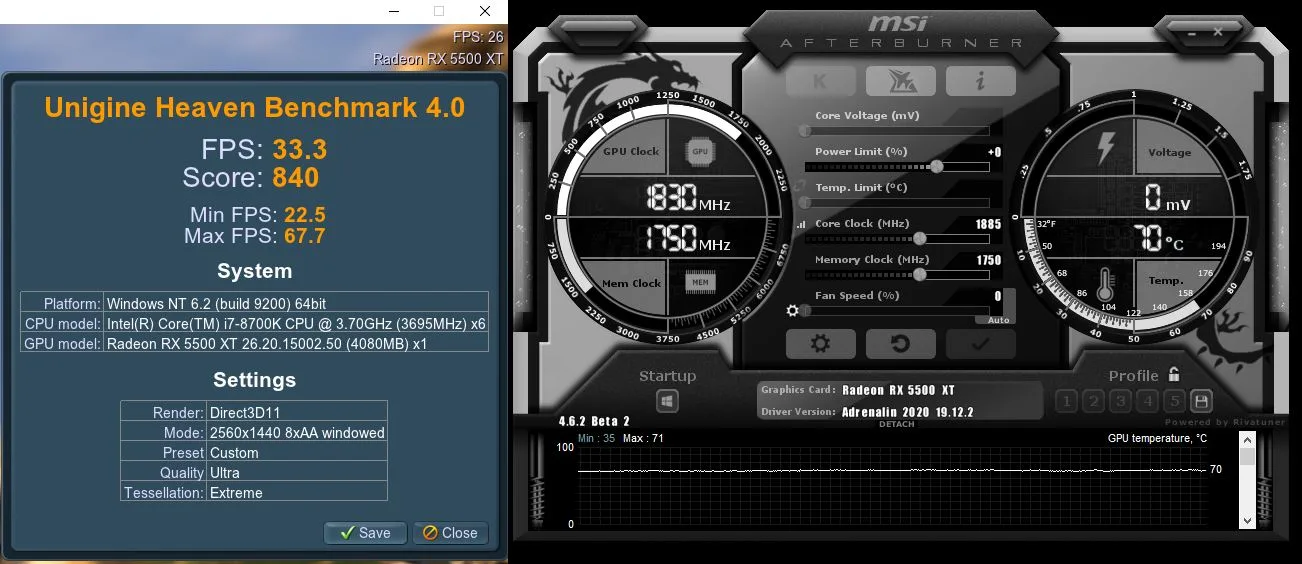 As you can see, the card stayed cool and it generally stayed at or below 70C even under a heavy load so the dual fans never became intrusive.
Let's check the Sapphire RX 5500 XT Pulse OC's performance compared with four other competing cards using 46 games, and then head for our conclusion.
Performance Summary Charts & Conclusion
Here are the performance results of 46 games and 3 synthetic tests comparing the Sapphire RX 5500 XT Pulse 4GB OC with the much more expensive EVGA GTX 1660 XC 6GB, and also with the Red Devils RX 590 8GB and RX 570 4GB. The highest settings are always chosen and the settings are listed on the charts. Although the Sapphire RX 5500 XT Pulse is designed for High 1080P, the benches were run at Ultra 1920×1080 and at 2560×1440 to really push the card well beyond its limits.
Most gaming results show average framerates in bold text, and higher is better. Minimum framerates are next to the averages in italics and in a slightly smaller font. The games benched with OCAT show average framerates but the .1 minimums are expressed by frametimes in ms where lower numbers are better.
The first column is devoted to the Sapphire 5500 XT Pulse 4GB. The second column represents the EVGA GTX 1660 XC 6GB, the third shows the Red Devil RX 590, the fourth is the EVGA GTX 1060 SC 6GB, while the fifth column represents the Red Devil RX 570 4GB. Open each chart in a separate tab for the best viewing.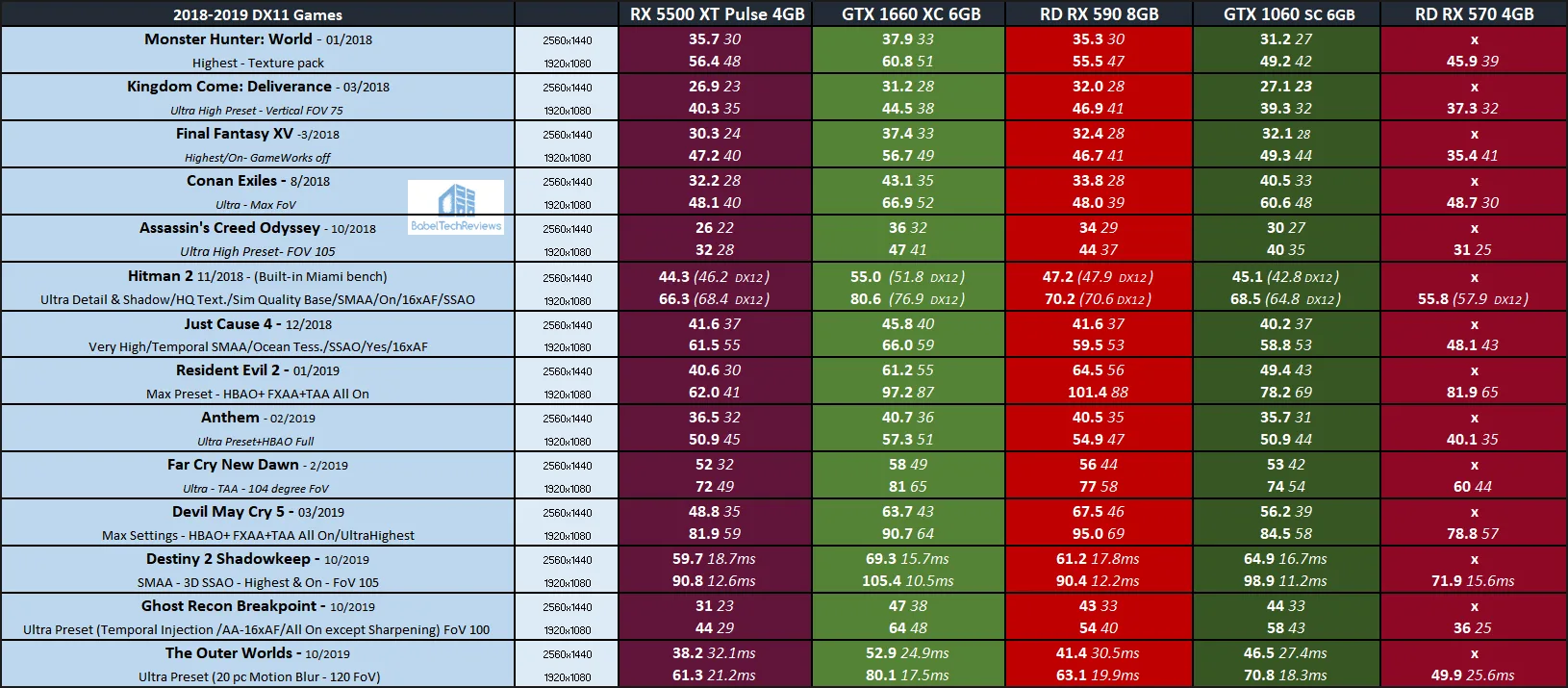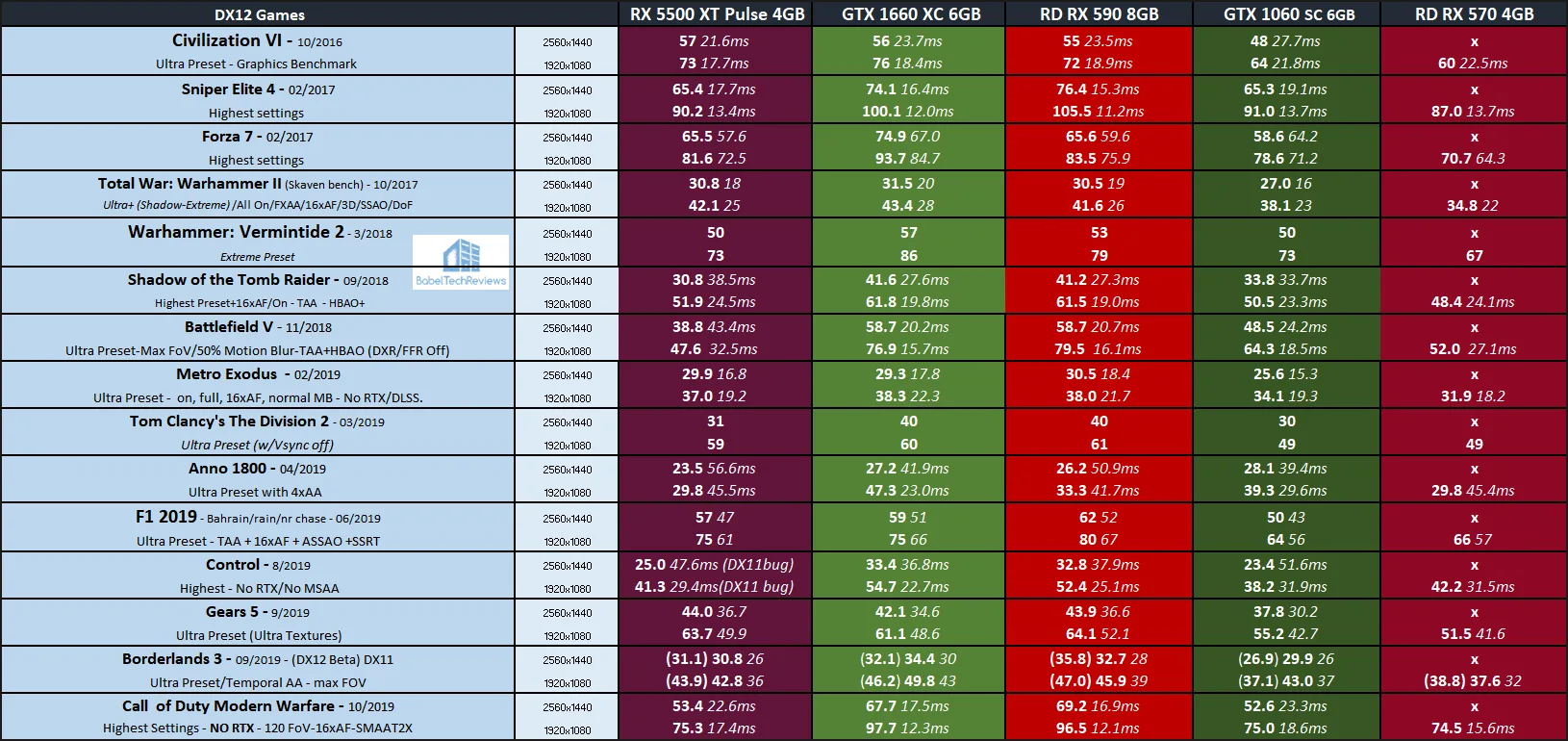 There may be issues with the Rockstar platform that prevented Red Dead Redemption 2 from running on GeForce cards. We spent hours with Rockstar tech support and ultimately had to download it again to get it to work with Radeons. Another bug affects RX 5500 XT cards that prevents Control from launching in DX12 – we reported our issues to AMD's driver team – and it's performance cannot be compared to cards that launch with the DX12 option.
We note a few oddities where the RX 5500 XT falls extremely short in performance as with Wolfenstein: Youngblood (tested at Uber settings) and a few other games. These issues can perhaps be attributed to immature drivers on new architecture or the 4GB vRAM limitation of this particular version that may not be optimized for Ultra settings. Ultra settings tend to use a lot of vRAM.
We will be the first to say that this is absolutely not a fair comparison against the significantly more expensive GTX 1660 – which starts at $199; and the EVGA XC card that we benchmarked is $240. However, we don't have a GTX 1650 Super. At any rate, the RX 5500 XT wins outright in 3 games, splits 3 others, and comes rather close in at least a half dozen others.
The Sapphire RX 5500 XT 4GB fares better against the Red Devil RX 590 even though the premium Polaris card has double the vRAM. AMD tends to bring more performance with subsequent driver revisions but we have seen that the improvements have mostly ended for Polaris as AMD concentrates on Navi. And in 40 out of 46 games, the RX 5500 XT wins solidly over the RX 570 which is also a 4GB card. Stay tuned as we post our PowerColor RX 5500 XT 8GB review within the next hour or so to see how much difference 8GB of vRAM makes versus 4GB.
Conclusion
The Sapphire RX 5500 XT Pulse 4GB at $169 brings a higher level of performance well above the Red Devil RX 570 4GB, but with much less power draw, less heat, and less noise. It would be an excellent upgrade from a RX 560/570 level of card and very well-suited for high 1080P gaming. For older games, it would be OK for 1440P gaming although its limited vRAM would demand lowering settings for texture heavy modern titles.
Along with Navi, AMD brings some great new features with Adrenalin 2020 software that turns it into an all-in-one platform for launching games, streaming, and sharing. From what we can see without having a GTX 1650 Super to compare with, AMD brings a good $169 value with the RX 5500 XT that is much faster than the RX 570 which generally runs in the $130 plus price range. The Sapphire Pulse OC Edition of the RX 5500 XT is a little faster than the reference XT clocks, comes with dual BIOS and a really nice backplate, and it is priced around $40 below entry level GTX 1660s, or about ten dollars lower than entry level RX 590s which consume a lot more power and won't be getting any further performance increases.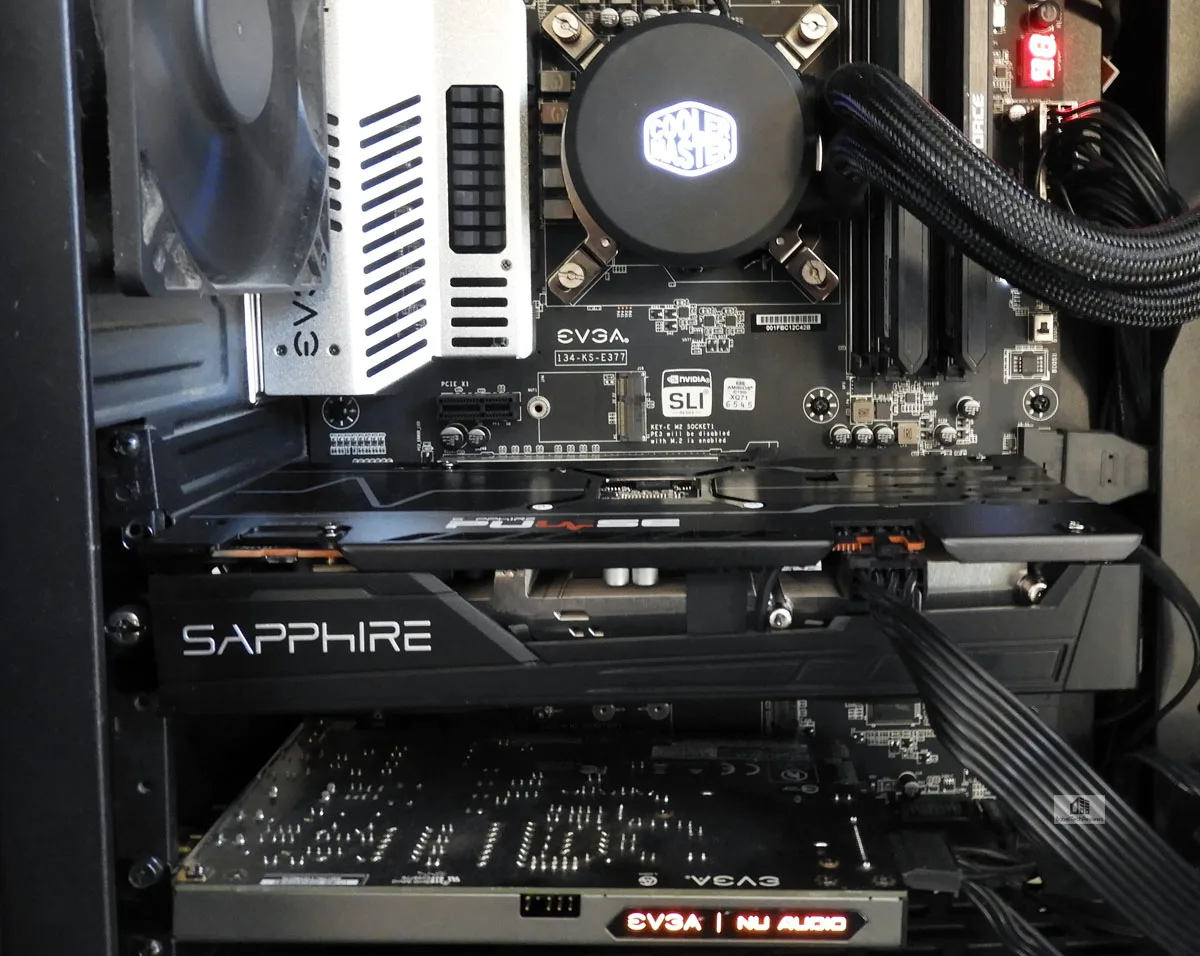 The Sapphire RX 5500 XT Pulse OC 4GB is a very nice modern card with improving performance potential for AMD gamers.
Sapphire RX 5500 XT Pulse Pros
The Sapphire RX 5500 XT Pulse OC brings great new features at $169 and it's faster than the RX 570 4GB or the GTX 1060 6GB
New RDNA architecture brings higher performance per clock and per watt
Twenty new or updated features include anti-lag technology and Radeon Boost for competitive gamers and image sharpening for everyone
The Sapphire RX 5500 XT is a fast card entry level card for high 1080P gaming and a solid performance improvement over the power-hungry Polaris series
RX 5700 XT 4GB Cons
Drivers need additional work and better tuning for its limited 4GB vRAM.
The Verdict: Recommended
7nm hardware and new architecture brings entry-level AMD Graphic cards to a higher 1080P playing field. RDNA will become the building blocks for the next console generation and several more generations of Radeon PC graphics
The RX 5500 XT brings real improvement over AMD's last Polaris generation and the Adrenalin 2020 software brings great new and improved features for Radeon gamers
NVIDIA takes Navi seriously and has premptively responded by lowering the price of the GTX 1650 Super to as low as $159 for selected models, and $199 for the GTX 1660 although a mail-in-rebate is required to get these prices. Extra new choices arriving with the RX 5500 XT benefit all 1080P gamers looking for an upgrade from older cards.
This has been an exhausting week benchmarking two RX 5500 XTs and after we post our PowerColor Red Dragon 5500 XT 8GB review in an hour or two, we are going to take a break to play, review, and benchmark MechWarrior 5: Mercenaries. Next week we will return with a 5500 XT overclocking showdown and then with an entry-level VR performance analysis featuring the new RX 5500 XT cards.
Happy Gaming!