The 5G Content, Connected World Coming to Your Neighborhood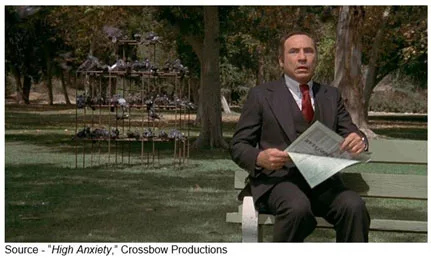 If you happen to be in Stockholm and walk down one of the main drags, you'll see a huge line of international players stretching as far as the eye can see.
All of those suits are representatives from every carrier, operator, hardware/software producer, installer, studio/network and business/enterprise user wanting to be the first to have bragging rights for being the first – at least in their area – to roll-out 5G wireless-wireline technology.
The line includes Qualcomm, Intel, Huawei, Cisco and dozens of others are rushing to have their technology part of the 3GPP (3rd Generation Partnership Project) standards and to ensure they are big players in the future.
What's the big deal?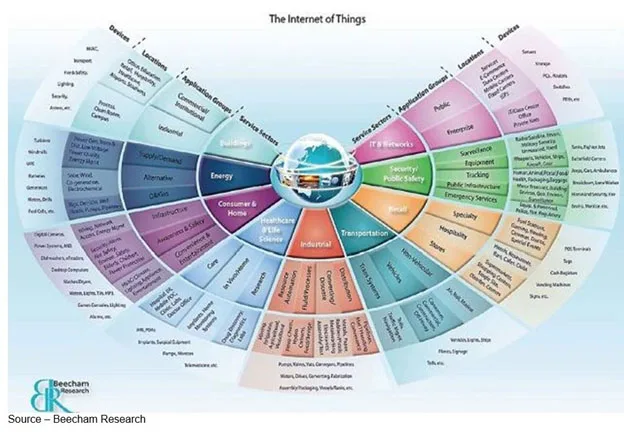 It marks the beginning of tomorrow:
28B IoT- (Internet of Things) connected devices by 2021, 50B by 2025
Performance that's 1000 times faster than 4G for data sharing, ultra-low latency, ultra-high availability and lower cost of delivery
Instant connectivity for autonomous car/transportation systems, homes, governments, healthcare institutions, manufacturing, distribution/shipping, city infrastructure, edge computing
Everything/everyone will be connected, and it will be blinding fast.
According to Ericsson, more than a third of the global wireless operators will deploy some form of 5G this year; and by next year, trials will be running around the globe.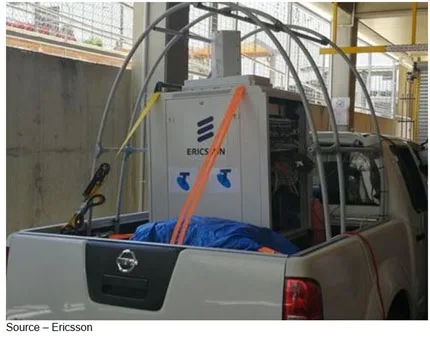 At this year's MWC (Mobile World Congress), Ericsson demonstrated the first 5G phone and Qualcomm, Huawei and other mobile chip set firms are aggressively working to shrink the footprint of the ultra-fast device.
Even before the first call was made; Intel, Toyota and NTT Docomo were busy getting 5G ready for the 2020 Tokyo Olympics. They're also moving to make Tokyo the first 5G city in the world with an overabundance of 4K streams and automatic stadium security facial recognition … all powered by 5G networks.
Why the rush?
Current 4G networks and the entire Internet (wired and wireless) are too overcrowded.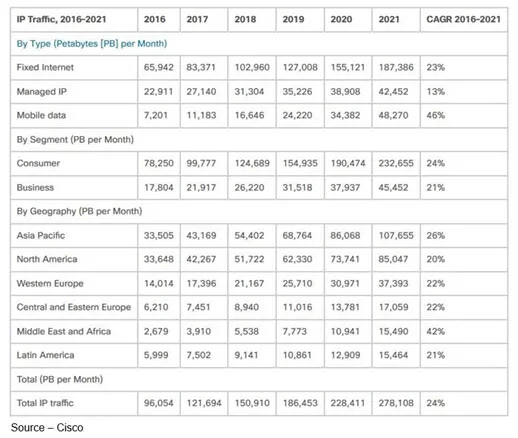 Yes, consumers are responsible for most of the overloading, especially when it comes to video content. Cisco reports that 70 percent of the traffic today is video and that will increase to 80 percent by 2021, or enough for someone to watch 5M years of video each month.
Talk about binge viewing!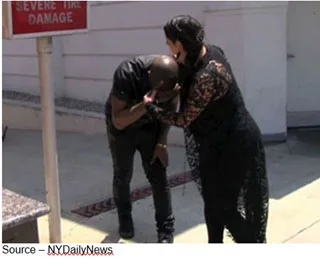 But the industry also needs the added bandwidth capacity for autonomous cars and connected sensors in cities of the future.
So why do all the operators want to be first?
Ericsson noted that those who focus on vertical 5G businesses – connectivity, platform, apps for manufacturing, auto, utilities, smart cities, healthcare, finance – will see a 36 percent increase in revenue potential.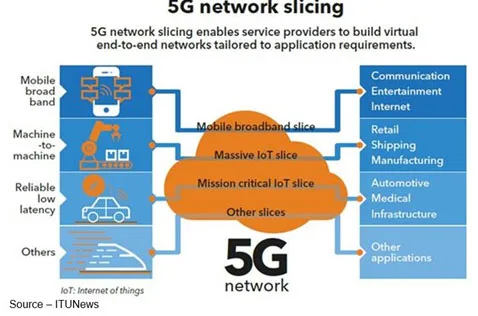 And if they use network slicing (multiple logical networks on a shared physical infrastructure), they can reduce the basic network cost by 40 percent while increasing revenue by 35 percent.
Gee … let me think about it!
Our 4G always-on smartphone culture taught us to be impatient.
Folks tolerated the content quality, they just wanted to get their content fix uninterrupted.
5G changes all (most) of that by delivering HD-quality video in a fast, reliable stream.
The new AV1 compression technology will help, using 30-40 percent less network capacity.
It won't have the hurdles of HEVC, which could have been the solution; but little things like video patents slowed it down.
Why is AV1 destined to take off rapidly?
Jon Peddie, analyst at Jon Peddie Research, summed up all the reasons by saying, "I think free always wins."
AV1 is open-source; so it costs nothing, there are no patent payouts to implement – depending on how the HEVC's patent pools' attorneys do.
That opens the floodgate for things like streaming movies, video chat, screen sharing, better ads without hiccups, and video game streaming. It could also help usher in high-res 4K video and VR headsets that need high resolution and minimal delays decoding network video streams.
In addition, it could help usher in newer technologies, like high-resolution 4K video and virtual reality headsets that need high resolution and minimal delays decoding video sent over a network.
Or it could be tied up in legal limbo for years because HEVC licensees all want a piece of the action.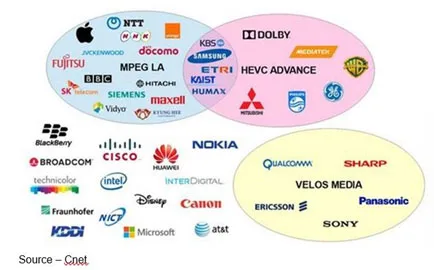 The three HEVC pools (MPEG LA, HEVC Advance and Velos Media) have all said HEVC adoption is moving rapidly noting that Intel, Qualcomm, some phone folks, broadcast folks and yes, even Apple, have begun using it.
So, cheering about a clear winner may be a little premature; and as long as they're fighting in the courts, guess who gets the short end of the video?
Yep – content producers who want to sell/rent their stuff and folks who just can't get enough.
Of course, even if that's resolved in the consumers' favor, don't expect to see your streams flawlessly – that only happens in movies.
Buffering can/may still be a "little" problem, especially if you prefer your content free rather subscribing with FAANG (Facebook, Amazon, Apple, Netflix, Google) or BAT (Baidu, Alibaba, Tencent).
Netflix, for example, has spent a lot of time and money ensuring their content will stream smoothly to any device (and manufacturer) you can imagine – TV, computer, tablet, smartphone.
The problem though isn't just the content, it's the ads; or more correctly, the KPI (key performance indicators) and ad tags used to measure views and boost revenue.
Take the YouTube ads that don't let you leave until the ad is done.
In addition, the ads suffer from poor page design, heavy creative and BAM!! … buffering.
It doesn't take a rocket scientist to figure out that it really ticks people off and they leave.
And according to Penthera's and Mux's surveys, 85 percent of respondents give up watching a video that takes too long to load.
Adobe's research found that about 80 percent of those asked said if the content took too long to load, they moved to another stream or in desperation another device.
But those things can and will be resolved over time because all of the major stream suppliers agree with Verizon's Chris McCann who said, "We see the distribution of high-resolution digital content and media as a tremendous opportunity for the technology."
Of all of the 5G opportunities, 69 percent of the major stream suppliers feel high-quality streaming to mobile devices is a prime opportunity, even ahead of automotive, public transportation and smart cities.
After all, download speeds will increase tenfold, compared to 4G, and it could even be a whole lot more. Downloading movies will happen in seconds rather than minutes, and near-zero latency between a streaming source to viewers – 10 to sub-3 msec – will become the accepted norm.
The improvement will pave the way for live-streaming sports, concerts and other live events.
It will also significantly improve and broaden the appeal of VR to the point where more people retreat to and enjoy life in Steven Spielberg's Ready Player One.
5G will reduce VR latency (which yes, can cause nausea) from 7ms – 15ms to sub-2 or 5ms latency, so real-time could become … real-time.
Qualcomm has been investing heavily in the next generation of XR (extended reality) glasses that meld VR and AR wirelessly, so you're not tethered to your system.
Of course, that just means one more thing my kid won't leave home without … his phone and his XR glasses.
So, what's the catch?
Oh yeah, the infrastructure build-out.
AT&T has told the FCC (Federal Communications Commission) and country communications agencies that 5G "will revolutionize the way consumers and businesses use mobile broadband services, and of the emerging internet of things."
To be deployed and to provide the best coverage possible, they need to install a crapload of large and small transmitter cells located 300-500 feet apart.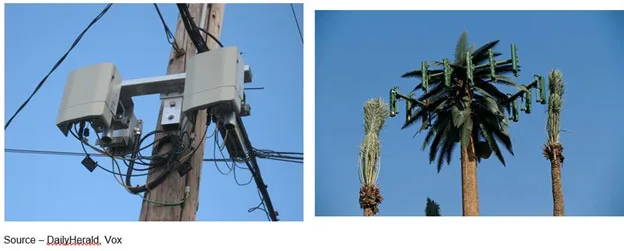 Consumers don't mind, except they don't want them in their neighborhood and especially not in front of their house!
Staring at one of the early trial installations, a lady in Maryland said, "The pole is a lot rounder, it has boxes on it and a huge fake mailbox at the bottom. You're going to end up with a Medusa, with a bunch more stuff attached."
Okay, so the design and community relations activities require a little work; but accenting the positive, an industry executive noted, "Customers won't have to worry about how they receive the content they consume because we'll deliver it in an innovative and quality manner."
That's so … reassuring!
To fast track 5G, a member of the FCC assured carriers that the government would bypass things like environmental assessments and local government jurisdictions when he said,
"The rest of the world is very conscious of our leadership in 4G, and they are questioning whether we will have the resolve to take the deregulatory steps necessary to extend our leadership into 5G."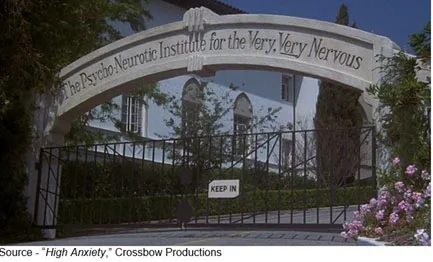 Some folks are concerned like Dr. Vicktor Lillolman when he said, "These things do not let go. High Anxiety can be a very dangerous enemy! If left unchecked, it could cost you your LIFE!"
The industry will overcome this; and by 2020, you'll be enjoying breathtaking content on any device, anywhere, anytime!
# # #