The GTX 980 Ti vs. the GTX 1070 & vs. the Fury X
How well has Maxwell aged?
This review is a quick follow-up to the Fury X versus the GTX 980 Ti evaluation. It has been just over two years since the GTX 1070 convincingly beat the Fury X and also surpassed the GTX 980 Ti. It appears that AMD is no longer optimizing their drivers for Fiji's limited 4GB of HBM vRAM, so we are going to see if NVIDIA is still well-supporting Maxwell using our 35-game benchmark suite.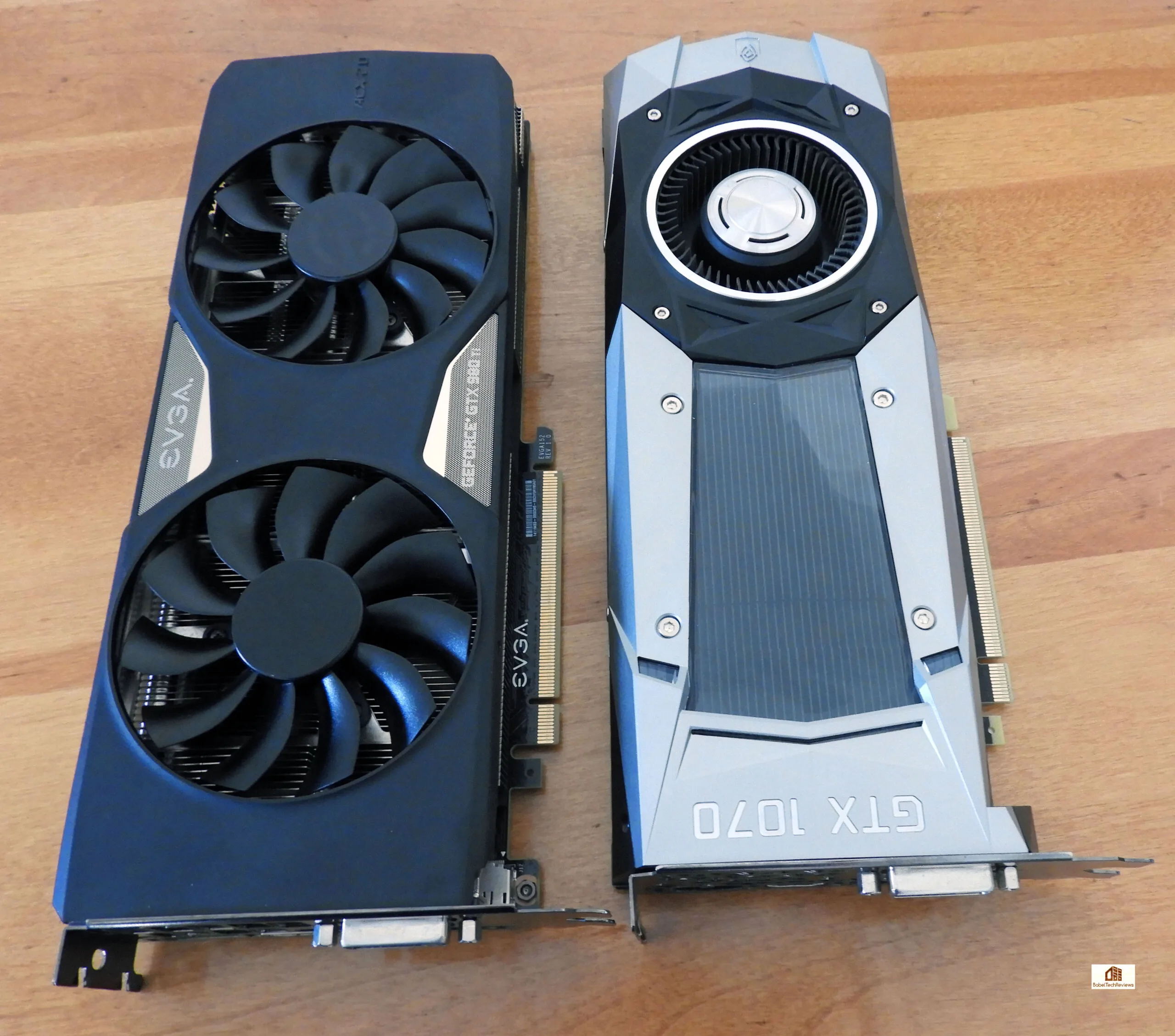 Both the GTX 980 Ti and the Fury X launched at $650 and they were surpassed when NVIDIA released the GTX 1070 at $379. The GTX 1070 beat the GTX 980 Ti overall by roughly 10%, and it also convincingly beat the Fury X. This evaluation will revisit some games from our last GTX 1070 vs. GTX 980 Ti vs. Fury X encounter together with many newer ones, and we will compare them using the very latest drivers.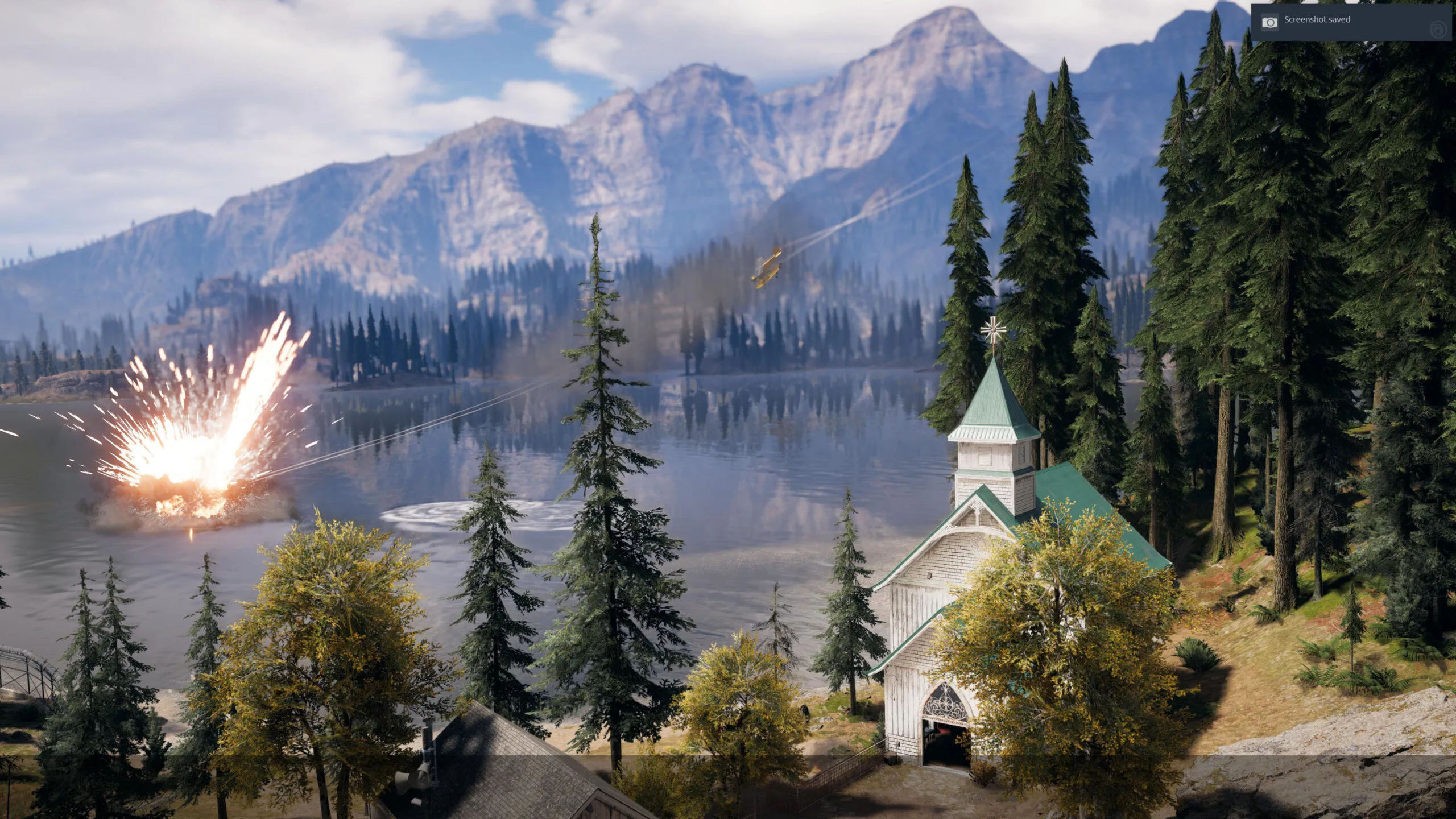 Our game benchmark suite has evolved as we always update our games to include the latest and most popular titles including Far Cry 5 and The Crew 2. Since then, we have also upgraded from an i7-6700K to i7-8700K at 4.7 GHz, but we found very little performance difference between them.
We want to see how these three GPUs stand now in relation to each other by benchmarking with updated drivers at the most demanding settings at 3840×2160, 2560×1440, and at 1920×1080 resolutions.
Let's check out the performance of GTX 1070 versus the GTX 980 Ti and versus the Fury X after we look over our test configuration on the next page.
Test Configuration – Hardware
Intel Core i7-8700K (HyperThreading and Turbo boost is on to 4.7 GHz for all cores; Coffee Lake DX11 CPU graphics).
EVGA Z370 FTW motherboard (Intel Z370 chipset, latest BIOS, PCIe 3.0/3.1 specification, CrossFire/SLI 8x+8x), supplied by EVGA
Team Group 16GB DDR4 (2x8GB, dual channel at 3200 MHz), supplied by Team Group
GTX 1070 Founders Edition, 8 GB at stock clocks, supplied by NVIDIA
EVGA GTX 980 Ti SC ACX 2.0+, 6 GB, at Founders Edition stock clocks, supplied by EVGA
PowerColor Fury X, 4 GB, at stock Fury X clocks
2 x 480 GB Team Group SSDs – one for AMD, and one for NVIDIA
1.92 TB San Disk enterprise class SSD
2 TB Micron 1100 SSD
EVGA 1000G 1000 W power supply unit
EVGA CLC 280 mm CPU water cooler, supplied by EVGA
Onboard Realtek Audio
Genius SP-D150 speakers, supplied by Genius
EVGA DG-77, mid-tower case supplied by EVGA
LG 43″ HDR 4K TV
Monoprice Crystal Pro 4K
Test Configuration – Software
NVIDIA GeForce 398.36 WHQL drivers. See Control Panel image below.
AMD Adrenalin Software 18.7.1 drivers. See Control Panel image below.
VSync is forced off.
AA enabled as noted in games; all in-game settings are specified with 16xAF always applied
All gaming results show average frame rates in bold including minimum frame rates shown on the chart next to the averages in a smaller italics font.
Highest quality sound (stereo) used in all games.
Windows 10 64-bit Home edition. All DX11 titles were run under DX11 render paths. DX12 titles are generally run under the DX12 render path unless performance is worse than with DX11. Two games use the Vulkan API
Latest DirectX
All 35 games are patched to their latest versions at time of publication.
WattMan used to set cooling and power options. See Control Panel image below.
MSI's Afterburner, used to lower the GTX 980 Ti's clocks and to set temp and power limits to maximum.
OCAT, latest version
Fraps, latest version
35 PC Game benchmark suite & 4 synthetic tests
Synthetic
Firestrike – Basic & Extreme
Time Spy DX12
DX11 Games
Grand Theft Auto V
The Witcher 3
Fallout 4
Watch Dogs 2
Just Cause 3
Rainbow Six Siege
Far Cry Primal
Battlefield 1
Resident Evil 7
For Honor
Ghost Recon Wildlands
Mass Effect: Andromeda
Prey
DiRT 4
Project CARS 2
Middle Earth: Shadow of War
Assassin's Creed Origins
Destiny 2
Call of Duty WW II
Star Wars: Battlefront II
Final Fantasy XV
Far Cry 5
The Crew 2
DX12 Games
Tom Clancy's The Division
Ashes of the Singularity: Escalation
Hitman
Rise of the Tomb Raider
Deus Ex Mankind Divided
Gears of War 4
Civilization VI
Sniper Elite 4
Total War: Warhammer II
Forza 7
Vulkan Games
DOOM
Wolfenstein: The New Order
AMD Adrenalin Control Center Settings
All AMD settings are set so as to be apples-to-apples compared with NVIDIA's control panel – all optimizations are off, Vsync is forced off, Texture filtering is set to High, and Tessellation uses application settings.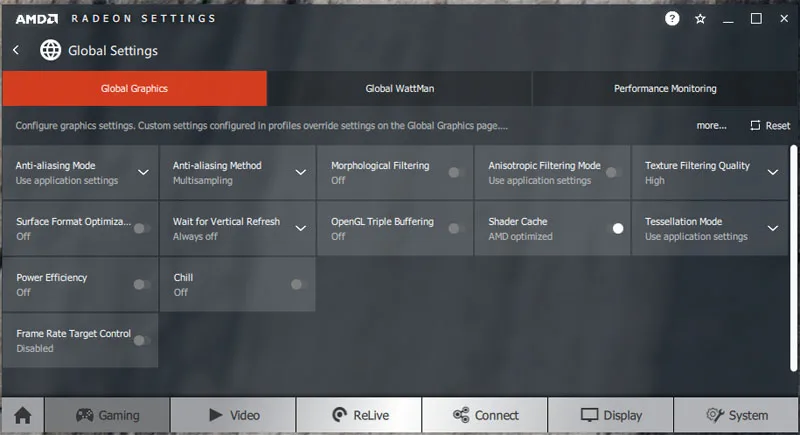 Here are the Wattman settings that we used to set power, temperature and fan settings to their maximums.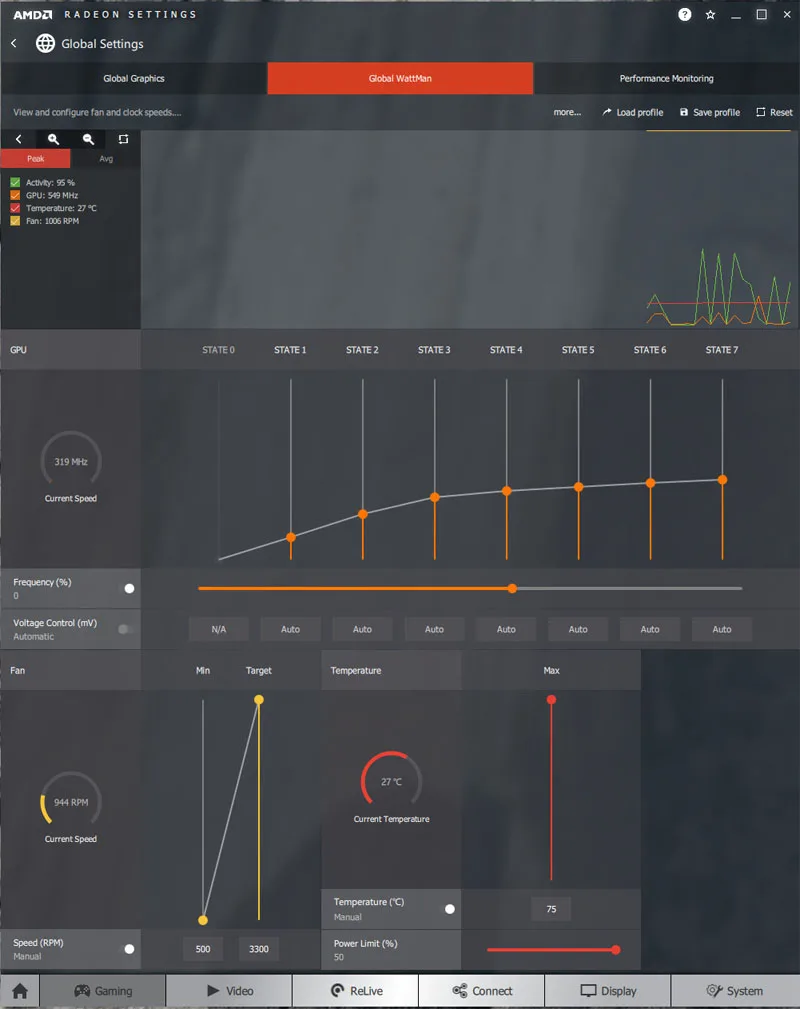 NVIDIA Control Panel settings
Here are the NVIDIA Control Panel settings that match AMD's settings.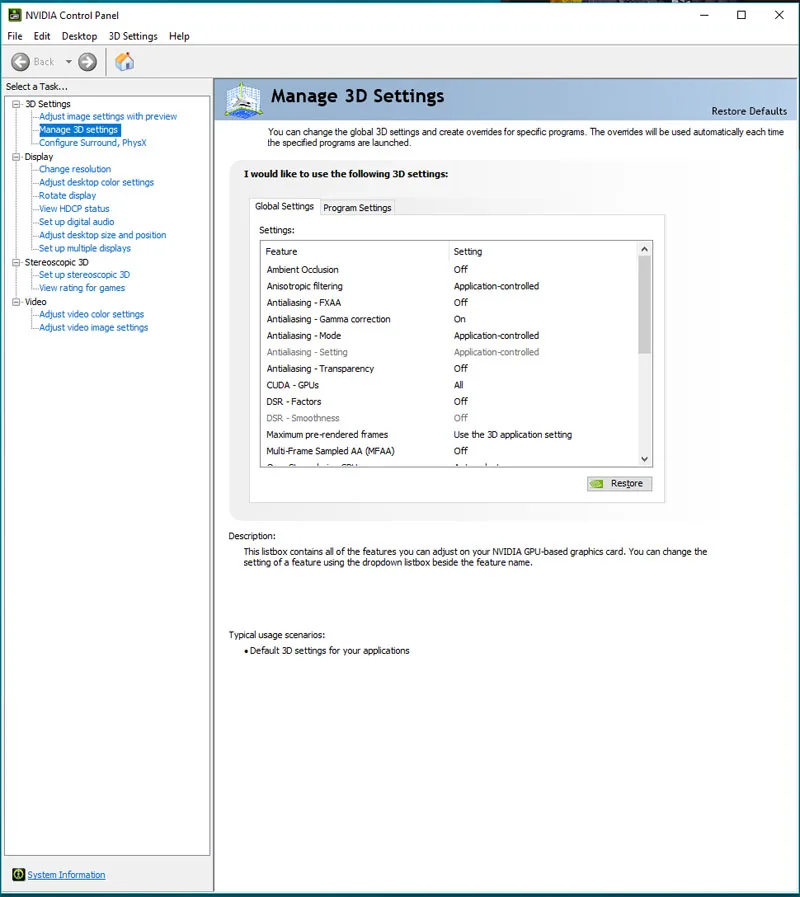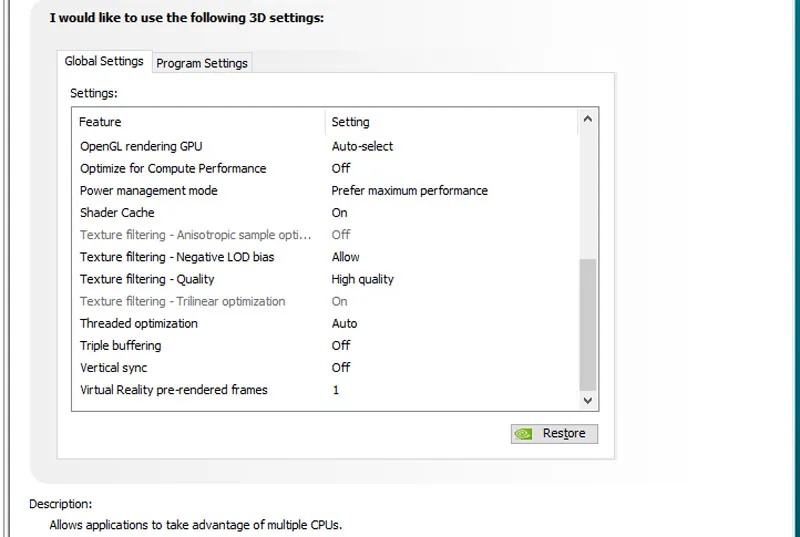 We used MSI's Afterburner to lower the EVGA GTX 980 Ti's clocks to match the stock clocks of the Founders Edition, and also to set temperture and power limits to their maximums. The GTX 1070 was left at stock clocks, and consistent with our benchmarking over the past decade, the power and temperature limits are also set to maximum.
Let's check the performance of 35 games by benchmarking the GTX 1070 versus the GTX 980 Ti and versus the Fury X, and then head for our conclusion on the next page.
Performance summary charts
Here are the summary charts of 35 games and 2 synthetic tests. The highest settings are always chosen. The benches were run at 1920×1080, 2560×1440, and at 3840×2160. All game results show average framerates in bold, and the minimums are next to them in italics; and higher is always better. "X" means the benchmark would not run.
The first column is devoted to the GTX 1070 results, the GTX 980 Ti results are in the second column, and the Fury X results are in Column 3.
The charts may be opened in separate windows or tabs for better viewing.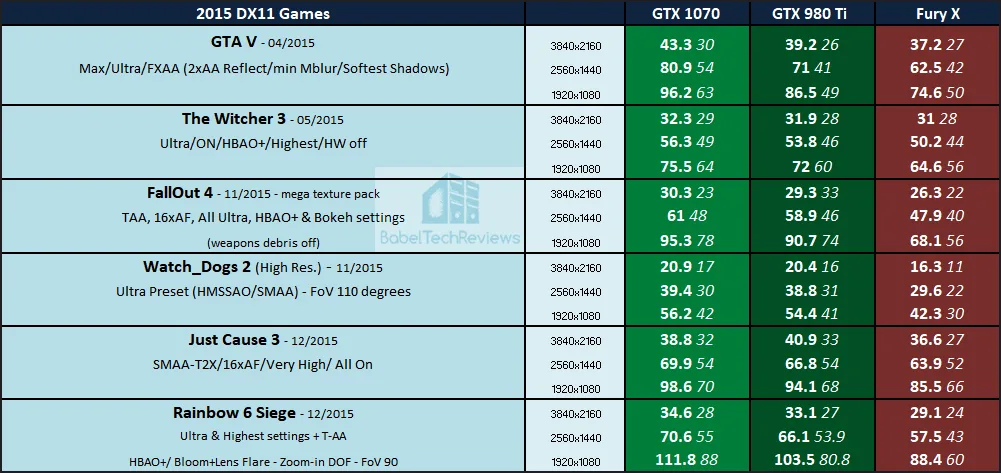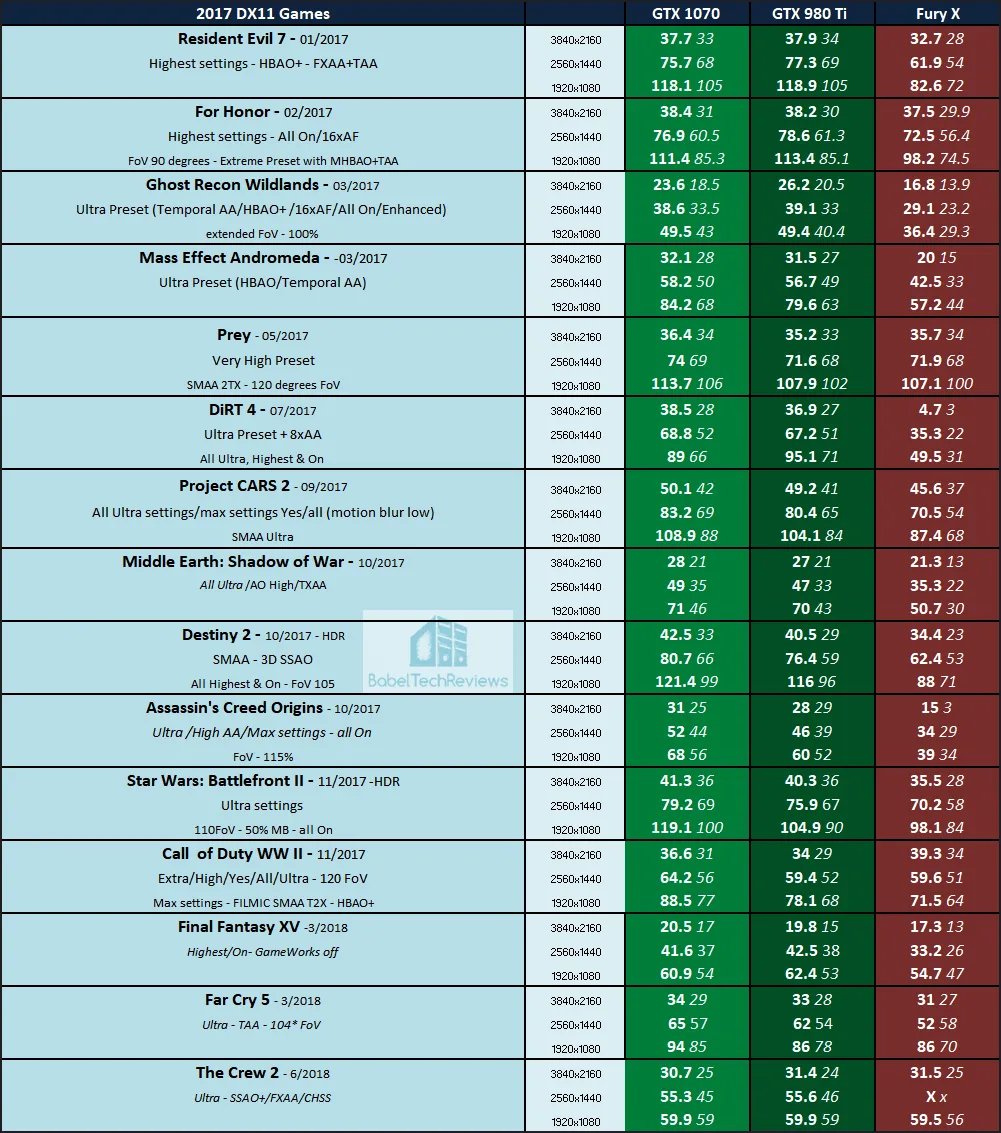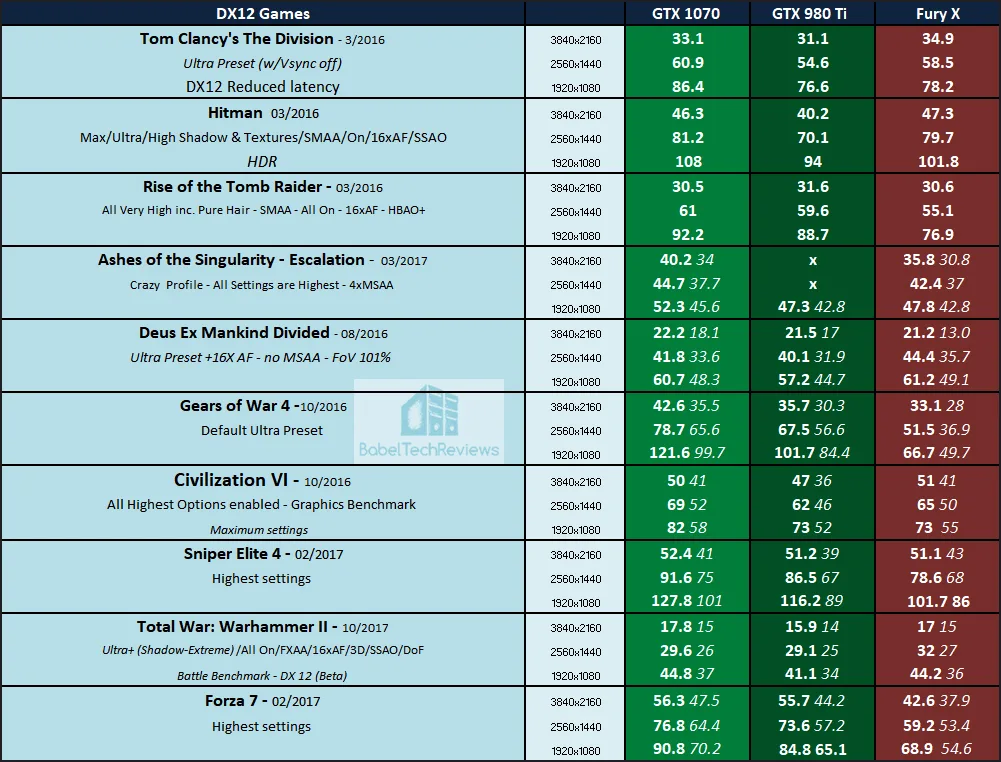 The GTX 980 Ti is now even faster than the Fury X for the majority of our games than when we benchmarked it about 2 years ago, but the gap between the GTX 1070 and the GTX 980 Ti has not changed much. There are still a few older games where the stock GTX 980 Ti is faster than the GTX 1070 at selected resolutions. However, generally the GTX 1070 remains very roughly 10% faster overall with many exceptions, especially with some newer games where it is even faster; and in others where it barely wins over the GTX 980 Ti.
The GTX 980 Ti crashed above 1920×1080 resolution benching Ashes of the Singularity: Escalation, but there were no issues running the benchmark on the GTX 1070. Our only really strange results were with Wolfenstein where the GTX 1070 is significantly faster than the GTX 980 Ti, although the Ti holds its own versus the Fury X. We switched the two GeForce cards in and out of our PC to double-check our results and they were consistent.
Generally the GTX 980 Ti and the Fury X are still capable at 1920×1080 and even at 2560×1440 if some detail settings are lowered, but the GTX 1070 has more headroom at stock clocks for additional performance. The GTX 1070 is a more capable card for 4K, but the GTX 1080 Ti and the TITAN Xp are really the only video cards that handle it at higher detail settings.
Let's head for our conclusion.
The Conclusion
As in all of our previous evaluations, the GTX 1070 is the fastest of our 3 cards, and the GTX 980 Ti is generally faster than the Fury X in most of the benches. Nothing has really changed over the past 2 years, although the Fury X has lost even more ground to the GTX 980 Ti. There were a few driver issues with the older cards but they performed well in modern games. The GTX 1070 is more suitable for playing at 4K, but compromises with lowered detail settings will need to be made for fluid play.
As before, if overclocking is taken into consideration, the GTX 980 Ti runs away from the Fury X which is a very poor overclocker. We did not overclock any card for this evaluation, but the GTX 980 Ti is a better overclocker than the GTX 1070 FE, and it can make up some performance with a good overclock.
If you currently game at 4K on any of these cards, we would recommend an upgrade to the GTX 1080 Ti if you want Ultra/High settings in many of the newer games. It appears that NVIDIA has not neglected Maxwell in favor of Pascal, although AMD no longer appears to be optimizing for Fury X' limited vRAM, and compromises in detail settings may have to be made even at 2560×1440 for fluid play.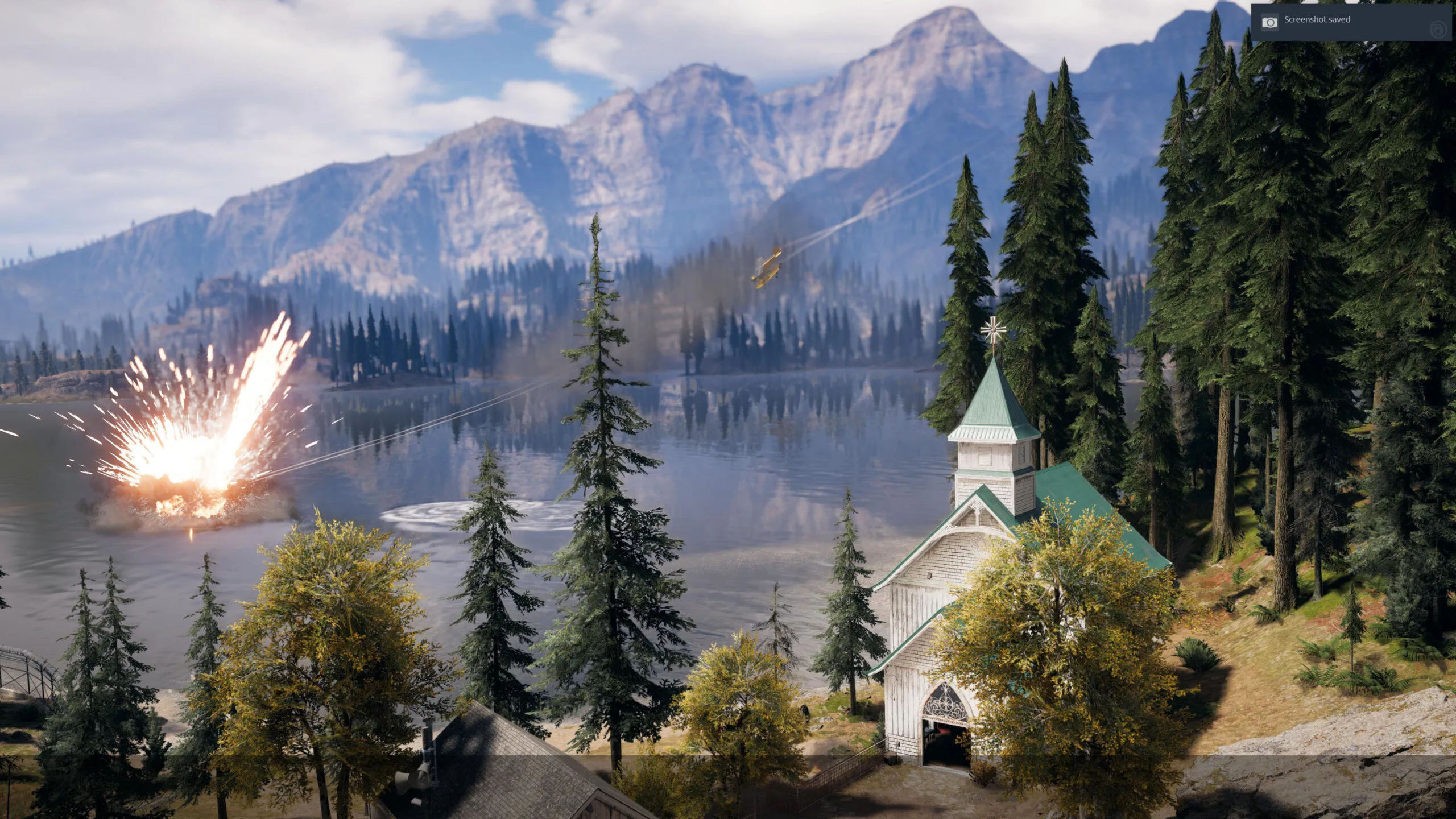 Stay tuned, there is a lot more coming from us at BTR. We will return to VR benching with a series featuring the Vive Pro versus the Oculus Rift using FCAT-VR to measure the performance of 25 of your favorite VR games. Expect an unboxing of the Vive Pro shortly.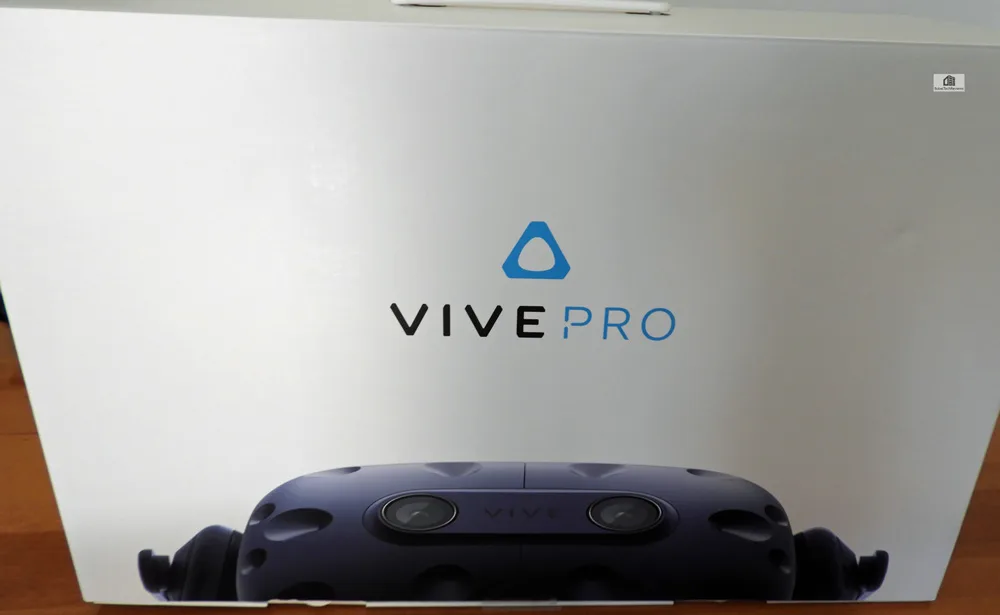 Happy Gaming!