The Best Organizational Team Has Complete Diversity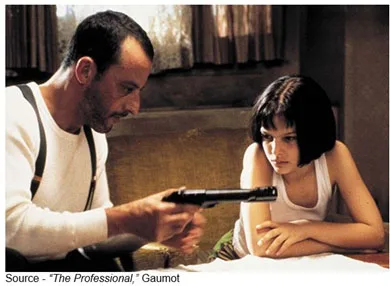 I do love the way folks profile the younger generation – they're lazy, self-absorbed, no ambition, not dedicated to their company/your products, have no respect for authority/hierarchy/chain of command, have no get-up-and-go, demand instant satisfaction/gratification and are driving the economy and world straight to hell!
Simply stated; they're brazen, audacious, egregious, out of line, disrespectful and rude know-it-alls.
Your parents' parents said that about them, parents said it about you, you said it about the new hire, they say it about the kids in school and they'll say it about the next herd.
We fit everyone of a certain age into a category/age group because it's easier to hire them, market to them, live with them.
Even though we know enough about you to know
what you watch/listen to in your spare time
what you do/where you go/with whom
what you have, what you want
how much you make, owe
your physical, emotional state
who you like, don't like, why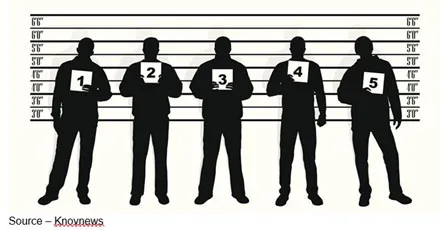 The market is just easier to think about, identify and draw from as a group rather than a group of individuals.
Or to be blunt, it's age discrimination.
Increasingly, companies pride themselves on diversity and acceptance, but the truth is it's a vision, a goal.
Management can't control what's going on to the smallest details.
The economy's growth is largely determined by the growth of the labor force and the productivity growth output per worker.
The challenge is the labor markets have tightened and finding qualified workers is becoming a major challenge for many companies.
At the same time, productivity growth has fallen.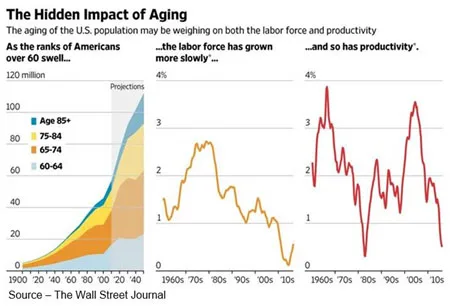 The tightening workforce is somewhat easy to understand. People around the globe are living longer; and when they leave their positions, all of their experience and expertise goes with them. At the same time, fewer young people are entering the working world; and when they do, they are at the beginning of their work experience.
The outlook isn't rosy.
The emerging pool of young people who will enter the workforce isn't offsetting the loss of experienced people who leave the workforce or retire.
Immigration from other countries – in the U.S. and other industrial countries – isn't an option as younger people see better opportunities at home.
In other words, businesses have to acquire and manage a more diverse workforce – ethnically, sexually and maturity.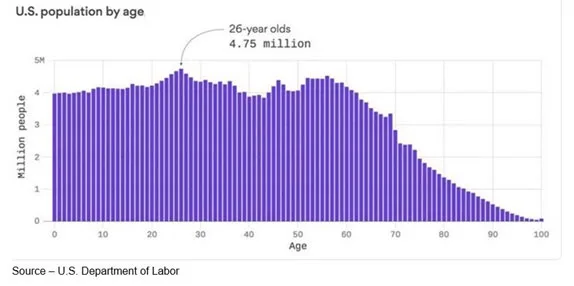 When firms start up, they rely on friends to fill key roles and then add staff from a growing circle of contacts. But as one HR person noted regarding their firm's executive search, "You can't fit 50 years of experience into 20, so it's important to have a broad range of experience and age group priorities."
Because they feel young, healthy and productive; older workers continue to stay in the labor force longer. The broader range of experience and expertise is a positive benefit to firms and the country because it stabilizes employment and keeps the economy expanding.
But there are differences.

Employees born in the 1940s came of age in the 1950s and early '60s, at a time of organizational hierarchies and monolithic media. They are able to grasp complex structures and objectives; an ear for sweeping, emotionally connecting narratives that unite rather than divide; and ability to not sweat the small stuff.
Employees born in the 1950s were shaped by intense innovation, from the postwar space race to Beatlemania to the civil rights, antiwar and women's movements. They value structure but also rebel against it. They have a knack for being able to question authority and be authoritative, which is valuable when brand narratives must convince, engage and innovate.
Employees born in the 1960s formed their earliest memories during the time when cultural traumas like assassinations, protests, war, impeachment and riots shook the nuclear family. They get the promise, excitement and power of participation and transformation on a personal level.
Employees born in the 1970s — the grouchy pragmatists of Generation X are the least sentimental and most resourceful. They went to college before email and the internet but adapted and sparked the dot-com boom. They are often generation bridge-builders.
Employees born in the 1980s (Millennials) experienced 9/11 in their early teens and entered the workforce at the height of the financial crisis. They are hyper-connected, open-minded and have a surreal commitment to progress. They are intuitively connected and have a second-nature command of digital, mobile and social.
Employees born in the 1990s — Generation Zers are just starting their careers. They came of age during a sluggish rebound from a financial crisis and use digital tools to facilitate connection, often more in the real world than on social media. Empathetic and accepting, they are realistic collaborators who are our next great hope.
It's no longer a generational thing. The digital generation is every generation and management need to think less about specific age brackets.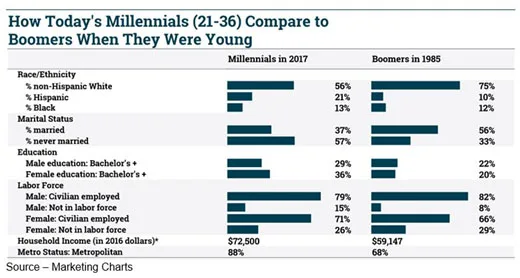 The population shift of the profile of the prime (millennial, boomer) global worker entails a myriad of characteristics:
An older, more gender and ethnically diverse workforce, with increased interconnectivity, has become the standard.
Country of origin and ethnicity no longer dictate a worker's geographical scope, especially with developing countries producing at least as many skilled, educated workers and managers as developed countries.
Working from remote locations no longer prevents employees from communicating with their colleagues, allowing teams to collaborate with ease across national borders and time zones.
Increased global connectivity means that workers can move around more frequently and might choose to migrate for both permanent and temporary jobs.
While 29 percent of today's Boomer women were not in the labor force when they were ages 21-36, that's true for fewer (26 percent) of today's Millennial women.
Correspondingly, 71 percent of today's Millennial women are employed in the civilian workforce, compared to 66 percent of Boomer women when they were that age.
Some 15 percent of today's Millennial men are not in the labor force, almost twice the share (8 percent) of today's Boomer men when they were the same age back in 1985
Some 79 percent of Millennial men today are employed in the civilian workforce, slightly below the 82 percent of today's Boomer men back in 1985
Of course, blending the generations isn't easy because they are … diverse.
Incidentally, Gen Xers are in an awkward position with Baby Boomers as one bookend and Millennials the other.
Women have been dealing with barriers and prejudices like this all their lives… and here we are!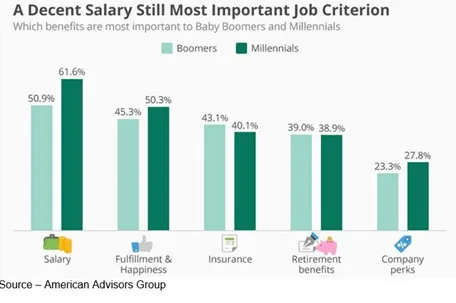 Their workplace priorities show more commonality than differences, which can be important to management.
In addition to tangible similarities, they also share professional priorities:
Having a boss you respect and trust
Interesting work
Fair treatment and respect
Empowerment
Achievement and accomplishment
Learning and growth
Each generation can learn from each other and benefit the organization, their team and themselves.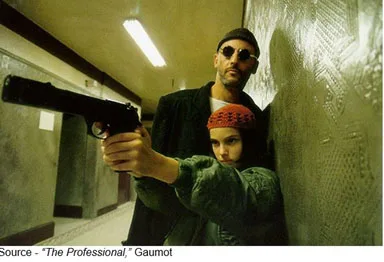 All management has to do is listen to Mathilda, "If somebody didn't do it one day or another, I probably would have done it myself."
# # #