Intro
The GTX 1070 Ti SLI vs. GTX 1080 Ti Review – 35 Games tested – We declare the performance winner!
What's better than a GTX 1080 Ti, the fastest video card in the world beginning priced at $699?  How about using two of the new GTX 1070 Tis in SLI for $900!  But is it worth an extra $200 for the second GTX 1070 Ti plus the approximately $45 cost of a high bandwidth (HB) SLI bridge for added performance?  Will GTX 1070 Ti SLI even beat a single GTX 1080 Ti in our 35-game benchmark suite?
This follow-up to last week's launch evaluation of the GTX 1070 Ti is going to test the same 35 modern PC games at 3 resolutions – 1920×1080, 2560×1440, and 3840×2160 – to see how well SLI'd GTX 1070 Ti's scale in comparison to a single GTX 1080 Ti.  We have tested SLI and CrossFire before many times with rather mixed results.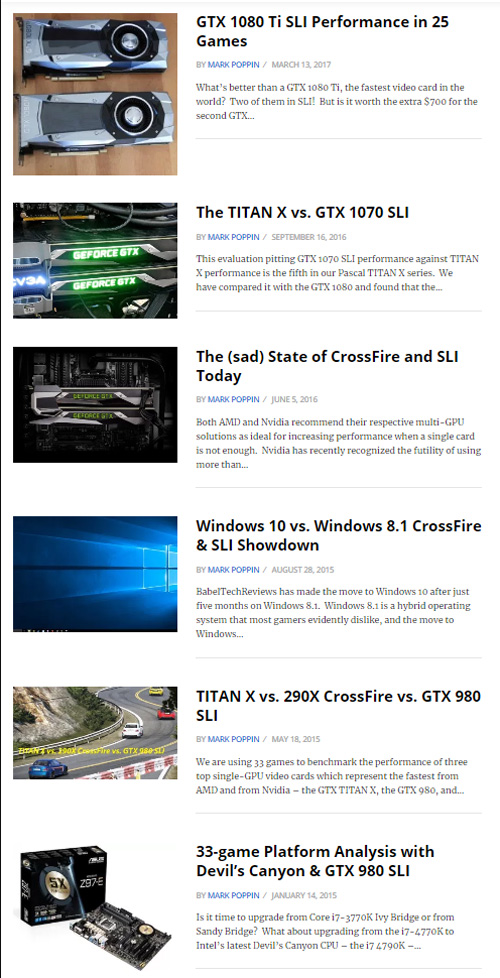 After finding that nearly half of our then 25-game benchmark suite had scaling issues with SLI just nine months ago, we concluded this from our last evaluation of GTX 1080 Ti SLI using Intel's Skylake platform:
 "GTX 1080 Ti SLI at $1400 is in a class completely by itself.  But if you play the very latest games on Day 1 and rarely revisit your games, SLI may not be your best choice. Not every game will scale with SLI and many DX12 games do not scale at all."
We purchased a second GTX 1070 Ti and we ran the same 35-game benchmarks as in the GTX 1080 Ti launch review last Thursday.  Since our last SLI evaluation, we have upgraded to a Coffee Lake Core i7-8700K with all six cores locked to 4.6GHz by our ASRock Z370 Killer SLI/AC motherboard.   This motherboard allows for a full space between the SLI'd cards, and temperatures were never an issue although the hottest card did get close to 84C where throttling begins.
The aftermarket Gigabyte GTX 1070 Ti Gaming OC 8G card runs generally below 60C as the bottom card, and as a result the locked-on Boost core clock is usually 1923 MHz.  The GTX 1070 Ti Founders Edition runs hotter as the top card because it is heated from below by the Gigabyte GTX 1070 Ti, and its locked-on Boost averaged slightly less at 1911 MHz.
The HB SLI Bridge
No longer do the flexible ribbon SLI bridges bundled free with SLI motherboards carry enough bandwidth for upper-midrange Pascal SLI.  High Bandwidth (HB) SLI bridges are necessary to support the bandwidth for high display resolutions.  Here is a chart from NVIDIA's GTX 1080 Reviewer's Guide:
From our testing, we didn't see any major performance differences between using a single ribbon SLI bridge and the HB SLI bridge for GTX 1070 Ti SLI.  Rather we noticed an improvement in frametime delivery – smoothness is improved by the higher bandwidth provided by the HB bridge. 
It is obvious from the games that chart frametimes that the HB SLI bridge provides a tangible smoothness improvement over using a ribbon bridge at 4K.  Micro-stutter is more evident to us using a SLI ribbon bridge at 4K, and we believe that it can have a negative subconscious effect possibly producing irritation to a gamer even if it is not obvious while playing.
What about using 2 Standard Ribbon SLI Bridges?
From our own testing, we found no positive performance or frametime impact whatsoever by using two ribbon SLI bridges over one bridge contrary to popular opinion expressed on some tech forums.  We asked NVIDIA about our research and they confirmed in no uncertain terms that using 2 standard bridges together are not recommended:
"With the ribbon cable system, each SLI connection runs independently regardless, so adding the second ribbon provides no benefit."
We originally received a HB SLI bridge from EVGA, but it was designed for "zero spacing" between the cards so we had to purchase a 3-slot HB bridge which is manufactured by ASUS and we used it for all of our GTX 1070 Ti 4K SLI benching.
Let's check out the test configuration.