The TUF Gaming X3 ASUS RX 5600 XT EVO OC Benchmarked with 50 games vs. the GTX 1660 Ti/Super, the RTX 2060, and vs. the RX Vega 56
BTR received a TUF Gaming X3 ASUS RX 5600 XT EVO OC 8GB ($279) review sample from AMD last week, and we have benchmarked it using 50 games versus its main competitor, the GTX 1660 Ti ($279). In addition, we benchmark the GTX 1660 Super 6GB ($229), the RX Vega 56 8GB ($265), the RTX 2060 ($299), and six other cards. Although the RX 5600 XT 6GB is designed for Ultra 1080P, BTR's 50 game benchmarks were also run at Ultra 2560×1440 to push it beyond its limits.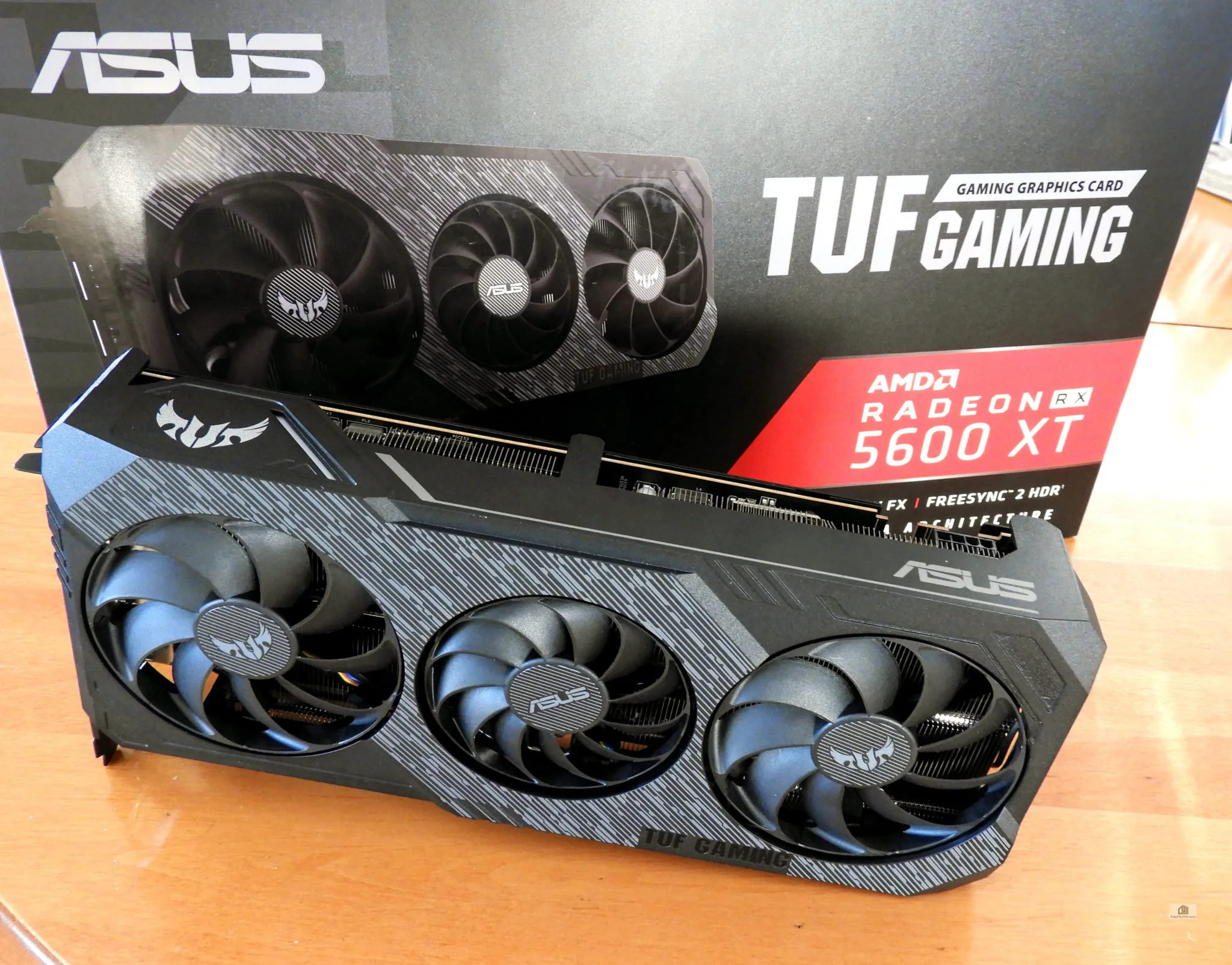 We got a surprise yesterday morning – AMD released a new performance vBIOS for the RX 5600 XT. Unfortunately, we didn't have time to retest all 50 games so we flashed the card's BIOS and rebenched ten games to get an idea of how much additional performance improvement this update brings. We also tested the power draw and the overclocking headroom before and after the vBIOS update.
Final Update 01/24/20 9:30 AM PT: A new-vBIOS ASUS TUF Gaming X3 RX 5600 XT review has updated all 50 game benchmarks and the conclusion. It also focuses on the RX 5600 XT's new performance versus the GTX 1660 Ti and Super as well as against the RTX 2060 and RX Vega 56.
UPDATED 01/22/20 9:30 AM: A full day after posting we just now got another surprise from AMD that the ASUS TUF Gaming X3 RX 5600 XT is priced at $309.99 (MSRP) which is $30 above AMD's entry-level pricing of $279.99. Newegg has it on pre-order for $319.99 with availability scheduled for tomorrow.
Arriving on 7nm, the RX 5700 series signaled AMD's return to competitiveness in July, and its new RDNA architecture is also the largest change since GCN. Starting with the RX 5500/XT, AMD has replaced the Polaris RX 500 series and is now aiming at the Ultra 1080P gaming market with the RX 5600 XT to go directly against NVIDIA's GTX 1660 Ti.
The RX 5500 XT launches today starting at $279 only as AMD partner cards with multiple levels of overclock and different features. We also have a PowerColor RX 5600 XT review sample on the way and will have a new review up in a day or two.
In advance of the RX 5500/5600 XT's launch, AMD has released the Adrenalin 2020 Edition which brings at least 20 new and updated features. It provides gamers with one-click presets to easily optimize software and system settings for custom gaming.
The new AMD Game Center gives gamers the option to launch games from one location regardless of platform. Settings can be adjusted for each individual game to track gaming and performance stats without ever leaving the game. In addition, a new integrated web browser enables users to browse online for game information. Here are some of the highlights of the Radeon Software Adrenalin 2020 Edition:
Radeon Boost – Delivers an average performance boost up to 23% during fast-paced gaming by dynamically reducing image resolution in areas where it matters least to image quality while increasing framerates, fluidity, and bolstering responsiveness.
AMD Link – Features an updated interface, and the AMD Link mobile application now allows gamers to stream to mobile devices with high-quality PC gameplay on phones or tablets from anywhere with a high speed Internet connection.
Integer Display Scaling – Scales on-screen images from one pixel to four or more to give classic games a retro pixel-art look with scaling options for high resolution displays without performance penalty.
DirectML Media Filters – Visual noise reduction and upscaling filters utilize machine learning to clean up photo and video files to deliver better quality than traditional de-noise and upscale filters.
Radeon Image Sharpening and Radeon Anti-Lag – Radeon Image Sharpening3 adds support for DirectX11 in addition to DX9, DX12, and Vulkan games. This feature now allows users to select the degree of sharpness. Radeon Anti-Lag4 adds support for DX9 titles on older 5000 series graphics cards.
The TUF Gaming X3 ASUS RX 5600 XT EVO OC 6GB
Although there is no AMD reference design for the RX 5600 XT, the specifications are detailed in their chart.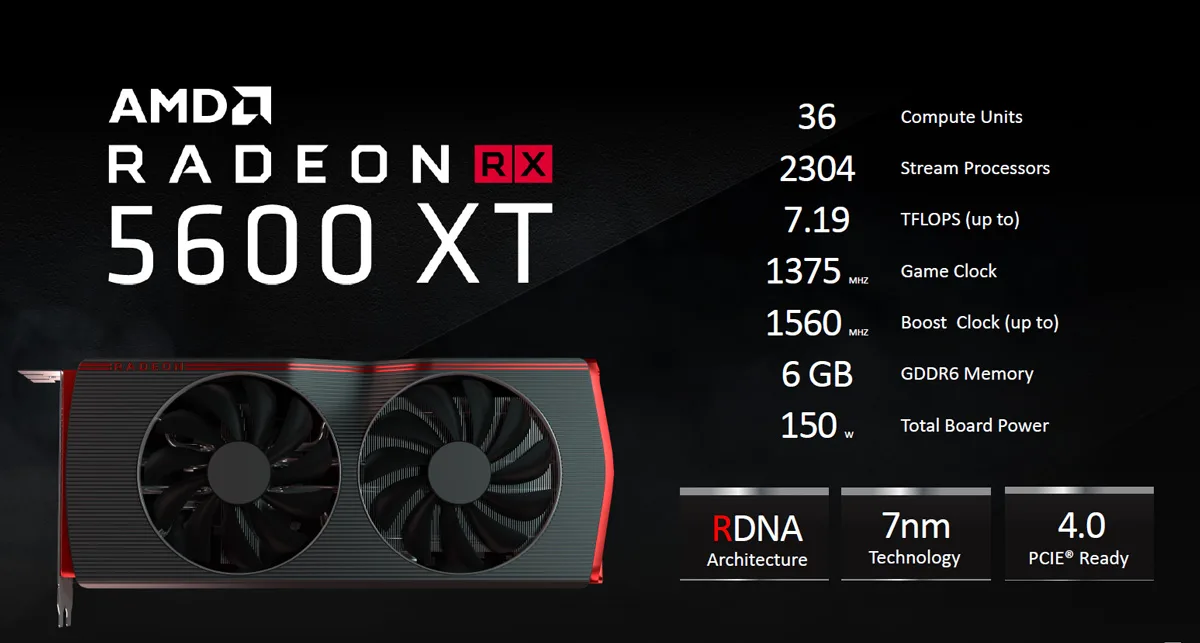 The RX 5600 XT is a similar GPU to the RX 5700 but with lower core clocks and with much less memory bandwidth. With the original vBIOS, the reference RX 5600 XT's base clock is above 1130MHz boosting to a average game Game Clock of 1375MHz and a Boost Clock up to 1560MHz. The TUF 3 RX 5600 XT EVO OC offers a faster Boost Clock (OC Mode) up to 1640MHz and a Game Clock up to 1620MHz. Of course, the actual individual game and boost clock results will vary from card to card.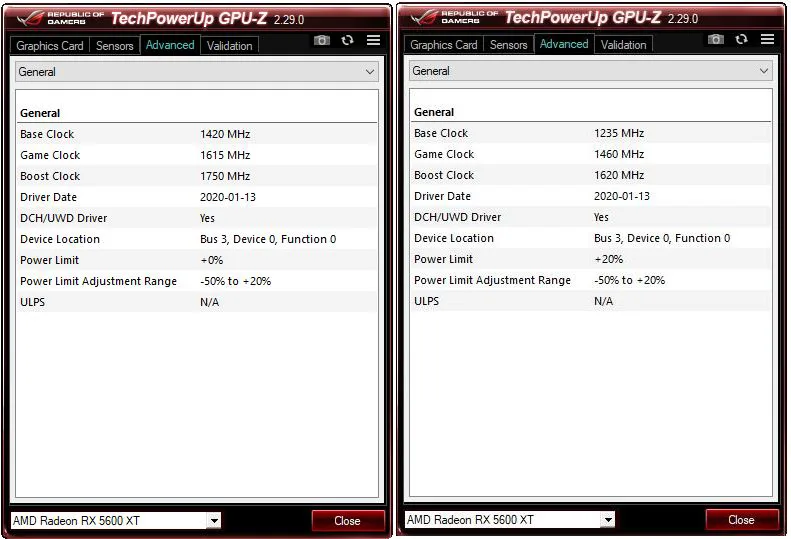 After the vBIOS flash, the ASUS TUF 3 RX 5600 XT 6GB EVO OC is now factory overclocked with an up to 1660MHz Game Clock/~1770MHz Boost clock using the OC Mode, and a 1615MHz Game clock with a ~1750 Boost clock using Gaming Mode. With Silent Mode, it also has an onboard controller that brings fans to a stop when the GPU core temperature is below 55 C, letting gamers play light games with no fan noise. As the temperatures rise past a predetermined threshold, the fans automatically restart. All of these modes may be accessed by using the ASUS Tweak II utility and further manual overclocking is also available.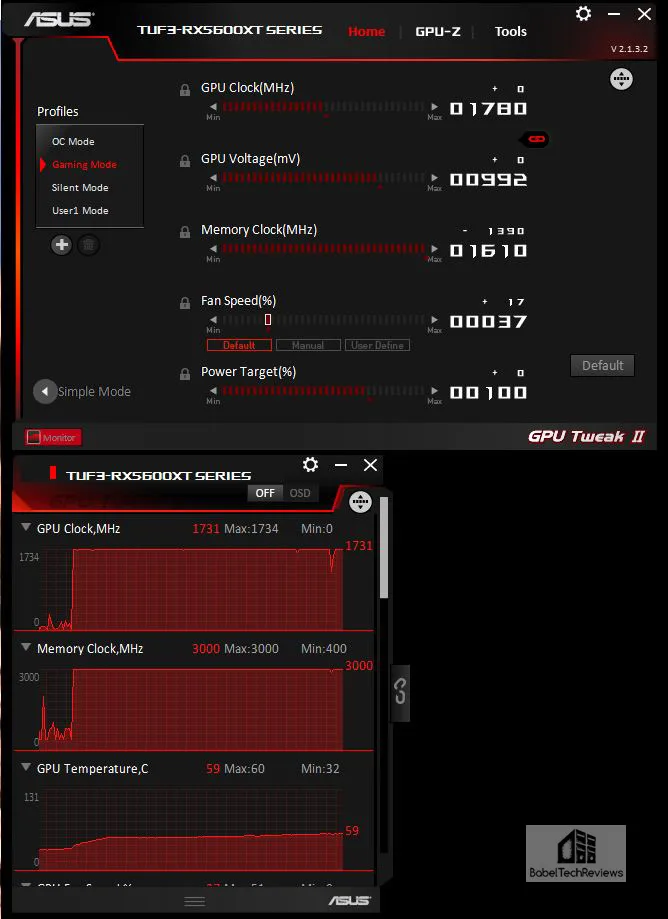 Here are the specifications in ASUS' chart.
Specifications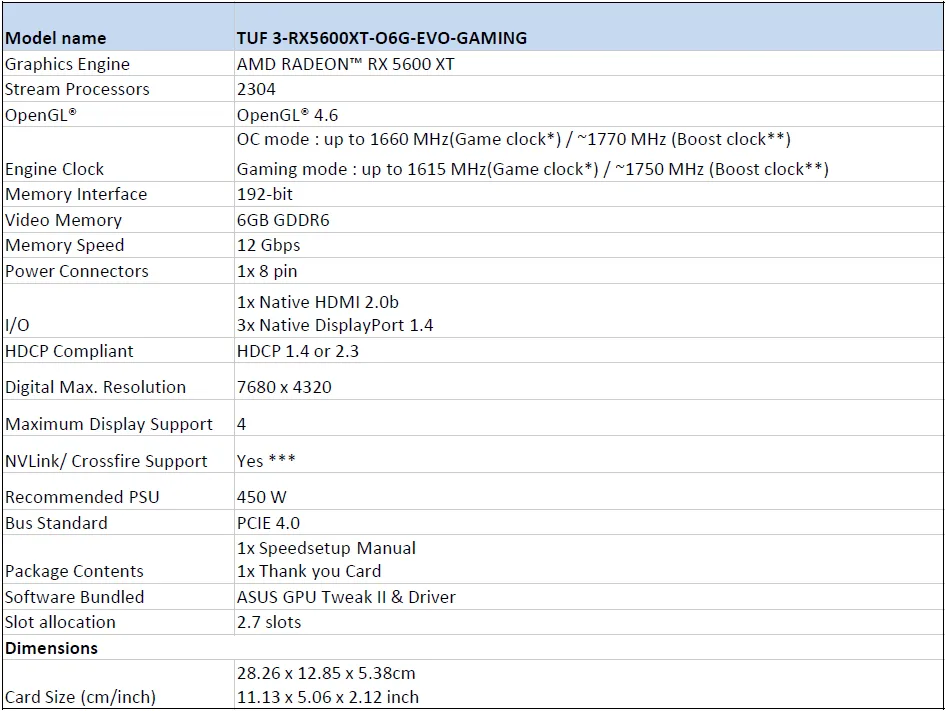 The specifications look good and the card looks awesome, so let's unbox it and look more closely at it before we benchmark it.
Unboxing the ASUS RX 5600 XT Tuf Gaming EVO OC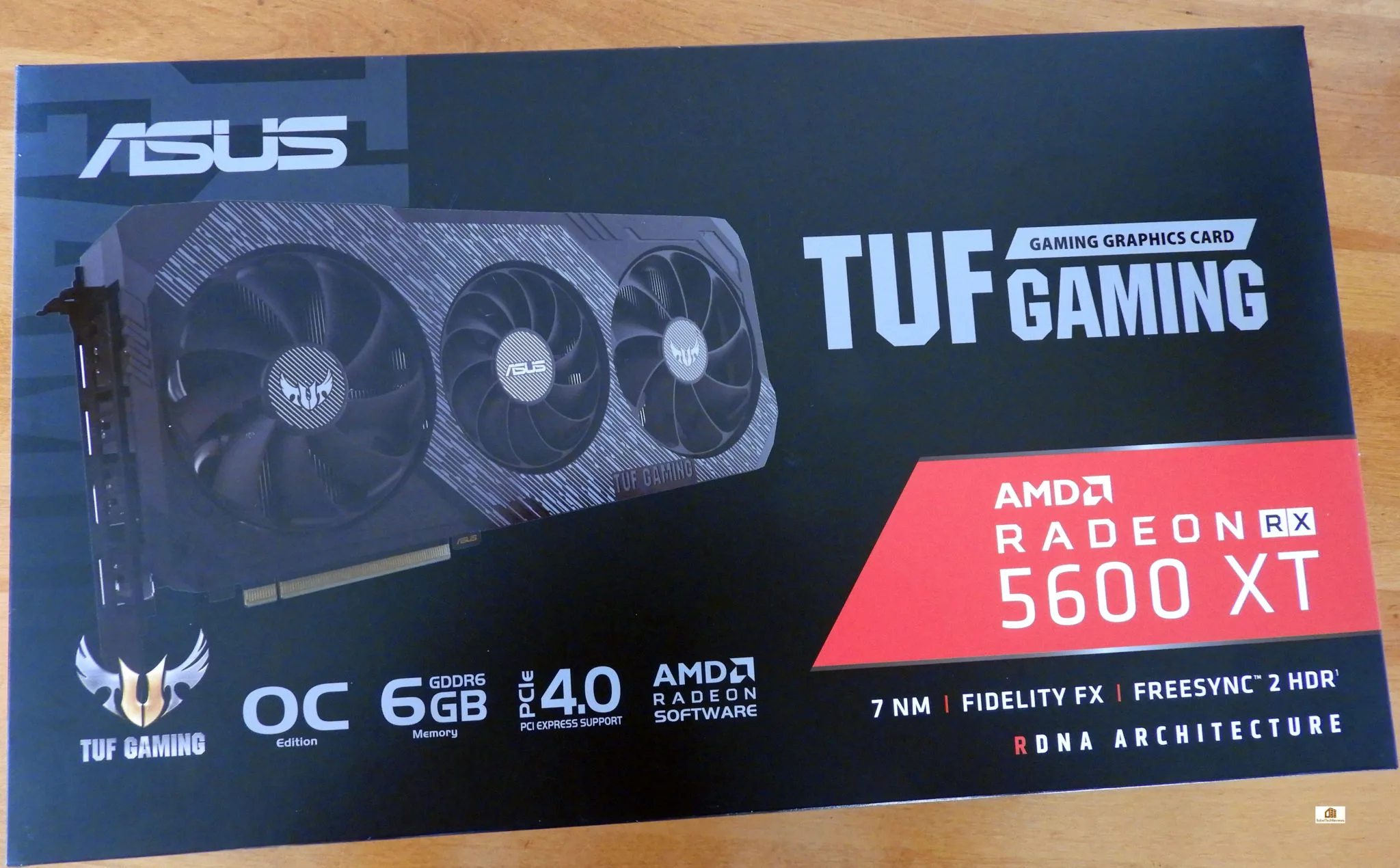 The ASUS RX 5600 XT EVO OC comes in an large box that advertise its features including OC (overclock). It is an overclocked 6GB RX 5600 XT built on 7nm using AMD's latest RDNA architecture and it features 4.0 PCIe support, the latest AMD Radeon Adrenalin Software, Fidelity FX and FreeSync 2 HDR across HDMI.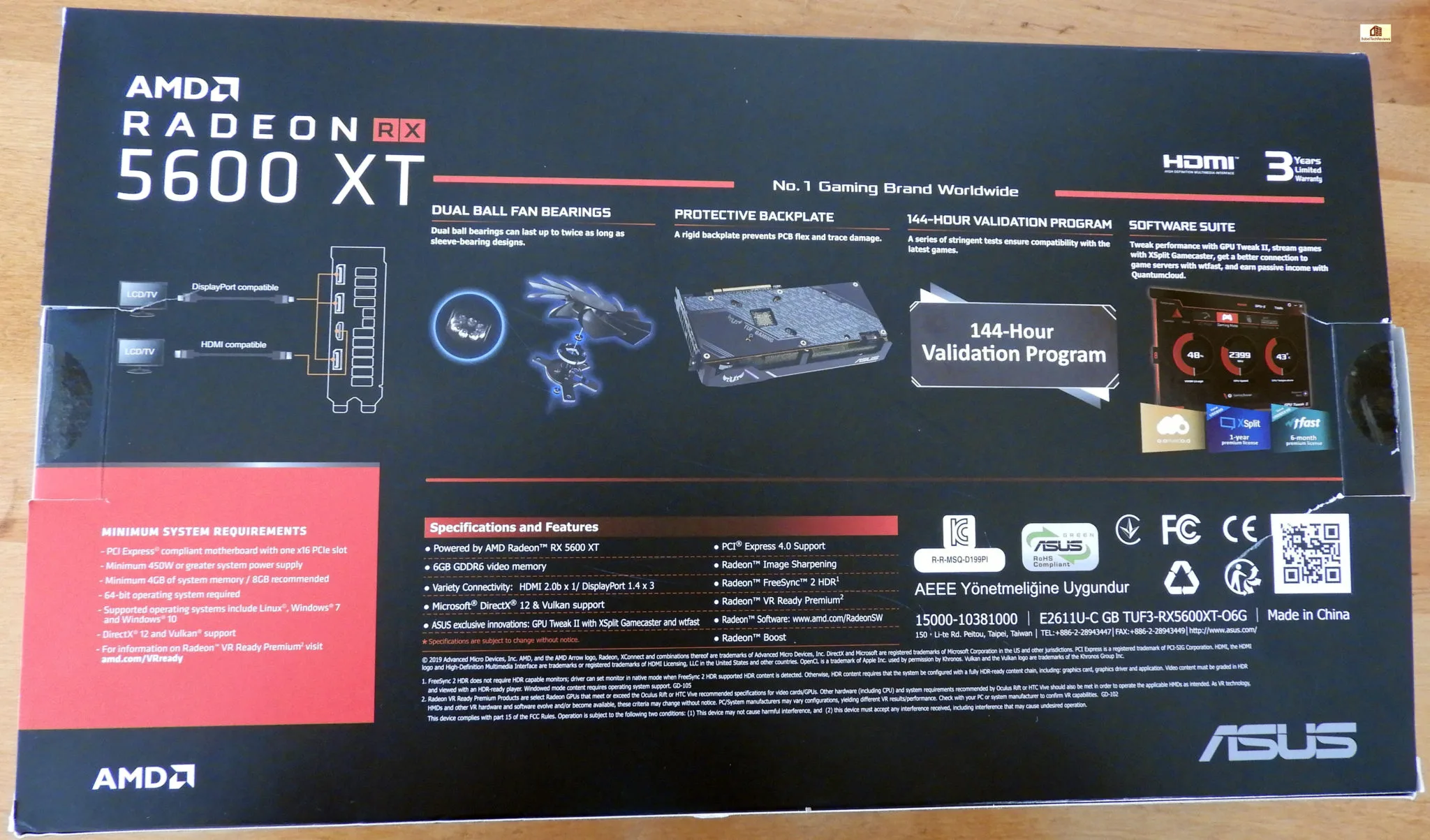 The features are detailed on the back of the box. Axial tech fans are designed for the latest generation of higher end ASUS graphics cards and feature a small hub with longer blades plus a barrier ring to increase downward air pressure and IP5X dust resistance for a long life. ASUS software is also featured with GPU Tweak II as well as XSplit Gamecaster and Quantumcloud for streamers.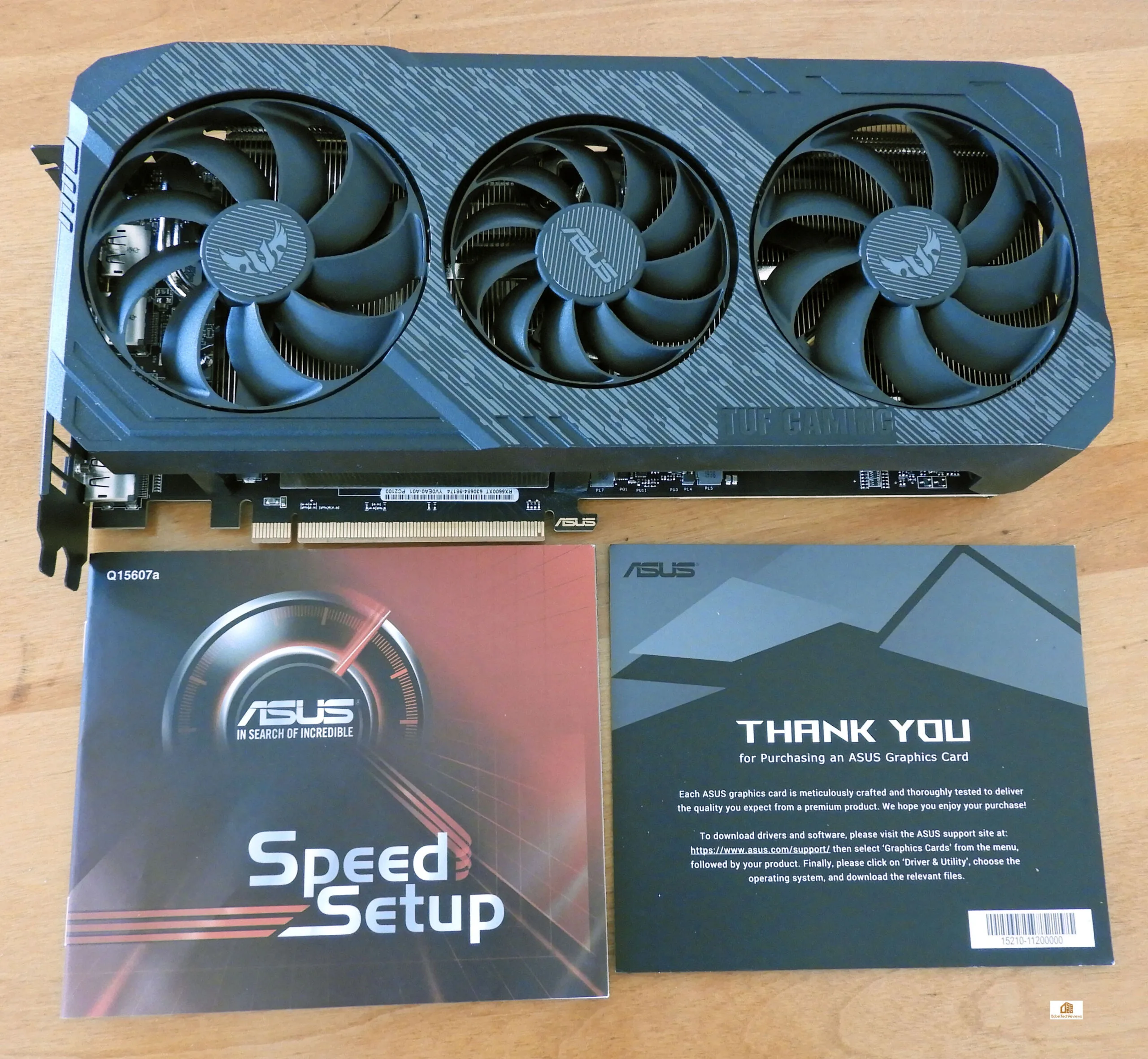 Opening the box we see a quick start guide and a thank-you linking the owner to ASUS support.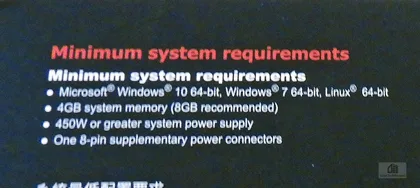 Here are the minimum system requirements which include a 450W power supply and an 8-pin power cable.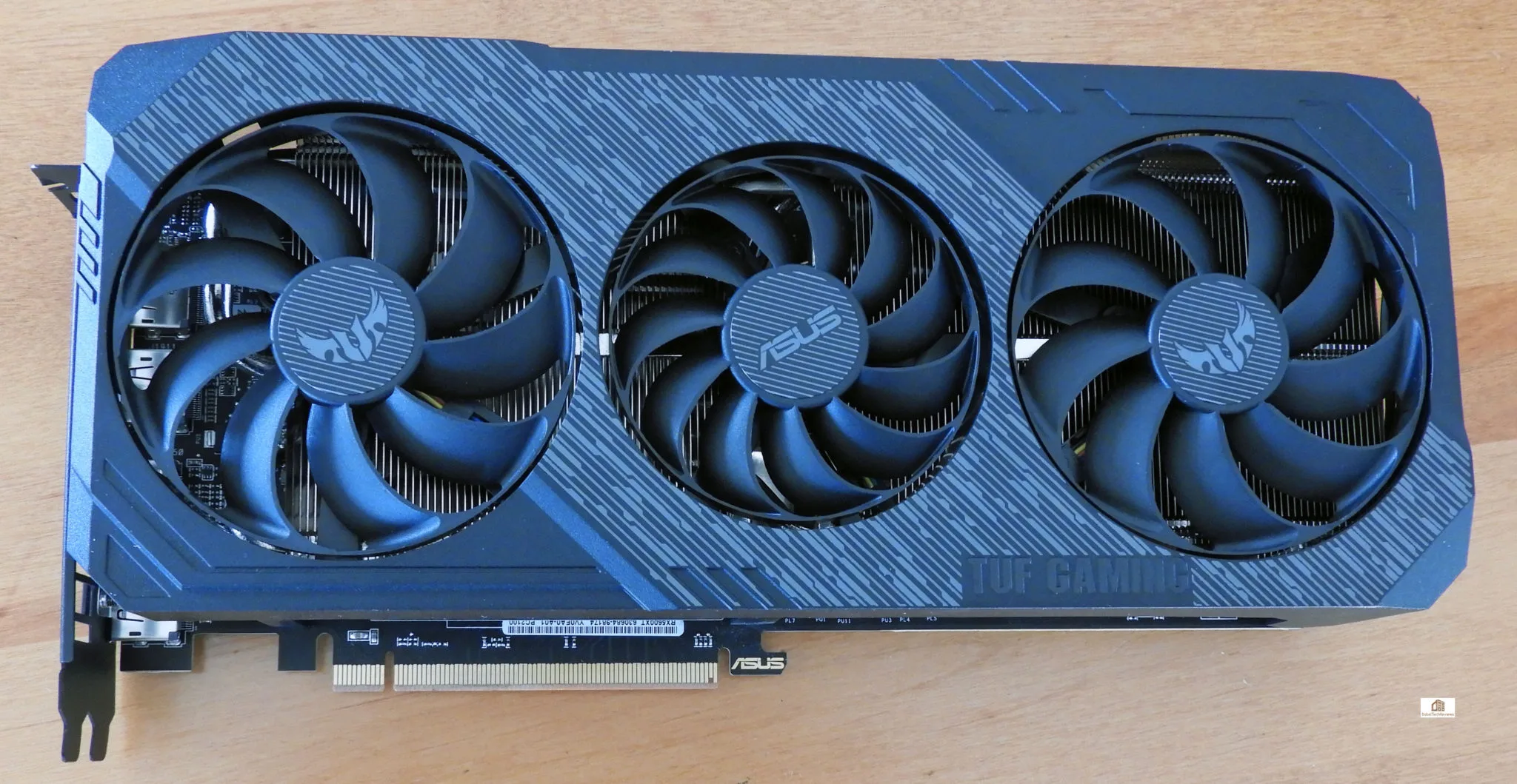 The ASUS RX 5600 XT EVO OC is a good-looking 2.7 slot tri-fan card. The card is gray and there is no blue as some pictures may indicate.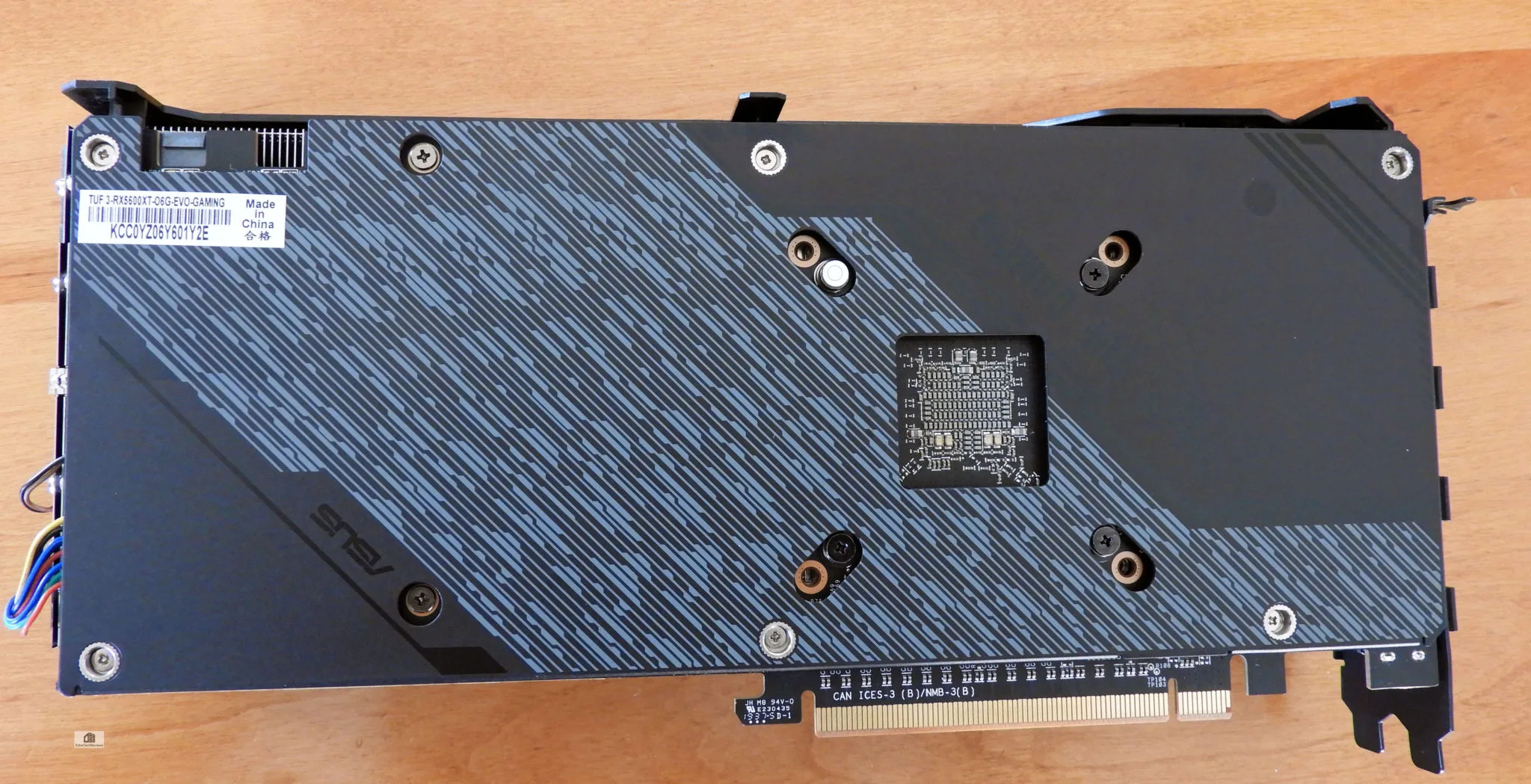 Turning it over, we see a solid metal backplate that protects the PCB against flexing and prevents damaging the traces.

The card uses a single 8-pin PCIe connector and requires a minimum 450W PSU.

Looking at the ASUS RX 5600 XT EVO OC from its edges we see the heatpipes that use DirectCU II which brings copper heatpipes into direct contact with the die for better cooling, and the large heatsinks that extend for much of the length of the PCB.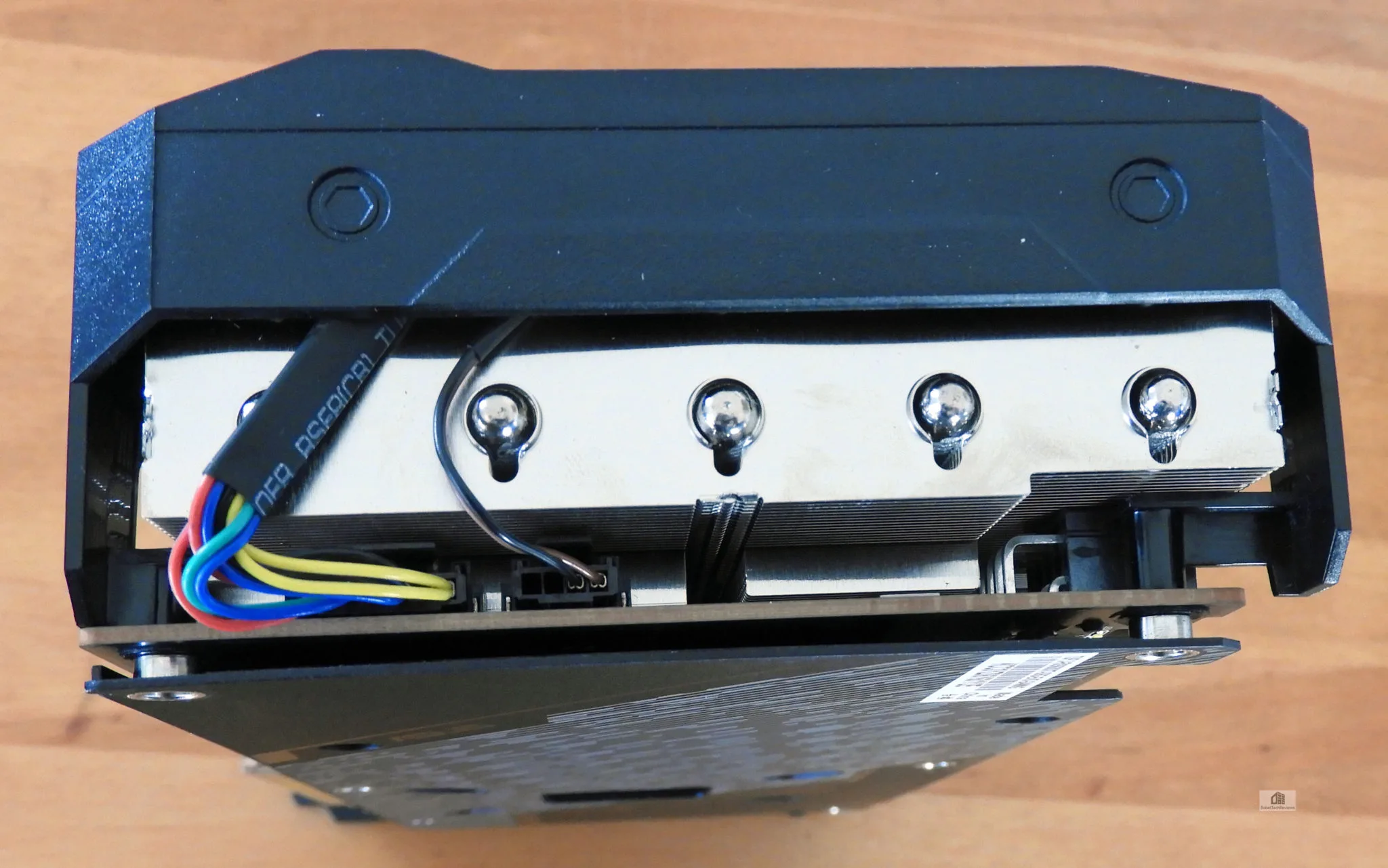 Here is one end.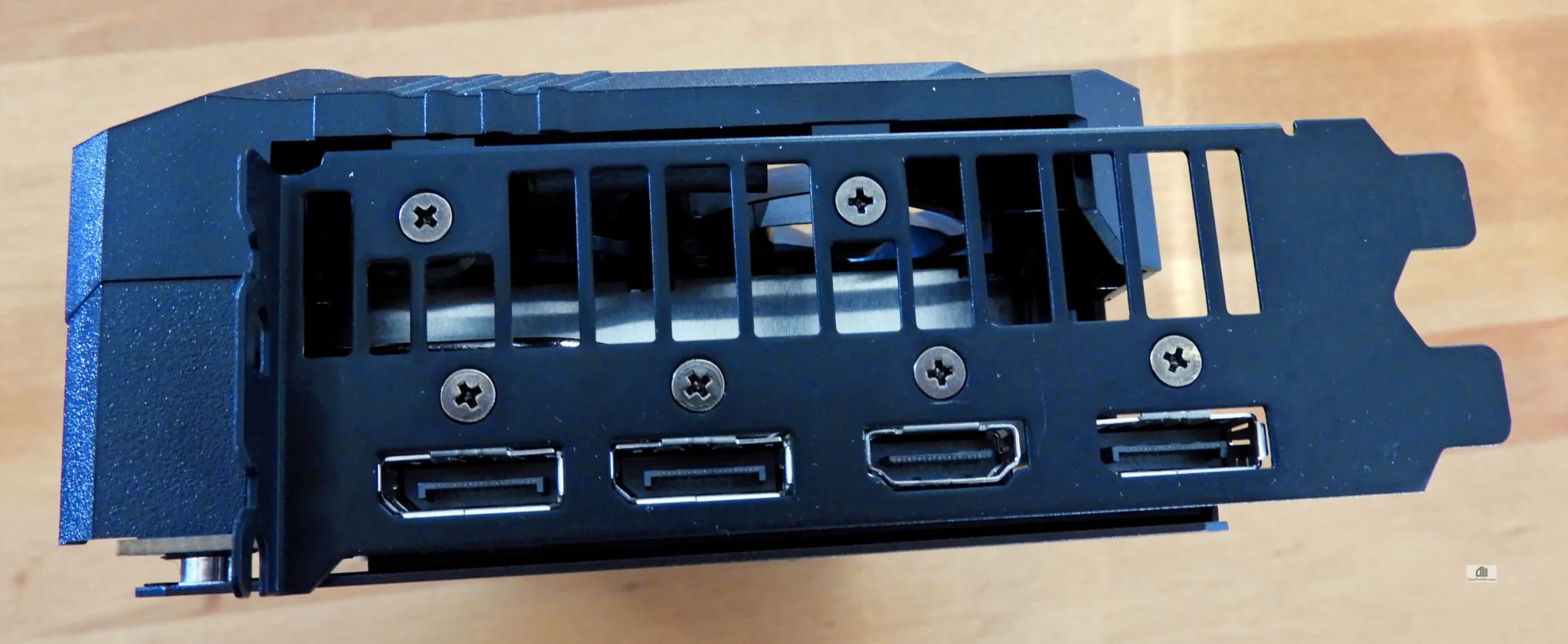 On the other end, the connectors consist of three DisplayPorts and a HDMI connector.
ASUS Auto-Extreme Technology and Testing
ASUS graphics cards are produced using Auto-Extreme Technology, an automated manufacturing process that allows all of the soldering to be completed in a single pass to reduce thermal strain on components while avoiding the use of harsh cleaning chemicals. Here is their video.
ASUS' 144 hour validation program puts their cards through a series of tests. Each card must meet rigorous performance and reliability standards before it ships. Performance and stress tests are run and these trials include a 144 hour stability test with a series of 3DMark benchmarking runs to ensure the card performs well at its limits.
The card looks great. But before we explore overclocking and then performance testing, let's take a closer look at our test configuration.
Test Configuration – Hardware
Intel Core i7-8700K (HyperThreading and Turbo boost is on to 4.8GHz for all cores; Coffee Lake DX11 CPU graphics).
EVGA Z370 FTW motherboard (Intel Z370 chipset, latest BIOS, PCIe 3.0/3.1 specification, CrossFire/SLI 8x+8x), supplied by EVGA
T-FORCE 16GB DDR4 (2x8GB, dual channel at 3866 MHz), supplied by Team Group
TUF Gaming X3 ASUS RX 5600 XT EVO OC 6GB, at factory settings, on loan from ASUS/AMD
EVGA GTX 1660 Ti XC 6GB, at XC clocks, on loan from EVGA
EVGA GTX 1660 SUPER XC 6GB at EVGA factory settings, on loan from EVGA
EVGA GTX 1660 XC 6GB at EVGA XC factory settings, on loan from EVGA
EVGA GTX 1060 SC 6GB, factory SC clocks, on loan from EVGA
RTX 2060 Founders edition, at FE clocks, on loan from NVIDIA
Sapphire RX 5500 XT Pulse OC 4GB on loan from Sapphire
PowerColor Red Devil RX 5500 XT 8GB on loan from PowerColor
PowerColor Red Devil RX 590 8GB on loan from PowerColor
Red Devil RX 570 4GB, at Red Devil factory overclocked settings, on loan from PowerColor
2 x 480GB Team Group SSDs – one for AMD, and one for NVIDIA
1.92TB San Disk enterprise class SSD
2TB Micron 1100 enterprise class SSD
T-FORCE 500GB Vulkan SSD, supplied by Team Group
EVGA 1000G 1000W Gold power supply unit
Cooler Master 240mm CPU water cooler
EVGA Nu Audio PCIe soundcard, supplied by EVGA
Edifier R1320T Active speakers
EVGA DG-77, mid-tower case supplied by EVGA
Monoprice Crystal Pro 4K
Test Configuration – Software
GeForce 441.87 used for all NVIDIA cards except 441.41 used for the GTX 1660 and 436.48 drivers used for the GTX 1060 SC. Game Ready 441.41 drivers are used for the GTX 1660. See NVIDIA Control Panel image below.
AMD Adrenalin Software 20.1.1 RC5 (press drivers/20.1.3 public drivers) used for the RX 5600 XT. 20.1.2 is used for the RX Vega 56 and 19.12.2 is used for the RX 5500 XTs and the Red Devils RX 590 and RX 570. See the AMD Control Panel image below.
VSync is forced off.
AA enabled as noted in games; all in-game settings are specified with 16xAF always applied
Gaming results show average frame rates in bold including minimum frame rates shown on the chart next to the averages in a smaller italics font where higher is better. Games benched with OCAT show average framerates but the minimums are expressed by the 99th percentile frametime in ms where lower numbers are better.
Highest quality sound (stereo) used in all games.
Windows 10 64-bit Home edition. DX11 titles are run under DX11 render paths. DX12 titles are generally run under the DX12 render path unless performance is lower than with DX11; and Borderlands 3, Total War Warhammer II, and Hitman 2 are tested on DX11 and on DX12. Seven games use the Vulkan API.
Latest DirectX
All 50 games are patched to their latest versions at time of posting.
The Adrenalin 2020 control panel is used to set Radeon options
The NVIDIA control panel is used for GeForce settings
OCAT, latest version
Fraps, latest version
Afterburner, latest non-beta version
Unigine Heaven 4.0 benchmark
50 PC Game benchmark suite & 3 synthetic tests
Synthetic
Firestrike – Basic & Extreme
Time Spy DX12
Superposition
DX11 Games
Grand Theft Auto V
The Witcher 3
Fallout 4
Rainbow Six Siege
Overwatch
For Honor
Mass Effect: Andromeda
ARK: Survival Evolved
Prey
Project CARS 2
Total Wars: Warhammer II
Star Wars Battlefront II
Middle Earth: Shadow of War
Star Wars: Battlefront II
Monster Hunter: World
Kingdom Come: Deliverance
Final Fantasy XV
Far Cry 5
Conan Exiles
Assassin's Creed: Odyssey
Call of Duty: Black Ops 4
Hitman 2
Just Cause 4
Resident Evil 2
Anthem
FarCry New Dawn
Devil May Cry 5
Borderlands 3
Destiny 2 Shadowkeep
Ghost Recon Breakpoint
The Outer Worlds
Star Wars: Jedi Fallen Order
Mech Warrior 5: Mercenaries
DX12 Games
Ashes of the Singularity Escalation
Civilization VI
Sniper Elite 4
Forza 7
Total War: Warhammer II
Warhammer: Vermintide 2
Shadow of the Tomb Raider
Hitman 2
Battlefield V
Metro Exodus
Tom Clancy's The Division 2
Anno 1800
F1 2019
Control
Gears 5
Borderlands 3
Call of Duty Modern Warfare
Vulkan Games
DOOM
Strange Brigade
World War Z
Wolfenstein: Youngblood
Star Control Origins
Red Dead Redemption 2
AMD Adrenalin Control Center Settings
All AMD settings are set so as to be apples-to-apples when compared to NVIDIA's control panel settings – all optimizations are off, Vsync is forced off, Texture filtering is set to High, and Tessellation uses application settings.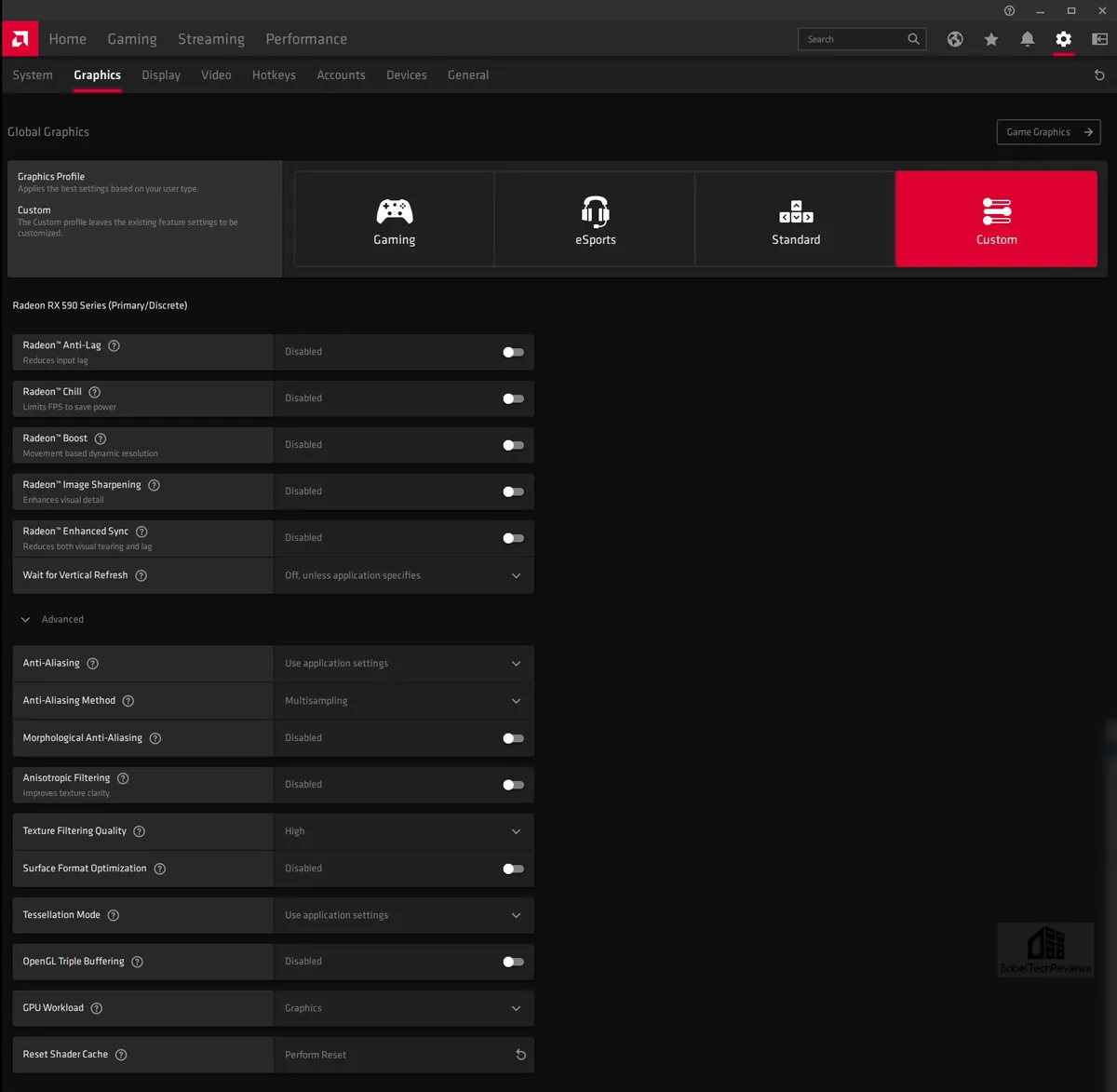 We pick the above Custom Global Performance settings for our benchmarking which has to be precise and repeatable especially because we benchmark driver performance changes, so Surface Format and other optimizations are disabled. As shown above, Anisotropic Filtering is disabled by default but we always use 16X for all game benchmarks.
Adrenalin Software Edition 20.1.3
Adrenalin Software Edition 20.1.3 will be available today as the public launch drivers supporting the RX 5600 XT. Go here to start the download. The vBIOS update tool will be found on ASUS website.
NVIDIA Control Panel settings
Here are the NVIDIA Control Panel settings that match AMD's settings.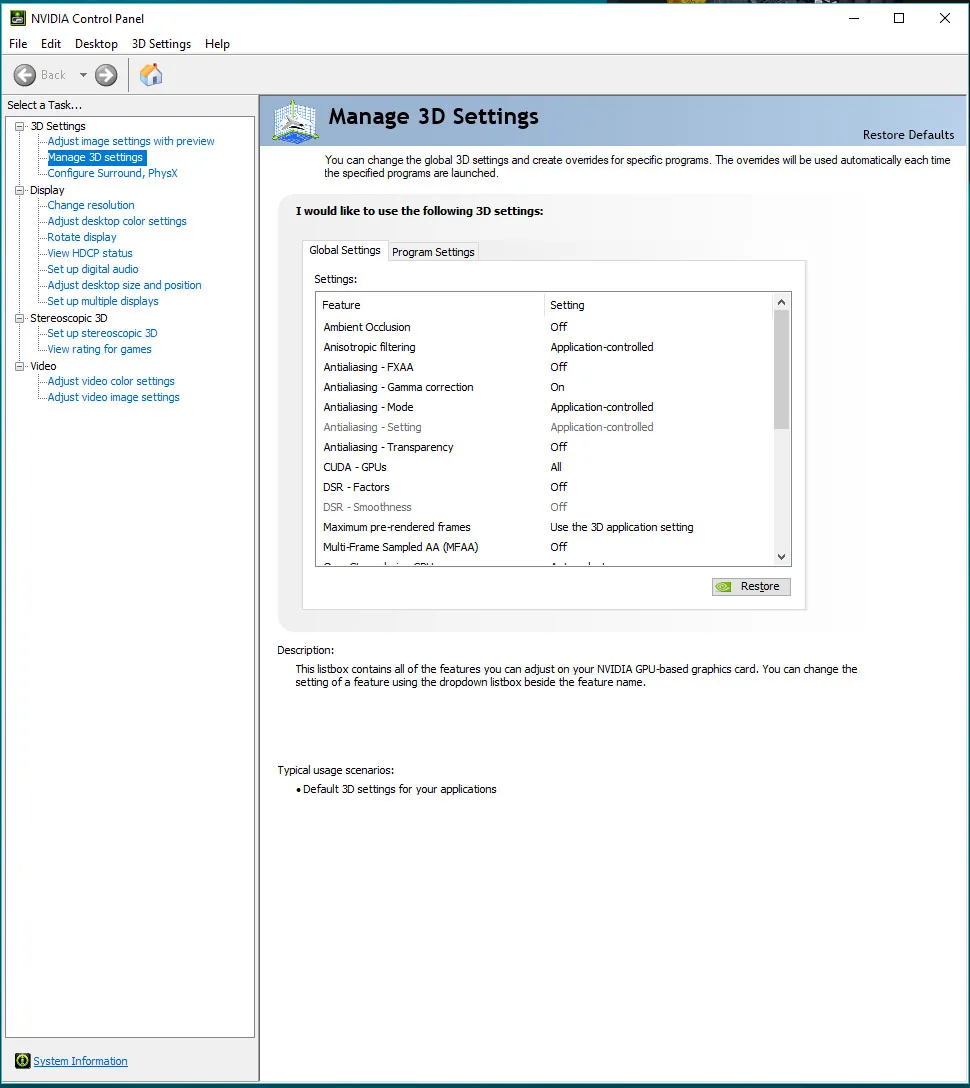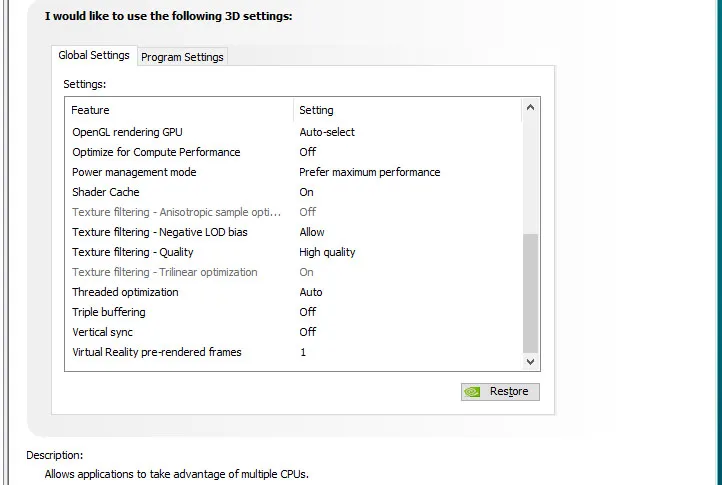 We did not adjust any card's Power and Temperature limits since it does not benefit low-power cards. Let's check out overclocking, temperatures, and noise next.
Overclocking, temperatures & noise
The ASUS RX 5600 XT EVO OC is a low-power and quiet card even when overclocked. The card stayed cool and below 63C even when overclocked to its maximum and its three fans never became intrusive. We could not hear the card's fans over the other fans of our PC even when it ramps up, unlike with the Red Devil RX 590.
The ASUS Tweak II utility has Gaming mode with a Boost clock that is 45MHz lower than the OC mode. We could not hear any differences so we benchmarked in OC mode. In addition, the User1 mode allows for manual overclocking with a myriad of options including the built-in OC Scanner for automatic overclocks.
The vBIOS update yesterday brought extra performance by increasing the power to the GPU and raising the Boost clocks but also decreasing the available manual overclocking headroom.
The vBIOS update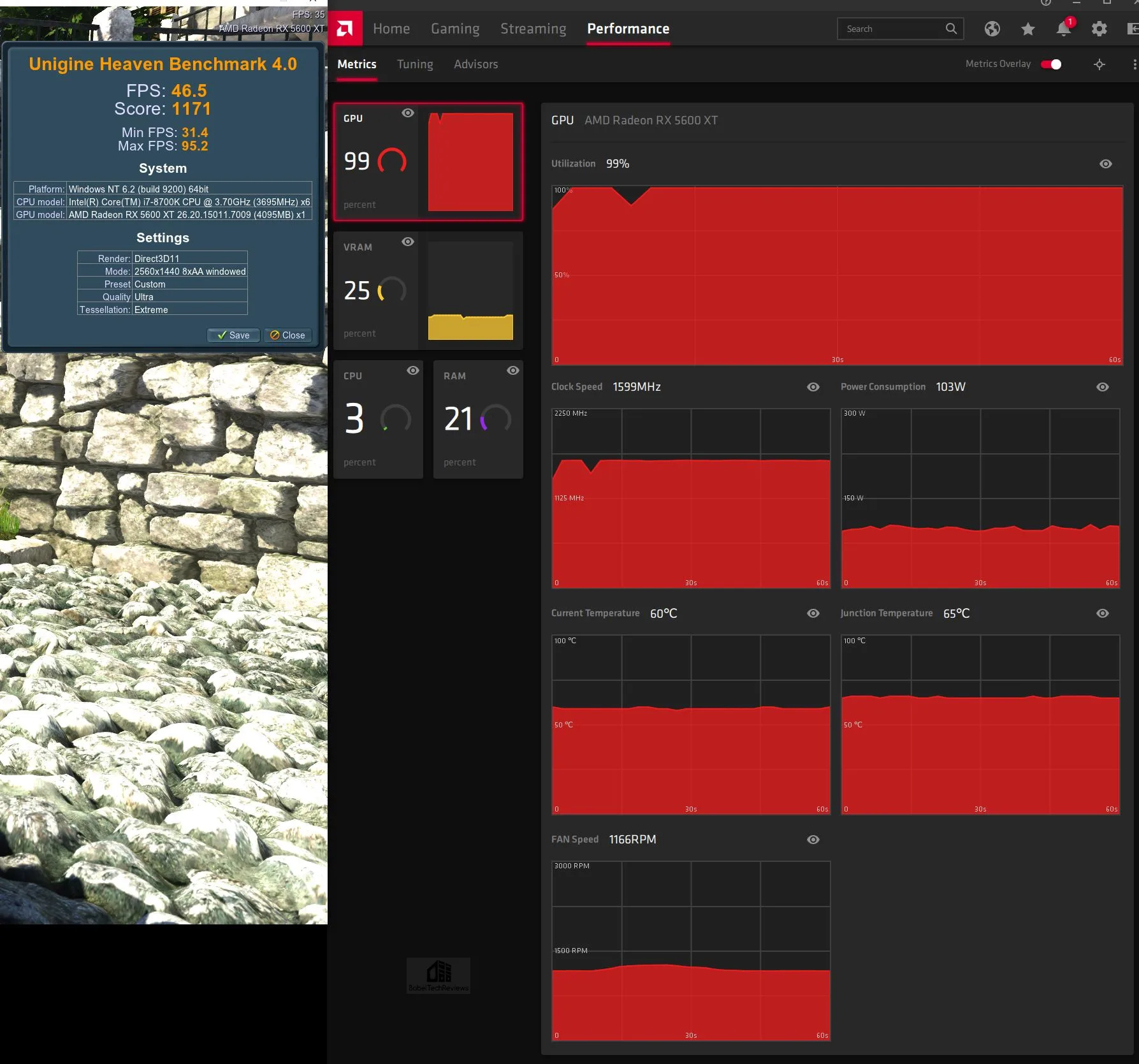 Above are the stock clocks with the old vBIOS running Heaven 4.0 under a full graphics load. The clock speed hangs around 1600MHz and uses about 103W of power and the GPU runs cool around 60 C.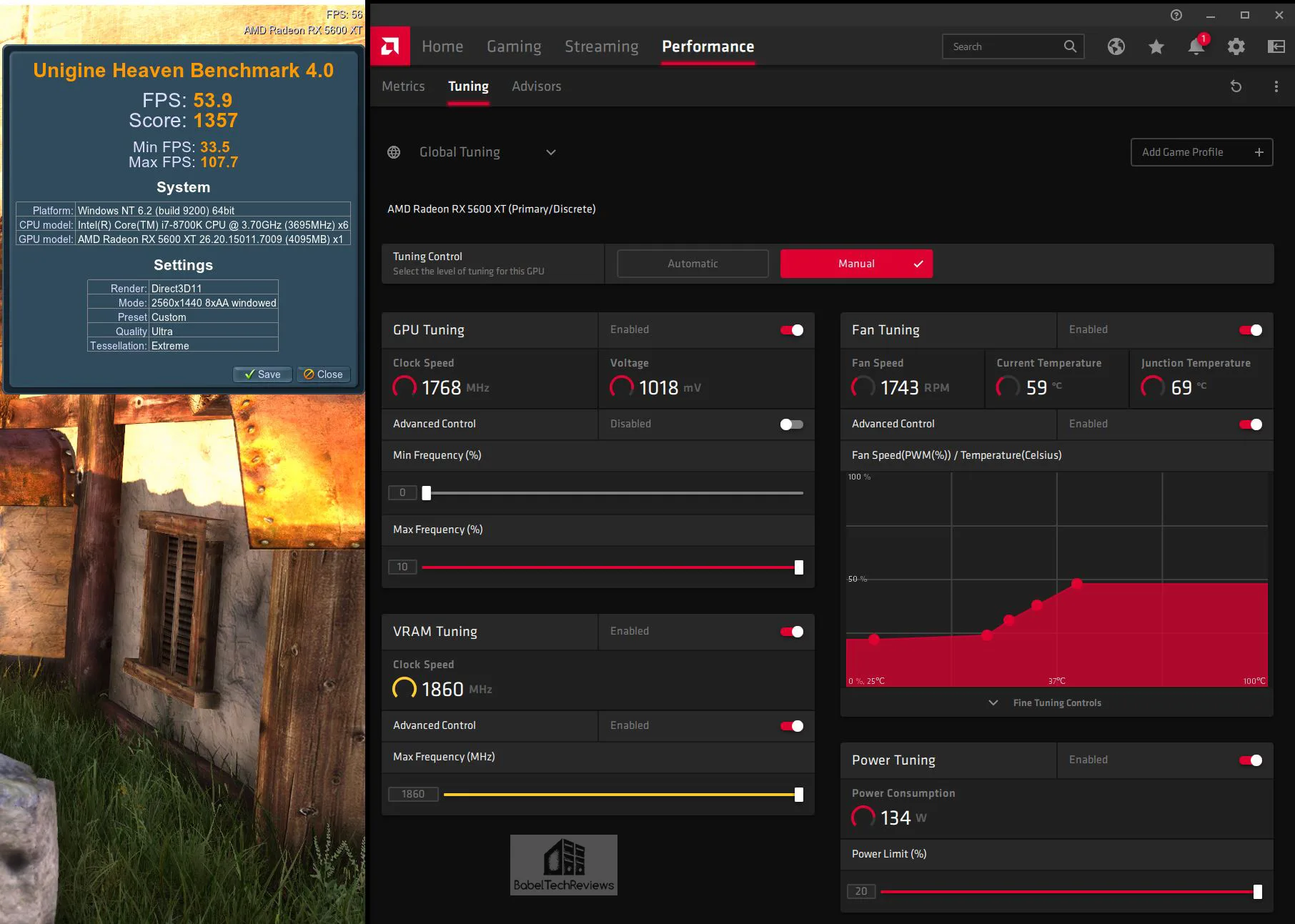 Originally, before the vBIOS flash, we reached a manual 10% overclock with a maximum clock boost to around 1770MHz and a memory offset to 1860MHz. Temperatures are still cool at under 60C with the ASUS X3 fans ramping up to under 1800 rpm. It seems that there would be more performance and overclocking potential if the GPU Tuning control allowed for higher frequencies.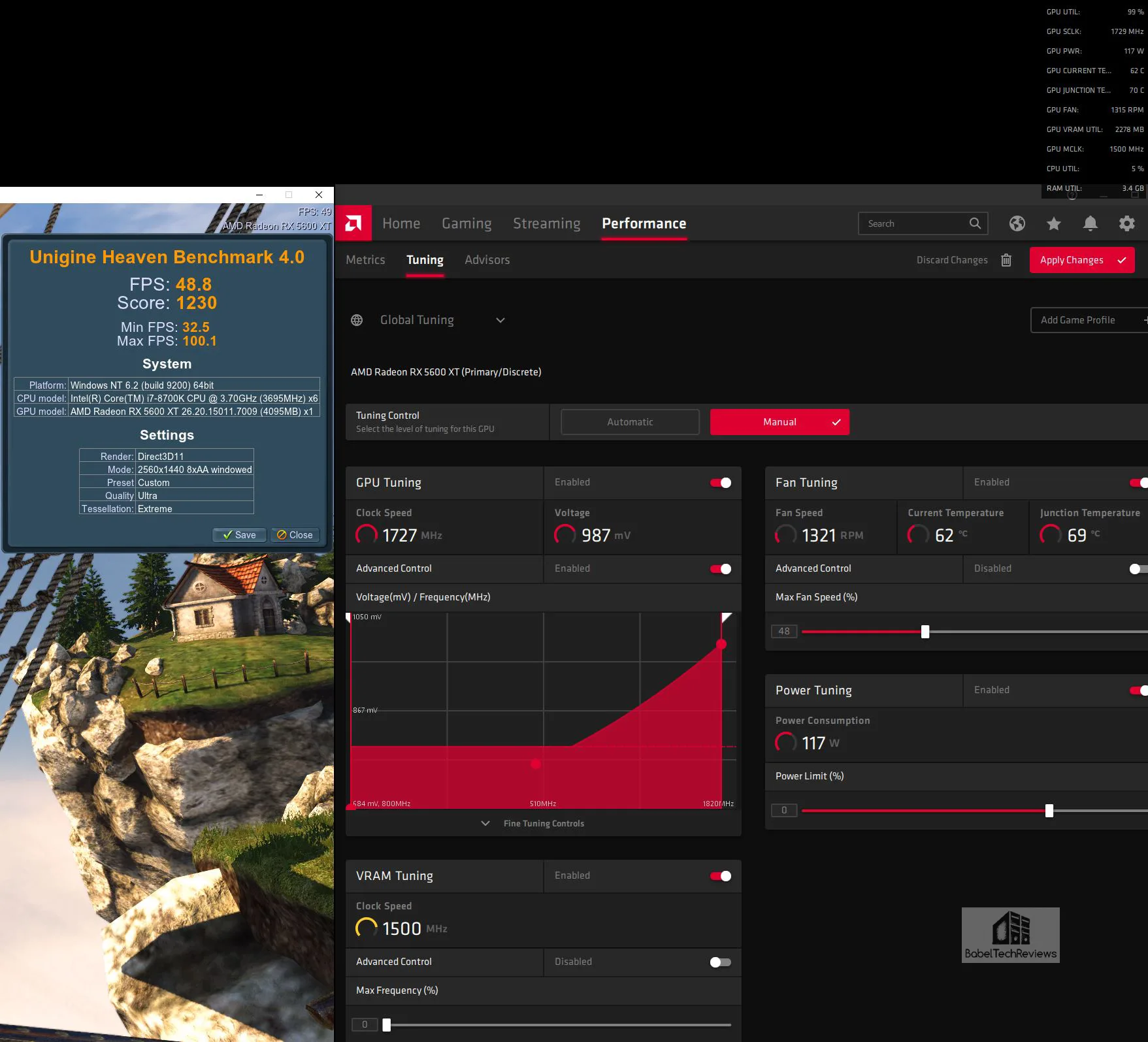 After the vBIOS flash, we see the stock clock speeds move up from 1599MHz to 1727MHz while the power consumption rose from 103W to 117W yet the fan speed stayed under 1350 rpm.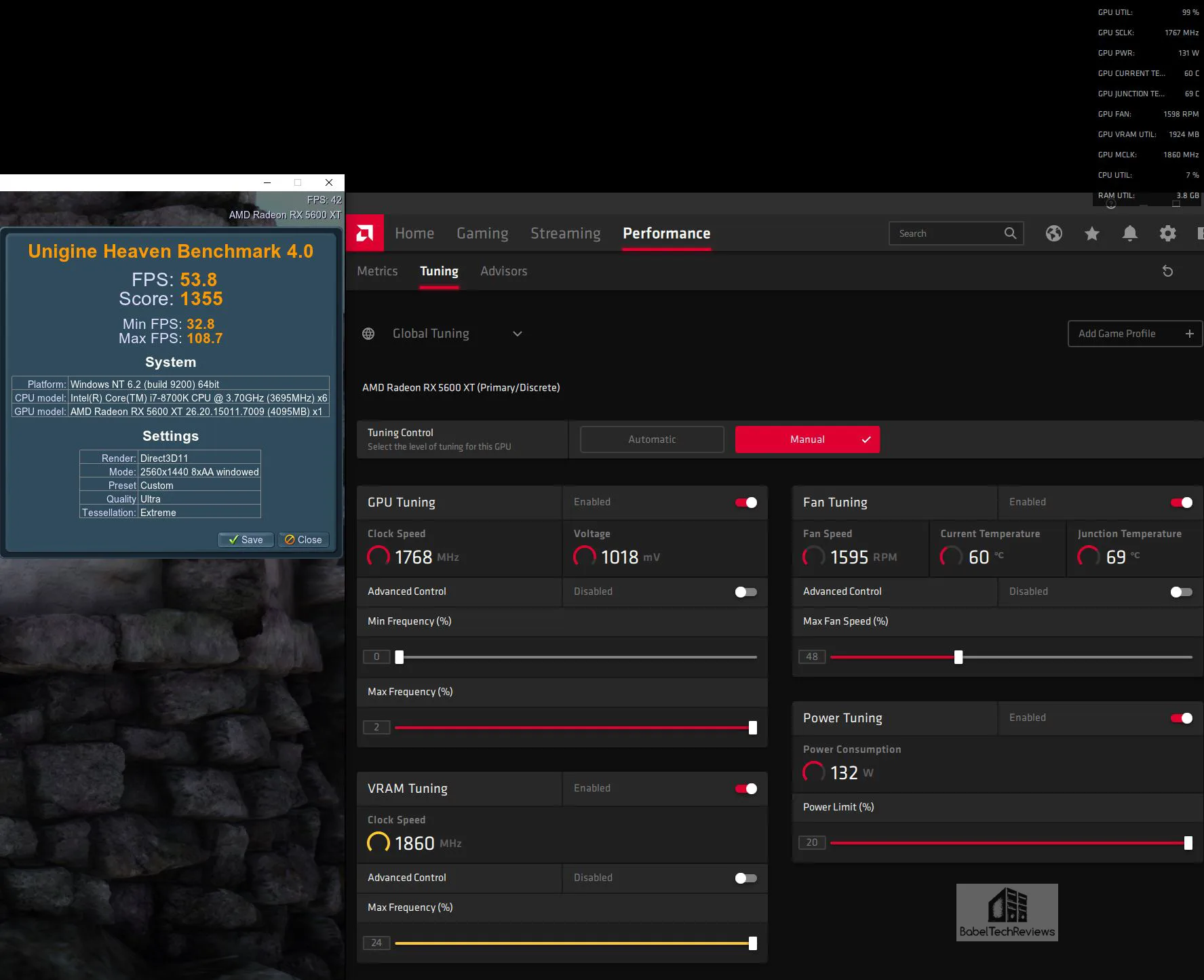 After the vBIOS flash, we saw the same ultimate overclock as before with a slightly higher power consumption of 122W, but now there is only 2% overclocking headroom instead of 10%. We hit the same memory cap of 1860MHz even by using the ASUS TWEAK II Utility. With the new vBIOS flash, AMD has decided to lower the headroom and give everyone a faster default chip which looks to us to give up to ~8% faster clocks with approximately 2-5% or even a bit more free performance over the original vBIOS. The first units that begin selling today will have the original vBIOS and their owners will have to go to ASUS' website to download the tool to flash it if they wish.
Unfortunately, we only had a very short time to test overclocking and we hope to revisit it in a follow-up review to see what kind of further manual overclocking is possible. Of course, this updated vBIOS "free" performance comes with higher power usage and the need for faster spinning fans although they are still very quiet and they never became intrusive.
Let's check the ASUS RX 5600 XT EVO OC's performance compared with eight other competing cards using 50 games, and then head for our conclusion.
Performance Summary Charts & Conclusion
Here are the original vBIOS performance results of 50 games and 3 synthetic tests comparing the ASUS RX 5600 XT EVO OC with the similarly-priced EVGA GTX 1660 Ti XC 6GB. This is the card that AMD is aiming directly at but they are ignoring the GTX 1660 Super which is generally about 1-4% slower than the Ti but priced beginning at $229. The GTX Super on its release made the Ti mostly redundant and seem overpriced at $279. So for the first set of charts, we are only going to focus on the ASUS RX 5600 XT EVO OC 6GB versus the EVGA GTX 1660 Ti XC 6GB.
The highest game settings are used and they are listed on the charts. Although the ASUS RX 5600 XT EVO OC is designed for 1080P, the benches were run at Ultra 1920×1080 and at 2560×1440. Most gaming results show average framerates in bold text, and higher is better. Minimum framerates are next to the averages in italics and in a slightly smaller font. The games benched with OCAT show average framerates but the .1 minimums are expressed by frametimes in ms where lower numbers are better.
The first column gives the ASUS RX 5600 XT EVO OC performance results. The second column represents the EVGA GTX 1660 XC 6GB results. Performance "wins" between the two cards are given in gold text and if there is a tie, both sets of figures are in gold.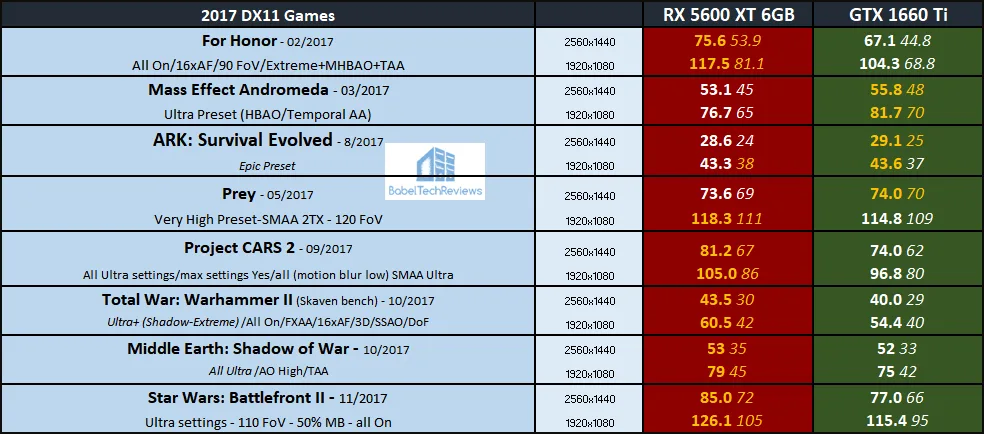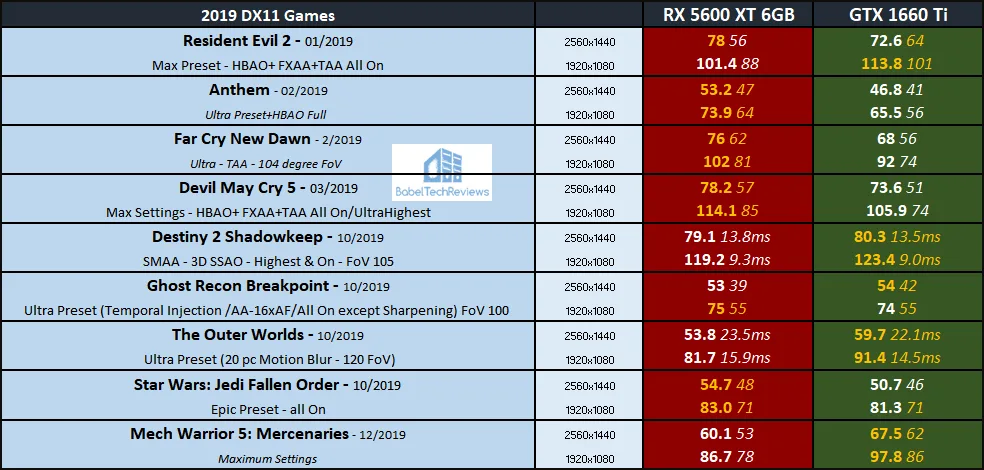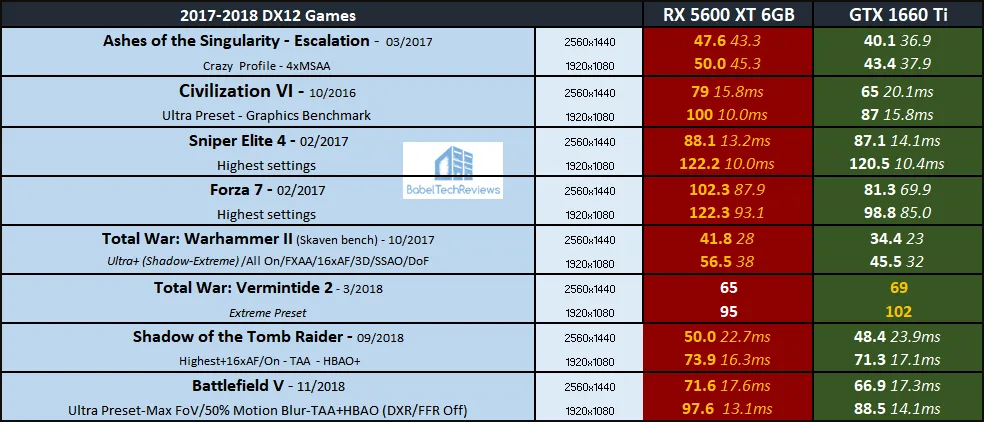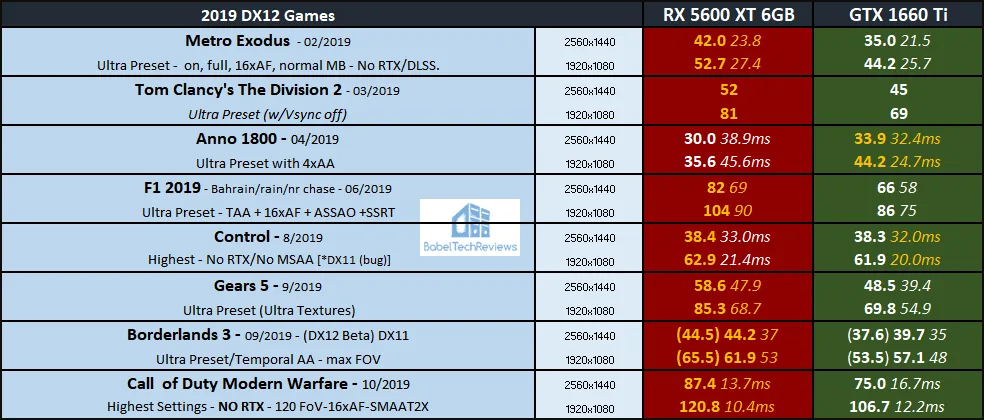 Looking at the results, AMD has succeeded in beating up on the GTX 1660 Ti as the RX 5600 XT wins most of the benches – over 80% – and this is with the original vBIOS. We will check out the performance improvement with the new vBIOS after the Big Picture.
The Big Picture
In this larger view, we add a few more cards – the EVGA GTX 1660 Super XC which starts at $229 and the RTX 2060 Founders Edition newly priced down from $349 to $299 as well as a Red Devil RX Vega 56 that is discontinued but some can still be found in the $265 price range in the USA. In addition, we benchmark a Red Devil RX 590 and a vanilla EVGA RTX 1660 XC and a EVGA GTX 1060 SC 6GB as well as the lower end Pulse and Red Dragon RX 5500 XTs and the Red Devil RX 570. For this set of charts, the ASUS RX 5600 XT EVO OC results are given in gold text so they stand out.
We can see that the ASUS RX 5600 XT EVO OC is much faster than either the GTX 1660 Super or the Ti winning most of the benches. Although the GTX 1660 Ti has never justified its $50 more expensive price tag against the Super, the RX 5600 XT gives much more performance. The RX 5600 XT often punches above its class and wins nine games against the RTX 2060 and in other games, it comes really close. But now, let's flash the RX 5600 XT vBIOS to its latest and retest ten games.
Post vBIOS Flash
Columns two and three use the same figures from the above charts using the old vBIOS to show the wins (in gold text) of the RX 5600 XT EVO OC over the EVGA GTX 1660 Ti XC. Column one shows the performance of the RX 5600 XT using the new vBIOS and its wins in yellow text can be compared directly with the performance of the RTX 2060 Founders Edition in the fourth column.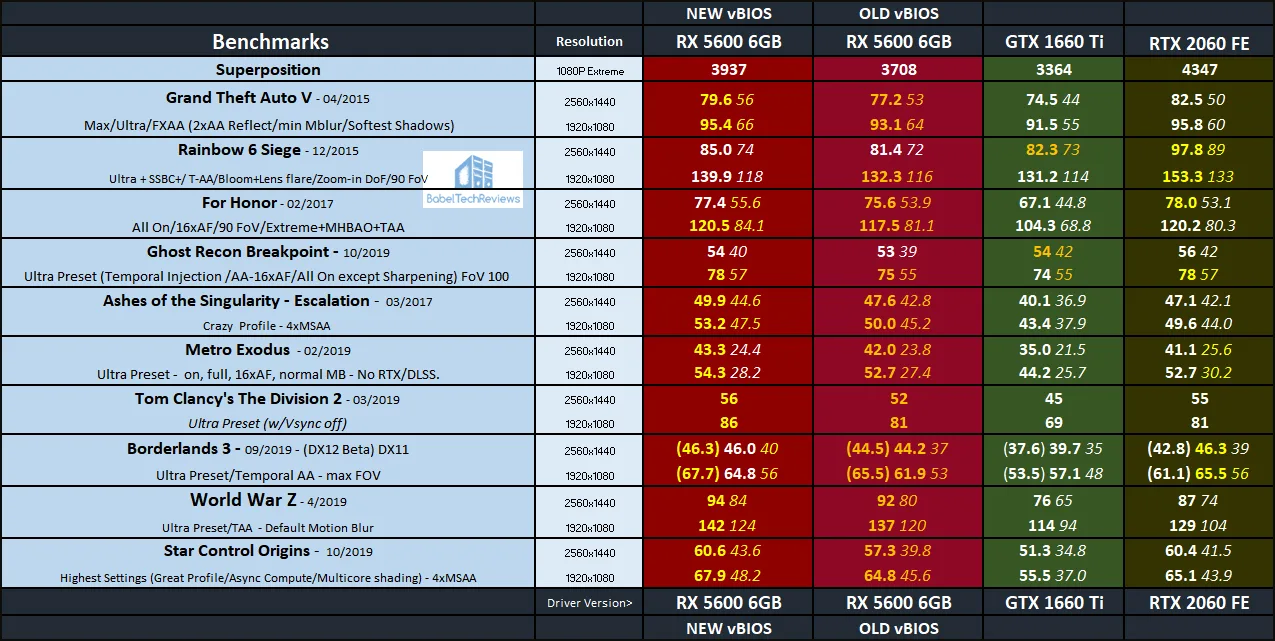 The new vBIOS RX 5600 XT core clocks are clocked ~8% up over the old one, and it brings about 2% to 5% or more free extra performance to RX 5600 XT gamers at the expense of manual overclocking headroom and a bit more power draw. The RX 5600 XT with its new vBIOS now wins or ties 17 games against the RTX 2060, up from 9 wins with the old vBIOS by testing only ten additional games that were originally close in performance. Using the new vBIOS, the performance gap has widened in favor of the RX 5600 XT over the GTX 1660 Ti, and the gap has also narrowed bringing the RX 5600 XT closer to RTX 2060 performance territory.
Stay tuned as we post our PowerColor RX 5600 XT 8GB review within a couple of days to see how much difference the vBIOS update has made to all fifty games.
Conclusion
The RX 5600 XT at $279 brings a higher level of performance well above that of the $279 EVGA GTX 1660 Ti. It would be an excellent upgrade from a RX 570 or GTX 1060 level of card and it is very well-suited for ultra 1080P gaming. For many titles, it would also be acceptable for 1440P gaming with less than ultra settings.
Along with Navi, AMD brings some great new features with Adrenalin 2020 software that turns it into an all-in-one platform for launching games, streaming, and sharing. From what we can see without being able to retest all 50 games with the new vBIOS against the GTX 1660 Ti and the RTX 2060, AMD brings a good $279 value with the RX 5600 XT that is faster than the GTX 1660 Ti or Super and within striking distance of the $299 RTX 2060. The ASUS RX 5600 XT EVO OC is clocked faster than the reference RX 5600 XT clocks, comes with three quiet fans, and a really nice backplate. [Updated 01/22/2020 at 4:30 PM PT by ASUS: "TUF Card MSRP will be $309.99 and the Strix at $319.99 in North America.")
ASUS RX 5600 XT EVO OC Pros
The ASUS RX 5600 XT EVO OC brings great new features and it is faster than the GTX 1660 Ti. It also gets reasonably close to the performance of the RTX 2060
New RDNA architecture brings higher performance per clock and per watt
Twenty new or updated features include anti-lag technology and Radeon Boost for competitive gamers and image sharpening for everyone
The ASUS RX 5600 XT EVO OC is a fast card for Ultra 1080P gaming and a solid performance improvement over the power-hungry Polaris series.
The new vBIOS brings extra free performance to default clocks
3 fans quietly cool the GPU and will even shut down under very light gaming
ASUS' 144 hour validation program and three year warranty give peace of mind
The GPU Tweak II utility gives user control over overclocking and fine tuning of GPU settings
RX 5600 XT 6GB Cons
There is less overclocking headroom after the vBIOS flash
The Verdict: Editor's Choice
7nm hardware and new architecture brings entry-level AMD Graphic cards to the Ultra 1080P playing field. RDNA has become the building blocks for the next console generation and will likely serve several more generations of Radeon PC graphics
The RX 5600 XT brings real improvement over AMD's last Polaris generation and the Adrenalin 2020 software brings great new and improved features for Radeon gamers
The TUF Gaming X3 ASUS RX 5600 XT EVO OC 8GB brings a very quiet and well-built overclocked card with great features and support, and it deserves BTR's Editor's Choice Award
NVIDIA takes Navi seriously and has premptively responded by lowering the price of the GTX 1660 Super to as low as $229 and to $299 for the RTX 2060. Extra new choices arriving with the RX 5600 XT benefit all 1080P gamers looking for an upgrade from older cards.
After we post our PowerColor RX 5600 XT review in a day or two, we are going to take a break to play, review, and benchmark Deliver Us the Moon. Next week we will return with a T-Force Liquid Cardea M2 SSD review and then with an VR performance analysis featuring Boneworks and VRSS.
Happy Gaming!