ASUS RX 5600 XT EVO OC New vBIOS Updated Results with 50 games
AMD surprised us with a new vBIOS for the ASUS RX 5600 XT EVO OC less than 18 hours before it launched on Tuesday morning. The vBIOS flash brought increased performance at the expense of higher power draw and lower overclocking headroom. Although entry-level RX 5600 XTs can be purchased for $279 which is also the price of a GTX 1660 Ti, the TUF Gaming X3 RX 5600 XT is a premium card that lists for $309 putting it into direct competition with the $299 RTX 2060 Founders Edition (FE).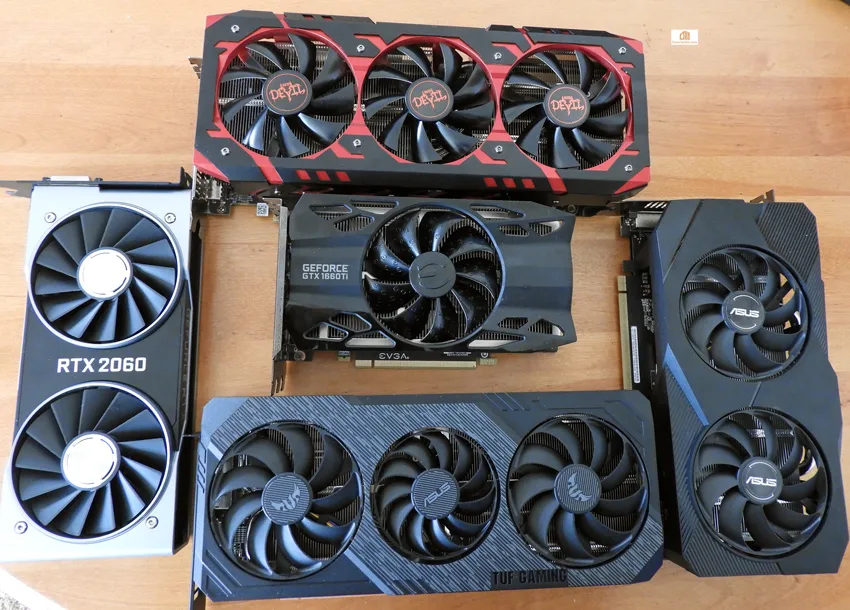 We present the updated performance results of the RX 5600 XT with the new vBIOS using 50 games against the RX 2060 Founders Edition, the EVGA GTX 1660 Ti XC and EVGA GTX 1660 Super XC and also versus the Red Devil RX Vega 56. Let's check out the test configuration before we see the updated performance results.
Test Configuration – Hardware
Intel Core i7-8700K (HyperThreading and Turbo boost is on to 4.8GHz for all cores; Coffee Lake DX11 CPU graphics).
EVGA Z370 FTW motherboard (Intel Z370 chipset, latest BIOS, PCIe 3.0/3.1 specification, CrossFire/SLI 8x+8x), supplied by EVGA
T-FORCE 16GB DDR4 (2x8GB, dual channel at 3866 MHz), supplied by Team Group
TUF Gaming X3 ASUS RX 5600 XT EVO OC 6GB, at factory settings, on loan from ASUS/AMD
EVGA GTX 1660 Ti XC 6GB, at XC clocks, on loan from EVGA
ASUS DUAL GTX 1660 SUPER EVO OC 6GB at ASUS EVO factory settings, on loan from EVGA
EVGA GTX 1660 XC 6GB at EVGA XC factory settings, on loan from EVGA
EVGA GTX 1060 SC 6GB, factory SC clocks, on loan from EVGA
RTX 2060 Founders edition, at FE clocks, on loan from NVIDIA
Sapphire RX 5500 XT Pulse OC 4GB on loan from Sapphire
PowerColor Red Devil RX 5500 XT 8GB on loan from PowerColor
PowerColor Red Devil RX 590 8GB on loan from PowerColor
Red Devil RX 570 4GB, at Red Devil factory overclocked settings, on loan from PowerColor
2 x 480GB Team Group SSDs – one for AMD, and one for NVIDIA
1.92TB San Disk enterprise class SSD
2TB Micron 1100 enterprise class SSD
T-FORCE 500GB Vulkan SSD, supplied by Team Group
EVGA 1000G 1000W Gold power supply unit
Cooler Master 240mm CPU water cooler
EVGA Nu Audio PCIe soundcard, supplied by EVGA
Edifier R1320T Active speakers
EVGA DG-77, mid-tower case supplied by EVGA
Monoprice Crystal Pro 4K
Test Configuration – Software
GeForce 441.87 used for all NVIDIA. See NVIDIA Control Panel image below.
AMD Adrenalin Software 20.1.3 used for the RX 5600 XT. 20.1.2 is used for the RX Vega 56. See the AMD Control Panel image below.
VSync is forced off.
AA enabled as noted in games; all in-game settings are specified with 16xAF always applied
Gaming results show average frame rates in bold including minimum frame rates shown on the chart next to the averages in a smaller italics font where higher is better. Games benched with OCAT show average framerates but the minimums are expressed by the 99th percentile frametime in ms where lower numbers are better.
Highest quality sound (stereo) used in all games.
Windows 10 64-bit Home edition. DX11 titles are run under DX11 render paths. DX12 titles are generally run under the DX12 render path unless performance is lower than with DX11; and Borderlands 3, Total War Warhammer II, and Hitman 2 are tested on DX11 and on DX12. Seven games use the Vulkan API.
Latest DirectX
All 50 games are patched to their latest versions at time of posting.
The Adrenalin 2020 control panel is used to set Radeon options
The NVIDIA control panel is used for GeForce settings
OCAT, latest version
Fraps, latest version
Afterburner, latest non-beta version
50 PC Game benchmark suite & 3 synthetic tests
Synthetic
Firestrike – Basic & Extreme
Time Spy DX12
Superposition
DX11 Games
Grand Theft Auto V
The Witcher 3
Fallout 4
Rainbow Six Siege
Overwatch
For Honor
Mass Effect: Andromeda
ARK: Survival Evolved
Prey
Project CARS 2
Total Wars: Warhammer II
Star Wars Battlefront II
Middle Earth: Shadow of War
Star Wars: Battlefront II
Monster Hunter: World
Kingdom Come: Deliverance
Final Fantasy XV
Far Cry 5
Conan Exiles
Assassin's Creed: Odyssey
Call of Duty: Black Ops 4
Hitman 2
Just Cause 4
Resident Evil 2
Anthem
FarCry New Dawn
Devil May Cry 5
Borderlands 3
Destiny 2 Shadowkeep
Ghost Recon Breakpoint
The Outer Worlds
Star Wars: Jedi Fallen Order
Mech Warrior 5: Mercenaries
DX12 Games
Ashes of the Singularity Escalation
Civilization VI
Sniper Elite 4
Forza 7
Total War: Warhammer II
Warhammer: Vermintide 2
Shadow of the Tomb Raider
Hitman 2
Battlefield V
Metro Exodus
Tom Clancy's The Division 2
Anno 1800
F1 2019
Control
Gears 5
Borderlands 3
Call of Duty Modern Warfare
Vulkan Games
DOOM
Strange Brigade
World War Z
Wolfenstein: Youngblood
Star Control Origins
Red Dead Redemption 2
AMD Adrenalin Control Center Settings
All AMD settings are set so as to be apples-to-apples when compared to NVIDIA's control panel settings – all optimizations are off, Vsync is forced off, Texture filtering is set to High, and Tessellation uses application settings.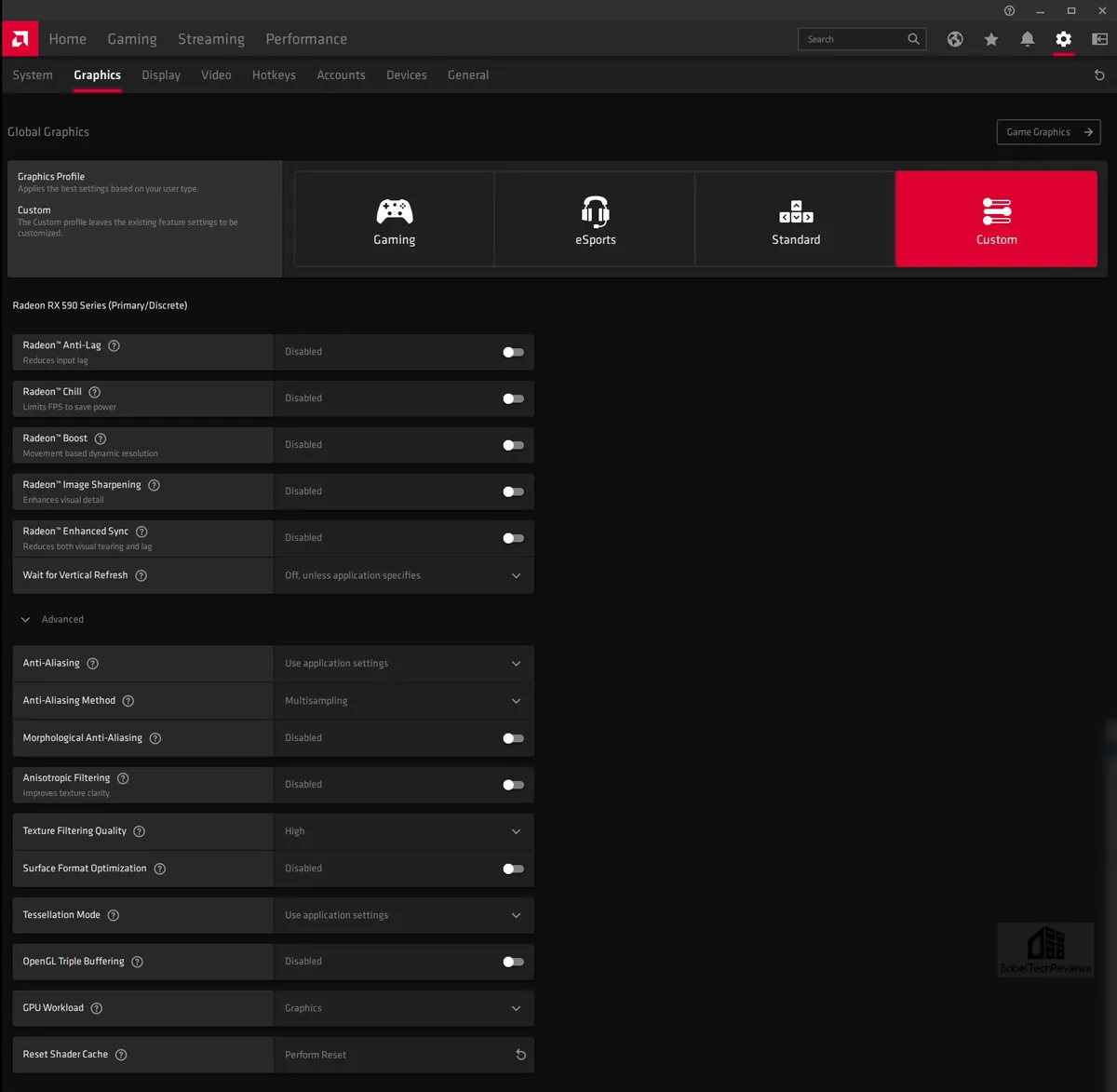 We pick the above Custom Global Performance settings for our benchmarking which has to be precise and repeatable especially because we benchmark driver performance changes, so Surface Format and other optimizations are disabled. As shown above, Anisotropic Filtering is disabled by default but we always use 16X for all game benchmarks.
Adrenalin Software Edition 20.1.3
Adrenalin Software Edition 20.1.3 are the public launch drivers supporting the RX 5600 XT. Go here to start the download.
NVIDIA Control Panel settings
Here are the NVIDIA Control Panel settings that match AMD's settings.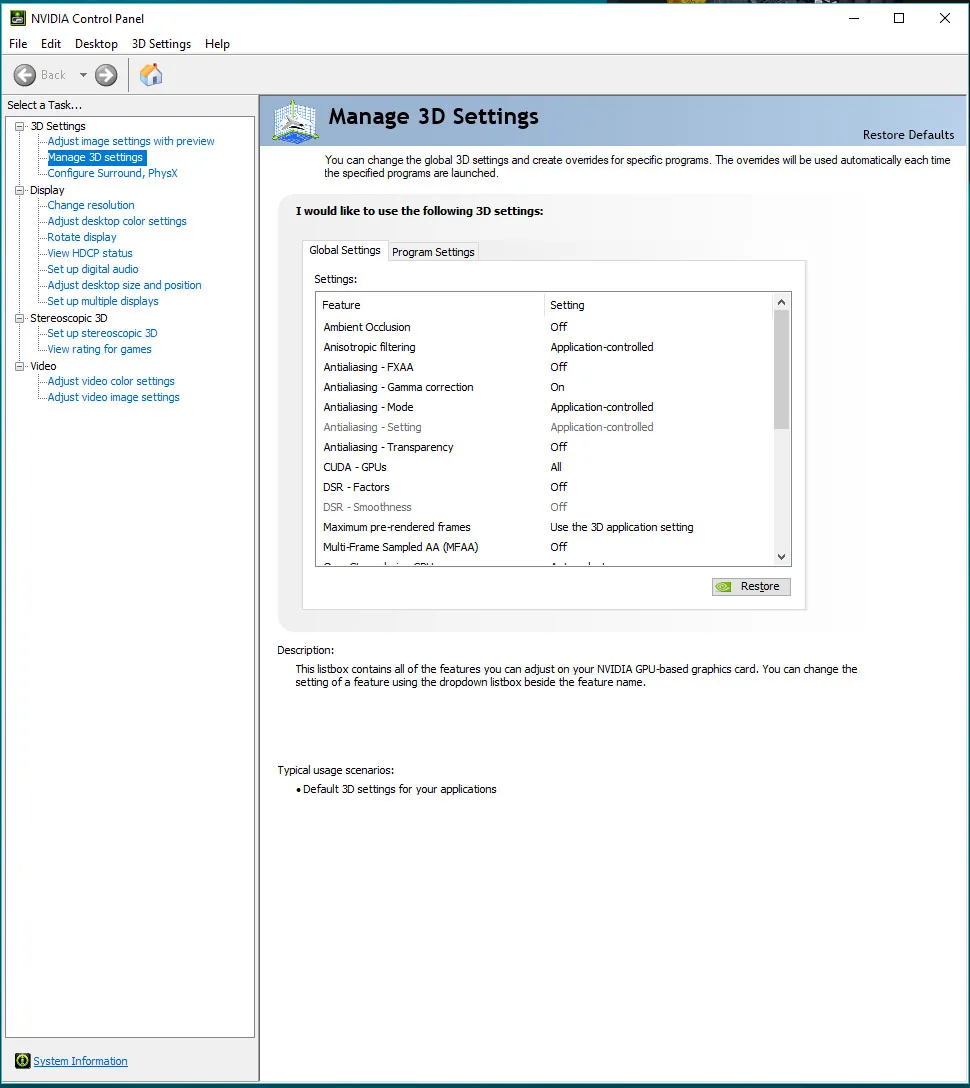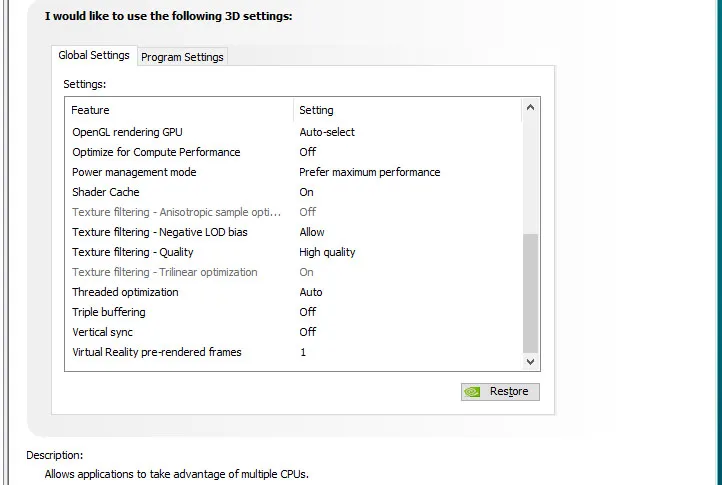 We did not adjust any card's Power and Temperature limits since it does not benefit low-power cards.
Performance Summary Charts & Conclusion
Here are the ASUS RX 5600 XT EVO OC new vBIOS performance results after the flash in column one compared with the original vBIOS performance results in column two.
The highest game settings are used and they are listed on the charts. Most gaming results show average framerates in bold text, and higher is better. Minimum framerates are next to the averages in italics and in a slightly smaller font. The games benched with OCAT show average framerates but the .1 minimums are expressed by frametimes in ms where lower numbers are better.
As we noted in Tuesday's original review, the flash sets the new clocks approximately 8% up over the old vBIOS which translates anywhere from about 2% to 5% more performance – and in some cases, even more. The new vBIOS brings a significant performance improvement.
The Bigger Picture
The ASUS GTX 1660 Super performance results are given in column one, the EVGA GTX 1660 Ti XC results are in column two and the ASUS RX 5600 XT performance numbers are in the center third column in yellow text. The fourth column shows the RTX 2060 Founders Edition performance results followed by the Red Devil RX Vega 56 numbers in the last column.







After the new vBIOS flash, the ASUS RX 5600 XT EVO OC pulls even further away from the GTX 1660 Ti winning most of the benchmarks. However, the moment the GTX 1660 Super was released at $229, it made the $279 Ti completely redundant and seem overpriced as the extra 1-4% performance is usually not worth $50 to budget conscious gamers. In the case of the vanilla RX 5600 XT, its $279 price is justified by solidly beating both the GTX 1660 Super and the Ti. The issue is that the ASUS RX 5600 XT EVO OC is priced $10 above the RTX 2060 Founders Edition.
The RTX 2060 wins approximately 30 of BTR's 50 game benchmark suite although the RX 5600 XT wins half of the DX12 games. The last generation RX Vega 56 as represented by the Red Devil does pretty well and is a consideration depending on price and availability although it uses more power than the other cards it competes with here. It is still a worthy competitor to the RTX 2060 although the GeForce is faster overall.
Conclusion
Although each partner AIB pricing for each video card is ultimately determined by the card manufacturer, AMD effectively dictates the final price range of the card by how much they charge for their GPUs and what standards the supporting board components must meet. It appears that AMD's strategy for Navi is to encourage higher pricing versus its competition.
This shift in strategy may relate to perception and brand. It could be that AMD wants to be seen as on an equal or higher footing than NVIDIA and are pricing their Navi cards to match certain NVIDIA cards that are perceived as high-priced. The GTX 1660 Ti never justified its minor performance uptick by being priced $50 over the the GTX 1660 Super, and it is further squeezed out by the now $20 cheaper RTX 2060. The RTX 2060 at $299 is faster and less expensive than some premium RX 5600 XTs.
Ultimately the market sets pricing, and currently at $309.99, the ASUS TUF Gaming RX 5600 XT is a solid well-built excellent Ultra 1080P performer that is just priced a bit too optimistically. We are still waiting on the arrival of a PowerColor RX 5600 XT that may have been delayed by the Chinese New Year. In the meantime, we have a very interesting T-FORCE liquid-cooled M.2 SSD review to bring you.
Happy Chinese New Year and Happy Gaming!!