The 2020 Autonomous L-Shaped Standing SmartDesk
Since BTR reviewed and recommended the Autonomous SmartDesk 2 three years ago, it has become an indispensable part of BTR's California office. Autonomous recently contacted us to show us what has changed since then, and I accepted a L-Shaped SmartDesk as a review sample 6 weeks ago for the Texas office. BTR was not asked to promote Autonomous products nor will it accept any commission nor referral fees.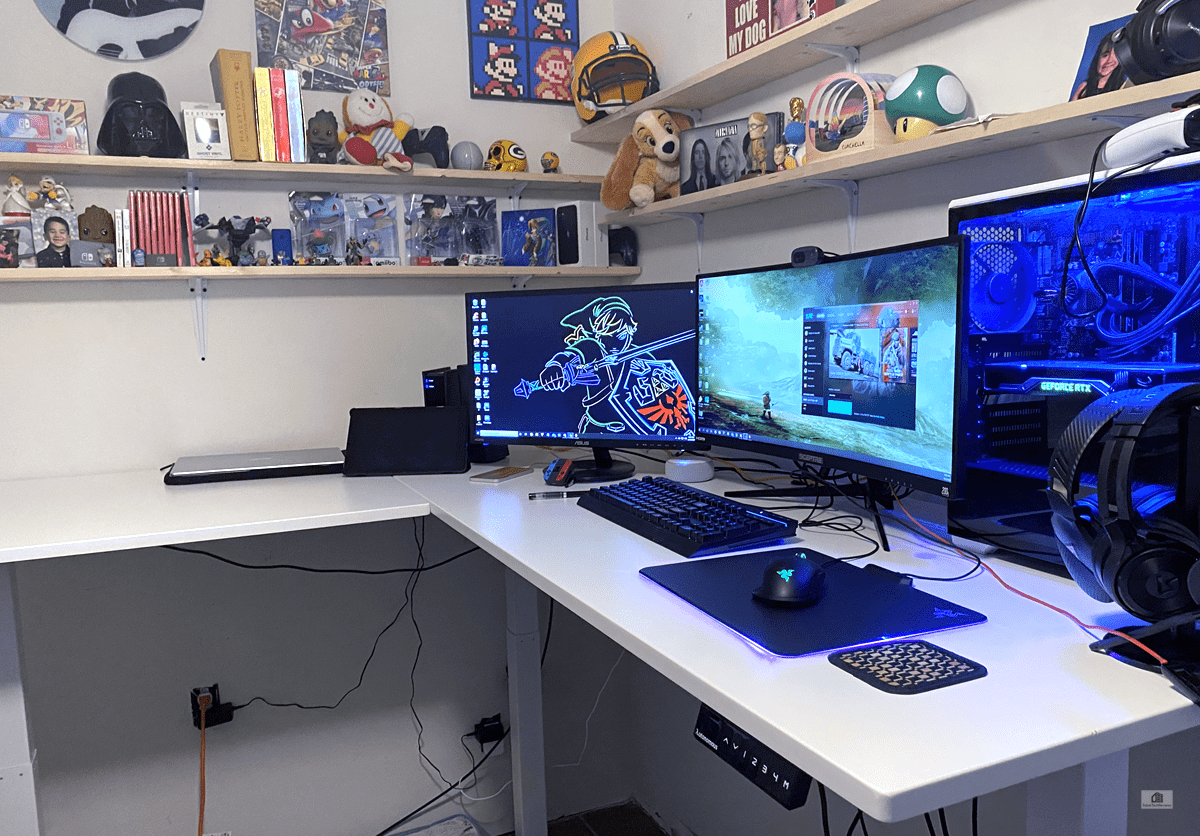 Many of us are working from home for the duration of the COVID-19 pandemic, and standing desks are very important for the health of anyone who sits at a desk for a long time. BTR's first review of a standing desk concluded that if you work mostly in a seated position, you are probably drastically shortening your life and killing your productivity. A healthful solution offered by the Australian government involves alternating positions from sitting down to standing up and moving regularly:
At Work
take short regular breaks from sitting
stand up to use the phone
think about using your feet first and walk to see colleagues instead of emailing
stand up at meetings
have walking meetings
if you have to sit down for long period change posture often and move and stretch muscles
alternate sitting and standing to avoid sitting or standing up all the time.
Even standing up for as little as a minute may help lower the health risks.
According to today's best medical science, sitting continuously causes muscles to burn less fat which may increase the risk of heart disease, high blood pressure, diabetes, cancers, and other serious health problems. Fixed-height standing desks are not a great answer because uninterrupted standing can cause fatigue, and interrupting work to stand up and then sit down breaks concentration. A good solution is to use an electric motor-driven height-adjustable desk.
Since we needed to expand our own work area of our all-day at a home desk job, we wanted to try the Autonomous L-shaped desk. A standard desk just does not work long-term even with a comfortable and expensive gaming chair like E-Win's Flash series which we recently reviewed.
There are mechanical lift desks available, but they defeat the purpose of being able to effectively continue a train of thought as you work to lift the desk. An ideal standing desk should operate smoothly and quietly in an office situation and also have presets for predetermined heights. It should also be stable with or without a load, and a desk should not rock in any direction. Above all else, it should be durable, reliable, and affordable.
Let's check out my experience with the Autonomous L-Shaped SmartDesk since we assembled it 6 weeks ago.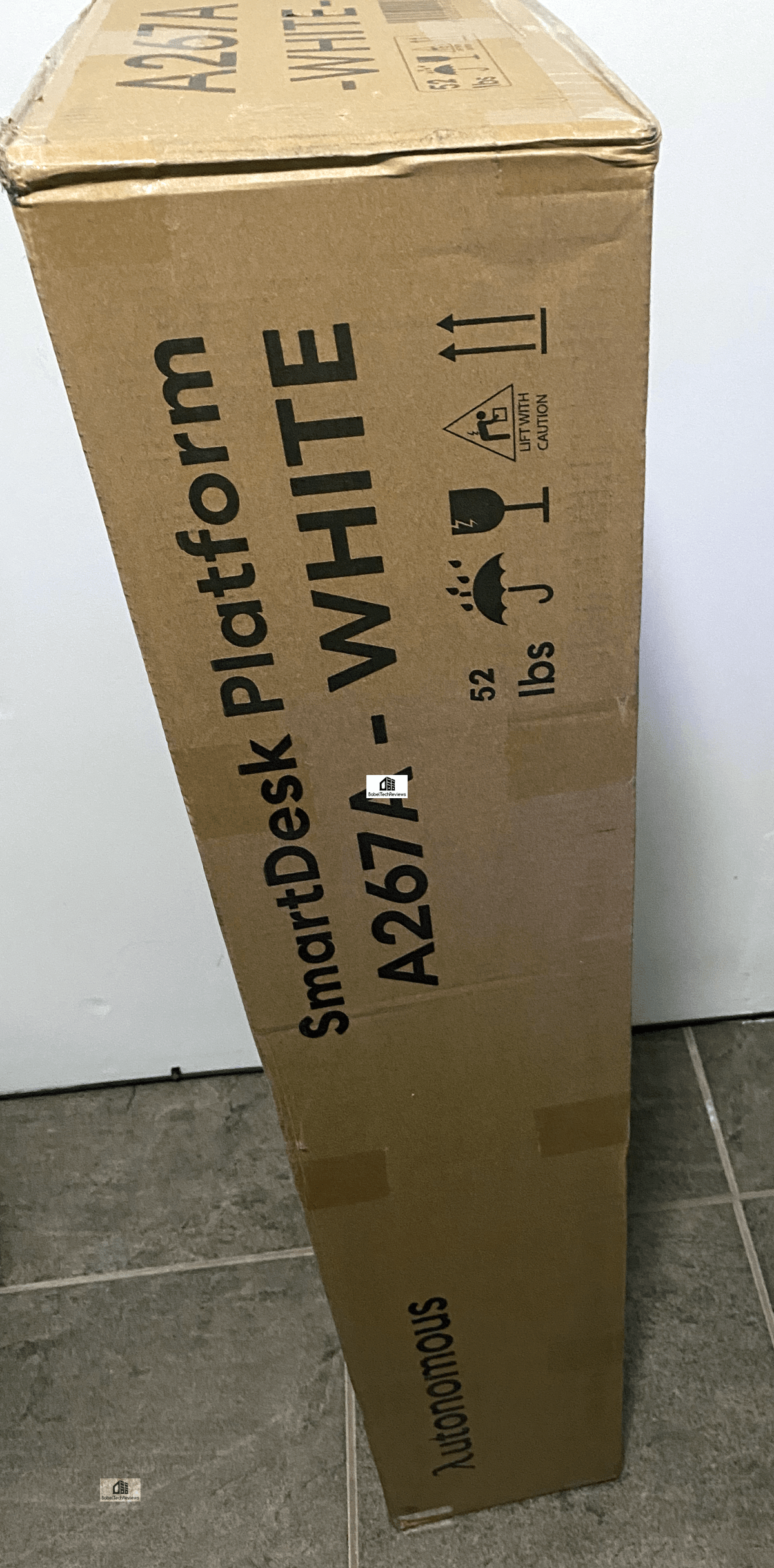 I received a couple of heavy packages weighing over 105 lbs with parts for the Autonomous L-Shaped SmartDesk directly from the company via FedEx. Everything was very well-packed and the contents arrived in perfect condition.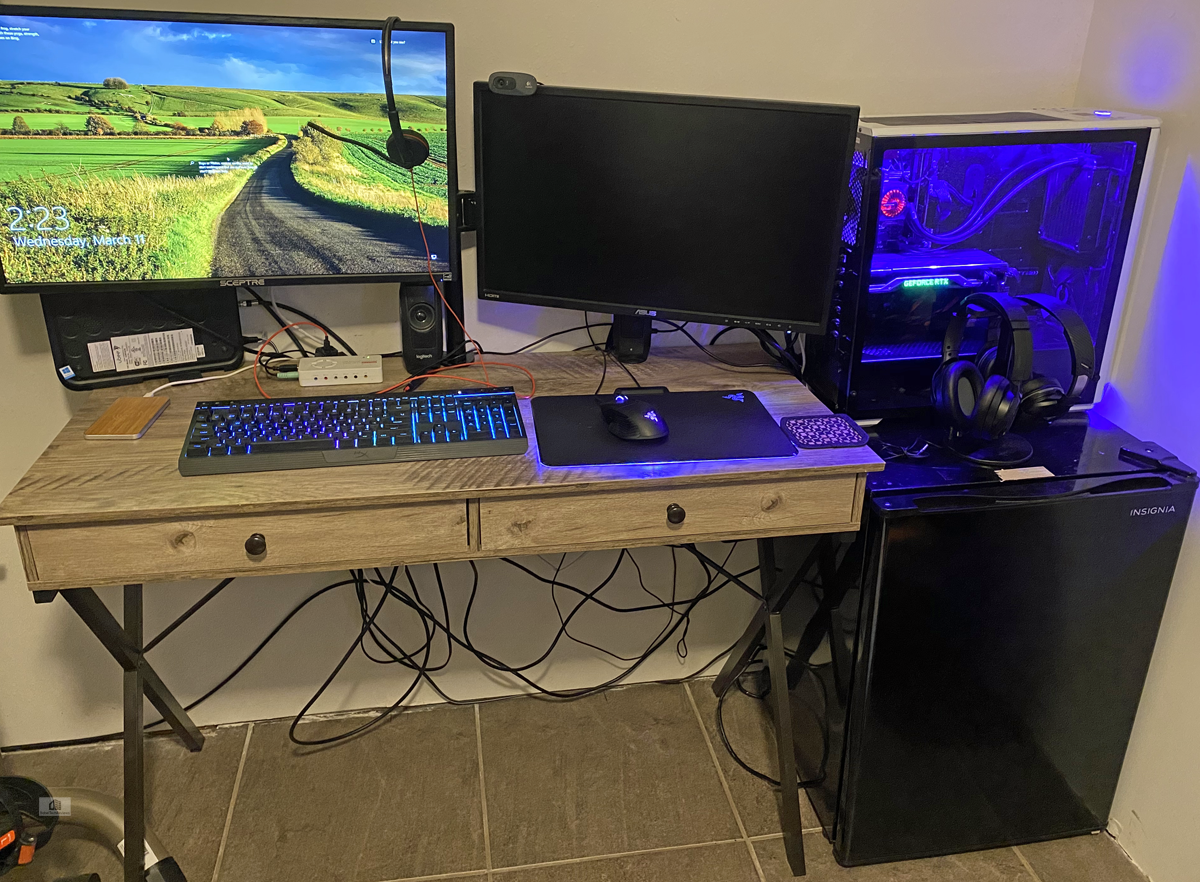 I wanted a desk that would last me several years as we desperately needed an upgrade from my small and cheap college-era desk.
After removing our worn old traditional desk, we built the L-Shaped SmartDesk with some help from a relative in about two hours using an electric screwdriver.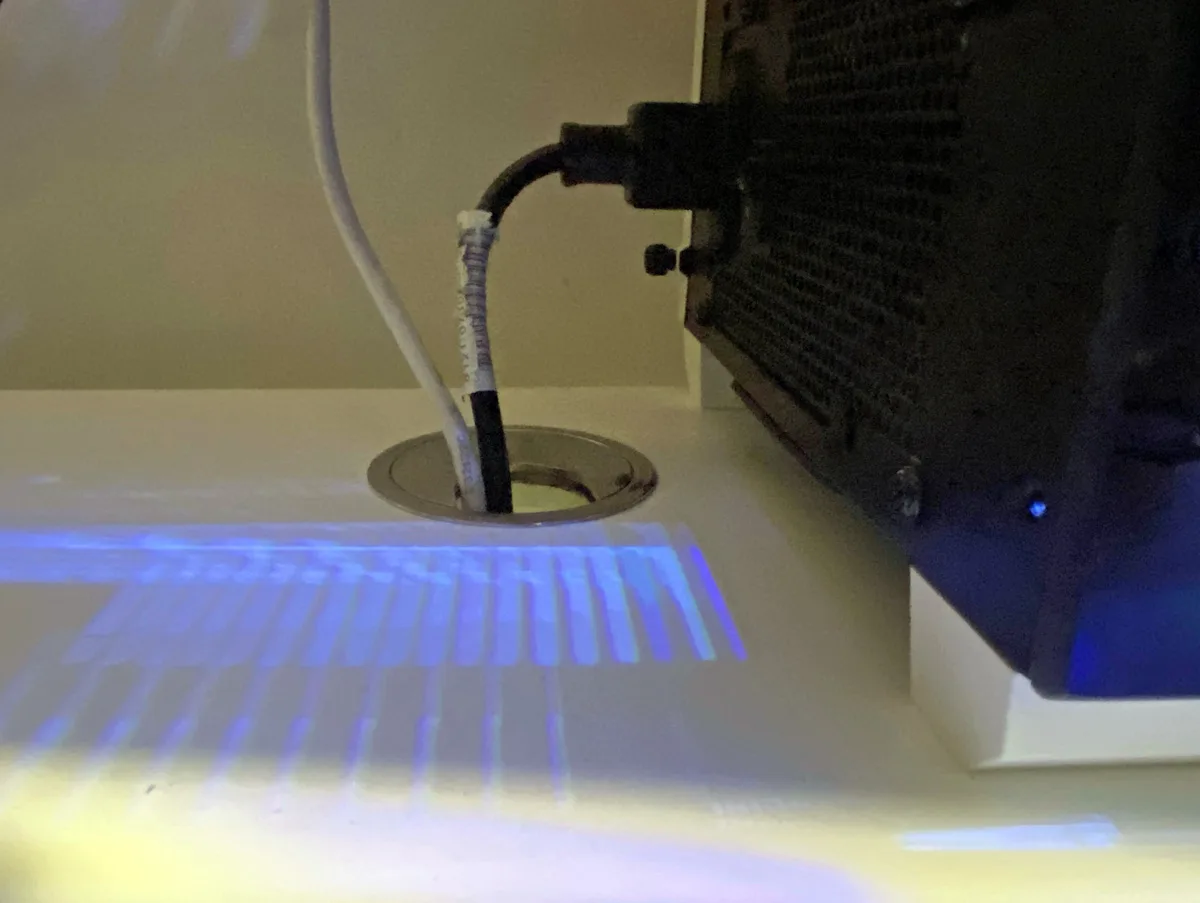 The L-Shaped SmartDesk desktops are solid, and the neutral white MDF wood looks good. There are two cutouts in the back of the desk with supplied metal inserts for cable management.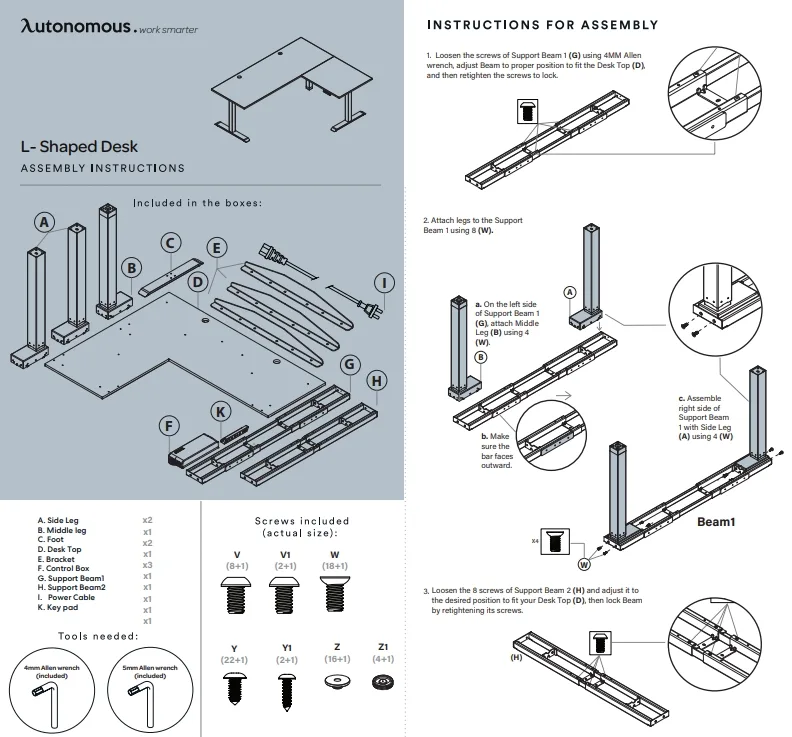 Your DIY job is to assemble the frame base and mate the holes exactly to the tabletop. All of the parts that you need including the assembly tool are included. The assembly is step-by-step, and the instructions are easy to follow. Since the parts are very heavy duty and they appear to be perfect for lifting and supporting at least 300 pounds, have at least two people help turn it over and move it. Make sure to leave at least 1″ between the wall and the edge of the desk.
There are three electric motors that are synchronized to lift the L-Shaped SmartDesk. After the frame is screwed down into the pre-drilled holes of the SmartDesk top, it's time to install the controller which also fits into a predetermined area using screws to lock it down.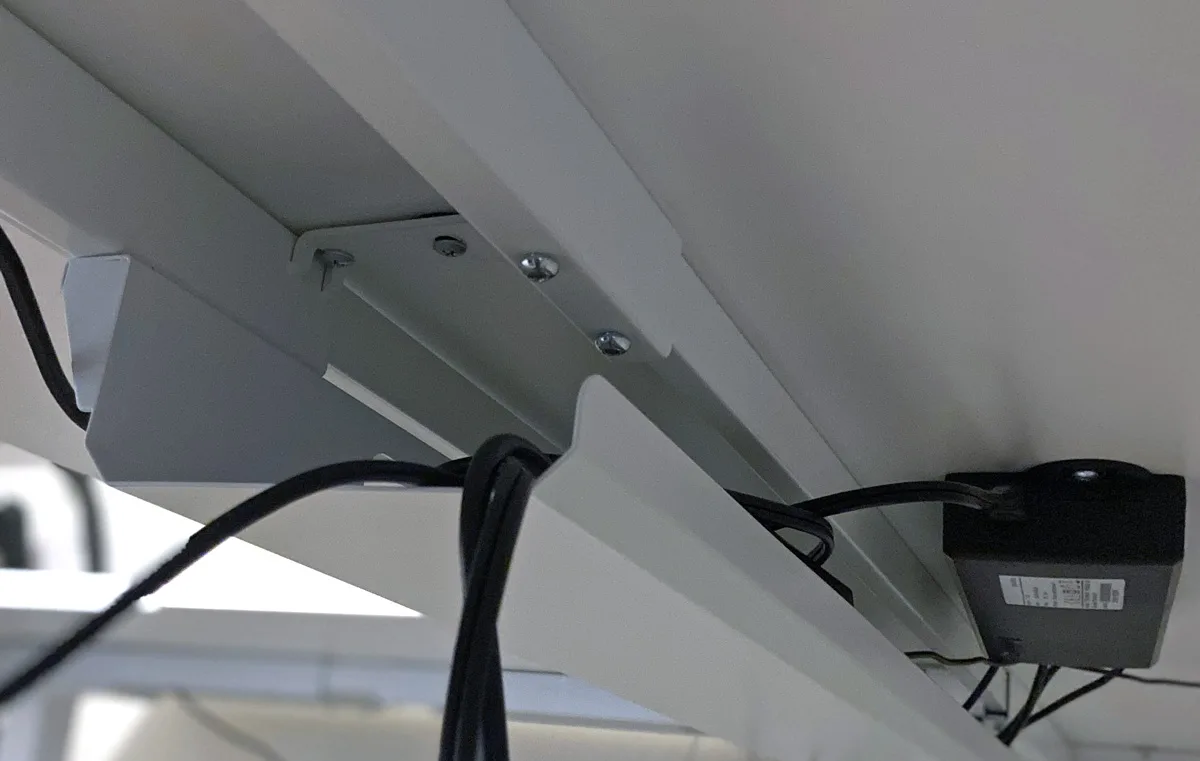 The controller is then plugged into each motor and the control panel is also installed on the edge of the desk. To keep everything looking neat, cable channels and cable ties are included to hold the clutter of wires beneath the desk, out of sight. After everything is installed, one needs to tip the upside-down desk onto its base and move it into place. We needed help with it and while it is possible to assemble this desk on your own it will make the world of difference to have help.
Each tabletop is supported by a dual I-beam configuration which is quite sturdy. The three legs are telescoping structures that extend using electric motors, one for each leg, which gives the L-Shaped SmartDesk its height adjustability. The base is very wide which gives it extreme stability.
The Autonomous L-Shaped SmartDesk that we are evaluating today is huge, but it fits perfectly into the corner that we reserved for it. The desk is also modular so it may be built how you want and put the "L" corner of the desk on either side by simply removing two screws in under 5 minutes. The Autonomous L-Shaped SmartDesk costs $789 but is currently $200 off. Here are the table and side tabletop sizes.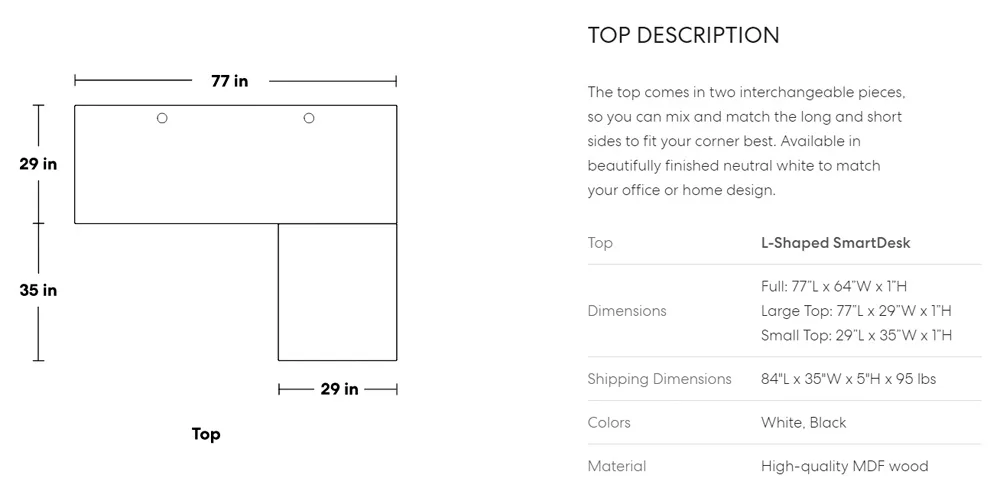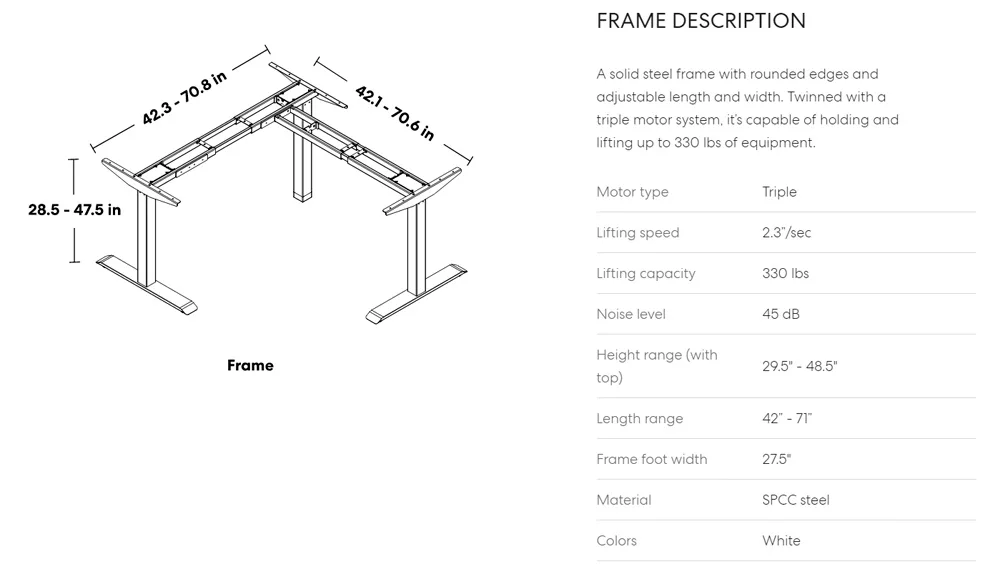 The desk will rise as a single platform driven by 3 synchronized motors each capable of lifting 110 lbs, well-hidden in the frame of the desk.
A good-quality desk is very important to desktop PC gamers. It must be sturdy and it also has to be large enough to hold at least one display and the other gaming accessories including a keyboard, mouse, mouse pad, and speakers or headphones. A gaming desk needs to support the weight of the equipment for many years without sagging or rocking. Gamers also lean on their desks. In addition, standing desks need reliable motors, lifting mechanisms, and good electronics.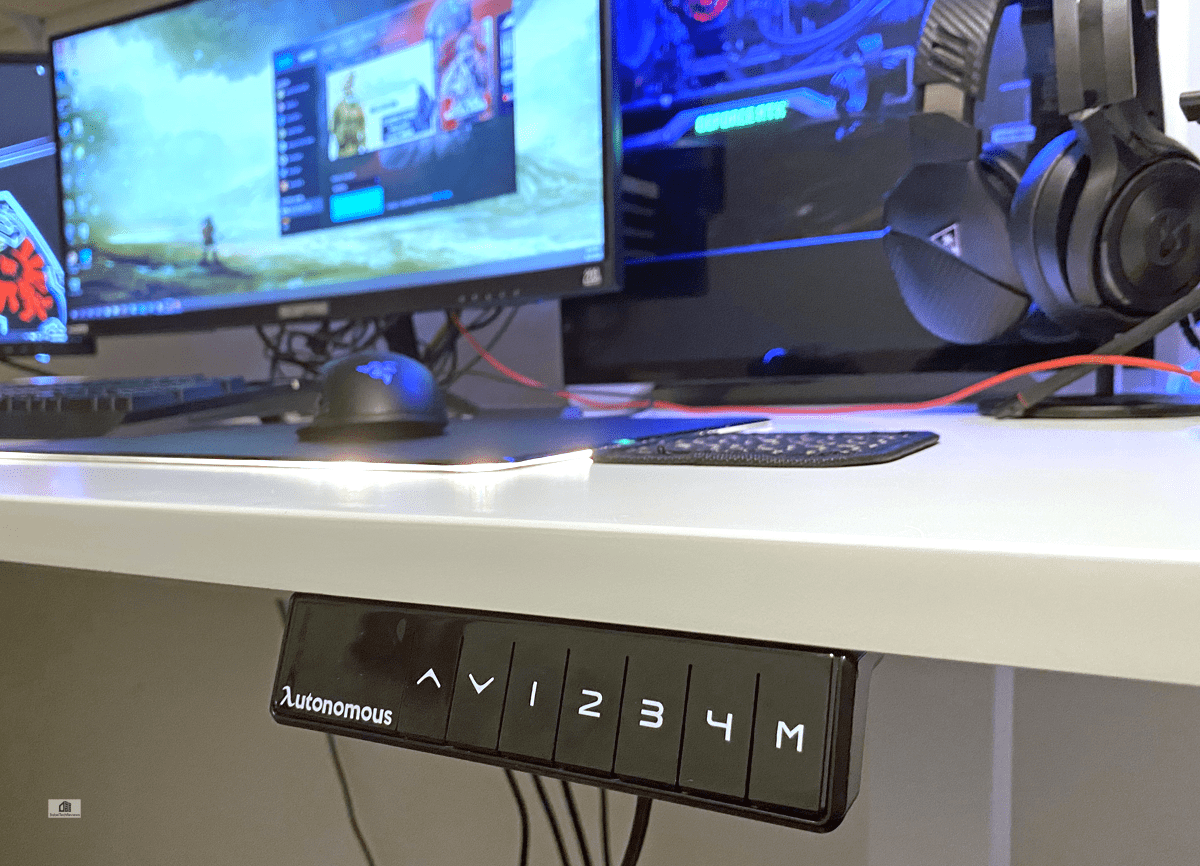 The Autonomous L-Shaped SmartDesk remembers four of your height positions and allows you to quickly change positions at the touch of the control pad. One of the settings is perfect for the regular seated height and the other is ideal for the standing height. The two extra settings are useful for a second user or for in-between heights.
Living with the Autonomous L-Shaped desk
The Autonomous L-Shaped SmartDesk is a very good-looking desk with clean lines and white fits in well with any decor. The L part of the desk is perfect for those who need an extended workspace.
A study by Texas A&M University tracked 167 call center workers over 6 months and found 50% more productivity in the adjustable desk group. Instead of needed to stand up and take breaks to stretch, I can raise my desk and stand simultaneously at the press of a button to remain productive. I could never go back to a traditional desk after experiencing this during a busy workday.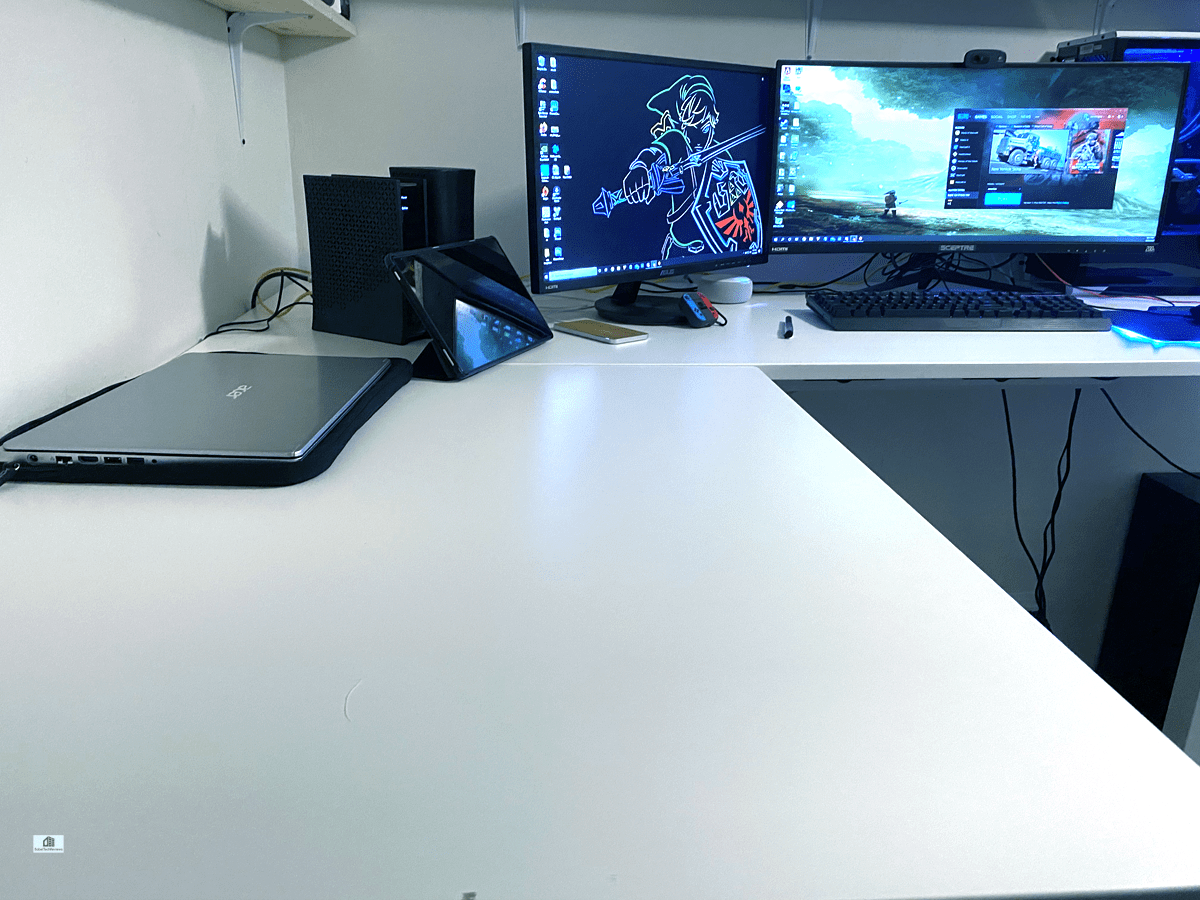 We use our desk well over 40 hours a week for work, and our PC for gaming, video editing, and for office productivity tasks. We also use our desk to build and modify PCs.
The L-Shaped SmartDesk extends from 29.5″ to 48.5″ which means that even a tall person will have no problem using it. It also rises quickly, at about 1.5″ per second. There is no monitor wobble whatsoever while typing or gaming even at the maximum extension because of the crossbeam design. And the desktop itself is 1″ thick MDF wood which means that it will not develop a bow over time.
The Autonomous L-Shaped SmartDesk quickly extends very smoothly which will not upset anything that you may have on your desk. And the motor is quiet enough so that you can raise the desk in an office situation or while talking on the phone.
A caveat of the Autonomous L-Shaped SmartDesk is it has no protection features while being raised or lowered. If you forget to take something out of the desk's path on its way down, it will not stop automatically. I am not sure how much more it would cost Autonomous to add this feature but for a premium desk at this price, it would be a great feature to add.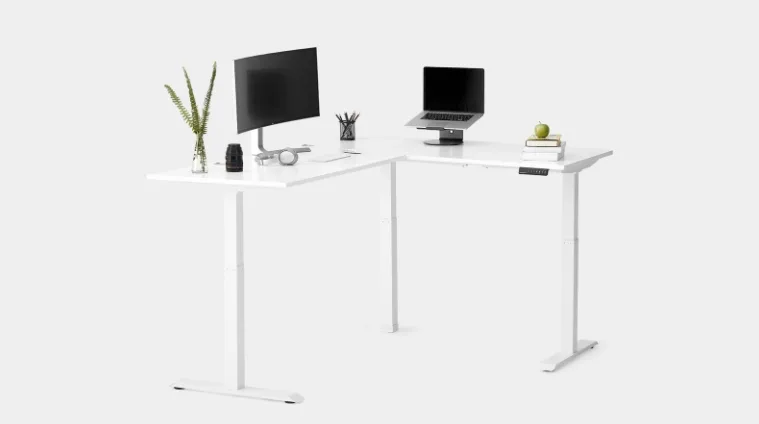 I have shelving where I keep various things like pictures, figurines, and more. Thankfully I have my room set up in a way where nothing is below or above my current presets. It goes to the perfect height every time at the press of a button. However, if you manually press the up and down arrows on the control panel the desk will not stop even it is pushing through your shelving.
While mindlessly raising the desk after initially having it for a week or so I almost went straight through my shelving. Thankfully the desk stops moving as soon as you release the button and is very responsive.
The automatically adjustable electric standing desks market for a desk made in America is quite expensive with prices over the $1,000 range. Many inexpensive desks are often cheap, wobbly, slow, and noisy knockoffs made in China that may struggle with lifting any weight. The L-Shaped SmartDesk at its $589 sale price is quiet, fast, sturdy, powerful, and it comes with a 5-year warranty on the frame and one year on the desktop.
Let's head for our conclusion.
Conclusion
What is at the center of an office job besides the chair you sit on? Your desk. I cannot recommend the Autonomous L-Shaped Smartdesk enough. The Autonomous L-Shaped SmartDesk does everything that we could have expected, and we find that we are sitting less while increasing our level of productivity while working. Standing up allows me to get the circulation going and move my feet and even walk a little while using my wireless microphone.
I do recommend either wearing some thick socks or purchasing an anti-fatigue mat to allow you to stand for extended periods of time. I would be in the middle of an intense project while standing and then notice my feet hurting after some time without socks or a mat. Having the ability to stand, stretch, pace back and forth while on a call with a wireless headset and more is a godsend.
I have purposely extended our review time frame to thoroughly test this desk through a full 6-week cycle. My typical 50-60 hour week can be unyielding and often extremely tiring. You need to invest in yourself for many reasons and long work schedules such as mine demand better tools. Your desk is your most important tool that we have often overlooked or settled for a cheap alternative to save some money.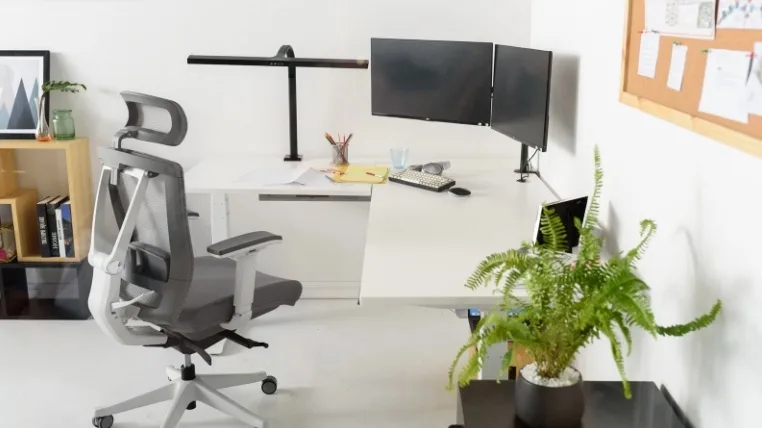 Because of working at least 8-10 hours I raise and lower the desk 4-5 times during the day. Honestly, I don't ever want to go back to a regular desk since my knees end up killing me. Now stretching and standing is so great I feel more energized and my body parts thank me at the end of the day. I am now even able to get some gaming sessions in at night with friends whereas before I wanted nothing to do with sitting at my desk after a workday.
Standing from a regular desk while working takes quite a while to get your mind refocused. With the Autonomous L-Shaped SmartDesk you can continue your same train of thought and simply stand up while continuing to work as the desk automatically rises with you.
Let's sum it up:
The Autonomous L-Shaped SmartDesk Pros
The motors are quiet and fast, and there are 4 programmable height options
The desk is sturdy and it does not wobble even fully extended
Easy for a D-I-Y'er – with some help to move it
5-year warranty on the frame and 1-year on the top surface
30-day return window with full refund available if you are unhappy with your Autonomous L-Shaped SmartDesk.
The Autonomous L-Shaped SmartDesk Cons
No automatic stop protection while the desk is being raised and lowered
Nitpick: Expensive – until you consider your health and productivity
The Verdict – Editors Choice Award!
The Autonomous L-Shaped SmartDesk is well-built and it gets you out of your seat while allowing you to continue writing or working without interruption and in style. The L-Shaped SmartDesk represents a solid value in our opinion, especially at $589, and it deserves BTR's Editor's Choice Award for a great electric standing/sitting desk.
Stay tuned to BTR. Next up is a T-FORCE 2x32GB DDR4 3000MHz kit review.
Happy Gaming & working, and stand up regularly!