Six weeks ago BTR received a couple of heavy packages with parts for the sitting/standing SmartDesk 2 by λutonomous. After completely rearranging our room to accommodate it, we built it the following week and we have been using it ever since.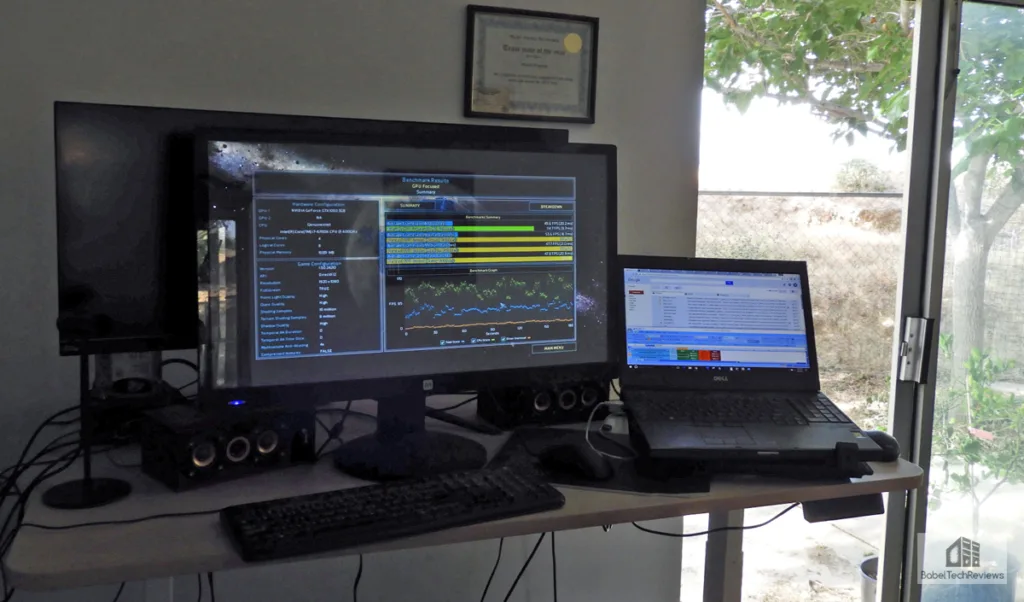 The 53″x30″ SmartDesk2 that we are evaluating today starts at $299 for the home edition which uses a single motor with a shorter lift, to $449 as reviewed for the business edition with dual electric motors and upgraded white oak wood surface ($50 extra), that came directly from Autonomous as a review sample.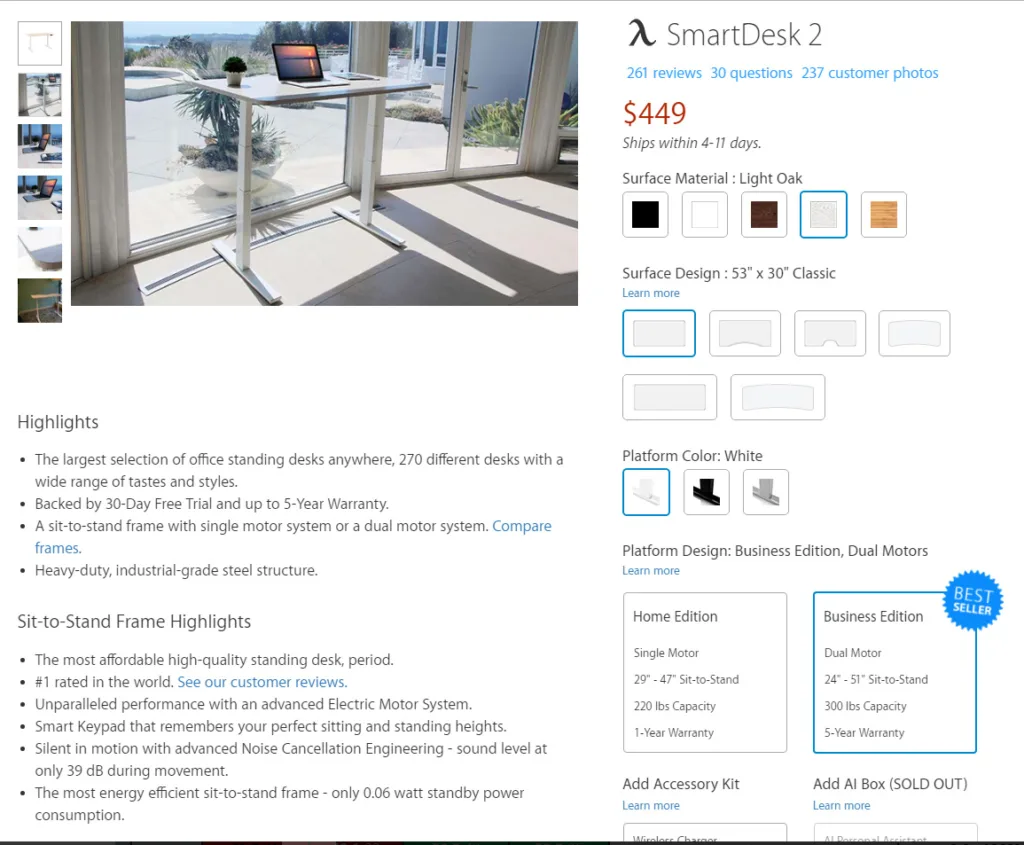 The Autonomous SmartDesk is available with many options including a larger desk surface to 70″x30″, to a custom desk platform with a solid plank of real wood for just about as much as you could want to spend, and you can even order an accessory kit and an AI box. Here is our review sample SmartDesk 2 that was customized from the Autonomous website.
A desk is very important to desktop PC users including gamers. It has to be sturdy and it has to be large enough to hold at least one display and the other accessories a PC user/gamer needs including a keyboard, mouse, mouse pad, and speakers. If the PC doubles as a workstation, there are plenty of other accessories that may be useful including adding a second notebook PC. And since many gamers sit at their PC for many hours at a time, it may be time to think of getting a standing desk simply for health reasons.
Health Risks of Sitting
There are many serious disadvantages to sitting for long periods of time that are well documented. According to the Washington Post, sitting for prolonged periods can increase risks for heart disease, diabetes, cancers, muscle degeneration, leg and back disorders, and slowed brain function. In fact, people who sit for prolonged periods of 7+ hours a day watching TV have a 61% greater chance of dying than those who sit for less than 1 hour a day.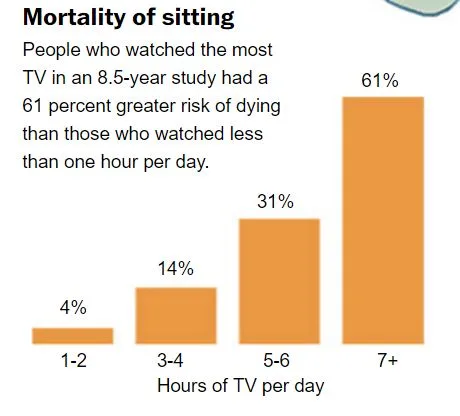 It isn't likely that watching TV is the cause of this much higher mortality rate, but rather sitting for prolonged periods is a killer. Any extended sitting – such as behind a desk at work or as a driver behind the wheel – can be harmful. Worst of all, spending a few hours a week at the gym or otherwise engaged in activity doesn't appear to offset the risk of sitting. And for those of us who work at a desk, this news is quite troubling. According to the experts, the solution is to alternate between sitting and standing at your work station. And the point is not to just stand, but to move about while standing.
According to Dr. James Levine, author of the book Get Up!: Why Your Chair Is Killing You and What You Can Do About It:
"When somebody gets a standing desk, they generally stand for several hours a day. But they don't stand still. A couple of things happen. The first thing that happens is, they generally move from leg to leg and generally change their body posture quite a lot.

That weight-bearing and adjustment of weight-bearing has a whole series of physiological benefits …"
Research by Dr. Levine indicated that the installation of sit-stand desks reduced sitting time by eight hours during a 40-hour workweek . In addition, the study participants evidently enjoyed having the option of a sit-stand desk, which was also associated with an increased sense of well-being and energy and decreased fatigue.
The evidence against prolonged sitting is overwhelming as there are over 10,000 studies showing that it will reduce your lifespan by promoting dozens of chronic diseases, even if you exercise regularly.
Unfortunately, moving your entire desk from a sitting to a standing position is not an easy thing to do – at least not until recently when motorized standing desks were introduced. Of course, you don't just want a fixed height desk to stand at as it is extremely tiring and hard on the feet, but rather you want an easily adjustable desk – one that will easily and quickly move up and down to accommodate both a sitting and a standing position. The SmartDesk 2, by λutonomous, is a desk that remembers four of your sit versus stand positions and allows you to effortlessly and quickly change its position automatically. And with the addition of the optional $100 voice-operated AI Box (not tested), the SmartDesk 2 can become a personal assistant similar to Amazon's Alexa.
Most of the competing automatically adjustable electrically-powered desks are quite expensive – that is until the SmartDesk arrived. The SmartDesk started out as Kickstarter and Indegogo campaigns in 2015, and Autonomous has evidently had its growing pains with the original SmartDesk. Recently, it appears that Autonomous has changed their suppliers and they have improved their product and delivery to what is now the SmartDesk 2, and we are reviewing the desk with the direct-drive synchronized dual-electric motor option. It seems to us that it is worthwhile to get the business edition's dual electric motors as it not only lifts 300 pounds, but includes a 5-year warranty. The single motor home edition option may save you $100 in the short run, but it is a gear-driven affair that can only lift 220 pounds and it is covered by a 1-year warranty.
Before we get to our impressions of this desk, let's unbox it and put it together.
Unboxing
The SmartDesk 2 as ordered came in two very heavy boxes. The smaller box containing the frame weighs nearly 70 pounds and the larger box containing the desk top weighs nearly 40 lbs.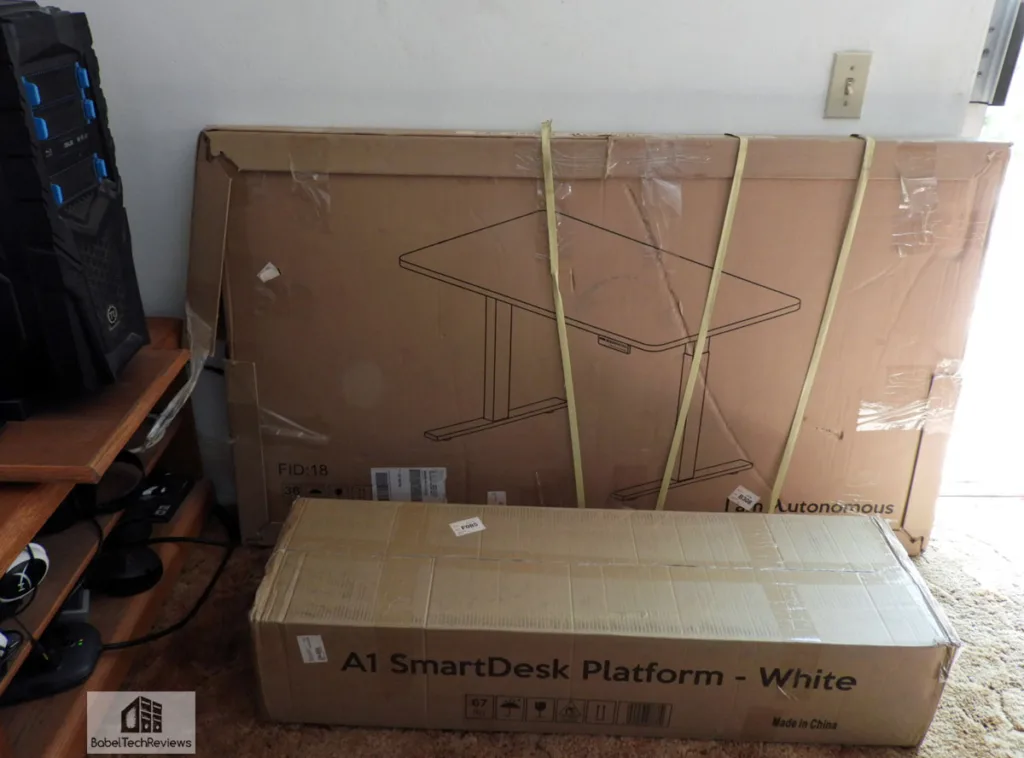 Everything is very well-packed, and although the boxes were abused in transport, the contents arrived in perfect condition.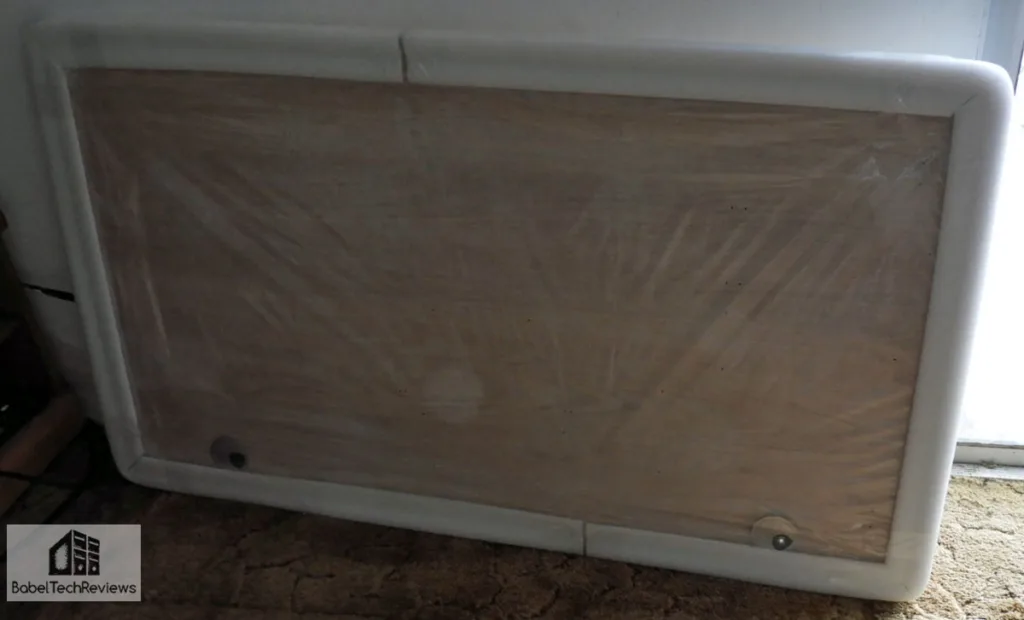 This is the SmartDesk 2 desktop. It is solid and the white oak looks good and it appears to be of good quality and well-made. There are two holes cut into the back of the desk with supplied metal inserts for cable management.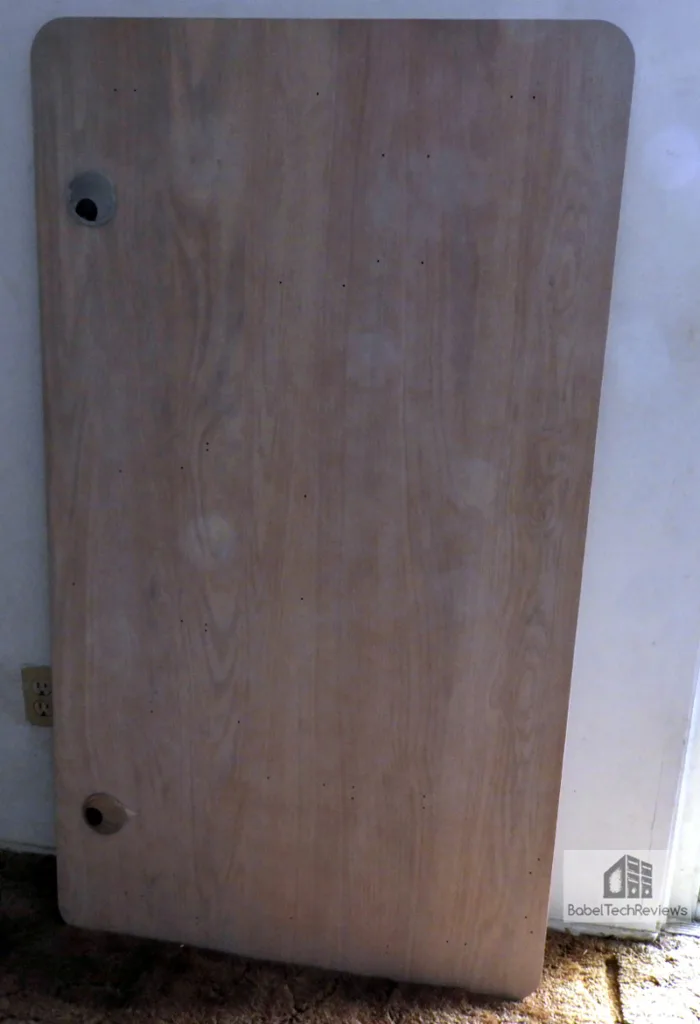 Your job as a do-it-yourself assembler is to assemble the frame base and mate the holes exactly to the tabletop. All of the parts that you need including the assembly tool are included.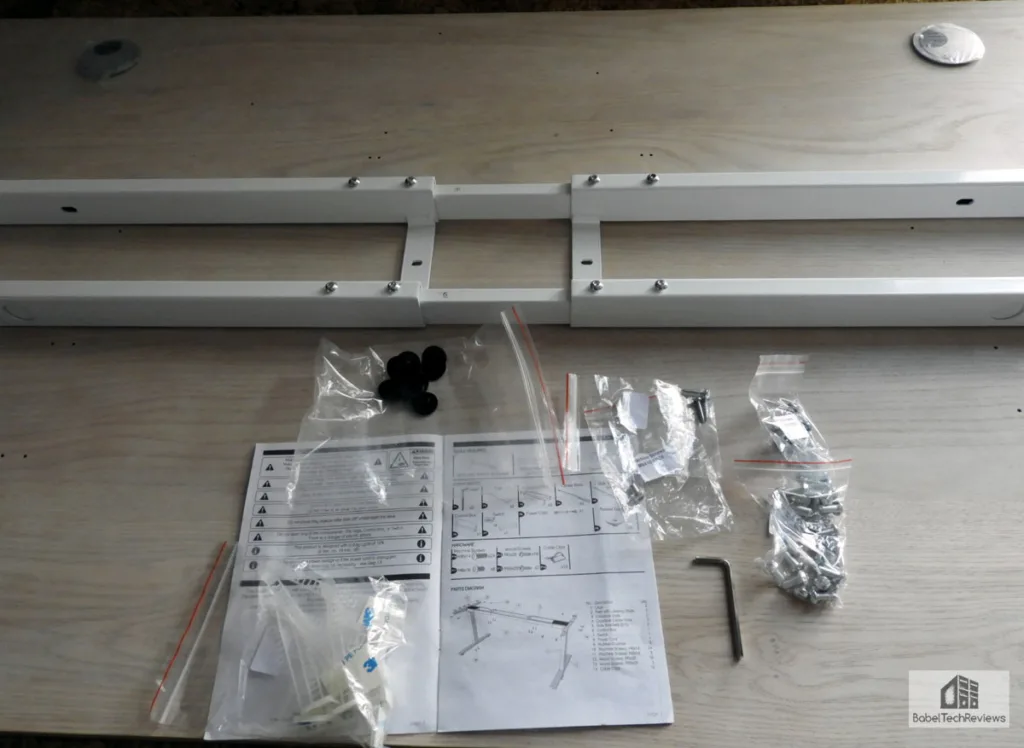 The assembly is step-by-step, and the instructions are not too difficult to follow. If you have trouble, there are assembly videos on the Autonomous.AI SmartDesk 2 website that are quite helpful – just make sure that you download and watch the video that corresponds to the desk that you have purchased or you will get completely confused.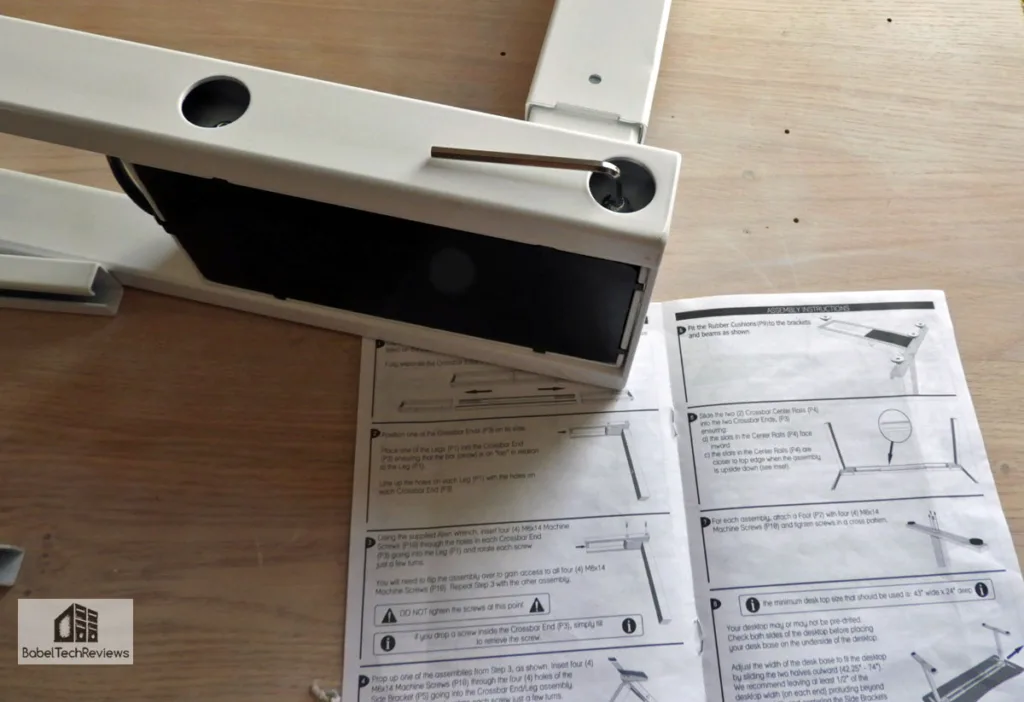 Here is the upside-down desktop with the frame installed. All of the parts are very heavy duty and they appear to be well-suited for lifting and supporting at least 300 pounds.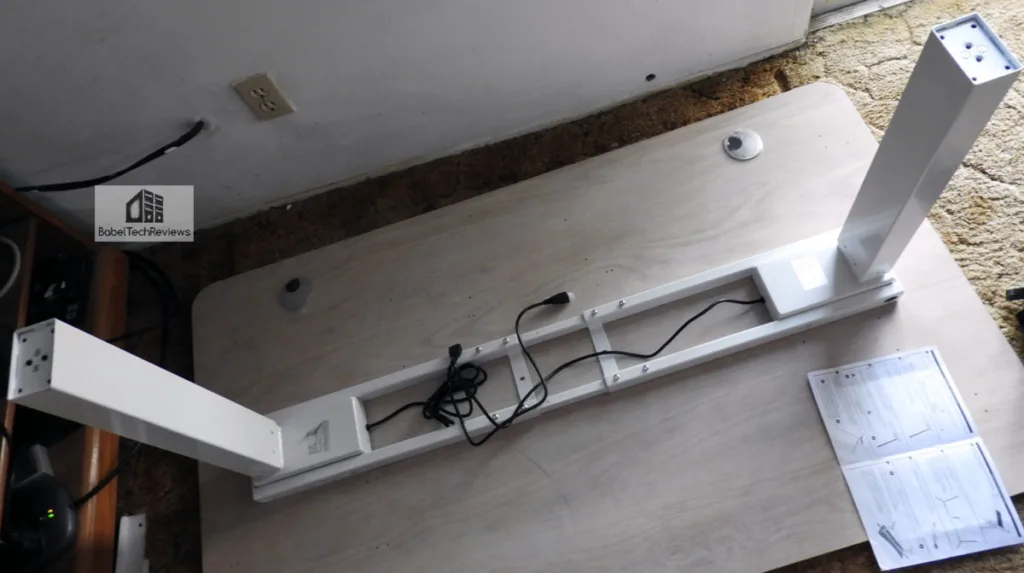 There are two electric motors that are synchronized to lift the SmartDesk 2.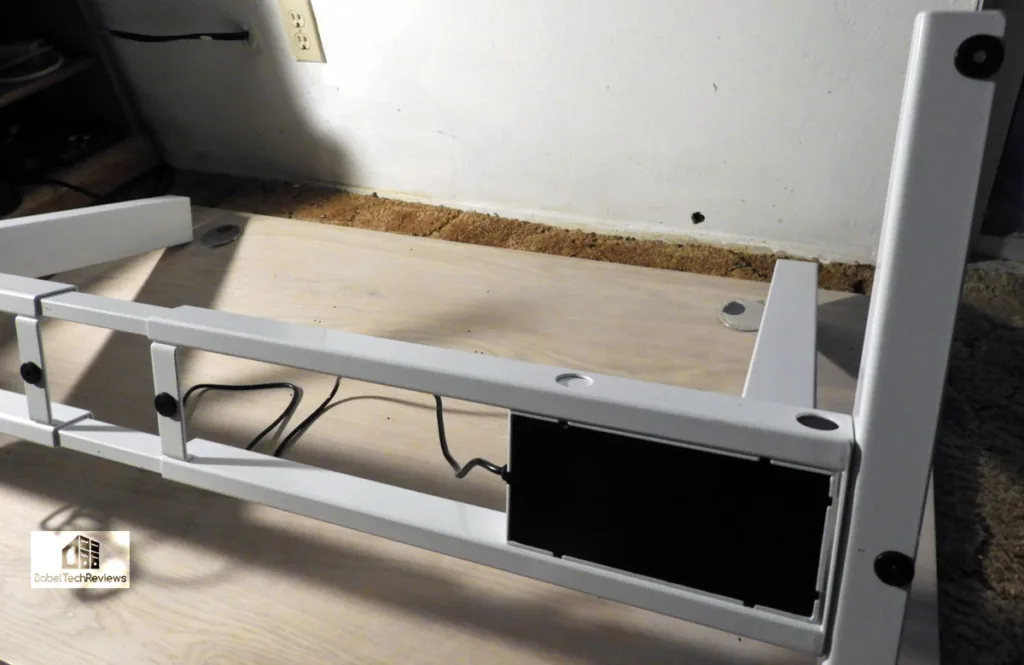 After the frame is screwed down into the pre-drilled holes of the SmartDesk top, it's time to install the controller which also fits into a predetermined area using screws to lock it down.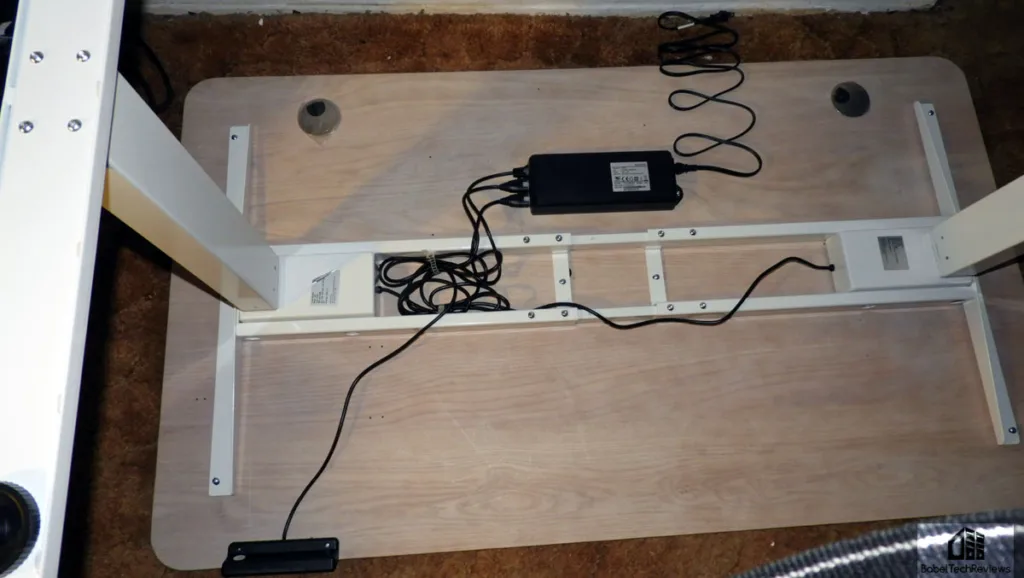 The controller is then plugged into each motor and the control panel (above image, bottom left) is also installed on the edge of the desk. To keep everything looking neat, cable ties are included to hold the clutter of wires beneath the desk, out of sight. After everything is installed, one needs to tip the upside-down desk onto the installed frame and move it into place. It helps to have help with turning the desk over, but one person can manage it alone.
The tabletop is supported by an dual I-beam configuration which is quite sturdy. The two legs use 3 telescoping structures that extend using dual electric motors, one for each leg, and this gives the SmartDesk2 its height adjustments. The legs are nearly was wide as the SmartDesk's top which gives it extreme stability. It took us about an hour to fully assemble the desk. Let's look next at the SmartDesk2 in action and then head for our conclusion.
The SmartDesk 2 in Use
The SmartDesk 2 is a very good-looking desk with clean lines and it fits in well with our decor. There are 3 color options for the base – white, black, or gray – and many more options for the desktop including size, color, and even cutouts which will allow it to fit in well with any home office or living room.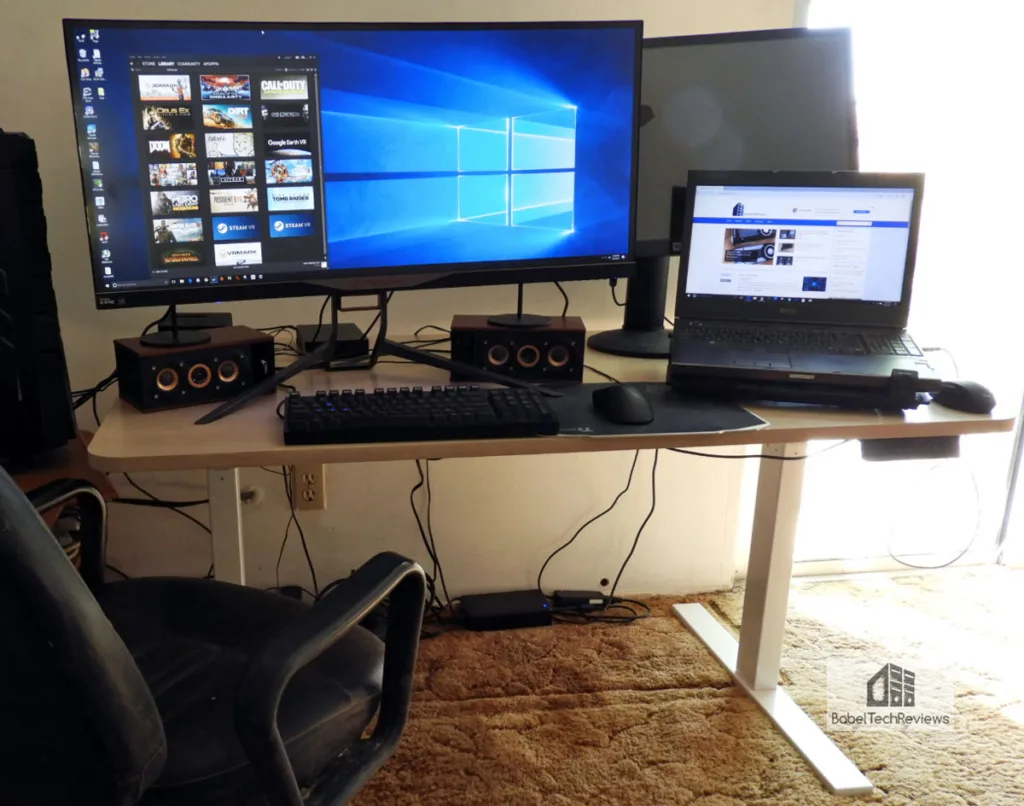 Normally at BabelTech Reviews, we use our desktop PC to benchmark and our notebook PC to take down the results. Above is our usual sitting position.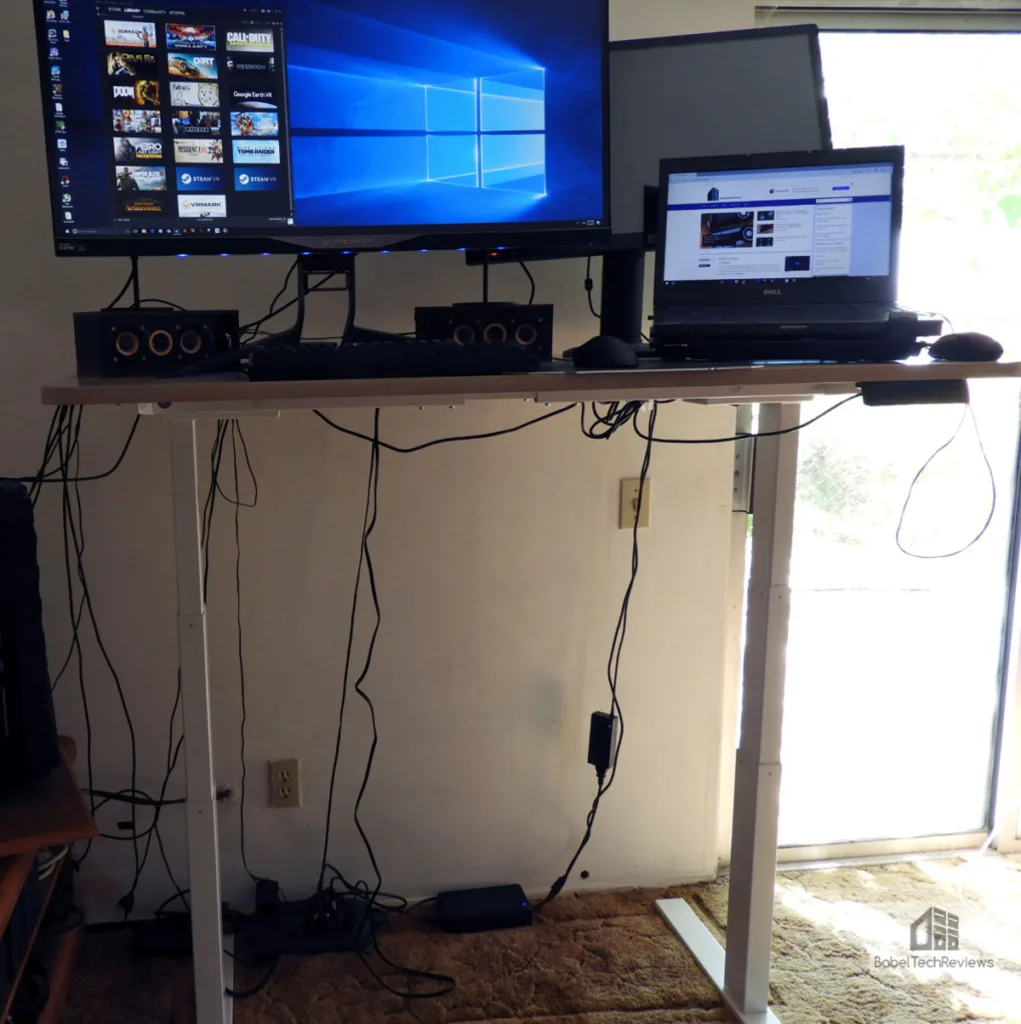 Next we extended the legs as far as they can go up with a touch of a button, and we noted that some of our cables are a bit short and needed to be re-arranged. The two cable management cutouts were barely sufficient for our mass of wires that include 2 displays, controllers, mouse, keyboard, speakers, and VR sensors, so we ran several of the cables over the edge of the desktop. We were also able to hide many of the wires right up against the bottom of the SmartDesk 2 using the ties provided along with some extra electrical tape.
The desk extends from almost 24″ to nearly 51″ which means that a tall person will have no difficulty using the desk in a standing position. There is no monitor wobble whatsoever while typing or gaming even at the maximum extension. And the desktop itself is 1″ thick wood which means that it will not develop a bow over extended use.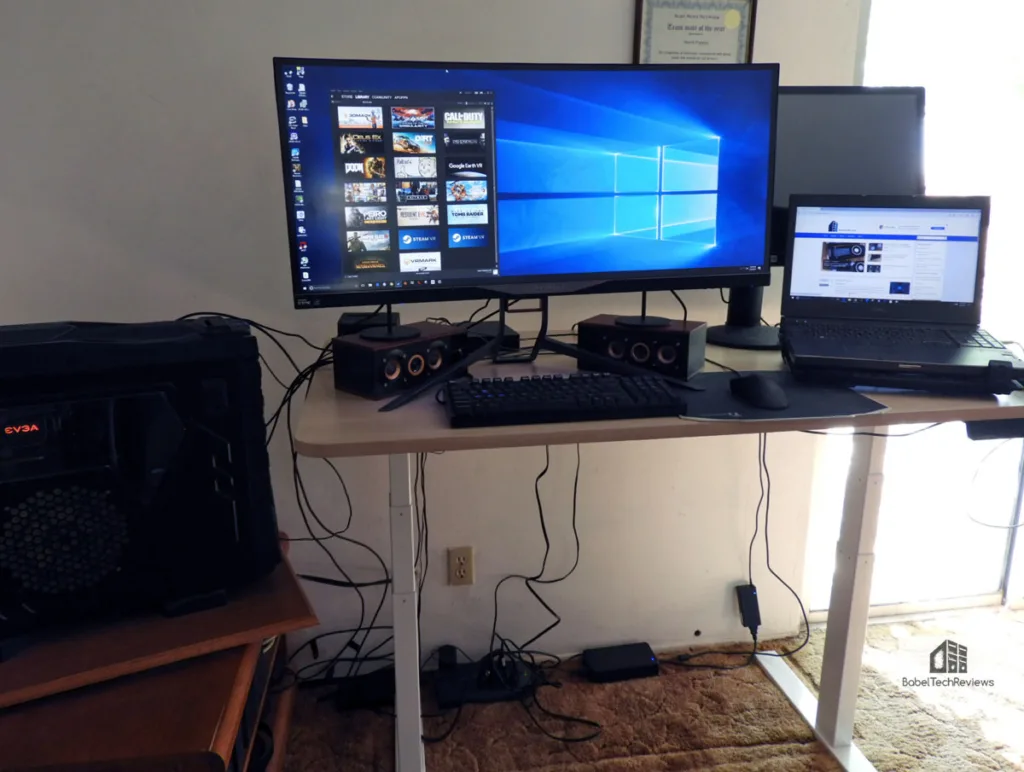 Here is the SmartDesk 2 at our regular seated height which is now programmed into the controller's memory along with our regular standing height. The two extra settings might be useful for a second user or for in-between heights. Instead of ever manually adjusting our display height again, we now use the SmartDesk 2's height adjustment controller.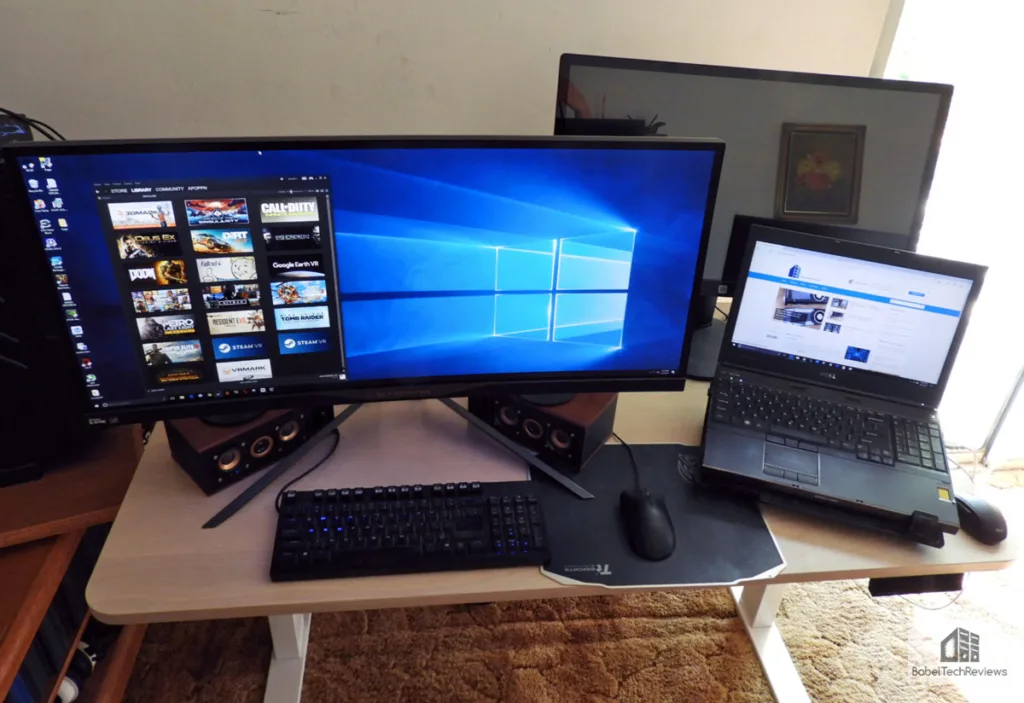 Sometimes we use dual displays simultaneously. Here is our 28″ 4K display next to our 34″ GSYNC-enabled Acer Predator X34 display. There is plenty of room for both displays side-by-side even on the smaller 53″x30″ display. If you need more desktop room, pick the 70″x30″ desktop or use your own custom top with an Autonomous SmartDesk 2 frame which may be purchased separately.
The desk easily extends from under 25″ to over 50″ in just a few seconds. And as this video demonstrates, it is a very smooth and quick ride which will not upset anything you have on your desk – including a nearly full glass of water. Best of all, the motors are quiet enough with a mild whirring sound so that you can raise the desk even while on the phone.
Let's head for our conclusion.
Conclusion
In a couple of words, we love our SmartDesk 2! It does everything that we could have possibly expected from a sitting-standing desk and we find that we are sitting less while maintaining the same level of productivity or more. When one is standing, it becomes easier to walk about the room and even pace a little bit while thinking. Before, we had to force ourselves to stand up (for health reasons) even when we were concentrating on writing an article, and when we returned, it took us awhile to get our train of thought refocused. Now, we can continue with the same train of thought and simply stand up while continuing to write as the SmartDesk 2 rises to our standing position without needing a break.
Let's sum it up:
The SmartDesk 2 Pros
The SmartDesk 2 has many options available starting at only $299 for the home edition.
For $100 more than the home edition, the basic business edition comes with dual electric synchronized motors that can lift 300 pounds smoothly and quickly at the touch of a button. Considering that many users lean on their standing desk, you will probably want the heavy duty lifting solution.
The motors are very quiet and fast and there are 4 height options that you can pre-program for your best standing or sitting heights.
The desk is very sturdy, and it is very difficult to topple meaning that you probably won't have to worry about small children having an accident. You can also set the desk up very high to keep very young children from accessing what is on top of it.
A 5 year warranty for the business edition gives peace of mind.
There is a 30-day return window with a full refund available if you are not happy with your SmartDesk 2.
The SmartDesk 2 Cons
The instructions could be better written and easier to follow.
The two cable management cutouts are barely sufficient for a power PC user. A third cutout option might be helpful or you could do it yourself.
The Verdict
The λutonomous SmartDesk 2 is solidly built and it does exactly what it is supposed to do – it gets you off of your butt while allowing you to continue writing or working without interruption. The λutonomous SmartDesk 2 represents a solid value at $449 as reviewed in our opinion, and it deserves BTR's Editor's Choice Award for a well-built convenient and easy-to-use standing/sitting desk as a health-conscious replacement for any static desk that one may own.
Stay tuned to BTR. We have our Red Devil RX 570 versus the GTX 1060-3GB overclocking showdown up next and we expect to publish it tomorrow. We are also going to return to benchmarking the Oculus Rift this week as there are several brand new VR games that have been recently released.
Happy Gaming – and don't forget to stand up from time to time!