Intro
The $1199 RTX 4080 Founders Edition VR Performance Review plus SPEC, Pro Apps, Workstation & GPGPU (Part 1) 
BTR received a $1199 RTX 4080 Founders Edition (FE) from Nvidia but are late because we got a bad case of COVID-19 after the AMD Event in Las Vegas over two weeks ago.  This Part 1 RTX 4080 review is a 10-VR game performance analysis versus the RTX 3080 Ti, the RTX 4090, and the RX 6900 XT using the Valve Index.  Although the RTX 4080 is not a workstation card, we have included workstation SPEC benches and selected popular creative and synthetic apps.  Next week, Part 2 will feature the performance of more than 40 games and we will include DLSS 3.0 results.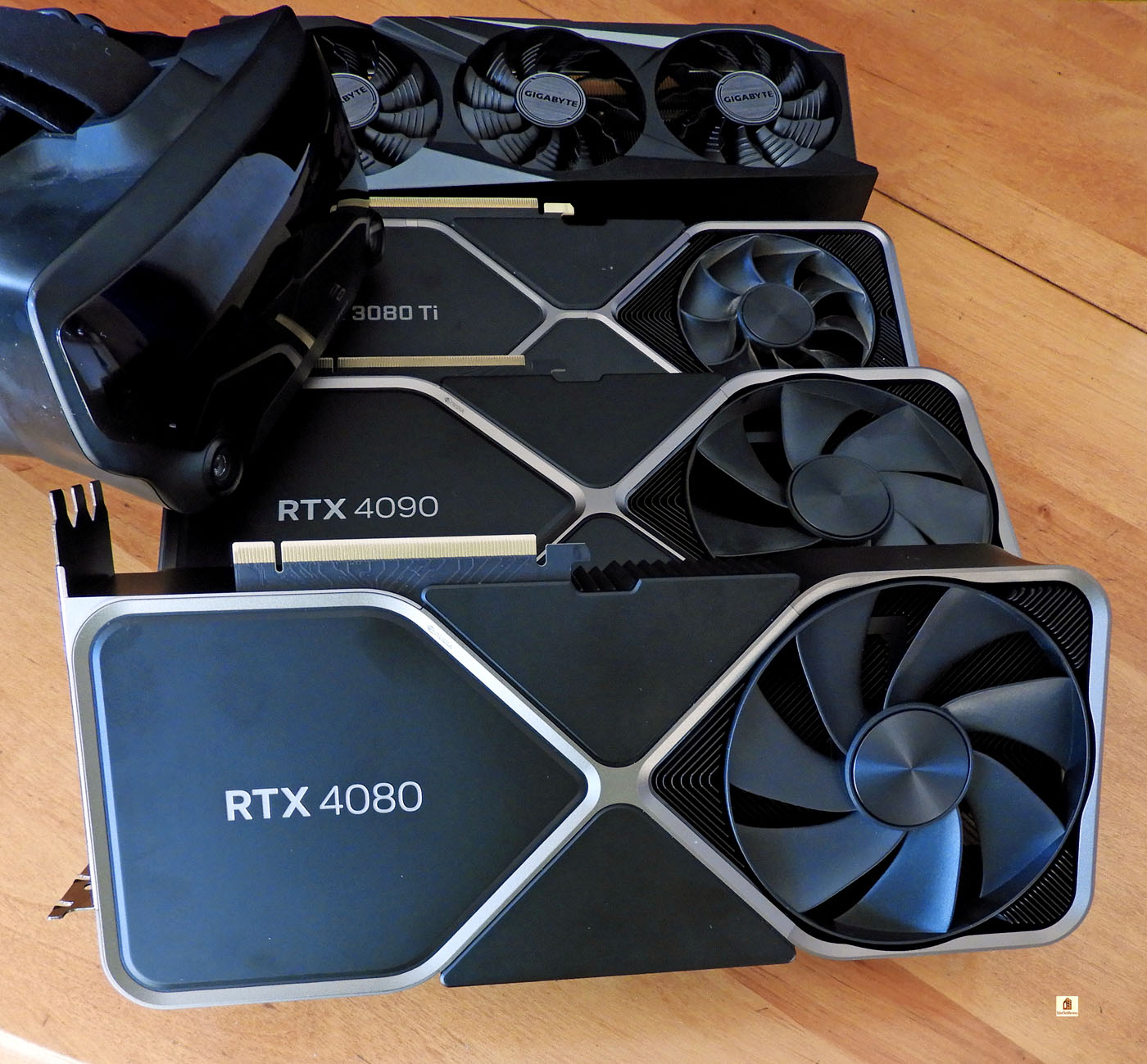 We will focus on raw VR performance to consider whether the new RTX 4080 Founders Edition at $1199 delivers a good value as a compelling upgrade from the last generation Ampere RTX 3080 Ti which also launched at $1199.  We will also compare performance with Nvidia's current flagship, the $1599 RTX 4090, and the former AMD flagship, the RX 6900 XT, which launched at $999.  In addition to gaming, VR, and SPECworkstation3 GPU results, we have added creative results using Geekbench, the Blender 3.3.0 benchmark, and complete Sandra 2020 and AIDA64 GPGPU benchmark results plus some pro applications including Blender rendering and OTOY OctaneRender.
We benchmark using FCAT VR and Windows 11 Pro Edition 2H22 with Intel's Core i9-13900K that we just upgraded from i9-12900K, and 32GB of T-FORCE DELTA RGB 6400MHz CL40 DDR5 2x16GB memory on an ASUS Prime-A Wi-Fi Z790 motherboard.  All games and benchmarks are patched to their latest versions, and we use GeForce Game Ready 526.98 drivers for GeForce cards and Adrenalin 22.11.1 for the RX 6900 XT.
Let's first take a quick look at the RTX 4080 Founders Edition before we go to the test configuration
The RTX 4080 FE 
The RTX 4080 and RTX 4090 are externally physically identical twin cards.  Refer to the RTX 4090 unboxing as the features and sizes are the same.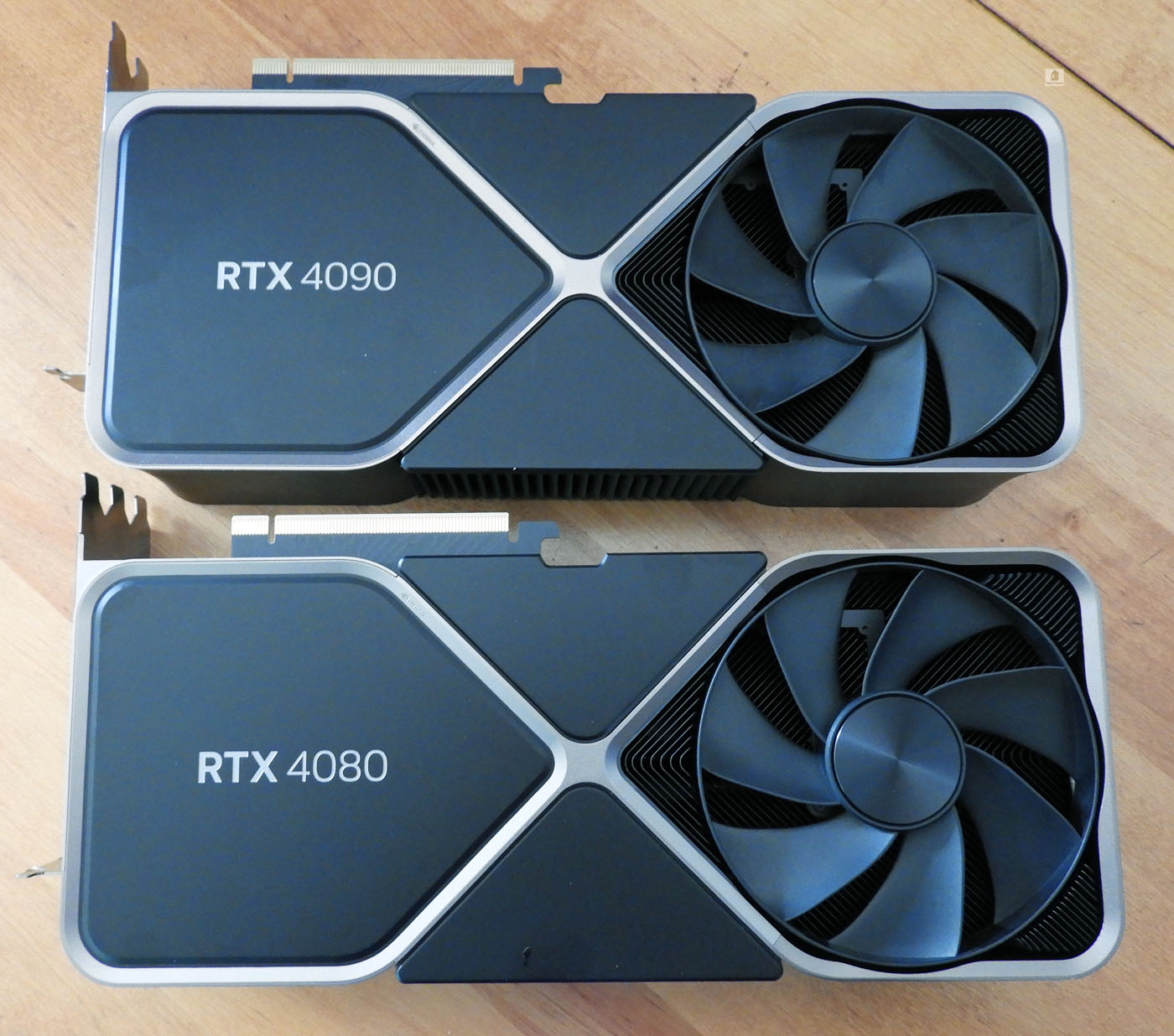 The primary differences lie inside in the RTX 4080's cut down GPU chip capabilities with about 40% fewer CUDA cores and its lesser power draw requirements.  Nvidia recommends a 850W minimum PSU for the 450W TDP RTX 4090 and includes a 4X Molex cable adapter while the 320W TDP RTX 4080 only needs a 750W minimum PSU and a 3X Molex cable adapter is included in that box.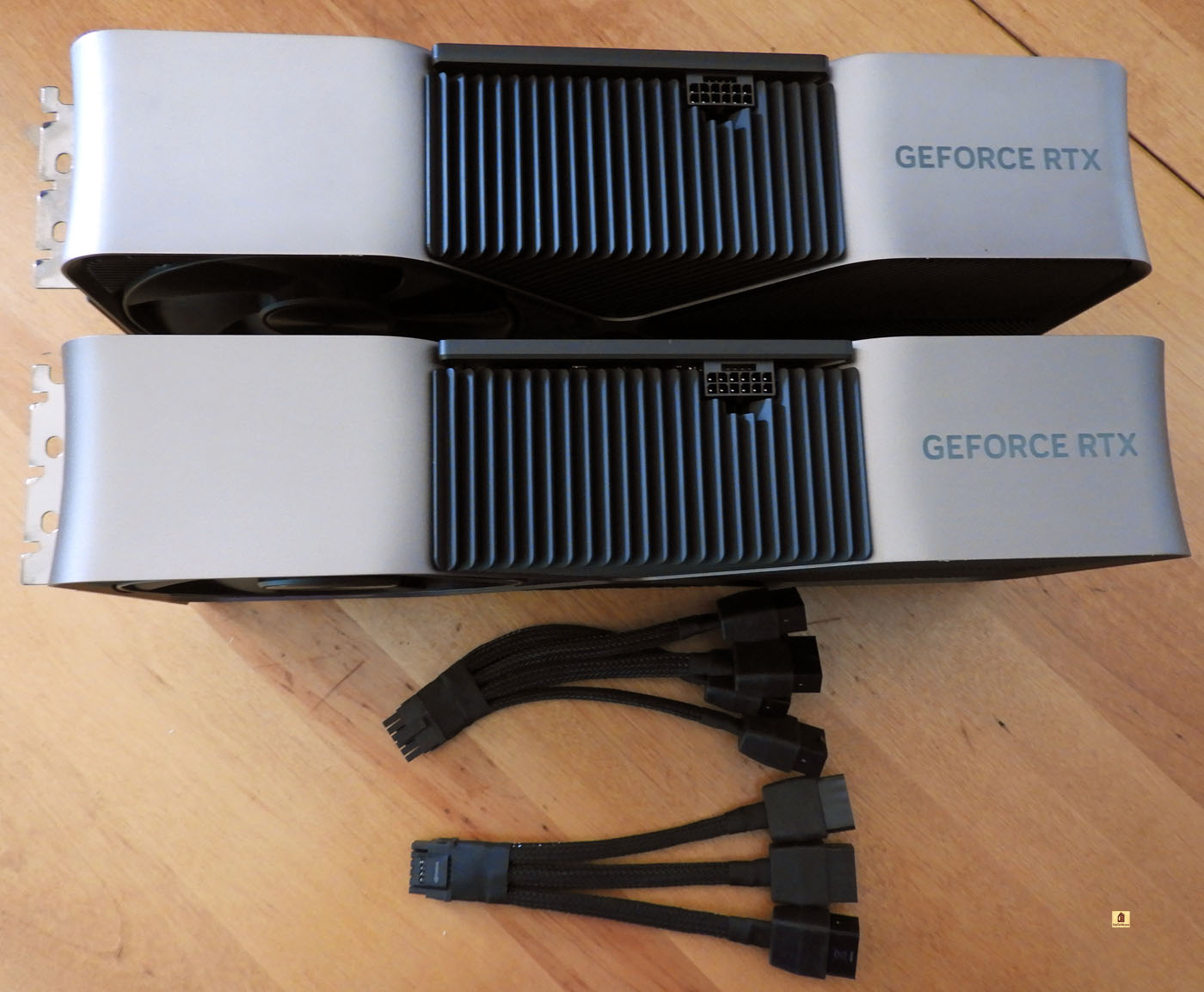 Newer PSUs may offer the new PCIe Gen5 single cable connector instead of using a bulky quad or tri cable adapter.  Nvidia advises that the adapter should be firmly inserted into the card before installing it in the PC as an improperly seated connection may cause overheating and melting of the connector.
Both the RTX 4090 and RTX 4080 Founders Edition cards are beautifully designed using a very unique industrial style, and they are each much larger than the RTX 3080 Ti which is itself an imposing card.  However, these new 40×0 FE cards tend not to heat up like the smaller last gen cards and they are also much quieter under full load.  Either card looks great installed inside a case.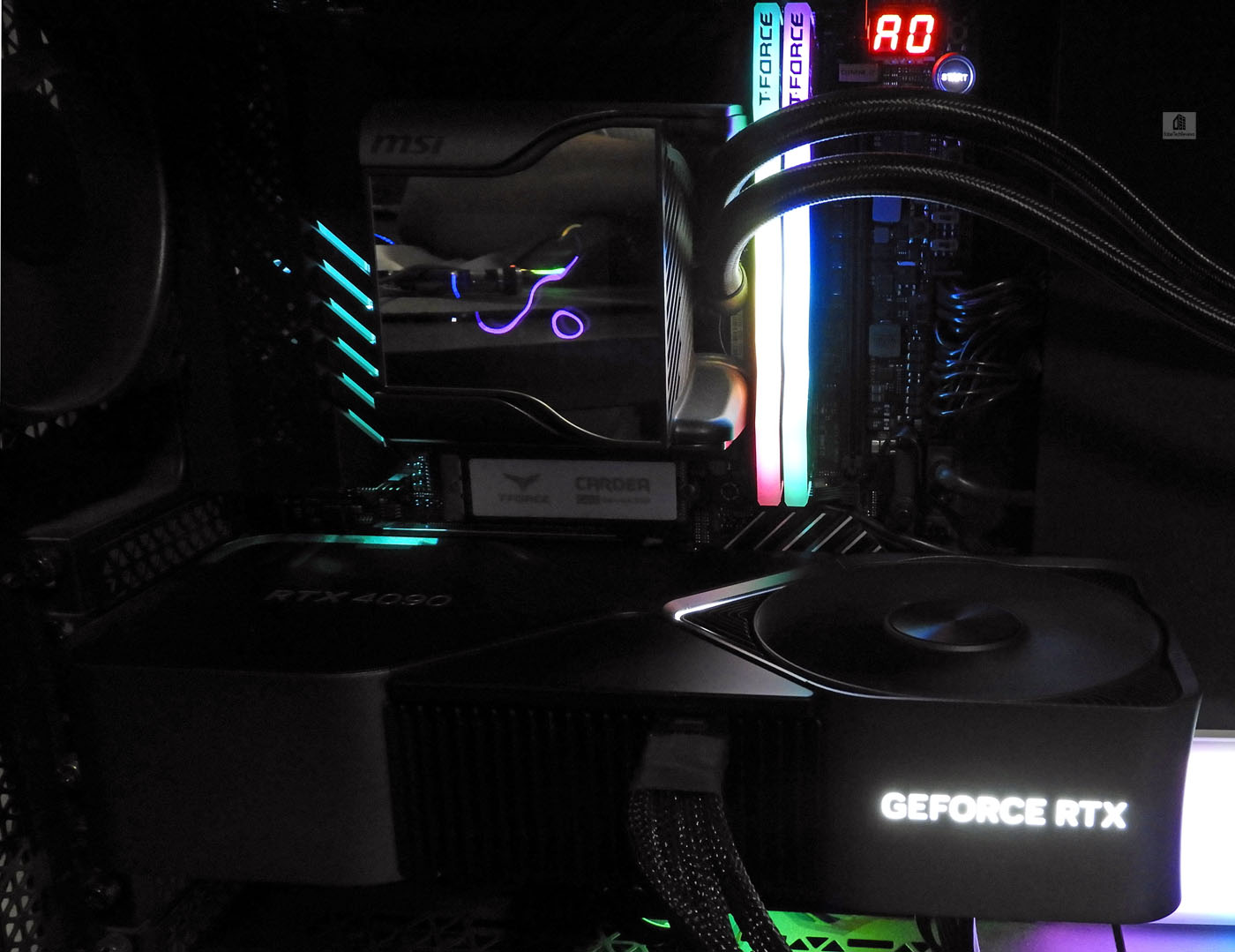 Disassembly appears to be difficult and should give pause to any enthusiast who may have custom watercooling in mind.  In fact, we think that watercooling is a waste for the RTX 4080 Founders Edition as it doesn't have any thermal issues.
Let's check out our test configuration.
Test Configuration
Test Configuration – Hardware
Intel Core i9-13900KF (HyperThreading and Turbo boost at stock settings)
ASUS Prime-A Z790 LGA1700 motherboard (Intel Z790 chipset, latest BIOS, PCIe 5.0, DDR5)
T-Force Delta RGB PC5-51200 6400MHz DDR5 CL40 2x16GB kit, supplied by TeamGroup
Valve Index, 90Hz / 100% SteamVR Render Resolution
RTX 4080 16GB Founders Edition, stock clocks, supplied by Nvidia
Gigabyte RX 6900 XT GAMING OC, GV-R69XTGAMING OC-16GD 16GB, factory clocks
RTX 3090 24GB Founders Edition, factory clocks, supplied by Nvidia
RTX 4090 24GB Founders Edition, stock clocks, supplied by Nvidia
2 x T-Force Cardea Ceramic C440; 2TB PCIe Gen 4 x4 NVMe SSDs (one for AMD/one for Nvidia)
T-Force M200 4TB USB 3.2 Gen2x2 Type-C external SSD, supplied by TeamGroup
Super Flower LedEx, 1200W Platinum 80+ power supply unit
MSI MAG Series CORELIQUID 360R (AIO) 360mm liquid CPU cooler
Corsair 5000D ATX mid-tower (plus 1 x 140mm fan & 2 x 120mm Noctua fans)
BenQ EW3270U 32″ 4K HDR 60Hz
LG C1 48″ 4K OLED HDR 120Hz display
Test Configuration – Software
GeForce 526.98 drivers for Nvidia cards, and Adrenalin 22.11.1 for the RX 6900 XT.
High Quality, prefer maximum performance, single display, set in the Nvidia control panel.
High Quality textures, all optimizations off in the Adrenalin control panel
VSync is off in the control panel and disabled for each game
AA enabled as noted in games; all in-game settings are Ultra Preset or highest with 16xAF always applied – no upscaling is used except for five DLSS games tested using the Quality preset.
Highest quality sound (stereo) used in all games
All games have been patched to their latest versions
VR charts use frametimes in ms where lower is better, but we also compare "unconstrained framerates" which shows what a video card could deliver (headroom; higher is better)
Windows 11 Pro edition; 22H2 clean install for GeForce and Radeon cards using separate identical NVMe SSDs.
Latest DirectX
SteamVR latest beta
Games
VR Games
Assetto Corsa: Competizione
Elite Dangerous
F1 2022
Kayak Mirage
Moss: Book II
No Man's Sky
Project CARS 2
Skyrim
Sniper Elite
The Walking Dead: Saints & Sinners
Synthetic 
Time Spy & Time Spy Extreme (DX12)
3DMark FireStrike – Ultra & Extreme
Superposition
VRMark Blue Room
AIDA64 GPGPU benchmarks
Blender 3.3.0 benchmark
Geekbench
Sandra 2020 GPGPU Benchmarks
SPECworkstation3
SPECviewperfect 2020
Octanebench
FCAT VR benching tool
OpenVR Benchmark tool
NVIDIA Control Panel settings
Here are the NVIDIA Control Panel settings.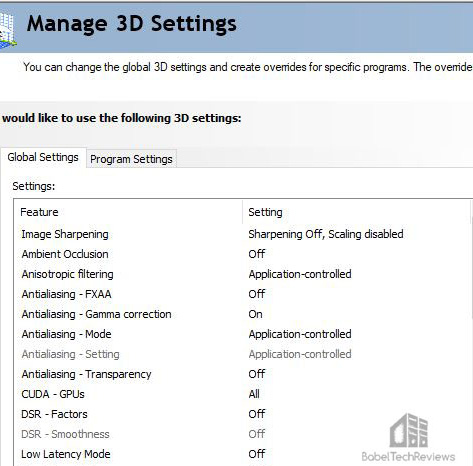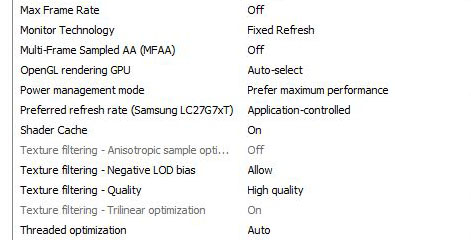 Unfortunately, we also did not have time to check out overclocking, but temperatures and noise levels are much lower than the RTX 3090 or RTX 3080 Ti FEs. We plan to follow up with a 40-plus pancake gaming review including DLSS 3.
Let's check out performance using 10 VR games plus Workstation and creative benches.