Our friends at Team Group just announced RGB lighting for some of their SSDs. Here is today's press release:
The sky is the limit for TEAMGROUP's T-FORCE gaming product series. After releasing the award-winning T-FORCE RGB luminous memory module, today TEAMGROUP launches the new generation of 2.5" RGB solid state drive – DELTA RGB SSD is breathing colorful new life into the solid state drive. It is the first internal SSD that has the largest RGB luminous area on the market. The ratio of non-luminous area to luminous area is 5:3 which makes your computer and storage device more colorful and brighter than ever. The 16.8 million color LED is making the boring SSD full of changes, and the light color effect can also synchronize with the motherboard, making player's computer more colorful. Two industry exclusive versions are released at once: DELTA S(Simple version) and DELTA(Magnificent version). Moreover, there are black and white two colors available for consumers to choose from, meeting different usage requirements and lighting up consumers' storage devices.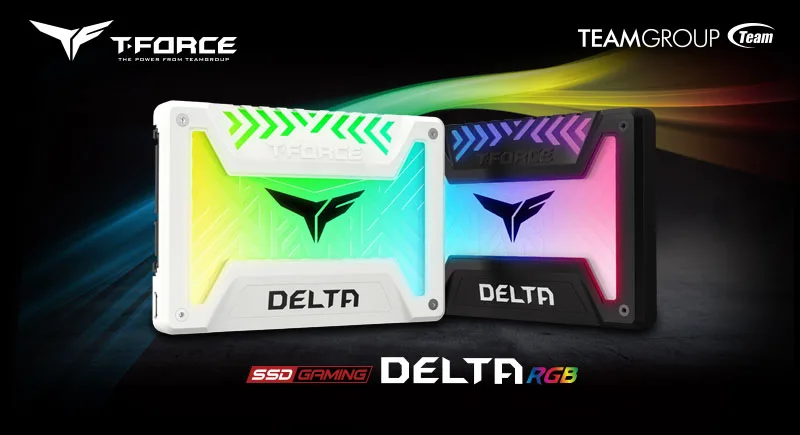 Every new product released by T-FORCE brought a new gaming trend around the world. The creative and patented DELTA RGB SSD is the result of T-FORCE R&D team's continuously effort in research and development. Bringing together the dreamy colors of RGB LED with traditional solid state drive allows gamers to set up their favorite light color effects, and the operating status of the computer system can be noticed through the light effects. The maximum read speed is up to 560MB per second and booting or loading games will only take few seconds. It is using SATA III 6Gbps interface and capacities are available in 250GB, 500GB and 1TB for gamers to choose from. The industry-standard 2.5" form factor with only 9.5mm in height, it is suitable for standard size SSD on the market. Whether it is for gaming laptop or desktop, the upgrade can be done effortlessly.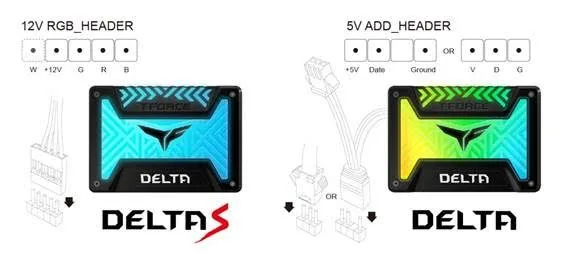 The outstanding T-FORCE DELTA RGB SSD has the largest luminous area in the current industry. There are two different versions available for gamers to choose from: DELTA S(Simple version) and DELTA(Magnificent version). Users can choose the most suitable DELTA RGB SSD product according to their own motherboard specifications. The light effect of T-FORCE DELTA S RGB SSD (Simple version) shows a soft surface glow with consistent changing of single color. When connecting to motherboard's 12V RGB connector, the light effect of T-FORCE DELTA S RGB SSD can be controlled and synchronized through the motherboard, to achieve a holistic lighting control environment. T-FORCE DELTA RGB SSD (Magnificent version) is suitable for motherboard that has 5V ADD connector. It provides a variety of changing light effects. Not only a consistent of surface glow can be achieved, but it can also present a magnificent mixed color effect (rainbow effect) with water flowing light to maximize the variability of color.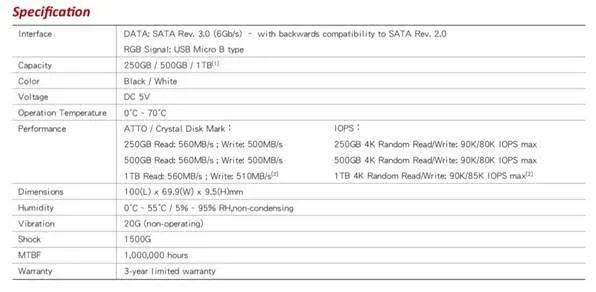 In addition to the compact and stylish look, T-FORCE DELTA RGB SSD is capable of offering high speed sensation to players. It is using 3D NAND flash memory chip, which is durable and shockproof, offering a total protection for the data and prevent damages and data corruption from accidents. Moreover, the magnificent large luminous area that dominates the industry also offers the ultimate high speed and colorful visual experience. It is definitely the top choice when buying the latest generation solid state hard drive.
【Learn More】https://www.teamgroupinc.com/en/product/delta-rgb-ssd
T-FORCE DELTA RGB SSD MSRP (Price USD)
| | |
| --- | --- |
| Capacity | Price |
| 250GB | $86 |
| 500GB | $132 |
| 1TB | $259 |
This product is available for sale worldwide on June 1, 2018
【 About Team Group 】
As a leading provider of memory storage products and mobile applications to the consumer market, Team Group Inc is committed to providing the best storage, multimedia and data sharing solutions. All TEAMGROUP's memory module products come with a lifetime warranty, repair and replacement services. For more information, please visit the TEAMGROUP website at https://www.teamgroupinc.com/tw/ or Follow our social media including facebook.com/TEAMGROUPinc, twitter.com/TEAMGROUPTech
Happy Gaming!