NAB Sets Stage for Dynamic Shift in Content Production, Delivery
"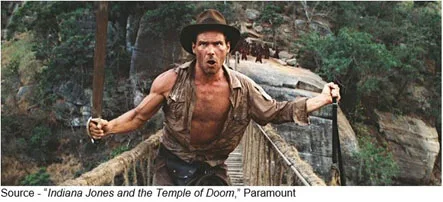 To outsiders, it looks like the most glamorous job you can land.
But the consensus of folks at NAB, who actually do the work, is that the toughest businesses have to be the TV and film industry.
All you have to do is:
Bring the project in at, or preferably below, budget
Have critics love your work
Produce a lot of social buzz about how good your show/series is going to be
Get fans all hot and bothered so they're itching to see the film, follow the series, talk about it
Win some awards, build ratings
Turn a profit
Repeat
The only problem is:
If you get a 10 or 100 Rotten Tomatoes, good/bad ratings; people will flock to/flee from the screen(s), even when they said they'd hate/love the idea
Sequels, prequels, spinoffs, remakes, reboots are sure things, except when they're not
Kids can like the show, millennials think it's dumb/putrid
No one will pay to watch it – ads/dollars – but "everyone" will steal it
Awards folks vote for or against you for any number of reasons
Netflix's Reed Hastings said critics are disconnected from mass audiences while his content folks focus on new, different content that will attract subscribers who may or may not watch the new stuff over the old series/shows.
In other words, paying fans (theater seats, couch viewers, smartphone skimmers) are more demanding, more critical, more entitled, more irrational, more unpredictable.
So, What?
Consumer expenditures on entertainment (video, games, music) is big business. According to Futuresource, it will be $439B globally by 2021, up 17 percent from 2017.
Most of that spending is for TV and video content!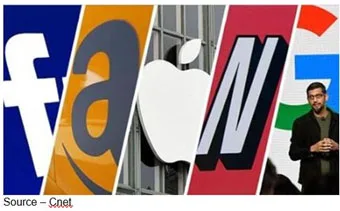 SVoD isn't slowing.
It will account for 70 percent of the home video (small screens too) by 2021, which is why FAANG (Facebook, Amazon, Apple, Netflix, Google) and BAT (Baidu, Alibaba, Tencent) will spend about $30B on fresh content this year.
Because bundled appointment TV folks are watching a slow decline in subscribers, they're adding other services like broadband/telephone, early availability of premium/exclusive content, price hikes, higher tier/lite service packages and content/distribution mergers.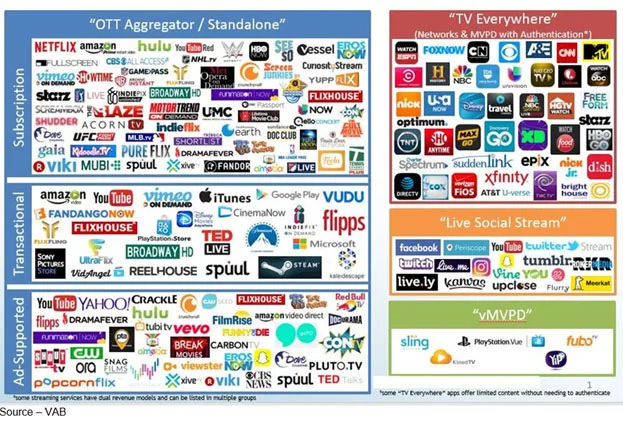 While production/post is mostly done by indies, content distributors/owners need economies of scale to maximize their ROI and reach an increasingly global market.
Television is one of the most popular forms of mass media ever developed.
While the set is static, the content has never been static. Increasingly, how; where and when it can be viewed is also changing … dramatically.
In 1960, 70 M people tuned in to watch Senator John Kennedy and VP Richard Nixon in the first-ever televised presidential debate. By the end of 1999, 7 out of 10 TV households were cable subscribers.
In 2013, Nielsen reported TV households had dropped and people began cutting the cord, going from traditional cable to video online with streaming services or phones.
To offset or slow the loss, cable companies are offering "better" bundles including phone, broadband service and increasingly, Netflix or other SVOD services. It's like getting the rich content free and it makes it more difficult to call Comcast, Sky or cable company in your area to cancel.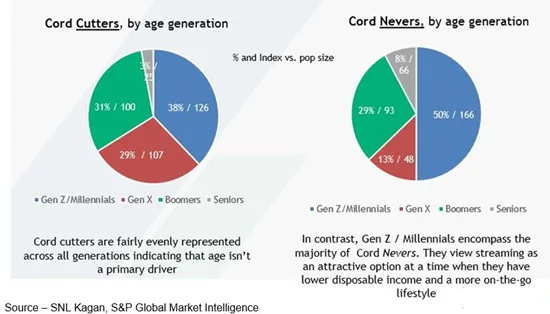 But TDG and Limelight Networks both reported that churn is taking place and consumers are cutting/shaving the cord and moving to OTT and video streaming service.
In addition, the younger population never had a cord to cut or shave.
About 22 percent of the 100 M U.S. broadband subscribers have no pay-tv and an increasing number of OTT views are willing to pay for more than one streaming video service.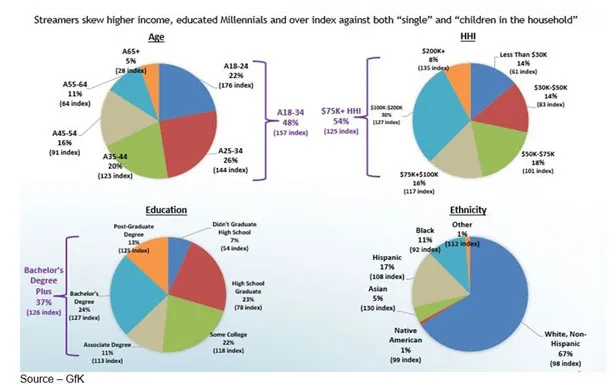 A growing number of people are willing to take the technological leap to break away from appointment TV to new offerings and greater variety.
While the number of adults streaming their video entertainment is 28 per cent, Pew Research reported that 61 percent of the people between 18-29 primarily stream their content over the Internet and their first screen of choice continues to be the TV set.
Generationally, the viewers are migrating to algorithm-powered, user-centric services that deliver a more curated, personalized experience.
With Netflix's recent report that they had added more than seven million subscribers (125M worldwide) and that the cable distribution option is facing a questionable future, it's little wonder that the major content producers are considering all of their options.
Disney ended their distribution deal with Netflix last year and said they would launch their own streaming service in 2019.
Many of the other producers announced or quietly initiated their own streaming services even as they kept their relationships with the cable companies.
Disney had even bigger plans, announcing they would purchase 21st Century Fox's core entertainment assets including the Fox movie and TV studio to ensure they have a ready and continuing source of fresh and exclusive content for their OTT subscribers.
Fox in turn began negotiating a deal with Sky to acquire their global infrastructure which may or may not come to pass because of the UK's CMA's (Competition and Markets Authority) concern that it may not be in the consumer's interest.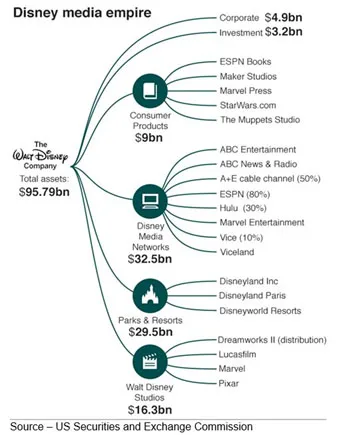 Of course, that will put Disney in the position of having great content as well as a global
distribution infrastructure …­ content creation through distribution.
According to Allan McLennan, CEO of PADEM Media Group, this is becoming a strategic shift
for content production organizations.
"It will allow them to develop a wider range of direct-to-consumer offerings to strengthen the
consumer relationship and access new global markets without relying completely on third parties," he explained.
"These strategies will continue to evolve dynamically," McLennan said. "Consumers are
becoming increasingly discerning as to the content they want to view and enjoy.
"It's all about scale," he added.
To match the financial firepower, content investment and reach of firms like Google and Facebook, media companies are consolidating and expanding geographically.
According to Disney's Bob Igor, the Fox acquisition will produce more content, enhance their direct-to-consumer initiatives, expand their customer relationships and diversify their businesses.
Others, according to McLennan, including a number that are in negotiations, are Discovery/Scripps, CBS/Viacom, Tribune Media/Sinclair, AT&T/Times Warner and a growing number of international mergers/acquisitions.
McLennan noted that the broadcast industry is moving from an SDI (serial digital interface) workflow to an IP (internet protocol) workflow that will change the way everyone interacts with television programs while creating new and improved viewing experiences.
That was one of prime reasons there was so much news generated at NAB around ATSC 3.0, often called Next Gen TV.
"The standard goes beyond better video including 4K UHD (ultra-high definition) video and HDR (high dynamic range) expanded color gamut," said McLennan. "It will allow broadcasters to capture and deliver data streams to and from consumer screens along with engaged video. Ultimately, this will enable interactive content as well as more targeted, more interesting personalized ads."
While set manufacturers have been slow in announcing new offerings, McLennan is certain that new 4K/HDR sets and connectivity solutions will be widely shown at next year's CES, now that content producers and distributors are beginning to invest in and install digital-first systems.
"In addition to ATSC 3.0, SMPTE (Society of Motion Picture and Television Engineers) issued SMPTE ST 2110 which covers next-gen digital workflows," he noted. "That will enable broadcasters to allow for parallel processing of discrete content elements – video, audio, metadata, subtitles and time codes.
"This will streamline production across geographically separate facilities and make it easier to distribute video across multiple markets and over various channels like traditional cables and satellite services," he added. "It also paves the way for future video standards."
Because of the chaos produced by the proliferation of OTT offerings, media and distribution firms are aggressively examining how they can gain and retain viewers–either by consolidation or geographic growth.
The new services and engagement opportunities mean everyone (content creators, media execs, advertisers and techs) must meet the needs of the new boss in town, the consumer.
And she's a tough task master!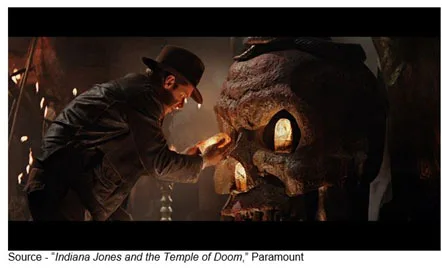 After listening to all the plans networks, studios and distributors have for managing their future as well as managing the viewer's expectations and enjoyment at NAB we heard PayTV folks exuberantly talk about their upfront opportunities.
Indiana Jones simply said, "What a vivid imagination."
# # #