Growing Number of Streaming Services Face Challenges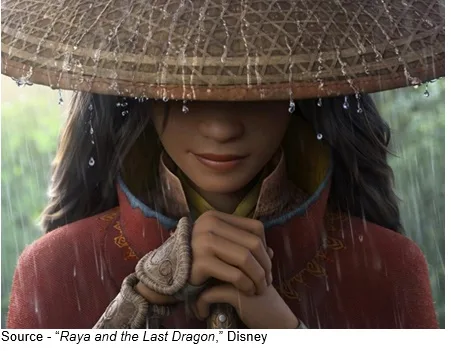 It was a fantastic Lunar New Year for the content industry.
Everyone, everywhere is smiling behind their masks.
Yes, 2021 and the Metal Ox has arrived … the rat is in the rearview mirror!
Studios/theaters kissed and made up … sorta.
Tentpole films and some of the great film festival projects have been penned into movie house schedules.
If by mid-2022 Wanda, Cineworld, Cinemark, IMAX, AMC and others have 50 percent of the seats filled, they will be ecstatic.
That's more than they averaged in 2019 before the shutdown.
Hey, with a "slight" increase in concession prices, they'll be right back to 2016 income levels.
Back then, NATO (National Association of Theatre Owners) bosses blamed the attendance downturn on the people who were bypassing them and going directly to the consumer's home – Netflix, Amazon.
But that was yesteryear, so the filmmakers are welcomed back to fill big screens globally and slowly help them put more seats in seats.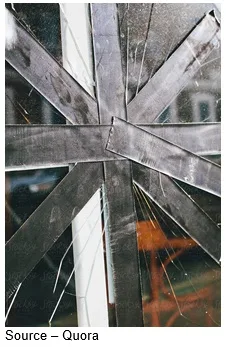 Of course, it's different now.
Universal cracked the theater exclusivity window but AT&T's Warner blew past it at the height of the pandemic.
Sometimes theaters get exclusivity for a show for 45 days, sometimes 30 days, other times, you share it; we'll stream it and compare notes.
It turns out it didn't hurt that much:
Avid theater goers gotta go.
Occasional, special event popcorn buyers go occasionally.
We'll wait till we get it at home folks … wait.
Some even like to see it in the expensive seats and then study the film in detail lounging on the couch.
Yes … the theater is surviving and thriving.
That's because Disney, Warner, Paramount, Sony, Universal, China Film, Changchun films, Orange Orbit, Onus, Babelsburg, Canal +, Nordisk, and other studios, as well as indie filmmakers, constantly make more films, more shows.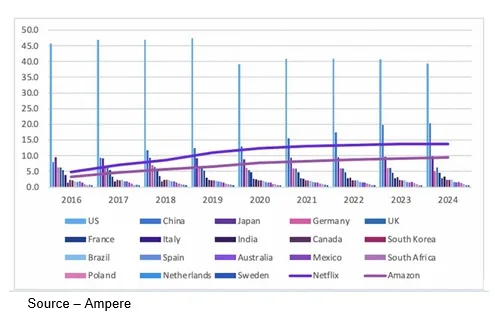 Most are remakes, spin-offs, series, sequels, prequels and knockoffs; but there are enough people around the globe who want to/have to tell unique/awesome video stories.
Never underestimate the creativity of the visual storyteller's mind.
While the theaters were closed, movies stacked up in warehouses and studios looked for ways to monetize their stuff.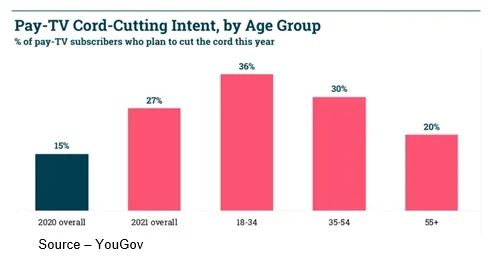 Netflix and Amazon showed them a lot of folks (mostly the 18-34 crowd) were tired of expensive appointment TV.
People kept their fast, reliable Comcast, Verizon, Charter broadband connection and dumped the rest to add one, two, three, plus streaming services and BAM! got great content when, where, how they wanted it.
Since families couldn't go to the theater, Disney and Universal thought they'd bring the movies to the devoted with special OTT offerings of Frozen 2, Mulan, Trolls: World Tour.
It turned out parents had no problem paying $20/$30 to catch a great, first-run movie.
The traditional content distribution chain had been forever changed.
By the end of last year, video streaming had become a $27B market and is now projected to have double-digit growth through 2024 and become a $45B market.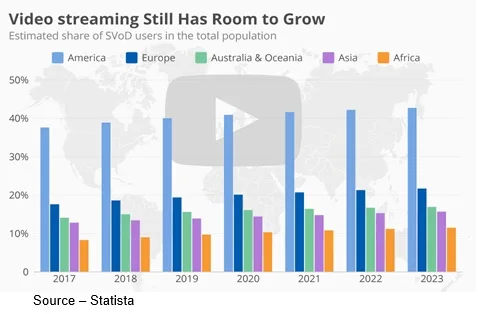 And there's still plenty of growth opportunities for delivering video entertainment direct to the consumer.
Last year, was the time everyone (studio, network, techie) decided to get in on the action.
Disney + swept up the largest share of new subscribers for its Disney+, Hulu, ESPN offerings with nearly 95M worldwide, including 28M with its Indian Hotstar group.
To entice mature subscribers (outside the US), they rolled out their Star + service in Europe, Australia, New Zealand and Canada. It has to do with name recognition, distribution rights agreements and oh yes, price increases.
That puts Disney in the top three SVOD services with Netflix having about 204M subscribers and Amazon Prime, 200M plus subscribers.
Also in the fray is Paramount+ (ViacomCBS All Access), Apple TV+, HBO Max, Peacock (Comcast/NBCUniversal), Showtime, Starz and the ever-popular overlooked YouTube.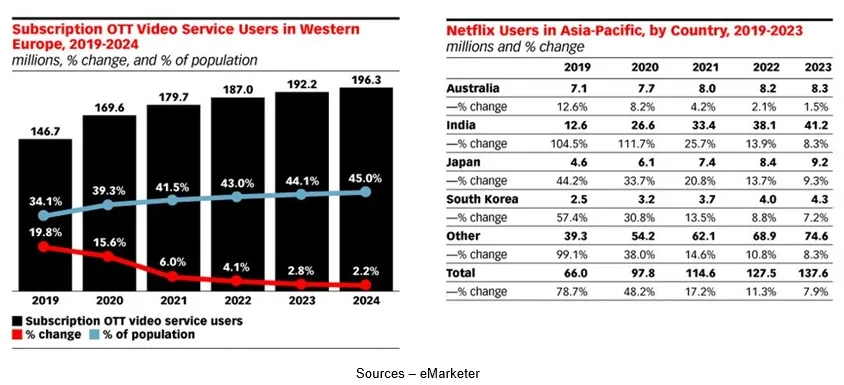 The leading streaming services in Europe are Netflix, Amazon Prime, Hulu, Apple TV+, Acorn TV, BritBox, Curiosity Stream, Joyn+, Canal+ and a number of regional area streamers.
It's interesting to note that "outsiders" like Netflix, Prime and Apple have to produce 30 percent of their content locally to stream into most EU countries (and other countries around the globe). This has actually become a benefit rather than a limitation because it turns out people around the world like to see stories from elsewhere and production costs are less expensive than in the US.
Good video stories that are well dubbed or subtitled are a treat for everyone.
APAC has a good mix of local and multinational streamers with China (1.5M population) thanks to government restrictions dominated by Baidu's iQiyi, Alibaba's Youku, Tencent Video. India's (1.4M population) streaming customers are primarily served by Netflix, Disney + Hotstar, Amazon Prime, NexGTV, Olly Plus', Eros Now and others.
The challenge is everyone knows their content is stuff the streamers will want to watch compared to the other person's so consumers are left to pick and choose or pay for … everything.
We topped off our streaming tank at four SVOD services – Netflix, Disney +/Hulu/ESPN+, Amazon Prime and Apple TV+ – and some AVOD services – IMDb TV, Pluto, Tubi – for fill-in news and to revisit old stuff.
The ugly truth is not every streaming service introduced with great bravado can survive.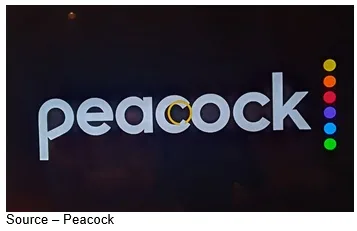 We tried Peacock and while we liked some of their shows, the buffer wheel (which took forever) made us wonder if they have really lousy software programmers/schedulers, or they're putting it up there as a placeholder until someone decides, "We can turn this sucker around!"
A good UI is much better than a placeholder.
ViacomCBS flipped the switch on Paramount + to offer folks everything CBS had along with their cable channels and movies in the Paramount/MGM libraries, including new releases 45 days after the theatrical release.
Around since 1914, the mountain and it's 24 stars has … potential.
AT&T's Warner HBO Max might be a player once AT&T dumps most of DirecTV (AT&T TV, U-Verse already gone) and they decide whether they sell their game properties.
They got a lot of attention (pro and con) last year when Warner released its movie slate to the service and will probably offer same-day releases now that theaters are open again.
The big question mark is that they (Warner and HBO Max) need to continue to invest in great new content while AT&T needs to pay down its $157B acquisition debt, invest heavily ($23B plus) in building out its 5G infrastructure and keep shareholders happy.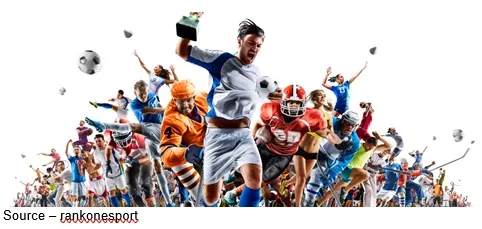 But the biggest battle for viewers has just begun.
Arguably, the most loyal audiences around the globe are those folks who live, breath and watch sports.
Live sports — soccer, football, baseball, rugby, lacrosse, basketball, auto racing, golf, hockey, wrestling, boxing, volleyball, everything, including the Olympics — long the mainstay of linear broadcast; have kept people from cutting the cord.
That could change!
NBC Sports' NHL, NASCAR, EPL have been added to Peacock, which could be the lifeline they need to attract a strong, dedicated set of subscribers.
Doubling down, NBCUniversal recently paid $1B for a five-year contract with WWE in an effort to differentiate themselves by offering live events and sports.
But the sport that raised the ante (and eyebrows) for all content delivery services was football when the NFL announced that despite an absolutely messed up season, they want to raise their TV rights fees 100 percent.
Fox, CBS, NBC were paying $1.6 to $1.9B per year and ESPN was forking over $8.6B annually.
Annually, national football TV advertising brings in about $5B (down last year) plus the Super Bowl take so the big question is who is willing to write a really big check for various rights – you've got your Monday night, Thursday night, Saturday, Sunday, TVOD and other packages.
Heck, even Amazon, Google (YouTube), Facebook might find it "interesting" to get in the game.
The big question will be if the older (they are older, you know) hard core game watchers are willing to switch channels.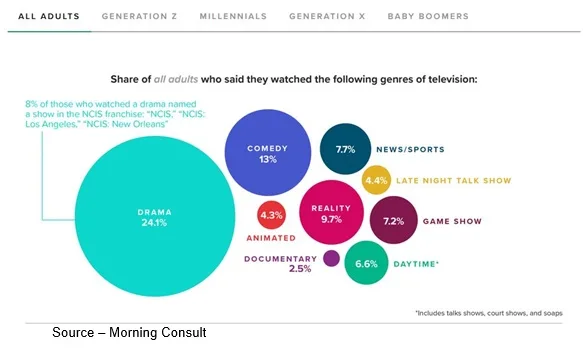 Or maybe the streamers will simply focus on where most people spend most of their time and money watching their entertainment–especially if they are focusing on the global viewing public.
SVOD in 138 countries will surpass $100B by 2025, more than double the theatrical box office with the US, China and India showing the greatest growth.
And streaming video content will show similar growth in every part of the globe because nothing beats a great, well-told video story.
We'll just have to see how much sports will add.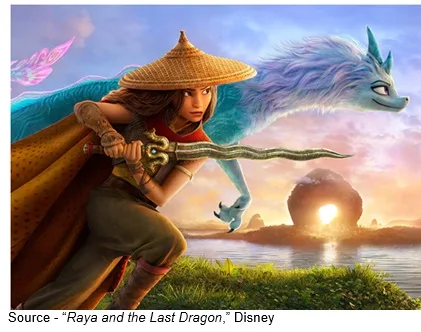 The one thing we can all agree on is that streaming content makes folks feel better and as Raya in Raya and the Last Dragon said, "My father believes we can make a better world."
Streaming services and theatrical releases increasingly present opportunities for great video content creators around the globe. But some will become extinct for the best to survive.
# # #
Andy Marken – [email protected] – is an author of more than 700 articles on management, marketing, communications, industry trends in media & entertainment, consumer electronics, software and applications. An internationally recognized marketing/communications consultant with a broad range of technical and industry expertise especially in storage, storage management and film/video production fields; he has an extended range of relationships with business, industry trade press, online media and industry analysts/consultants.