The Streaming Biz Isn't for the Faint of Heart, nor Small of Budgets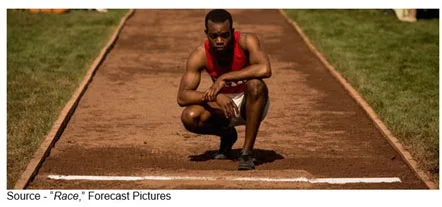 Suddenly watching the show behind the show has become real interesting:
People love the idea of watching their content/entertainment when, where they want.
Folks sign up for the originals, stay for the other stuff.
Improved broadband, wireless quality isn't nice, it's a necessity.
Smart TV, phone screens open new content selling opportunities.
M&E consolidation accelerates because size matters.
Born online, Gen Zs/Alphas turn to friends first – FAANG (Facebook, Apple, Amazon, Netflix, Google).
You never have a second chance to make a good first impression; and when it comes to Hollywood, it takes a lot to make a great impression, and Netflix works at it.
They're the folks with the target on their back when it comes to subscription streaming entertainment around the globe – 190 countries, 150M subscribers.
Disney and Warner tried to do them great bodily harm by taking back Friends and The Office, but subscribers seemed to say, "Darn! Let's see what else is on."
It could end up hurting Warner real bad and dinging Disney just a little because they both lost a nice, easy revenue stream that they plan to make up by people begging to get the stuff with their services.
Netflix has a big bucket of content to choose from at a reasonable cost and it's pretty easy to find a new old fave!
It was only a flesh wound because they've committed about $15B this year on new stuff to add to their library and the delicensing means more money for the content kitty.
Leading the SVOD stampede, they've learned a lot that the newbies can ignore at their own peril.
While viewers may have different nationalities and languages, they share entertainment tastes.
Parrot Analytics recently posted their Q1 global TV demand report; and while viewers may have different favorite shows, the genres were remarkably similar.
Original demand remained remarkably similar with drama consistently being the most widely viewed – hovering around 40 percent – with comedy the second choice, around 20 percent.
Of course, Netflix was very knowledgeable about what attracts and keeps subscribers because they've spent years perfecting their viewer analysis/recommendation system (which they didn't previously share with anyone … even Parrot Analytics) to suggest what to watch next.
It must work since the company practically invented binge-viewing. Reid Hastings, Netflix CEO, has been widely quoted as saying the market is so vast that the company's real competitor is sleep.
That has changed in recent months!
It may be true, but the viewer data also gives them an edge on which types of projects to invest in and even how to tailor the show's/series' promotion to appeal to different audience segments in each country.
But they are far from alone in the market.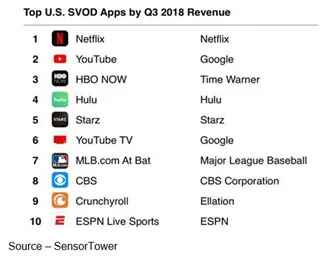 Netflix already has some strong services, offering up fresh new originals as well as old reliable content. Amazon Prime, HBO Now, Hulu, CBS All Access, DC Universal and Starz have already established themselves as major subscription entertainment providers.
FuboTV is inspiring all of the major sports to roll out anywhere, anytime services for people who have to keep up with their favorite teams and players.
And "everyone" is waiting for the results as the big boys (Disney, Apple, Warner Media) take to the air and take big chunks of the Netflix subscription base and encourage even more people to cut their cables.
Heck, even Walmart (ok maybe they'll sell out) and Costco want in on the action!
But it won't be that easy … Disney is probably the most widely known and loved company on the planet.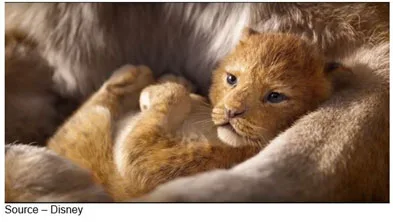 Everyone knows Mickey Mouse, The Littlest Mermaid, The Avengers, Toy Story, Lion King, Star Wars. Mandalarion, Baby Yoda sucked in even more and there are thousands of other characters and stories.
But when it comes to Disney+, M&E industry folks and some eagerly awaiting consumers know the parent, but that's about it.
In fact, GlobalWebIndex recently found that in the UK, only 35 percent of consumers were aware they were planning to launch their own streaming service.
The survey noted that 71 percent of Disney fans already subscribe to Netflix and 37 percent Amazon Prime video and they already spend up to £20 per month on their TV/Film subscription services.
So, the company has to:
Ensure the British public is aware of the new service
Encourage people to shift part of their viewing budget or add the new service (they went OTT to lower their entertainment budget)
Disney will undoubtedly leverage upcoming movies to increase awareness and most folks will probably increase their budget rather than swap out a service–even with the vast library the Mouse has to watch.
Another globally recognized name is Apple. And while not much is known about the long-range content plans other than leading stars like Oprah, Spielberg, Momoa and Aniston, Witherspoon and others have drawn a lot of interest.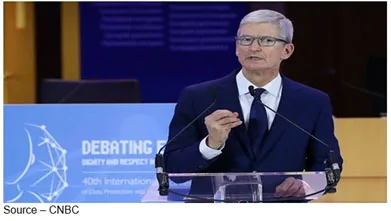 Name stars' and CEO Tim Cook's aggressive position on personal privacy have a lot of people thinking Apple TV+ will be one of their go-to services, even before they heard about the content.
In addition to the fact that Apple products just work for you – Macs, iPads, iPhones – without having to figure out how to use them, the company is also committed to personal privacy. Those are the key reasons 1.3B people around the globe prefer their devices despite cheaper options.
Not that Apple doesn't face some obstacles:
$1B set aside for original content sounds like a lot of money to most of us but it pales in comparison to the $18B Netflix and Disney's total investment that have budgeted for great content this year.
People sign up for the originals, but they stay engaged with the service because of the other content they offer, and Apple doesn't have a library of good stuff–at least not yet.
It's nice to know your privacy is respected but people turn on their screens to be entertained. Binging and variety are big parts of that entertainment.
Of course, Apple does have a lot of money sitting in the vault – about $245B – so they could easily afford to buy a couple of studios and their vast libraries of content…imagine the impossible.
AT&T wanted to be in the streaming market in the worst way and Randall Stephenson (CEO) did by scooping up Times Warner – HBO, Warner Bros, CNN, TBS, TNT – for $104B.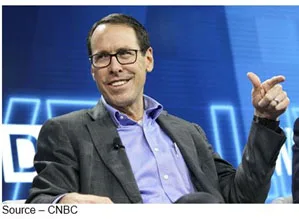 The company's film/series library is awesome with rich content that goes back to Gone with the Wind and more.
Warner and HBO (137 Emmy noms last year) have a solid history of producing great films and series but it will probably be a long time before you see another chart (and budget) buster like Game of Thrones emerge, no matter how many awards it wins.
WarnerMedia (new name) will have to continue aggressive content investment to win over a large number of subscribers who are new to streaming or will cancel one or more other services.
A steady stream of investment will be difficult because in addition to the heavy Times Warner debt, the company also dropped $67B for DirecTV making it one of the most heavily indebted firms in the US – outside of financial institutions which are over $200B.
Oh yeah, don't forget they've got to upgrade their wireless system to real 5G, not 5G Eventually.
No worry for AT&T's Stephenson because he has a vision – complete reinvention of the media ecosystem!
As if these subscription options aren't enough for folks to consider as they look at their budget, they are only the tip of the global entertainment iceberg.
The cord-never Gen Z/Alpha crowd like their social media and the online crowd is working for more ways to keep people from looking away.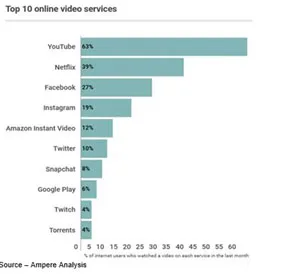 While TV is still the leading platform for stream viewing, the smartphone dominates the GenZ/Alpha crowd; and in APAC countries, they are firmly established as their everything screen.
YouTube is producing more and more originals but the quality and desirability can be iffy. Millionaire VIDCONers are knocking stuff out for a variety of the services – including Facebook and Instagram.
In addition, the top 10 tech companies are divided between the US and China. And while BAT (Baidu, Alibaba, Tencent) have a huge viewing market at home, content will eventually flow both ways.
Everyone will be focusing on new viewers abroad in the near future.
Cord-cutting/-shaving have both initially been driven by cost (flexibility of viewing and great range of super content helped).
But subscribing to five or six streaming services quickly adds up and suddenly BAM! folks are right back where they were with a "huge" monthly entertainment bill.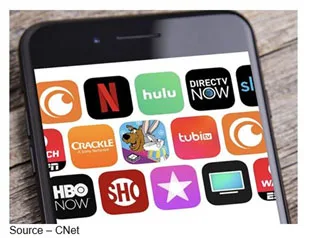 Young viewers have always had no skip ads on their YouTube channel and watching shows on grandpa's Pay TV so increasingly, you're going to see tiered pricing models that include SVOD, discounted ad-supported and free subscriptions.
According to a Harris Poll, 54 percent of folks would opt for an ad-supported model (25 percent free with 10 minutes of ads per hour, $5/mo. with 2-3 min of ads).
Netflix has been rumored to be evaluating a model and Amazon could easily implement a tiered ad support offering.
Around the globe, people have a common set of criteria for the selection of the services they choose.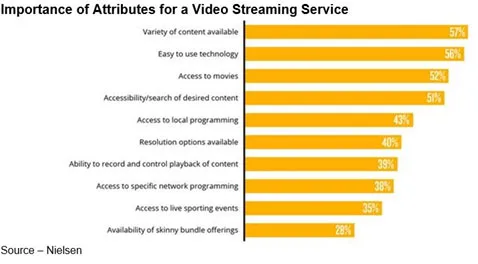 They expect to choose the services that are best for their entertainment tastes and budget.
The key to staying at the front of the pack is a constant supply of new original content in the pipeline.
Last year, there were over 450 great originals produced and service requirements continue to expand, which is great news for Indie filmmakers.
Filmmakers and streaming services can use the growing volume of data and AI to help analyze what projects have the greatest chance of being award and audience winners, but the best work is still art, not science.
Netflix, Disney and every studio has at one time or another started with the best scripts, directors, producers, actors and created a beautiful, elegant flop that simply didn't resonate with viewers.
Sometimes people surprise you.
The other two winning components is a massive library (first thing most frontrunners looked for) and superior technology.
Still, Netflix knows that to stay at the front of the pack you need to attract and impress great talent in Hollywood style – https://tinyurl.com/yyqeygq5.
They also know that easy cancellations and temptation worthy shows on competing services will only encourage them to place a premium on compelling content, smooth easy access and dynamite marketing to win statues and attract/keep customers.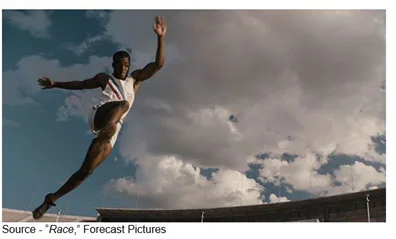 Netflix knows what Larry Snyder meant when he said, "You're a natural. I don't trust naturals. And I will say you can run, and boy oh boy, you can jump. What I want to know is – can you win?"
Hastings and Bezos like to win. So do Iger and Stephenson. Cook and Wojcicki are quick studies and … hungry!
# # #
Andy Marken – [email protected] – is an author of more than 600 articles on management, marketing, communications, industry trends in media & entertainment, consumer electronics, software and applications. Internationally recognized marketing/communications consultant with a broad range of technical and industry expertise especially in storage, storage management and film/video production fields. Extended range of relationships with business, industry trade press, online media and industry analysts/consultants.