The Real Business of CES does not take place at CES
CES 2018 is over and in the record books. The first CES was held in 1967 in New York City and was moved permanently in 1998 to Las Vegas, Nevada. This editor was at the first Winter Consumer Electronics Show held in Las Vegas in 1978 and he has attended several CES shows until 2013 when health issues prevented his return until this year. However, this time we did not actually enter the convention center and now have a very different viewpoint of CES. There is much more to what is happening in the hotel suites surrounding CES than what any attendee will see on the convention floor.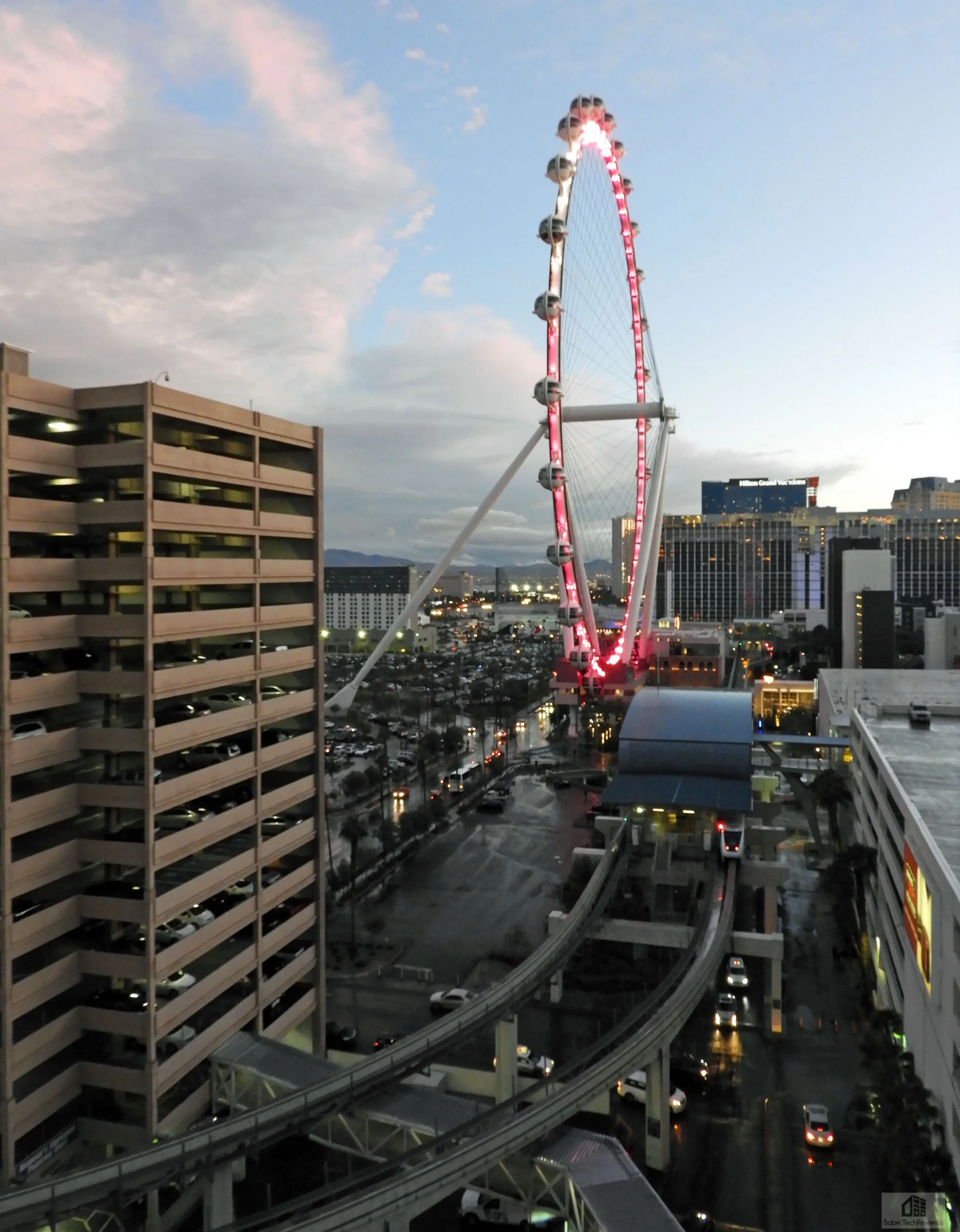 Traffic in downtown Las Vegas is very heavy anyway and CES adds at least 150,000 more visitors. Unfortunately, when it rains, the streets often flood, and the traffic became gridlocked on the Tuesday that we visited. In fact, the power went out at the Convention Center for two hours due to the heavy rains.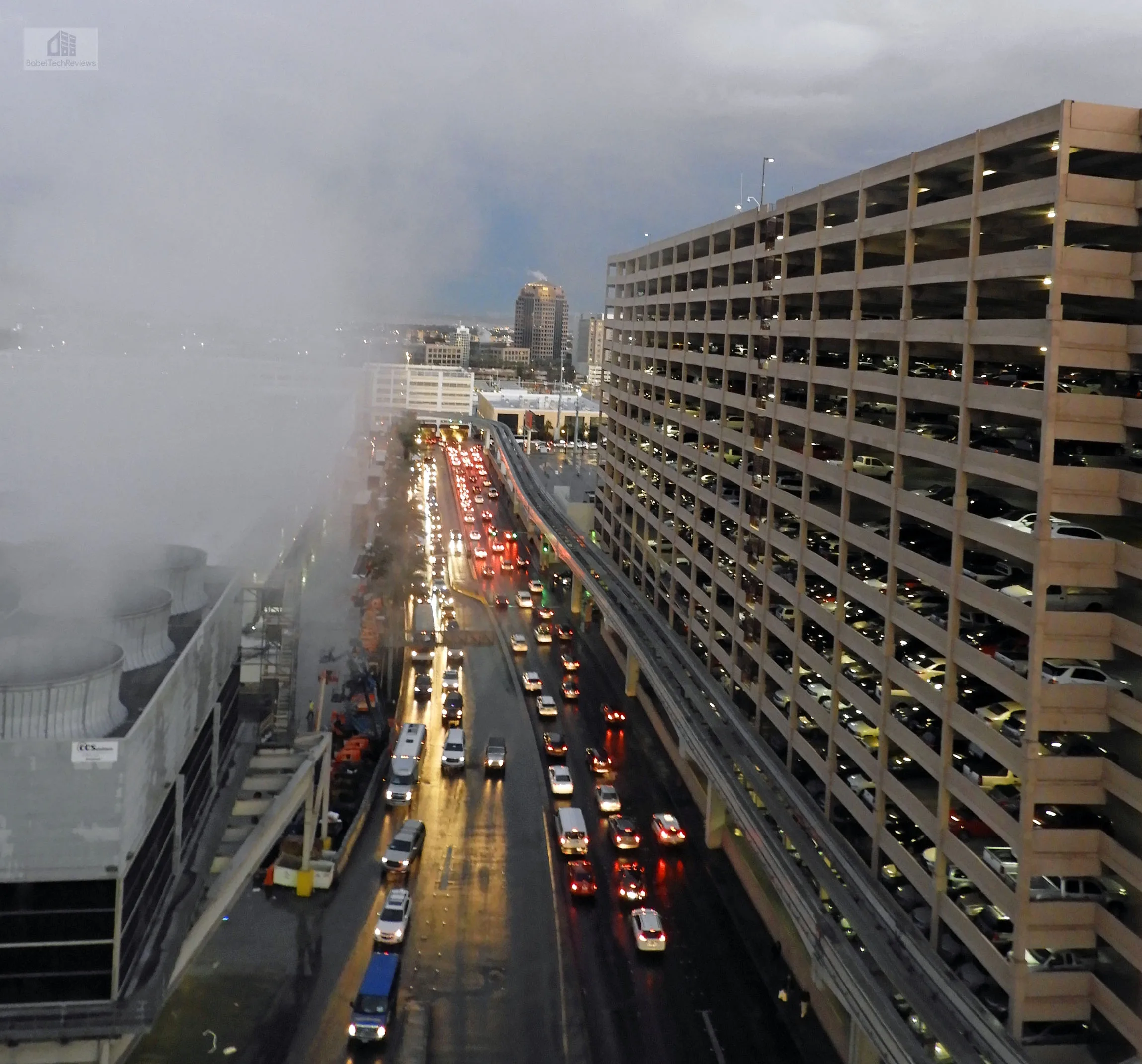 CES is still not a public event, but rather it is a huge trade show for the electronics industry. However, the very best presentations are those that you must be invited to and not on the convention floor at all. We got to meet with NVIDIA and their presenters for a couple of hours at the Wynn on Tuesday morning. Here in the suites surrounding the Convention Center we got a very intimate look at upcoming and currently highlighted products, and the presenters took time to patiently answer our questions. As media, we will often see other tech editors that we know at these same meetings, and this Tuesday was no exception. CES can be a lot of fun although our schedule is always unbelievably hectic.
We only had a few hours total to spend in Las Vegas but we also able to meet with PowerColor, Hyper X, and Kingston at their respective hotel suites. It is really important for tech editors to meet with the vendors whose hardware they regularly evaluate, and we are very sorry that we did not have time for any other meetings. Next year, we plan to spent several days at CES and will plan ahead to meet with all of BTR's vendors. However, for this off-CES report, we plan to highlight our meetings with four companies, beginning with NVIDIA.
NVIDIA
NVIDIA had a large booth at CES 2018 in the Convention Center with a lot of emphasis on AI, deep learning, and autonomous vehicles. In addition, NVIDIA had a large suite at the Wynn that was devoted to all things GeForce. We arrived at our our appointment with NVIDIA on time and we were directed to check out Max-Q, BFGD, GeForceNOW, and important additions to ShadowPlay and to Ansel. We also got to check out and very briefly demo the new Vive Pro.
MAX-Q
NVIDIA has introduced Max-Q as a new design approach that redefines gaming notebooks to be up to three times thinner while also providing 3 times more performance than earlier generation notebooks. They are quite impressive being incredible thin and light while still packing a gaming punch and they will be available from all major OEMs starting on June 27th.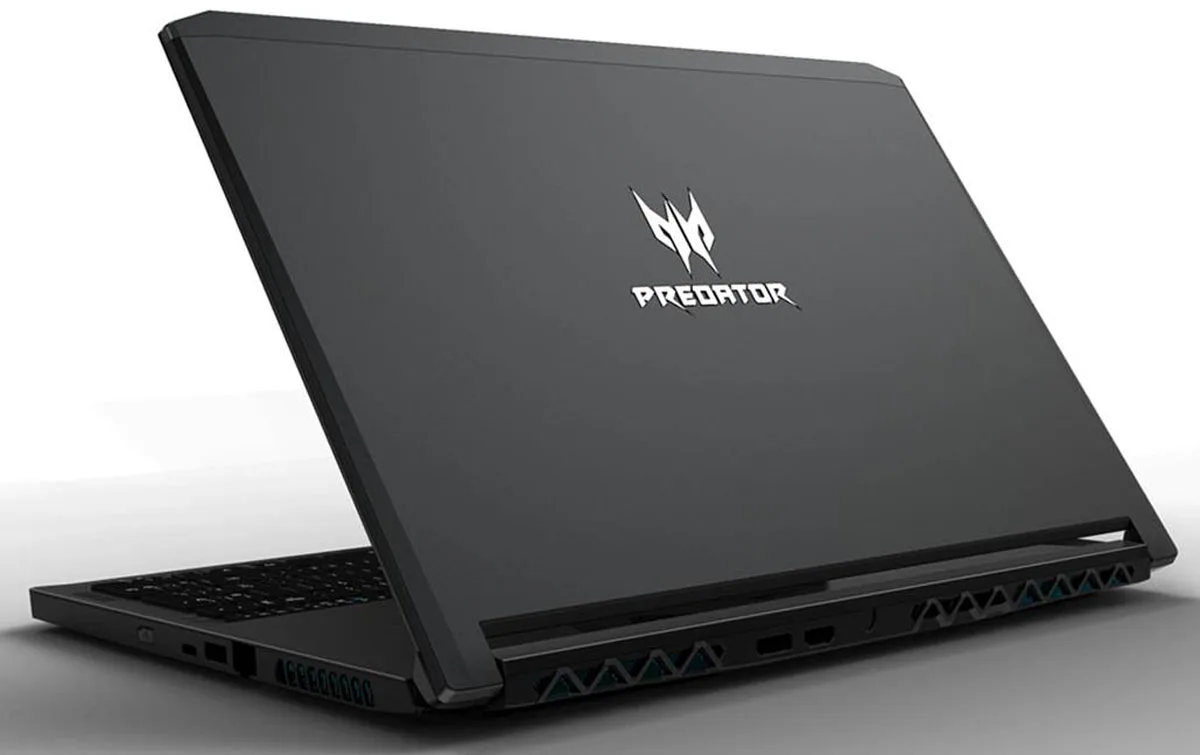 Max-Q is as thin as a MacBook Air but with up to 70 percent more gaming performance than what is currently available.
BFGD
Until now, we have not been terribly impressed with large gaming displays and our experiences with HDR is less than stellar – until BFGD or Big Format Gaming Displays.

BFGD was created to integrate a high-end 65-inch, 4K 120Hz HDR display with G-SYNC plus SHIELD, the world's most advanced streaming device. For us, it would be the perfect desktop display and we would sit back about 4 feet. The gaming experience is smooth and responsive, and the 65″ VA panel delivers deep blacks and vivid colors in HDR.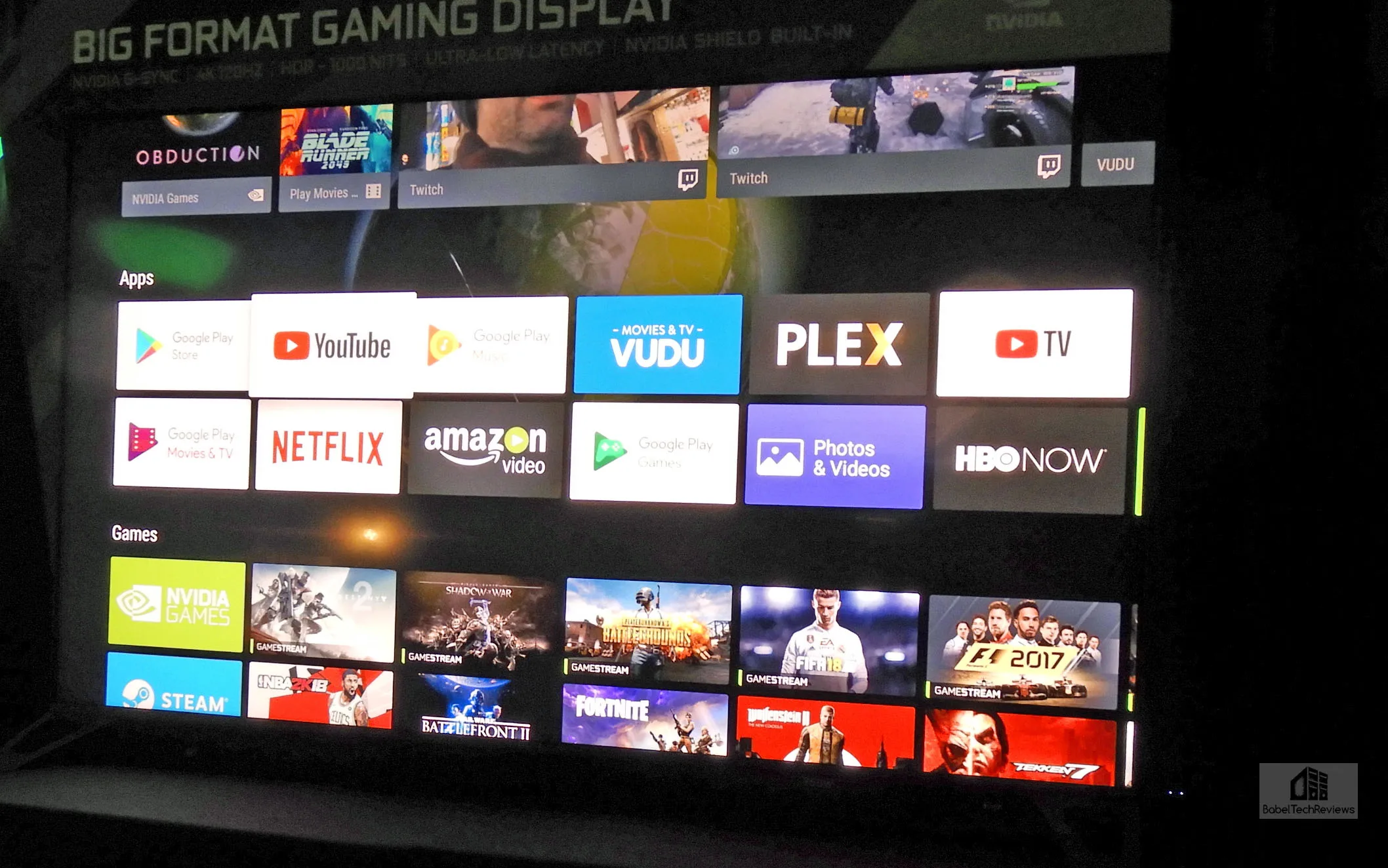 These ultra-low latency panels feature the latest G-SYNC HDR technology that synchronize the display's 120Hz refresh rate to the video card's output. And this G-SYNC Variable Refresh Rate technology works even with your movies for perfect synchronization! Unlike our HDR TV which is only around 300-nits, this BFGD 4K HDR display features a full direct-array backlight, 1,000-nit peak luminance and DCI-P3 color gamut which is impressive to say the very least.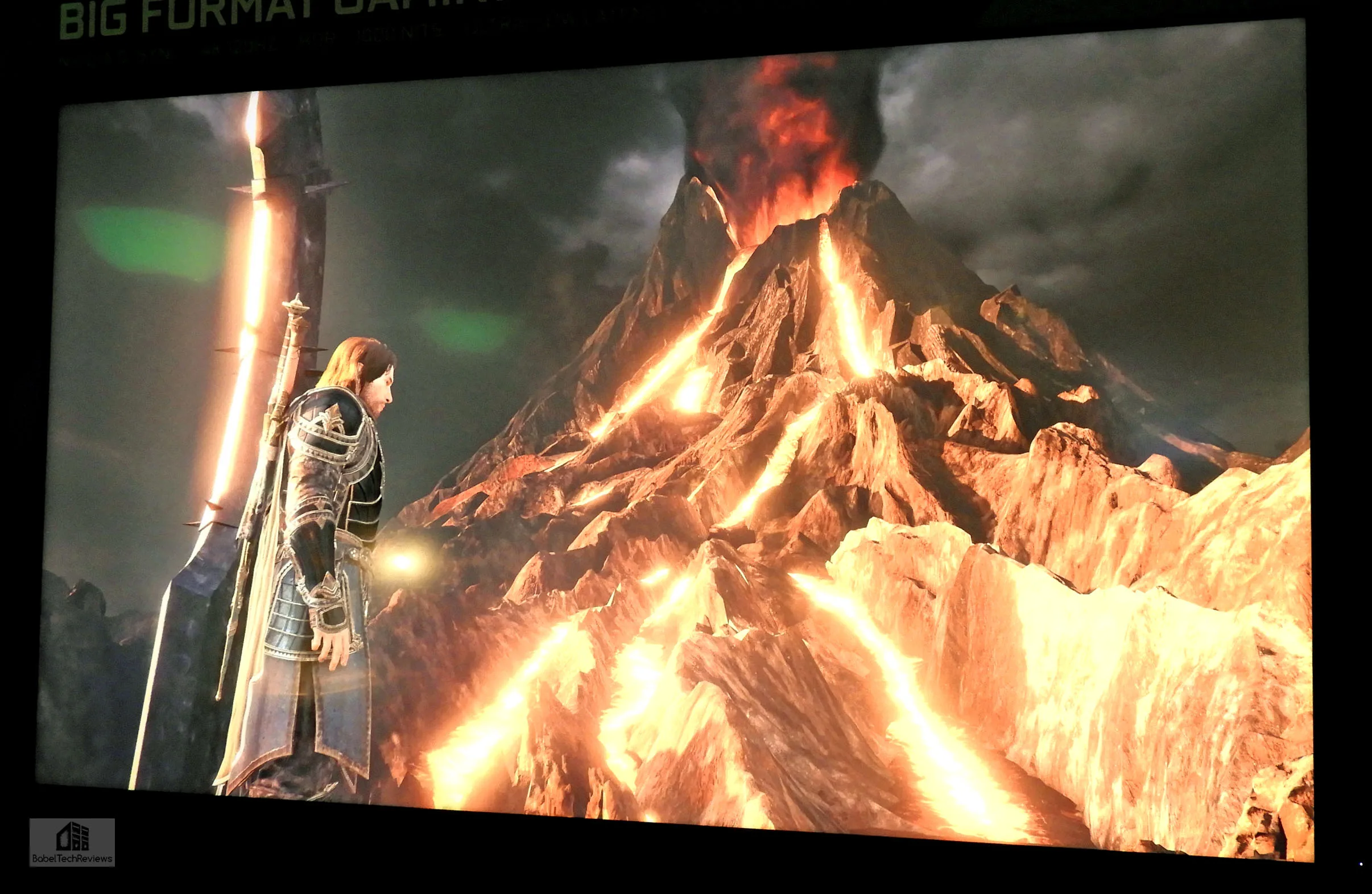 In addition to gaming, all the features of SHIELD TV are integrated including the Google Assistant and NVIDIA's GameStream. We looked at our images and the 1080P and even 4K video, and decided that nothing we captured could do justice to these amazing displays.
For more information, please check out the GeForce.com BFGD webpage.
GeForceNOW
The GeForce NOW cloud game-streaming service, which launched as a successful beta last summer, is available as a free beta compatible with most Windows-based desktops and notebooks which allow you to take advantage of NVIDIA's cloud. We were quite impressed when we saw popular games running smoothly on a Chromebook and on other inexpensive notebooks that otherwise would be unable to play them at all.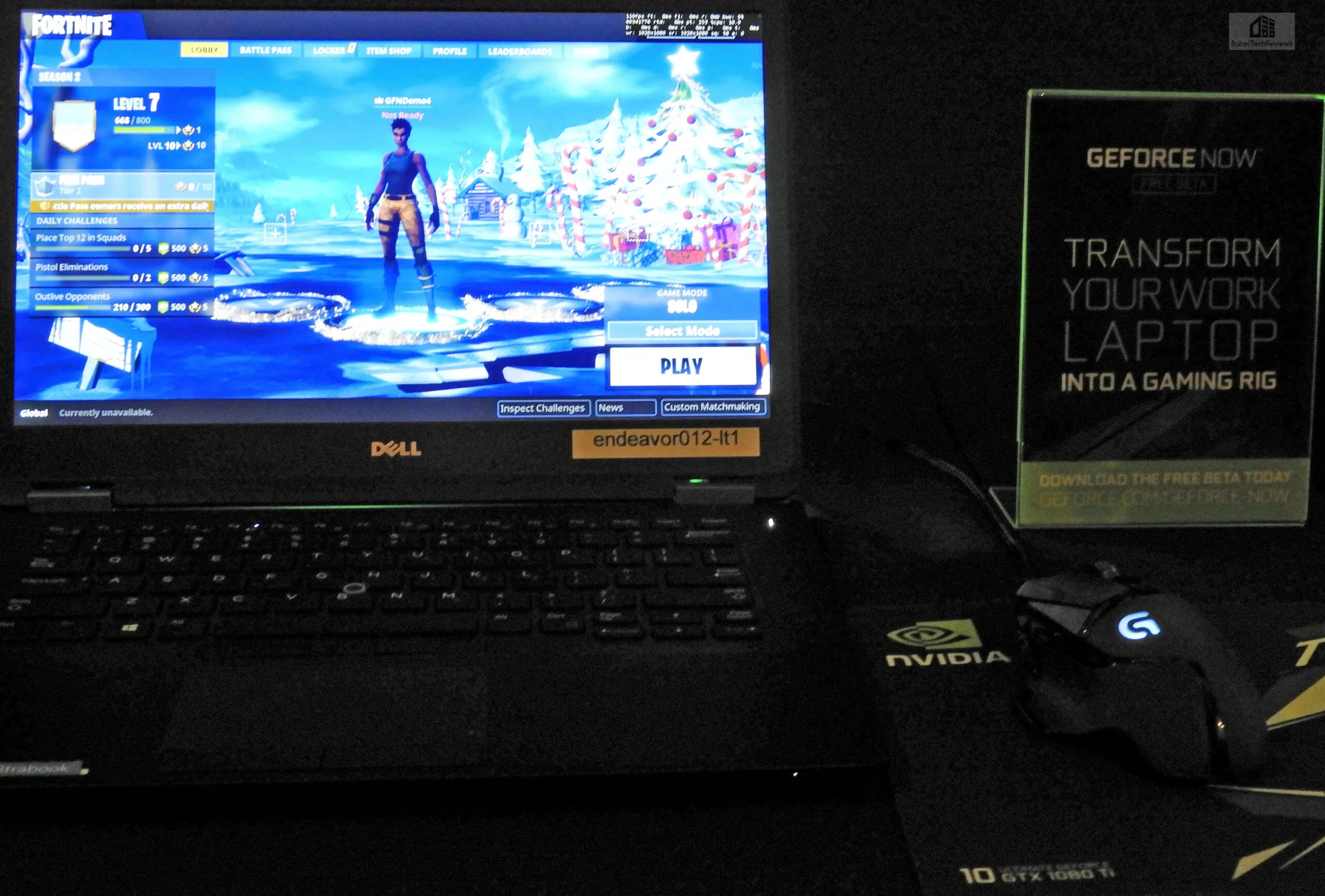 GeForceNOW can connect gamers to their own library of games from many of the top digital platforms including Uplay's PC portal. Titles available include Tom Clancy's Rainbow Six Siege, Assassin's Creed: Black Flag, Tom Clancy's The Division, For Honor and Tom Clancy's Ghost Recon Wildlands.
Here is a video showing GeForceNOW in action on a very under-powered notebook:
As you can see, playing on any compatible device can be buttery smooth using GeForceNOW. You can find more information here, and download the GeForceNow beta here. It may take awhile to get a key as they are being approved and generated on a first-come, first-served basis. However, while this service is in beta, it is free, and you may play any of the available games in your library on a suitable PC or notebook with the equivalent of a GTX 1080 in the cloud for up to 4 hours at a time.
GeForceNOW is very impressive and well-worth checking out. Mario has installed this service and he has reported that it very smooth. BTR will post a separate review of GeForceNOW later this week.
The Latest GeForce Driver 390.65 supposts Freestyle & Fortnite Battle Royale supports ShadowPlay Highlights, and an Updated Ansel UI
We are currently benching the latest Game Ready Driver 390.65 and we highly recommend it for its stability and for increased performance over the last driver. However, this driver also supports NVIDIA's newest GeForce Experience beta feature, Freestyle, in addition to an improved ShadowPlay Highlights.
ShadowPlay Highlights automatically captures your greatest gaming achievements in video and screenshot. Integrated directly with the game, it knows precisely when your special moment will happen, and automatically records it using ShadowPlay technology. And ShadowPlay Highlights is now supported in Fornite Battle Royale and the latest driver adds ShadowPlay Highlights support for Crossout and Elex.
The latest new feature for GeForce Experience, NVIDIA Freestyle, allows you to apply post-processing filters on your games while you play. Beginning with the in-game overlay, a gamer can change the look and mood of supported games by adjusting the color and saturation, or by applying post-process filters.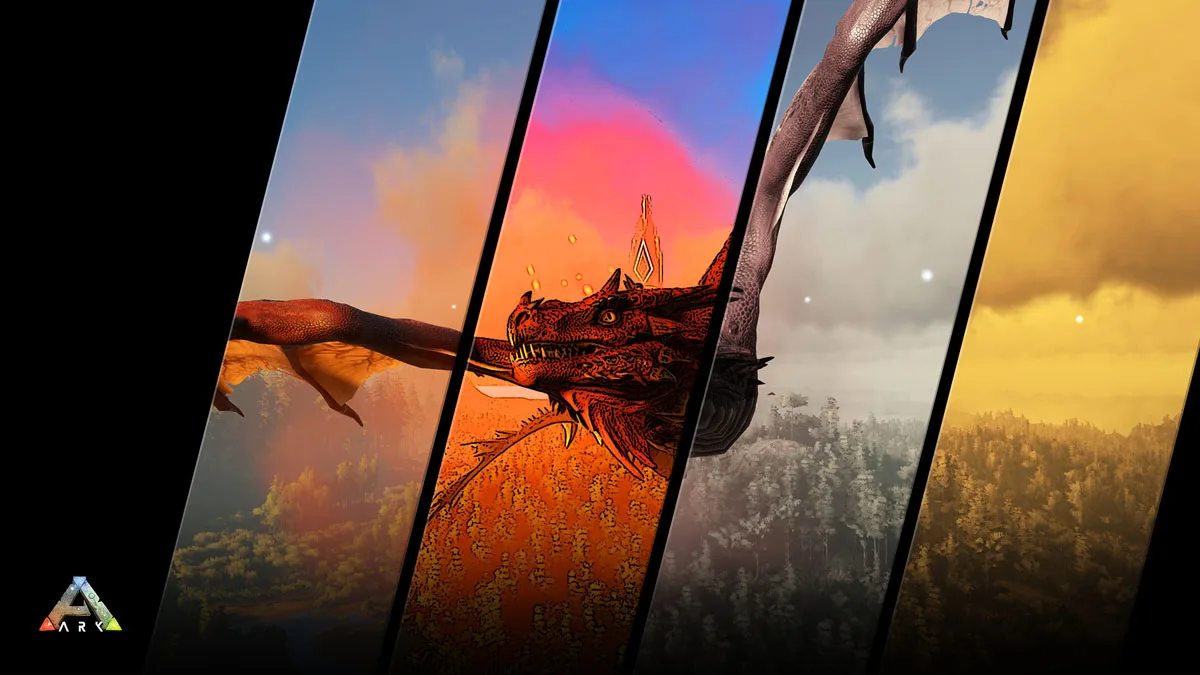 Currently there are a total of 15 filters with 38 different settings. They include black & white and colorblind to allow gamers to be more creative with their games. For example, and NVIDIA demonstrated retro war-themed filters for CoD: WW II which BTR has just added to its benchmarking suite.
Since about 8% of gamers are colorblind, a colorblind mode is available that makes it easier to differentiate between colors. In addition, Gamers can even use "night mode" which reduces blue color so users can supposedly sleep better after a night of gaming. I don't think that color ever mattered to sleep after an intense session of gaming, but we will try it out. The Freestyle game filters beta has been released with support for over 100 game titles.
The Ansel user interface has also been updated to make it more intuitive and there are 8 new filters with the ability to combine multiple filters together. With Ansel, a gamer can compose shots from virtually any camera position the devs allow, adjust using post-process filters, and even capture HDR images in high fidelity formats or share screenshots in 360.
To get these new features, download the latest GeForce Experience included with the latest Game Ready Driver (390.65) and then enable 'Experimental Features' from within GeForce Experience settings
VR with the new Vive Pro
NVIDIA is very interested in Virtual Reality (VR), and we were able to check out the new Vive Pro headset that boasts approximately 1/3 higher resolution with a 2880×1600 resolution dual AMOLED screen that is reportedly 78% sharper than the original Vive. We were able to briefly check out DOOM VFR and noted that the screendoor effect is greatly diminished from what we are used to with the Oculus Rift.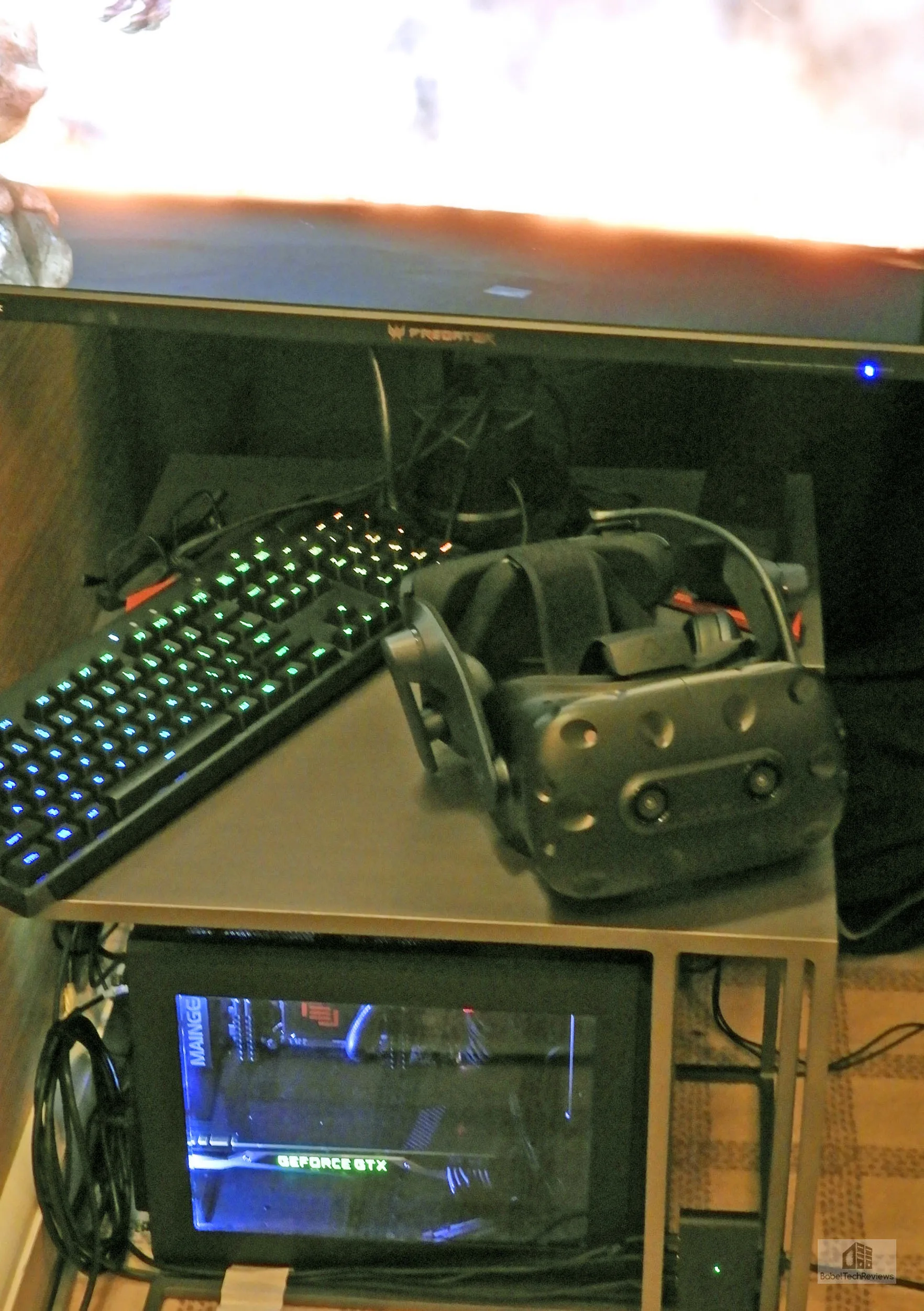 The new Vive Pro headset is a bit more bulky than the original model although it appears to weigh about the same, and for the brief time that we wore it, it appeared to be quite comfortable. Best of all, we were able to wear our regular glasses easily inside the HMD unlike with the Oculus Rift which required us to buy new frames from the pediatric section of the vision center.
As soon as the Vive Pro is available, we plan to buy one to benchmark Vive games. They should be significantly more demanding than the current Vive or the Oculus Rift and it will give a workout to any video card of this or the upcoming generation. Of course, NVIDIA's representatives will not comment on unannounced upcoming products, and we didn't ask.
After we said our good-bye to NVIDIA and made plans to visit their new HQ, we headed for the Wynn parking garage and then to the Venetian after dropping two of our tech editor friends off at their next appointment. The only parking spaces that were available were at the very top of the parking structure with an incredible view of Las Vegas.
PowerColor
After many years of email correspondence we finally got to meet with PowerColor's representative and he did not disappoint. PowerColor is one of AMD's premier video graphics partners and they are featuring their top Red Devil brand of RX Vega 56 and 64 as well as their full line up of Polaris RX video cards.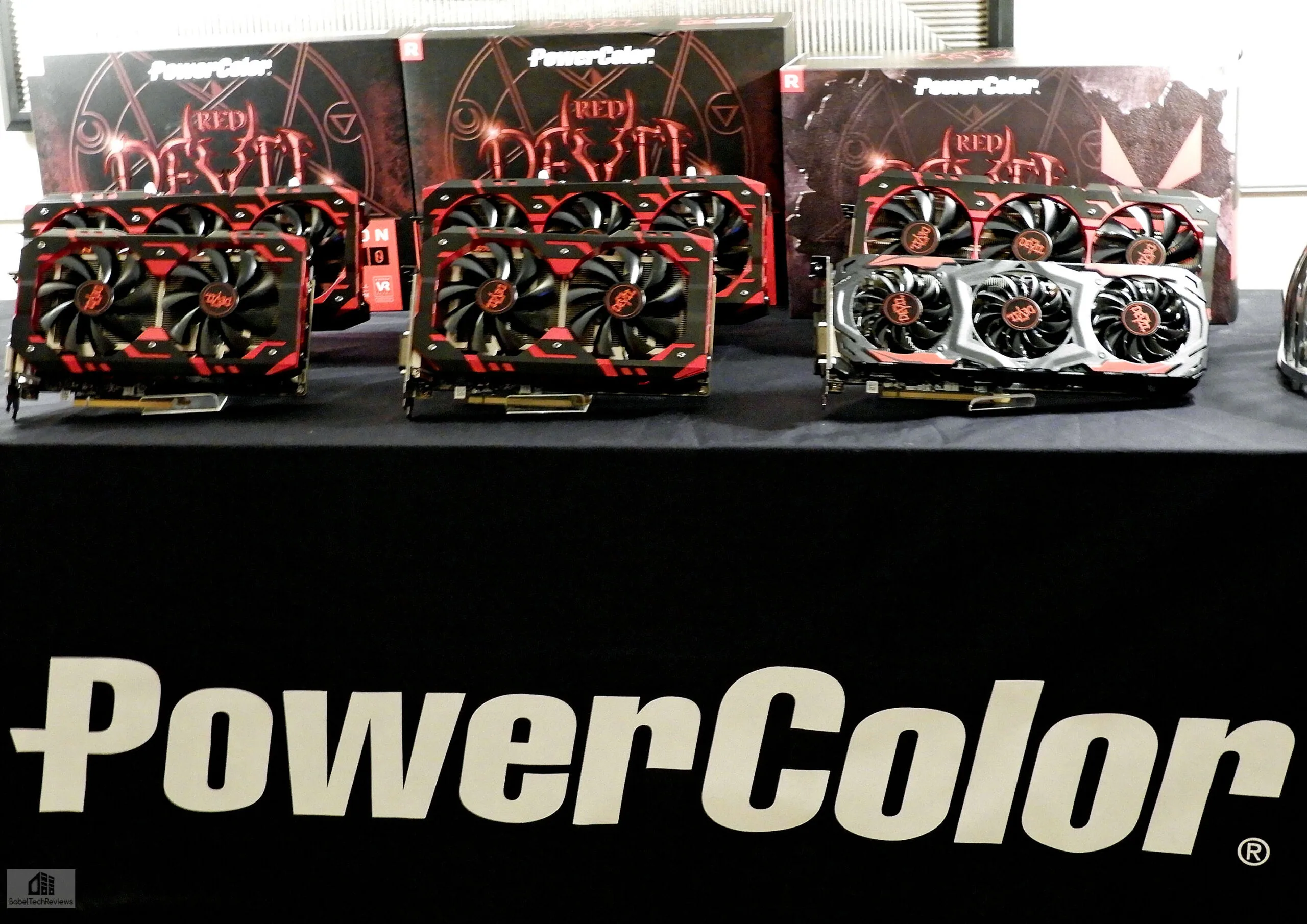 We recently got to review both the Red Devil RX Vega 56 and RX Vega 64 and they each got very high marks for bringing stability and excellent cooling to the Vega lineup.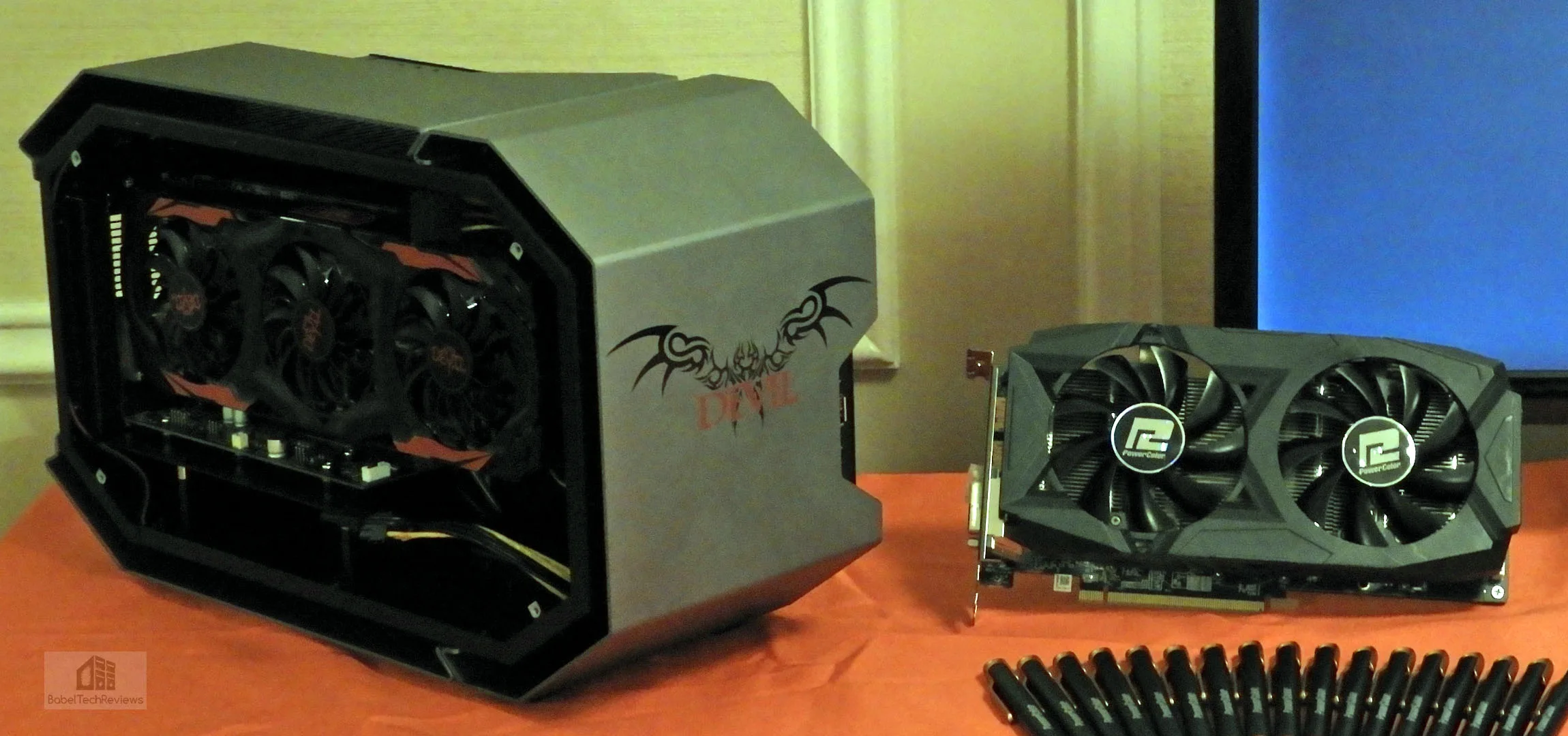 Unfortunately, crypto-mining is making some incredible demands on the Vega GPU availability and it is very limited for the PC gaming market. There is much higher demand than product, and these cards often sell for a big premium. BTR was one of the very first tech sites to have hands on with a PowerColor eGPU Devil Box which was displayed above, but there is now another version called the Gaming Station that we hope to have hands on with shortly.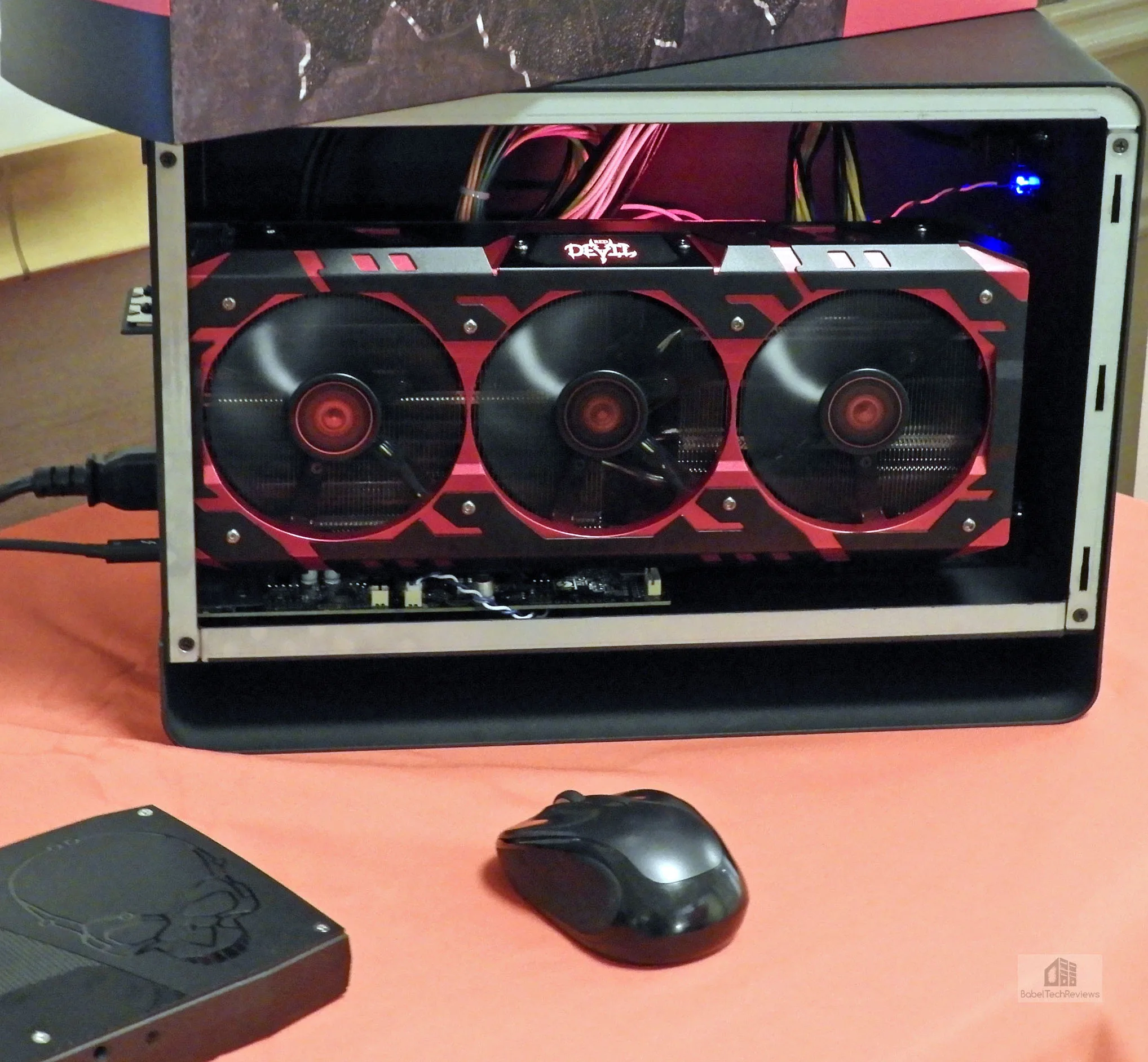 We would like to see how a high end video card in this eGPU enclosure compares with being in a native PCIe slot. We said goodbye to PowerColor and headed for the HyperX suite. Although Kingston is the primary company and HyperX is its gaming division, each company exhibited their new products at different suites at the Venetian and we visited with HyperX first.
HyperX
HyperX unveiled a suite full of new gear at CES including its first wireless gaming headset, the HyperX Cloud Flight, and an expanded suite of RGB gaming peripherals including the HyperX Alloy Elite RGB mechanical keyboard and the HyperX Pulsefire Surge RGB gaming mouse.
We tried on the HyperX Cloud Flight and it is just as comfortable as the other members of the Cloud family. It has an extremely long wireless range and it will appeal to gamers who prefer not to be connected to their PC by wires. The HyperX Cloud Flight offers up to 30 hours of battery life which is the longest battery life available in the gaming market today. Sporting a closed cup design with 90o rotating ear cups, the HyperX Cloud Flight headset also comes with built-in controls to adjust LED effects, mic mute, power, and volume.
HyperX also announced the world's first infrared synchronized DDR4 RGB memory – the HyperX Predator DDR4 RGB Memory. By inserting the plastic card, the HyperX presenter was able to show how the infrared signal is transmitted from one module to the other – or in this case (below), how the signal can be blocked.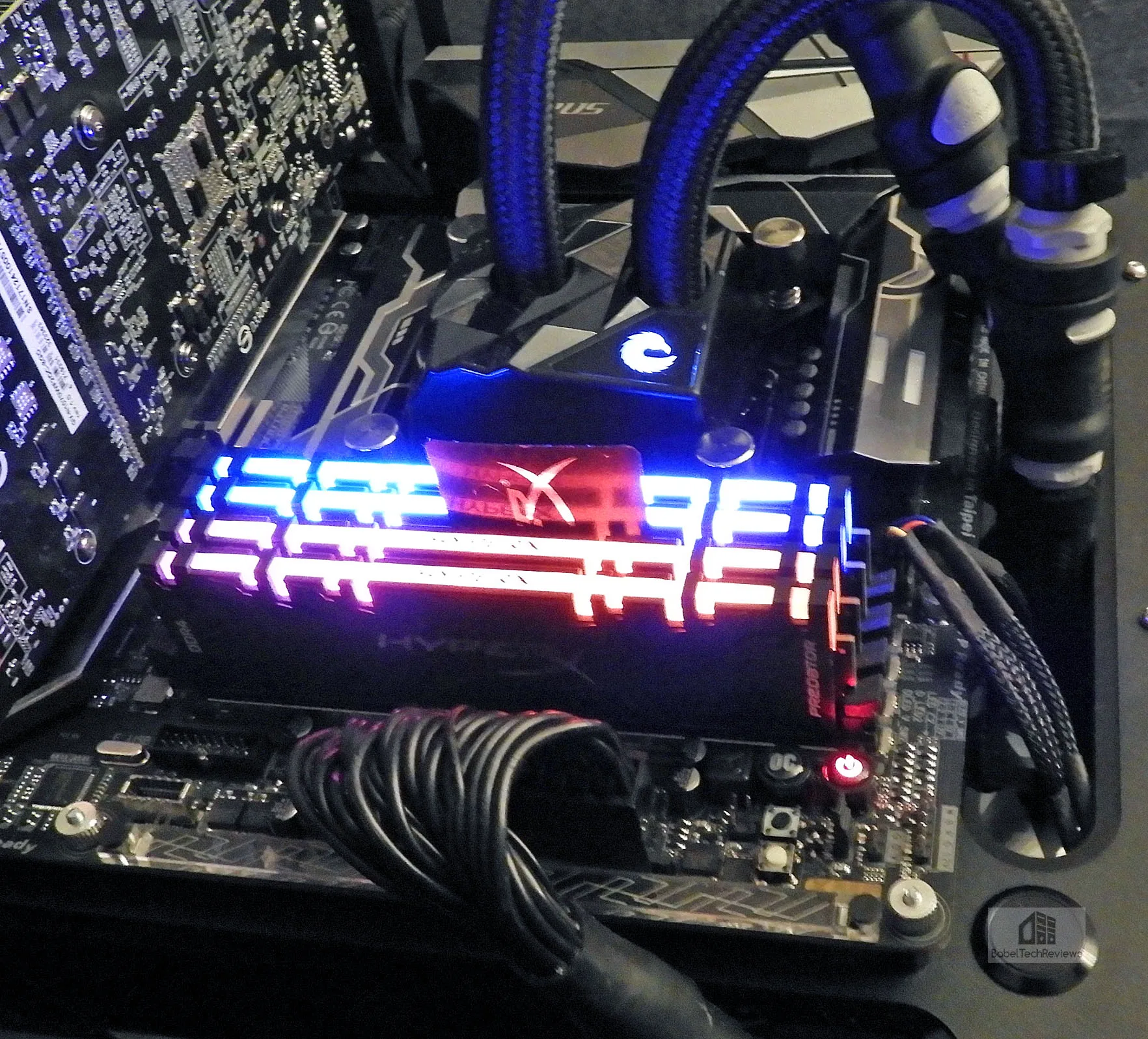 HyperX designed IR communication channels onto each memory module, allowing multiple modules to sync LED lighting and produce its color and pattern display. This new technology is powered from the RGB motherboard headers to provide an enhanced visual experience of RGB memory lighting for gamers who want more than a boring PC.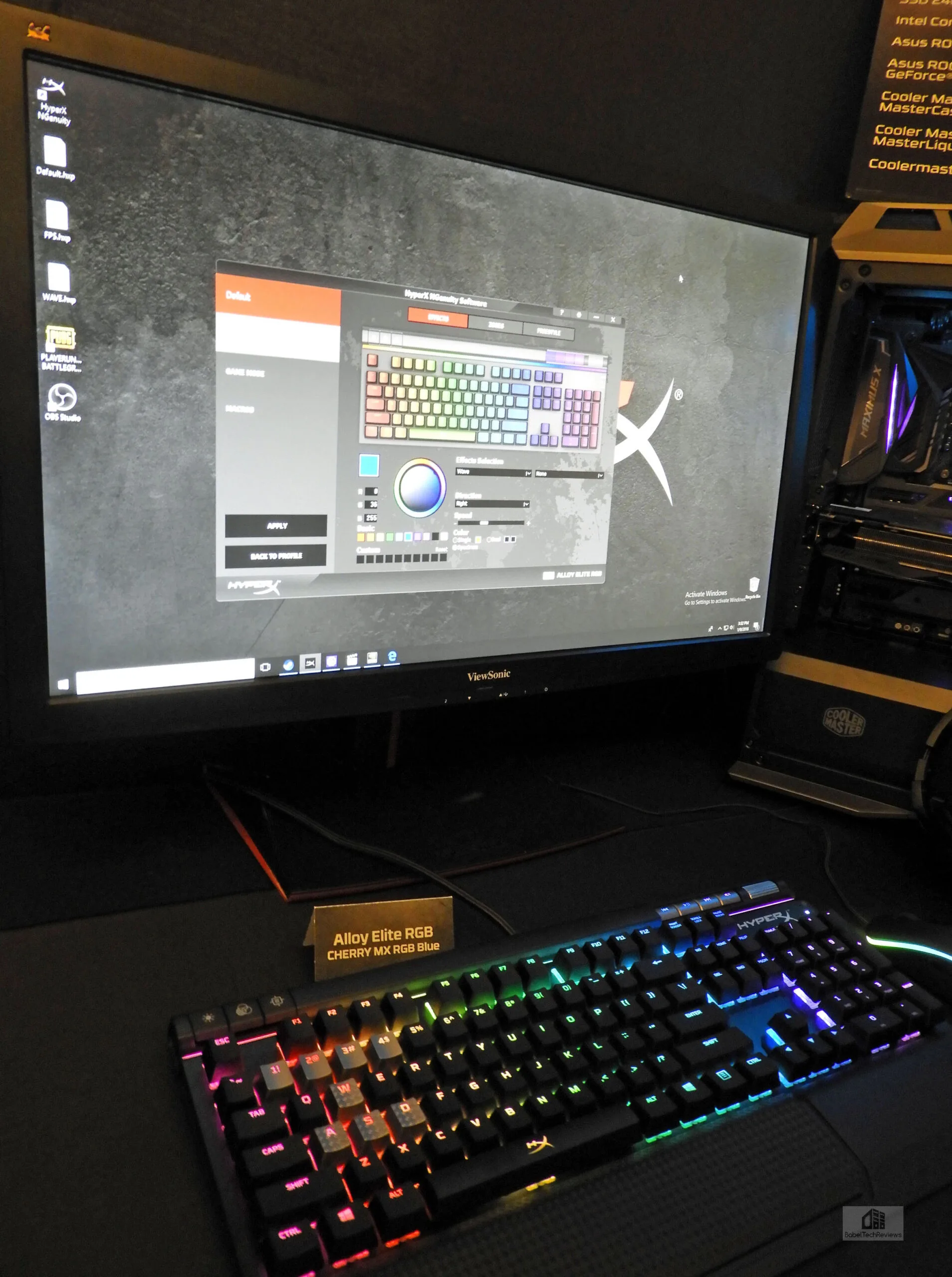 We also got to check out HyperX' first full-featured RGB mechanical gaming keyboard which offers complete color customization with NGenuity software. Gamers can pick from three custom lighting profiles that can be saved directly to the keyboard's on-board memory for on-the-go lighting. The Alloy Elite RGB is built with a sturdy solid steel frame, dedicated media buttons, a pass-through USB 2.0 port, quick access lighting control, and available in red, brown or blue CHERRY MX key switches. We always prefer blue switches for its tactile response but they are loud compared with brown or red.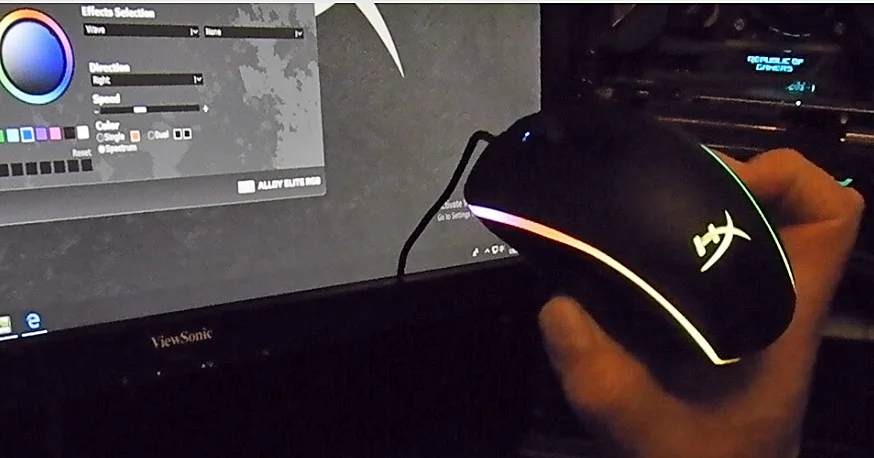 The HyperX Pulsefire Surge RGB mouse features dynamic 360° RGB lighting effects and is designed with the Pixart 3389 sensor with settings up to 16,000 DPI. Customizable native DPI settings can be monitored by an LED indicator. Using the same HyperX NGenuity software as for the Alloy Elite keyboard, gamers can assign their own custom macro functions to the six programmable keys and store them in a macro library.
KINGSTON
Kingston is the memory and flash storage people and the parent company of HyperX. This editor has a long history with Kingston and we spent a lot of time catching up with their reps as it has been years since we saw them last. We made plans to visit Kingston's headquarters again in Fountain Valley, California and we are looking forward to it this Spring.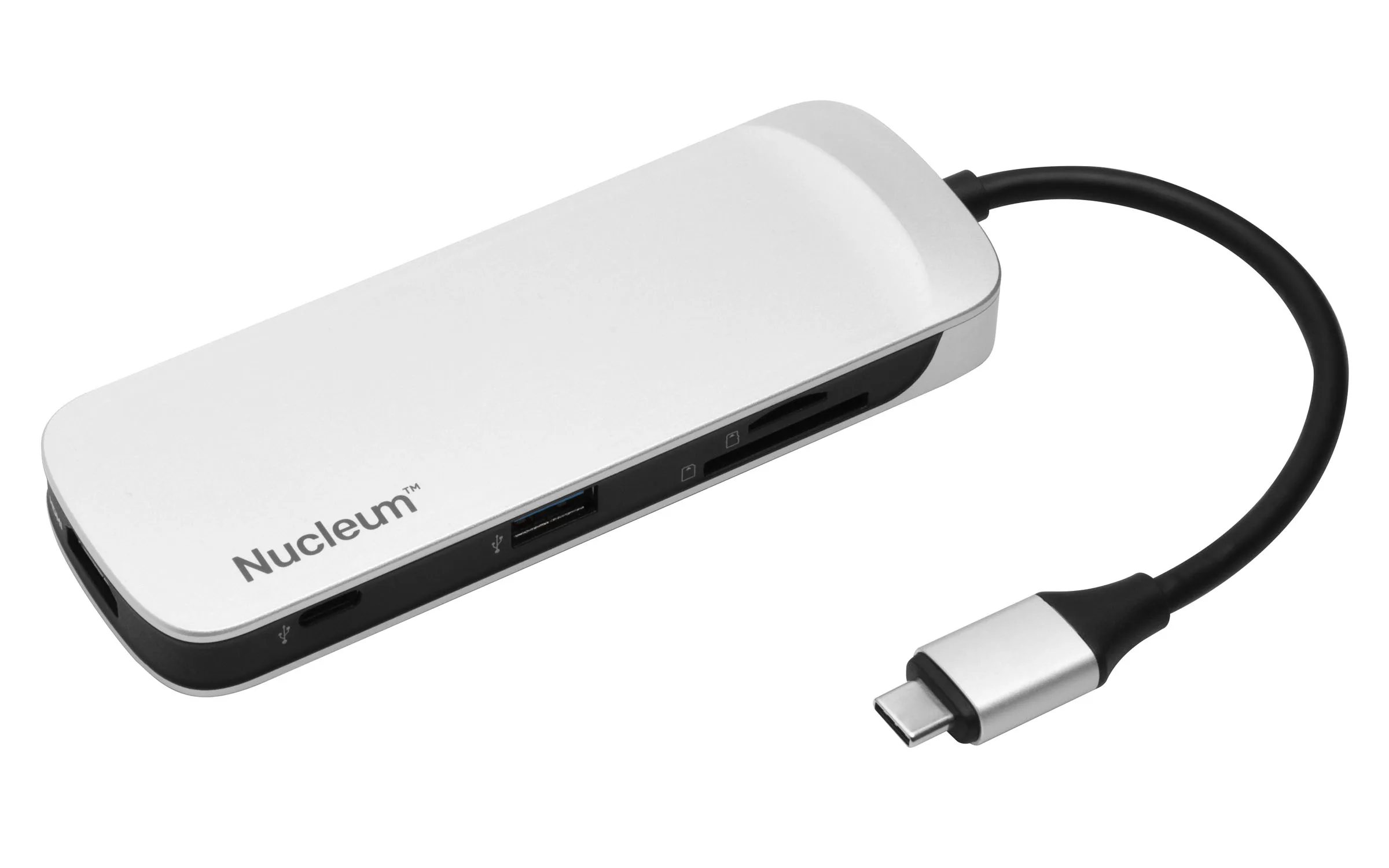 Kingston was concentrating on the launch of Nucleum, a 7-in-1 Type C USB hub. Nucleum is the ideal hub for notebooks as it provides extra USB-C and USB-A ports as well as HDMI and SD/microSD card slots. It also has charging ports for Mac. We would like to try it for our desktop as the Oculus Rift takes up 3 USB 3.0 ports by itself since we have a 360 degree 3 sensor setup.
Electromagnetic interference (EMI) on the Nucleum is mitigated due to its shielding and unique port placement. This reduces the possibility of EMI and the physical placement allows greater room between ports to help account for plugs and power adapters of different sizes.
Nucleum is available in the United States now. It is backed by a two-year warranty, excellent free live technical support, and exceptional Kingston reliability. For more information visit www.kingstongo.com/nucleum.
Kingston also highlighed the capabilities of their family of solid-state drives and encrypted USB Flash drives, as well as additions in the consumer lifestyle space with mobile and embedded solutions. A lot of emphasis is placed on the server market, and Kingston demoed their rackmounted multi-drive PCIe NVMe U.2 SSD. There is also a new UV500 SATA SSD family (2.5″, M.2 and mSATA) featuring 3D NAND, self-encryption and TCG Opal enabled that we just did not have time to cover.
What Happens at CES …
There was far more going on at CES than what is viewed by attendees in the exhibition halls. Many vendors chose to exhibit by invitation-only in the private meeting rooms in CES and also at the nearby hotels. This editor had the opportunity for more than a dozen such meetings including meeting with vendors in hotels off the convention site and in private meeting rooms. There were also major product launches and impressive demonstrations at these venues. We saw new products that are still under-NDA, and we may evaluate them for you after they are released. We also made contact with new and established companies, and we will review their products for you later this year and in the future.
Andy Markin gives the real reason that companies, attendees, and the media go to CES year after year. It is almost ironic. With all of the latest and greatest communication-related technology on the planet gathered in one place, people go specifically to connect face to face with each other.
Well, it was time for us to head home at 5 PM. We headed to our rental car at the top of the Venetian and waited 4 hours in the queue just to exit the parking structure and onto the Interstate for the 3-1/2 hour drive home.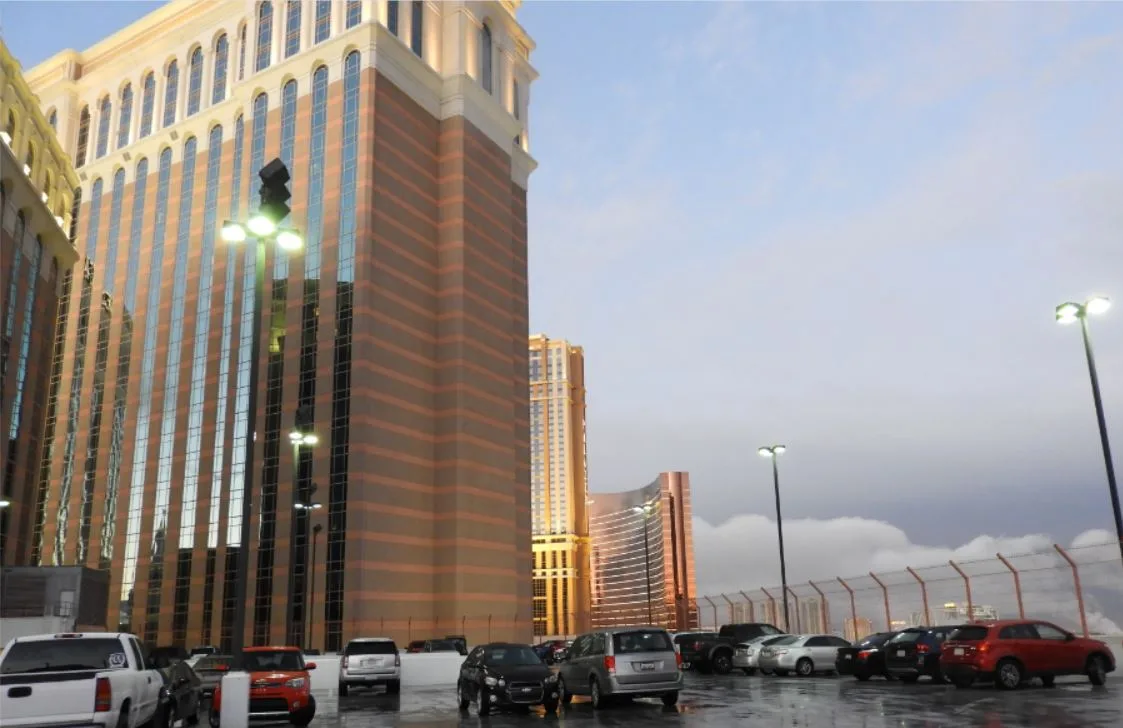 BTR intends to return to CES 2019, and we shall continue to keep our readers ahead of events taking place in electronics. This year promises to be really good for gamers only if video card prices return to normal. It appears that SSD prices may finally drop this year although we may have to wait longer for DDR prices to drop.
Next up, we are going to review the Gigabyte GTX 1070 Ti 8G followed by an overclocking showdown with the Red Devil RX Vega 56 on hopefully brand new Radeon drivers.
Happy Gaming!