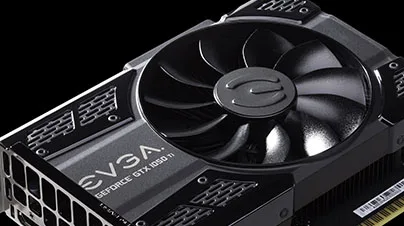 Nvidia will launch their new Pascal GPU GP107 as the GTX 1050 and the GTX 1050 Ti which will take on the AMD Radeon RX 460. GP107 is a lower-end GPU designed for 1920×1080 resolution and for gamers who are on a tight budget.
The AMD Polaris RX 460 arrived in August as a 2GB or 4GB 75W card on 14nm FinFET that sells beginning at $109, depending on its vRAM capacity and core speeds. AMD concentrated on launching the medium to low end while Nvidia began with the high end GTX 1080 and has moved down to the low end.
Now it's Nvidia's turn to unveil their two new entry level GeForce gaming cards starting at $109 for the GTX 1050 and $139 for the GTX 1050 Ti on October 25 from Nvidia's add-in card partners. These include ASUS, EVGA, GALAX, Gigabyte, Innovision 3D, MSI, Palit, and Zotac. This time there are no GTX 1050/Ti Founders Editions, and for a change, the 135 square mm GP107 GPU die is fabbed at Samsung on their 14nm process instead of at TSMC at 16nm as are the rest of the Pascal cards.
Nvidia suggests that the new GTX 1050 offers 3 times the performance of the Maxell GTX 650 as shown above. Both the GTX 1050 and the GTX 1050 Ti are 75W cards that do not require a PCIe connector as an easy upgrade for gamers with a 300W power supply. Nvidia illustrates the efficacy of upgrading a video card versus the costs of upgrading a 3-year old PC using only Intel CPU graphics below.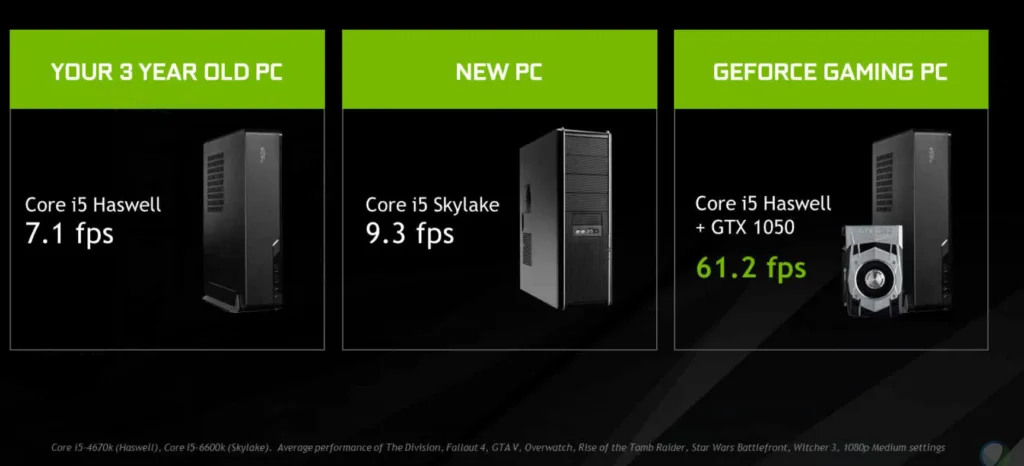 The low end or entry-level market is quite important to both AMD and Nvidia as PC gaming is growing fast, and more than half of all video games released in the USA are released on PC compared with the other half which are shared by the PS4 and the XBox One consoles. Part of this resurgence in PC gaming is fueled by eSports and the availability of inexpensive but quality video card for the most popular resolution, 1920×1080.
Specifications
The GTX 1050 features 640 CUDA cores, 2 or 4GB of GDDR5 memory on a 128-bit bus running at 7Gbps, and a boost clock of 1.45GHz.
The GTX 1050 Ti features 768 CUDA cores, the same memory configuration as the GTX 1050, and it is clocked at 1.35GHz. Some partner cards will use a 6-pin PCIe connector for overclocking, and evidently some of the GTX 1050s will clock to 1.9GHz.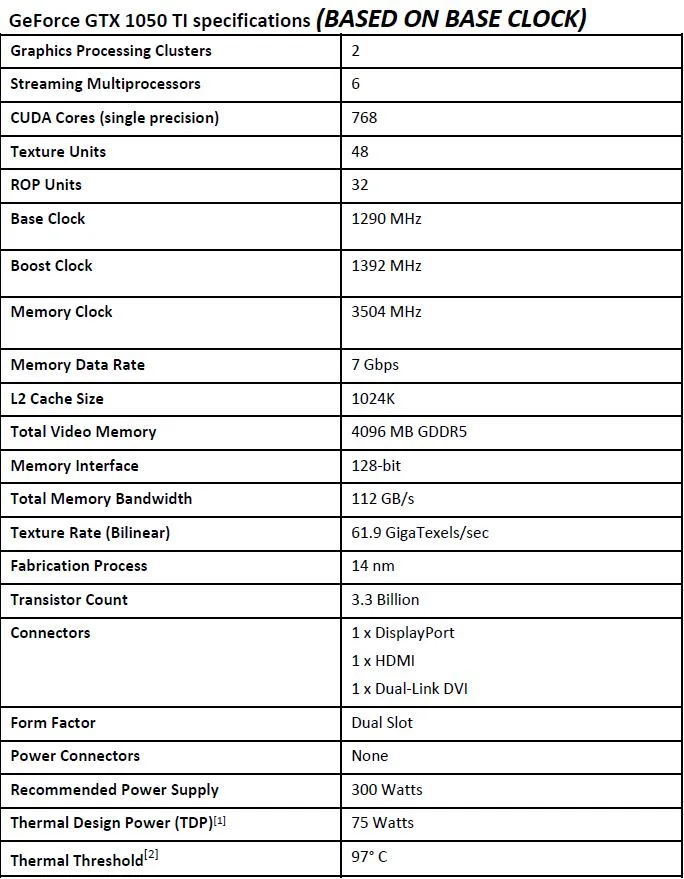 Like all of the other Pascal cards, the GTX 1050/1050 Ti includes support for all of Nvidia's Pascal features including Simultaneous Multi-Projection technology, which allows them to seamlessly project a single image simultaneously to both eyes which may allow it to be suitable for entry level VR. And like the other more expensive Pascal cards, the GTX 1050/1050 Ti will support using up to four displays simultaneously.
The GTX 1050 and the GTX 1050 Ti also supports Nvidia Ansel technology, a game-capture tool that allows gamers to explore and share gaming art in new ways. With Ansel, users can compose their gameplay shots by pointing the camera in any direction and from any vantage point within a gaming world, and then capture 360-degree stereo photospheres for viewing with a VR headset or with Google Cardboard.
The EVGA GTX 1050 and 1050 Ti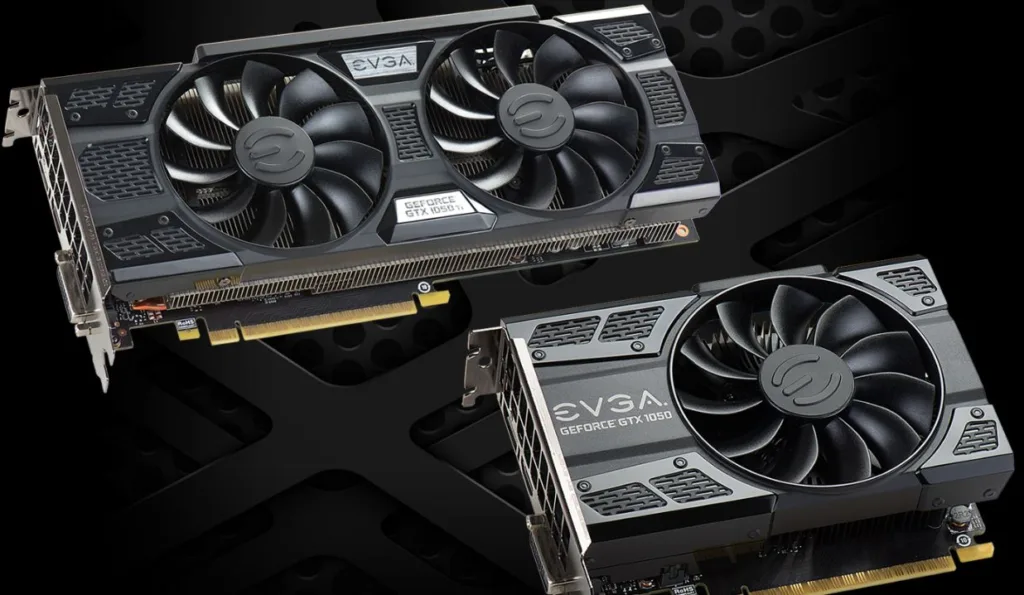 Let's look more closely at the EVGA GTX 1050 and 1050 Ti.
According to EVGA, the 4GB GTX 1050 Ti displays great visuals and performance at 1080p HD+, while the 2GB GTX 1050 will work fine for most gamers also at 1080P. EVGA's GeForce GTX 1050 Ti and GTX 1050 card gives gamers the power to take on today's next-gen titles in full 1080p HD. There's a choice of memory sizes, cooling options, factory overclocks, and power options to fit every budget and most PCs.
Small Size, Big Performance & Better Overclocking
The EVGA GeForce GTX 1050 Ti and 1050 may look small, but they offer big performance. According to EVGA, the EVGA GeForce GTX 1050 Ti is about 26% faster than a GTX 950, and the GeForce GTX 1050 is about 16% faster.
Many of these new EVGA GTX 1050 cards also feature EVGA ACX cooling technology. In addition EVGA's SHP gives increased heatpipes and copper contact area for cooler operation, and optimized fan curve for even quieter gaming. Of course, ACX coolers also feature optimized swept fan blades, double ball bearings and an extreme low power motor, delivering more airflow with less power, unlocking additional power for overclocking the GPU.
EVGA ACX 3.0 cooling allows for better and more stable overclocks. The maximum "power target" takes into account the fan power consumption, meaning the lower the power consumption from the fan, the more power available for the card. EVGA ACX coolers use more than 4X lower power than other competing cards allowing for better and more stable overclocks.
EVGA PrecisionX OC Unlocks the Power of Pascal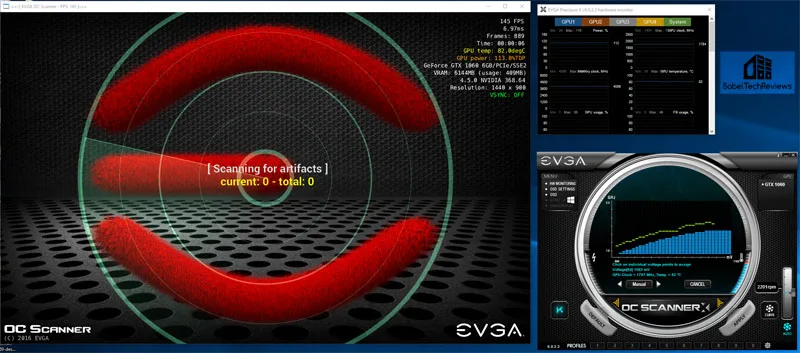 The next generation of EVGA PrecisionX has arrived with EVGA PrecisionX OC. This new version of Precision is built for the NVIDIA Pascal architecture and combines the best of EVGA Precision and EVGA OC Scanner to give you new overclocking features and built in automatic overclock tuning.
Includes Exclusive Features for EVGA GeForce GTX 1050 Ti & 1050:
DirectX 12 OSD Support – See the on screen display on DirectX 12 games.
EVGA OC ScannerX Integration – Automatically find your optimal voltage/frequency curve!
K-Boost Function – Maximize your clocks with this exclusive feature.
The EVGA GTX 1050 Ti Choices & Specifications

It looks like October will be a very interesting month as by the 25th, we hope to bring BTR's readers a full performance review of the GTX 1050 Ti, and we also expect to be able to also compare it with an aftermarket version of the RX 460. Stay tuned to BTR!
Happy Gaming!