We have reviewed the GTX 1060 Founders Edition with BTR's full benchmark suite of 26 games this last Tuesday for BTR's readers, and we have concluded that at stock settings, it is faster than the RX 480 and it nearly matches the performance of the stock GTX 980. Increases in bandwidth and power efficiency allow the stock Founders Edition of the GTX 1060 to run at really high speeds, well over its advertised 1683MHz Boost clocks, while only using 120 watts of power.
Originally overclocking the GTX 1060 with its stock fan profile and voltage left on automatic allowed us to reach 2025MHz with a 200MHz offset to the core, and an amazing 700MHz offset added to the memory clocks to reach 4704MHz! This evaluation is devoted to overclocking the GTX 1060 to as far as it can go – with the voltage and the fan speeds set to their maximum, and with our testing run in a cool, warm, and in a very warm room.
We also want to follow up our original testing of the PrecisionX OC's automatic scanner that we found to be very unreliable in our evaluation of the GTX 1080 overclocking. Although it promises a new way to set overclocks to fully unlock the new Pascal GPU's Boost 3.0, there were even issues with the public version 6.0.2 that appear to now be fully resolved by the latest beta that we used today.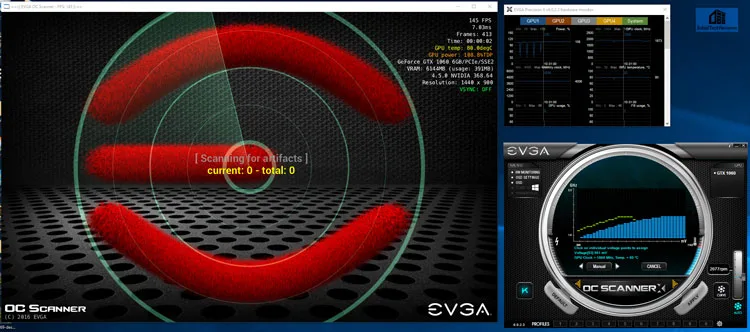 We will present our final stable overclock of our GTX 1060 Founders Edition using EVGA's latest non-public beta of PrecisionX OC Reviewer's Edition 6 versus setting a manual overclock with our entire game benchmark suite of 26 games and 2 synthetics, and we will give you a report on our adventure in overclocking. EVGA's Precision XOC has been released to the public, and the current version is now 6.0.3.
Let's get right to the test configuration, to the driver release notes, and then to our overclocking methods, and finally to the 26-game overclocked results.
Test Configuration
Test Configuration – Hardware
Intel Core i7-6700K (reference 4.0GHz, HyperThreading and Turbo boost is on to 4.4GHz; DX11 CPU graphics).
ASRock Z7170M OC Formula motherboard (Intel Z7170 chipset, latest BIOS, PCIe 3.0/3.1 specification, CrossFire/SLI 8x+8x)
G.Skill Ripjaws V 16GB DDR4 (2x8GB, dual channel at 3200MHz)
GTX 1060 6GB, Founders Edition, stock clocks, overclocked by PrecisionX OC scanner, and also manually overclocked, supplied by Nvidia
2TB Toshiba 7200 rpm HDD
EVGA 1000G 1000W power supply unit
Cooler Master 2.0 Seidon, supplied by Cooler Master (Devil's Canyon)
Onboard Realtek Audio
Genius SP-D150 speakers, supplied by Genius
Thermaltake Overseer RX-I full tower case, supplied by Thermaltake (Skylake)
ASUS 12X Blu-ray writer
Monoprice Crystal Pro 4K
Test Configuration – Software
Nvidia's GeForce 368.64 GTX 1060 launch drivers. High Quality, prefer maximum performance, single display. .
VSync is off in the control panel.
AA enabled as noted in games; all in-game settings are specified with 16xAF always applied
All results show average frame rates including minimum frame rates shown in italics on the chart next to the averages in smaller font.
Highest quality sound (stereo) used in all games.
Windows 10 64-bit Home edition, all DX11 titles were run under DX11 render paths. Our four DX12 titles are run under the DX12 render path. Latest DirectX
All games are patched to their latest versions at time of publication.
EVGA's Precision XOC, reviewer's version 6 used for Nvidia cards.
The 26 PC Game benchmark suite & 2 synthetic tests
Synthetic
Firestrike – Basic & Extreme
Time Spy DX12
DX11* Games
Crysis 3
Metro: Last Light Redux (2014)
GRID: Autosport
Middle Earth: Shadows of Mordor
Alien Isolation
Dragon's Age: Inquisition
Dying Light
Total War: Attila
Grand Theft Auto V
ProjectCARS
the Witcher 3
Batman: Arkham Origins
Mad Max
Fallout 4
Star Wars Battlefront
Assassin's Creed Syndicate
Just Cause 3
Rainbow Six Siege
DiRT Rally
Far Cry Primal
Tom Clancy's The Division
DOOM (*OpenGL)
Mirror's Edge Catalyst
DX12 Games
Ashes of the Singularity
Hitman
Rise of the Tomb Raider
Total War: Warhammer
Nvidia's Control Panel settings:
Overclocking with PrecisionX OC – Reviewer's Edition 6
PrecisionX OC offers these features which implement all the capabilities of GPU Boost 3.0, including:
Per voltage point frequency offsets
Support for integrated OC scanners
Overvoltaging controls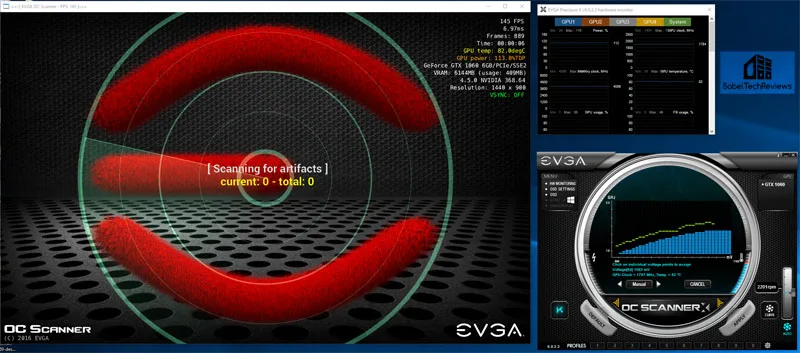 PrecisionX OC uses an integrated scanner that we tested. It runs FurMark, an OpenGL program, to attempt to find the highest stable overclock.
Make sure to check out our original GTX 1080 overclocking evaluation. We cover the basic methods of using PrecisionX OC to set a semi-automatic overclock. In our original experience with it, we experienced crashes – one after another until we finally gave up on using the scanner, and we finally decided to manually overclock.
This time, we found a completely smooth experience. We set the PrecisionX OC scanner to default and allowed it to scan until it completed below 2000Mhz. Next, we set it to an end point of 2050MHz. Unfortunately, although the scanner completed its runs and we were able to apply them, the automatic overclock of 2050MHz was not stable at this frequency although we were able to manage that same clockspeed easily with a manual overclock.
Here is the Manual overclocking mode in PrecisionX OC that we used for both the GTX 1080 and for the GTX 1060 to set the clockspeeds using the scanner.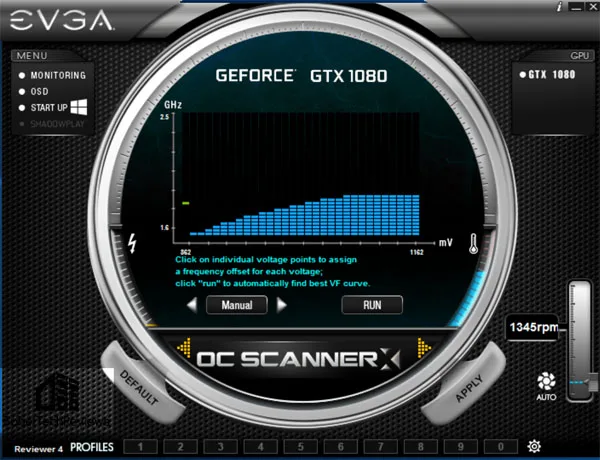 Using the scanner didn't work for us very well as the overclock that PrecisionX OC passed at 2050MHz was ultimately unstable with the voltage it applied. We came to the conclusion that using the scanner may be fine for novice overclockers, but for experienced overclockers, you definitely want to bypass it – except perhaps to "rough in" an approximate overclock as a starting point.
As an experienced overclocker, we moved the voltage slider on the left to its maximum, set the Power and Temp Targets to their maximums, cranked up the fan speed to 100%, and added 225MHz to the core and 700MHz to the memory clocks.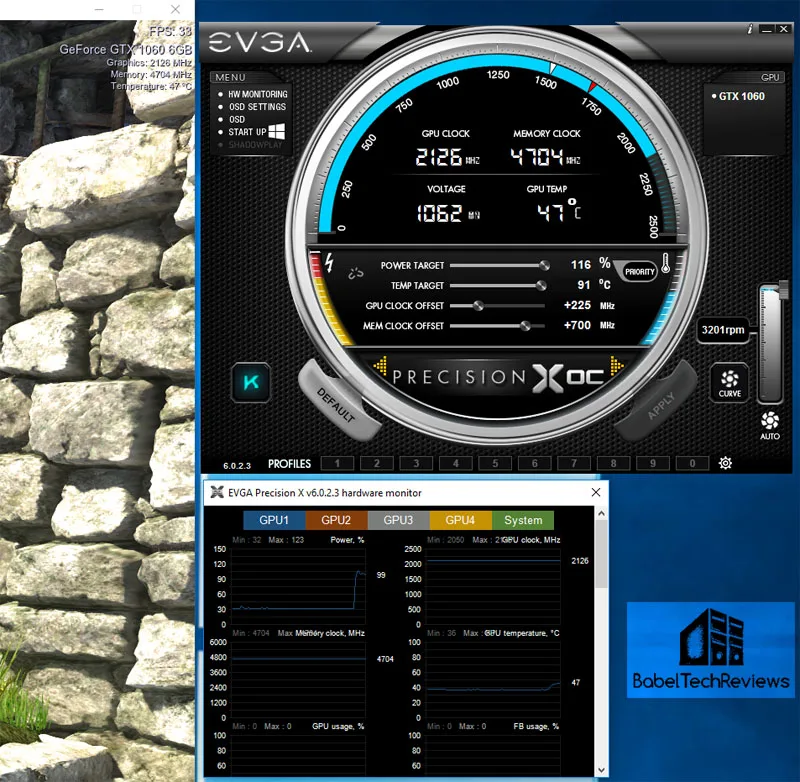 As you can see, the clocks moved up to 2126MHz with the GPU at a very cool 47C. They were the very highest clocks that we saw. Now we started to benchmark Heaven 3.0 by looping it continuously at 2560×1440 with maxed out settings, and we watched our clocks drop in 13MHz increments as the GPU warmed up.
Boost 3.0 begins to step down at 56C, until at 84C we saw our lowest clocks with our 225MHz offset, 2062MHz. Our room was at its warmest temperature, 79F. Voltage fluctuates between 1050mV and 1081mV with the voltage set to its maximum.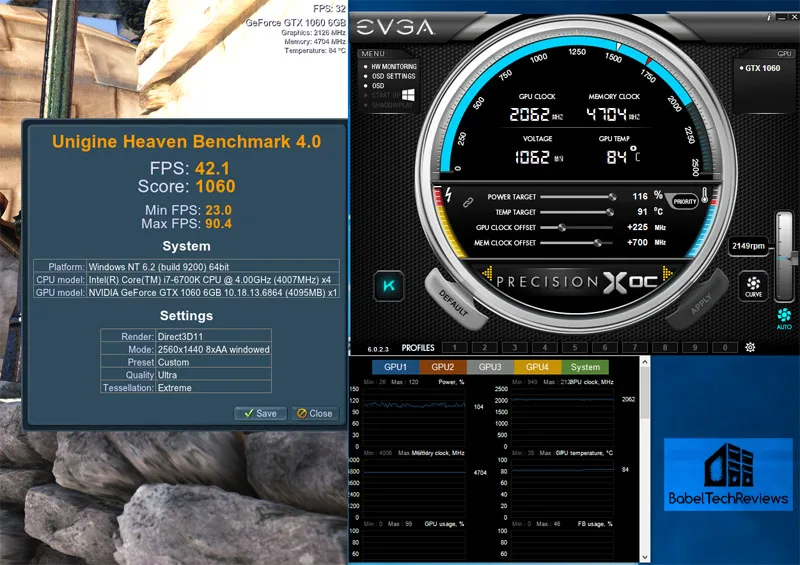 We realized that Pascal overclocking is really very temperature dependent so we worked at cooling off our test room. Now we were able to drop our room temperatures to 76F, and when our GPU cooled below 72C, our overclock stabilized at 2088MHz.
So we went about cooling our room further to about 74F, and we directed an airflow of cool air at the case. Now we see that the overclock inches up as the GPU temperature drops to 67C.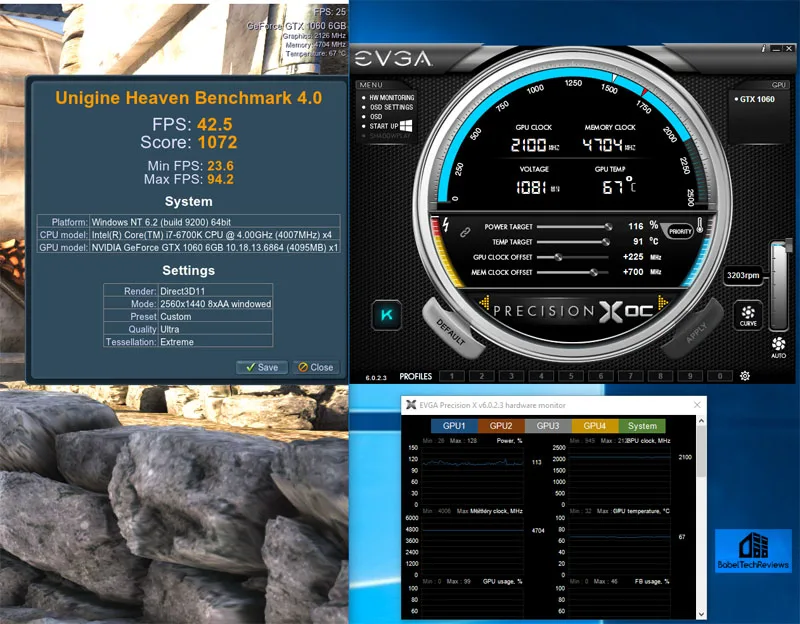 Finally, we suspended testing for the rest of the evening. We got up in the middle of the night and cooled our room to just below 72F. Here we got our highest stable overclock of all, 2113MHz, just shy of the maximum 2126MHz that the GPU can achieve with a 225MHz offset to the core when it is cold, below 56C.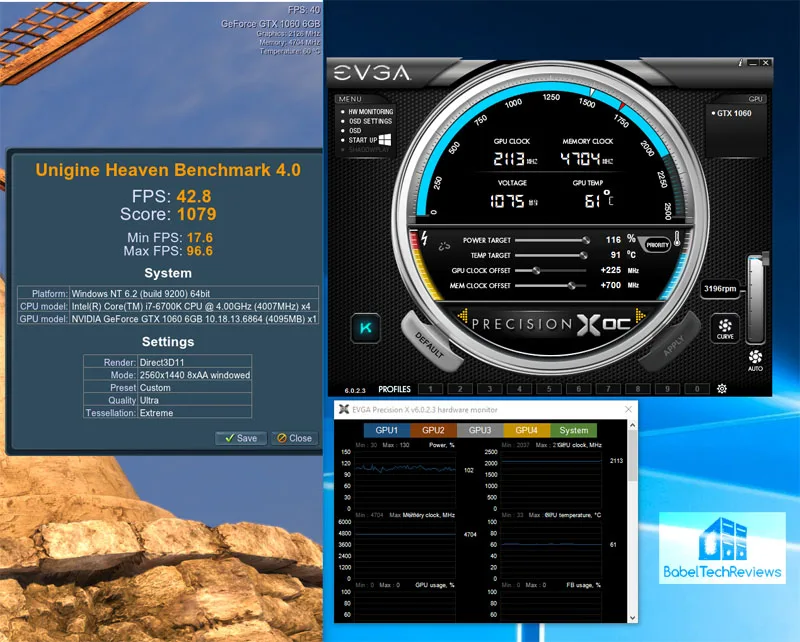 In each case, cooling the GTX 1060's GPU directly affected the overclock, and you can see that with the successively higher overclocks, the Heaven 3.0 Benchmark scores also increased.
We achieved a final stable overclock of +225 MHz to the core which settled in at or above 2088MHz with GPU Boost 3.0 for the majority of our benching as we kept our room cool for all of our game benchmarks. Watching the PrecisionX OC in-game overlay during our benchmark runs we mostly observed 2100MHz! Our memory overclock remained at +700MHz for its clock of 4704MHz which greatly contributed to increased performance.
Only one game at one resolution had any issue with our final overclock, and that was Hitman at 3840×2160, and it simply refused to run the benchmark at all. The rest of the games passed our overclock with flying colors.
Let's see the performance results of 26 games with our games at stock GTX 1060 speeds compared with our highest stable overclock averaging 2100MHz for the majority of the runs.
The Summary Chart & Conclusion
Here is the summary chart of 26 games and 1 synthetic test. The highest settings are always chosen and it is usually DX11; DX12 is picked above DX11 where available, and the settings are ultra or maxed. Specific settings are listed on the performance charts. The benches were run at 1920×1080, 2560×1440, and at 3840×2160 (if it makes sense).
All results, except for FireStrike and Time Spy, show average framerates and higher is always better. Minimum frame rates are shown when they are available and they make sense, next to the averages but they are in italics and in a slightly smaller font. In-game settings are fully maxed out. Stock GTX 1060 settings are in the first column (in white) versus maximum overclocked (+225MHz/+700MHz in black) in the second column.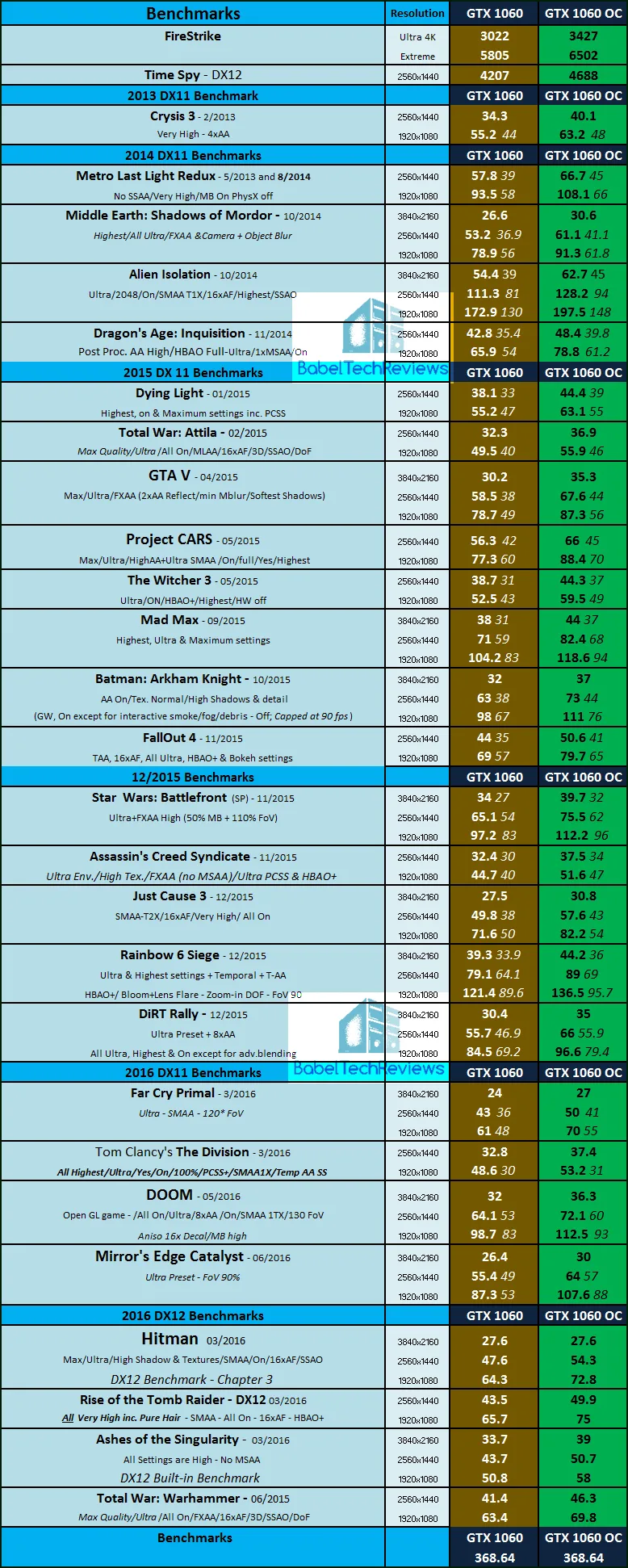 We see some really good scaling with most of our games with this very good overclock of the GTX 1060 Founders Edition over stock settings. In some cases, the framerate increase makes a difference to the fluid playability of some of the games at 2560×1440, including with DOOM and with Star Wars Battlefront.
Hitman at 3840×2160 is the only benchmark that refused to launch with our maximum overclock so we left the stock figure in for it, the rest of the games were stable at 2100MHz.
Let's head to our conclusion
Conclusion:
We would highly recommend overclocking the GTX 1060 with the new updated and stable Precision XOC. Novice overclockers will enjoy its new features which fully unlock Pascal's GPU Boost 3.0, and overclocks are easier to set with the scanner. Experienced overclockers won't want to bother with the scanner at all – except perhaps to rough in a quick overclock as a starting point. The main thing to remember if want as high an overclock as possible is to turn the voltage up to maximum, set the fan profile to "aggressive" or to 100%, and go from there.
You also need to remember that Pascal overclocking is highly temperature dependent. Keep your GPU cool and you will max out your overclock. Adding voltage is secondary – it only moves the limit up a bit – as the GPU's BIOS controls it automatically, and it is best used to stabilize a marginal overclock.
For many games in our benching suite, overclocking our GTX 1060 brought noticeable performance gains, sometimes making a practical difference with increased frame rates for fluid performance, especially in borderline situations at 2560×1440.
We have a lot of interesting upcoming evaluations planned for our readers. We plan to follow up this evaluation with one devoted to overclocking the RX 480 to its maximum in a similar fashion, and pitting it against the overclocked-to-the-max GTX 980 and the overclocked GTX 1060.
Happy gaming!