OTT, Crafty Strength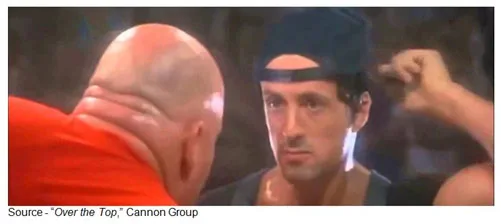 Exhibitors and attendees strolled into the IBC convention centre this year, flexing their muscles like you've never seen in past shows.
They spoke, listened, and pitched with unflinching bravado on how they were going to triumph in the upcoming battle for eyeballs but …
Yes, there's always a but at trade events; and with content coming from everywhere and trying to go somewhere to be seen by someone, there was a faint quiver in the voices of the 55,000 plus folks in Amsterdam.
Regarding the pace of the show, Dave Frederick, Quantum's Senior Director, Media & Entertainment, summed it up best, "Technological change is not just constant, it's constantly accelerating. And in the M&E industry right now, you can't afford to blink."
The challenge is they're individually going up against each other. In addition to coopeting (cooperating/competing), they're going up against the biggest, baddest competitor there is … 7B+ people on the planet.
During the Olympics in Rio, folks were loud and clear about what they wanted with NBC/Akamai streaming 3.3B minutes (2.71B live) to 100M unique users on their screens.
Oh, and keep in mind that only about 40 percent of the world population has Internet connection.
About the same percentage have smartphones and wireless connections.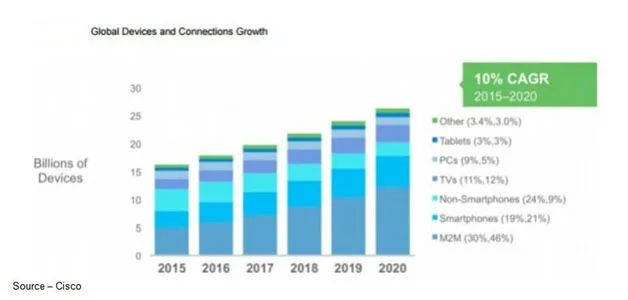 Obviously, there's a lot of untapped market.
Minor Challenges
The consumer wants to view his/her stuff in the highest quality possible, which means 4K HDR (High Dynamic Range). A growing number also hunger for 360 immersive video.
Right now, HDR comes in 10 flavors; and most of them will cost the content provider and screen provider a fair amount of change.
That content sucks up a significant amount of space on the pipe. Even the stuff they're sending to us today occupies about 70 percent of the internet traffic, according to Cisco.
I know my kid doesn't care but there has to be some space in the pipe so business can be conducted.
There is an answer though. It's the HEVC (High Efficiency Video Codec) H.265 that can free up 30+ percent of the bandwidth for the rest of us.
The problem is that there are a couple of different flavors MPEGLA and HEVC Advance costing 20 – 60 cents per unit. It doesn't sound like much; but at the end of the year, could be $10M or $65M divided between the patent holders in each group … and that isn't chump change.
From the discussions at IBC, I sorta' like the Turing codec demonstrated by the BBC (British Broadcasting Company) because it's open source so the price should be right.
But I'll let the content producers/distributors and screen providers battle that issue out because I know the price and content cost will be built into my device no matter how I vote.
Broadcasters Know
Allan McLennan, of the PADEM Group, said the studios, broadcasters and cable providers aren't blind to the shift to IP, OTT (over the top) and the fading of the slim to flat viewing bundles. Even though most people still consume their entertainment from a TV, they're rapidly becoming more aware of accessing that programming whenever, wherever it's convenient. For the industry, the point is that even though OTT currently only accounts for about 8 percent of the category, the other 92 percent is shifting rapidly — even one percentage point can make a huge difference.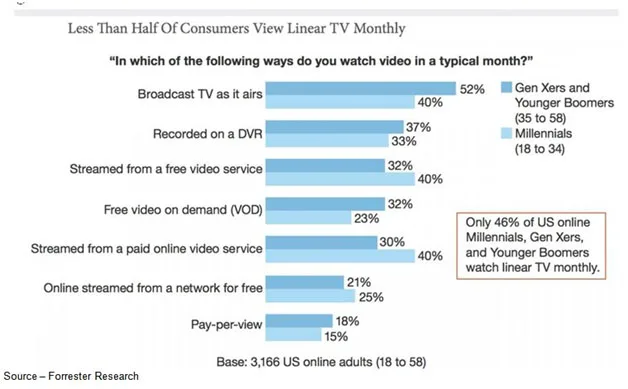 Getting the content from the source to the viewer is relatively easy (O.K., easy to say).
They simply take a page from Netflix, put their content up in the cloud and deploy 1,000 plus servers around the globe to deliver content to folks in the more than 130 countries they now serve and BAM! Folks can enjoy their content.
The traditional cable industry isn't blind to the fact that people are shedding their bundled solution to go OTT and that in the future, people may choose and pay for only what they want (single-show, single-channel).
But face it, the traditional MVPD (Multichannel Video Program Distributor) model has been around – and very profitable – for a long time.
Trading that for-sure revenue stream for something as fickle as individual user views isn't easy.
Studies show TV viewers regularly watch no more than 15-20 channels among a mid-level package of 150-200 channels. That's often because distributors/programmers write major program agreements for typically five years and they require good/bad programs/channels to be purchased as a group.
After all, producing these shows, movies and sporting events cost a lot of money; so if you have to take a few losers with the winners, it might be worth it.
Time Warner Cable chairman and CEO Rob Marcus noted that the cable industry should embrace over-the-top video, but added that at this stage of the game, the full cable bundle still appears to present the best value for the consumer.
My kid disagrees.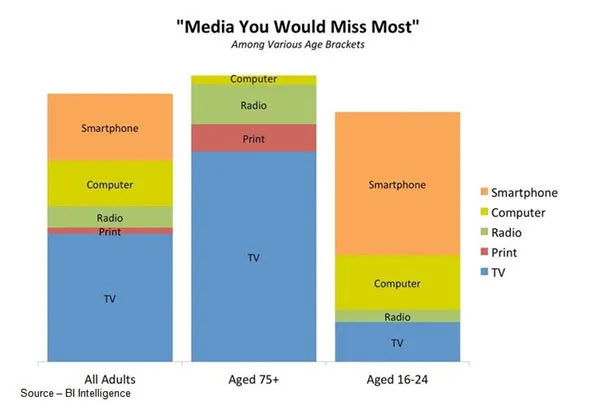 Defending traditional TV Marcus said, "As long as the playing field is even, and costs are comparable, I think we will be able to compete effectively. When they begin going direct (OTT) offering at lower prices, it's going to be negative for us but for the primary distribution channel for all of the providers."
However, PADEM's McLennan said that every cable/wired/wireless service provider and network, studio around the globe is planning for a shift to OTT.
He explained the major shift by noting that Gen Z people (born after Millennials) have grown up knowing their content and entertainment was available online (the true digital natives) and take it for granted that they can (or better) get it anytime, anywhere on any device.
Boomers and Millennials grew up with scheduled programs and quickly realized the convenience of timeshifting their shows but still, for the most part, watch their content on the big screen.
As smart TVs go into more and more homes, the cable service provider will most likely provide the last 100 feet of content connectivity to the home. Fortunately, they have the content delivery experience and teams to meet the consumer's needs as a reliable service provider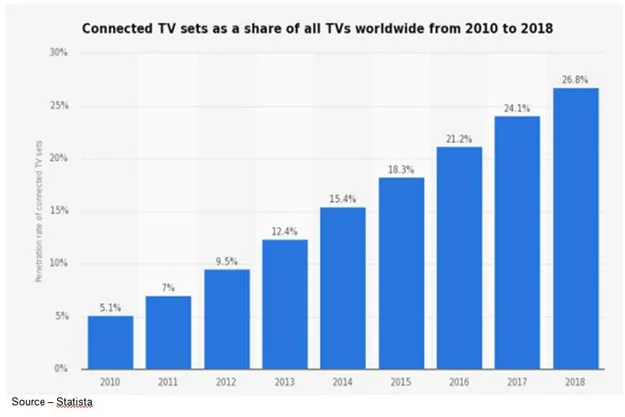 "It's true that they have been working to improve customer service," he said with a smile, "but they have gotten the message that knowing what their customers want and providing great customer service is ultra important to their subscribers. They are really focused on keeping customers. It isn't easy to turn a battleship but there are plenty of signs they're moving in the right direction.
"But speed is of the essence if they're to retain market share," he added.
It's not easy.
"Established" media folks are aggressively investing in this new audience of kids while building out and expanding their infrastructure services, but the kids don't mind slapping around the folks (as always) who are really working towards trying deliver these profitable activities.
Comcast invested in Cheddar, Times Warner dropped a bundle on Refinery 29, 21st Century Fox bought into Vice and Verizon invested its fair share. The newbies agree with Vice's Shane Smith who recently described media as a "private club, so closed that most young people feel disenfranchised."
You're welcome, Dude!
Both sides know they need each other because digital content delivery is becoming an accepted fact.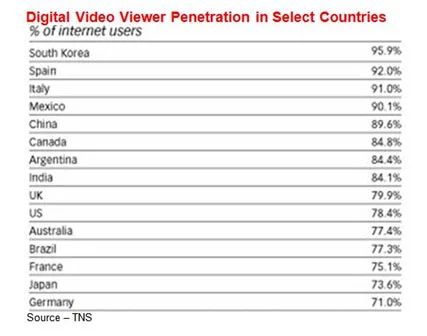 Cisco, Huawei, Ericsson and others were busy at IBC telling the worried content providers how they were helping their infrastructure partners build out their over and under networks to feed the hungry screens.
Networks and studios were taking a close, hard look at the TvAAS (TV as a service) offerings.
The challenge and opportunity is the media universe, like Neil DeGrasse Tyson's view of the cosmos, seems to be almost boundless and expanding.
TV everywhere viewing is growing rapidly but the consumer is still having difficulty in accessing the content and, according to Nielsen and Adobe, a lot of the blame can be laid at the feet of the cable and satellite folks.
It's a global challenge:
There were roughly 3.5B people using the Internet last year or 45 percent of the world population
About 5.2B folks own a mobile phone, or 73 percent of the global population
The Internet grew 8 percent last year while smartphone users grew 25 percent and consumer Internet use rose 21 percent
Video made up 70 percent of consumer Internet traffic and 55 percent of the mobile traffic
Consumers increasingly expect to get what they want when they want it – including video, according to KPCB's Mary Meeker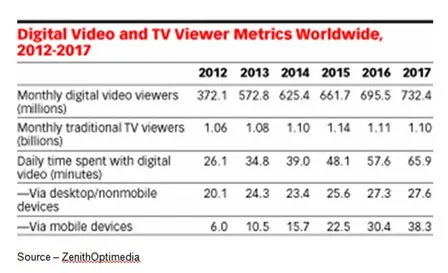 The move to on-demand service has happened more rapidly than many service providers and analysts expected McLennan noted.
"Yes, everyone expected live TV events like sports, concerts and news to be strong," he explained, "but what caught many by surprise was how quickly people moved to wanting it when it was convenient to them. M&E viewing is the third largest time commitment behind work and sleep."
Mobile anytime, anywhere presented an opportunity and challenge for everyone at IBC.
Cisco projects that global mobile data traffic:
Grew 74 percent last year
Will grow 8-fold from 2015 to 2020, with a CAGR of 53 percent
Will reach 30.6EB/m by 2020, up from 3.7EB/m last year
Will grow 3X faster than fixed IP traffic
Will be 16 percent of total traffic by 2020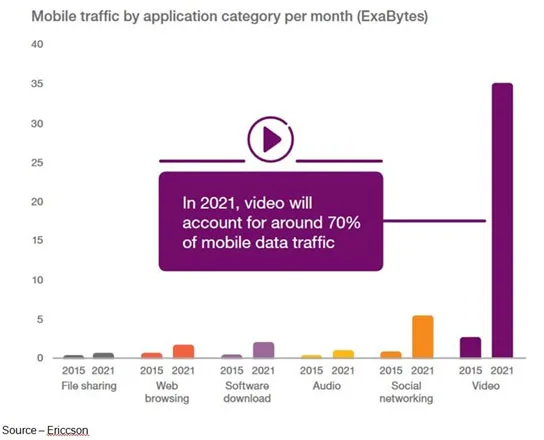 That's good news for the infrastructure/service providers but content owners/providers were more interested in the facts that:
Mobile video traffic will grow 11-fold from 2015 to 2020 (CARG of 62 percent)
Video will be 70 percent of global mobile data traffic in 2021, up from 55 percent last year
That should be good for everyone at IBC … well, except for a few facts:
265, which could reduce bandwidth consumption by 50 percent, is still in its infancy, suffering from turf wars and will be needed for 4K streaming
Carriers around the globe are only now in various stages of testing/deploying LTE (Long-Term Evolution) technology
The U.S. FCC (Federal Communications Commission) is struggling with spectrum allocation and net neutrality as other countries watch to see what the outcome will be before they wade into the mess
While service providers offered their answers to the challenges from Akamai, Ericssen and other CDNs (content delivery networks), they were all more than a little concerned about the big dogs that were born digital – Google's YouTube and Facebook.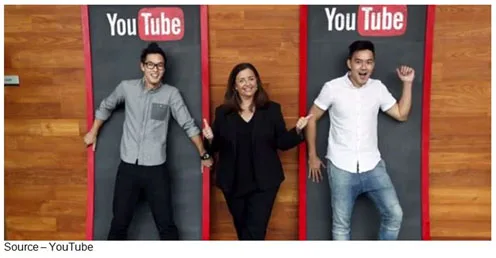 They've already forced the cost of advertising down and the price of traffic up. But they don't have the space all to themselves because folks like Snapshot and Verizon's AOL/Yahoo could be equally popular and profitable.
Healthy, profitable content providers like CNN have made significant progress in being both a television platform and moving forward with a strong­ and probably profitable digital OTT offering to serve established audiences and the new never-connected audience.
At IBC, the discussions were hot and heavy on how old-media (traditional) and the new fixed and mobile content delivery folks are going to dance with the new digital media firms and protect their turf from the coopetitors.
PADEM's McLennan believes the decisions and moves made over the next few years are going to tell the tale.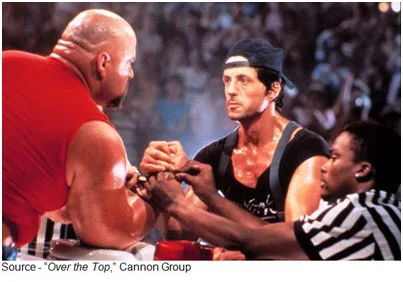 But as Lincoln Hawk said, "The world meets nobody halfway. When you want something, you gotta take it."
# # #