Too Much of the Cloud Could be Bad for You & Your Business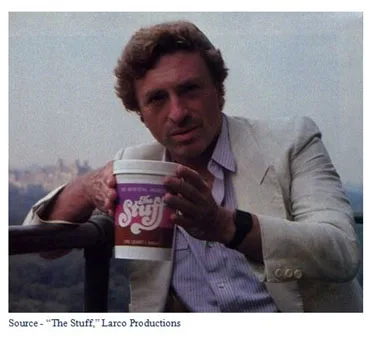 I'll bet when you were growing up someone told you:
Too much of a good thing is bad for you.
There's a sucker born every minute.
There's no such thing as a free lunch.
Someone had to!
So…what the **** happened?
Yeah, I know; the Internet, Web and the Cloud happened.
Suddenly, you had the power to talk/chew out/tell off people you've never met and were able to tell people how awesome you are by showing them what you're doing and telling your followers how great/bad things are going for you.
If that's not bad enough, your company is busy putting itself up there too because hey, it's cheap, it's easy, it's cheap.
As Jason's brother commented, "You eat it and eat as much of it as you can and you KEEP eating it!"
It's irresistible, which is certainly why cloud services hold over a quarter of the world's business data – personal medical, social media content; financial/corporate documents; business/government data.
The numbers are mind-boggling!
According to IDC, public cloud spending will hit $127B by 2018, growing six times faster than conventional tech over the period.
Gigaom Research reports that 53 percent of large enterprises are either already leveraging public cloud resources for enterprise big data or are planning to.
Only 13 percent of respondents say they would only use private data centers.
The numbers for cloud services and big data are staggering.
Cloud people love talking about all of the super fantastic productivity savings:
$300 billion a year for the US healthcare industry
$250 billion for the European public sector
A 60 percent potential increase in retailers' operating margins
$600 billion in economic surplus for services enabled by personal-location data
Savings under every rock, behind every tree
Half of the world's 7.7B people will be online looking for places to store their stuff–more than 8.6ZB worth. That's equal to streaming all the movies (about 500,000) and TV shows (3M) ever made over a streaming service like UltraFlix in UHD (ultra-high def) 250,000 times.
And by 2020 the volume of stuff will almost double.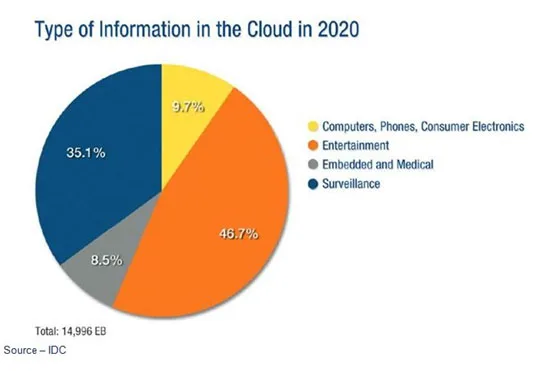 Heavy Clouds – Nothing sounds more pure and clean as the Cloud when it comes to storing everyone's content – company, government, individual. With selfies, personal/private videos, event action and movies, storage and streaming will strain clouds and our infrastructure. And naturally they are watching as well. And you want to put all of your stuff there?
To meet the demand, IDC Senior VP Frank Gens suggests the number of new cloud-based solutions will increase 10x, even though all of those offering the solutions will also be running hell-bent to be the best/cheapest one around.
But Mo Rutherford said, "I run a high-tech operation. I don't go in for things like that."
Battle to the Bottom
The folks who can best afford to play the cheaper card are Amazon, Google, Apple, Microsoft, Facebook and Alibaba.
They're not only the biggest clouds around but they have the most personal/company data they can recycle, reprocess, sell/resell.
Of course, there are only a couple of problems with this rosy picture:
The services (iNet and Web) can't handle that workload 24×7
Certain people can't resist all of that data that's up there
Hackers are always two steps ahead of security folks
Mobile Storage – Storage in the cloud is the best way to share information, presentations, materials and documents. Of course, when the cloud data center goes offline for a few hours or days, you're wishing you had your own file copy.
Last year, Akamai and Cisco estimated that 109 countries met the single advanced application criteria for a fixed network and 52 met the intermediate single application readiness criteria for mobile networks.
The leading countries with fixed network performance are Hong Kong, Japan, Korea, Luxembourg, the Netherlands, Romania, Singapore, Sweden, Switzerland and Taiwan.
Countries with the leading mobile network performance in 2014 are Australia, Belgium, China, Denmark, Korea, Luxembourg, New Zealand, Oman, Qatar and Uruguay.
The rest?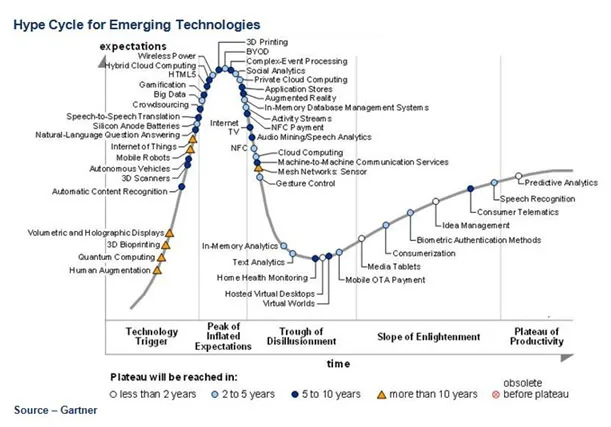 New Excitement – First, we have wild promises, wild coverage, wild hope with new technologies; and all of the media/early adopters know it will conquer the world. Then warts start to show up and it loses its luster. Individuals and businesses may find out that maybe cloud storage isn't the answer to all their needs.
You have to wonder if clouds ever look down and say, "Hey, that person, that company is shaped like an idiot!"
A BT study covering 11 countries reported that more than three-quarters of IT decision-makers are "extremely anxious" about security using cloud-based services.
Yes But…
Still, 70 percent of enterprise executives are adopting cloud storage/web apps.
Ordinary folks (you and I) are just as hot for storing our stuff in the cloud.
Harris Interactive found that 39 percent of U.S. iNet users use the cloud, saying it "improved the lives of Americans who work." They said it was easier to share files, they didn't have to worry about backing up data and made their lives more "fun."
You know, sharing photos, ready access to music/videos.
It was so good, so much fun that Juniper Research estimated that 3.6 B folks would be using it by 2018.
But there's one little problem. You have to watch where you step in the cloud.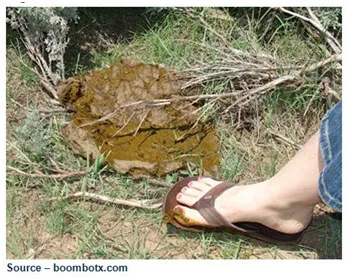 Squish – You may want to watch where you step when you entrust all of your family/personal photos, videos, important documents and private/privileged information to the Cloud. If you read the Cloud storage agreement, it may not be as safe, secure and available as you think.
It is oh so tempting to hackers, whackers and cyberthieves; and there isn't a privacy, security expert around that says they can keep up with the creatively sneaky little SOBs!
Freebies
It's hard to keep up–especially when we ordinary folks are so gullible, naive, lazy. (O.K., not you but the guys/gals over there? Yeah!).
As Mo Rutherford said, "No one is as dumb as I appear to be."
The Ponemon Institute found that cybercrime was up this year by 10.4 percent which included:
Stealing intellectual property
Confiscating online bank accounts
Creating and distributing viruses on other computers
Posting confidential/private personal business information on the internet
Disrupting a country's critical national infrastructure
The problem is the iNet was never built for security but for information exchange. Then people found out they could do other neat stuff like shopping, sharing, posting, tweeting and selfiing.
Our family does some of that but all the really good, important, private stuff is on personal clouds (drives we carry with us) and the home cloud (a big 20TB drive behind a couple of firewalls on our server).

Smaller Target – Rather than entrust my information, content, data to someone's big cloud that includes material put there by 10s of thousands of folks, I prefer compact portable personal storage and backup as well as home storage that is encrypted and behind firewalls. It's just a smaller target and a lot more work for minimal return for hackers/cyberthieves.
And everyone in the family knows safe/sane iNet practices.
That's important because as the Center for Strategic and International Studies reported, global cybercrime will rack up $575B this year; and with our income, we just can't afford to feed them.
Way Too Good
If you can't or don't want to either, here are a few hints:
Don't let individuals or sites con you into giving up private/personal information such as confirming the last four digits of your social security number.
Don't believe that even legitimate companies you trust will send you an email requesting financial information. Don't worry if it's real they'll get back to you.
If you receive an announcement or visit a site that has poor spelling and grammar (in your native tongue) forget it. Legitimate businesses you want to deal with are more professional.
If they tell you to pay by wire transfer or the person needs to get money out of the country or is dying of an incurable disease and wants to unload guilt money forget it.
If Dr Oz wants to give you a hint on how to lose weight effortlessly or someone wants to help you empty your intestines, they only want to empty your wallet.
Change your "rugged" password more often than on New Year's Day.
Constantly check for OS/app updates (patches) and keep your security/malware software up-to-date and use it.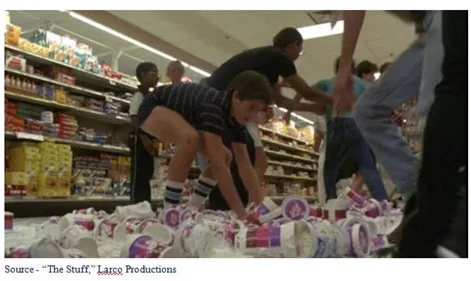 Of course, you don't have to do all this. You can simply keep surfing, viewing, posting, eating all you can but sure as hell it won't be long and you'll understand what 'Chocolate Chip' Charlie W. Hobbs meant when he said, " What you gonna find out, man, in a town that has just dried up and blown away, man? Must be a side effect of eatin' too much dessert. An urge to migrate."
# # #