Millennial Moms Are More Than Just Sales Targets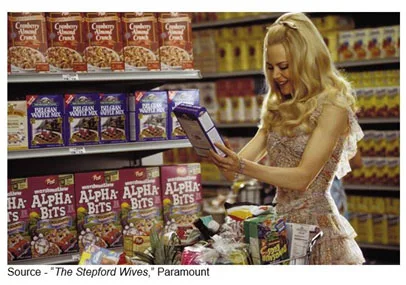 Mixed in among the really important stuff like drones, smartphones, laptops, entertainment systems, VR headsets, cars; CES has got to be the biggest congregation of tech toys you'll find– except maybe the Hong Kong Toy Fair.
I'd love to buy a lot of it for my kid so I could enjoy it.
Then, there's the stuff hyped for the Millennial mom and kid.
I wonder how in heck we raised two reasonably normal kids.
We had them, took them home without an instruction/operator's manual and fumbled through the process of raising them, faking most of it; and damn …. they survived!
However, today, in our increasingly connected world; there's a barrage of new technology being added to tried and true solutions that seems to say, "This will ensure you can maintain your busy professional/home lifestyle and raise a happier, more advanced child that is ready to face the challenges of the world he or she will inherit."

Times have changed and Millennial moms obviously must need certain things like:
Pregnancy monitor on the stomach (my wife hollered at me)
Milking machine
A $1,100 bed to keep the little tyke happy
Diaper devices that tell you the kid has done something normal
Tablet-mounted stationary trike so the kid can experience new trails
Spy cameras to track him/her in their room
Legos that let the kid practice programming early (now that I think is cool in our digital world)
Toys that talk to them and feed family info back to somebody's cloud
Other really expensive stuff we couldn't afford when we started our family.
Even though GjK reported that less than nine percent of baby products sold last year were "tech," parenting blog, The Bump, found 76 percent of moms consider technology an important feature they look for so, who am I to knock it?
Millennials are now the biggest target segment for marketers; and well, kids have kids.
Of the 80 million Millennials in the U.S., one-quarter are parents. Or, put a different way, 83 percent of new moms are Millennials, so the market is rather large.
Most of them are the household CFO (chief financial officer), which means they have tremendous spending power ($200B). So, she's rather important to you; whether you're selling stuff for the kid, for the home or just about anything that you market to families.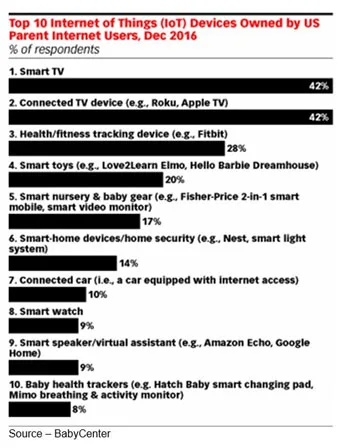 They're a lot like their (your) mom with traditional values and lifestyles. They're ambitious/determined and take pride in handling all aspects of their lives including raising kids, managing the household, building a career and maintaining awareness about the world around them.
Understanding Her
But, according to Carat research, they're also different.
Sixty-seven percent are multicultural (half Hispanic, most bilingual), four in 10 are single parents, often live in multi-generational households and are the main wage earners for the kids.
As powerful as they are with their influence, more than a quarter of them told researchers at Fluent that they seldom or never received marketing messages specifically directed to women.
Whether they receive a gender-specific or neutral message (or are in the market for something), they check online customer reviews and browse products online before heading to the store.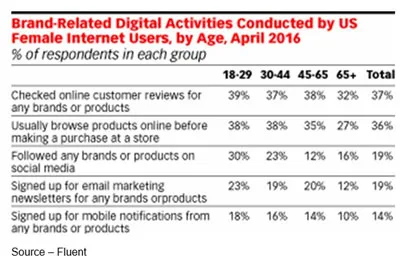 They are somewhat more likely to follow brands on social media and sign up for email marketing news than their moms.
Regardless of their income, BabyCenter found that 66 percent are tightfisted in their spending so a smart stroller with headlights, phone charger, distance monitoring and similar "features" might not be high on their gotta' buy lists.
To maximize their budget, they constantly go online for their research and, according to Edison Research, eight in 10 use their smartphones continuously. Research Now found that they use the phone in-store and outside and that most (75.2 percent) search for the best possible price.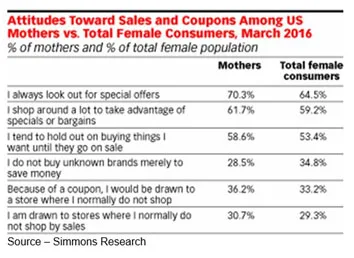 Six in 10 download mobile coupons, while seven in 10 "always look for special offers or hold off buying until they are on sale."
However, even in lower-income households, they don't simply snap up the cheapest product because they're concerned it might be a dud. So, they shop intelligently and thoroughly doing plenty of research before they buy something.
So, they're very tech savvy!
According to a recent Nielsen report, while working mothers have the most access to these devices and platforms, stay-at-home mothers have more of a penchant for them.
There are 25.1 million females in the U.S. who are between the ages of 18 and 49 and have one or more child under the age of 12. Almost three quarters of them are in the work force.
The one issue I have with most of the Millennial mom research is that they divide the group into working moms and stay-at-home moms. Seriously? I think they both work!
I sure wouldn't want the job!
But I'll use the industry's breakdown so the percentage of working moms increases with age: About 71 percent of moms 18-34 are working, whereas 77 percent of moms 35-49 are working.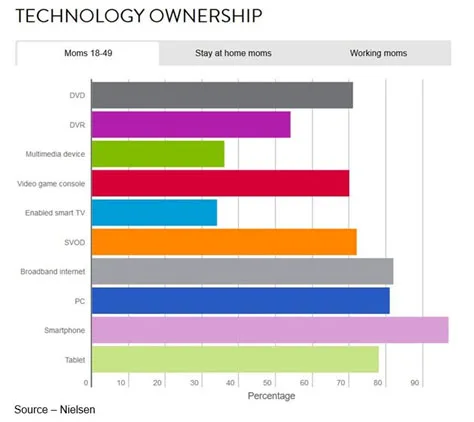 Mothers who work outside the home tend to use their devices more than stay-at-home moms. Working mothers also tend to be more affluent and highly educated, and are therefore more likely to live in high-tech homes.
Compared with stay-at-home mothers, working moms are more likely to own technology across the multimedia board. This includes 98, 80, and 74 percent for smartphones, tablets and subscription video-on-demand (SVOD) respectively.
Stay-at-home moms use their technology and consume content differently.
While they may have fewer devices, stay-at-home mothers use them for longer periods than working moms.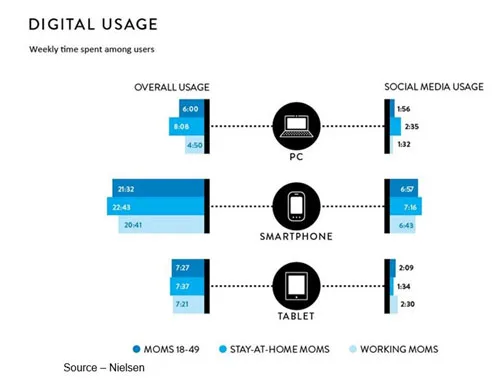 Obviously, out-of-home working moms do more non-live TV viewing using DVRs and SVOD services. But both feel these options are more of a convenience than a necessity.
Stay-at-home moms tend to also use their PCs, smartphones and tablets more than those who work outside the home.
They want the best for their kids – everyone wants things better for their kids than they had – but I'm not certain she's getting a fair shake in the deal.
According to the APA (American Psychological Association), Millennials are more stressed than earlier generations and women even more so.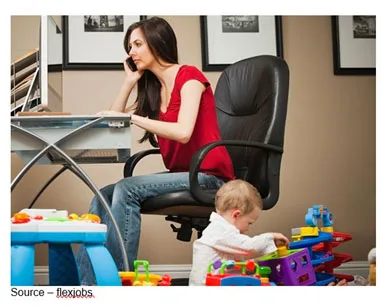 They juggle work, family, money, bills and now the industry lays on the unsaid concern that they aren't giving their kids technology fast enough so they can be prepared for their future.
They have a higher overall stress level than their partner or parents, especially when it comes to money.
The gender stress gap is most notable in recent years, when women reported their stress at 5.5 and men at 5.3. A couple of years ago, those numbers were much farther apart, at 5.2 and 4.5, respectively, and men's stress was going down at a faster rate.
Throw kids into the equation and the problem becomes even worse.
Beyond the Sale
The challenge seems to be that company and organization management still fails to appreciate and address the issues as well as their importance and contributions in business of business.
In today's work-life economy, businesses have a difficult time adjusting their support to women who want to grow, exceed in their careers and then go to their second job of household management, child care and stuff.
Even Sheryl Sandberg, of Facebook and Lean In, has said balancing family and job isn't easy.
Unfortunately, most marketers (guys) view them as sales targets rather than understanding the whole woman and appealing to her wants/needs:
Being a Millennial mom is a tough, challenging, complex job. In our increasingly complex, dangerous always-on world; they want to be both free but have peace of mind.
They're constantly bombarded with new studies/facts on nutrition, education, physical fitness and work guidelines; and every one of them swears to gawd they are the definitive answer rather than "you're doing a good job and we'll help you along the way."
According to the Connell Partners' Millennial Mom Project, two in five feel the pressure of having their life and family all together and use social media as an outlet to share problems, issues and imperfections. That's why ads show Millennial women come in different shapes/sizes; and leaving a project early to catch a kid's game is a good thing
Growing up, they were constantly told they were an individual/original; but at work and at home, they're expected to fit a pre-conceived mold.
Perhaps before we start viewing Millennial moms as sales targets we should view them as productive members of the global community, which means equal treatment–including pay.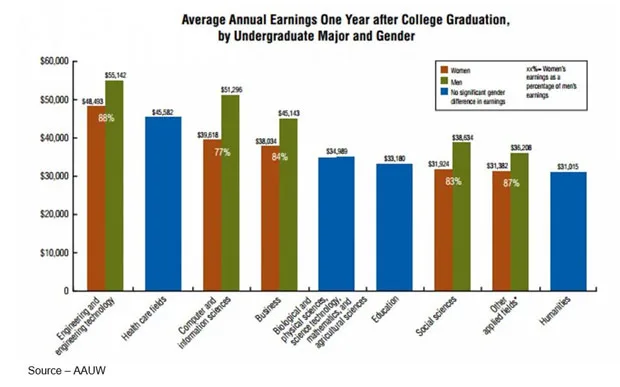 That seems to be a slow process. The Lean In Organization reported last year that women will achieve pay equality in 100 years … that's like a bunch of generations!
Women not only get less pay (overall) than their male counterparts in most positions, it turns out that having a child could be a poor career move, according to a recent report by the American Sociological Review.
Motherhood Penalty
The journal's study aptly called it a "motherhood penalty" of four percent per child. And if she happens to be a highly-skilled, highly-paid employee; that penalty climbs to 10 percent per child.
As if that weren't bad enough, according to the Center for Work-Life policy, these prime marketing targets often drop out of the working environment entirely after a few years because they don't get adequate maternity leave. Note: the U.S. is the only country in the developed world that doesn't offer government-mandated paid maternity leave.
They also depart the workforce because they don't have enough flexibility in dealing with their dual home/work careers.
Damn!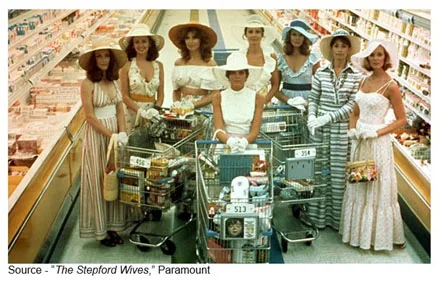 Of course, the obvious answer is to get the Stepford gals to help them. You know as Bobbie Markowitz noted, "And you're selfish! You wanna rule the world! I can fix you. I can change you."
Or, instead of just viewing them as marketing targets, we could think of them as part of the team that keeps businesses working.
# # #