The Content Industry is in the Midst of Dynamic, Dramatic Change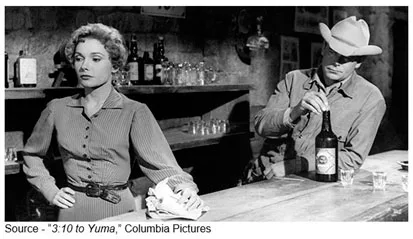 People who think of M&E as more than a job, but a career care … a lot.
They have to look at, talk to companies and people at IBC and the SMPTE (Society of Motion Picture and Television Engineers) Conference that can enable them to make stuff happen.
Allen & Co's media and tech conference in mile-high Sun Valley also gets a lot of attention because only the bosses of the bosses were invited (about 200) to participate in the TED-like conference of the most powerful of the powerful.
In the past, it was where the big media/tech deals were made or; as Warren Buffet is said to have called it, "ABWA – acquisition by walking around."
About the only deal whispered about this year was the unsecret merger of Viacom and CBS; but Shari Redstone, vice chair of the two, was there to get information, not give it.
During the past five years, the traditional media business has come to realize that rather than fighting the global muscle and reach of the FAANG group (Facebook, Apple, Amazon, Netflix and Google) they need to understand where they are focusing their time/attention and how they can leverage IP (both intellectual property and internet protocol).
Referring to the FAANG influence, a media executive noted, "They have the most compelling platforms. They can take content everywhere in the world at one time in any language."
Liberty Media's John Malone, who has a history of being a disruptor with stints in cable, satellite and again cable; said the global platforms are forcing the industry to change.
"They're forcing old-school entertainment companies to adapt their businesses in huge ways," he said. "We were the disruptors in our youth and they're the disruptors now. We have to figure out how to position ourselves to adapt to a changing world that they're changing."
That will be difficult for those that already have a heavy acquisition debt.
Along the way, there are going to be a lot of costly missteps because building out a stable global distribution solution isn't as easy as it sounds–especially if one of your main businesses means you have to build out your 5G infrastructure which requires you install cells/antennas as close as 500 feet apart to ensure quality streaming.
And no one knows how many content services the market can support.
Will people sign up for three services? Five? Fifteen?
Of course, Malone may have been practicing some ABWA at the conclave because Univision's problems have increased since he walked away last time. He seems to thrive on disruption.
The one thing that everyone at the Allen & Co. escape agreed on and was a central discussion at IBC is that there is still a lot of headroom for content streaming.
And from our perspective, there's a helluva' lot of room for every member of the filmmaker team – scripted/unscripted and every genre.
We all know it's the Wild West and not everyone will survive.
Survival depends on having reliable delivery solutions to the various screens, fresh original content that resonates with people around the globe and having a volume of solid content in their library.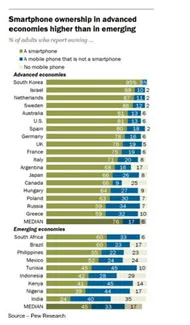 TV producers like to promote the idea that the big screen is the solution.
Mobile people (service and devices) are emphatic that the smartphone will be the viewing device of choice in a few years and everything else is irrelevant.
The cold, hard fact is the consumer doesn't give a rat's behind on how big or small the screen is.
They want instant availability of their content whether it is on the 1.4B home screens, 3.7B smartphone screens in people's hands or a seamless mix–including visits to the theater.
While traditional TV is under pressure from cord-cutters and cord-nevers, providers can:
Focus on becoming an outstanding service provider which will be more profitable (fewer truck rolls) and consistent (minimal customer churn)
Addressing the cost issue (47 percent of respondents) by offering skinny and customized bundles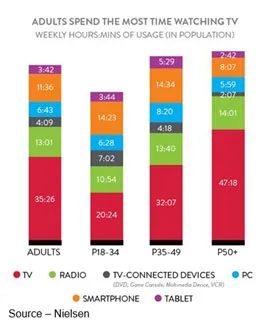 Streaming – primarily SVOD, AVOD – continues to grow with everyone targeting Netflix with 74 percent of subscribers using their service.
According to Ampere Analysis, US SVOD subscriptions have resumed with international subscriptions showing strong opportunities and growth in almost every country with the exception of Japan and the Netherlands which have been slow to take off.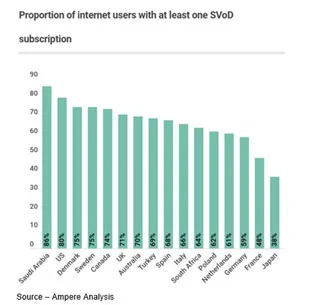 As you would expect, the younger crowd is driving the subscription trend, except in Saudi Arabia where it's the over-45 folks.
The streaming veterans (Netflix, Amazon and Hulu) are presently maintaining their leadership positions with CBS All Access on track with its subscription growth while still having a strong presence in the traditional TV arena.
While there are a myriad of excellent regional streaming services that have global aspirations, all eyes on Disney+ and Apple which will be rolling out internationally including Europe and the Asia-Pacific during the next two years.
Disney will be reserving its family fare for Disney+ and moving "less than family fare" content (think Deadpool franchise) to Hulu.
Apple, which as usual is shrouded in mystery, will undoubtedly stay true to its squeaky-clean and prestige entertainment, perhaps as free to Apple users and paid content through other services.
Telco's AT&T made it clear they wanted to get as much of the content consumables market as possible by dropping $85B for Warner Media. Most of the attention will be given to their HBO Max which has a rich content library but will have to invest – as will all of the streaming services – in a steady stream of new and original content.
And these services only scratch the surface of the rapidly changing entertainment landscape which includes the streaming giants, network aggregators, virtual MVPDs (multichannel video programming distributor) and emerging D2C (direct-to-consumer) platforms.
D2C is developing quickly as studios have moved from becoming content providers to the streaming services to being both a supplier and a competitor. They not only want the hearts/eyeballs of the consumer but are increasingly competing for properties and a full spectrum of talent.
Now that Netflix has shed the heavy payments to Warner and Disney for Friends and The Office (it's called spin), they have more money to spend on fresh original content based on the hints their analytics system tell them are pretty good story lines that people like to view and binge.
More importantly they've shown they aren't shy about betting big for tentpoles (stuff that has people buzzing) as well as a constantly refreshed line-up. And don't forget that their home-grown library is growing rapidly and will look new in 10 plus years for the next generation.
Amazon, which keeps adding a mixed assortment of content; and Hulu, that has always focused on quality over quantity will now have available many of Disney's recently acquired property as well as a parent that knows quality when it sees it.
These are just the global leaders. There are also the country and regional service providers in the EU, Middle East, Africa, APAC (Asia-Pacific) that either dominate or are a respectable number two/three at home and looking to expand.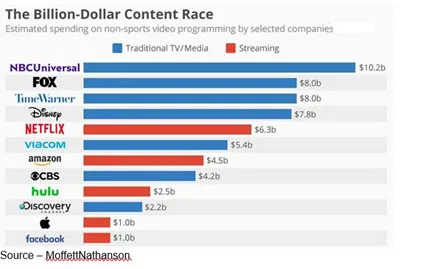 While many in the content industry tend to overlook the digital players like Facebook, YouTube and Snapchat, they are investing their ad revenues in content for a generation that has grown up with them as the first thing they turned to every morning.
As Ampere Analysis concluded, we're on the leading edge of a content production boom across all sectors that shows opportunities for large and small Indies, show runners/producers and everyone, everywhere in the content production/ownership arena.
And with the need for every delivery service to add content in every genre, demand won't end anytime soon.
Boston Consulting Group estimates that the content market is worth $30B and growing.
Guy Bisson, of Ampere Analysis noted, "The growth in scripted content is the most obvious stand-out feature of the new production landscape, with some 500 new dramas airing each year in the US alone."
The scale of skills needed for all of the shows has increased dramatically over the past few years and continues to intensify.
While the big budget stuff grabs the headlines lower risk; less expensive and quicker-to-produce projects (scripted and unscripted) will be produced/delivered in every country.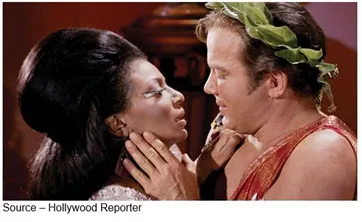 There will be opportunities for experimental projects as well as kid, documentaries, reality, series, sci-fi and comedy efforts as well as those services that will bring back revivals like Beverly Hills 90210, Will & Grace and…others.
Regardless of the service, more attention will be placed on the value of the intellectual property.
Because of the ability to quickly and effectively reach a global market, streamers will be more interested in holding onto the intellectual property regardless of how many times and how many platforms the content is run.
Depending upon the project and the service, relationships may include co-production, deficit funding, tax breaks and the work-for-hire model.
It will ultimately boil down to the best production deal for each project and the depth of relationship with the content delivery services and their production partners.
The good news is there are a lot of fresh, new and different opportunities for folks in the content development/production arena. The not-so-good news is the business has quickly gotten much more complex with changes in viewing habits, rights deals and budgets.
And while bosses enjoy the thin air discussions at Allen & Co. events, the working teams attend IBC and SMPTE to figure out how to create, produce and deliver content the consumers expect to see on their screens.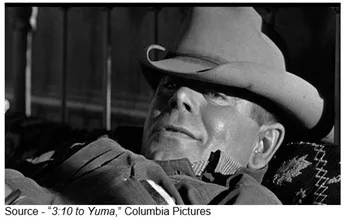 The potential is great and so are the challenges and expectations.
The boss knows all too well what Dan Evans meant when he said, "Lots of things happen where all you can do is stand by and watch."
# # #