Kingston Technology Company, Inc., the independent world leader in memory products, just announced its forthcoming 4GB and 8GB ValueRAM® 2133MHz DDR4 ECC SO-DIMMs have received Intel validation. The memory modules are validated for use on the upcoming Intel® Xeon® D-1500 Processor Family (formerly Broadwell-DE). A link to the validation page can be found here.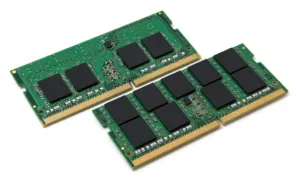 The Xeon D-1500 SoC (System on Chip) Processor family is designed for microservers, networking and storage systems. Kingston's DDR4 ECC SO-DIMMs offer the low power and high performance needed to support high-density systems as companies seek powerful, yet more energy- and space-efficient solutions that serve specific data center needs. The soon-to-be released DDR4 ECC SO-DIMMs will join previous Kingston DDR3 ECC SO-DIMMs that began shipping in mid-2013 for x86 and ARM-based processors and SoC designs.
Kingston ValueRAM is backed by a lifetime warranty, free technical support and legendary Kingston reliability. For more information visitwww.kingston.com.
Kingston DDR4 ECC SO-DIMMs
Part Number
Capacity and Features
KVR21SE15S8/4
4GB DDR4-2133 ECC SODIMM 1Rx8 1.2V
KVR21SE15D8/8
8GB DDR4-2133 ECC SODIMM 2Rx8 1.2V
Kingston can be found on:
YouTube: http://www.youtube.com/kingstontechmemory
Facebook: http://www.facebook.com/kingstontechnology
Twitter: https://twitter.com/KingstonTech
LinkedIn: http://www.linkedin.com/company/164609?trk=tyah
Google+: https://plus.google.com/u/0/+kingston/posts
BabelTechReviews has just upgraded to Windows 8.1, 4K benching, and expects to upgrade our benching platform including to hopefully using Kingston DDR4, later this year. We use a constantly updated 30-game benchmarking suite and run the latest hardware much as an enthusiast PC gamer would.