We recently got hands on with an engineering sample of PowerColor's Devil Box which will officially launch on October 20. The Devil Box is primarily designed for gamers who want a powerful graphics card that can easily be used with their notebook or NUC for desktop-class graphics performance.
We were not able to test the Devil Box' performance over Thunderbolt 3 as our desktop's motherboard requires a BIOS update to support an external GPU, and at this moment in time only the Razer Blade (2016) and Dell XPS 13 (2016) notebooks and the Intel NUC NUC6i7KYK kit support it. However, we do have photos and impressions of this external graphics adapter that we would like to share with BTR's readers.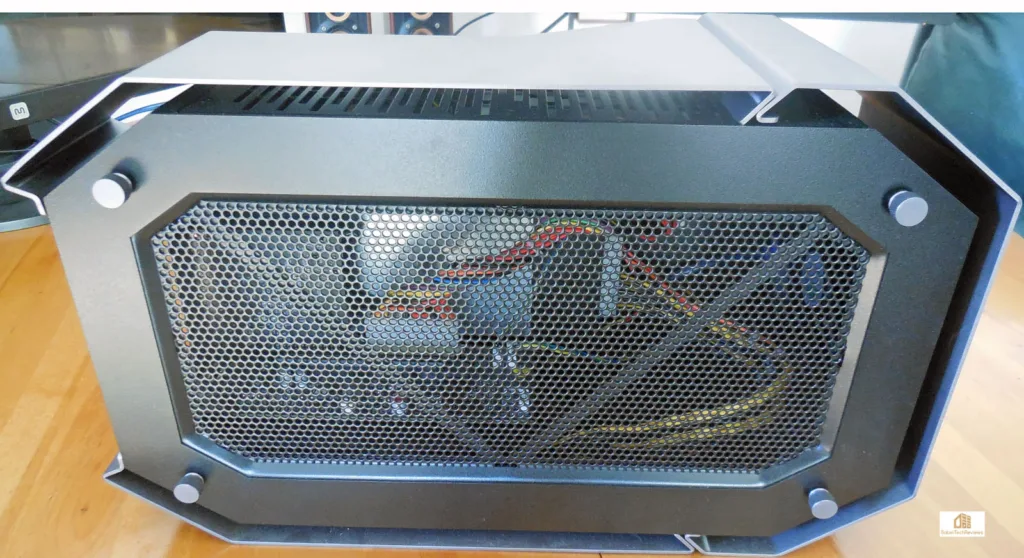 First of all, the Devil Box is large and the engineering sample is quite heavy, weighing probably more than 15 pounds. Our sample does not have a handle and may look a little different from what is finally released. It measures approximately 15.75 x 6.75 x 9.5 inches. PowerColor's name is in large white letters on the other side.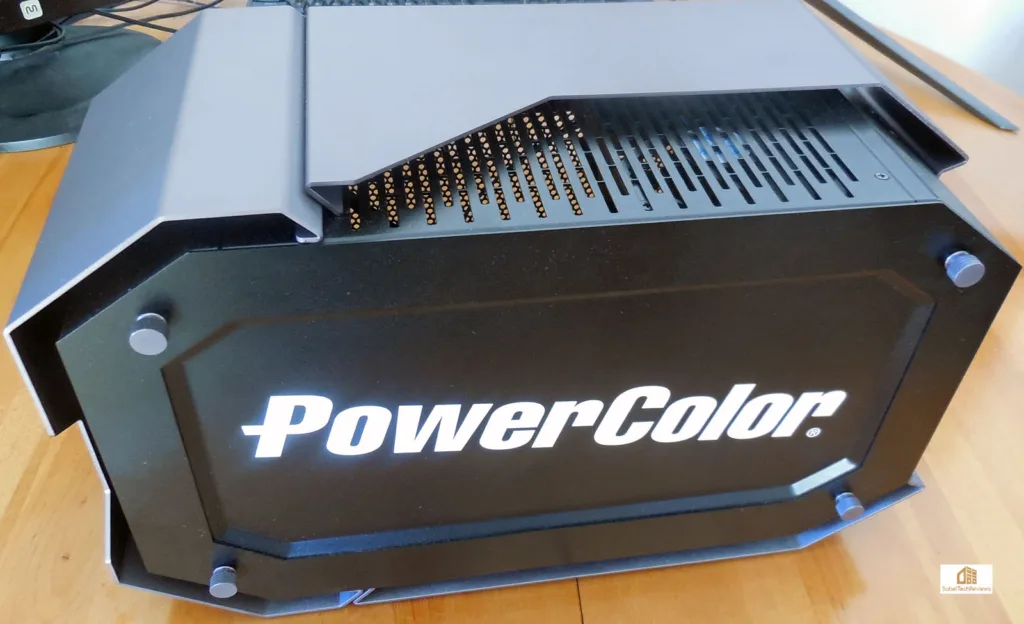 Devil is featured on the front and there is a USB 3.1 Type C port available: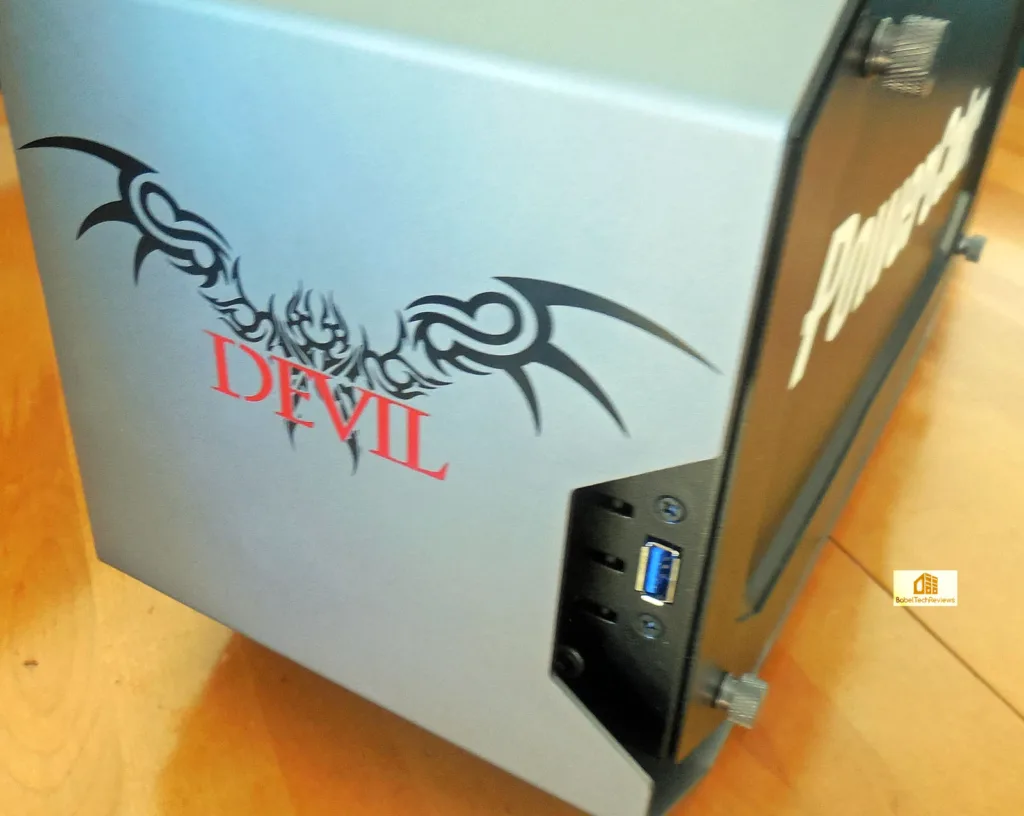 The back of the Devil Box features 3 USB 3.0 ports, a SATA connection for an additional 2.5″ HDD or SSD, a LAN connection, and a 40GB/s Thunderbolt 3 connector. There is an off/on switch, and an intake fan together with the power cord connector also on the rear panel.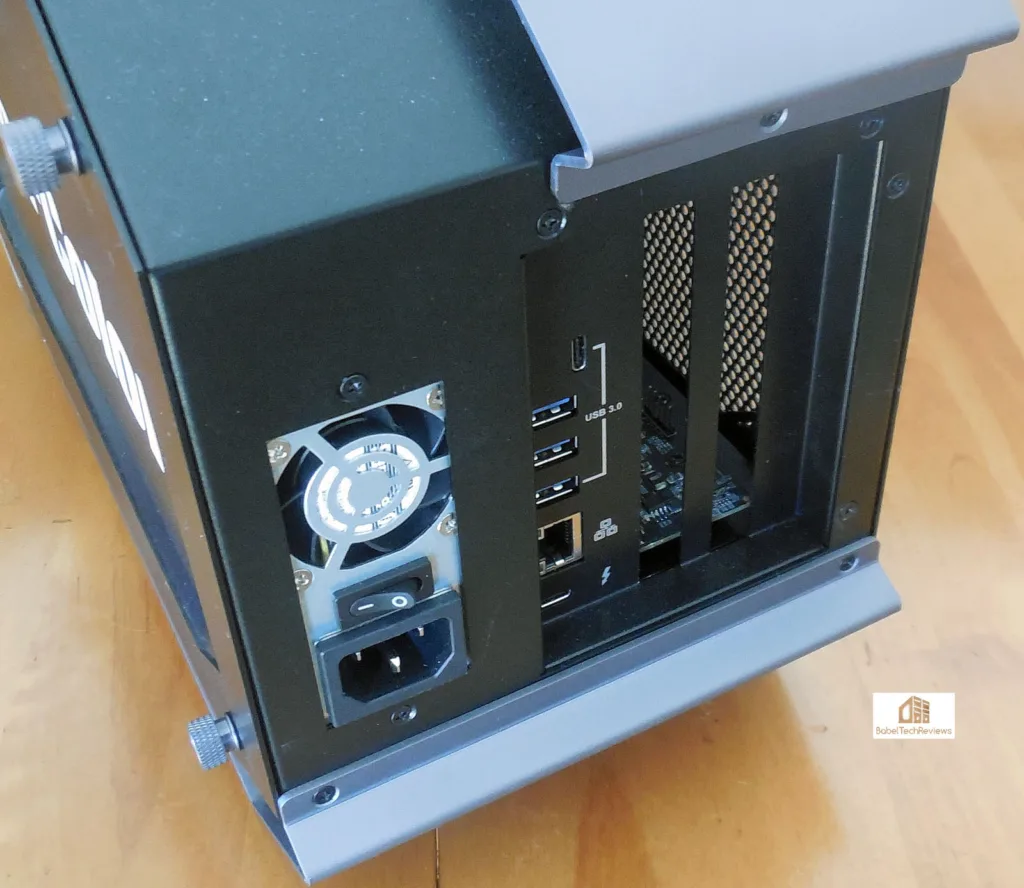 Taking off the front grille, we see a PCIe riser slot for the video card and connections to its mini-motherboard.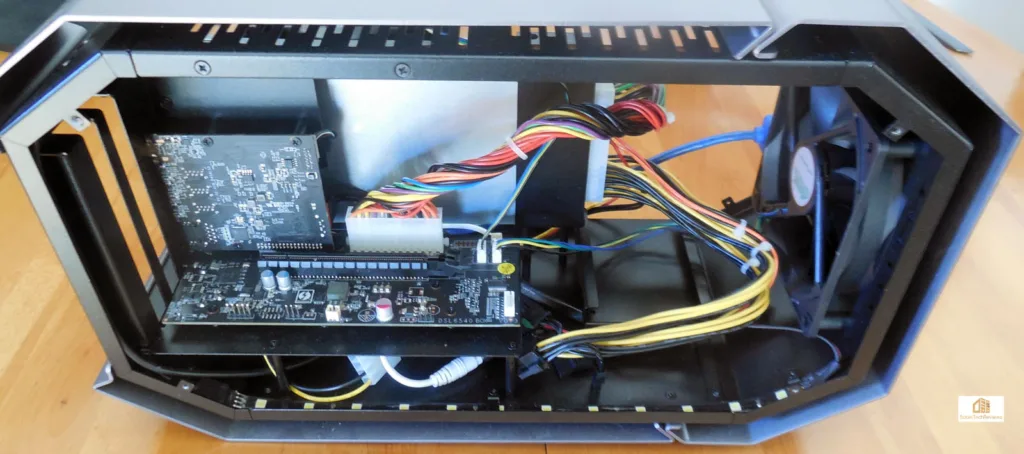 Removing the back cover reveals a Seasonic 500W slim design PSU that is often used in mini-ITX cases. 125W of the PSU is dedicated to powering the Devil Box electronics which leaves 375W for powering a video card.
Of course, we wanted to install some video cards into it to see how they would fit. First up, we tried a midrange card, the Red Devil RX 470.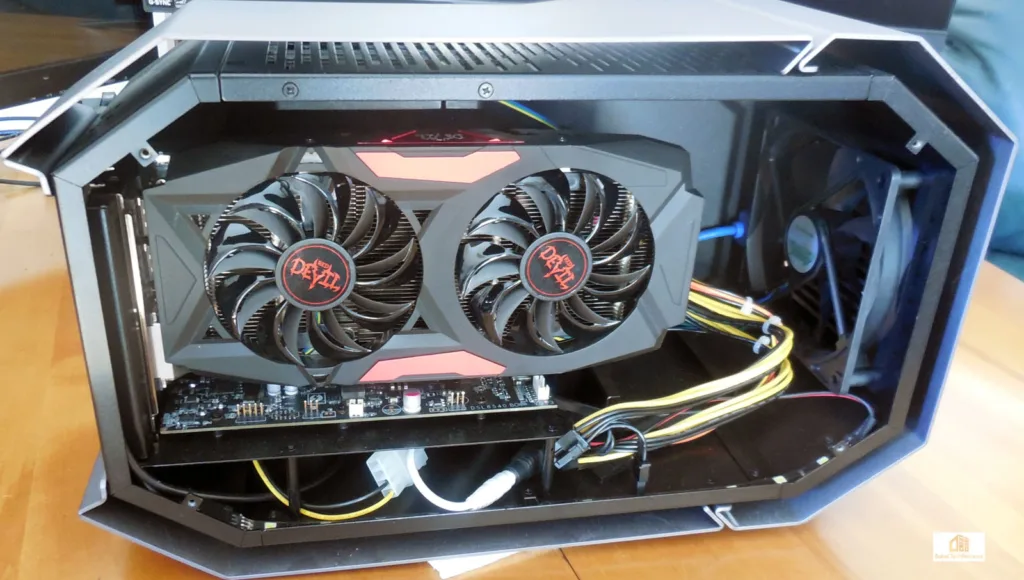 The Devil Box is supposed to fit much larger cards so we tried the last generation reference 290X.
There are two 8-pin PCIe cables to feed the card and they are best plugged into the card before it is installed into the PCIe slot as there is very little room inside the Devil Box to easily plug in the power connectors after the card is installed.
It is also very difficult to lock down the card as there is very little room to get your fingers inside the box with a thumbscrew, and it is impossible to use a screwdriver. The reference 290X is about the longest card that will fit. The Devil Box will allow a video card that up to 12.2″ in length, so a 295X2 is too long and also too power hungry. Video cards more than 5.5″ inches wide are also a no go, and they must be less than 2″ in thickness which will preclude using some of PowerColor's own 390X or Fury designs. The Fury X card itself would fit, but the radiator would have to hang outside the case with the grille open as there is no support for AIO liquid cooling, making its use extremely unlikely.
Even though the Devil Box is based on AMD's XConnect technology, it will accept Nvidia cards including the TITAN X. This technology allows Radeon graphics cards to be plugged into supported notebooks while it is still operating, but the system will need to be shut down before installing a GeForce card.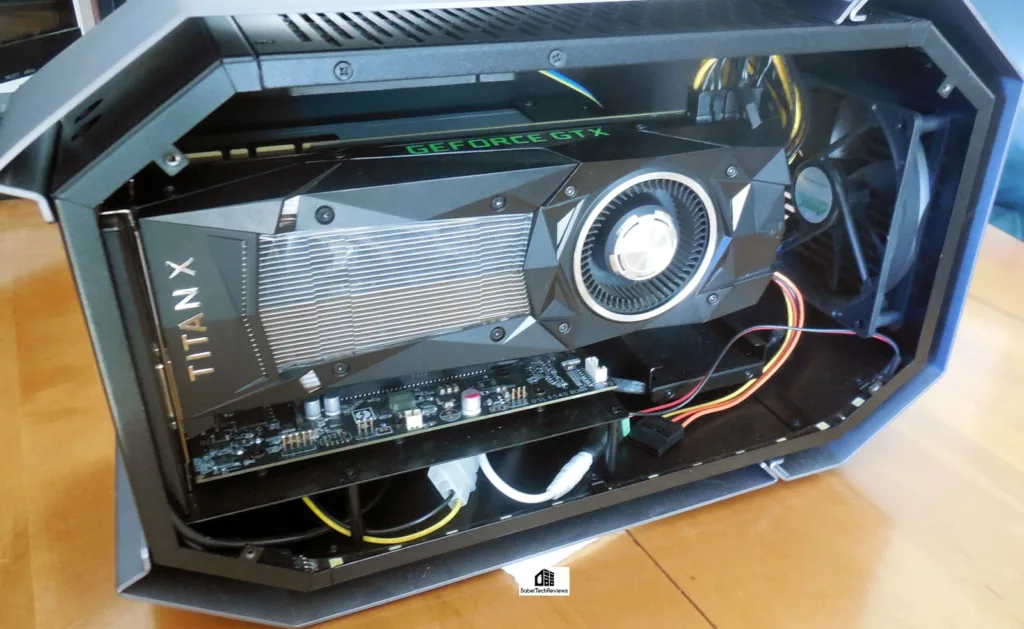 The video card can finally be displayed properly and we wish that the grille was clear acrylic plastic with holes instead of metal mesh.
The Devil Box is well ventilated with an exhaust fan on top to remove the hot air. You can mount a 2.5″ SSD or HDD inside also on the bottom in the slot provided.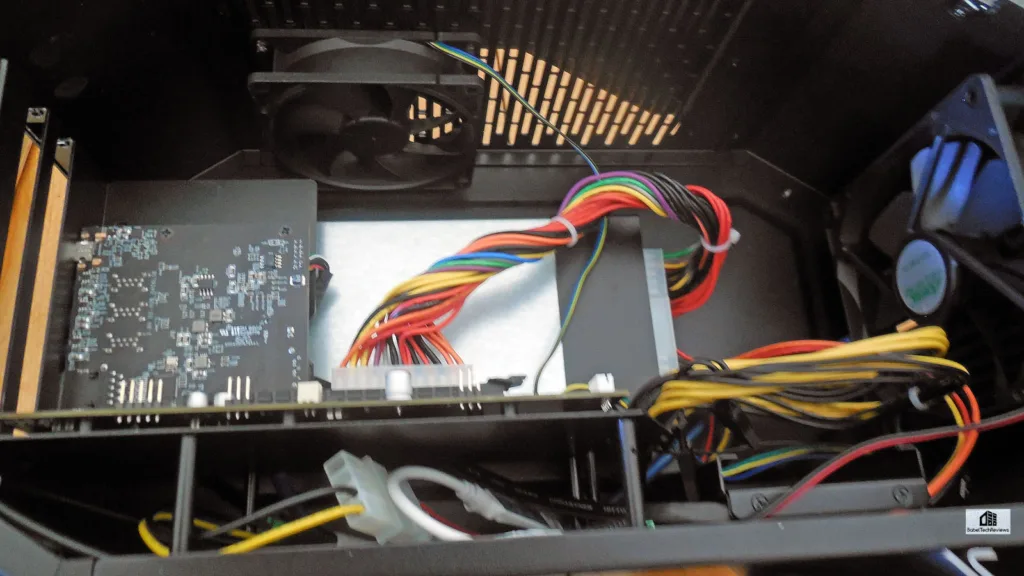 Here is another view looking down on the Devil box from above.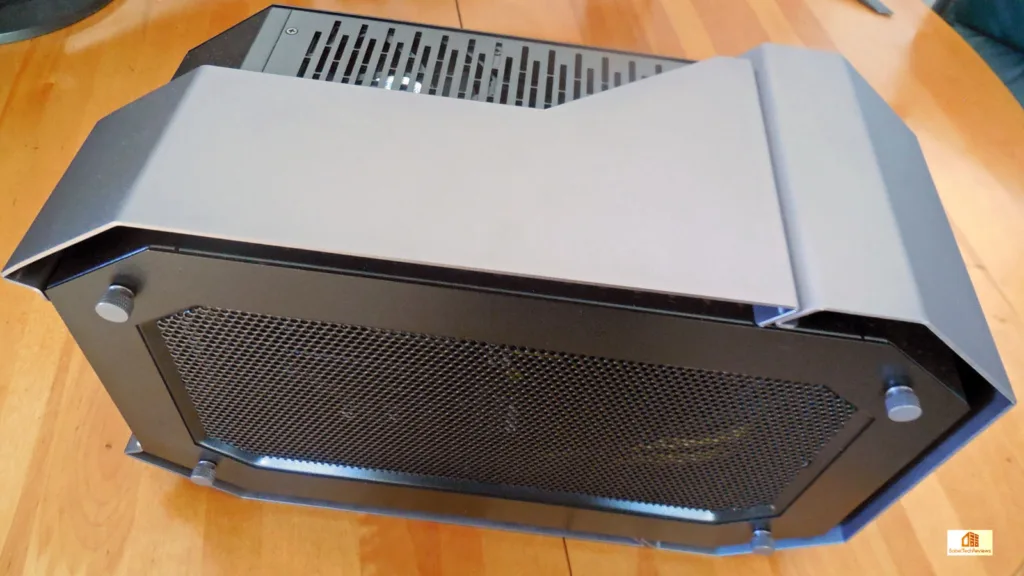 The Devil Box will light up using its own RGB LED lighting when it is plugged in, and it looks good sitting next to your notebook.
The Specifications
Here are the specifications as detailed on PowerColor's site: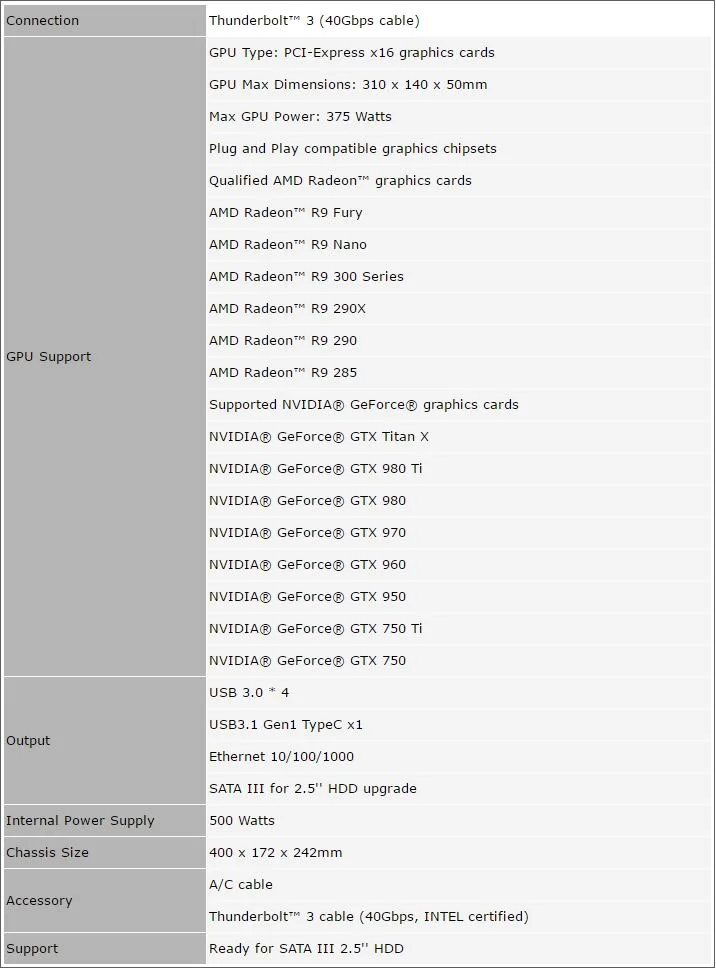 What we think
We think that the Devil Box is a very interesting concept. We have seen AMD teasing external adapters for notebooks since 2010, but only with Thunderbolt 3 has it become a reality that a notebook gamer can actually use this technology effectively. PowerColor suggests that it may be useful with Intel's mini NUC PCs, but it doesn't make a lot of sense to us that someone would buy a tiny PC and pair it with a large box that dwarfs it. In this case, it would be more practical to just use a mini-ITX system in our opinion.
The most likely target buyer of the Devil box will have a powerful and thin ultrabook for portability who doesn't want the heavy weight that comes with a gaming notebook. Although Pascal gaming notebooks are as powerful as their desktop equivalents, they are also quite expensive and the GPU is generally not upgradeable.
The Devil Box is designed by PowerColor so that you only need to buy only one PC to get the portability of an ultralight notebook but still have the ability to get powerful desktop graphics at home. Until recently, a gamer either had to buy a relatively large and heavy notebook to carry around or they had to buy a desktop for gaming and a ultralight notebook for work or school. Now the only requirement for high end gaming requires that you have one notebook with a powerful CPU to use with the Devil Box. Pairing a TITAN X and a weak CPU, for example, would really hold back its graphics performance.
We still have no word on pricing from PowerColor but we will update you when it is released on October 20.
Happy Gaming!