HyperX released the HyperX Cloud Stinger gaming headset last month. It is a comfortable and inexpensive headset widely available for under $50 which is designed primarily for gamers.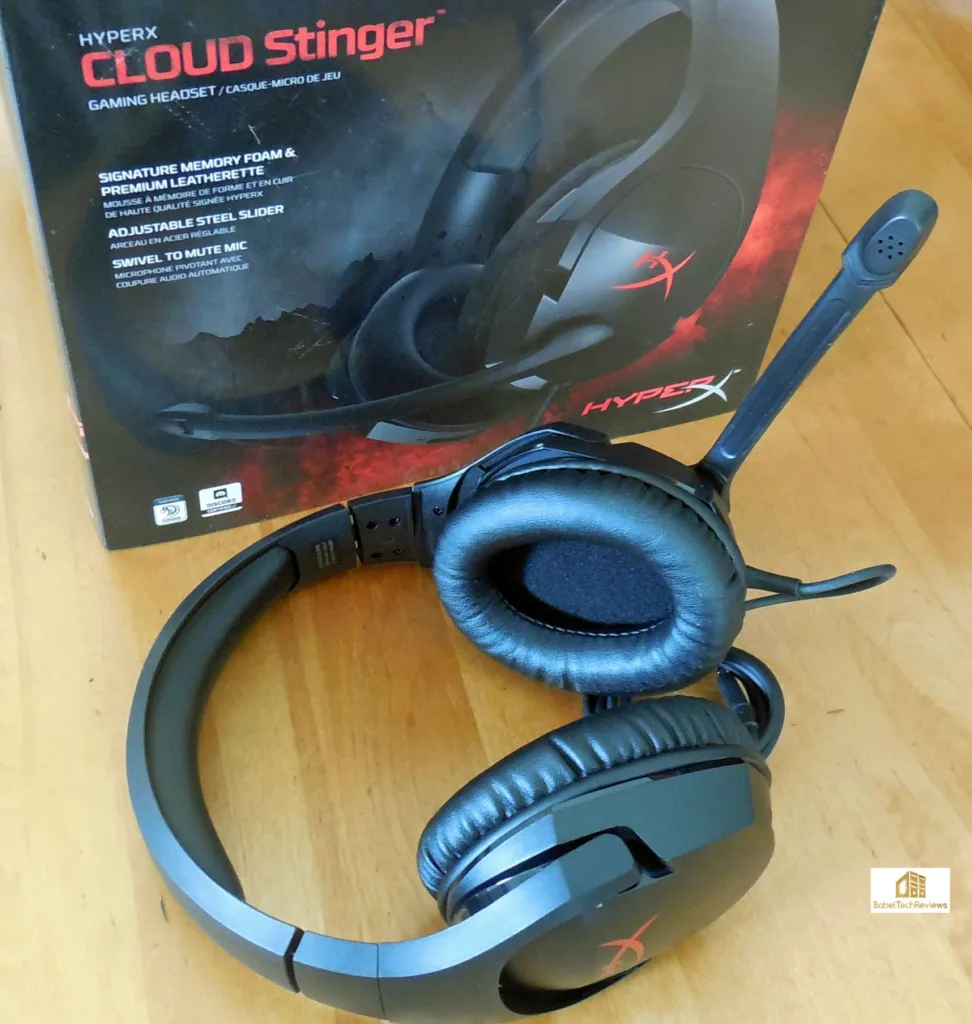 We received a evaluation sample from HyperX and have been using the Cloud Stinger for music listening as well as to completely play through the single player campaigns of Battlefield 1, Titanfall 2, Call of Duty Infinite Warfare, and The Vanishing of Ethan Carter. Using these games, we have compared the Stinger with the original HyperX Cloud headset and with Grado's SR60e headphones.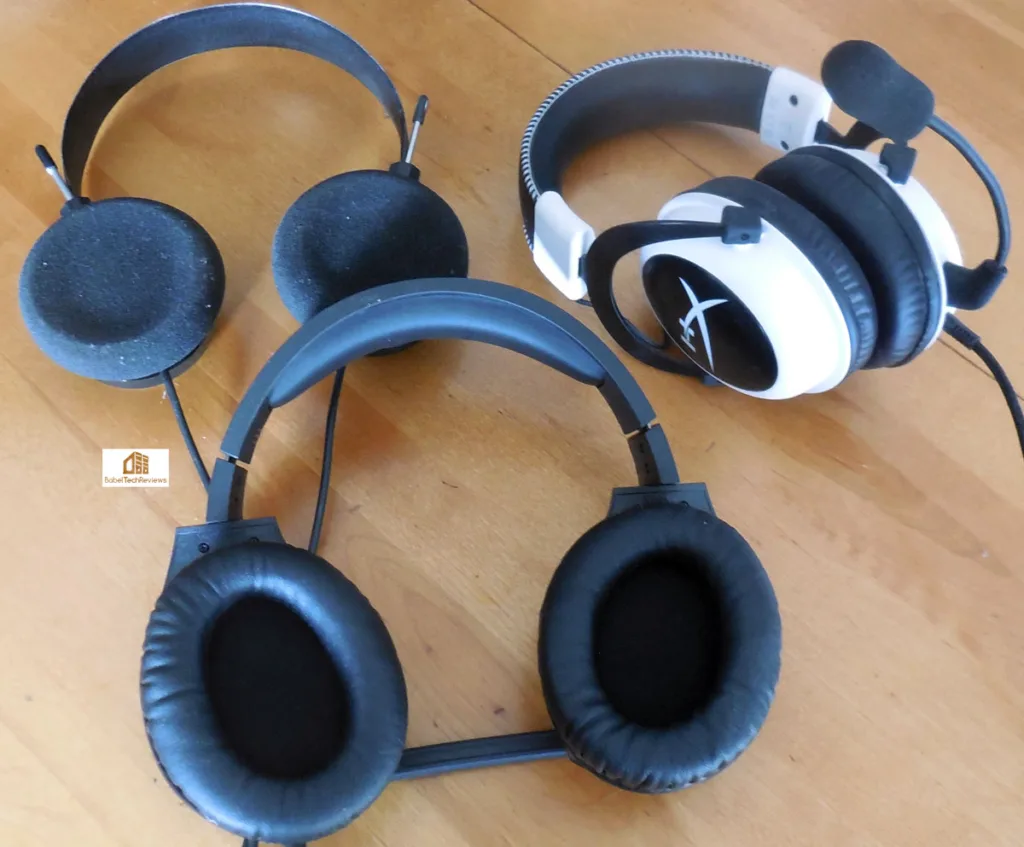 The HyperX Cloud Stinger is a closed design headset which features HyperX comfortable memory foam and 50mm directional drivers to deliver high-quality gaming sound for under $50. At this price, there isn't a lot of choice for gamers as this price tends to bring either comfort or decent sound, but generally not both. HyperX has addressed this lack of choice by attempting to bring a similar high quality gaming experience of their more expensive HyperX Cloud flagship into an entry-level gaming headset. Did they succeed?
The Grado SR60e is a $79 entry-level audiophile open design headphone which is designed primarily for accurate or critical listening to music. The original HyperX Cloud is a much more expensive headset from 2014 which is still available and priced at Newegg for $79 which we recommended to BTR readers last year. The original Cloud uses more expensive parts than the Cloud Stinger – harder more scratch resistant plastic, more metal parts, a detachable mic boom, braided wires, and a slightly larger and more full-range speaker. The original Cloud boasts a frequency response of 15Hz-25,000KHz whereas the Stinger claims 18Hz-23,000KHz. We will try to pinpoint the differences in the practical sound quality between the Cloud and the Stinger when used for gaming.
One thing a gamer may notice is that the Stinger is slightly louder at the same levels since its speakers are more efficient than the ones used in the Cloud. This is actually a plus for using a mobile device or a motherboard's integrated audio as most competitive gamers do. The Stinger is analog, so we tested using our ASRock Z7170 motherboard's Realtech audio and integrated headphone jack.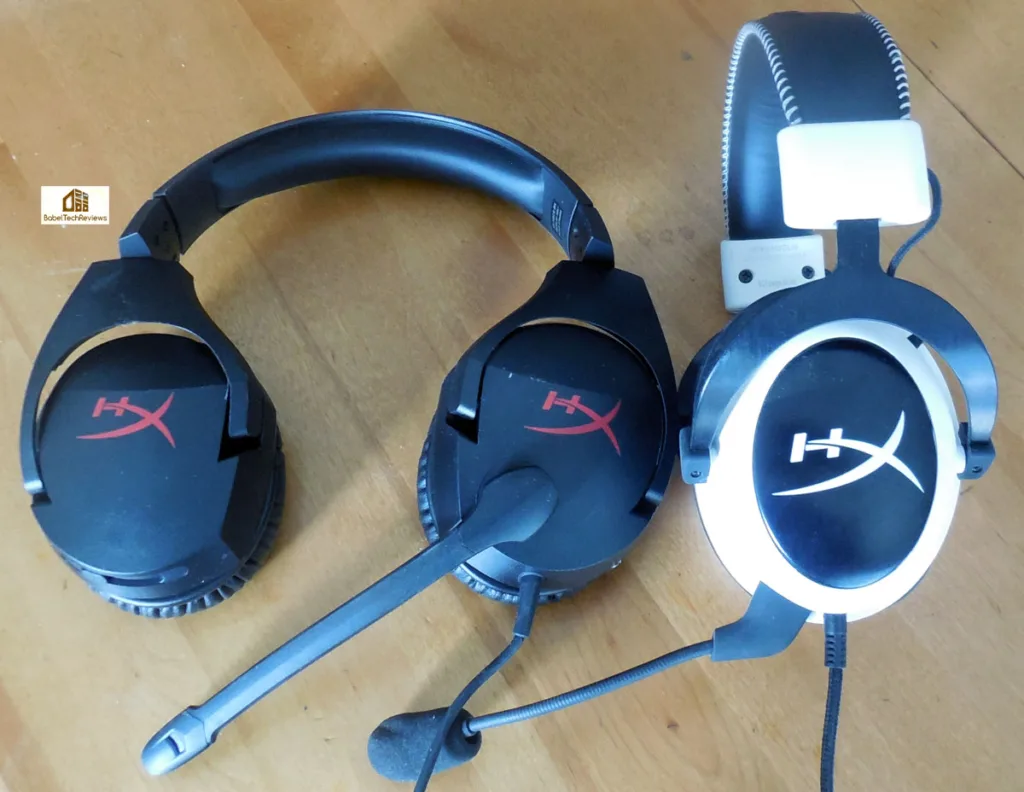 The Cloud Stinger weighing in at just over a pound (275 grams) is actually almost 3 ounces lighter than the Cloud (at 320 grams). The Stinger is built with 90-degree rotating ear cups which can lie flat for travel which is a plus over the older Cloud whose large ear cups cannot lie flat. The Stinger uses 50mm directional drivers compared to the Cloud's 53mm, but both are positioned to result in a broader soundstage providing more accurate in-game sound.
The HyperX Cloud Stinger also offers a convenient set of features for gameplay, including a swivel to mute the microphone by flipping the boom up, and an adjustable steel ear cup slider for long lasting durability. In addition, there is a convenient volume control on the headset's right ear cup.
With decent audio performance and sound quality, the HyperX Cloud Stinger enables positional audio to help gamers gain a spatial sense advantage across any gaming platform. The HyperX Cloud Stinger has compatibility with the PC, the Xbox One, the PS4, the Wii U, and with other mobile devices.
From the HyperX website:
HyperX Cloud Stinger Key Features:
Lightweight Design – Minimal weight for enhanced comfort
Audio Precision – Optimal audio performance and sound quality
Adjustable Steel Slider – Long lasting durability and stability; high-quality build
Volume Control – Easily accessible volume slider to adjust audio on the headset
Noise-Cancellation Microphone – Clear voice quality; conveniently flip the microphone to mute
Multi-Platform Compatibility – Enjoy comfort and enhanced audio experience on PC or console; plug into a mobile device and wear the headset on the go
Additional HyperX Cloud Stinger Specifications:
Headphone
Driver: Dynamic, 50mm with neodymium magnets
Type: Circumaural; closed back
Frequency response: 18Hz-23,000Hz
Impedance: 30 Ω
Sound pressure level: 102 ± 3dBSPL/mW at 1kHz
T.H.D: ≦ 2%
Input power: Rated 30mW, Maximum 500mW
Weight: 275g
Cable length and type: Headset (1.3m) + Extension Y-cable(1.7m)
Connection: Headset – 3.5mm plug (4 pole) + extension cable – 3.5mm stereo and mic plugs
Microphone
Element: Electret condenser microphone
Polar pattern: Uni-directional, Noise-canceling
Frequency response: 50Hz~18,000Hz
Sensitivity: -40 dBV (0dB=1V/Pa,1kHz)
The Stinger is powered by the audio jack for PC and Mac to amplify audio and voice, as well as stereo compatible for PS4 and Xbox One. It has a 1.3m cable to provide stereo input and an extension cable that is 1.7m long with dual 3.5mm stereo and microphone plugs.
For the HyperX Cloud and the Cloud Stinger, the ear cups and headband are 100-percent memory foam to provide maximum comfort when gaming for hours. The Cloud Stinger is backed by a two-year warranty and by HyperX reliability.
We have used the original HyperX Cloud headset as headphones – thanks to its easily detachable mic boom – for many months. This has included traveling with them, and especially for long waits at dentist and doctors offices. If we used the Grado's open design instead, we would irritate those around us. It is not a large exaggeration to state that the Cloud headset's closed design has saved our sanity when benching 290X CrossFire with the reference fans running at 100% for many hours. We have also given the Stinger a thorough comparison through many hours of gaming to see how it compares with the original Cloud which has been our go-to gaming headset.
One thing that is important to realize is that both the HyperX Cloud Stinger and the original Cloud are gaming headsets and not audiophile headphones. They serve a different more all-around purpose than headphones as they are primarily designed for online gaming, each with a microphone boom so you can coordinate with your team or just chat. The HyperX Cloud and the Cloud Stinger are designed to be extraordinarily comfortable for long hours of LAN or online gaming.
The HyperX Stinger, although not as impressive looking as the original Cloud, looks good and better than most generic plastic-looking headsets in the under-$50 price range. However, it is important that a headset sound decent – one does not expect audiophile quality for $50, nor should one expect thundering bass and shimmering transient highs.
Headsets are a great way to experience both music and gaming. Well-built headsets tend to last a long time and one should buy one that is not only pleasing to the ears, but to the eyes. Comfort is also critical for anyone who listens to music or who plays games for more than a few minutes.
The closed-design Hyper X Cloud Stinger – like the original Cloud – excels in comfort as its headband and ear cups are well-padded and do not pressure the head or ears. The open design Grado SR-60e are also very comfortable but they tend to annoy anyone around the listener as the sound leaks out. It also means that the Grados need to be used in a quiet room – unlike the Cloud or Cloud Stinger which can be worn in a noisy LAN situation.
However, what about the sound of the Cloud Stinger compared with the more expensive Cloud and with Grado headphones? Head to the next page as we unbox and audition them.
Specifications, Features & Important Information
The HyperX Cloud Stinger is available in black, and it has a modern design which delivers a clear and balanced sound for gaming or for music.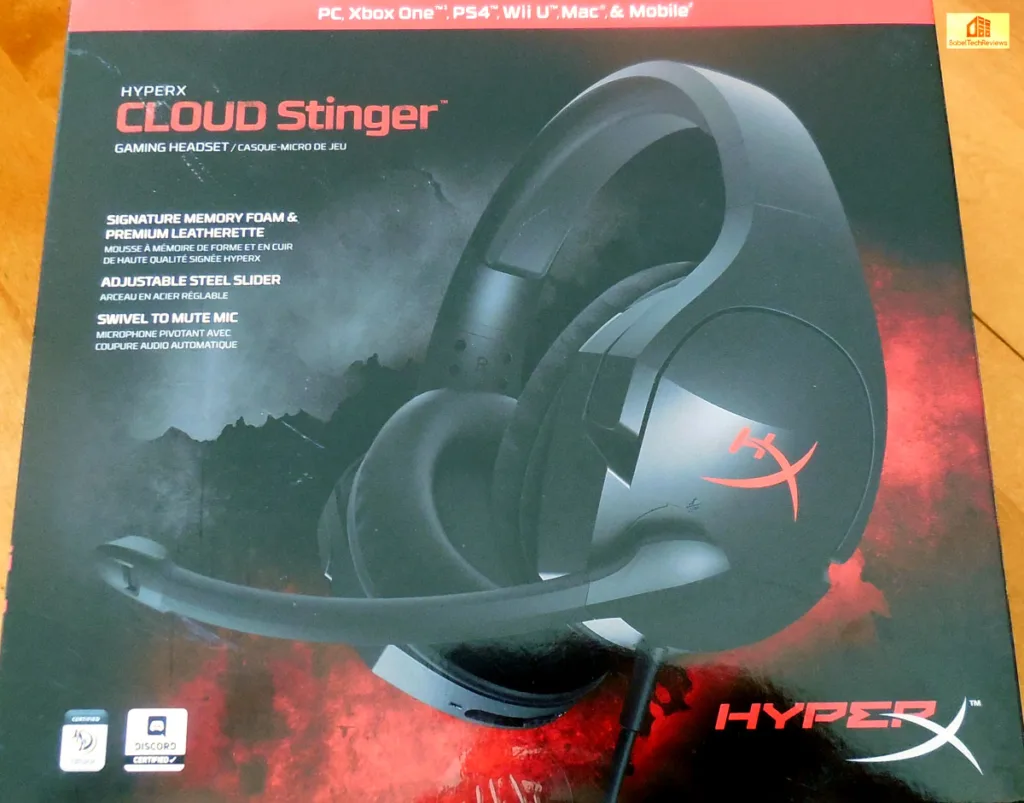 Above is pictured the HyperX Cloud Stinger box. On the box, the signature memory foam, adjustable headset, and swivel boom mic are emphasized. Its multi-platform capability is featured along with its certifications.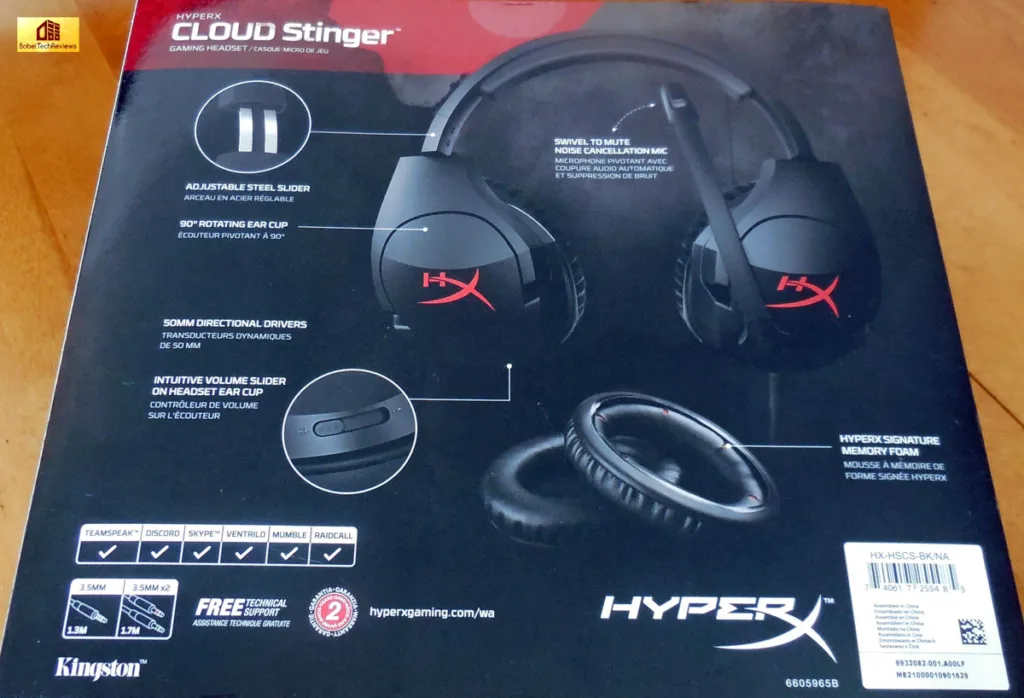 Pictured above is the other side of the HyperX Cloud Stinger box which gives more of the headset's features including rotating ear cups and a volume slider. The 50mm high-performance speaker driver units claim to cover the full-spectrum of sound from 18Hz to 23KHz. This is in reality total nonsense, but well in-line with industry standards which are mostly designed to impress consumers – they do not mention that the frequency response may be down by as much as -30dB at the extreme ends of the measured frequencies. In reality, the Stinger can reproduce relatively clean mid-bass, mid-range and treble frequencies.

The end flaps give you a further illustration of use and performance indicating that the Stinger is primarily a gaming headset.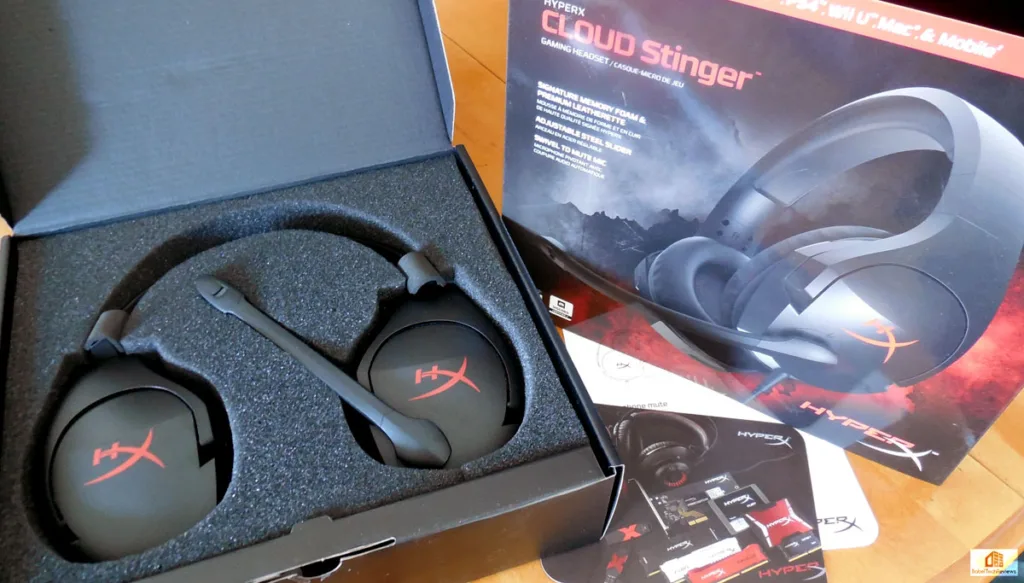 The contents are well-packed for shipping and our HyperX Cloud Stinger Headset arrived in perfect shape and ready to plug in and listen to music or to begin gaming with. There is a quick installation guide which shows the end user how to set up.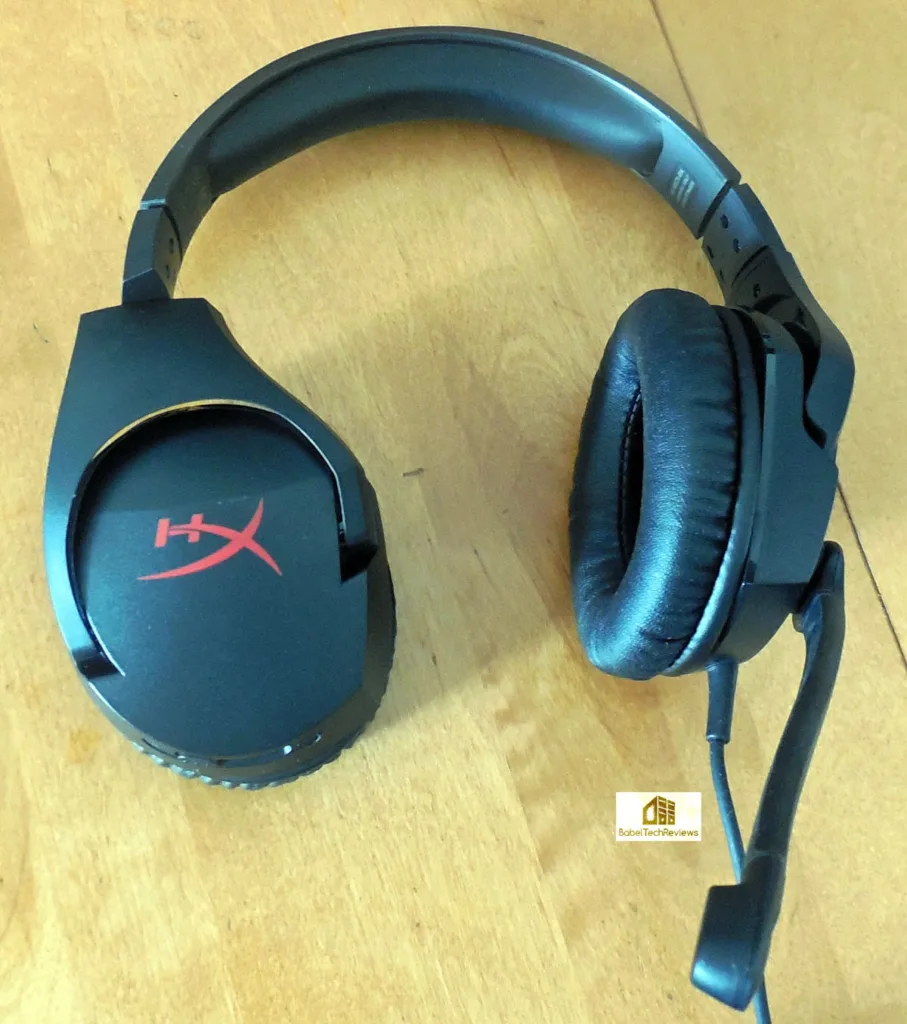 The Cloud headset draws its power from your device as it contains no amplifier to power both speakers. The ear cups swivel 90 degrees and they can lay flat for travel or against your body when you are not wearing them, making them less bulky than the original Cloud.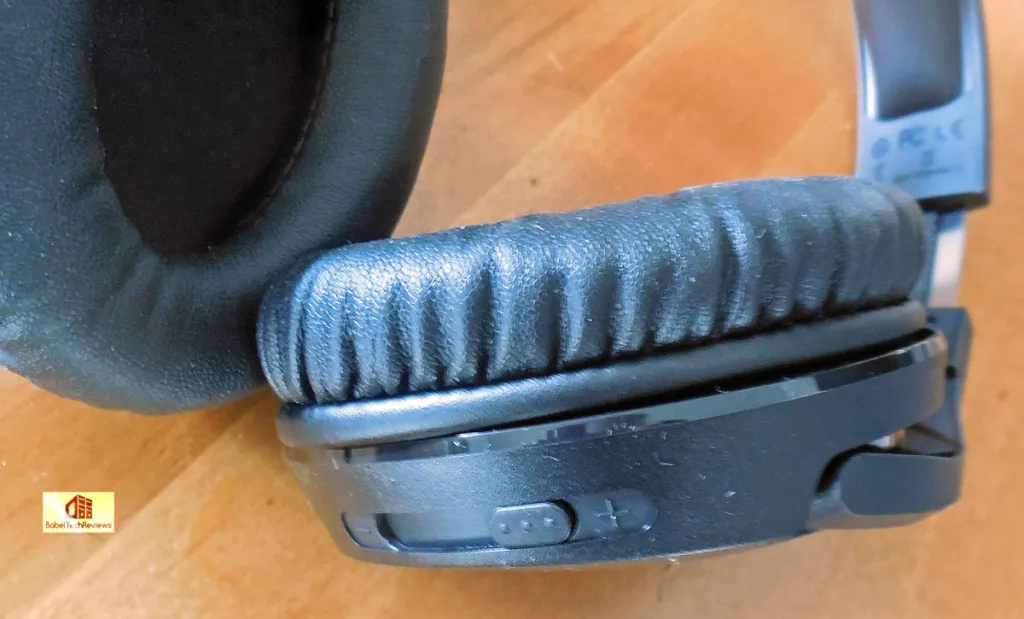 Installing the HyperX Cloud is simple. Plug in the jack, adjust the sliding volume control on the bottom of the right ear cup, and play music, a movie, or a game. If you are playing a game and want to use the microphone, attach the supplied extension cord which splits into a jack for audio and a jack for the microphone. We noticed no audible quality difference using the extension cord, and appreciated the extra length it afforded when connecting to our PC's 3.5mm jacks.
The HyperX Cloud Stinger is well-padded and its signature memory foam earpieces are incredibly comfortable, matching the comfort of the much lighter Grado open design headphones. "Cloud" is a great choice of name as the Stinger can be worn comfortably for many hours. Check your setup and make sure that you have the highest quality sound available under Windows. The Cloud Stinger is well equipped for gaming and music, so let's audition them critically.
Listening Tests
For our listening tests, we used the Cloud Stinger almost daily since we got them from HyperX a month ago for everything audio-related including for many hours of gaming. Playing certain video games which use audio clues for positionality, requires the gamer to constantly listen for them. Sensing accurate sound directional is crucial to surviving in games like the Splinter Cell series and was very useful in the Vanishing of Ethan Carter when being tracked by a wraith in the last part of the game. Single player or multiplayer in Call of Duty Infinite Warfare, Titanfall 2, and in BF1 also require being able receive directional audio cues.
The HyperX Cloud headsets and the Grados are all stereo phones using two drivers, one for each ear, and the positionality is decent but not quite the same as with 7.1 headphones using a 7.1 source. Professional gamers often choose a 7.1 capable headset while music lovers and casual gamers usually pick stereo since 7.1 needs to be switched off for music.
Music
For our music listening, we chose the well-recorded DVDs of Steely Dan and Carlos Santana that this editor is very familiar with. We did not run synthetic audio tests as they absolutely cannot tell you how headphones actually sound when listening to music. That is what trained ears are for!
First up, we listened to our Grado SR60e series headphones. These headphones are the replacement for our go-to music headphones after our original Grado SR60s failed after nearly 15 years of use. Although our three test headsets are quite different in design they are all remarkably comfortable, and may be worn for many hours on end, with the Stinger being the most comfortable overall for long sessions.
As headphones for reproducing music, the Grado SR 60e is far more accurate and they sound better overall, depending on what kind of music that you play. If the music requires heavy bass like rap or hard rock, then one might prefer the original Cloud. For Jazz and for general listening, the open air Grados headphones were clear and not tiring, even over extended sessions. You can hear the transients and the shimmering detail of the high end of the Grados that are somewhat muted in the Cloud and almost totally non-existent in the Stinger. The original Cloud tends to emphasize the treble and the bass, while not deemphasizing the midrange too badly while the Stinger tends to sound muddy, blurring the sounds together somewhat.
All three headphones gave a good stereo stage with fair imaging, and the Cloud gave more bass than the Grados, although Grado was more accurate as far down as it went. The Stinger doesn't have a lot of deep bass, but tends to have a mid-bass punch which works well for gaming, but not so well for music. The SR60s were never strident nor shrill, and listening to music never got tiring. The original Cloud with it's 53mm driver exhibited good audio characteristics, and listening to music also didn't get tiring while the Stinger's 50mm drivers lack in this regard.
The Grado SR 60e uses 40mm drivers and they have cut off the low bass, and as a trade-off, give a near-perfect mid-bass and midrange together with shimmering highs when the right album is played. The Grados were released in the mid-90s for $79, and they soon gained a reputation for being powered well by portable devices, as well as accurate, musical, and warm compared to most of the sonic junk that passed for headphones at the time. If you listen primarily to music, you would do better with the Grado SR60e, with the original Cloud second although the Cloud has a better bass punch. Unfortunately, the Hyper X Stinger does not match the original HyperX Cloud for music reproduction.
Gaming
The Grados may have better imaging for music reproduction, yet both of the Cloud headsets work better overall for gaming. It's a matter of what a gamer wants. If you want "audiophile" and accurate music reproduction, you do not want a gaming headset at all. But if you want a great sounding headset that includes a decent mic and are wonderfully comfortable for a reasonable price, the HyperX Cloud or the Cloud Stinger should be at the top of your list with the original Cloud getting a nod as more than passable for good music reproduction.
However, what makes the Cloud Stinger stand out is their comfort over extended gaming sessions, even for many hours at a time. The comfort is absolutely amazing for a fifty dollar headset. The Grados are very comfortable, but they are open design, which means you hear what is going on around you. With the Cloud or the Cloud Stinger, you are sealed off in your own world.
The ability of the Cloud Stinger to block out the world is exceptional. When we benchmark 290X CrossFire, we need to run the reference design fans at 100% to eliminate throttling. The noise level is actually painful when 290X CrossFire fires up. However, using the HyperX Cloud Stinger, even with no music being played, blocks most of the irritating sound, and even on low volume it is possible to concentrate on the music or the game without being distracted or annoyed by anything going on around you.
For gaming, the HyperX Cloud Stinger excels. The Stinger rivals the original Cloud in every aspect of gaming, with its advantage of being even lighter and thus slightly more comfortable. All of the issues the Stinger has with music reproduction are absent when playing a game, and being able to hear audio clues as to enemy positions are just as good as with the original Cloud. The lack of a detachable mic is not significant as it mutes and moves out of the way when it is switched into its 'up' position. And its microphone is decent for use in multiplayer or for Skype.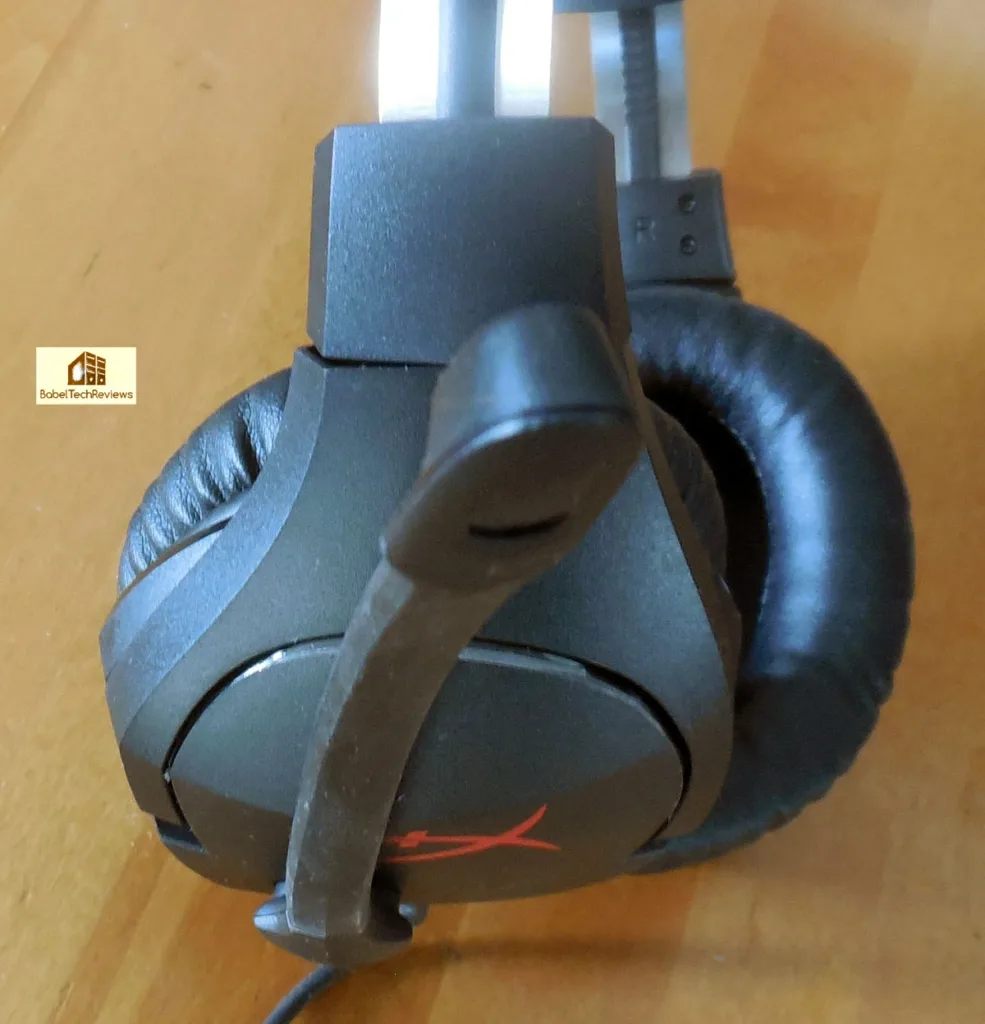 For gaming when playing Battlefield 1, Call of Duty Infinite Warfare, or Titanfall 2, our experience was just as good with the HyperX Stinger as with the original Cloud, and this is high praise indeed for a $50 headset. In fact, the Grados lacked the excitement and the mid-bass punch that these games revel in with explosions and sound effects although the audio positionality was similar for all three sets.
Choose your headphones or headset carefully since a quality pair are usually expected to last a long time. For $50, the HyperX Cloud Stinger is a surprisingly good entry-level gaming headset that has most of the features of the original Cloud.
Conclusion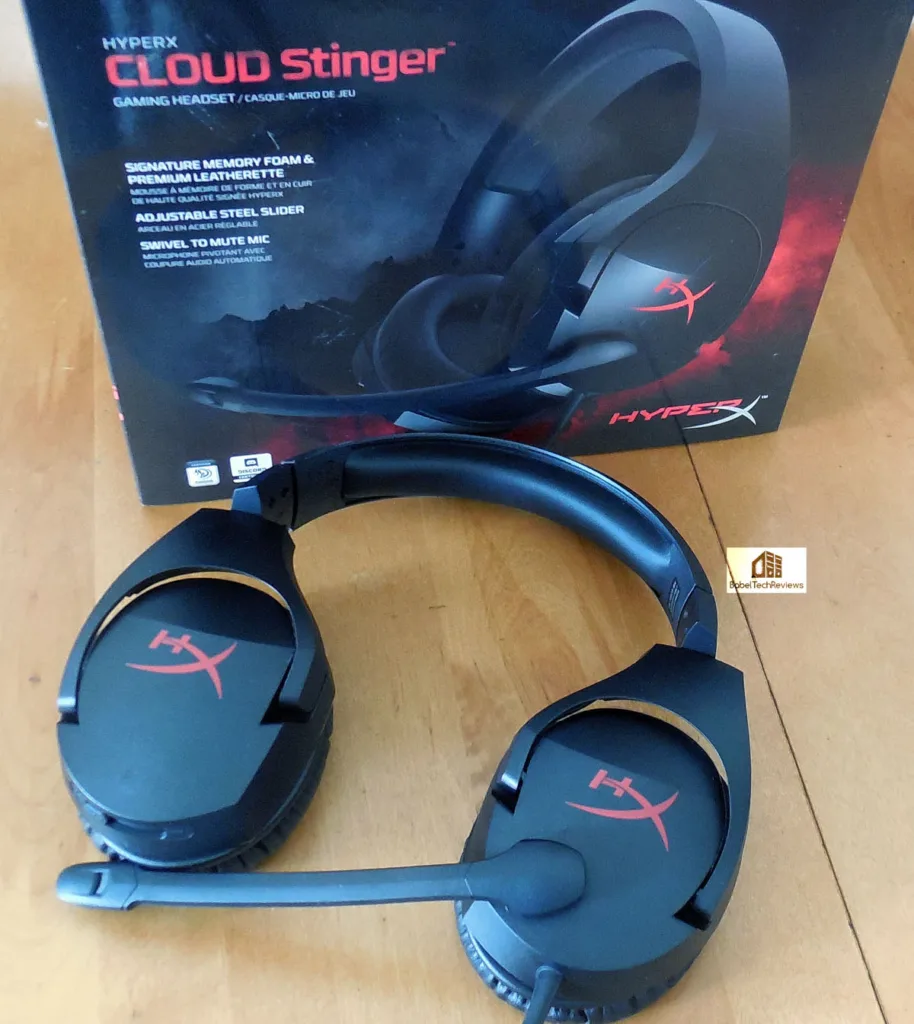 Pros
As a gaming headset the HyperX Cloud Stinger gives good sound and excellent audio cues for gaming.
Good sound and great features for the Stinger's size and price range.
Comfort. The HyperX Cloud Stinger is extraordinarily comfortable for a closed headset.
Quiet. You can block out everything wearing your Cloud Stinger headset!
It folds flat for walking around with it or for travel.
Cons
Music reproduction is only fair.
If you want to game using a good-looking and comfortable well-built headset, either of the HyperX Cloud or Cloud Stinger gaming headsets are very good choices. The Cloud is priced at $79 and the Cloud Stinger is priced at $49. The HyperX Cloud Stinger sounds as good and is just as comfortable as the original Cloud when used as a gaming headset although the Cloud is better for listening to music.
The HyperX Cloud Stinger is recommended as a very good value and it deserves BTR's "Good Value" Award.
Stay tuned for an updated rematch between the GTX 980 Ti and the Fury X using the very latest drivers and the newest games as well as a comparison between past match-ups to see if anything has changed.
Happy Gaming!