HP Spring Product line-up
BTR was invited for the first time to preview the new HP Spring product line-up in conjunction with Computex although they are not officially represented there. This editor has purchased and used HP products including their professional displays (HP LP3065) and their EliteBook notebooks (HP 820G1) with good results, and we hope to be able to bring our readers future reviews of their new line-up.
The HP philosophy is to introduce new products to make life easier for their users and to reinvent and refine older models that will not only help creators and enthusiasts but are also aimed at gamers. HP's line-up includes mini-PCs, backpacks, PC towers, and modular PCs that are built into displays, and their press release is so huge, we will just focus on the HP products that may appeal to BTR's readers such as displays, notebooks, docks, and VR.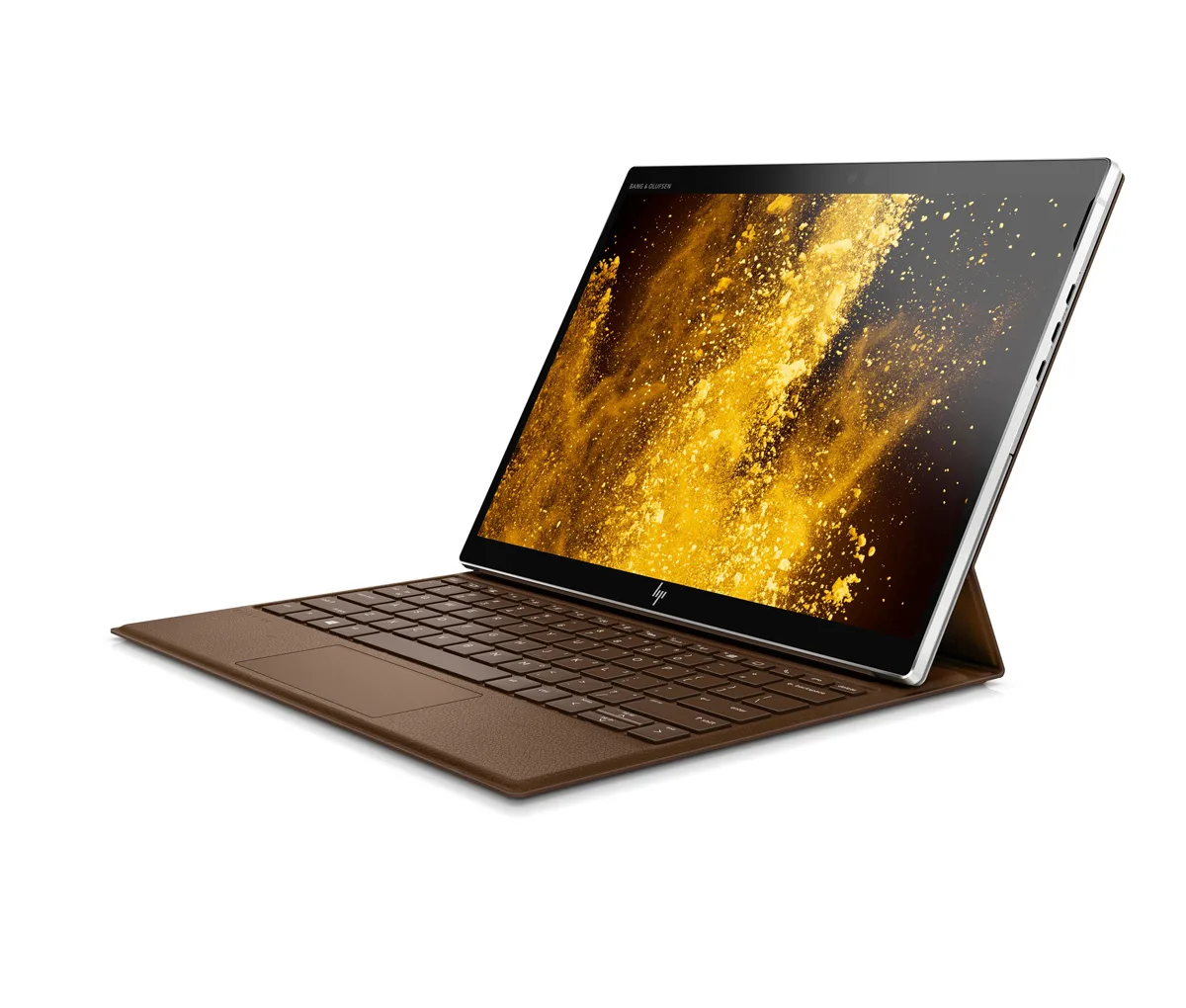 In continuing a retro trend, HP is expanding on their notebook line-up in leather to bring a more natural feeling of wood instead of metal into their ENVY lineup. The HP ENVY 13, HP ENVY x360 13, HP ENVY x360 15 and the HP ENVY 17 Wood Series feature a choice of next-generation Intel Core processors or 2nd Generation AMD Ryzen Mobile Processors with Radeon Vega Graphics.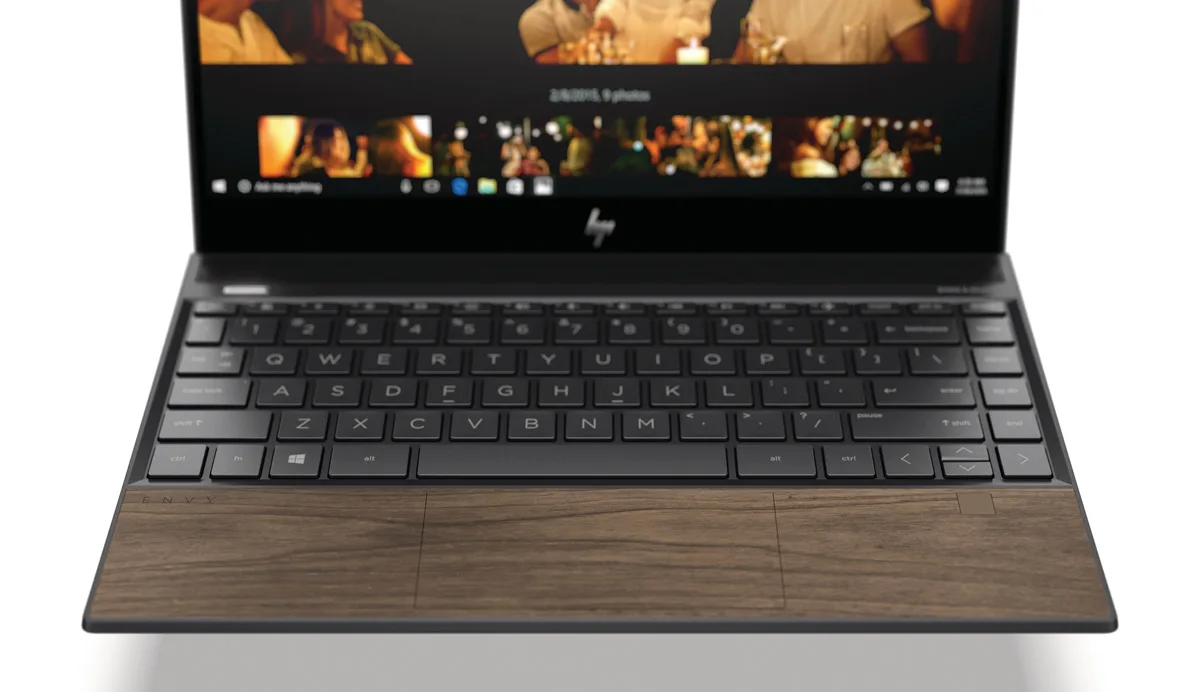 Each ENVY is accented with authentic wood inlays in three combinations: Nightfall Black with Natural Walnut, Ceramic White with White Birch, or Natural Silver with Pale Birch. Of course, the latest ENVY features include Amazon's Alexa Service, Modern Standby, Wake on Voice, Wake on Fingerprint reader, along with privacy, HP Sure View9 and the HP Webcam Kill Switch solution.
For an easy connection to dual 4K monitors, network, and accessories, the HP Thunderbolt Dock G2 with HDMI Adapter works across HP and other non-HP notebooks through a single USB-C cable connection.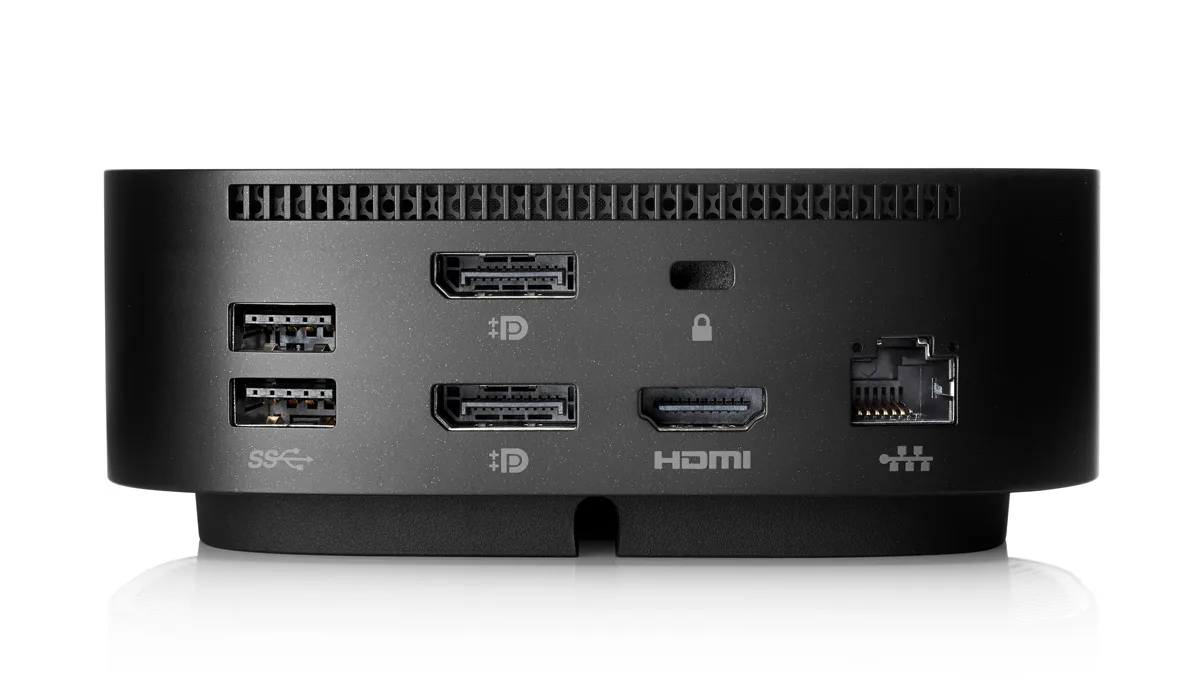 The G2 Dock will be offered for $249 later this summer. And there are also HP backpacks and totes available with full RFID protection built-in.

We have been using our own 13″ HP EliteBook for years, and it is our perfect traveling companion. It is light, has great battery life, it is powerful, and it can handle almost any task that our desktop can manage except for playing the latest demanding PC games – and of course, we use GeForceNOW for gaming when we are traveling.
HP has continually improved the EliteBooks, and their highest-end display brightness panel is up to 1000 nits. This means you can work outdoors without having to find shade just to see what you are viewing. By using it indoors with the HP 1W display panel, the battery life can be up to 24 hours. The following is quoted from their press release:
The HP Elite x2 G4 turns heads with style and versatility with its ultra-mobile design and authentic craftsmanship. It is the world's first business detachable with a leather keyboard folio, offers superb privacy as the world's first business detachable with integrated dual camera privacy shutter, and is the world's only business detachable with privacy screen.
The HP EliteBook x360 1030 G4 raises the bar for productivity anywhere as the world's smallest and lightest business convertible3 with next-generation connectivity Gigabit Class 4G LTE13, Wi-Fi 614, and Bluetooth®.
The HP EliteBook x360 1040 G6 offers the world's longest battery life in a 14-inch business convertible under three pounds with up to 24 hours of battery life. Work where inspiration takes you with world's only outdoor viewable display in a 14-inch diagonal business convertible and new 4K HDR screen option and have the power for productivity with the world's only 14-inch business convertible to support 32 GB system memory.
Natural handwriting on both the HP Elite x2 and full-line of HP Elite convertibles with the optional HP Rechargeable Active Pen G3 for the world's most precise writing experience, made possible by engineering the lowest starting pressure ever in a PC active pen.
The HP Elite x2 G4 is expected to be available in August for a starting price of $1,499.
The HP EliteBook x360 1030 G4 is expected to be available in July for a starting price of $1,449.
The HP EliteBook x360 1040 G6 is expected to be available in July for a starting price of $1,499.
The HP Active Pen G3 is expected to be available later this summer for a starting price of $99.
###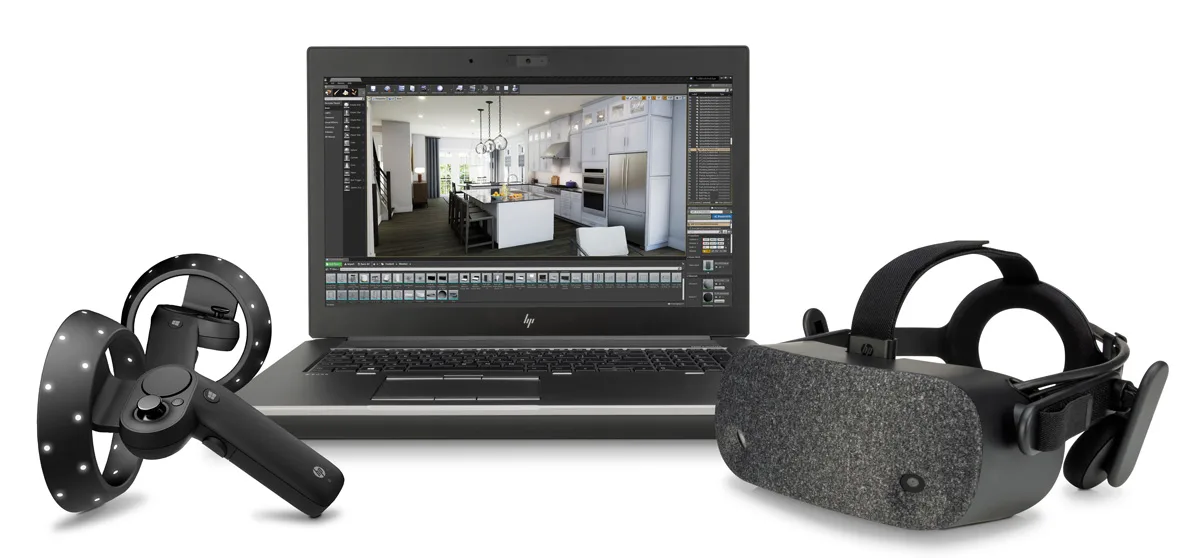 HP also offers their new workstation notebooks, the HP ZBook 15 G6 and HP ZBook 17 G6 for architects, designers, video editors, and VR creators who need mobile desktop performance. The ZBooks will be available in July with no pricing set yet.
ZBooks offer a choice of 9th Gen Intel Core and Intel Xeon processors, and next generation NVIDIA Quadro RTX graphics. Both ZBooks offer a tool-less design to easily upgrade memory and storage. The HP flagship ZBook 17 G6 features the world's first 17-inch mobile workstation display with 100 percent DCI-P321, for accurate color reproduction.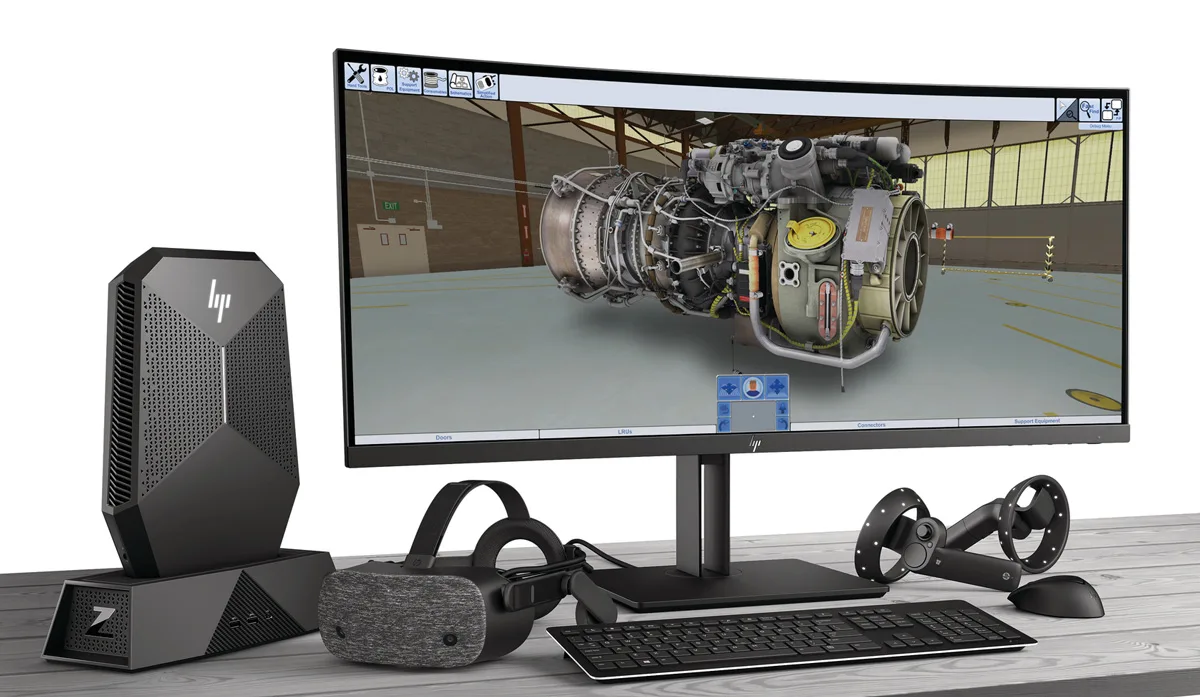 We are particularly interested in VR, and HP offers a great way to take your VR-enabled PC with you in a self-contained backpack thus eliminating the need for any tether. Although HP's backpack is primarily designed for professionals, it can also be used at home. Although the battery life is one hour, the backpack allows for hot swapping of batteries so that you can spend an unlimited amount of time exploring VR without being tethered to a desktop PC.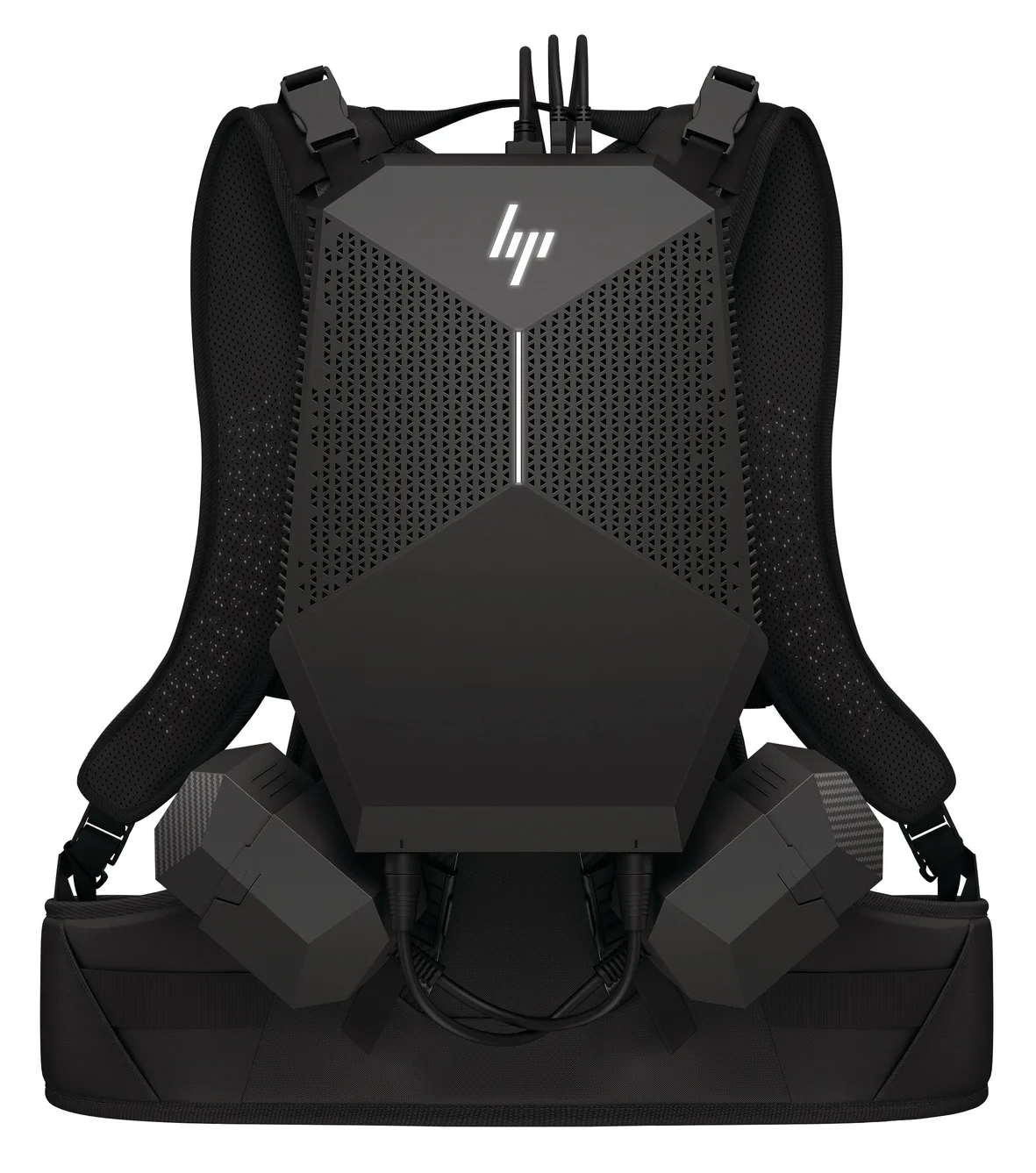 The HP hybrid PC VR Backpack provides a 30 percent performance boost with 25 percent more powerful graphics over their previous generation as it is now powered by 8th Gen Intel Core i7 and NVIDIA's RTX 2080. The RTX 2080 is able to provide an excellent VR experience as our recent review shows.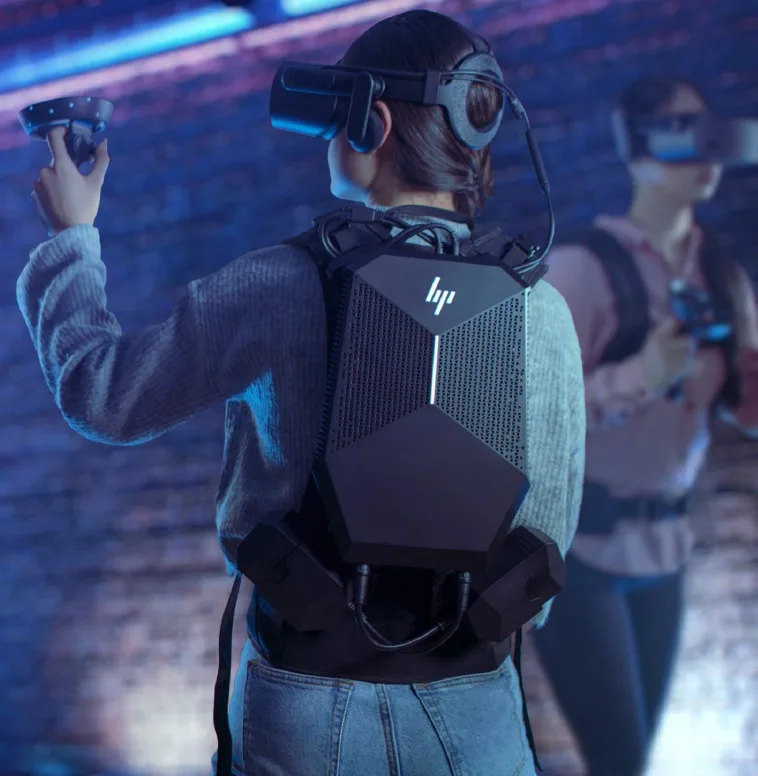 Although this free-roam tetherless experience is designed primarily for multi-user entertainment venues, architectural walk-throughs, and design simulations, it certainly can be adapted for home use by VR enthusiasts. Either docked or VESA mounted, the VR Backpack is a powerful, super-slim desktop PC ready for any VR work or play.
Weighing in starting at 10 pounds, the VR Backpack is expected to retail for $3299 and will be available this Summer. It is certainly not inexpensive but it offers a powerful hybrid mobile desktop PC with the following specifications.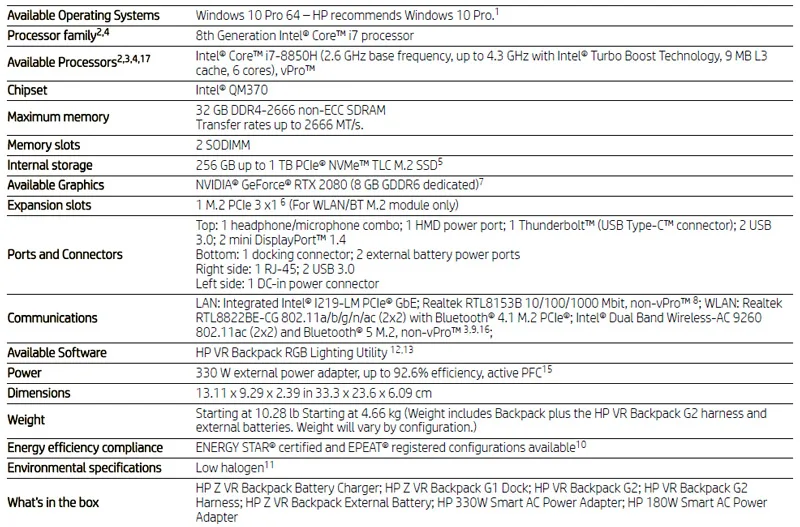 We have used our HP LP3065, a 30″ professional 2560×1600 display, for many years and have delighted in its incredible color accuracy until DVI was supplanted by DisplayPort displays. Now setting up displays are much easier using universal USB-C or legacy USB-A connectivity for PCs or peripherals. The HP EliteDisplay E223d and the HP EliteDisplay E273d docking monitors deliver video, data, and power over a single USB-C cable.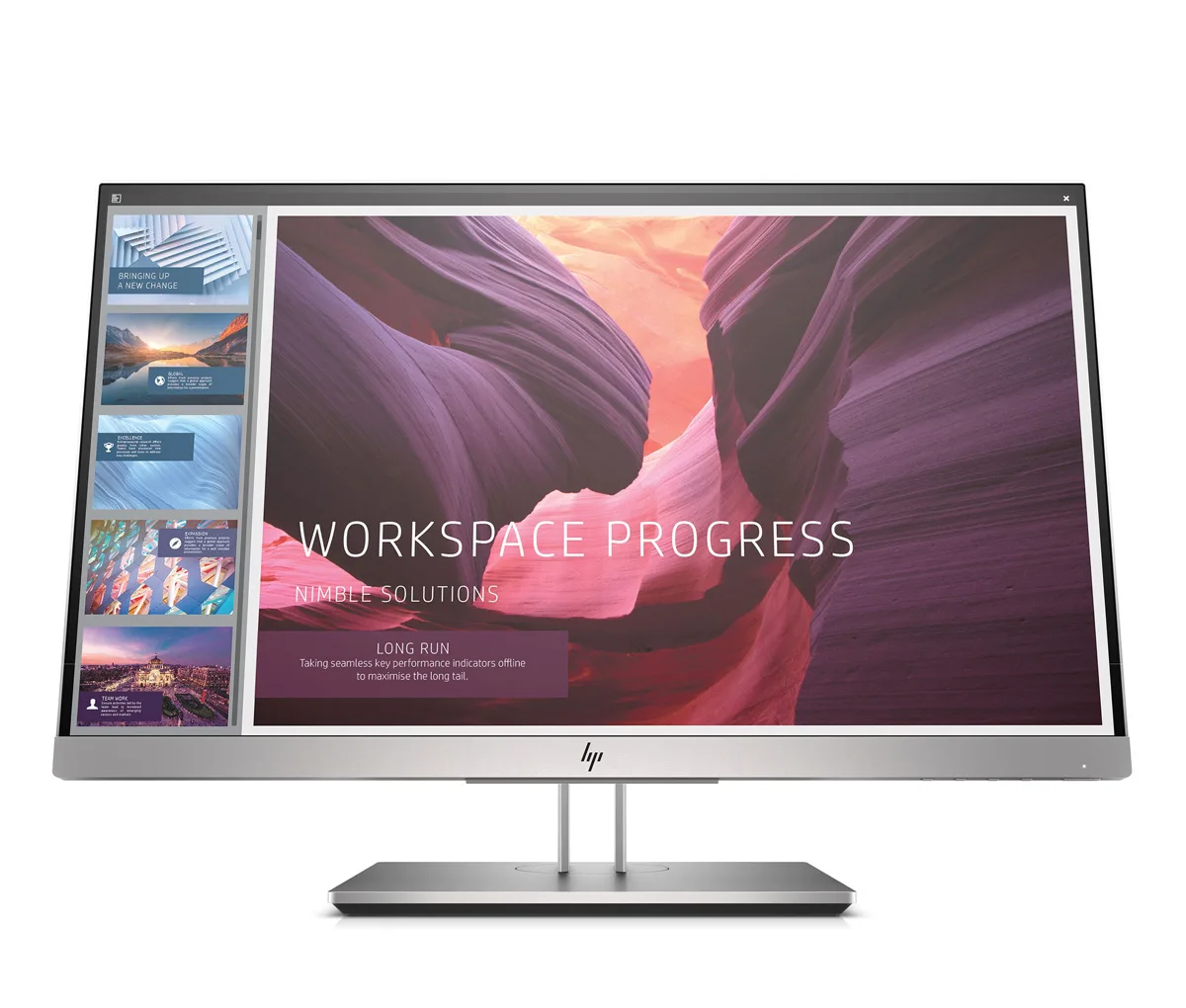 The HP EliteDisplay E223d Docking Monitor is expected to be available in June for a starting price of $279.99 and the HP EliteDisplay E273d Docking Monitor is expected to be available in July for a starting price of $409.
We look forward to bringing BTR's readers more HP news and reviews as we have barely scratched the surface of their new product line-up.
Happy Gaming!