Smart Home Solutions Are Coming in Bits, Pieces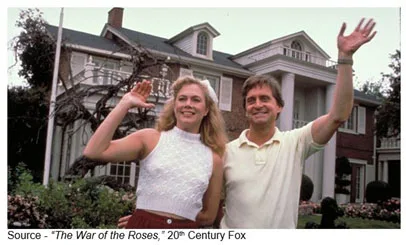 CES is all about "things."
Things people can talk to; which, in turn, talk to other things as well as something somewhere else to come up with things to sell you; and so, the cycle continues.
For many of the things, services and apps at the show CES 2018 will be the last time they will be seen.
But for the companies and buyers with deep pockets, they will slowly enter our homes and become part of our daily lives.
Two products should have shared the spotlight:
Aibo – Sony's 1990s robotic dog is back and more loveable than ever with greater response to touch and voice
My Special Aflac Duck – the Sproutel/Aflac insurance pet seemed out of place at ShowStoppers, isn't smart by industry standards, but could be one of the brightest ideas to emerge from the show. The duck has one purpose – help kids get through their cancer treatment

The show is so all-encompassing, we had to parse it and examine big segments – smart home, smart cars, content.
The home is a logical place to start because it's your refuge from the otherwise hectic, chaotic, constantly reinvented world we live in. Therefore, you need a reliable and more personalized security system to protect your home.
At CES, everyone said they had loaded up with AI (augment intelligence) and talk-to-me, take care of it technology.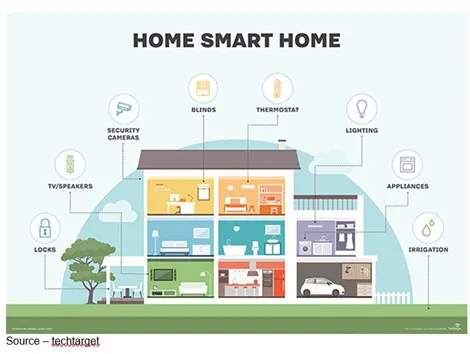 Yes, some of the stuff inside your four walls gave you a choice of voice and/or smartphone – important if you're not at home. But if you were cool; at the very least, you had voice.
Some you holler at … "Hey, Google."
Some you ask nicely "Alexa…", "Siri…", "you…what's your name; oh yeah, Bixby."
So, the first hurdle to overcome is picking the voice command you want to work with, manage your house.
Of course, someone is working on an arbitrator thingie.
You know, one that can translate requests for your Alexi-enabled entertainment center, Bixby-ready washer/dryer and Hey Google's light/energy solutions.
The basic assumption is that you already have wired or wireless networking in your home to monitor and control all your things.
Unscientifically, it seemed most booth people led with "Yes, it works with Alexi."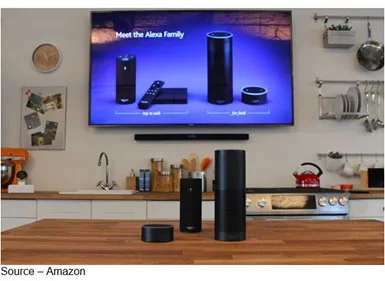 While Amazon may have gotten the ball rolling with Alexi, Google didn't take a back seat at CES with promotion just about everywhere in Vegas.
Both firms see their speakers as the path to becoming the central speaking/listening portal into the home.
And as the holiday scene unfolded for us, it became obvious that both were hellbent on being the technology of choice in your home–even if it meant wrapping $10 and $20 bills around each one they sell.
They're strictly in it to win!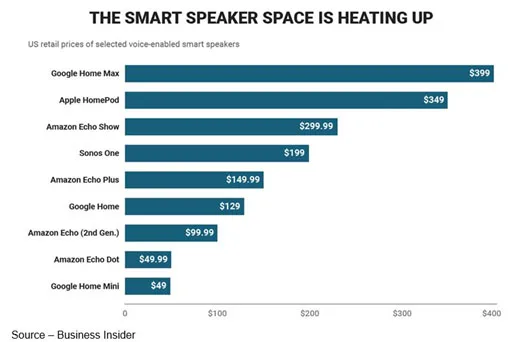 It's not much of a secret that they don't like each other very much because:
Google owns YouTube, a great viewing portal for cat, dog, dumb guy videos with ambitions of carving content away from Amazon Prime.
Google loves it when folks search for something and clicks on it depositing a few cents into their bank.
Amazon has grown rapidly to become the first store to go to for darn near everything, so you can bypass the "do no harm" folks.
Amazon is building out its own advertising destination to take more of the ad dollars from you know who.
Canalys reported that more than 56 M were shipped last year; but with everyone rushing to deliver their flavor, it's way too early to tell which device will have more people talking to it.
Of course, not to be left out of the race, Facebook will be rolling out their home device, Portal, this year to go along with their friend's n family plan.
This year we'll move beyond hardware as firms work to monetize the growing installed base with discreet advertising, content bundles, premium services and even a push to move into the office.
But all of that is the behind the scenes drama of CES.
The real action is your screen.
Yes, we know that just before the holidays you bought the biggest, baddest big screen to end all screens.
That was then. This is now.
It's true that my kids spend a lot of time viewing their content on their iPhones, but nothing gets a millennial or boomer heart pumping like a big screen with so much brilliance you'll set your smartphone aside.

While cars run around by themselves at CES, TV still has plenty of excitement to go around.
This year it was all about even better OLED (organic light-emitting diode) and overwhelmingly large screens.
LG took the early lead with a 65-in roll-up OLED screen and followed it up with an 88-in 8K TV that took your breath away.
And yes, all of their sets will have voice assistants.
Samsung debuted its monster – "The Wall" – a customizable 146-in micro LED (light-emitting diode) display; and in the second half of the year, they'll be releasing an 8K QLED (quantum-dot light-emitting diode) set that will use AI to adjust the screen resolution based on what's being shown.
Sony launched 55- and 65-in bezel-less screens that will support 4K, HDR and Dolby Vision; while Panasonic added 4K OLED sets to their lineup.
But as an audio production expert told me last year, the difference between a bad YouTube segment and a great visual story is audio. In fact, 50 percent of the excitement of a thriller, comedy or drama is the sound.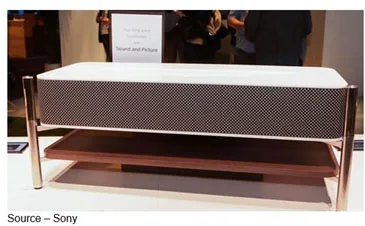 To make your entertainment really enjoyable, your smartphone will never replace the screen of your choice and the smart selection of speakers and sound bars that were in every booth there was a TV set (even though CES is a terrible place to enjoy them with all of the crowd noise).
And yes, most had Alexa in their toolkit!
But the smart home is about a lot more than TVs and talking speakers.
Smart home technology is really all about the energy management as well as home security/monitoring and home automation.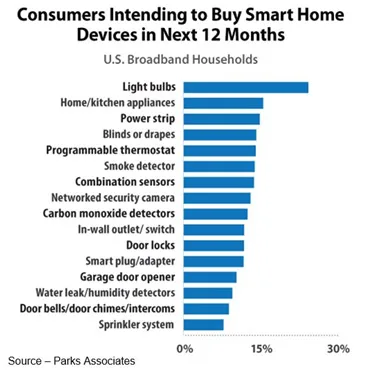 Of course, there's nothing sexy about light bulbs, power strips or wall outlets. But for the past few CES events, smart appliances (refrigerators, washers/driers, dishwashers) have gotten a lot of attention.
The mere fact that most of them hang in there for 10+ years and do what their supposed to do (keep food, wash/dry clothes) doesn't deter the big boys from having bigger, more impressive booths to show off their eye candy.
It's pretty easy for my wife to simply say, "Alexa put milk on the shopping list," "Alexa I'm running out of cheese," or "Alexa my lettuce is bad."
Sure, Amazon might figure out a way to encourage her to have Whole Foods deliver the stuff but that's a helluva' lot cheaper than a $4K-plus refrigerator, $5K-plus range or matching pair of talking/listening washers/driers.
Some of the stuff will become a part of our everyday life at home … someday.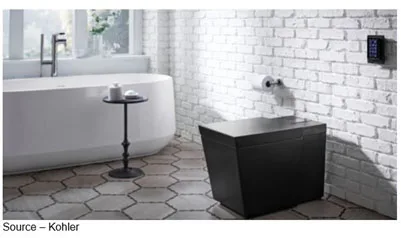 Yes, the Kohler Konnect stuff was cool:
Alexa start my shower at 98 degrees
Alexa draw her bath
Alexa flush the toilet (what happens if you're sitting there, reading something and say "oh ****?")
Of course, if you can afford all of these smart gizmos, do you really need something like a Simplehuman's Wide-View Sensor Mirror to reassure yourself that you look fantastic?
"Mirror, mirror on the wall…"
I agree with Strategy Analytics that the worldwide smart home market will probably surpass $100B this year. If people are building a new house or remodeling a major part of the home, then why not make the leap to smart devices … what the heck!
But the appliances need to be cheaper and have more useful applications or they're still impractical.
Of course, for all the reasons people want a smart home are also the reasons they are slow to implement.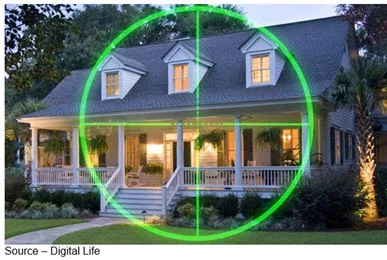 Alexa was the name to call this year. Who will it be next year? Or, will you have to remember who you're talking to as you walk around in the house?
At his keynote, Intel's Brian Krzanich had to stand before the audience and admit their chips had a couple of hardware/software/firmware issues but they were being corrected.
I'll give you a hint. As the products become more complex and the solutions smarter, there will be more privacy and security issues.
The devices gather more and more information about your family and you to hopefully do a better job of serving and protecting you. But it's also being shared with the HW/SW and service provider to make sure it is current and works the way it should.
Unscrupulous folks will find a way to obtain and rent your data. Downright rotten people will steal it, sell it, use it!
All you can do is be careful about the appliances and products you let into your home, keep their upgrades/patches current, follow good IT (information technology) practices, check/double check things and keep your fingers crossed.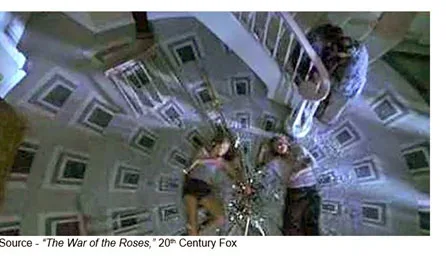 Also, keep what Gavin said in mind, "There is no winning! Only degrees of losing!"
# # #